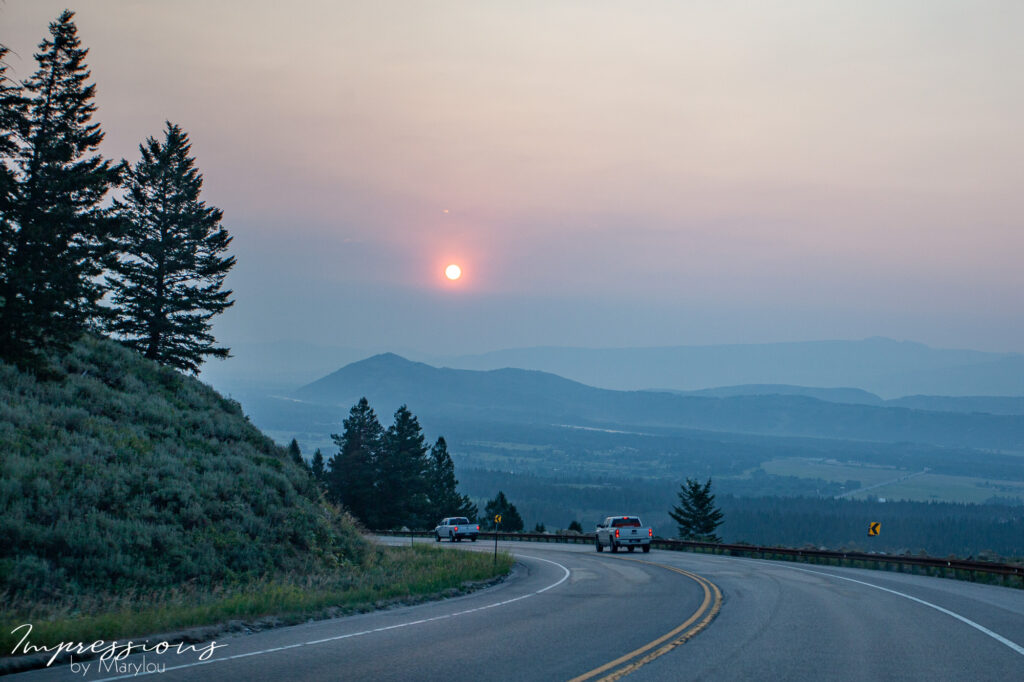 We had about a 45-minute drive from Driggs over to the town of Jackson. Jackson Hole, for those who don't like me prior to 2021, is the area that includes Jackson and the Tetons. It is a wide valley between 2 mountain ranges. From Jackson to the southern GTNP entrance is another 10-ish minutes. At busy times the traffic is really jammed up in Jackson.
I had been seeing photos of the park up until our trip. I was so excited for doing some photography in the park. The 1st morning we had good skies. The next few days smoke from forest fires blew in and it wasn't as clear as I had hoped for. I heard that it was early for smoke. Normally they don't have much of it before August. This was the summer that northern ID and even up into Alberta was experiencing 100* weather!
Anyhow, about that 1st day … we purchased the Gypsy Guide combo for GTNP and YNP. The app had been highly recommended by other travelers. We felt it was definitely worth having and we learned a lot of things we would have missed otherwise. When you start it, it checks to see where you are and which direction you are going and the narrator tells you stories and details of what is in the area around you.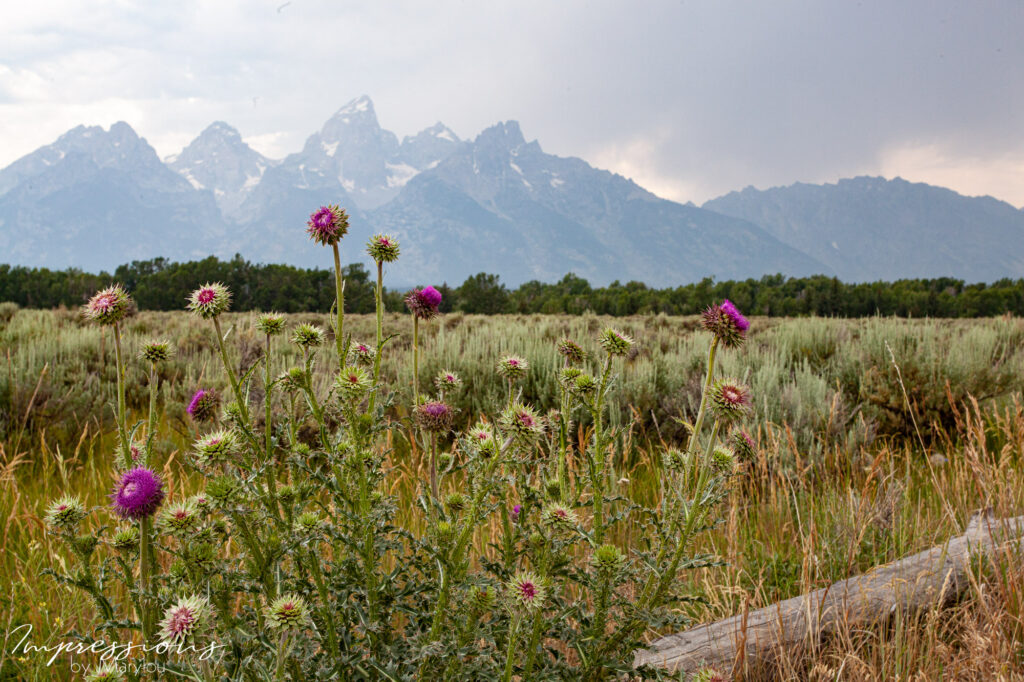 There is a bike path that runs parallel to the mountains. We didn't bike but wish we would have had time to do that.
Our 1st stop was Schwabacher Landing. Wow! We saw some gorgeous scenery!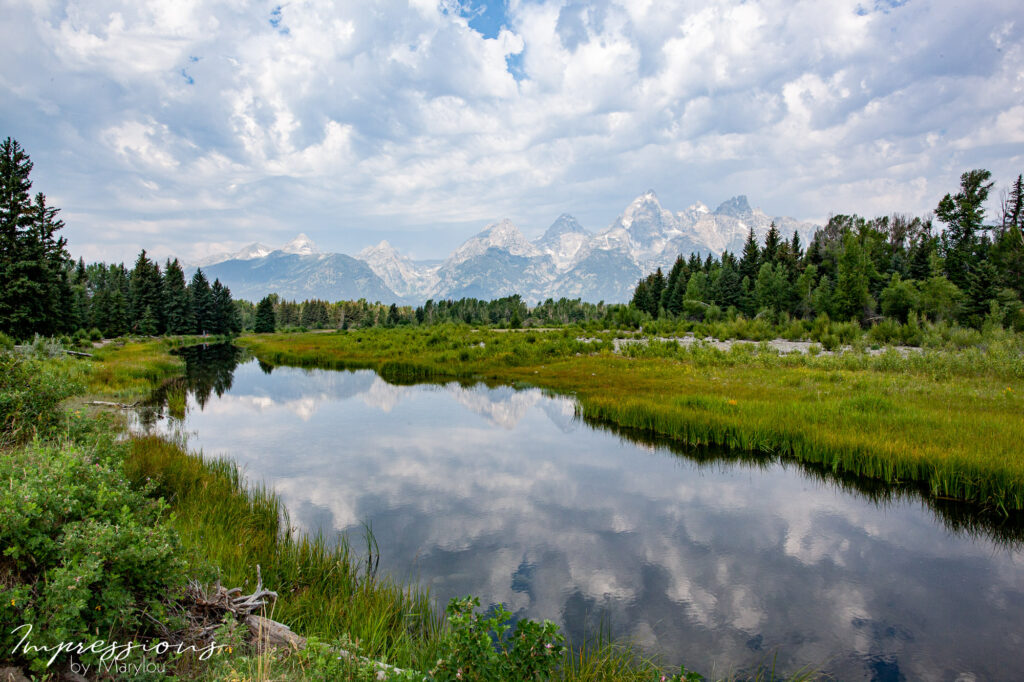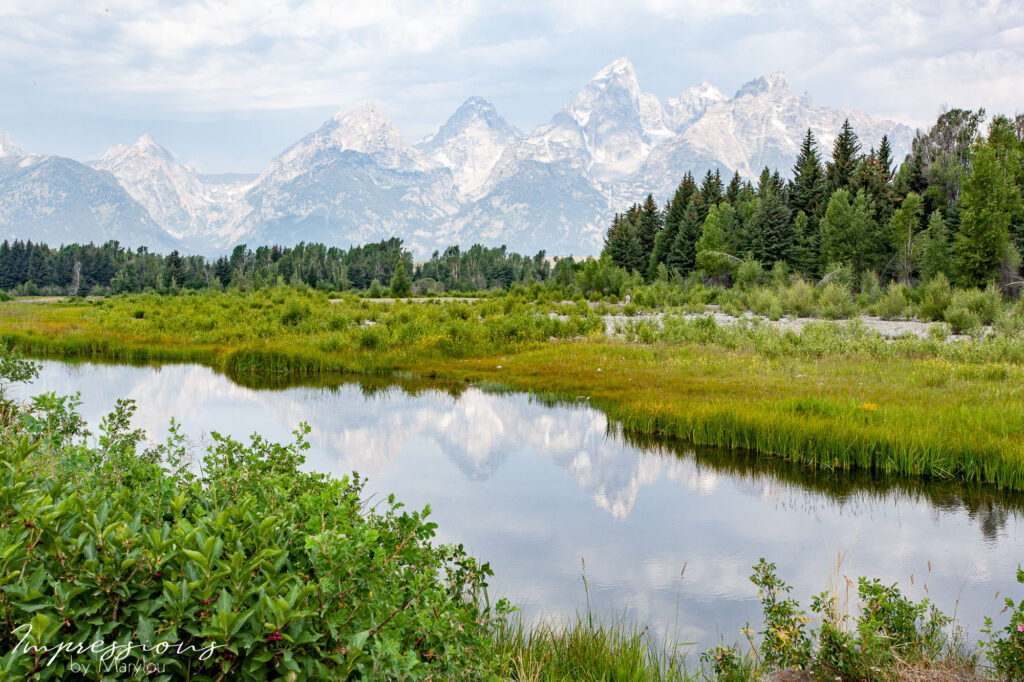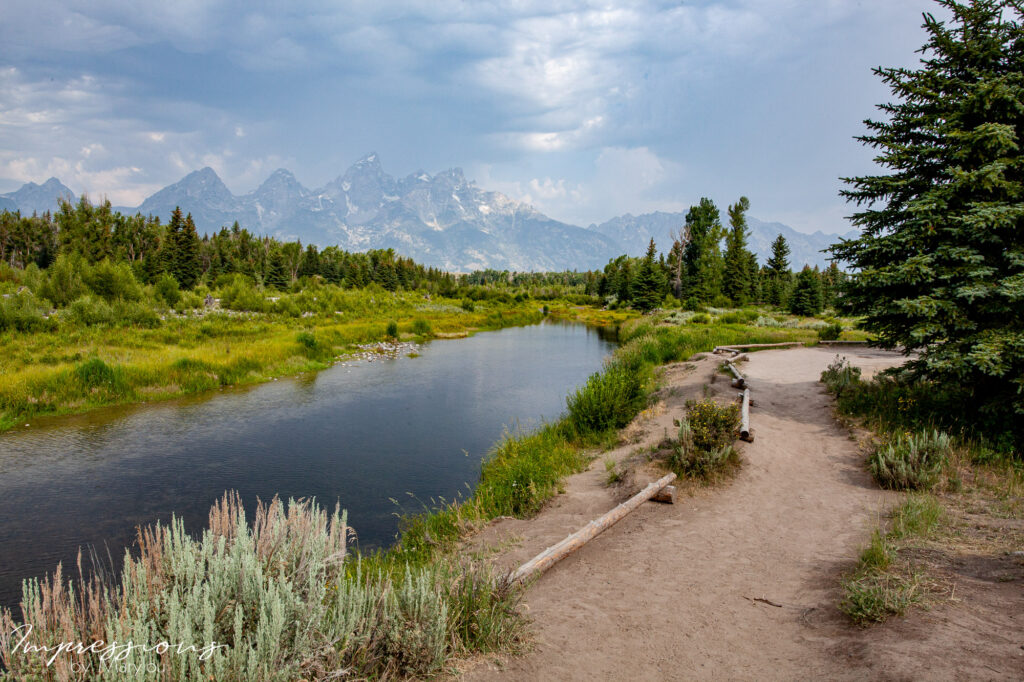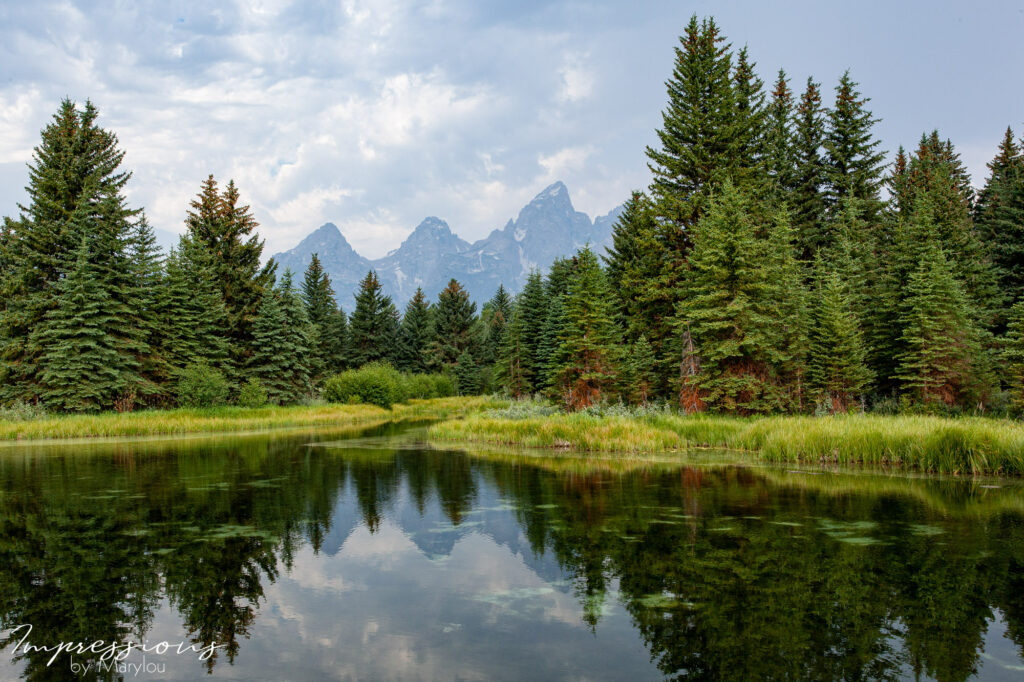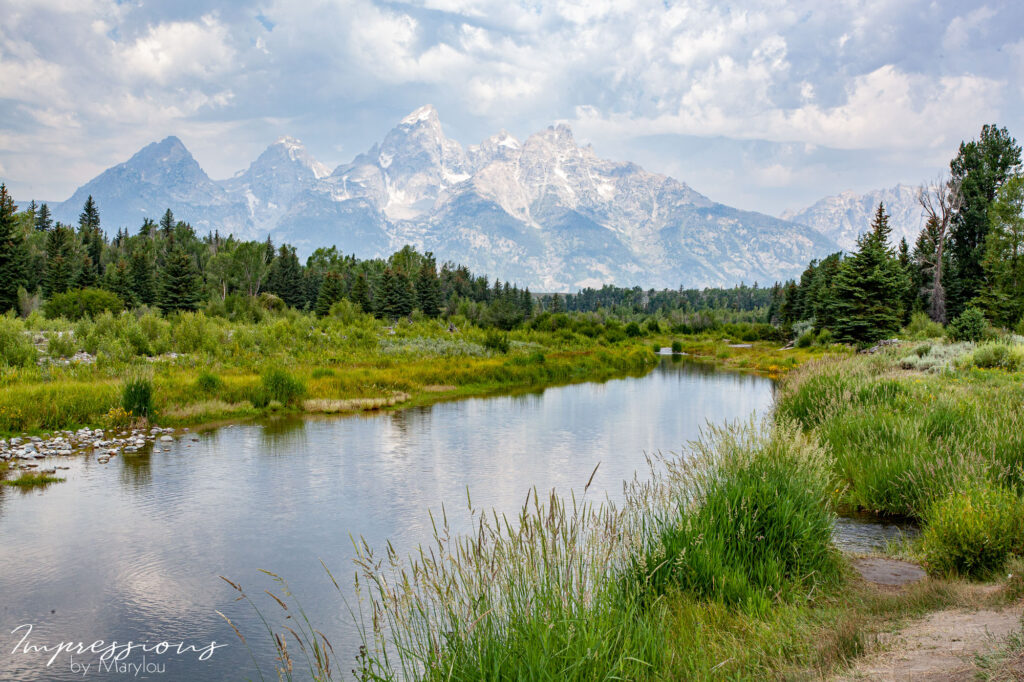 Our next stop was Mormon Row. This is where the famous barns are that were left from the Mormon community that moved there in the 1890s. There are a few other buildings there as well.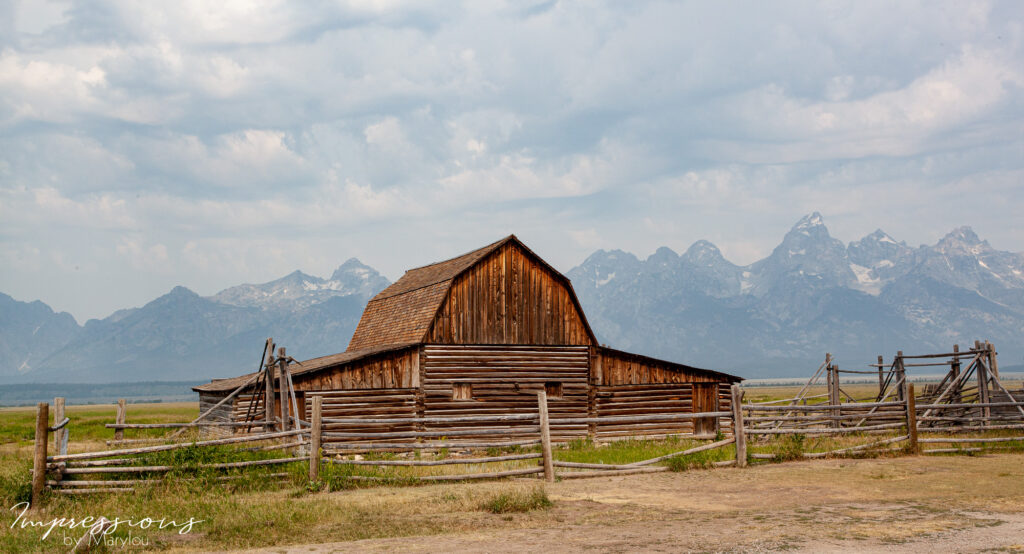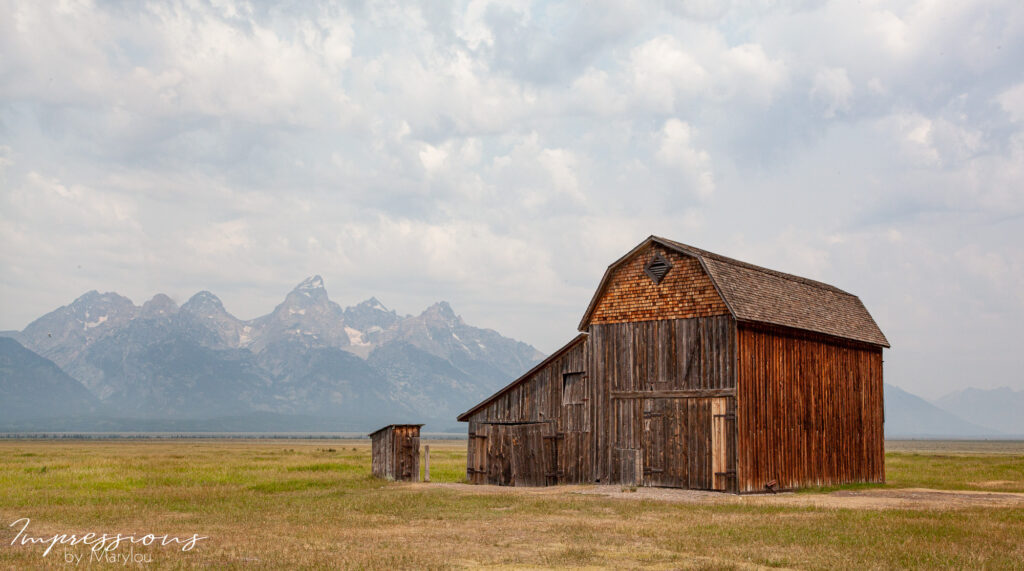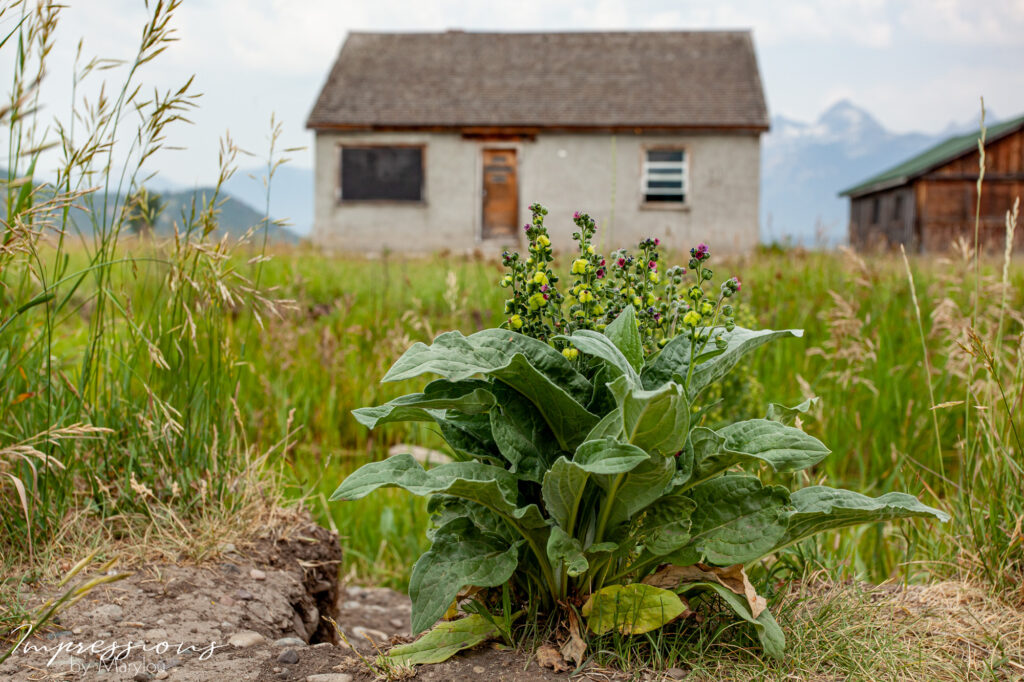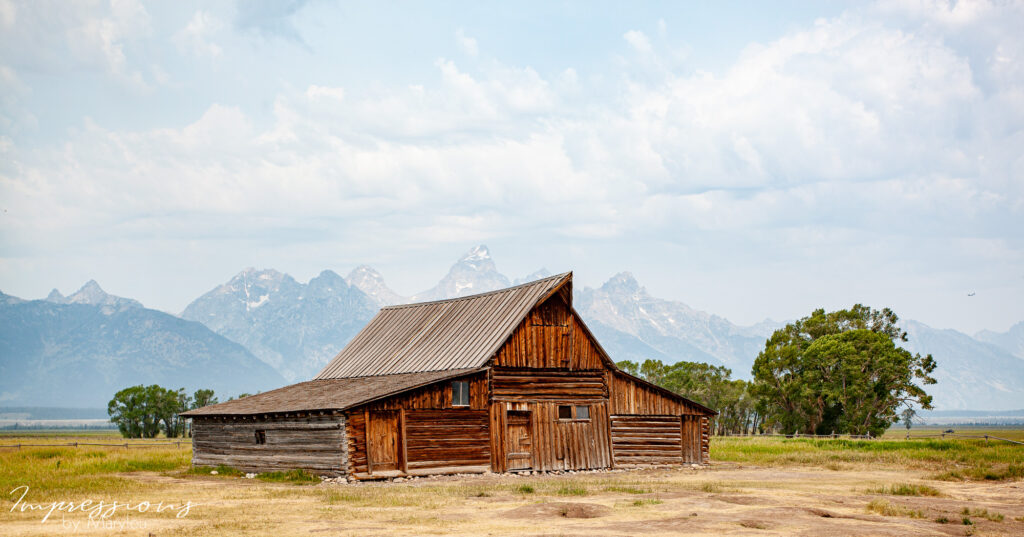 So in case you get there are frustrated by how many people are there and how the pictures don't show it … here you go: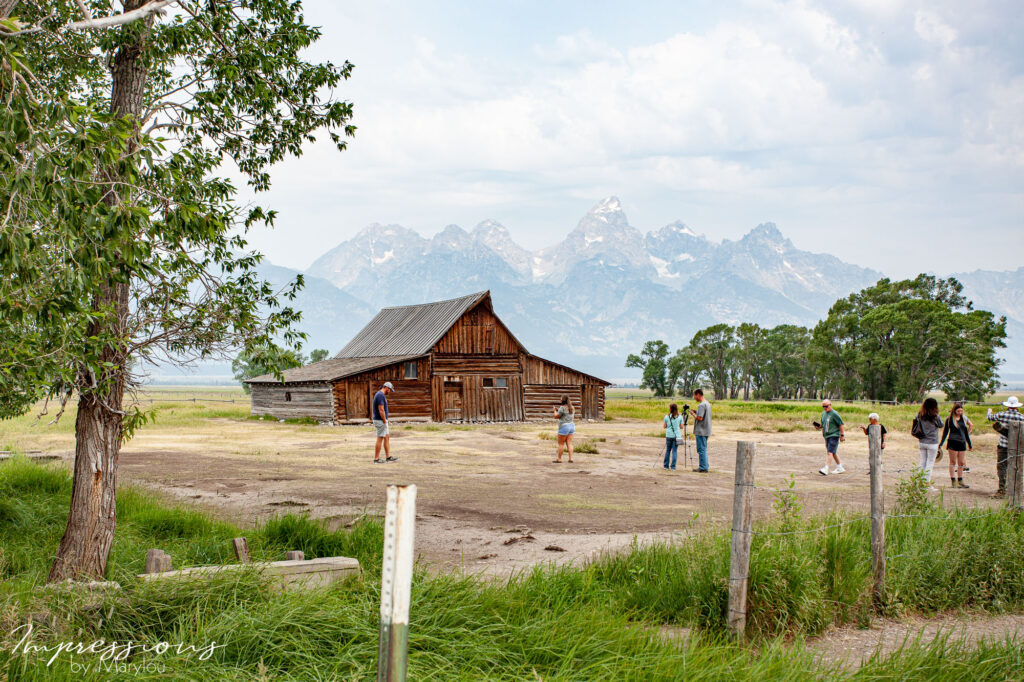 For the most part, people will get in there, take their pictures and move out of the way. There are some who are so concentrated on getting the perfect selfie and they  wander around for a bit. In general we found most other travelers to be considerate and chatty.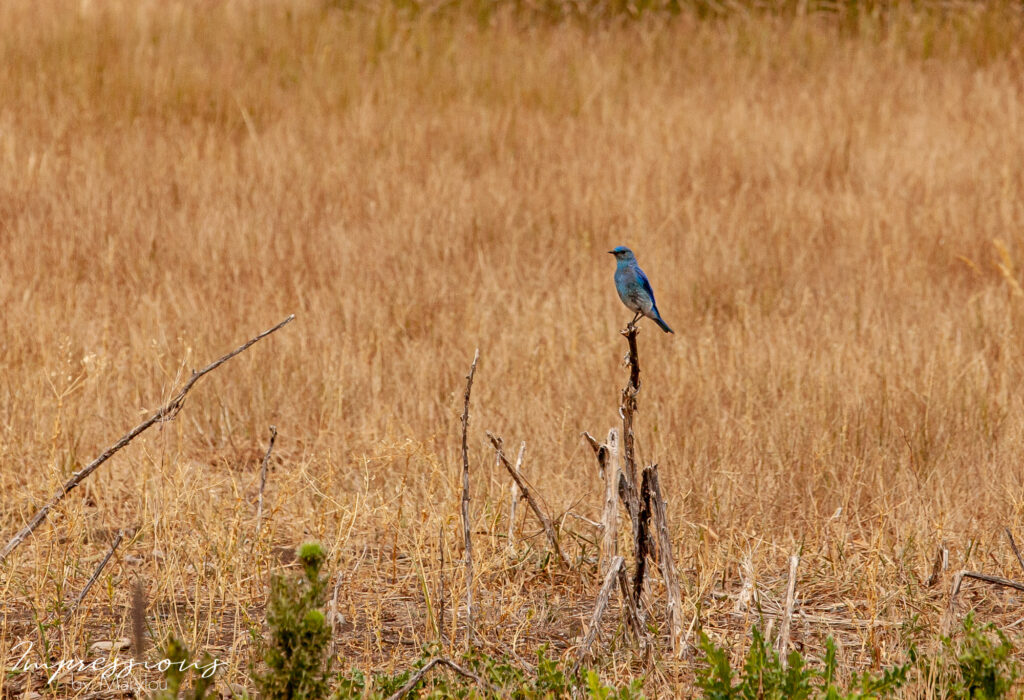 Here's a multi-frame pano from one of the overlook points.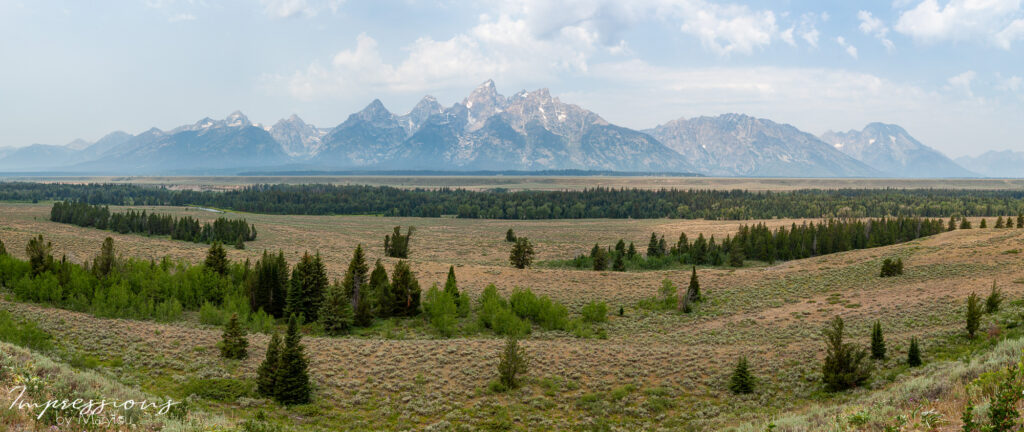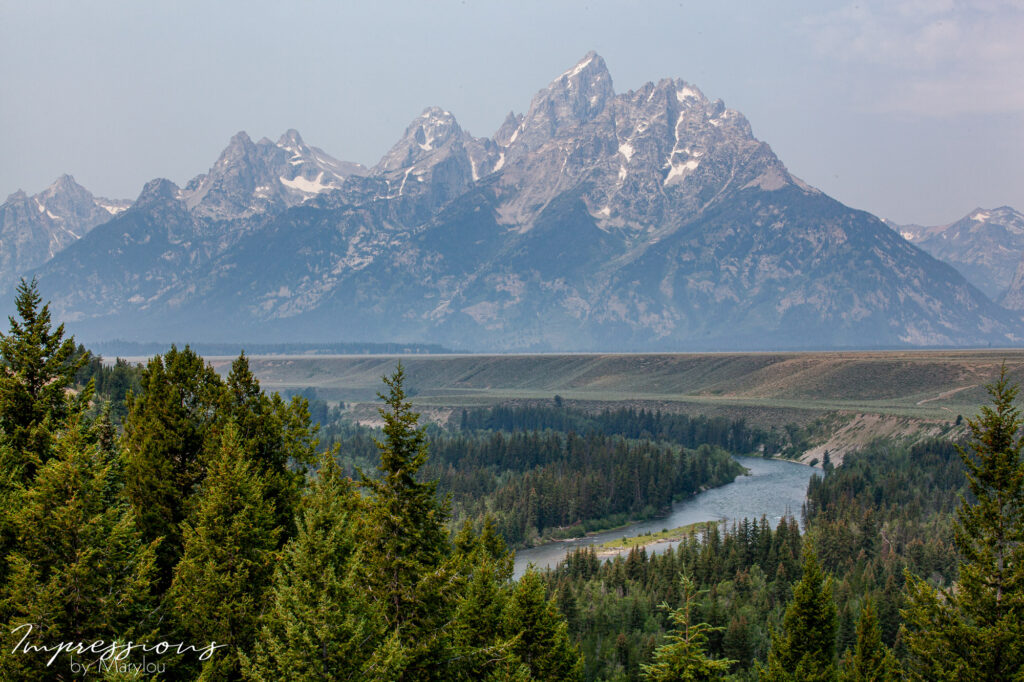 This is near the area where Ansel Adams made his famous Snake River image. How did I do, Mr. Adams? My b&w was with post-processing, his with an old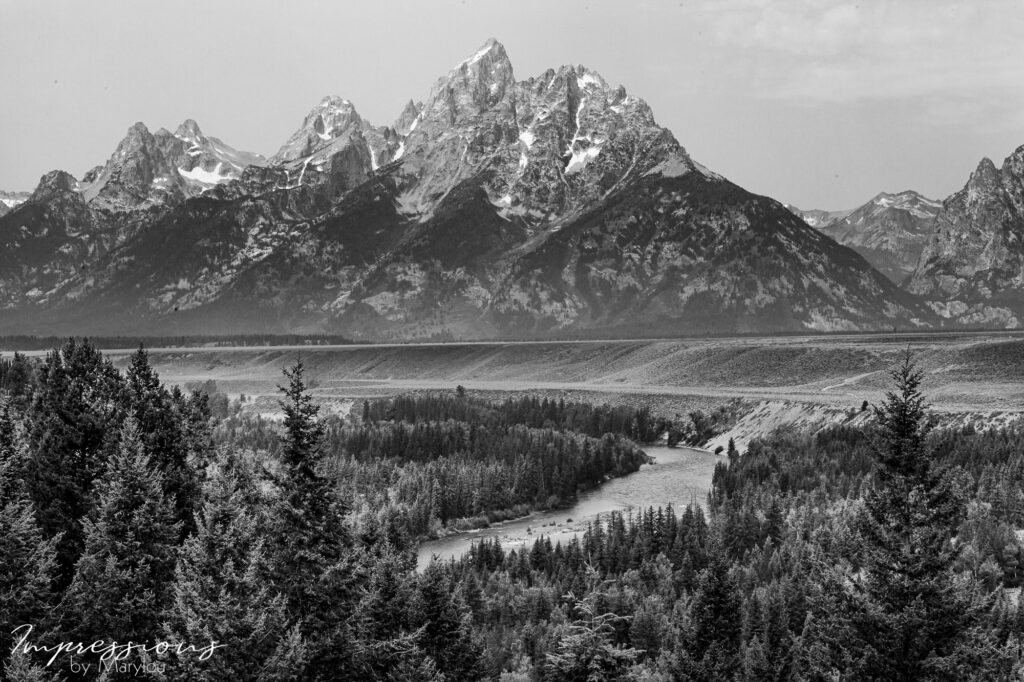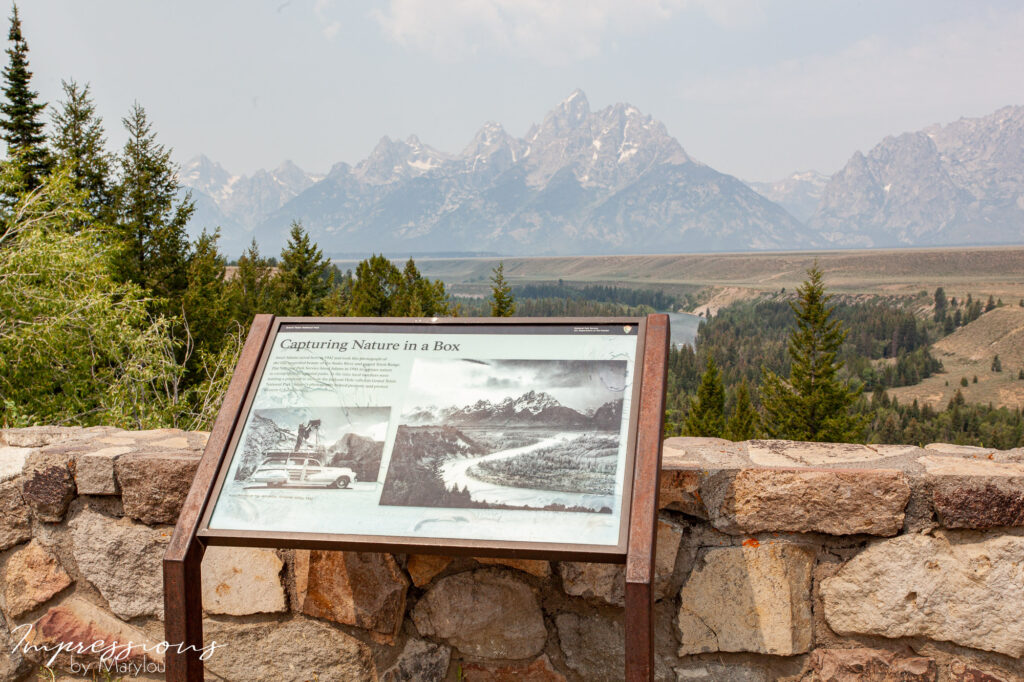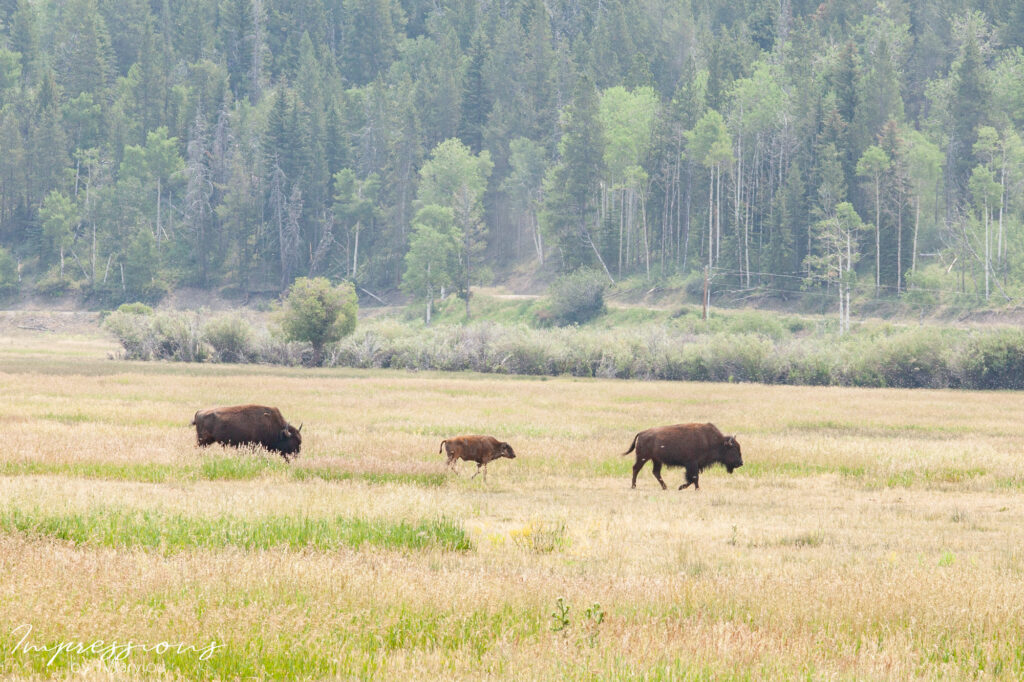 There is lots of wildlife in the park. We saw a lot of buffalo off in the distance.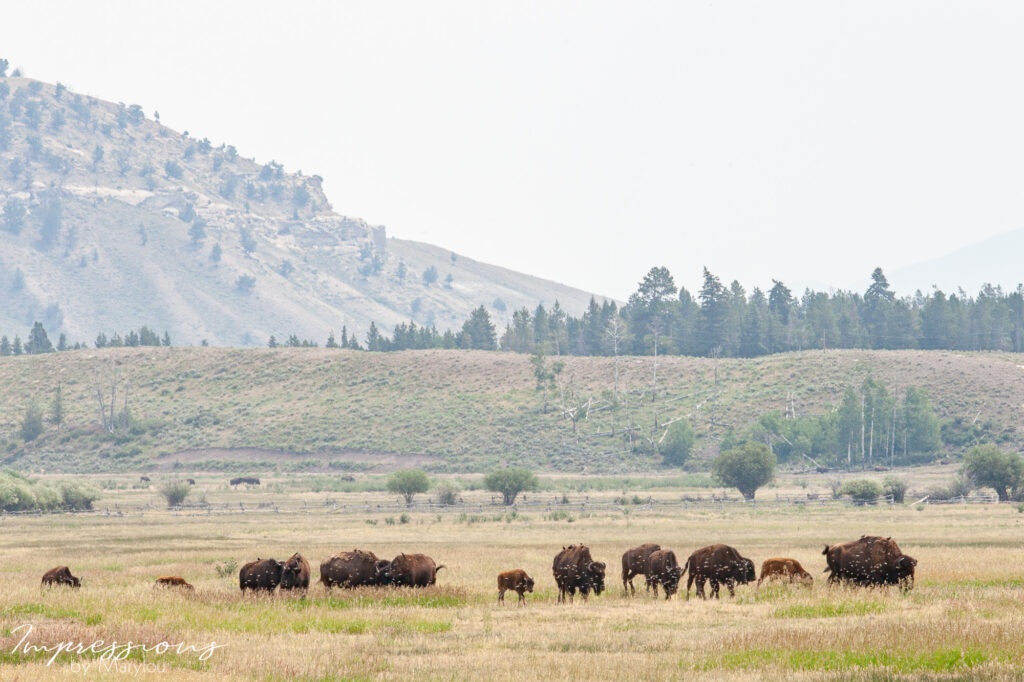 If you want to see SERIOUS bugs, click on the above photo and look at a larger version! Oh, and see the smoke haze in the background? It moved in pretty thick in the afternoon to the east.
There's a loop that you can do where half of it is in the park, half of it is State Route 191. The 191 had lighter traffic, if I remember correctly.
Oxbow Bend is at the northern part of the loop. Mt. Moran is in the distance.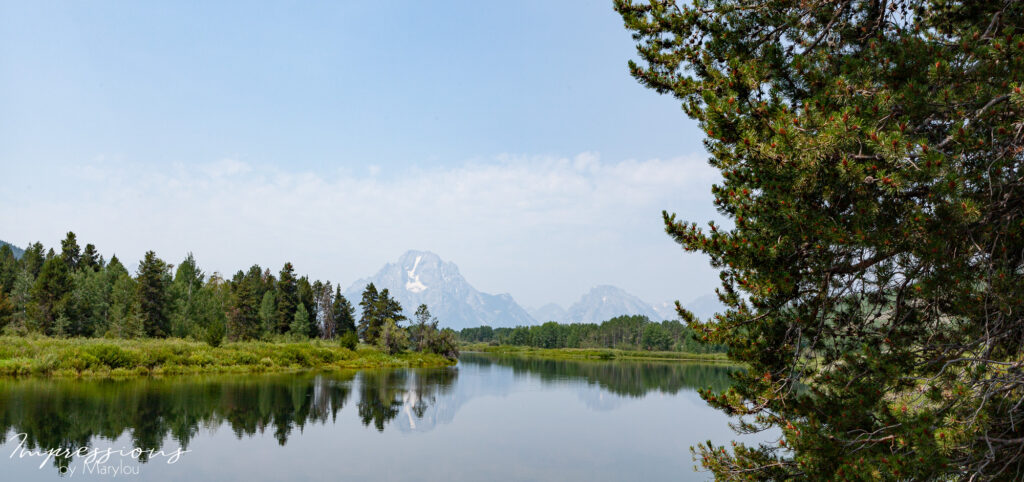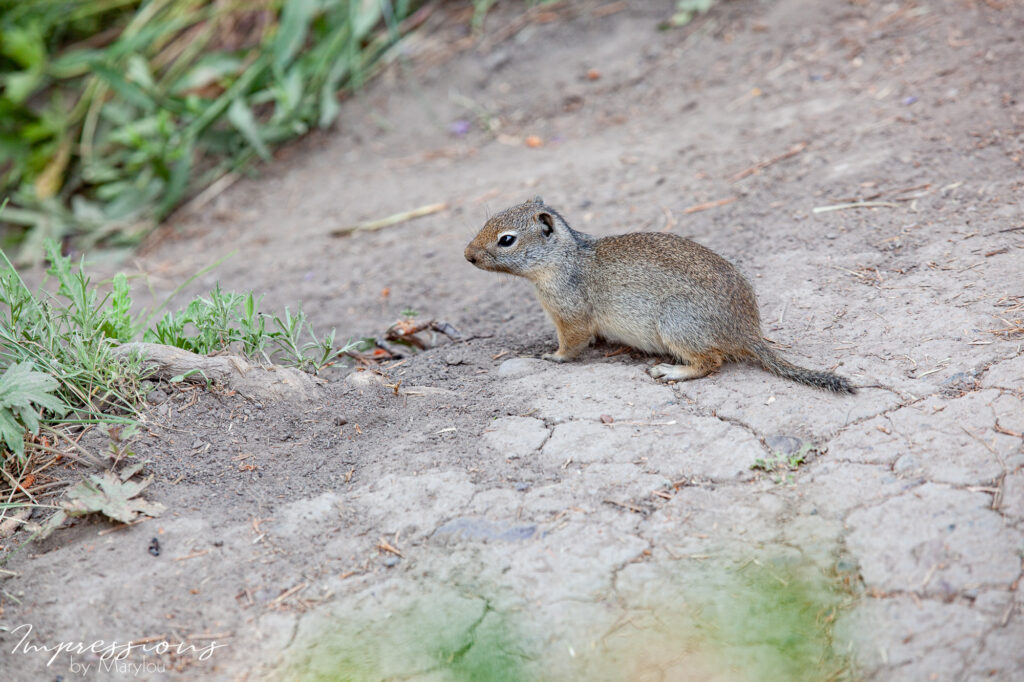 We also took time to drive up Signal Mountain. There are nice panoramic views of the area. To the east: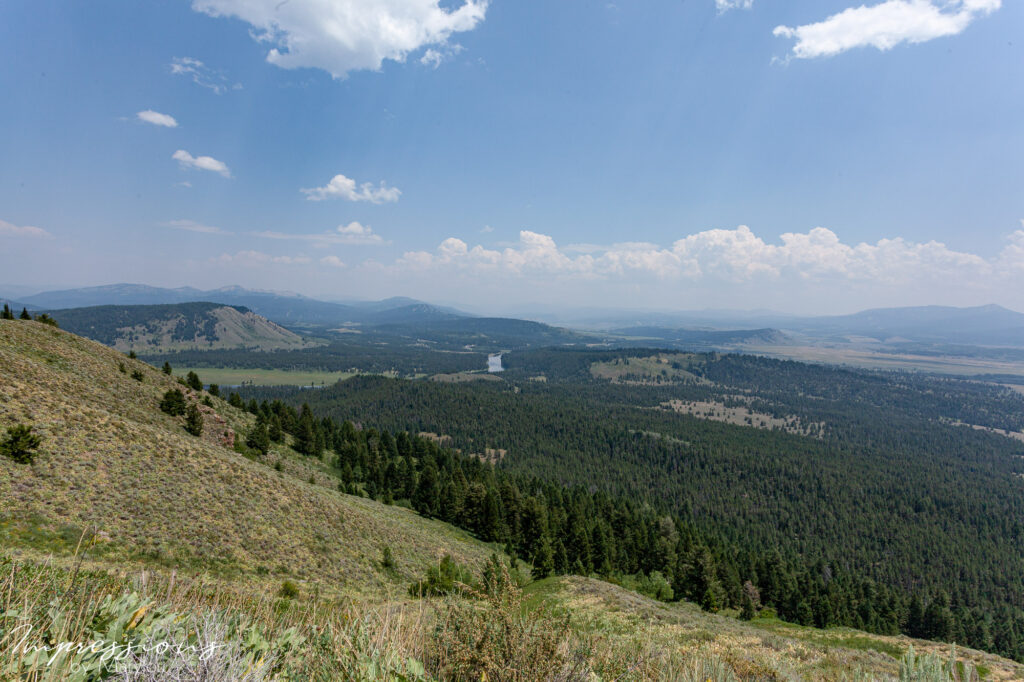 To the west: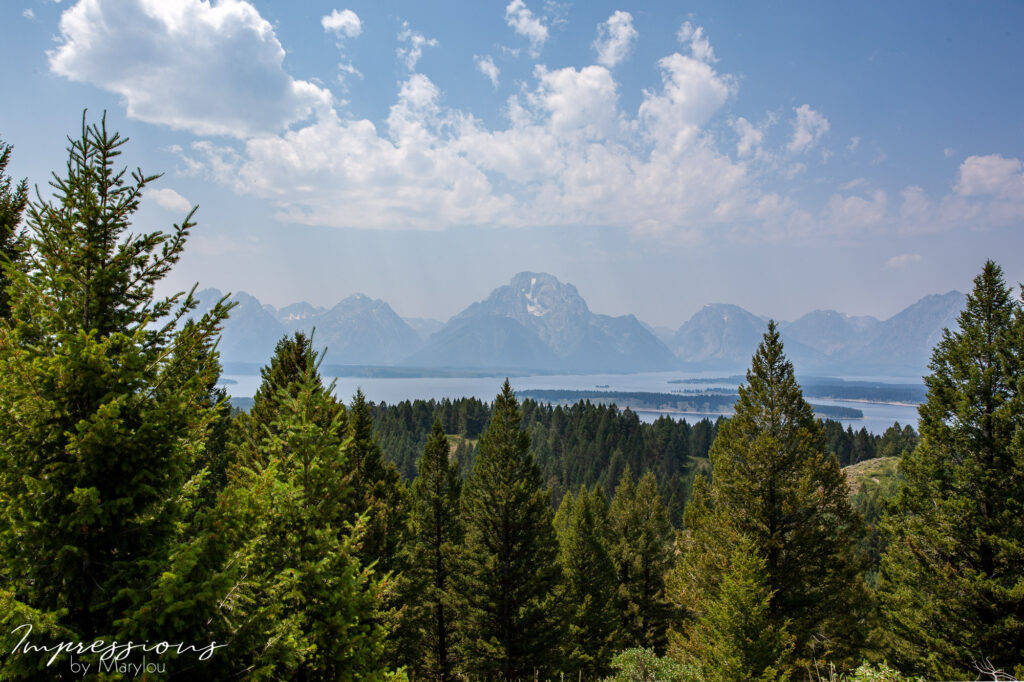 We found what we think is huckleberries at the top of Signal Mountain. We didn't see any ripe berries. We did take nearly every opportunity we could to have huckleberry soda, ice cream, pie, etc. My opinion is that the look like blueberries but have 3x the flavor! 🙂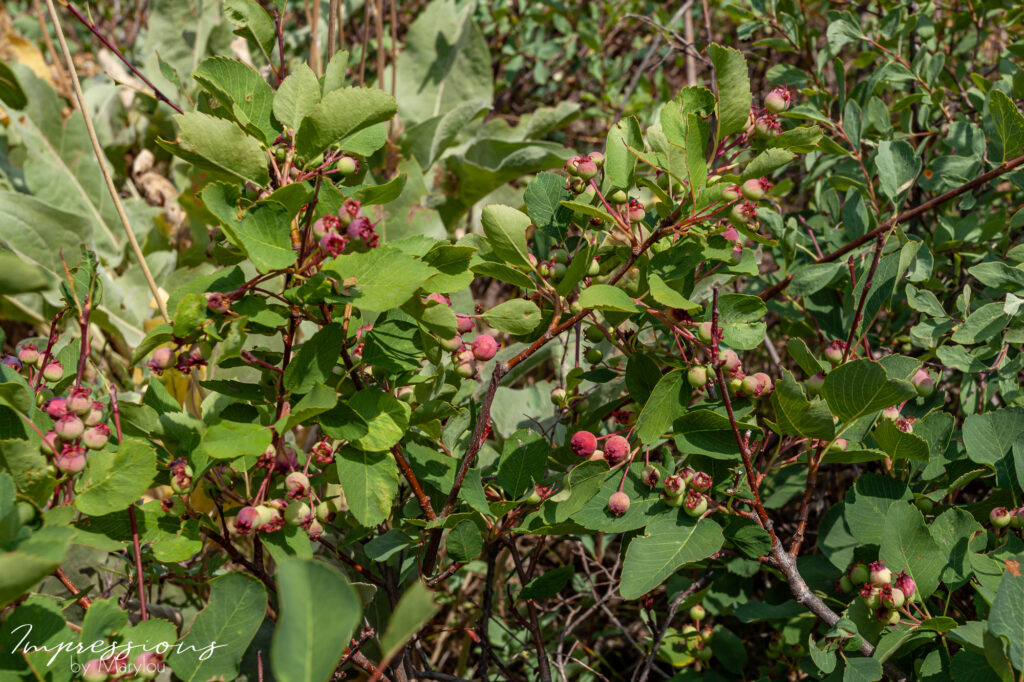 Day 2 saw us going over to the park to be at Jenny Lake at 7:30. We decided to hike around the lake and bring the ferry back.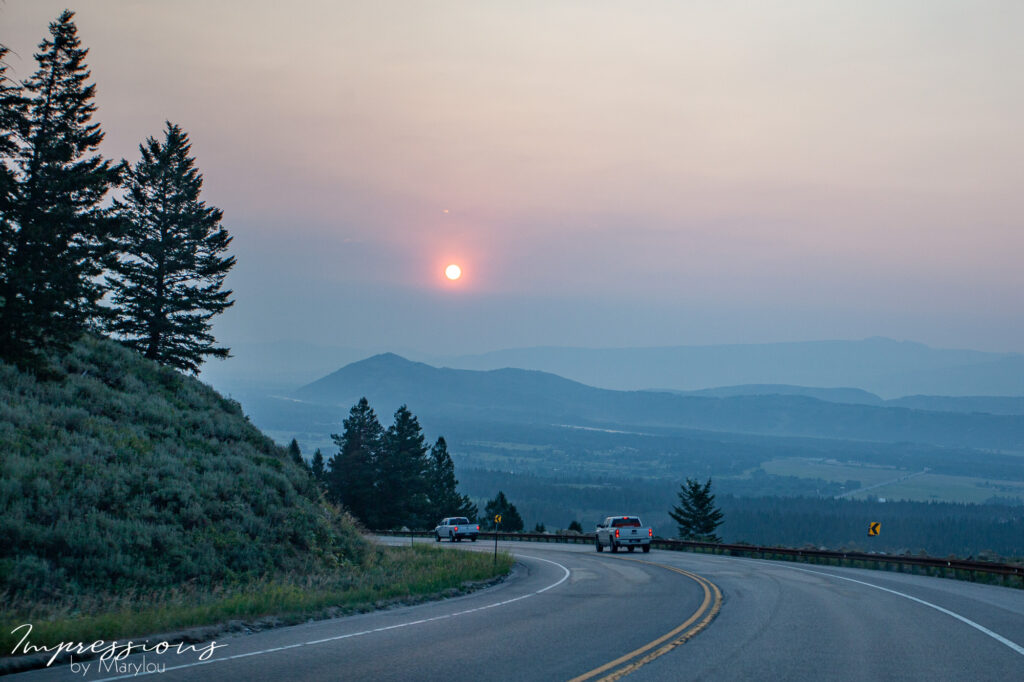 One of the four famous entrances to a square in Jackson: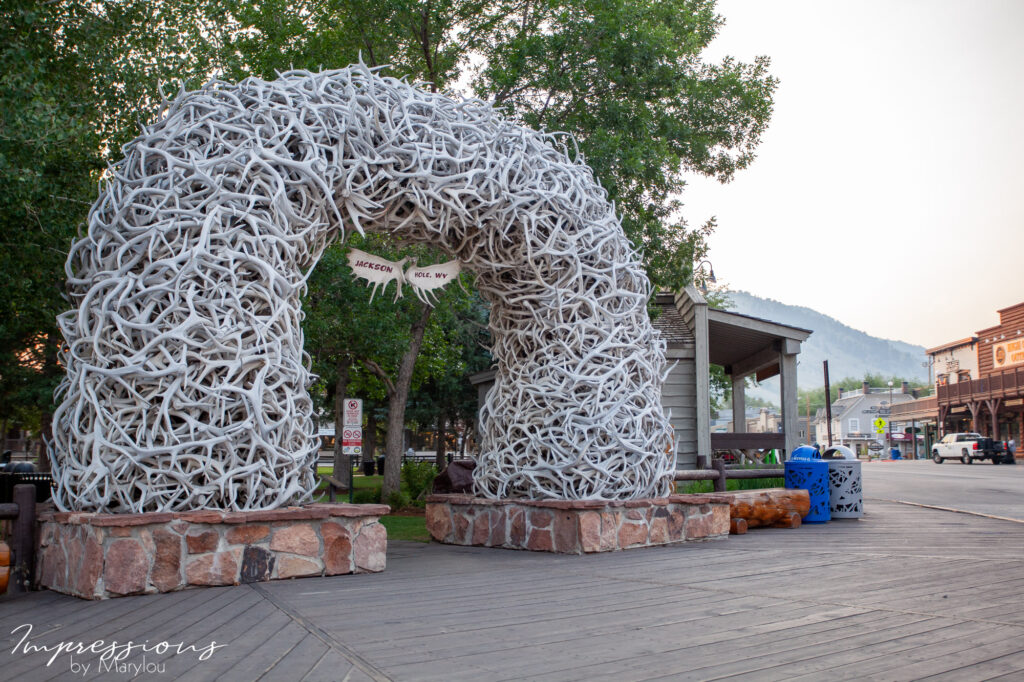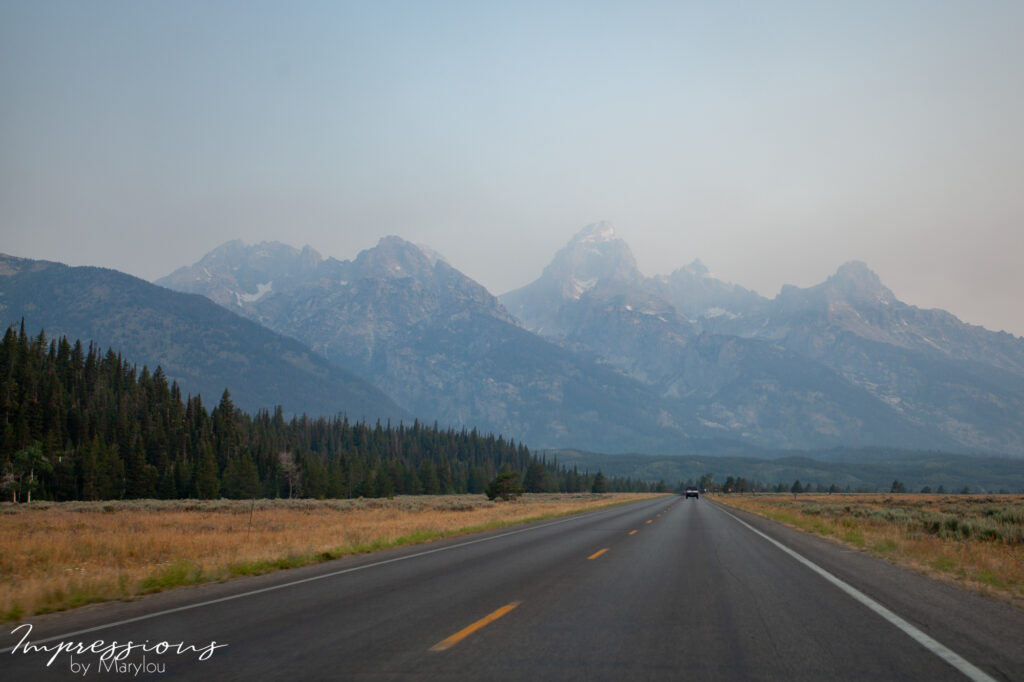 You can see how smoky the area is compared to the morning before.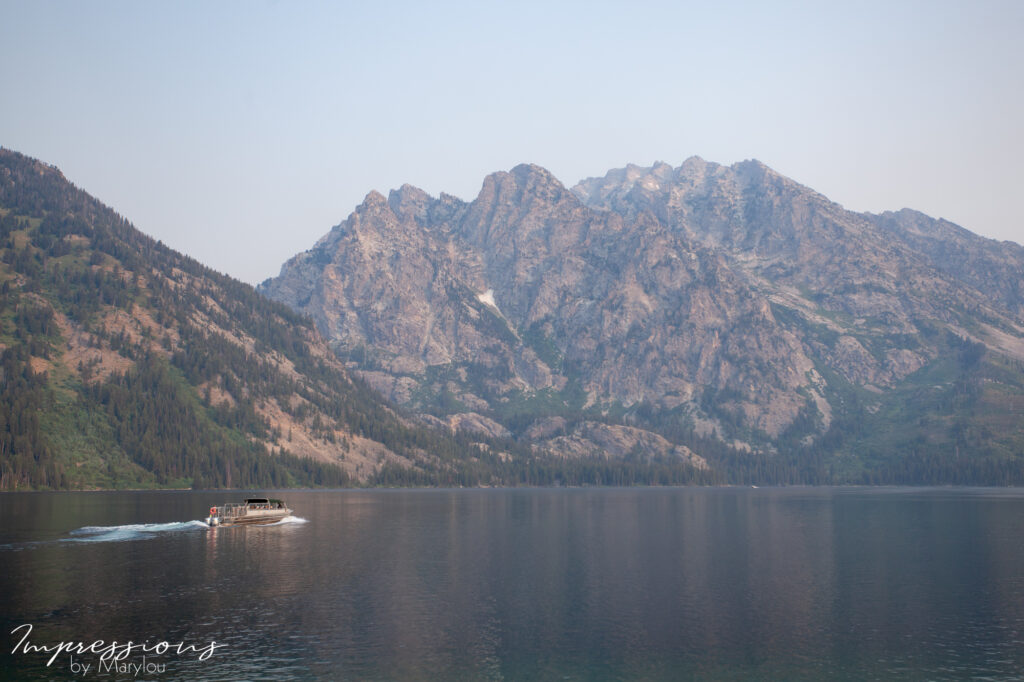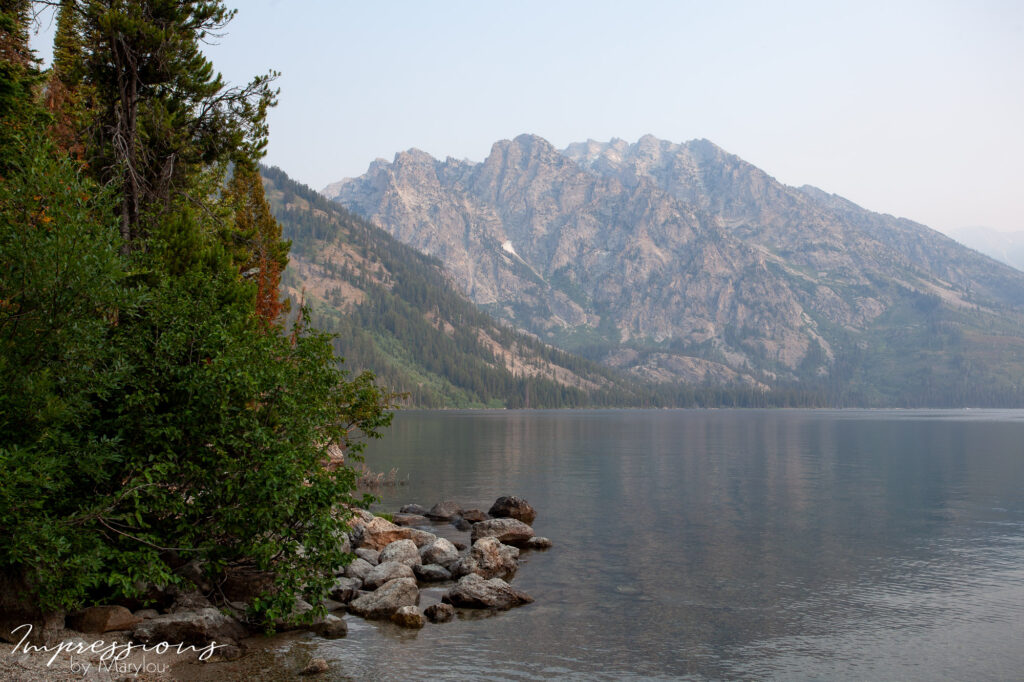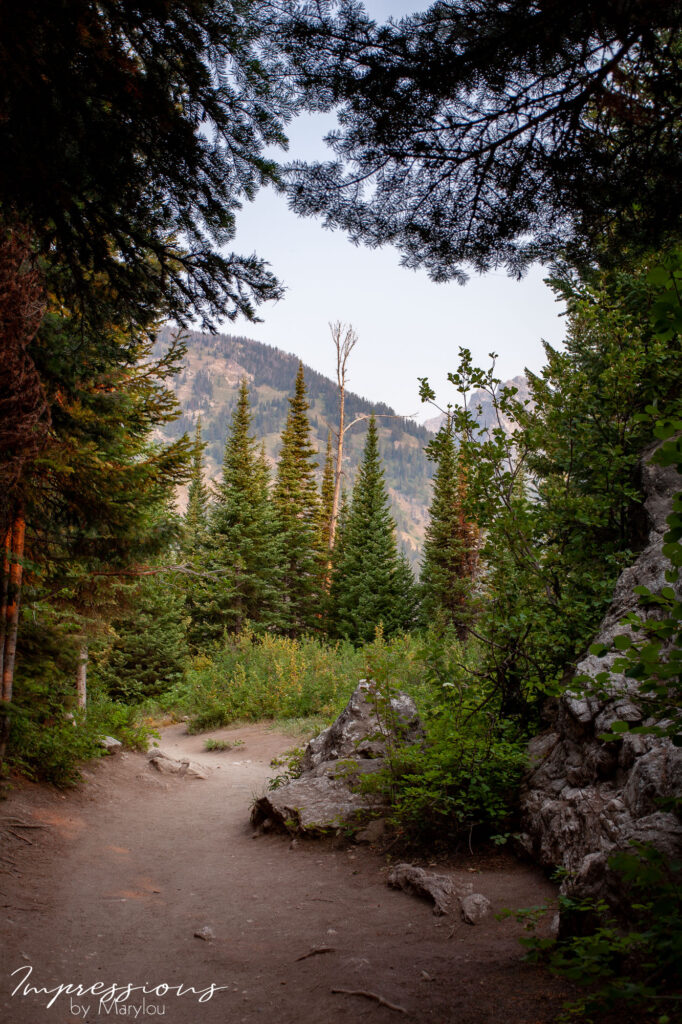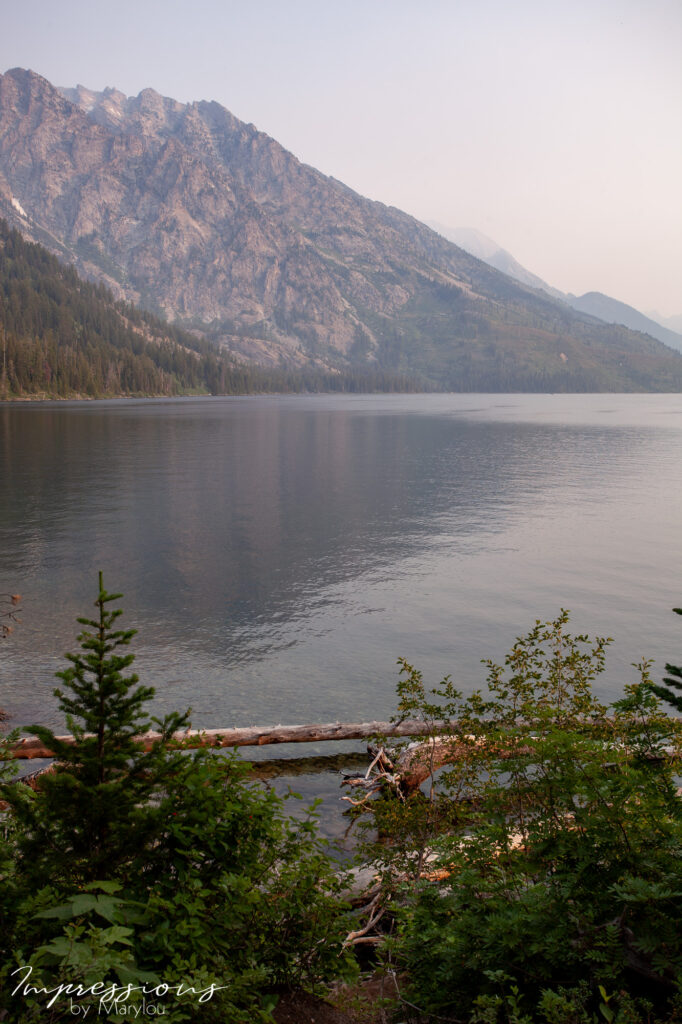 We took the advice to be careful about carrying food on the trails to avoid attracting bears a little too seriously and could have used some snacks. The hike was far from vigorous but you do burn off calories and we had eaten breakfast at early thirty! There were a lot of people on this trail and so chance of bear activity was a lot less likely. Someone who had been on the trail before daybreak had seen one not very long before we went through there.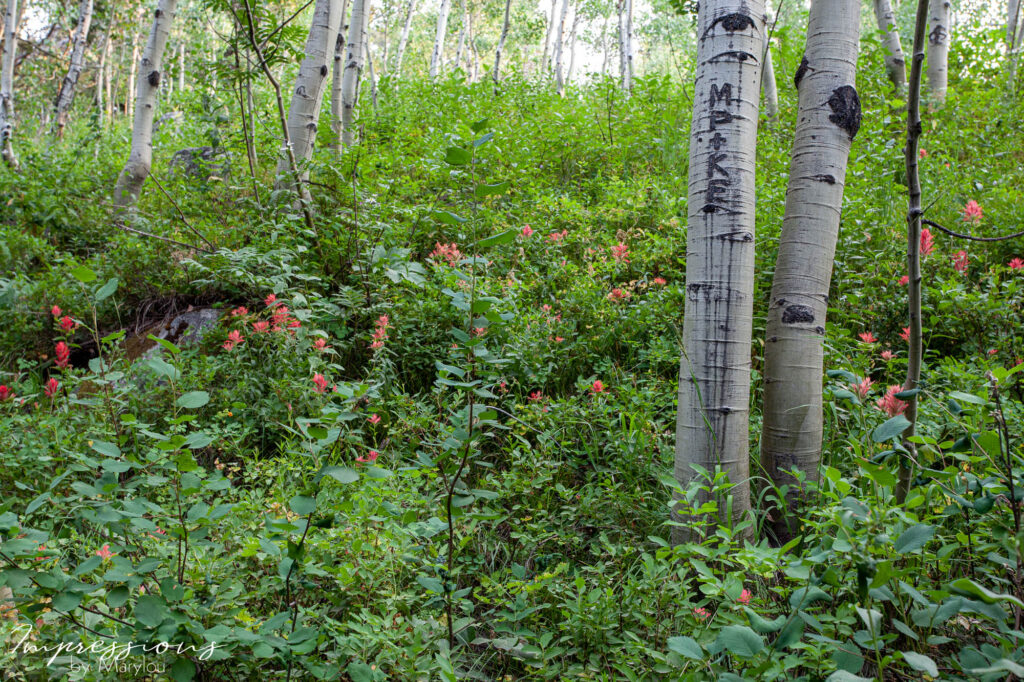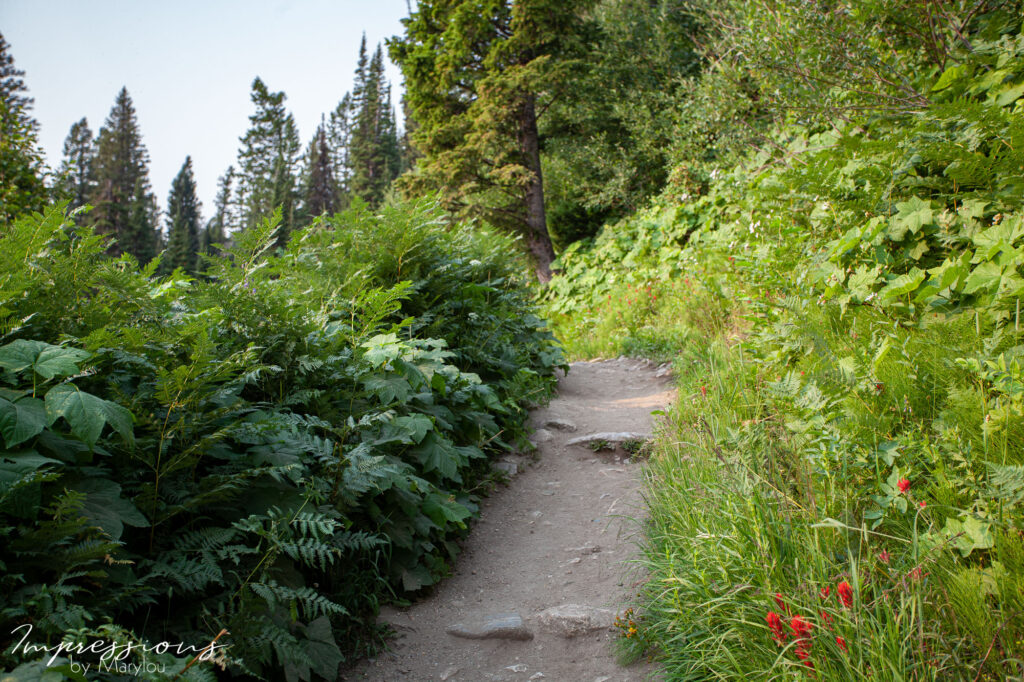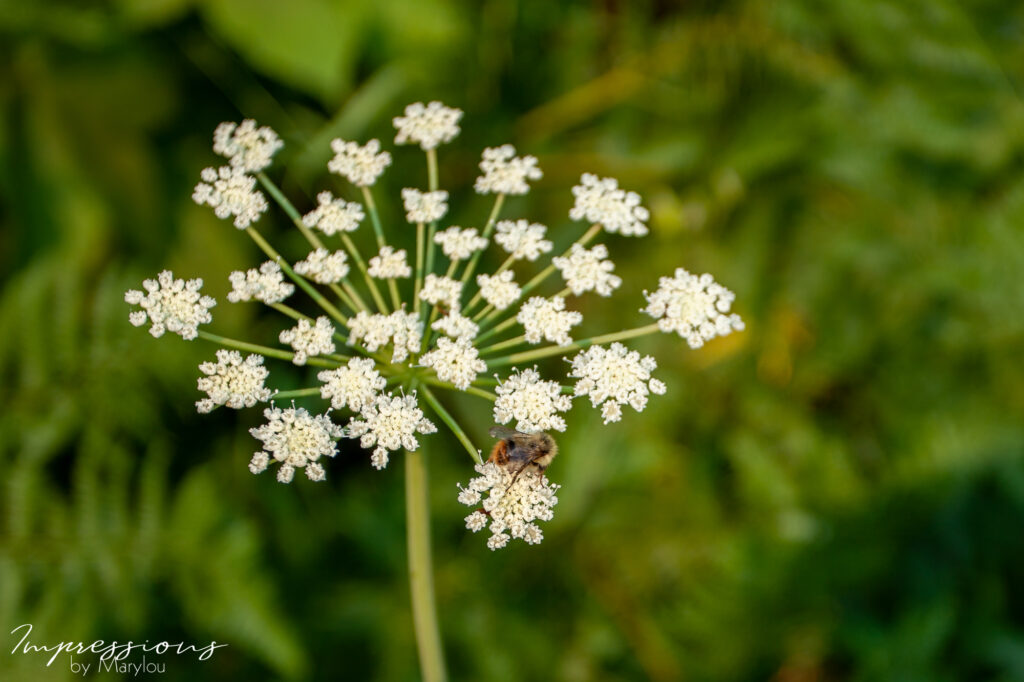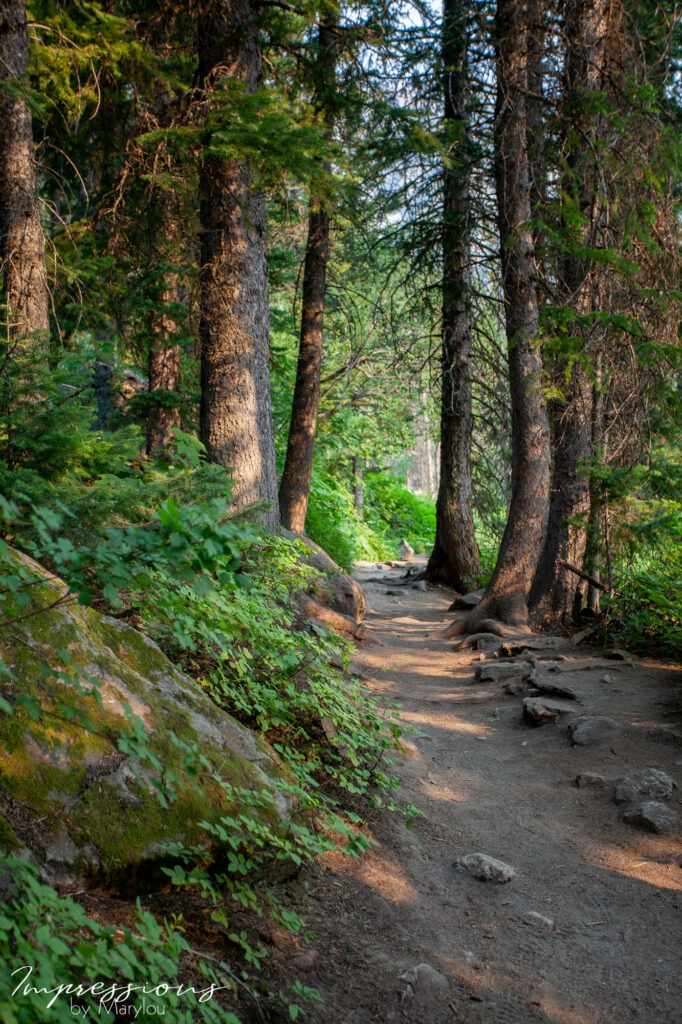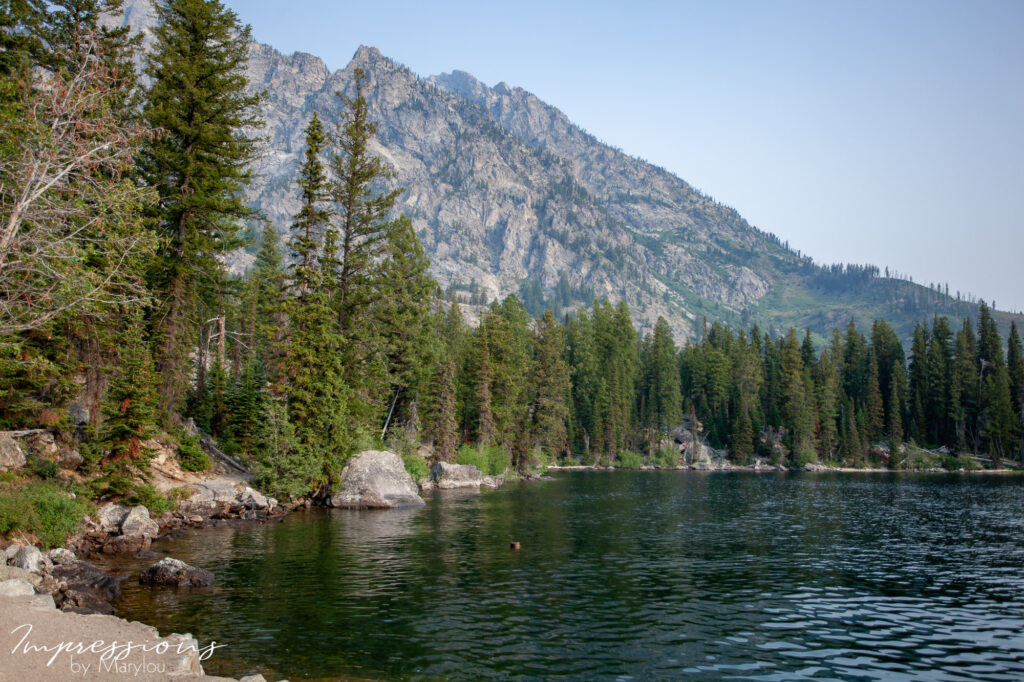 Hidden Falls was on another trail nearby, just short distance from the trail. It was a really busy place by (probably) 8:30. People were very encouraging and letting us know we were almost there and it was worth the effort!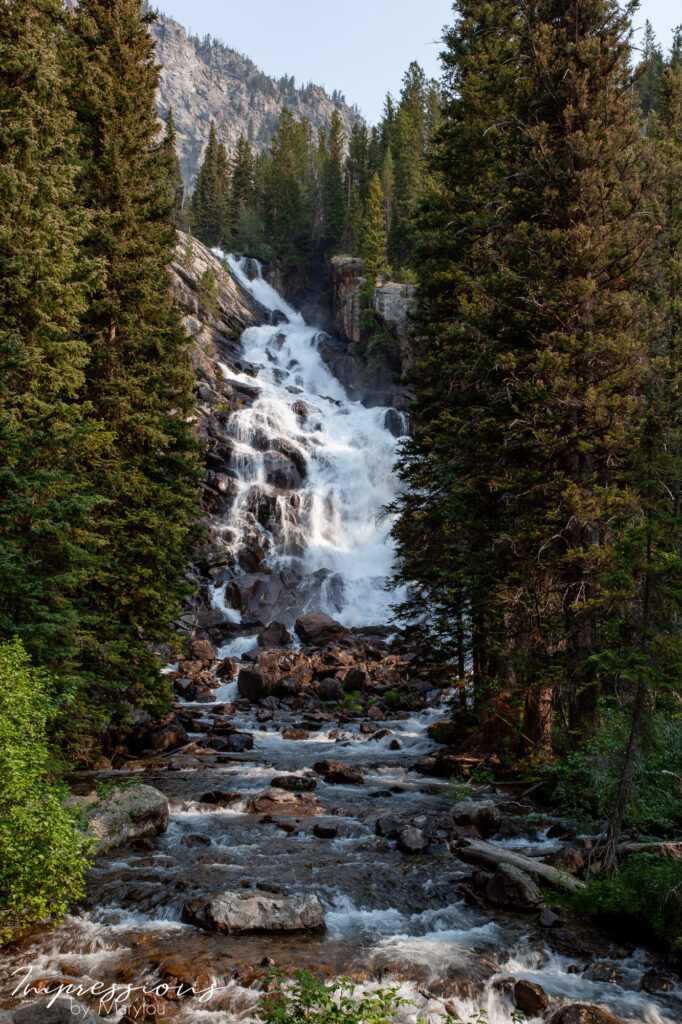 It was definitely worth the visit!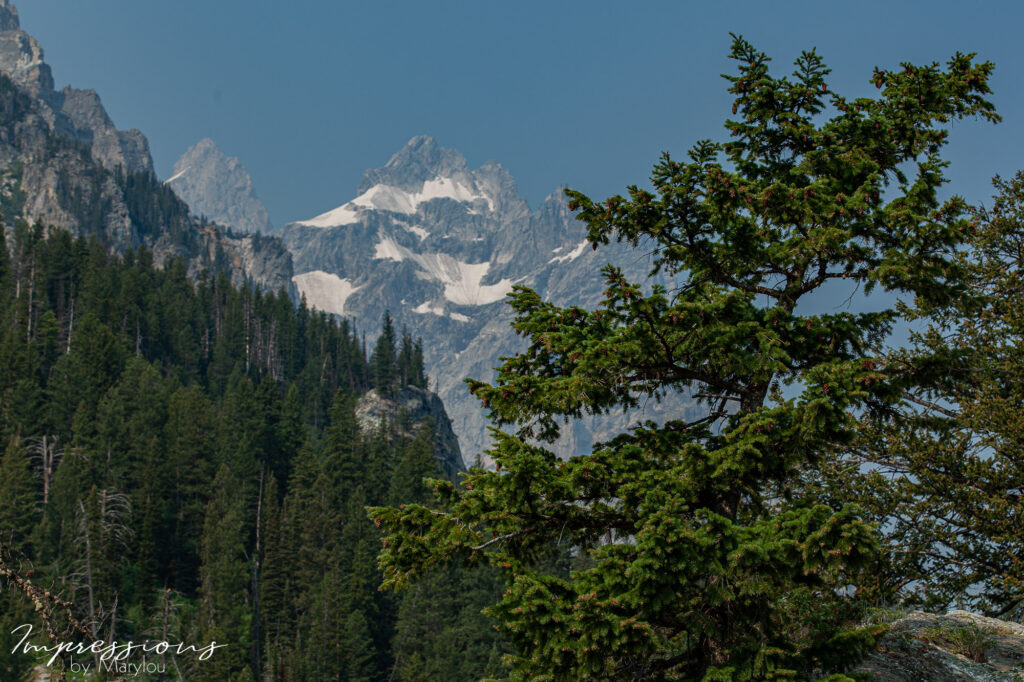 Lookout Point was also nearby (not the peak in the picture above this!) and we hiked up (more steeply now) and got to where we thought it was but we were only part way there. I was too tired to handle the narrow steep trail the rest of the way up and opted to stay and rest while Carolyn and Wendy headed up. You can see them dead center in the photo below.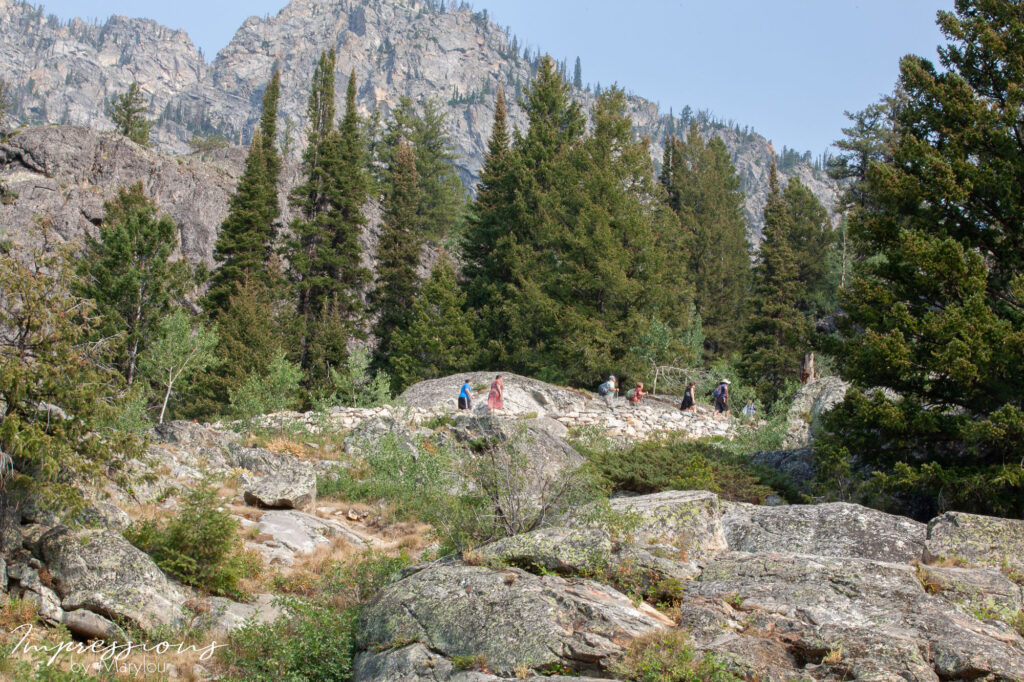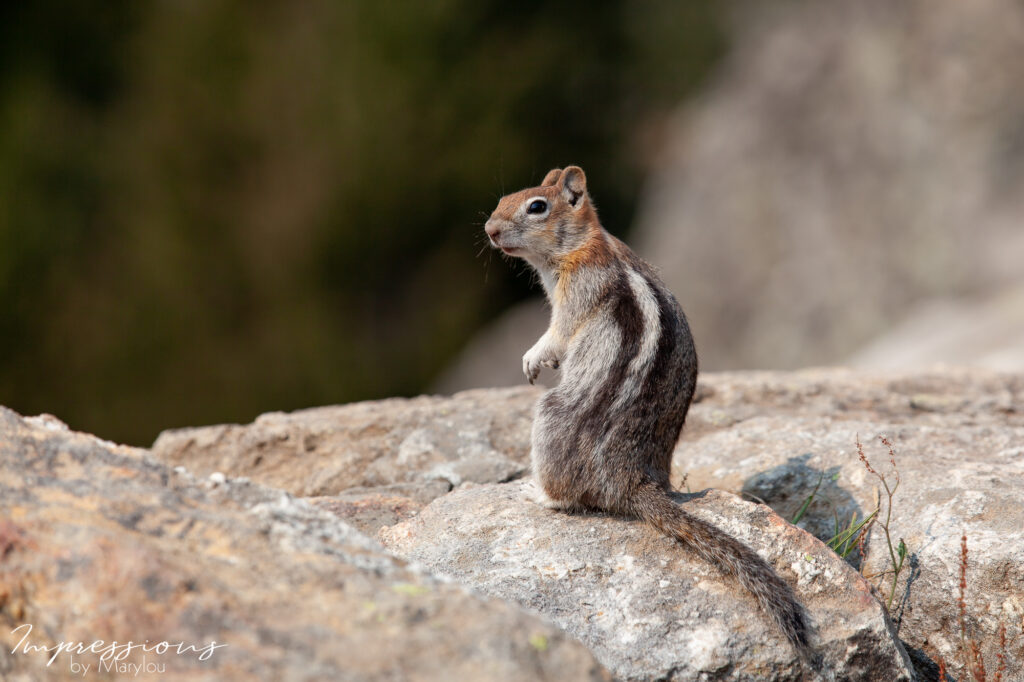 I hung out with others who didn't want to go further and this chippy little guy.
The view from here was not half shabby! 🙂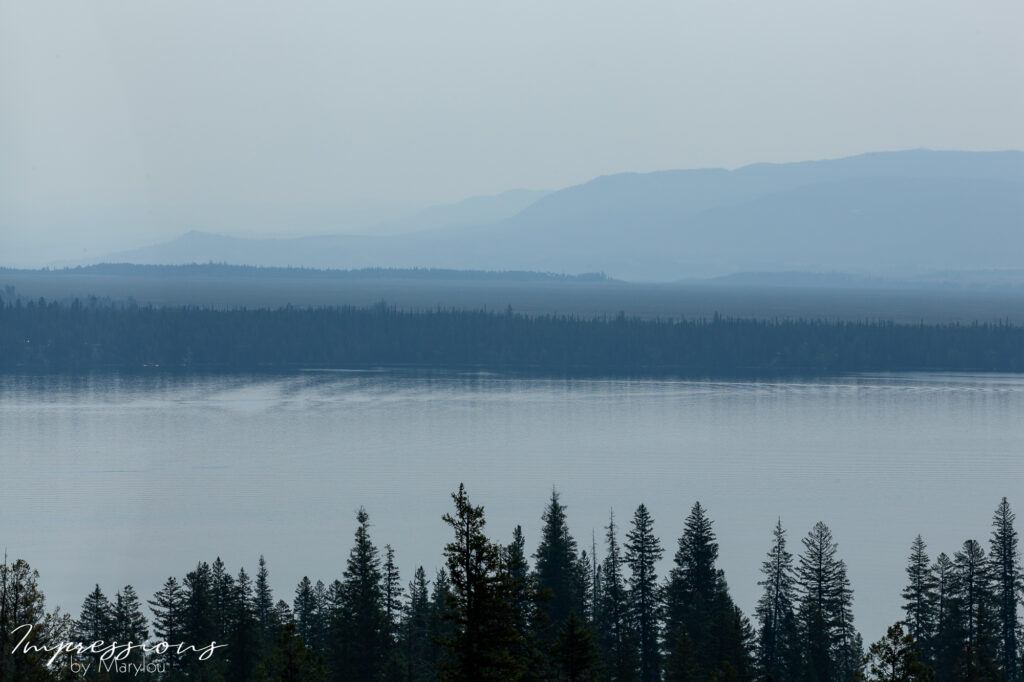 We were glad we had hiked first and ferried back. When we left the parking lot was full and there were vehicles all the way out to the park loop road and another quarter mile. I would highly recommend doing Jenny Lake either 1st thing in the morning, or wait until early afternoon during peak season.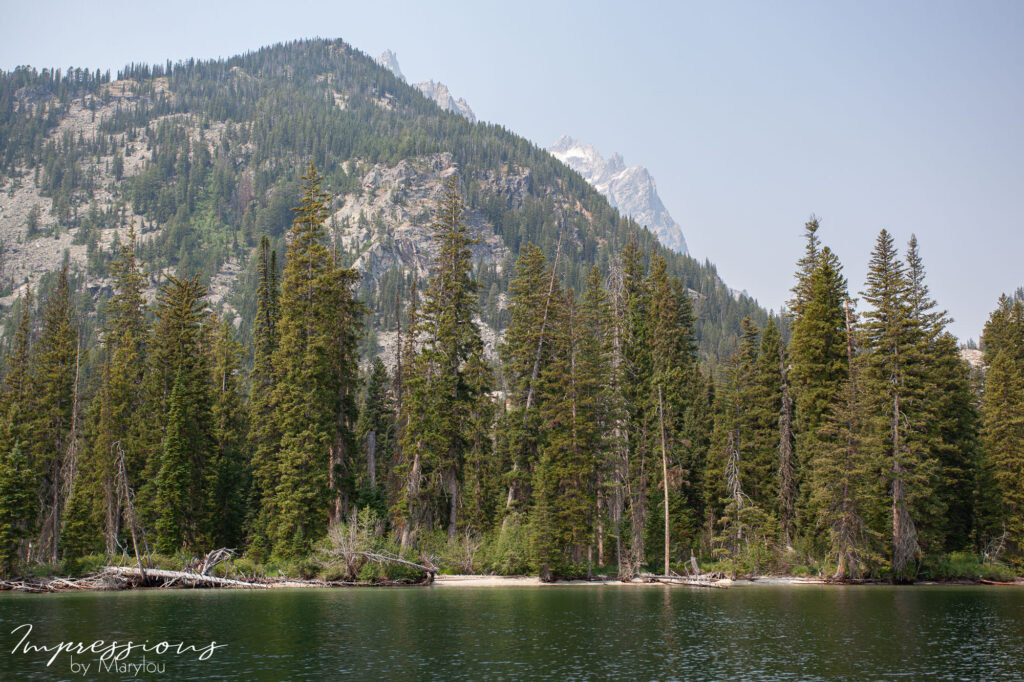 Our 1st elk sighting beside the road. Heard later that he had been hanging around the one motel.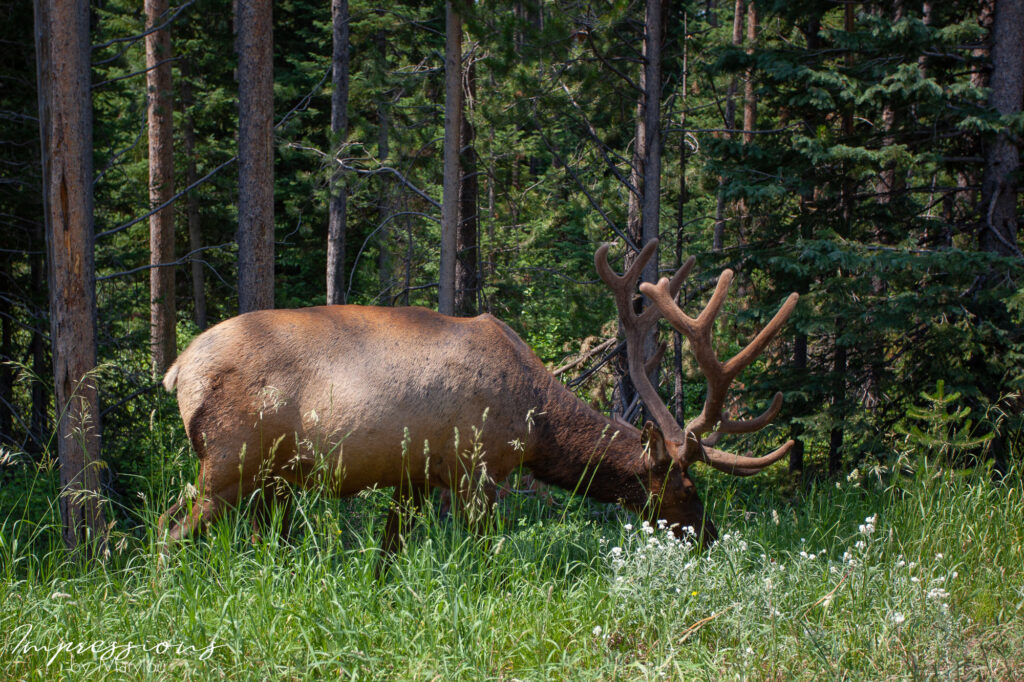 Bear 399 had 4 cubs in 2020 and there was always a little buzz about seeing her. She often raises her cubs near the road because their is less chance of a male bear killing them because they are afraid of the road. We said whoever sees a bear 1st gets treated to huckleberry ice cream. Unfortunately, none of us got to capitalize on that.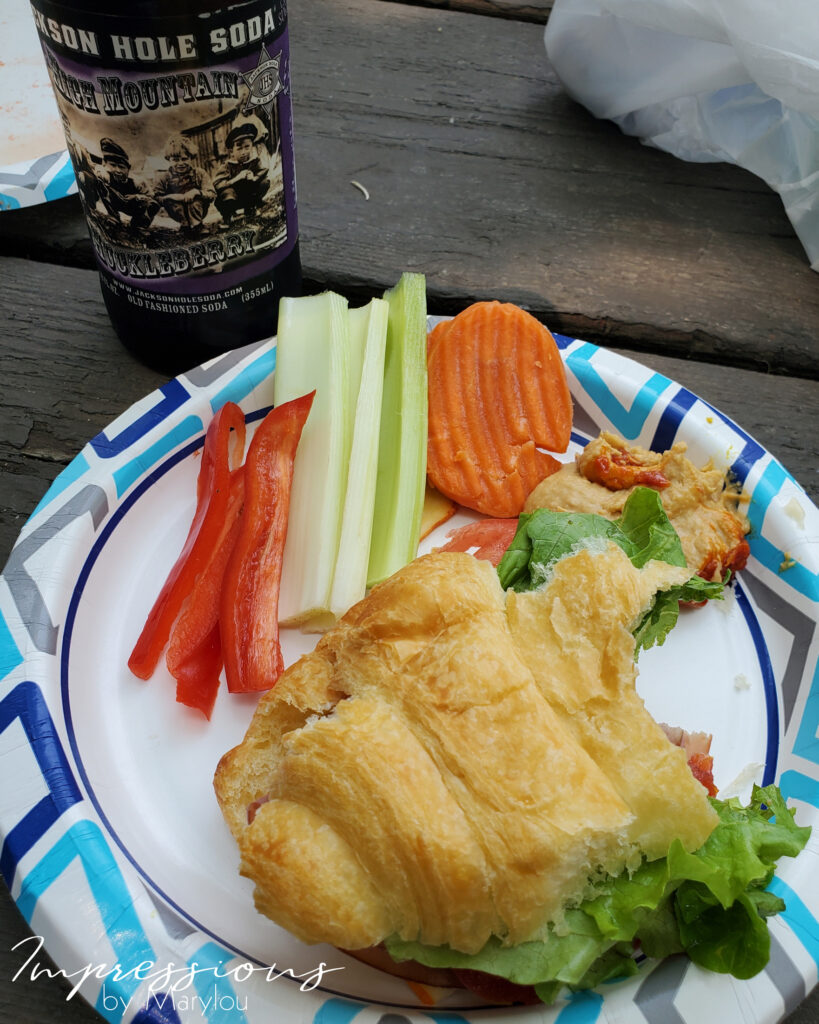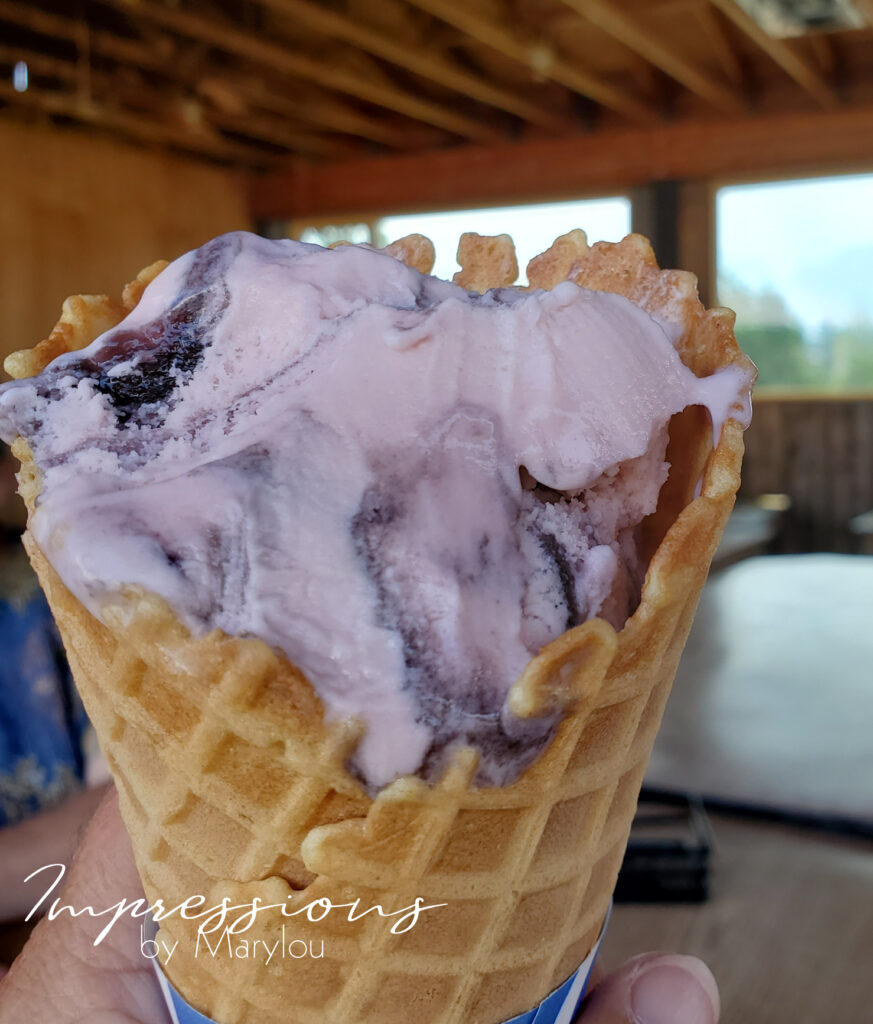 We packed picnic lunches both days and found places to eat. Wow! Food tastes so good in the great outdoor, especially after a hike. Carolyn had made granola bars and we were so grateful for them many times!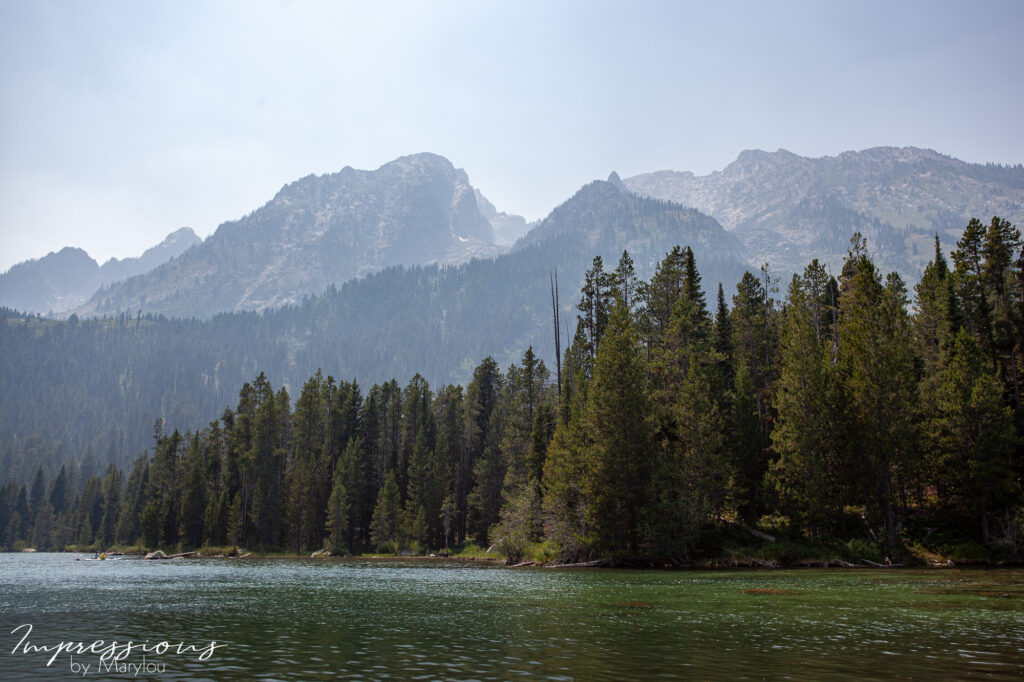 We had time to relax and stick our feet in the chilly waters of String Lake. Parking was a challenge at a lot of places!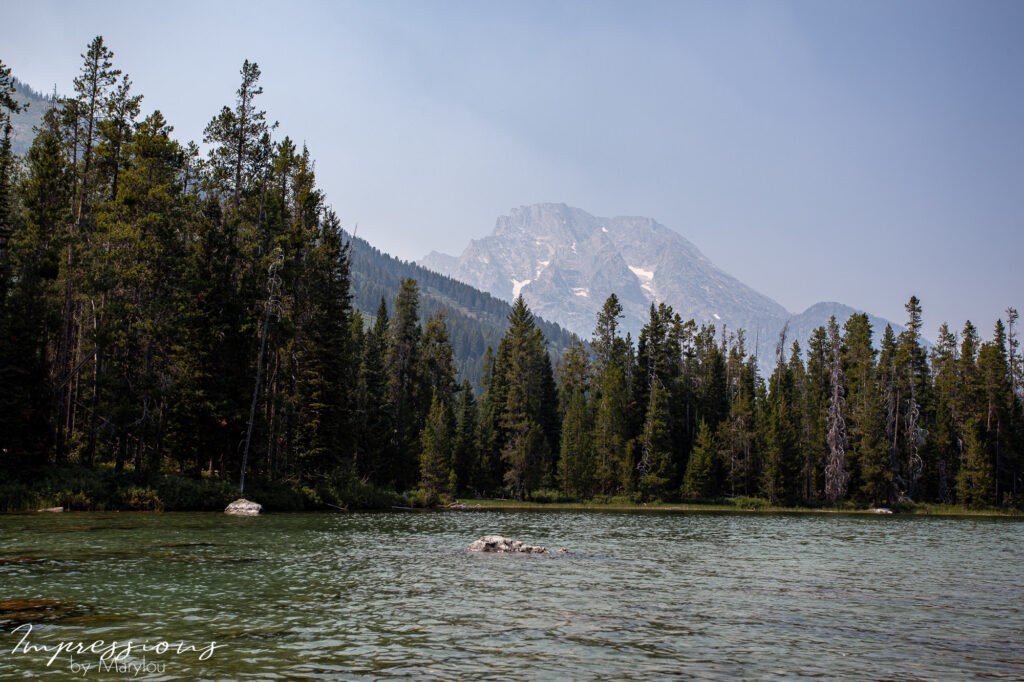 One of our splurges for the trip was a float trip down the Snake River. It included a a delicious meal before we "floated."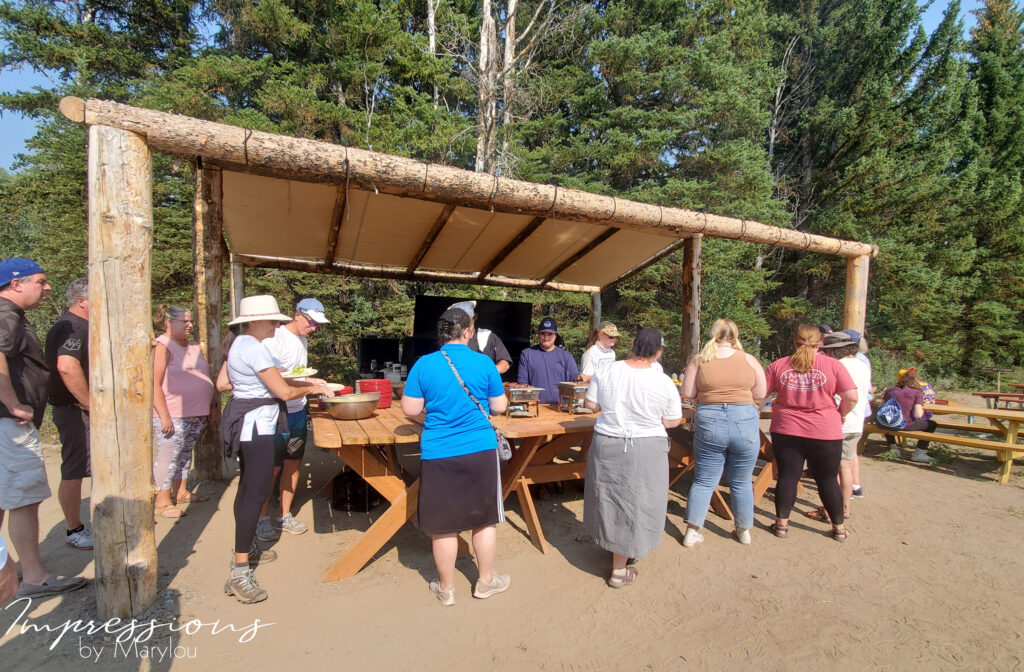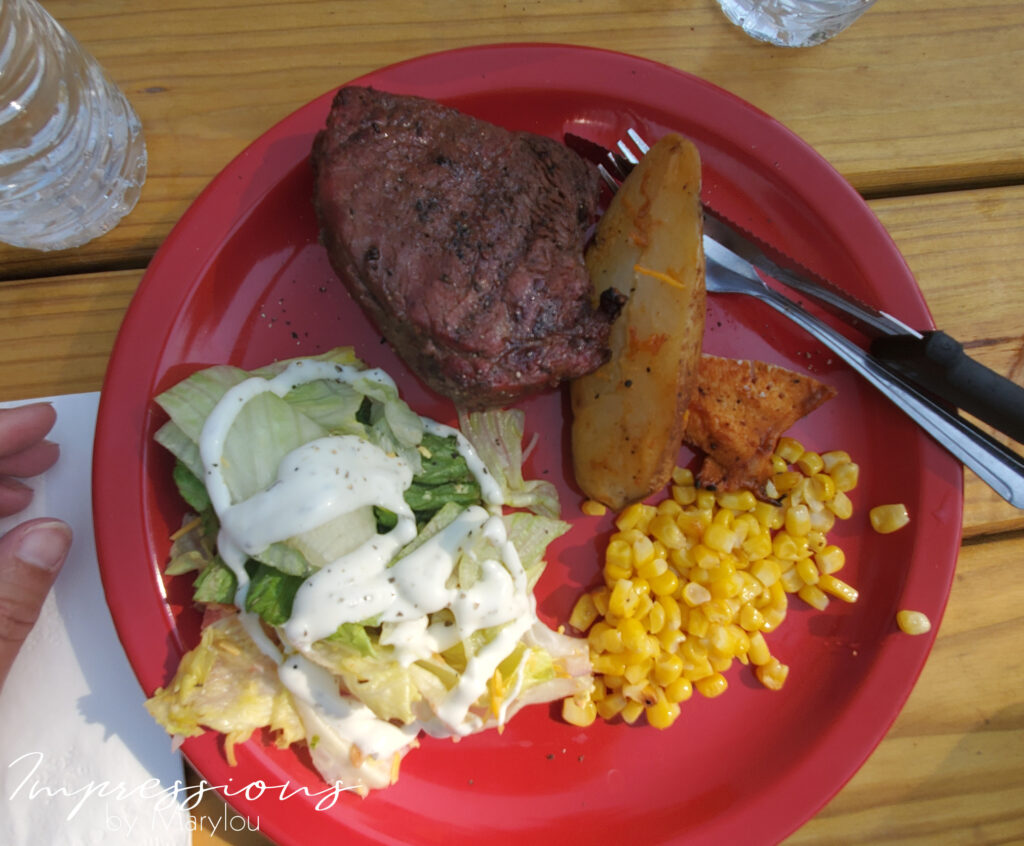 It was a relaxing float. On a float trip, there is no white water involved. So if you're not comfortable being on rough water, this should be doable for you.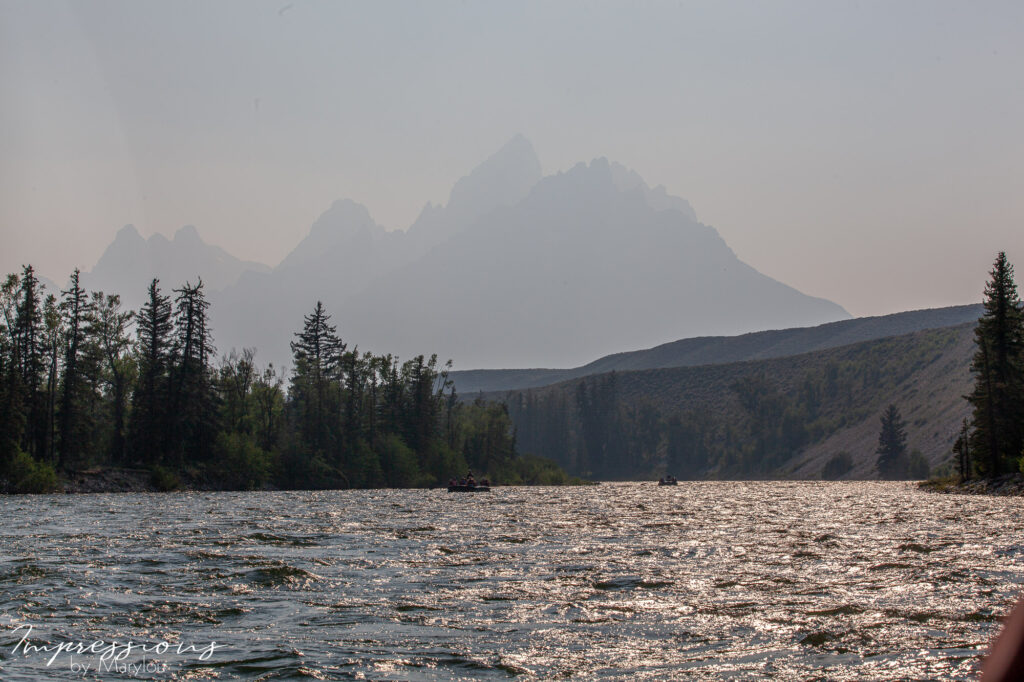 Again, the smoke! I was disappointed on how much the smoke messed up the views. On the other hand, I tried to be thankful it wasn't my home area that has to deal with fires and smoke every summer!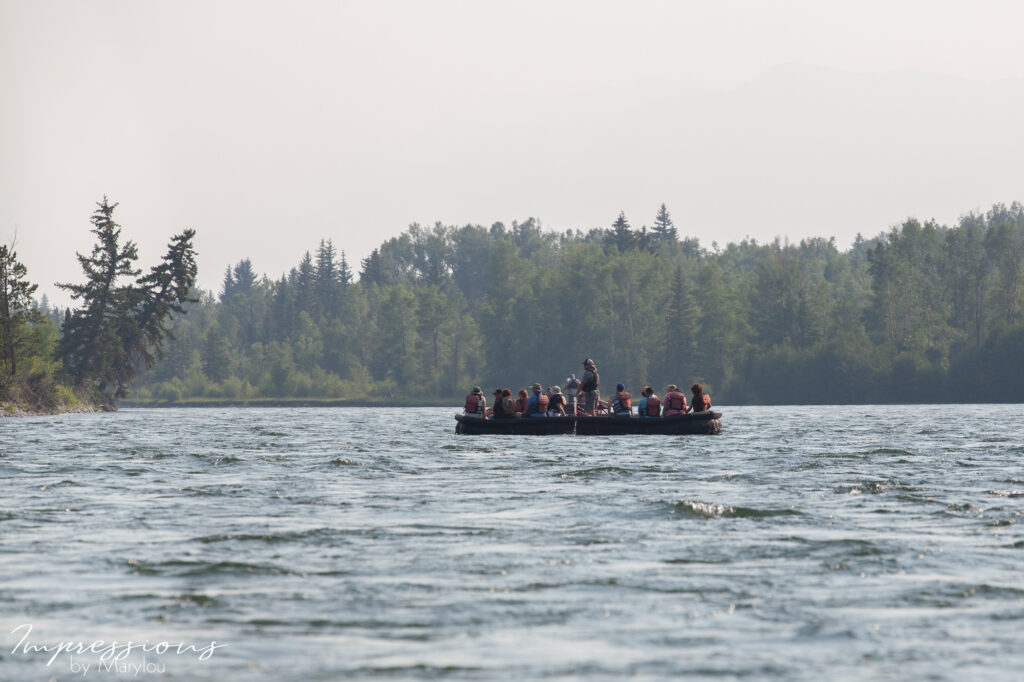 There were a few Bald Eagles spotted along the way.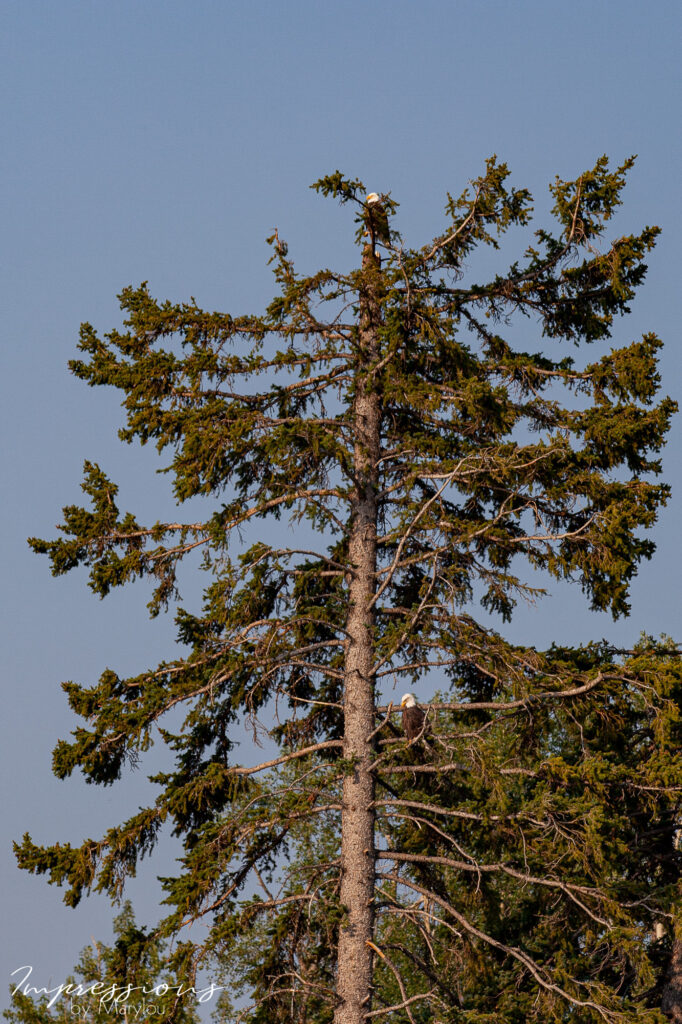 Evidence of beavers in the land: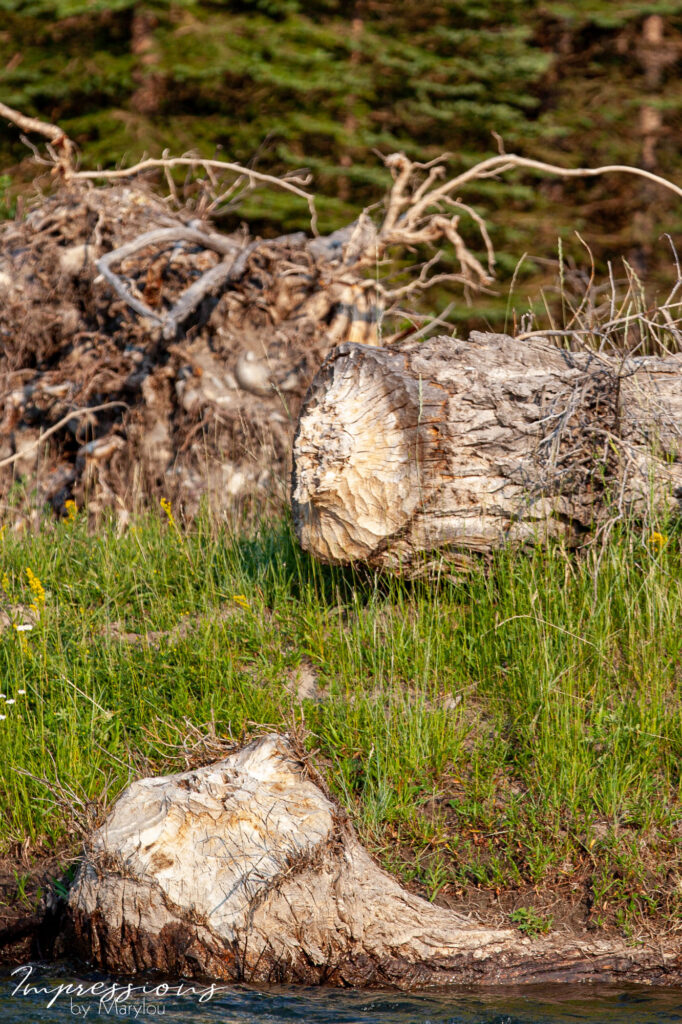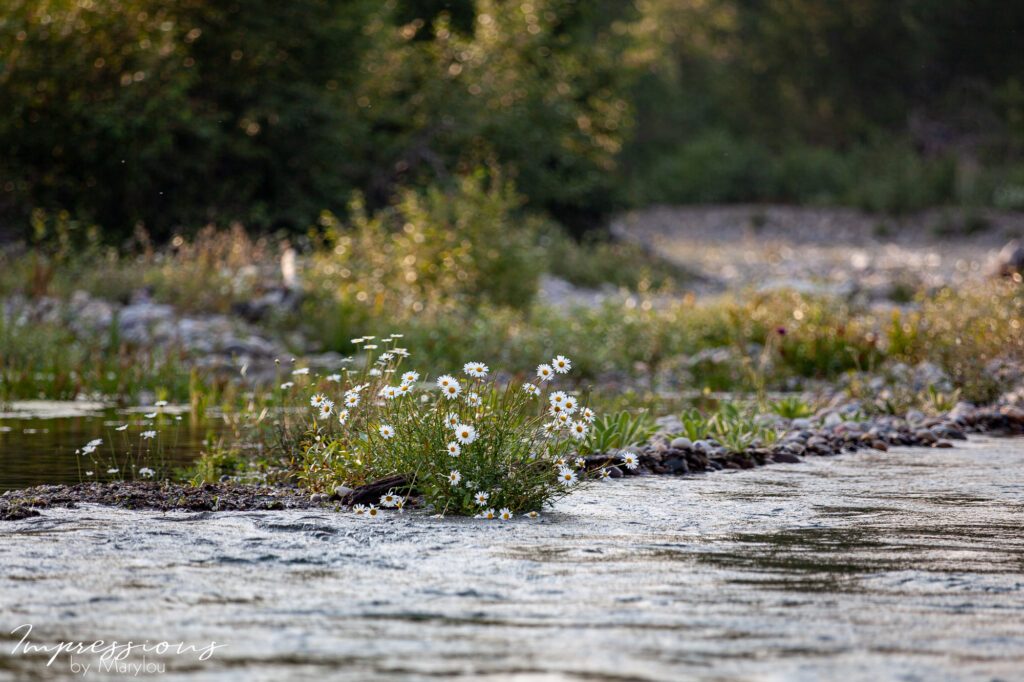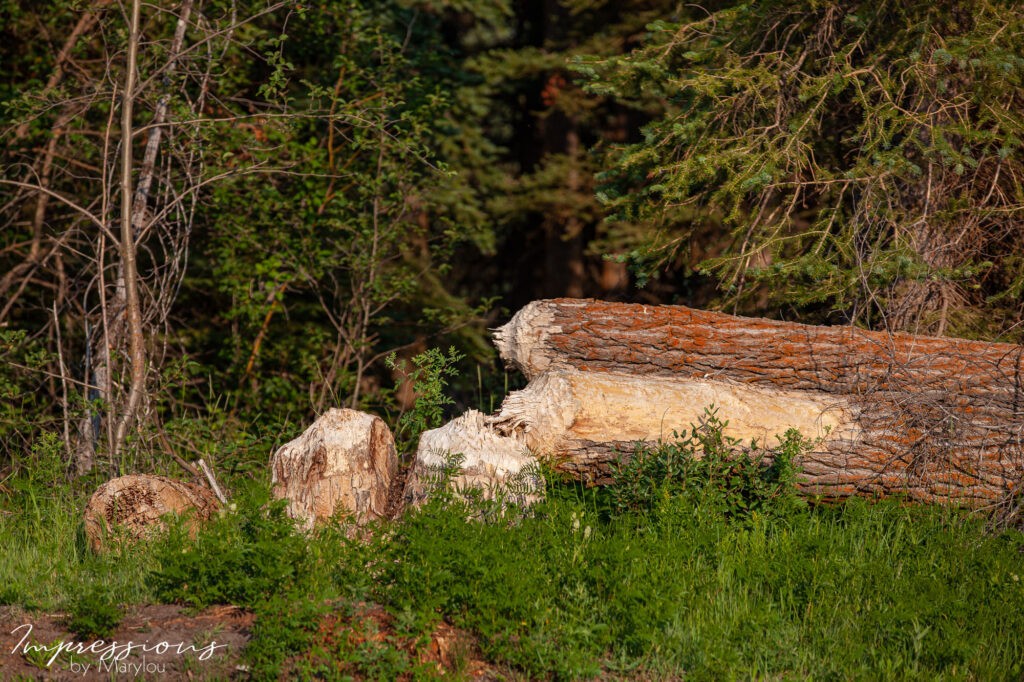 On our way back home, we drove along a dirt road that has great potential for wildlife viewing. We saw several moose cows and and a baby in a swampy area.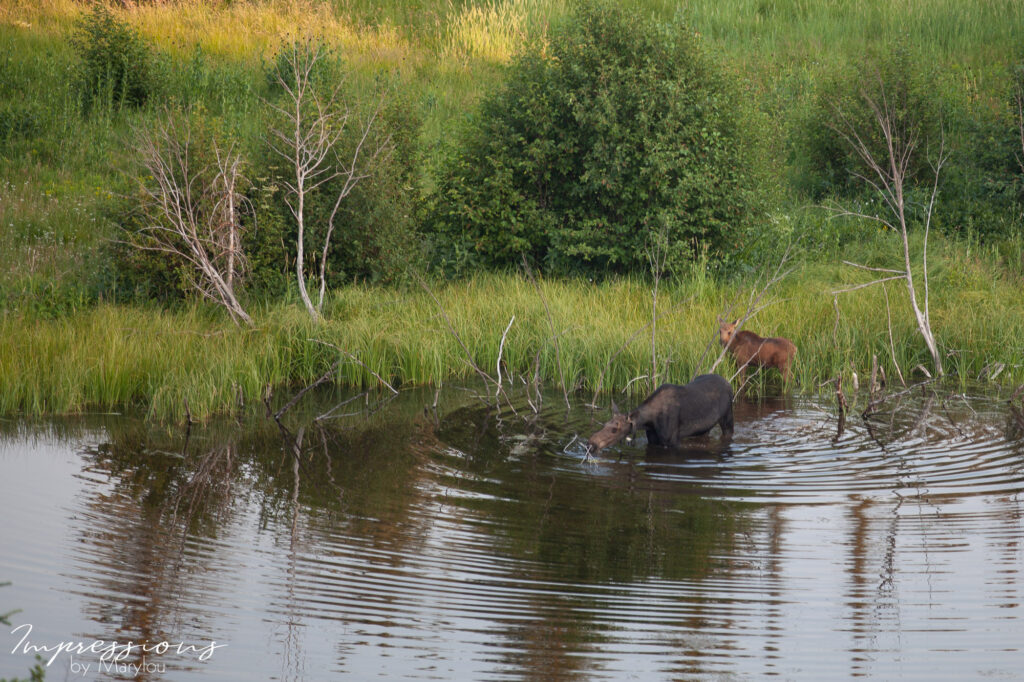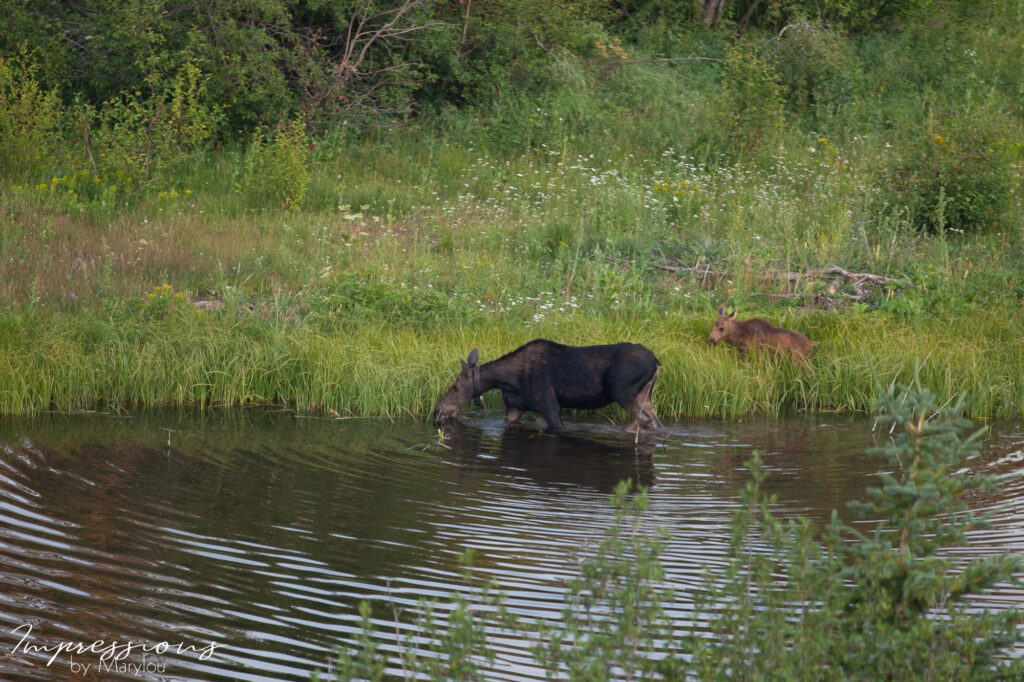 We stopped in Jackson one evening to poke around the shops. We had tried to catch the free ride on the aerial tram in Teton Village but it was closed for some reason.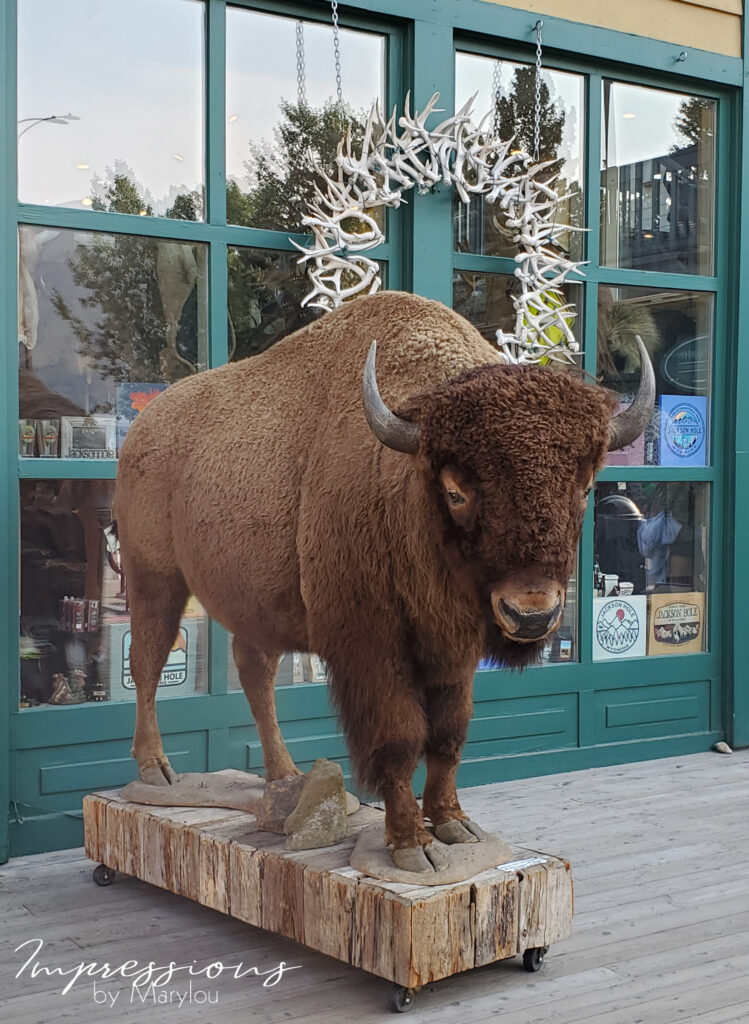 There are some amazing art studios there with $$$$ gorgeous artwork, both paintings and photography. Unfortunately, no photography was allowed so I can't show you the ones that I found so fascinating.
On to Yellowstone!!