Yes, that is really supposed to say 2021. For some reason I haven't posted any pictures of our summer trip from a year ago.
Back in 2019 we (Lois and I along with our friends Carolyn & Wendy) put summer of 2021 on our calendar for a trip to the Scandinavian countries. When mid-2020 rolled around and we needed to at least make a few lodging reservations since summer travel books up so fast. Well, I don't have to remind you about 2020 and all the changes to plans! Travel for 2021 was anyone's guess. Early 2021 came along and the covid numbers only spiked again and having any idea when countries would open up for travel and feeling it wasn't very  likely for the summer outside of vaccine requirements, we made the decision to switch to US travel.
None of us had been to Yellowstone or Grand Teton National Parks. We had also initially though to include Glacier NP but when calculating how long we wanted to be gone, and looking at the distance, decided against doing a big loop to include that. Lois and I have been to GNP multiple times but the other 2 have not.
Planning for the parks when more people than ever are hitting the parks was interesting! Lodging costs in those areas is higher than we initially anticipated. Normally we try to stay in the $30/person/night overall average, knowing that we will sometime spend more, sometimes less. Well, that was completely out of the picture right away. Our trip was planned for mid-July due to work schedules, which is very peak and that affected the prices and availability too. If your schedule works with early September, I would recommend that over the middle of the summer.
Renting a car was interesting too because prices had skyrocketed. The rental companies had sold off a lot of their cars during 2020 when they were just setting. Demand was now high and selection low. What we normally would have paid about $600-700 for, we paid $1000-ish and that was on the way low side of what was available. We accidentally got a corporate discount code from a random company (sister doesn't know how it happened) and the agent (when we picked up the car) was very kind and let us keep the rate. Because we had no ID tying us to the corporation, he could have made us rent it at the current rate, which at time of pickup for a last minute rental would have been around $2,100. When we heard where we were going he recommended upgrading to a car with a V-6 instead of the 4 cylinder Camry that we had rented. We said we were fine but we had to admit on some of the passes that a bigger engine would have not been a bad idea. 🙂
We bought free companion tickets (1 full price ticket, 1 free) courtesy of Wendy's mom who had vouchers for Delta so flew half price. We drove down to Orlando because the tickets were much cheaper. I would say driving back from Orlando in the middle of the night was not our favorite way to end the trip but the jet lag helps with being up that late!
We flew into Salt Lake City and picked up our car. We had decided to see the Bonneville Salt Flats since we were so close, even though it was quite a bit out of the way. The drive from SLC to the flats is not overly exciting but we did see a few things we're not used to.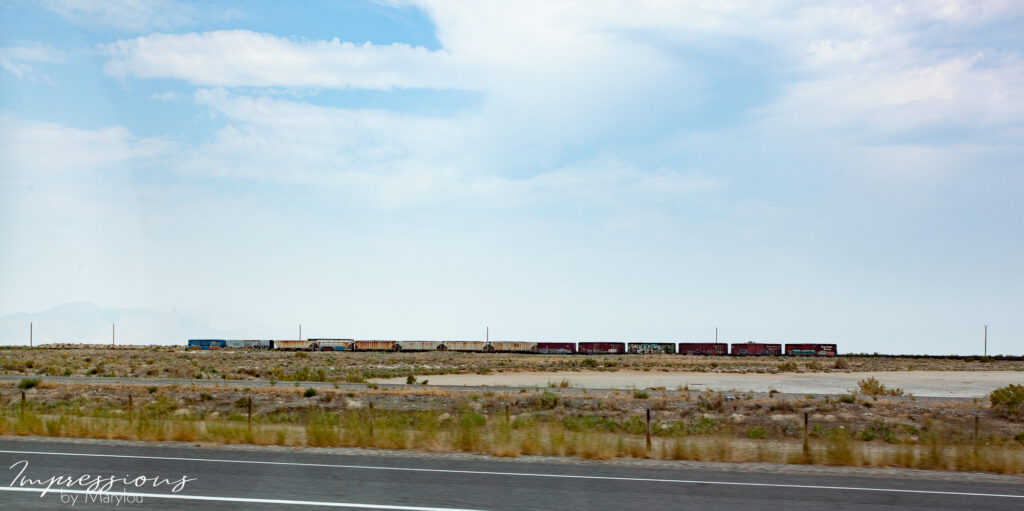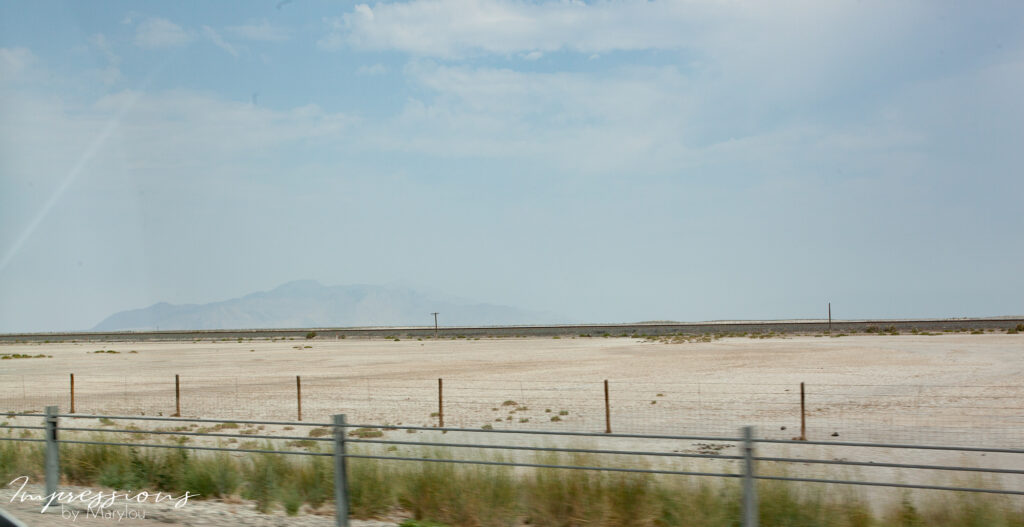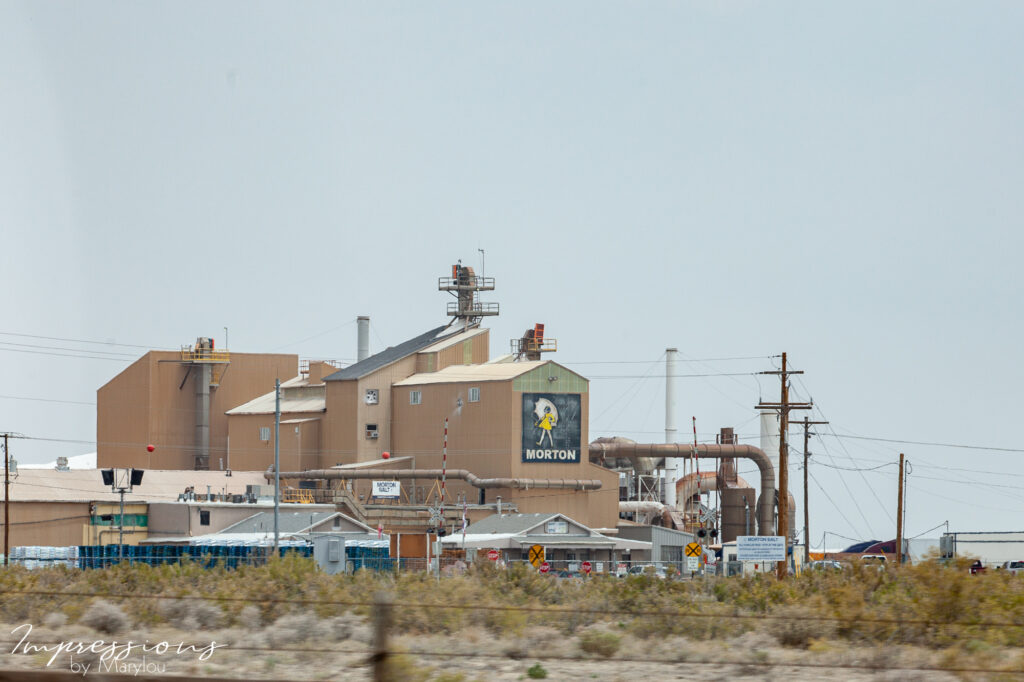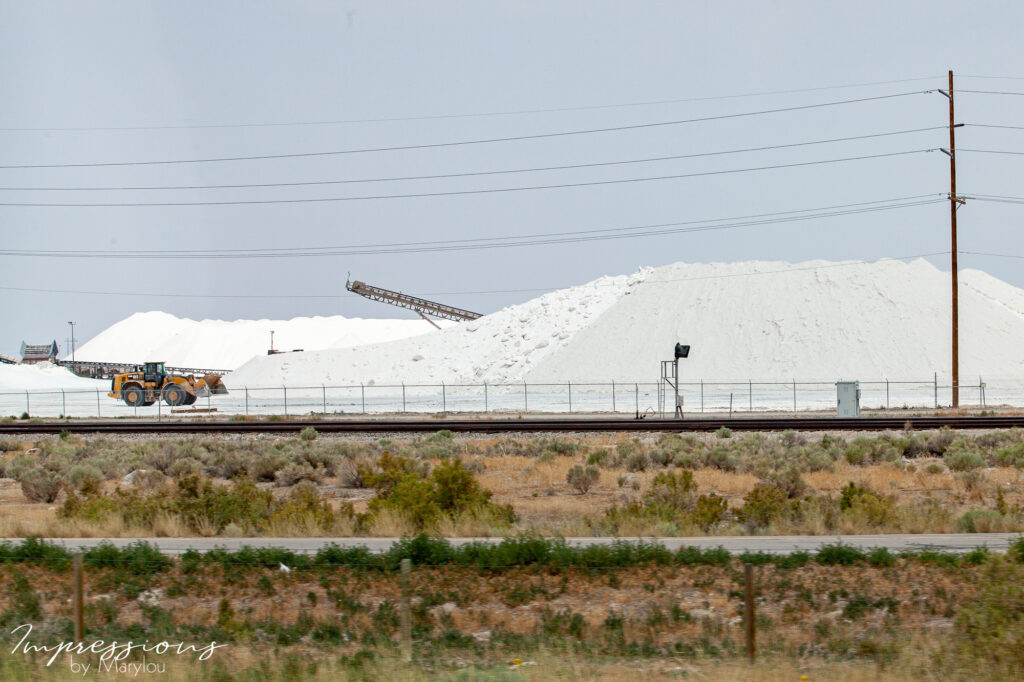 After and hour and a half or so, we reached the flats. It was the "bizarrest" feeling! It looks perfectly like a snow-covered lake, except the temp outside was over 100*.
I've walked across frozen lakes many times before when I lived in Dryden. It looked just like that!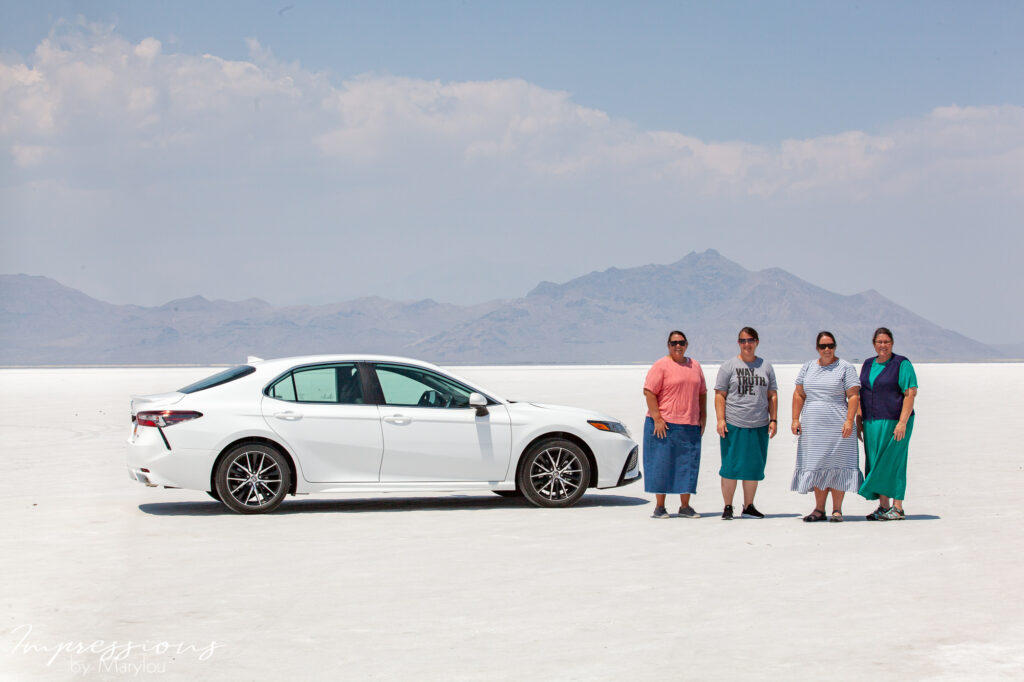 We had to take a group picture in such a unique place! Our car there was brand new. It had less than 1,000 miles on it! We were likely the 2nd renters to ride in it. But it needed more horsepower. 🙂
I had an odd experience which showed me the difference in humidity between UT and the east coast. I reached into my suitcase to pull something out while we were parked there. It was so damp inside that I was afraid something had spilled. Not really possible since the only liquids I had were in leak proof bottles. After feeling around a bit and looking at my clothes, I realized that it was the humidity that we were used to here at home (the motel in Orlando may have been higher than here at our house) compared to this area of the country. The temp felt very hot, no doubt, but still doesn't feel as bad as a hot, humid day in our area.
We either had to backtrack to SLC to head north to our house in Driggs, ID, or go further west into the edge of Nevada and cut back across Utah into Idaho, north of the Great Salt Lake.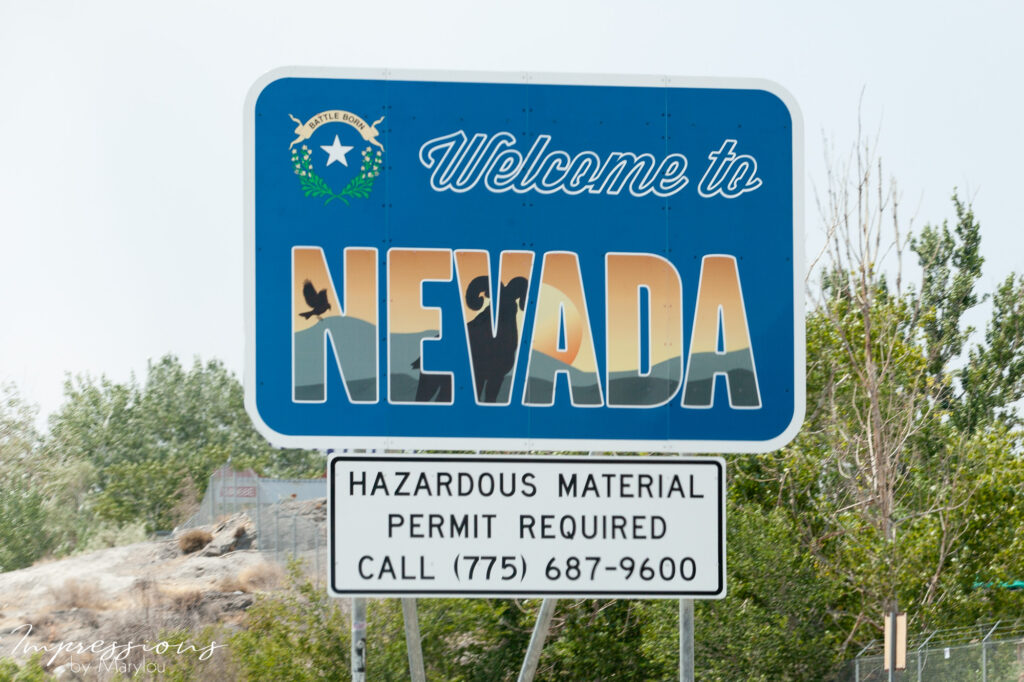 This gave must of a new state to add to our list of "traveled through." I can't say we exactly visited it although we did stop for a restroom!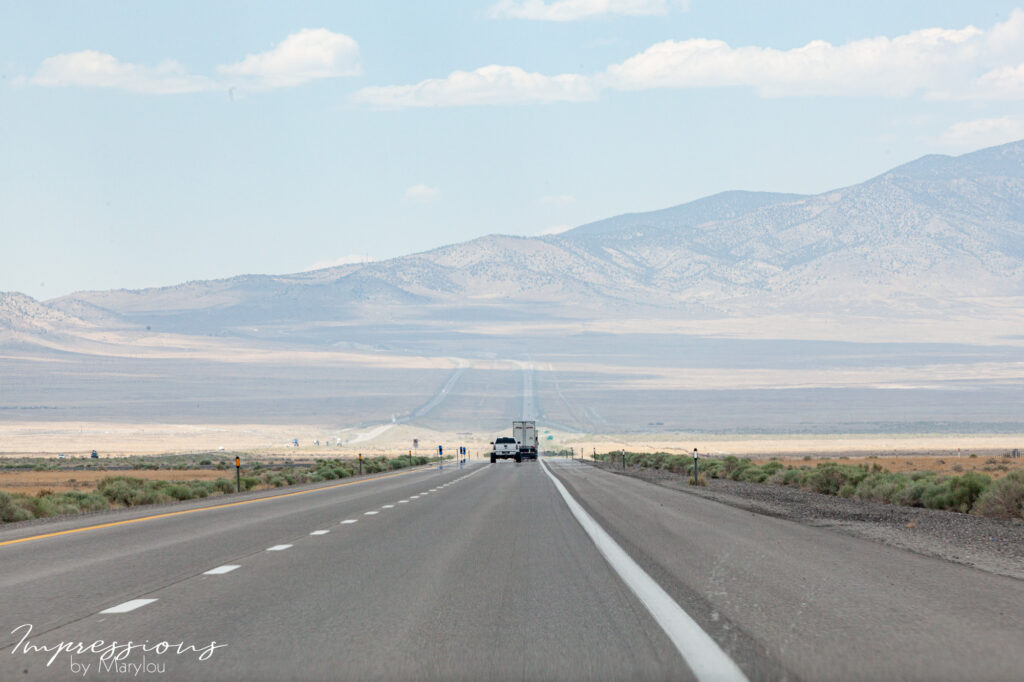 There is so much nothingness out there!!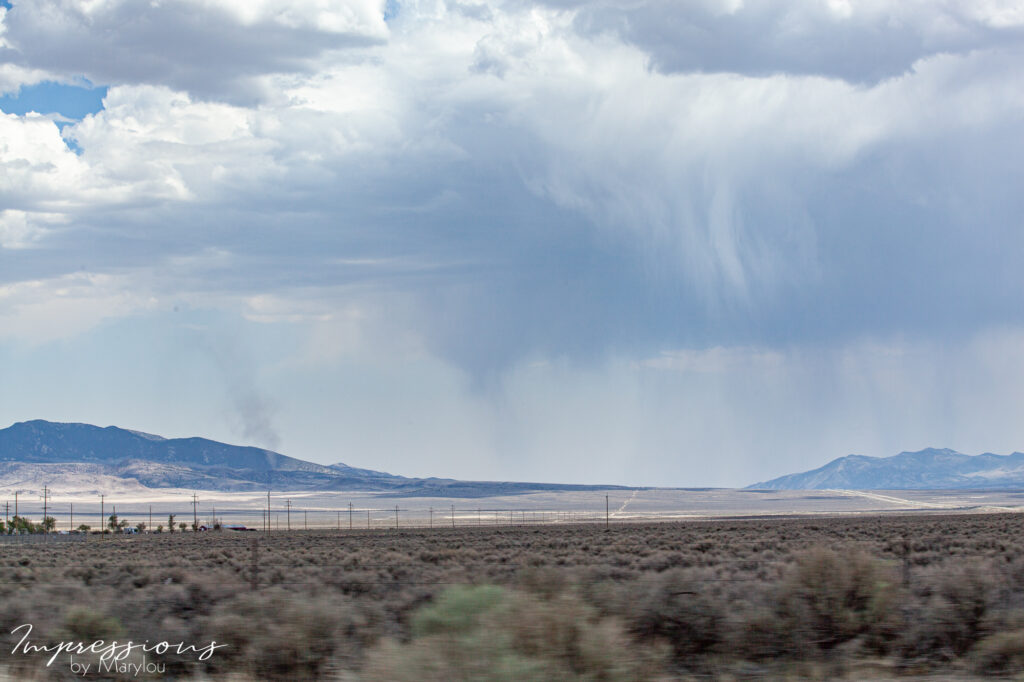 Some places it looked like there were rain streaks coming down but they weren't reaching the earth.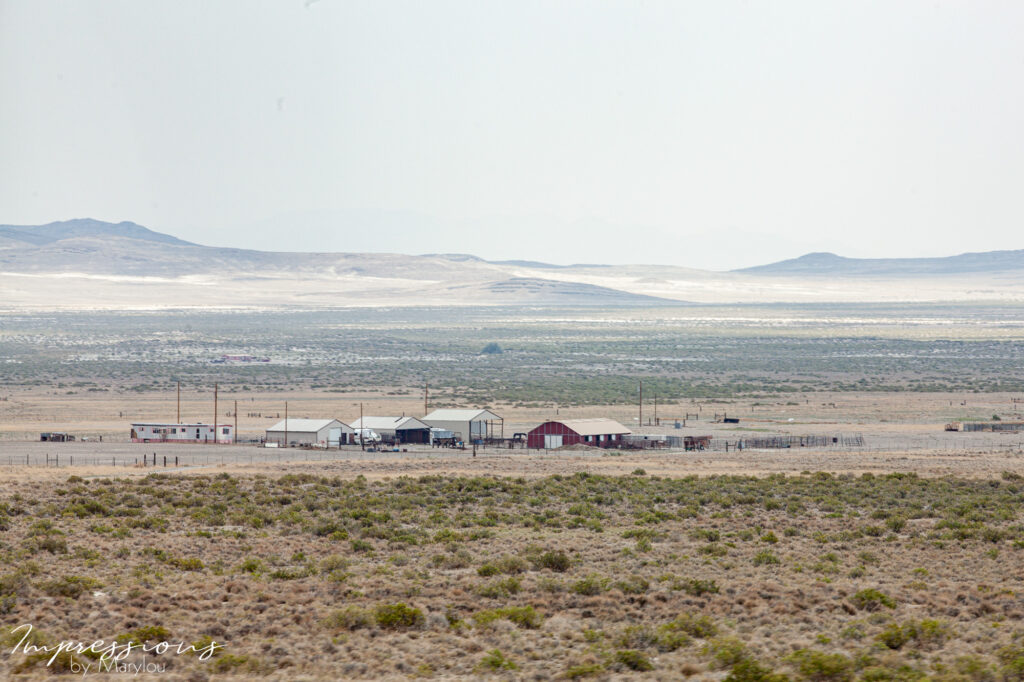 The "average" ranch setup in far NW Utah.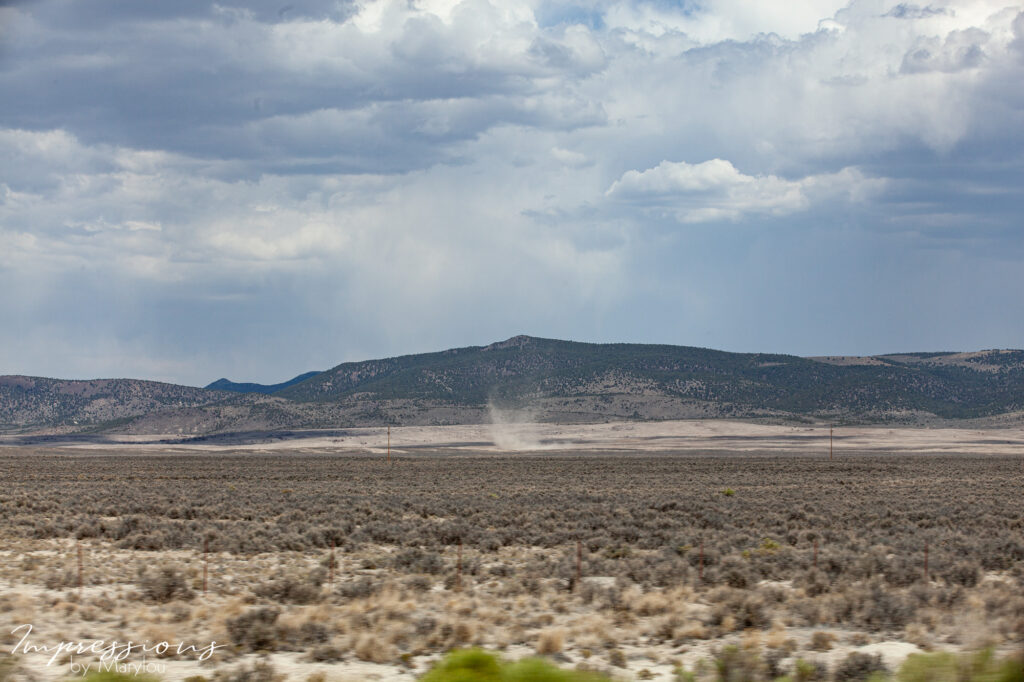 Dirt devils out in the distance.
By the way, when they tell you to fill up with gas before you reach a quarter tank, they are not kidding. You can go 100 miles on some roads without seeing a gas station. We were grateful to find a gas station nearly in the middle of nowhere.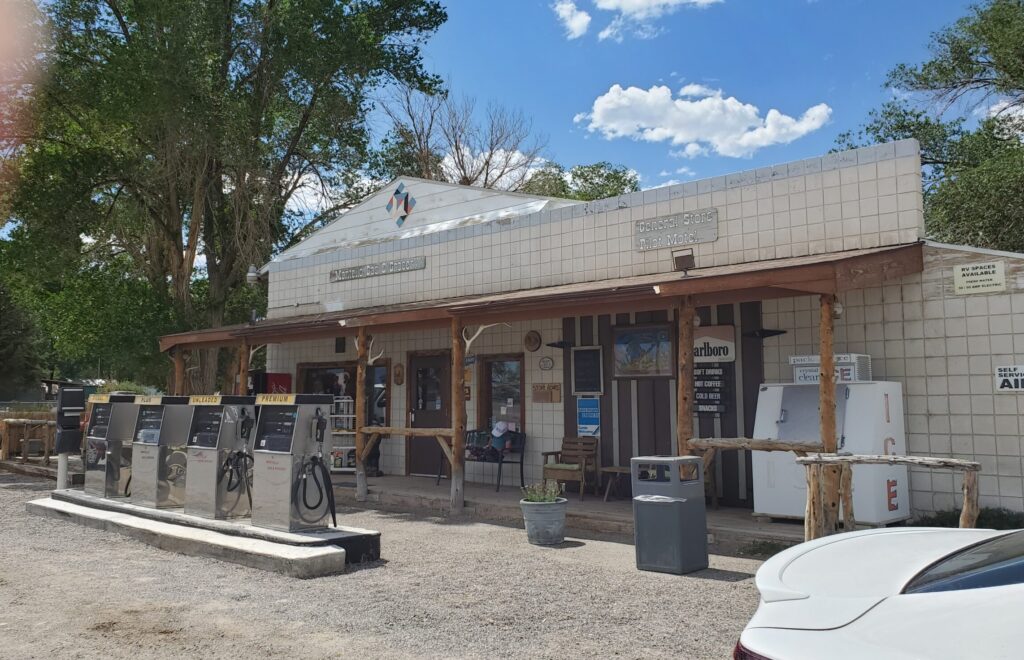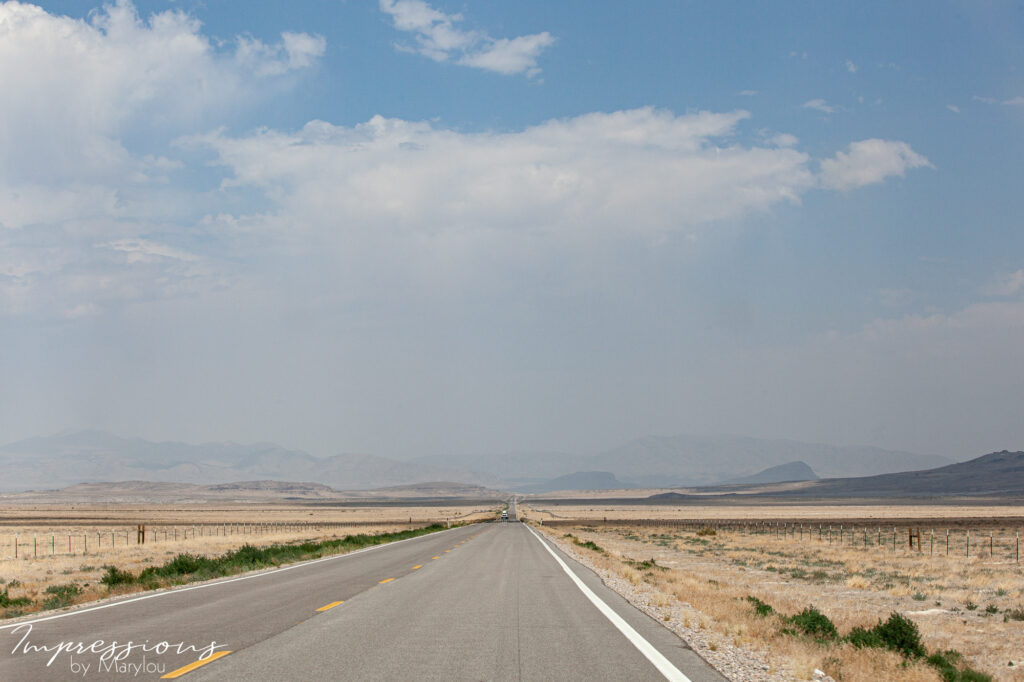 We crossed into Idaho somewhere along the way and I didn't take any pictures.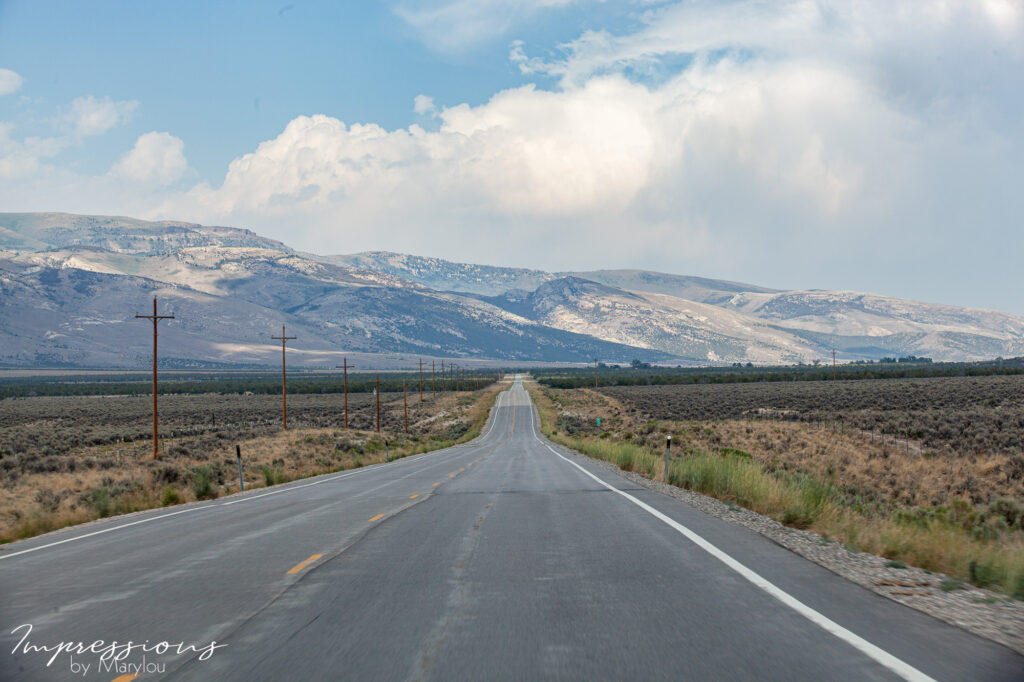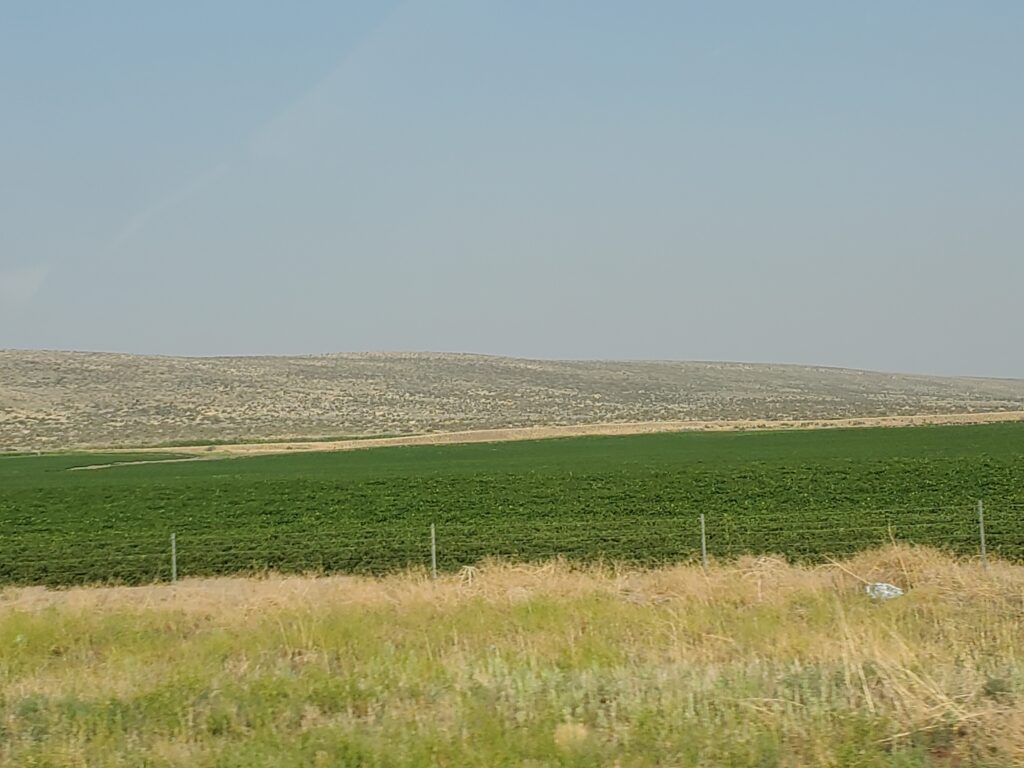 We eventually saw fields of green, which we're pretty sure were sugar beets. I drove the rest of the way to Driggs and didn't get any more photos.
We had a nice ground floor apartment in Driggs, which was our base for visiting Grand Teton National Park. We were a little surprised to find that there was no AC and even thought they were having historical high temps, it cooled off quite well at night. Fans made it quite bearable. I'm guessing they only have a month or so that AC is even needed.
We stayed in Driggs because lodging around Jackson was very expensive. We had about a 45 minute drive to the park entrance, which was all that bad. Driggs is a quiet little town with good grocery options so we stocked up for a few days of meals and picnic foods. From what we heard, they were having the same problems as we were with finding enough help. Because the parks have limited dining options, it was our best option to pack food to take along. We packed 2 collapsible, insulated bags in our suitcases and used them the whole trip! Something like THIS, although what we had were promotional freebies. Even better. 🙂
While we were at the grocery store, we saw an unusual site: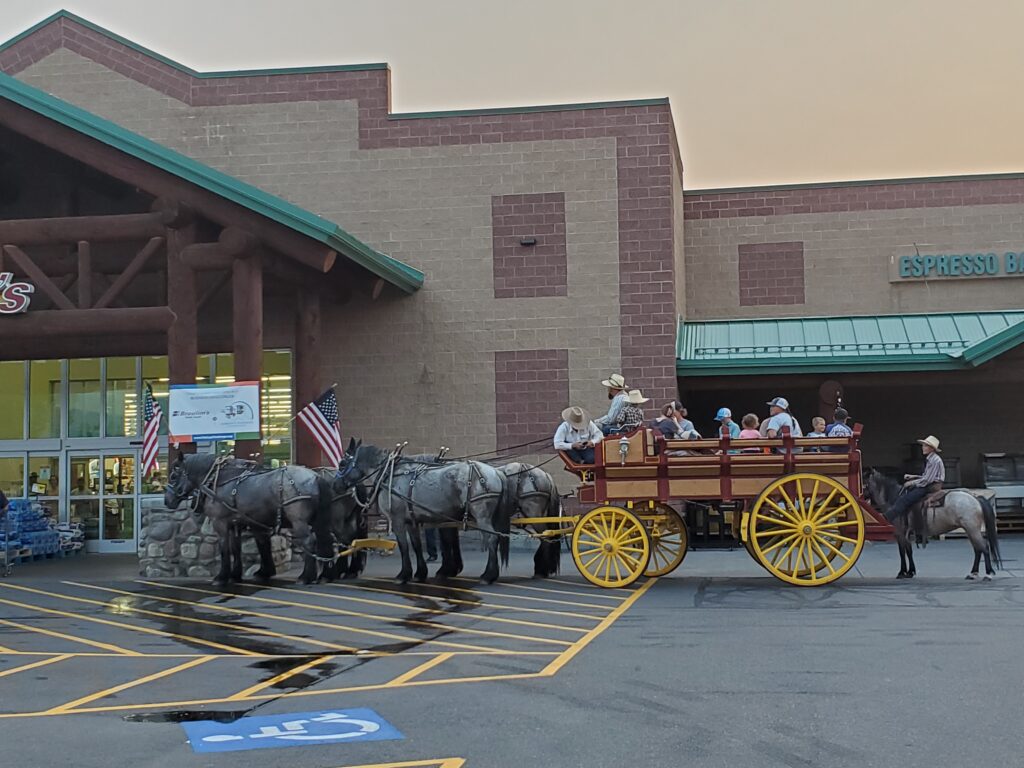 I assumed it was a tour or ranch experience of some kind but didn't know for sure. Fast-forward to August 2022 and I came across this video by Peter Santenello and something looked very familiar about it. Sure enough, same family we had seen last year. HERE is their story. We've heard a lot about people moving to Idaho, Montana and Wyoming (Jackson's real estate has gone absolutely nuts) and they share their perspective on this.
Next post will be about our GTNP visits. Stay tuned for some phenomenal beauty!