I told someone recently about my blog and they ask if I post often and I said, "not really." Now that we have true-blue high-speed internet (Hello 2023!), it's time to wrap up this trip.
We did not get up early on the morning we left Driggs, for which I was grateful! One thing about being further north is that it gets dark so much later and bedtime can be pushing midnight far too easily. We drove back through Jackson and past the Tetons one last time as we entered Yellowstone from the south.
We had packed a lunch to eat on the way. I had made a pasta salad using up (strategic) leftover chicken from 2 nights before. We stopped at Coulter Bay and found a beautiful picnic area beside the lake!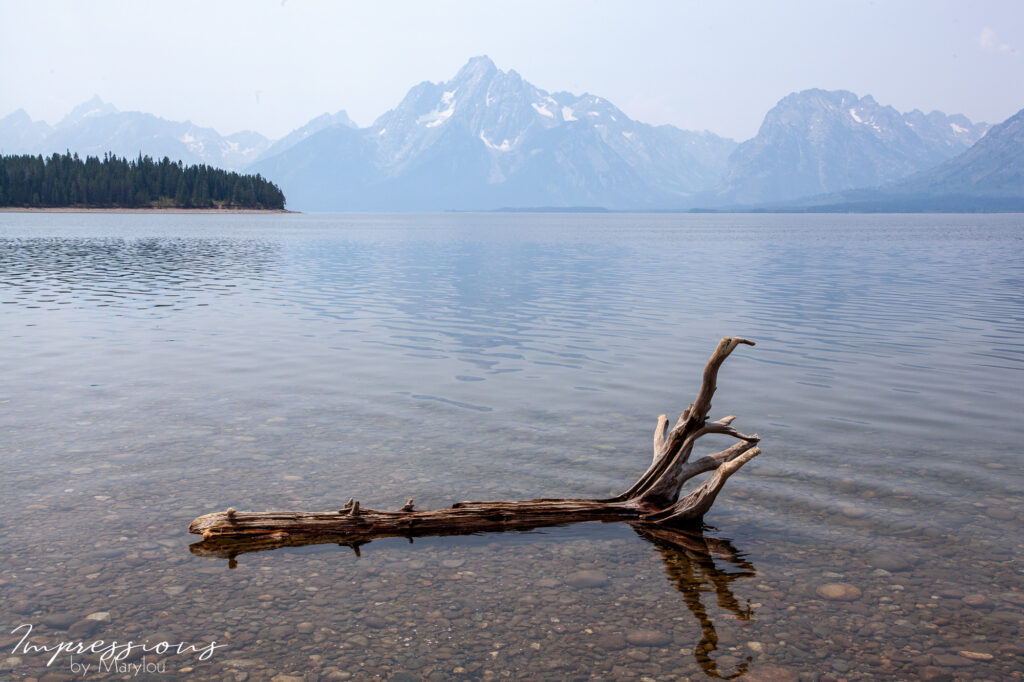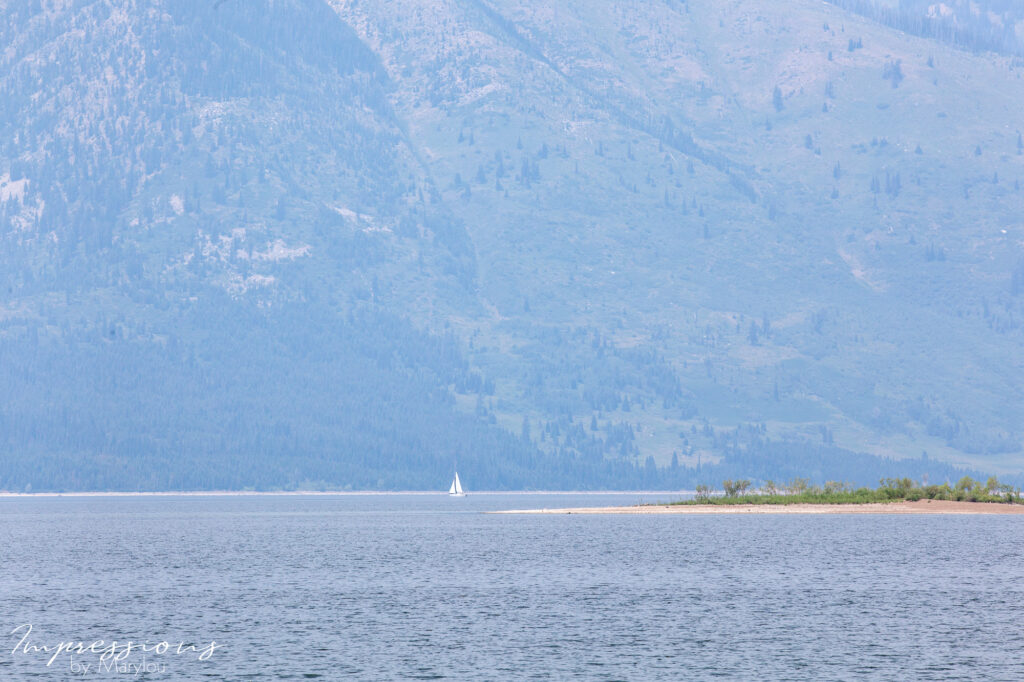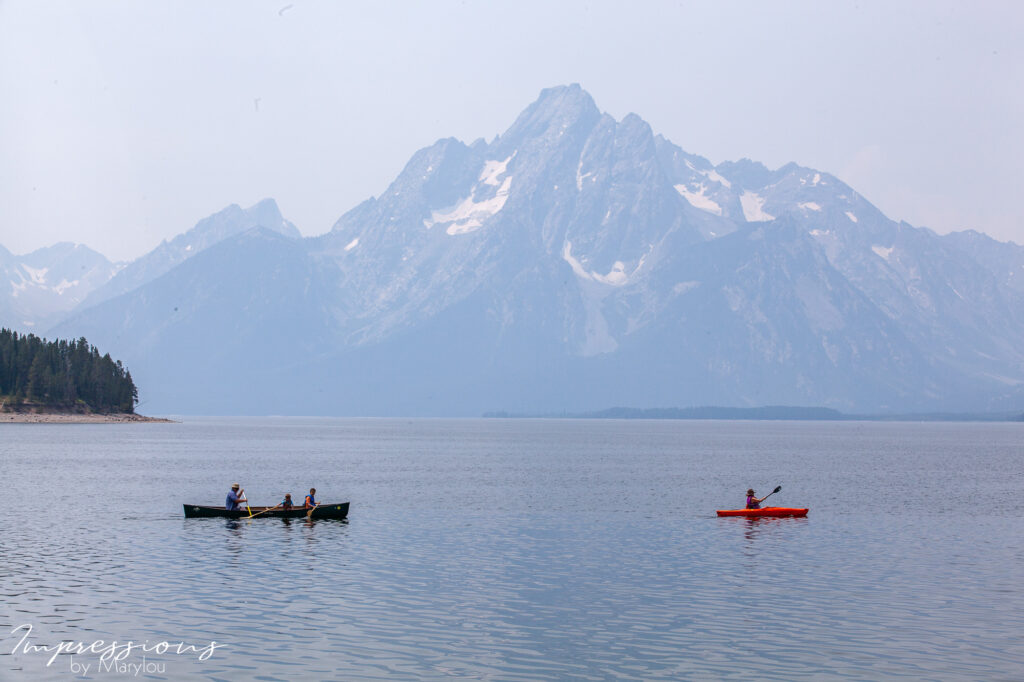 You just pretty much can't beat eating a lunch beside views like this! If I was camping, or RVing in the Tetons, I'd try to stay at Coulter Bay. I understand their reservations fill up quickly.
YNP is a very large park. Choose your lodging and plan for the park strategically. When we had looked for lodging inside the park, we could not find any. It's possible that some opened up later with other cancellations. Personally, I would stay inside the park if possible. YNP had their highest ever number of visitors to date in 2021! Nearly 5 million people came through the park. There were some parking lots that were impossible to get into without a wait, or driving around and around until 1 opened up. By staying in the park, you could be out by daybreak to see wildlife, go back to your lodgings during the middle of the day (the busiest) and go back out late afternoon.
We stayed about a 20 minute drive outside of W. Yellowstone, which is actually in Montana. The west entrance is in W. Yellowstone. There are motels, RV parks, etc in W Yellowstone but more than we wanted to pay. I found some brand new "cabins" near a lake. They were more like motels rooms but very nice! We had one whole unit with adjoining rooms. The rooms do not have AC because they don't need it 98% of the time. It was warmish when we arrived but it cooled down to 45* at night!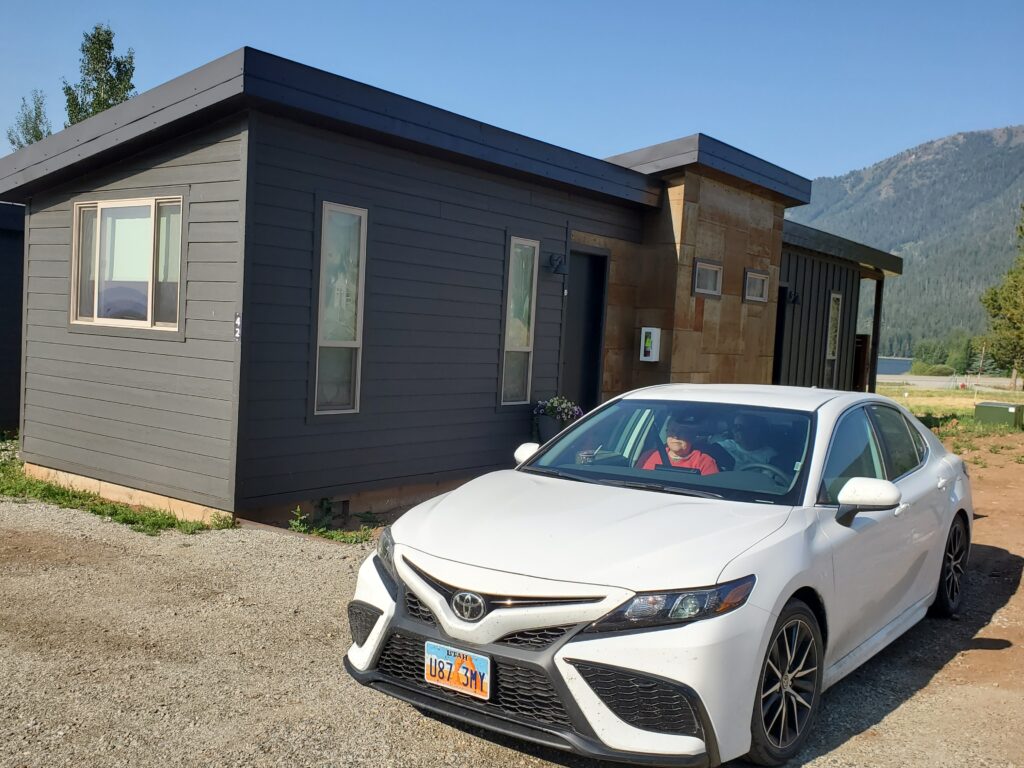 If you go to YNP, make sure to check for road closures due to construction. The section that I have red below was closed for the summer. To give you a scale of things, to drive from W Yellowstone (see West Entrance) to Lamar Valley in the upper right hand corner, takes 2-ish hours, depending on traffic. There is a lot of wildlife and other traffic around so the driving is not clipping along at high speeds. You can't go by the scale of miles to figure out driving time, per se. The closed section meant that we could not loop around either. You have to go back through Mammoth Springs.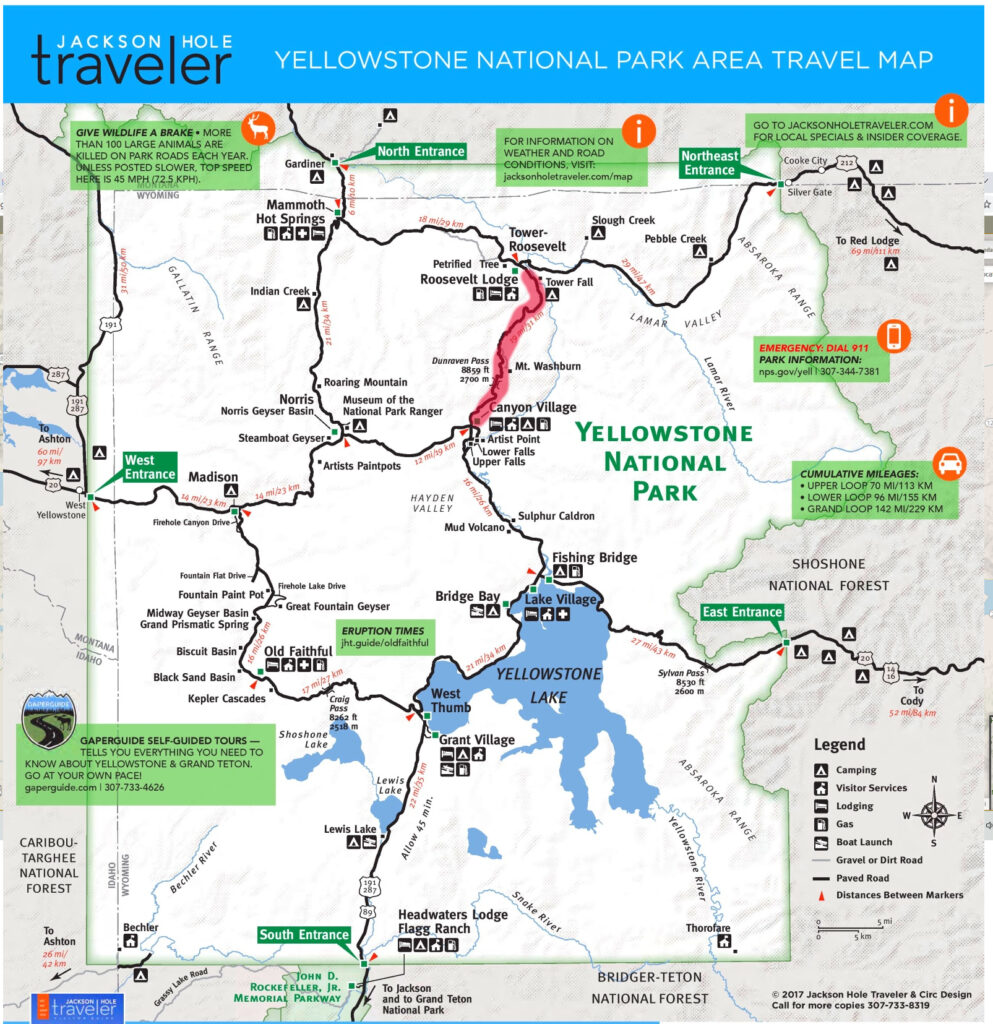 Back to our 1st entrance to YNP, our 1st point of interest that we took in was Old Faithful. I can't remember why we didn't stop at West Thumb and Grant Village when we came in but wish we had, since we didn't get there otherwise. We got to Old Faithful just about 20 minutes before eruption. There was already a large crowd gathered.  Even the Amish were here this summer!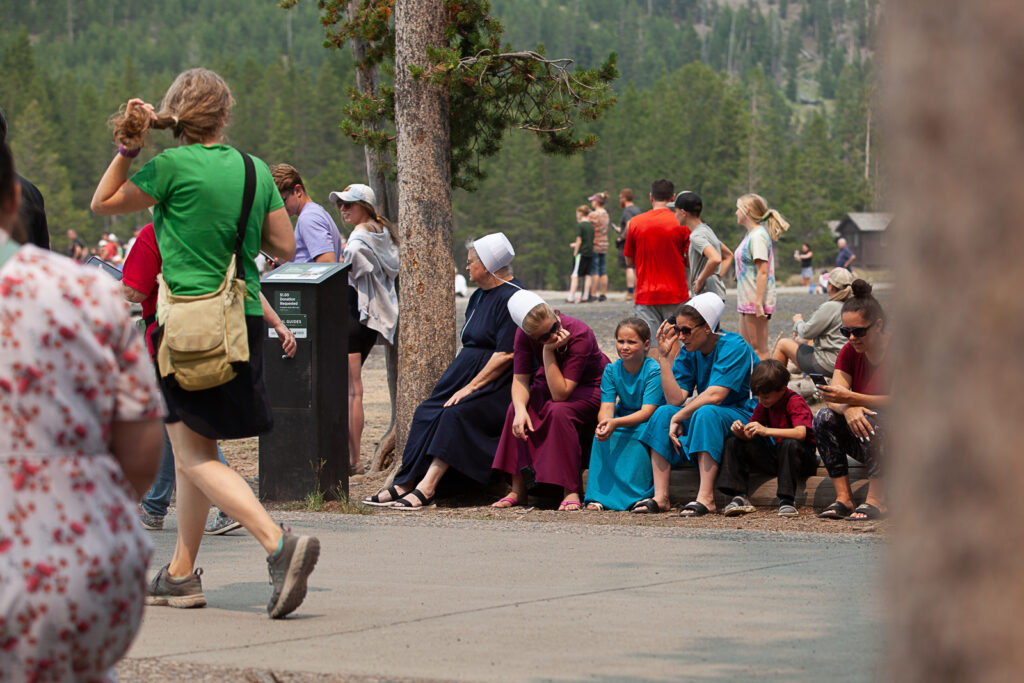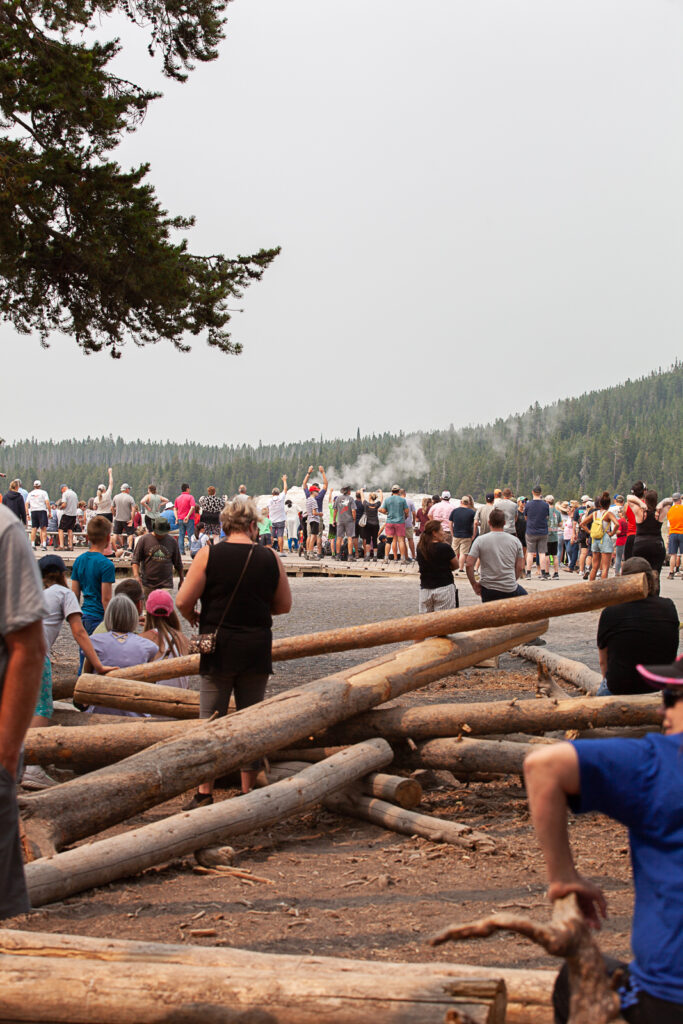 The first signs of activity were little splutterings of steam before it erupted fully seconds later. They have a predicted time for each eruption, which is pretty acurate. The bigger the eruption, the longer the time to the next eruption. But I think that 90 minutes is about the max between.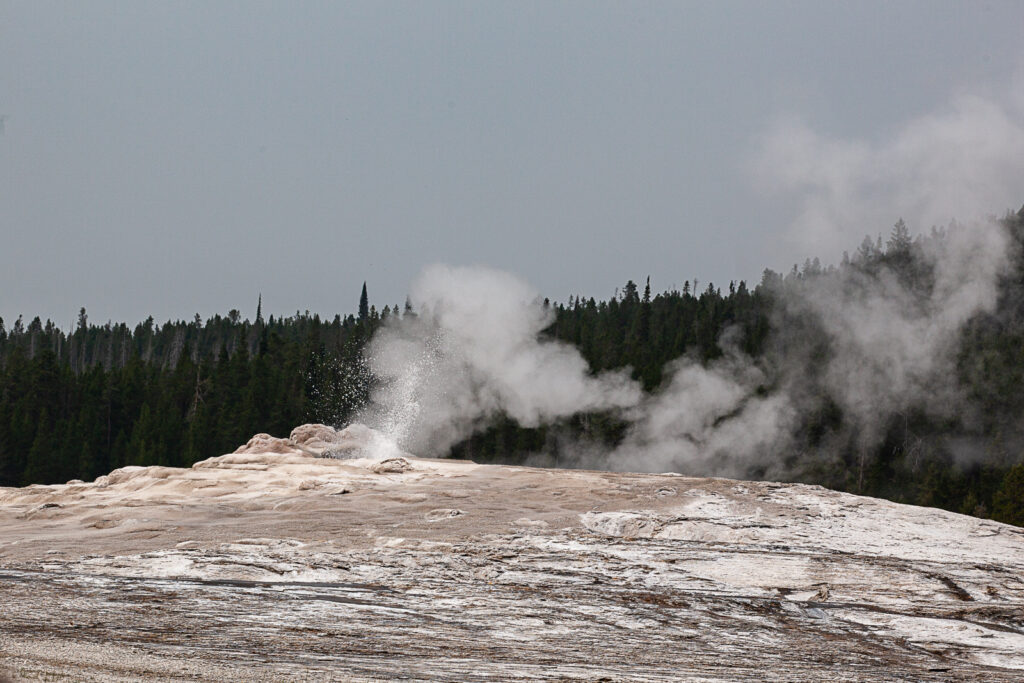 The sky was so hazy from smoke that it wasn't quite as visible as sometimes, but still quite impressive. Old Faithful is far from the most spectacular geyser, but it is the most reliable larger geyser, I believe.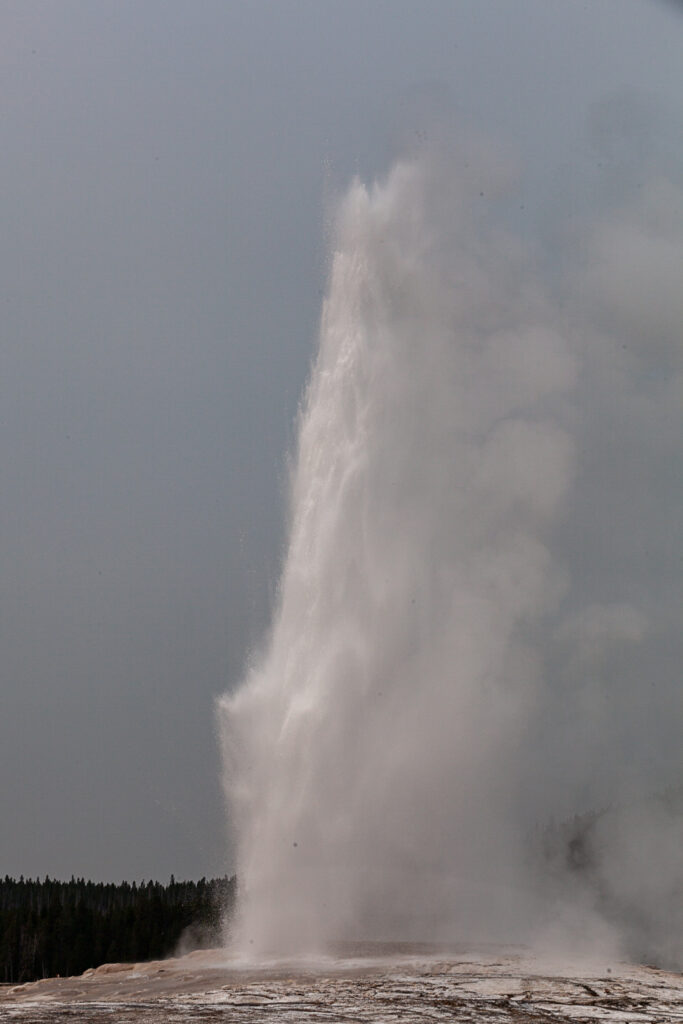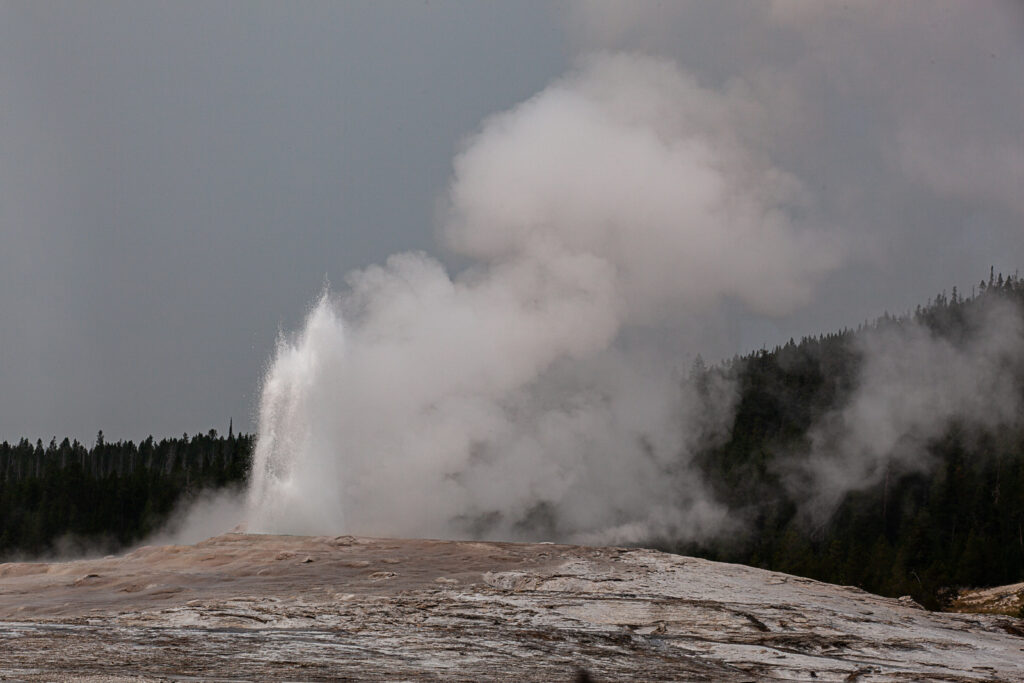 It spluttered it's way back down after a minute or so. The crowds dissipated and moved on.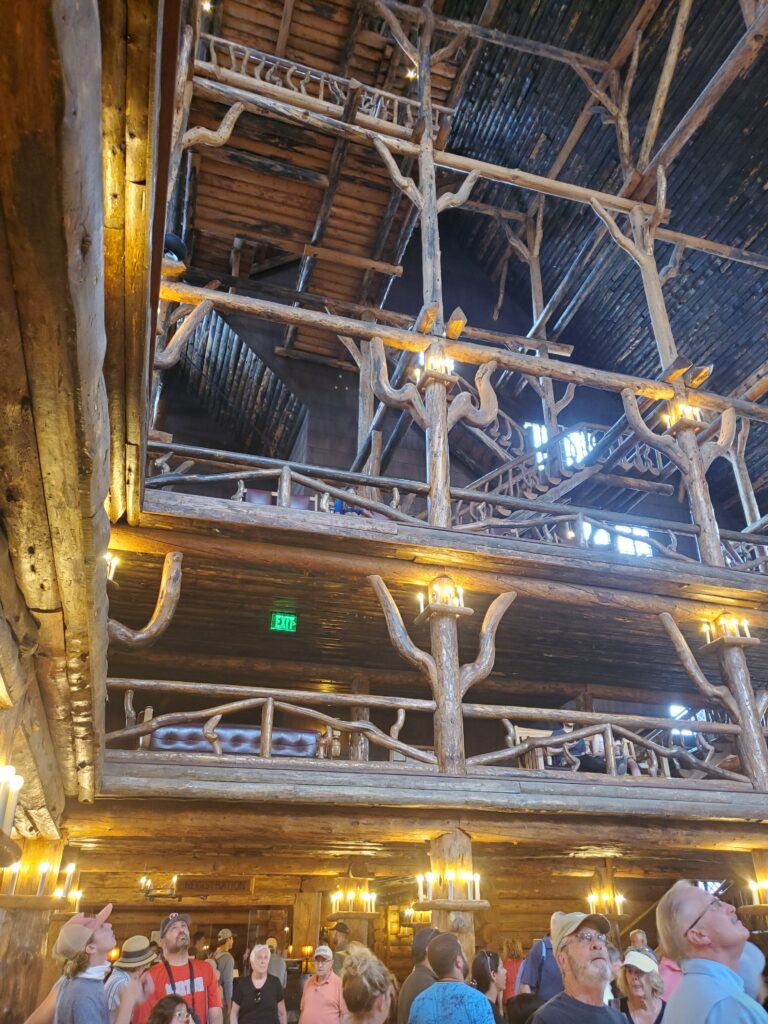 Old Faithful Lodge is an impressive log lodge! I forgot to get an outside photo but this is the inside!
By this time my energy was really lagging and I didn't go out to any of the other geysers nearby. I did, however, go next door to the gift shop and by a nice cold root beer! It did wonders to pick me up for the short hike we did to see the Grand Prismatic Spring!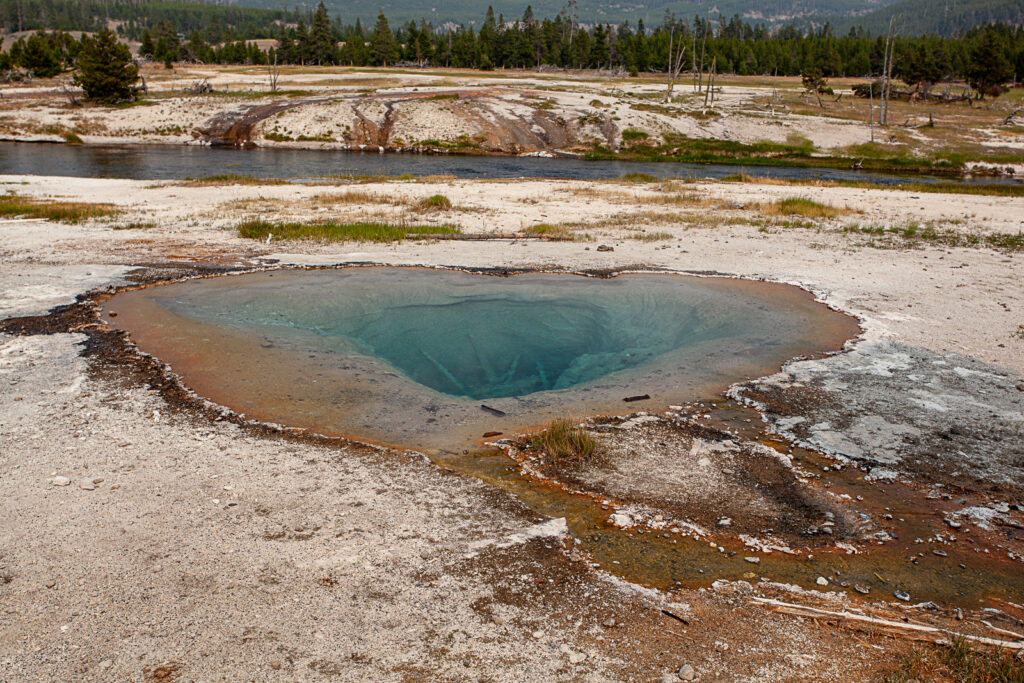 There were other small geyser pools and they all have hot water. You do not want to touch them, or get close enough to fall in! Grand Prismatic is around 300 feet in diameter. The brown, orange & yellow colors come from micro-organisms, which live in certain water temps. The water is very sulfuric in these places and the smell is quite strong!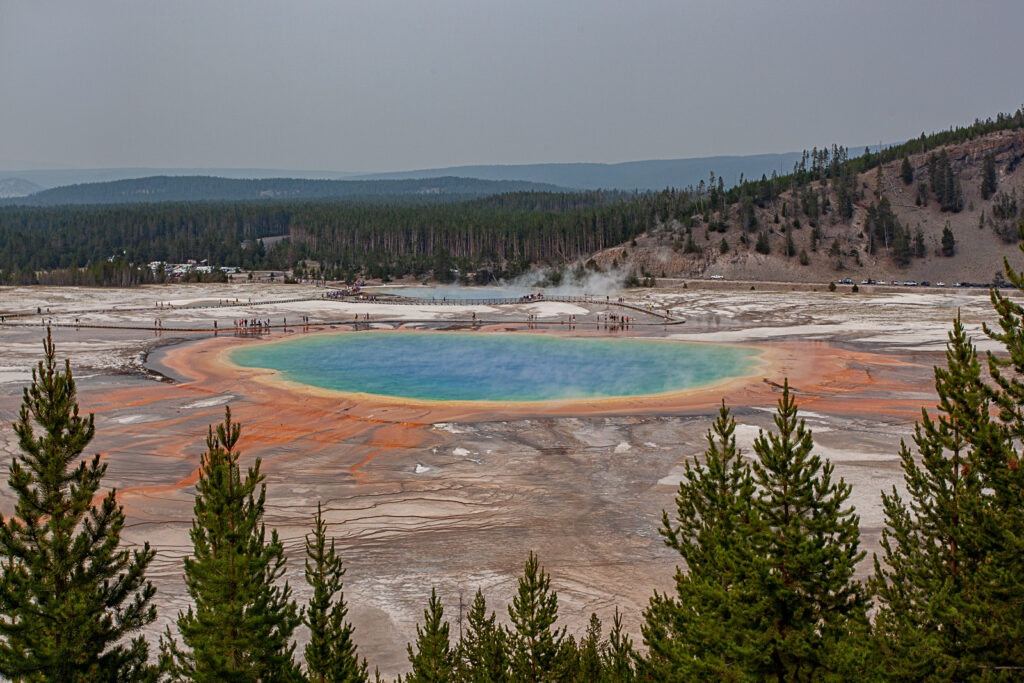 Hike up Fairy Falls Trail to see the view from an overlook. (click photo to enlarge.)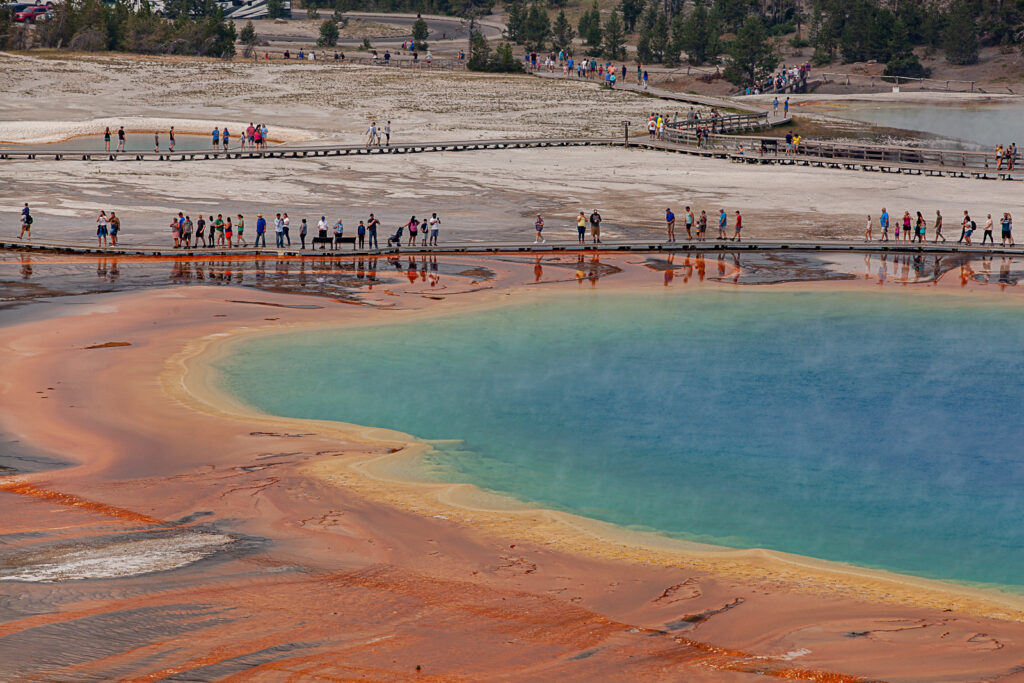 It is quite spectacular! Also, if you go over the warmest part of the day, there will be less steam and it will be easier to see the colors. When we left, we tried to pull in the parking lot so I could see the spring closer up (None of the others wanted to see it. Guess they should've had some root beer too!). The lot was full and traffic backed up so we kept moving. We couldn't even pull into the lot!
Btw, the Gypsy Guide was helpful in narrating as we moved through the park, and gives instructions for things to see, including where to find the parking lot for the Fairy Falls Trail.
That was our last stop for day 1 in this park and we headed toward our cabins. We stopped for supper in W Yellowstone, which has a good number of restaurants. We grabbed carryout supper and met at a park to eat. There was a cute little trailer that had delicious Mexican food that fit my bill!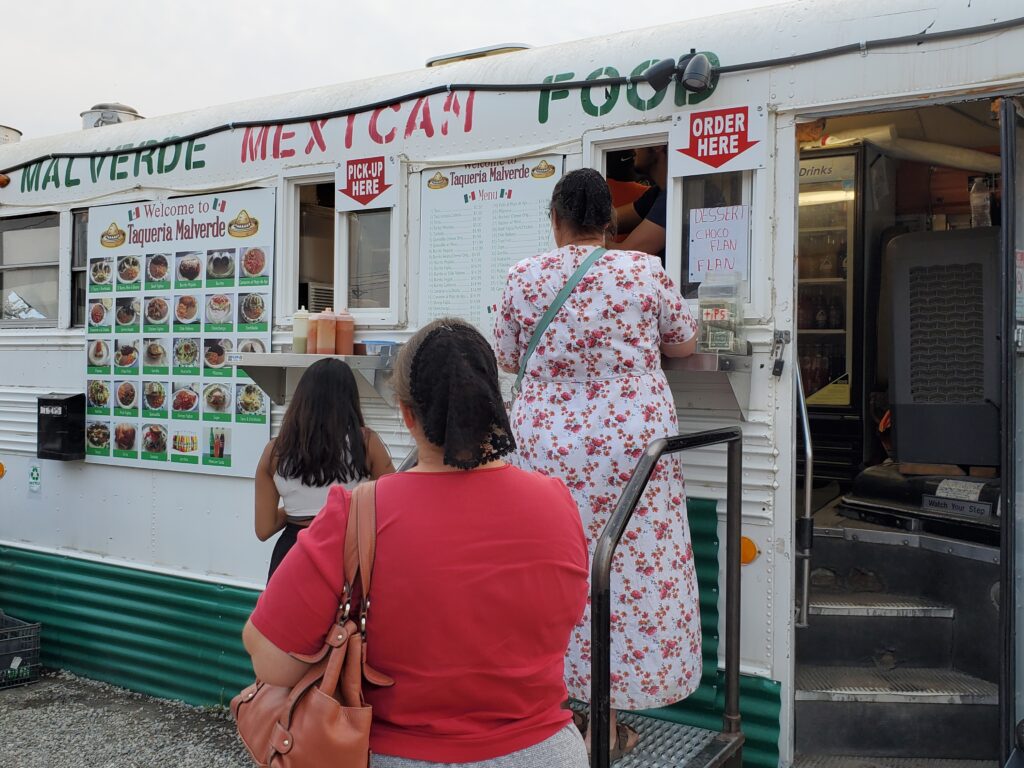 Day 2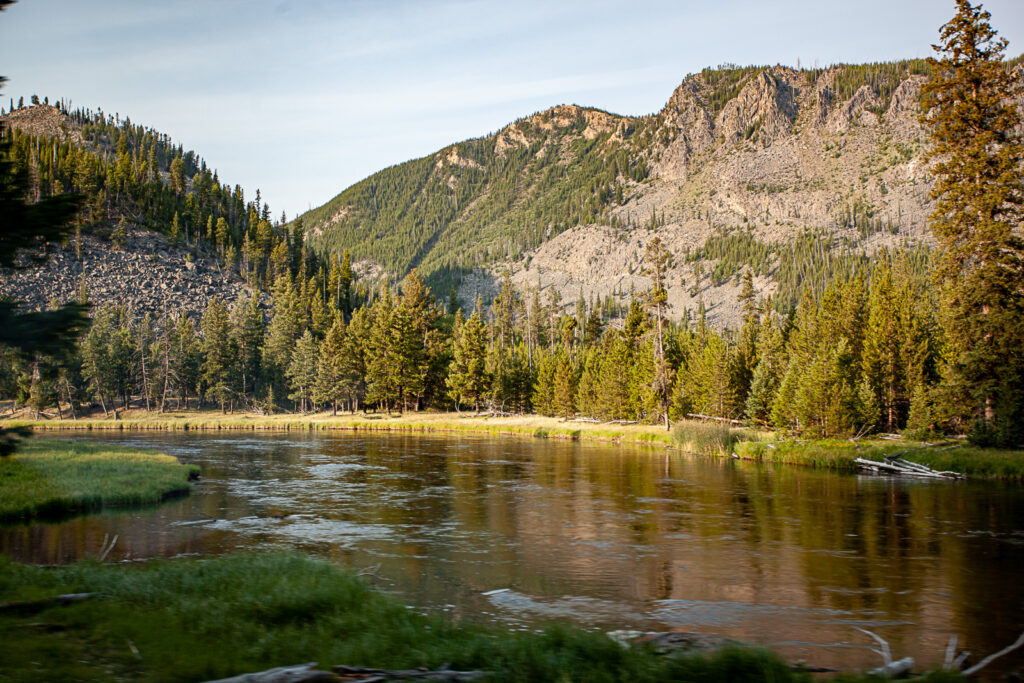 We got up early to be beat the crowds and we succeeded! We didn't have full parking lots until about 10 AM. A river runs along the western part of the park.
See how much steam is coming from the Beryl Springs above, but it was quite cool in this morning and the water was "beryl-ly" visible. 🙂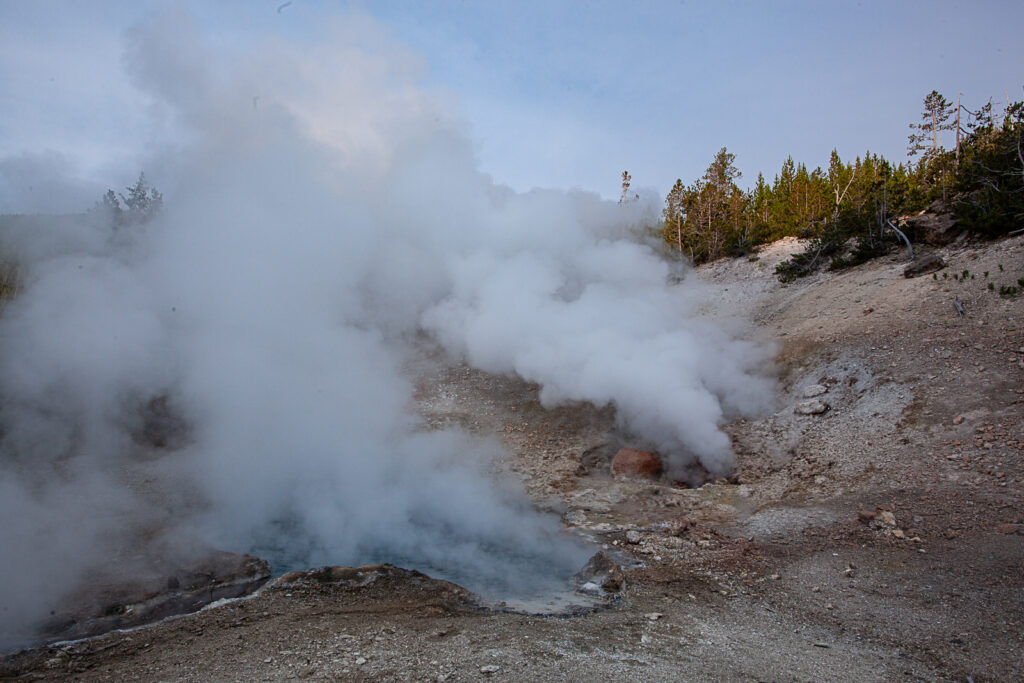 All over the area the steam was rising. Some had a hissing sound as the gases were coming up out of the ground. These are fumaroles.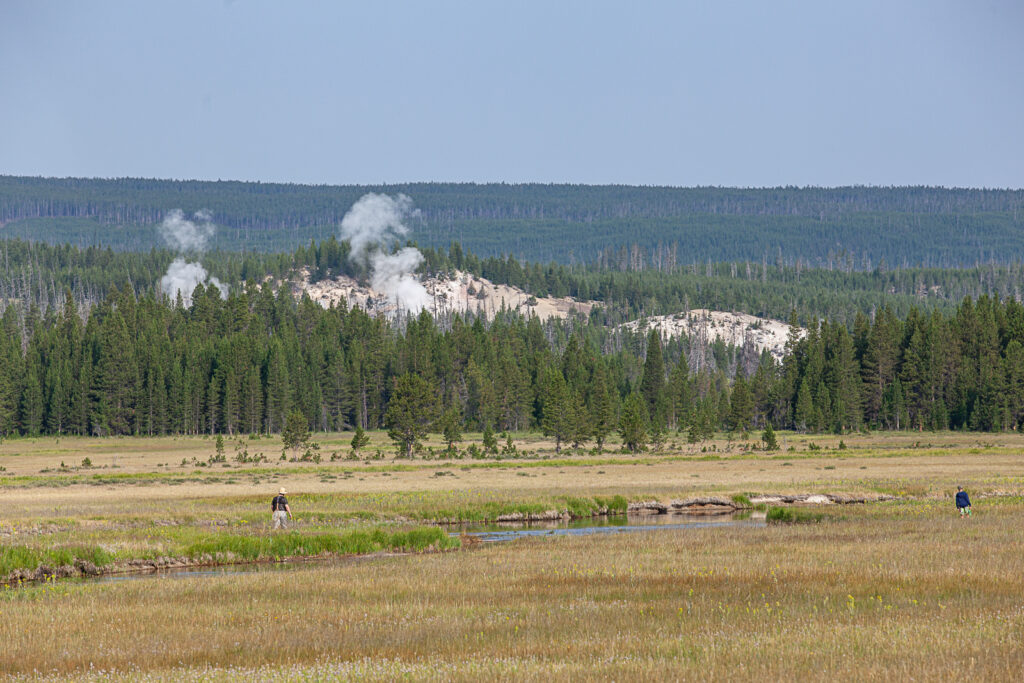 The Artist Paintpots area was full of little pools and some plopping mud ones! It is a fascinating place.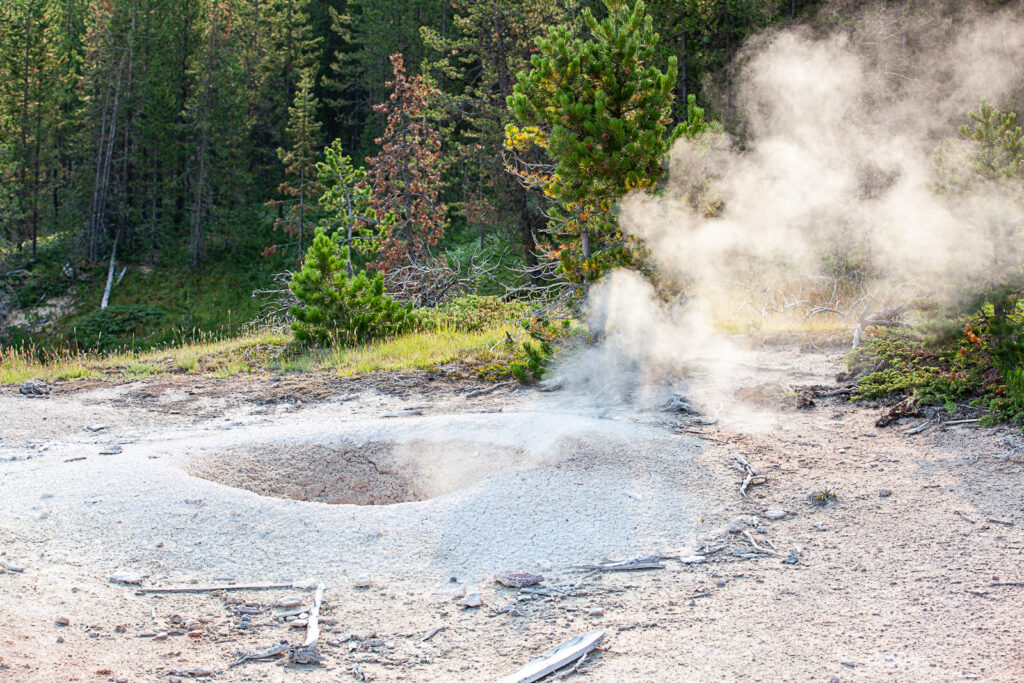 The one below had mud plopping up. I wish I could post video of it. The walkway had splatters of mud up to 10 feet away.
Norris Geyser Basin had another large area full of small geysers and pools. As we walked along the walkway, occasionally we'd hear a "pffffft!" sound and see steam rising.
Steamboat Geyser is at Norris Geyser Basin and is the world's tallest active geyser. However, it's eruptions are very sporadic and can be a few days between or a year or 2 between.  The last 5 years have had multiple eruptions but prior to that, only 1 every couple of years. It had just erupted the week before we were there. The parking lot is close enough that in right conditions, the eruption can cause damage to the windows and paint of the cars.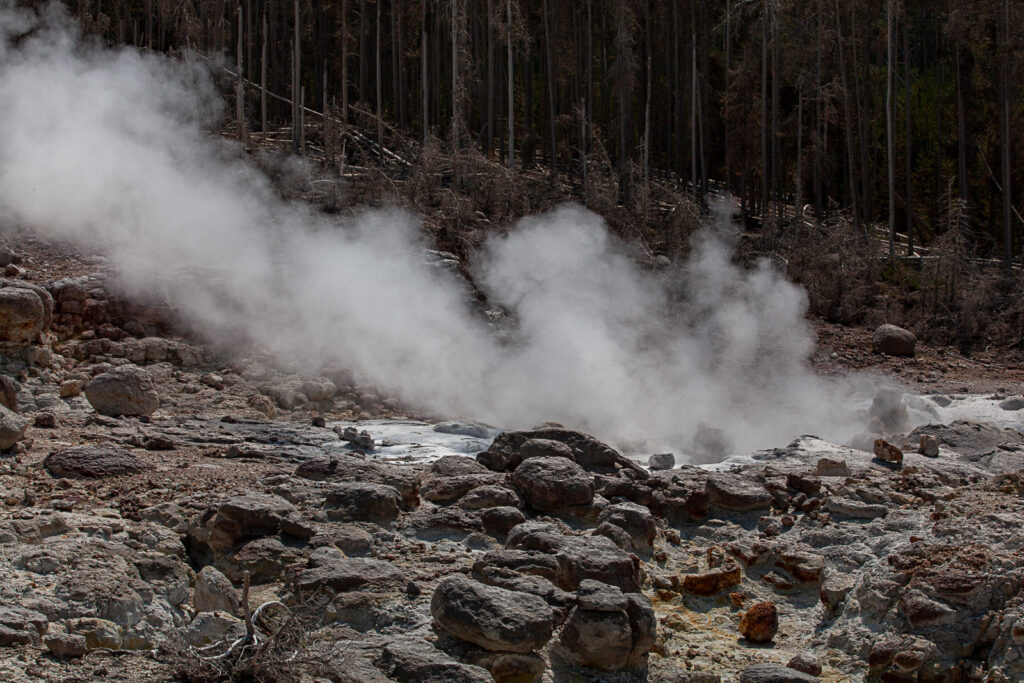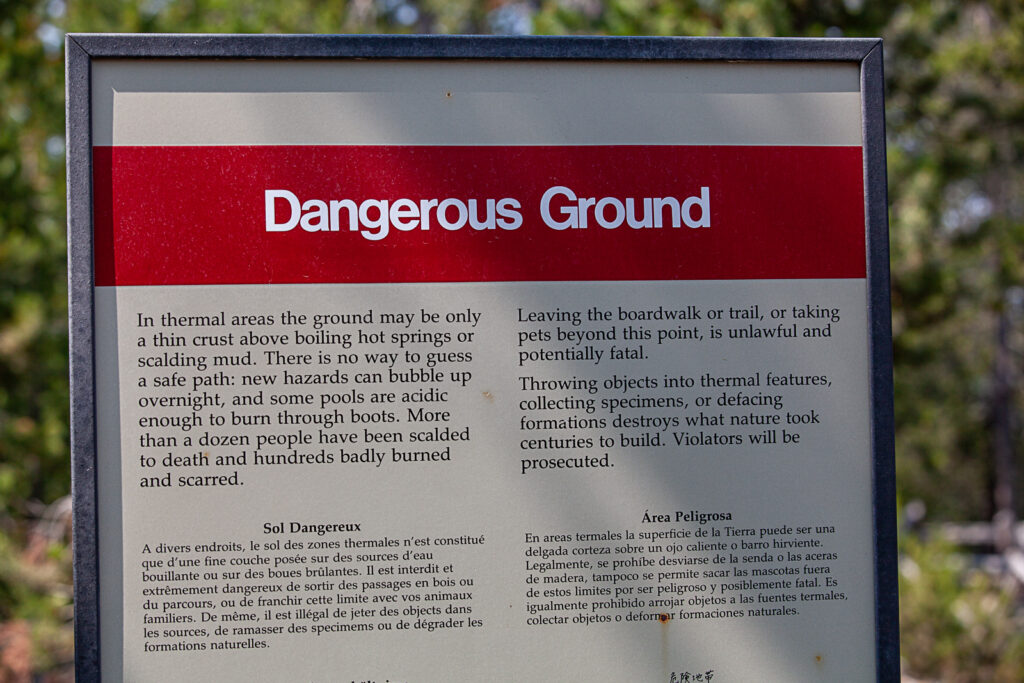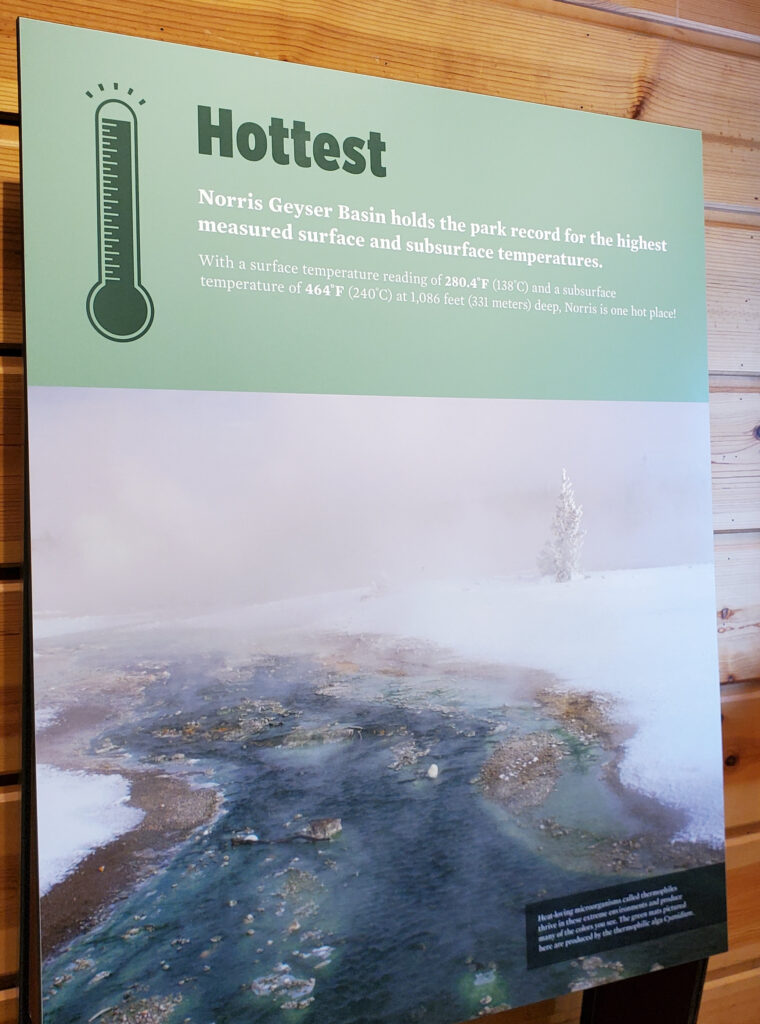 If you were wondering why they tell you to stay on the boardwalks, the sign above should explain it.
If you are wondering what it looks like under the surface and why the pools, this is a good visual: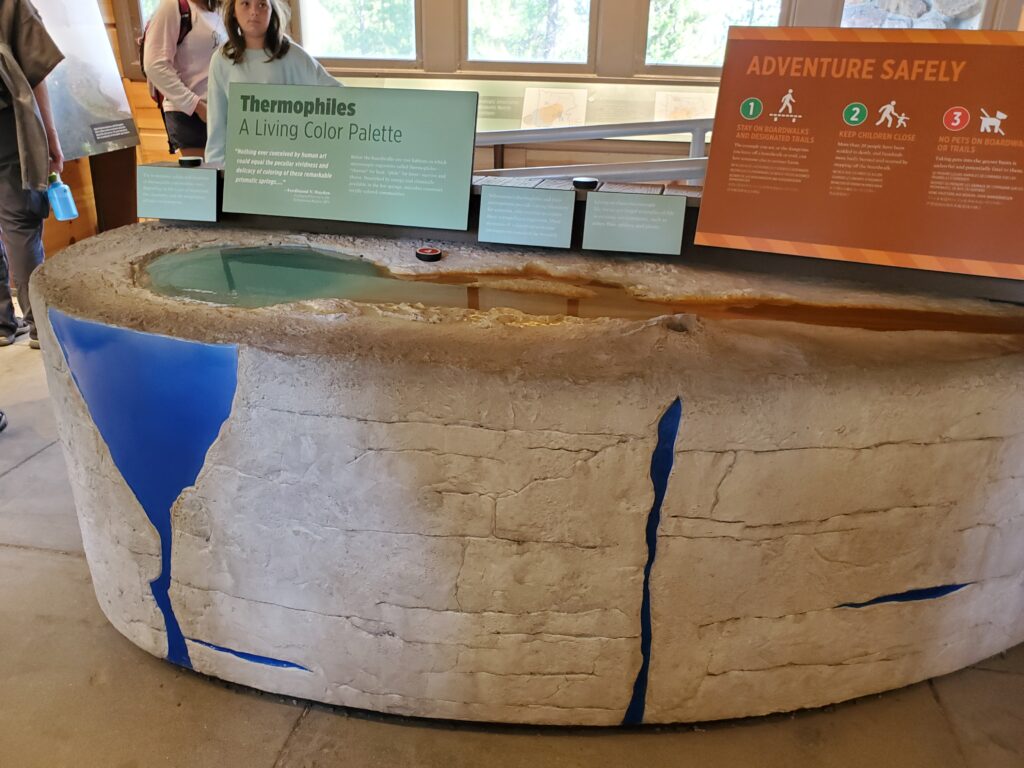 The drive between Norris GB and Mammoth Hot Springs was quite rugged and beautiful!
I'd love to see this area without all of the smoky/haze in the atmosphere.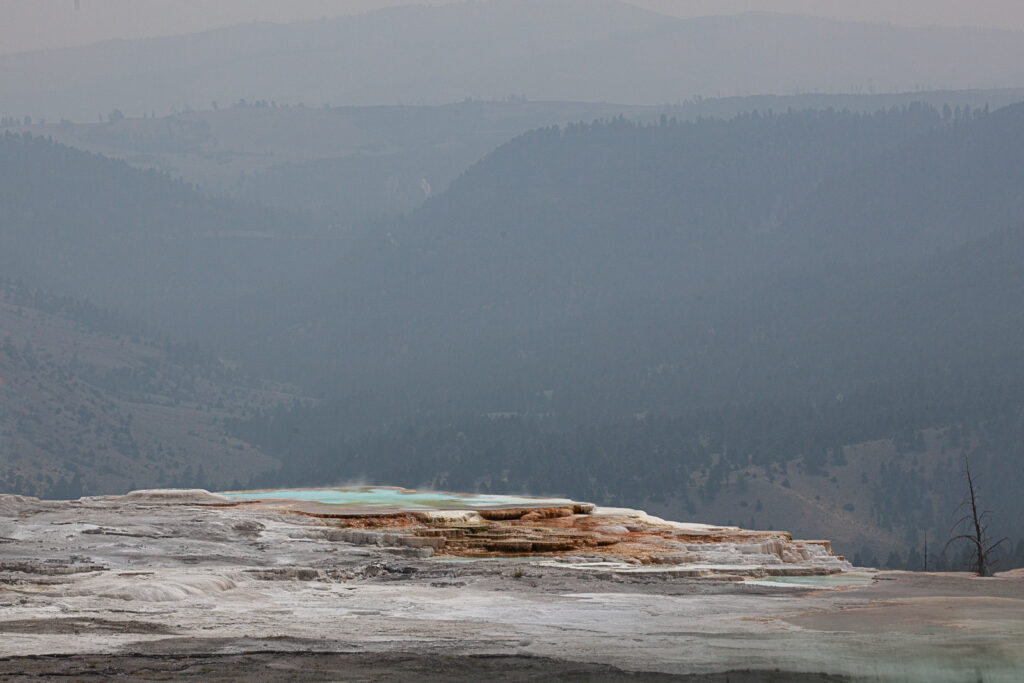 Mammoth Hot Springs is home to a herd of elk, and they freely roam the place regardless of busy traffic.
Above, the terraces without any wildlife. After we ate lunch and came back through here, they were all resting nicely on the ledges.
Heading out Lamar Valley…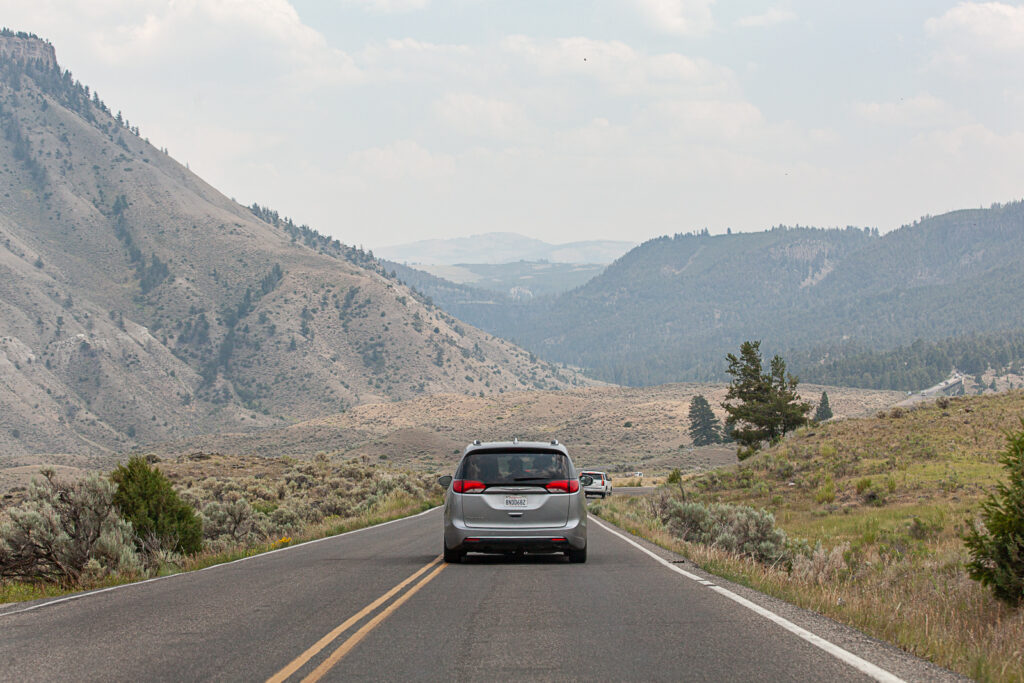 On our way we passed a beautiful waterfall.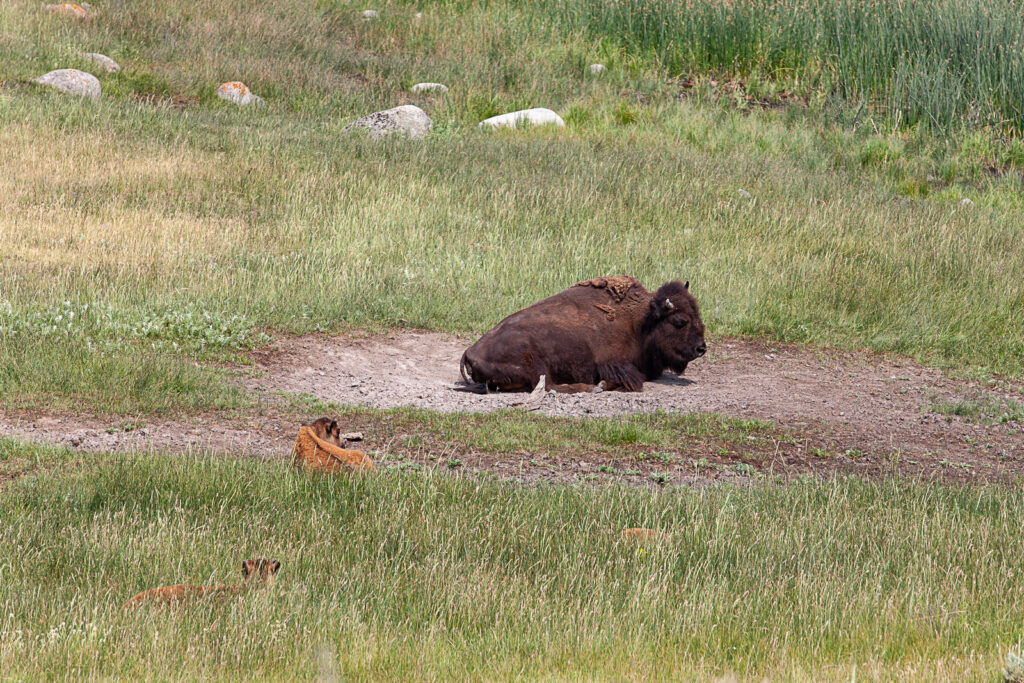 This is probably the worst time to see the bison in all their glory. They were shedding their coats and some looked pretty raggedy!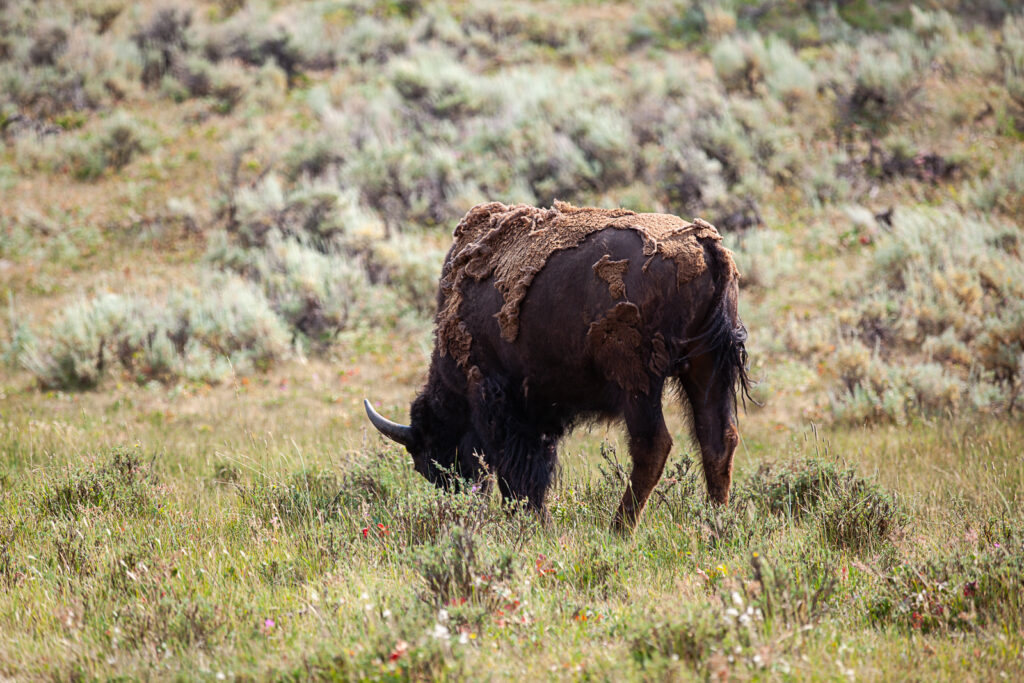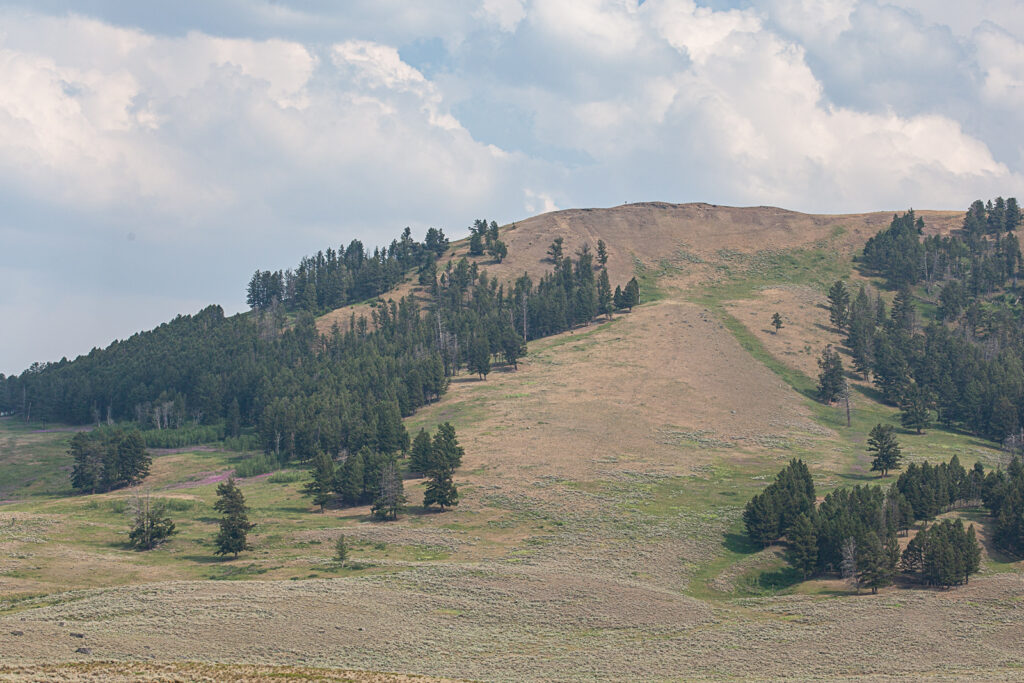 There is a wolf den in Lamar Valley but we didn't see exactly where. It would have been better to come to this area at daybreak or near sunset to see more wildlife but we stayed too far away to make this feasible for us. A 2-hour drive after dark in a park full of large, dark animals didn't seem very logical. Plus get us home very late!
The bison really do rule the road! If they decide to hang out on the road for a while, traffic stops. I've heard of people being stopped for an hour or more, waiting for them to move. Thankfully, they weren't that cantankerous while were there. Maybe because the hot road didn't fee as good in July as it might've on a cooler day.
Day 3
We checked out of our "cabin" and headed back into the park. We went to the Grand Canyon of Yellowstone. This is the Lower Falls, visible from Inspiration Point. My 200mm zoom came in handy for these shots.
If you click on the picture above, you can see people on a walkway almost over the falls.
We went to the other side as well to see the canyon. We could see the Upper Canyon Falls from Upper Falls View.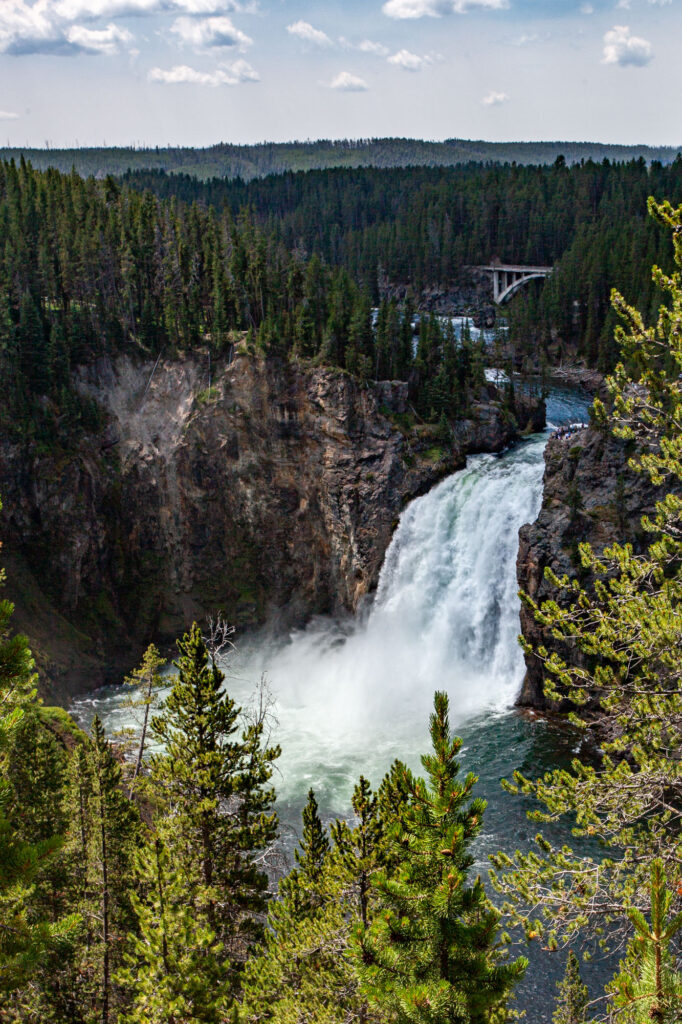 On our way out of the park and headed toward Cody, we went through Hayden Valley. This is also a good place to see wildlife at the right place/right time. As you can see, the skies pretty much cleared up! The wind must have shifted overnight.
There is so much in the park to see and do. We basically just hit the main spots on the map. There are many, many trails to hike. Being we were not really hiking people, we didn't mind skipping those. 🙂 I'm guessing if you have kids along, your trip would look a bit different too! There is little to no cell coverage in the park so it's not like they'd be sitting on their phones. There is some coverage at the villages in the park.
As far as food in the park, there are places to eat. We decided to pack our food for the day, since we didn't know for sure where we'd be over meals, and with the potential for having to wait for food, preferred to spend our time on the move instead of in a line or waiting for a table. Our insulated bags came in handy again. We did get back to W Yellowstone the 2nd night in time to eat supper at a restaurant. Some of us had bison burgers. They were good, but not noteworthy. You wouldn't have known it was not a hamburger. There are good bakeries in town too. We grabbed some pastries on our way out of town the final day. You guessed it … huckleberries were involved!
On to the last segment of our journey in the next post.