There are members in my family who like crunch in their bread. I am generally not one of them but if the bread is reasonably soft, and not solid, I'm a willing eater.
My sourdough to date has been void of any crunch so I went looking. King Arthur cooks shared this recipe from Clay Blackwell of Lynchburg, VA. I wanted to make it without any yeast so went looking through the comments and sure enough, they gave a recommendation of how much sourdough to use instead of yeast.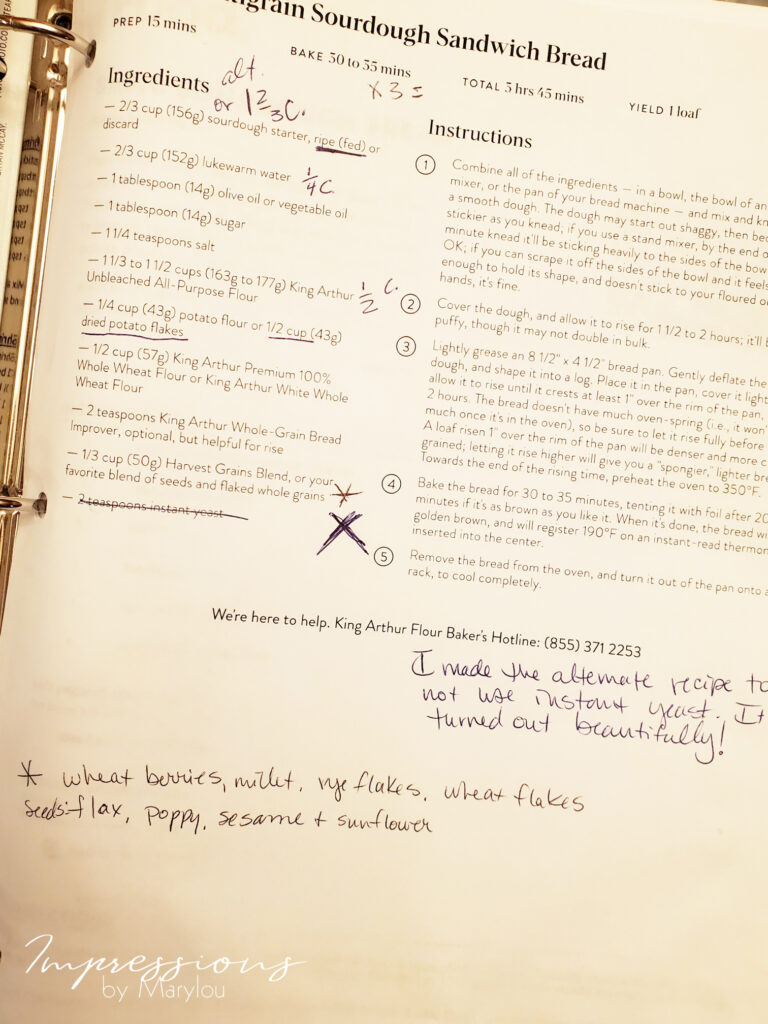 Do my notes make sense to you [click for a larger image]? Probably not. So here is my version. 
Ingredients:
1⅔ cup sourdough starter, fed 2-3 hours before
¼ cup lukewarm water
1 T. olive oil or vegetable oil
1 T. sugar
1¼ tsp. salt
½ c. unbleached all-purpose flour
½ c. dried potato flakes
½ c. whole wheat flour
2 tsp dough enhancer, optional, but helpful for rise
⅓ c.  + 2 T. of your favorite blend of seeds and flaked whole grains
(grains: cracked wheat, oatmeal, millet, rye flakes, wheat flakes. Seeds: flax, sunflower, sesame, poppy) OR
⅓ c. + 2 T. Trader Joe's Multigrain Hot Cereal (uncooked) plus seeds of your choice (see above for options)
1 egg for eggwash
Instructions:
Combine all of the ingredients except 2 T. Multigrain cereal/seed mixture — in a bowl, the bowl of an electric mixer, and mix and knead to form a smooth dough. The dough may start out shaggy, then become stickier as you knead; if you use a stand mixer, by the end of a 7-minute knead it'll be sticking heavily to the sides of the bowl. That's OK; if you can scrape it off the sides of the bowl and it feels firm enough to hold its shape, and doesn't stick to your floured or oiled hands, it's fine. Mine usually feels a little bit wet/sticky. I blame it on the oatmeal. 🙂
Cover the dough, and allow it to rise for 2+ hours; it'll become puffy, though it may not double in bulk.
Lightly grease an 8 1/2″ x 4 1/2″ bread pan. Gently deflate the risen dough, and shape it into a log. Place it in the pan, cover it lightly. Allow it to rise until it crests at least 1″ over the rim of the pan, 2-4 hours. The bread doesn't have much, so be sure to let it rise fully before baking. A loaf risen 1″ over the rim of the pan will be denser and more close-grained; letting it rise higher will give you a "spongier," lighter bread. Towards the end of the rising time, preheat the oven to 350°F.
Beat egg and 1 tsp. water. Brush over top of the loaf. Sprinkle with 2 T. remaining multigrain cereal/seed mixture.
Bake the bread for 25 to 35 minutes, tenting it with foil after 20 minutes if it's as brown as you like it. When it's done, the bread will be golden brown. I always check mine at 25 minutes. If it has a hollow sound when you tap it, it's done. Remove from bread pans and let cool on wire rack. Letting it cool too long in pans results in soggy edges.
Yield: 1 loaf
NOTE: Rise times are affected by how active your sourdough starter is. I find that while you can under rise and over rise sourdough doughs, there is fairly wide optimal window for letting it rise, since it rises slowly.
[Click HERE for a printable version.]
I apologize for not having more pictures of the whole process. Usually when I make sourdough I'm making multiple kinds in one day and am trying to do it while the starter is happy and bubbly. By the last batch of whatever I am making, I'm  throwing things together willey-nilley, or so it feels.
I had made it once with several grains that I had put together from my (and mostly my mom's) pantry. I found this multigrain cereal at Trader Joe's and I think it's the perfect blend of grains, plus it's nicely milled for this bread. I'm almost out and my nearest Trader Joe's is 2 hours away. ::insert crying face::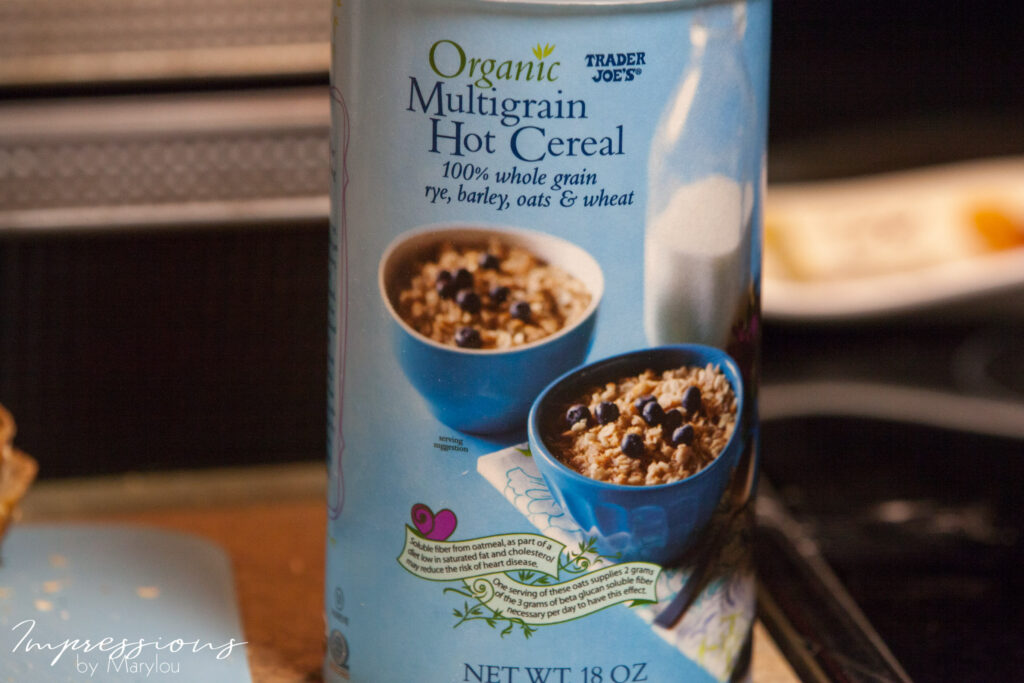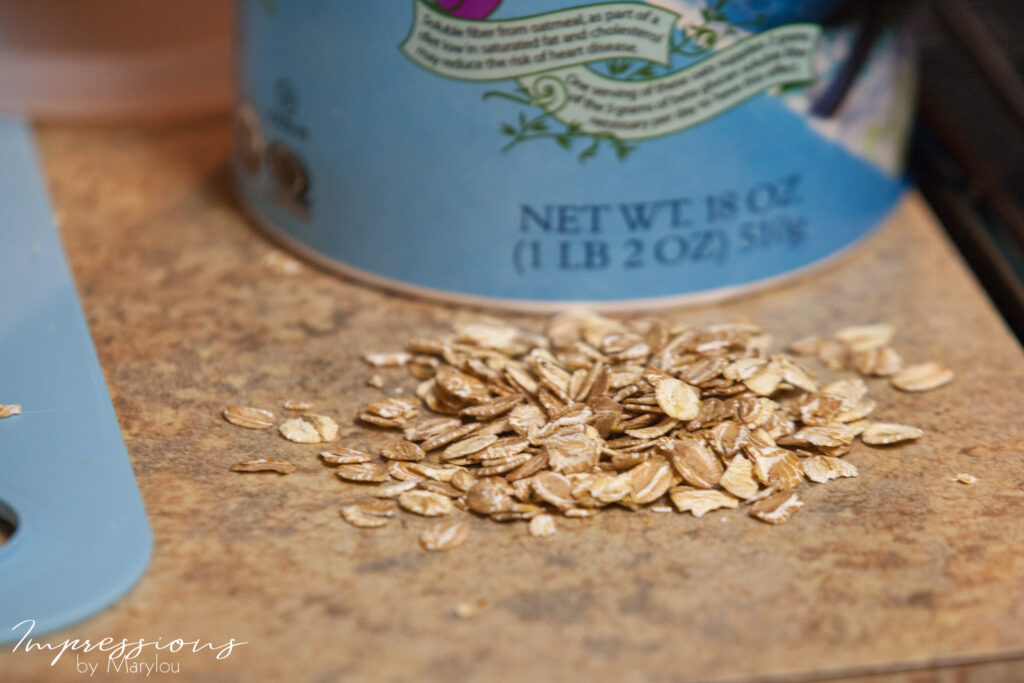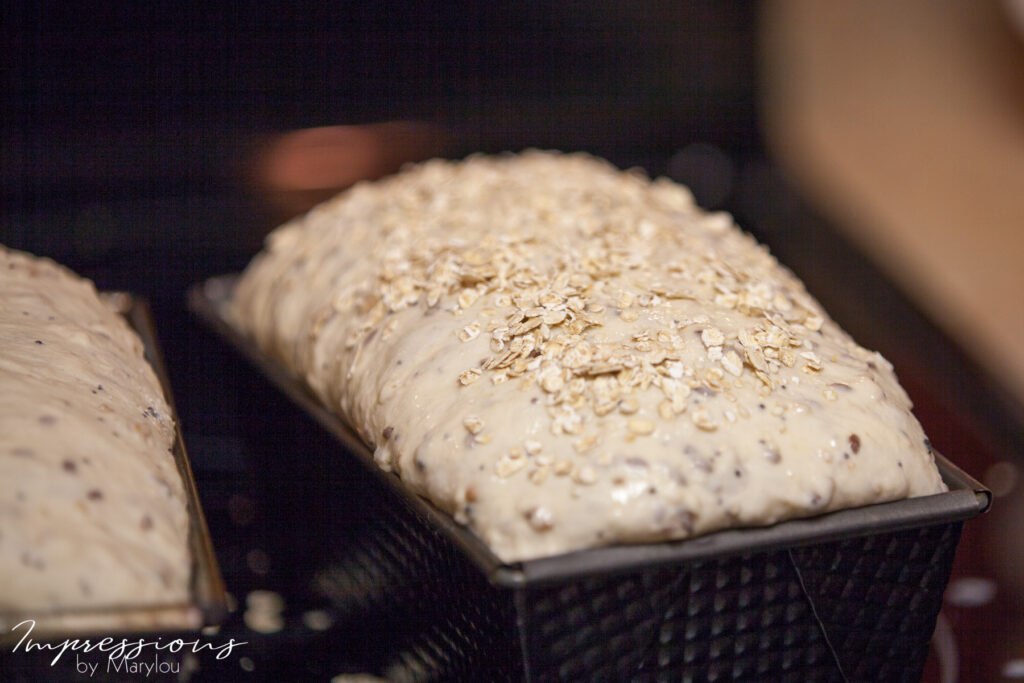 I usually triple it when I make it. This is just before I stuck it in the oven. The middle loaf didn't have the extra grains on top. You can just use oats on top if you want.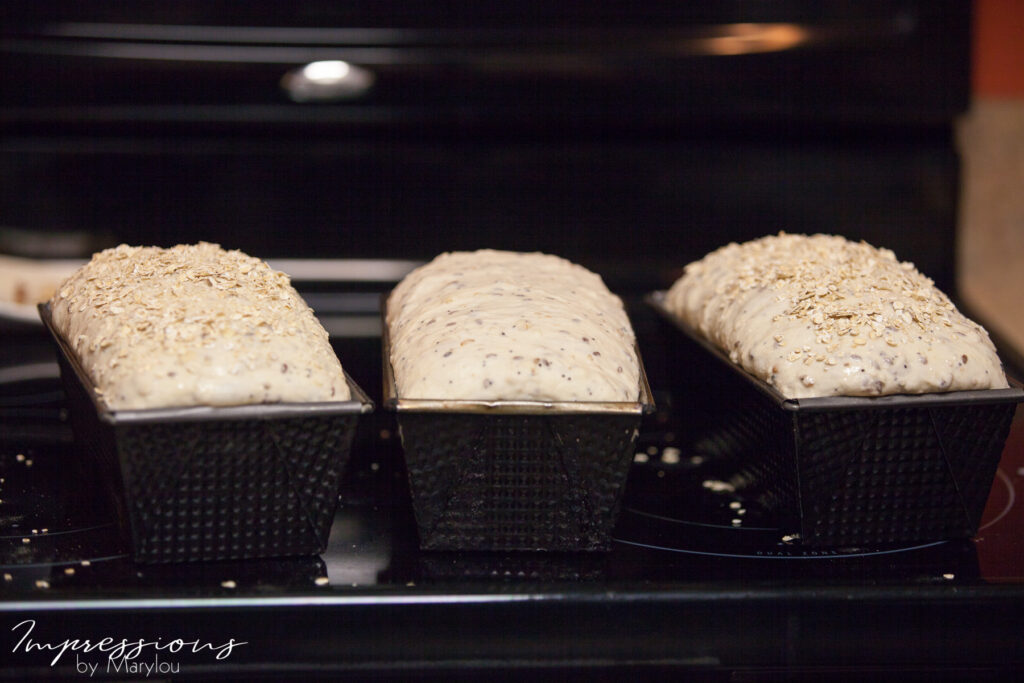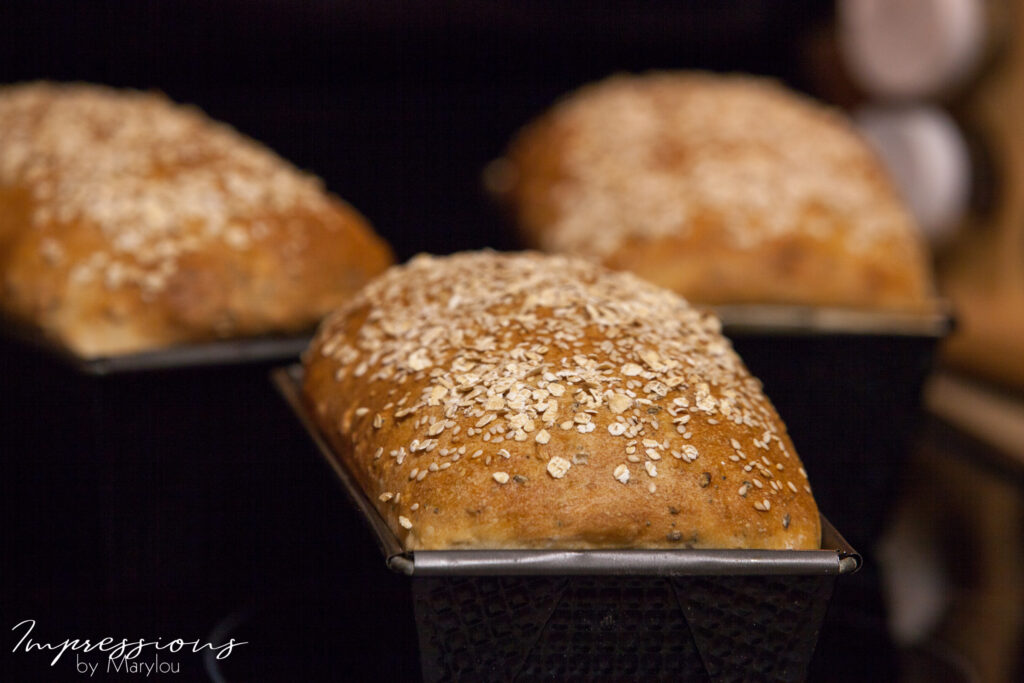 Fresh from the oven!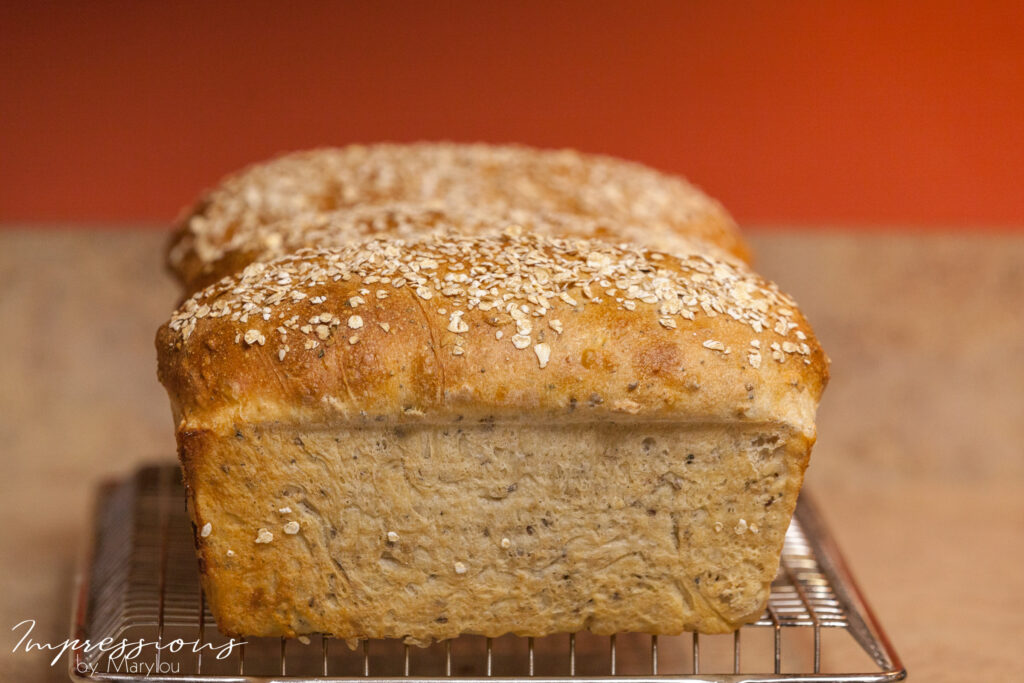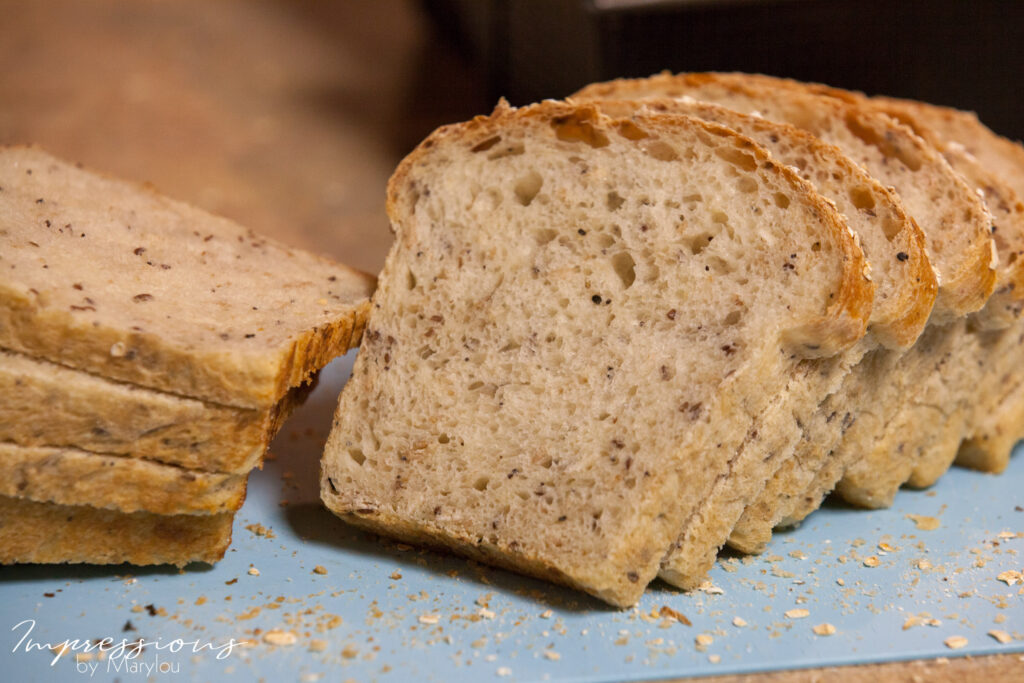 Just to show you what "unhappy" sourdough does in baking ….  In the photo below, the 2 slices in the foreground were made with starter that just wasn't very happy. I've gone up to 3 months without feeding the starter (stored in fridge with a lid) and it was bubbly after 3 feedings. This time, after 3 feedings, it wasn't as bubbly as it should have been. I went ahead and made my sourdough things and everything came out more solid. Not necessarily bad, just solid. I fed the starter for a few more days and tried again. This time it yielded the sliced bread in the back of the photo.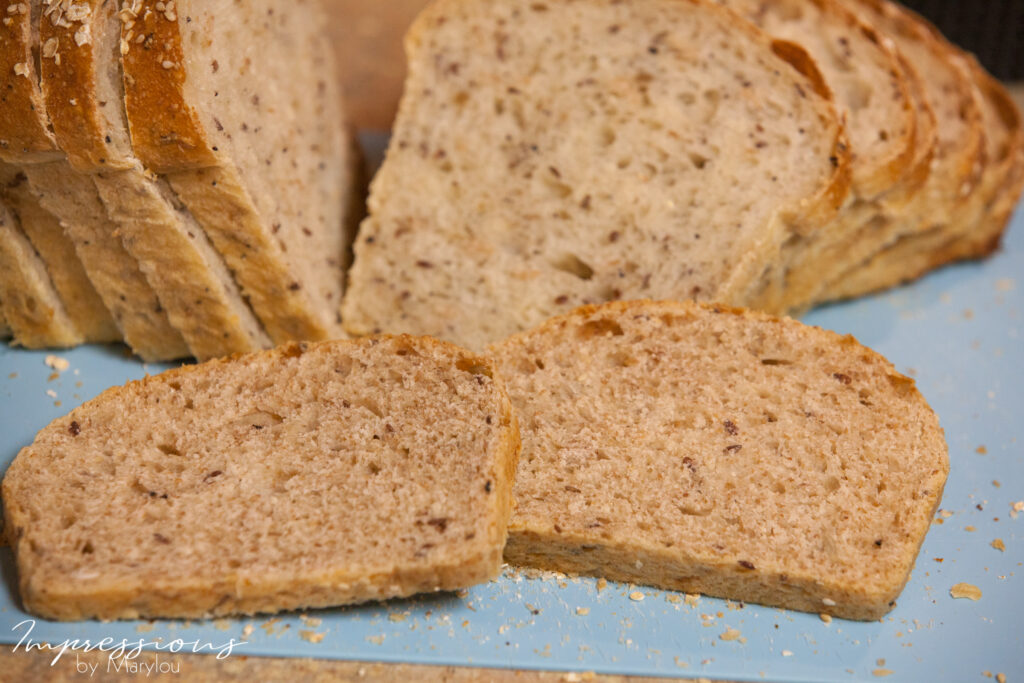 Like this: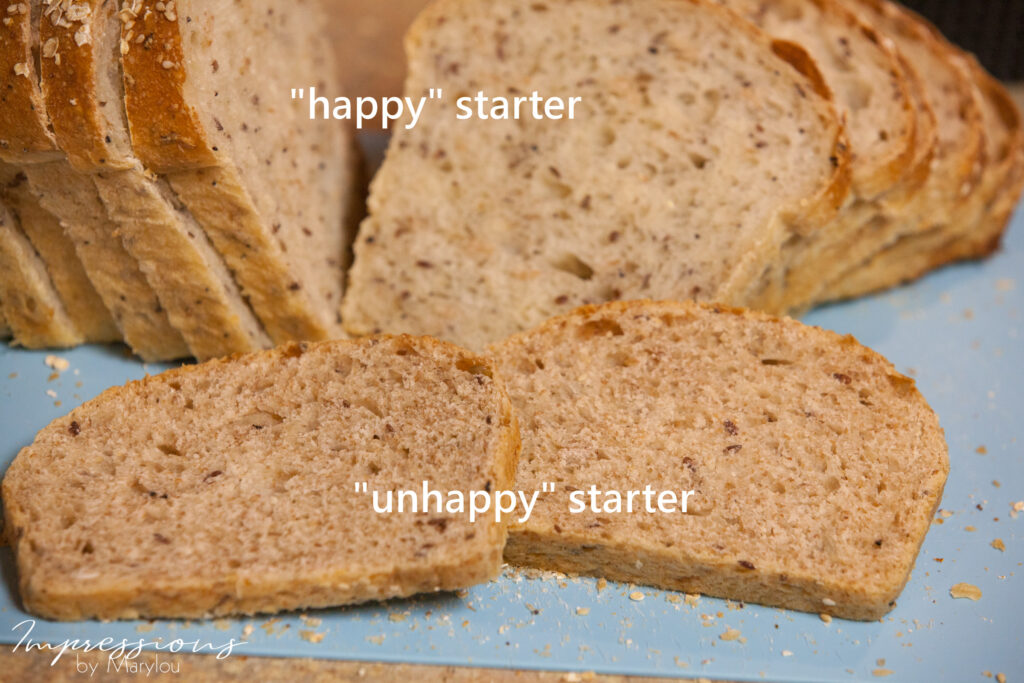 My sister still thought the more solid bread was "amazing" so don't throw it out if at first you don't succeed.
Here is a "crunchy" redneck version of avocado toast/breakfast: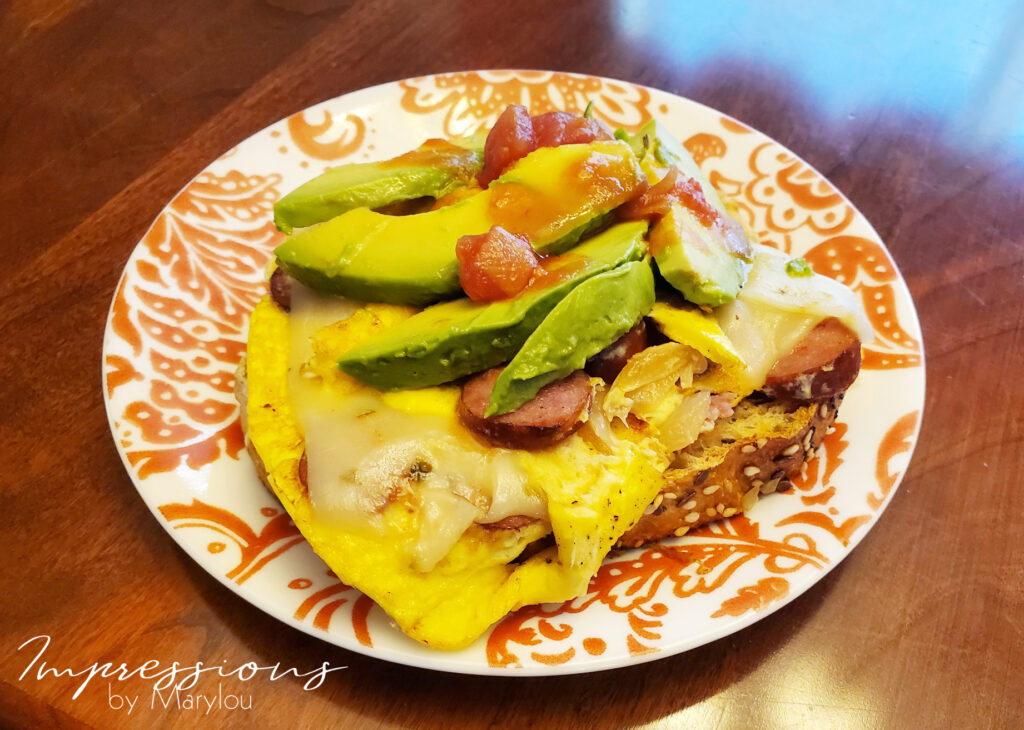 Sourdough multigrain toast with scrambled egg, pepper jack cheese, sauteed Vidalia onions, avocado slices with salsa, and leftover grilled hot dogs. 🙂 🙂
Another way I like it for breakfast: toast it and pour honey over it, then sprinkle cinnamon.
Or make a tomato sandwich. It is summertime here in the south.
Let me know if you try it and how it turns out for you.
EDITED TO ADD: I found another multigrain cereal that could work just fine if you don't have access to Trader Joe's. Wheat Montana's 7-Grain Cereal.