If you're like me, the word Tuscany brings up images of warm-toned stone house, vineyards and olives. Well, I can tell you there are many of all of the above. Some years ago, I had looked around for  Tuscan villas for rent and thus began the real dream of traveling to Italy. While we didn't rent a villa, for the sake of economy + seeing more Italy than just Tuscany, we did have a lovely little home to stay in.
Backing up a little, I wanted to show you something cool from our Levanto to Florence train ride. We were buzzing along, and someone in our group noticed the faraway mountain that looked kind of like it had snow but not really. The light bulb went off and we realized we were looking at Carrara mines (I think here in the US people are calling it Carrera), the area where Michelangelo procurred his marble for at least some of his statues.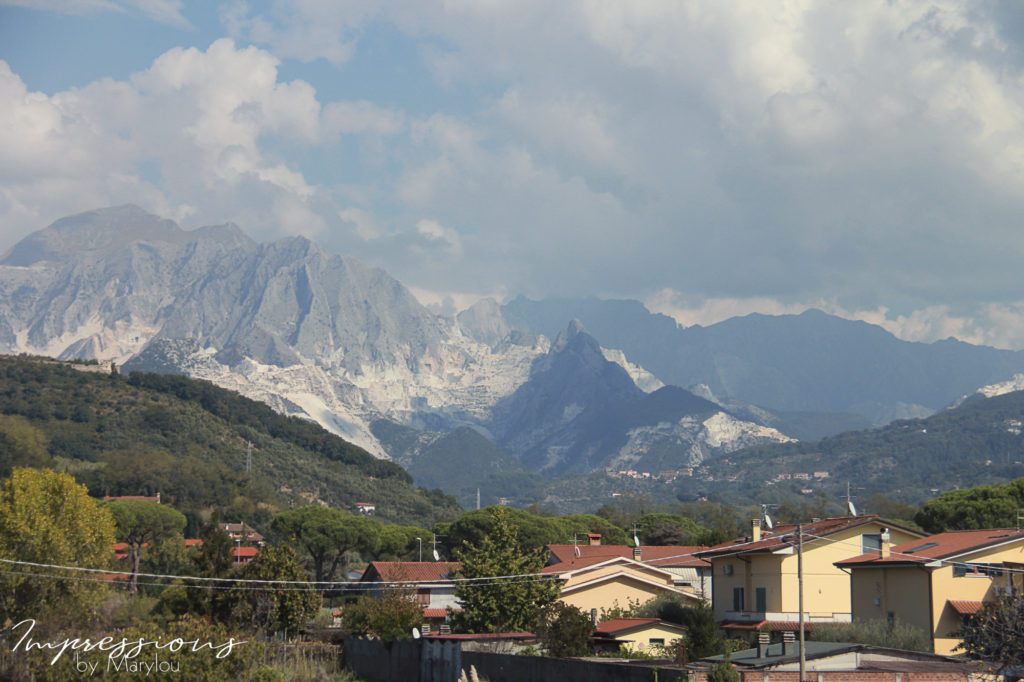 We soon passed multiple marble yards, I guess that's what they're called, with large slabs of marble.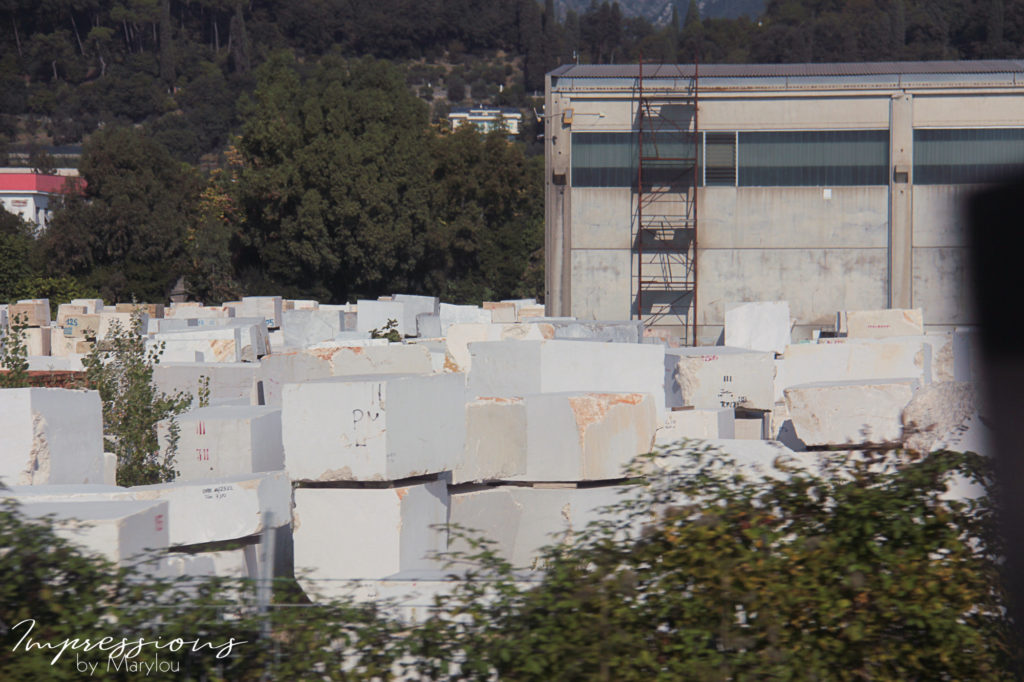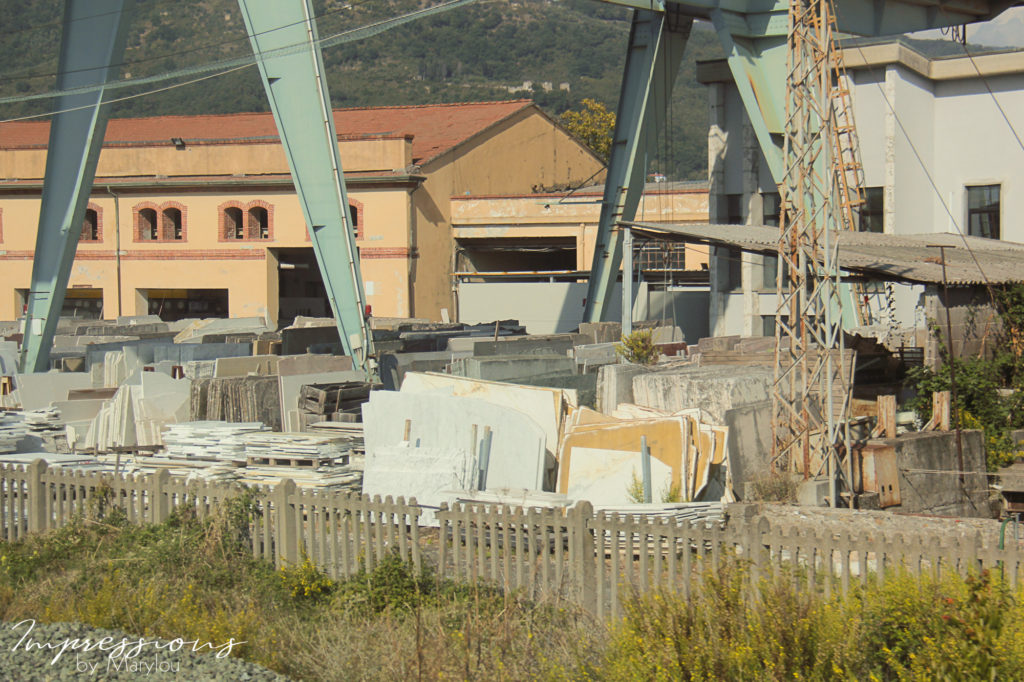 We trained into Florence and caught a taxi over to the car rental place, not far from the airport. Let me first tell you something neat about the Florence train station … it has a mall underneath it. You know on every trip it seems there is someone along who thought their luggage was fine for another trip. Well, this time that was me. All of us kept our luggage to 1 carry-on size and 1 shoulder bag. Having laundry facilities nearly everywhere we went was a big help. Getting into Levanto, I began to realize that the $30 carry-on suitcase that I had from … hmmm… 2005 or so, had some problems. The wheels were coming off, literally. Bumping along over cobblestones streets wasn't helping. I had hoped we would find something close by in Florence when we arrived. A helpful young lady on the train mentioned that there were luggage stores nearby but I didn't quite get that they were underneath the station. When I went looking for restrooms after our arrival, I found not only restrooms, but quite a few stores, including luggage stores. It was the fastest decision I've ever made on a piece of luggage, me, who researches it to death. It has a 2-year warranty but not that it will do me any good if needed, it's an Italian brand.
Our taxi cab driver's name was Jehu, or at least we think it was. He drove like the biblical Jehu, anyway, "furiously." When we arrived at the car rental in record time (and unscathed), Lois told him "You drive like my brother." He had a one-word response, "better!"
And thus began our adventure in driving. Well, Lois drove and I helped with navigation, that is, watching the GPS and instructing her which roads to take in between oohing and ahhing at the landscape, with my camera ever ready. Well, that part came later. Getting out of Florence wasn't exactly awe-inspiring. It did require some concentration and off we headed to the little village of Ponte agli Stolli. Just before we arrived into the village, the nieces pointed out a "wild boar," as they call them there, on the hillside. Boar hunting is a big and important thing. These wild pigs can destroy a vineyard overnight. Wild boar sausage is a thing, too, and I had some on my pizza on evening.
Our sweet little 3-story village apartment was right on the road. We arrived a bit later than we planned (this is starting to be a pattern) because things take longer than you think when you're in unfamiliar territory. No one was at the house so I went up the street to the only open business, a pizzeria. The pizzeria was just opening and they graciously let me use their phone to call our host.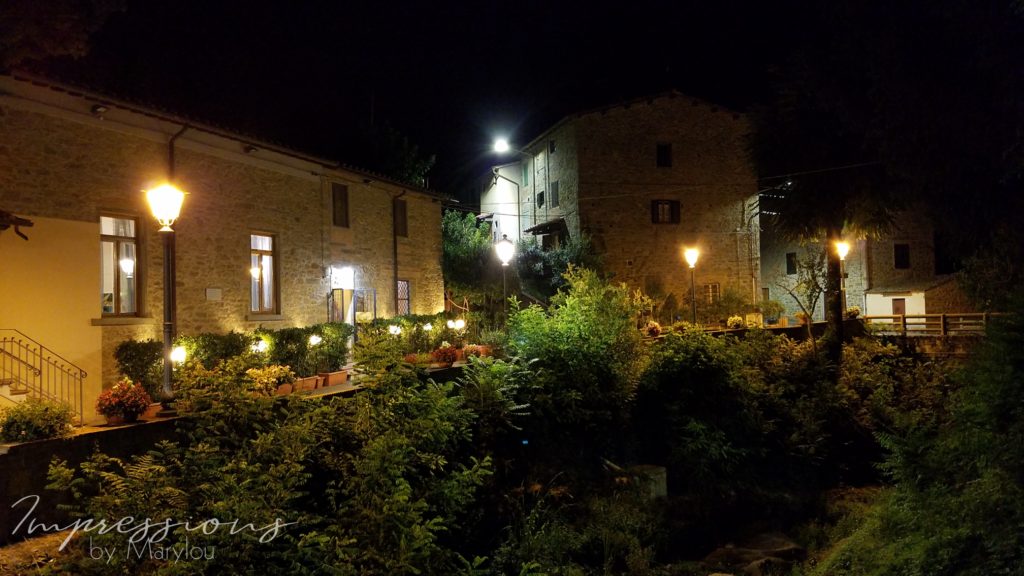 He came to meet us and was very helpful! He gave us information to the points of interest in the area. We were absolutely thrilled with the character of the apartment! It was a charming as the photos let on, with the exception of both bathrooms being on the top floor and Ruth Anne, who was half sick, slept on the bottom floor had to climb 2 sets of stairs.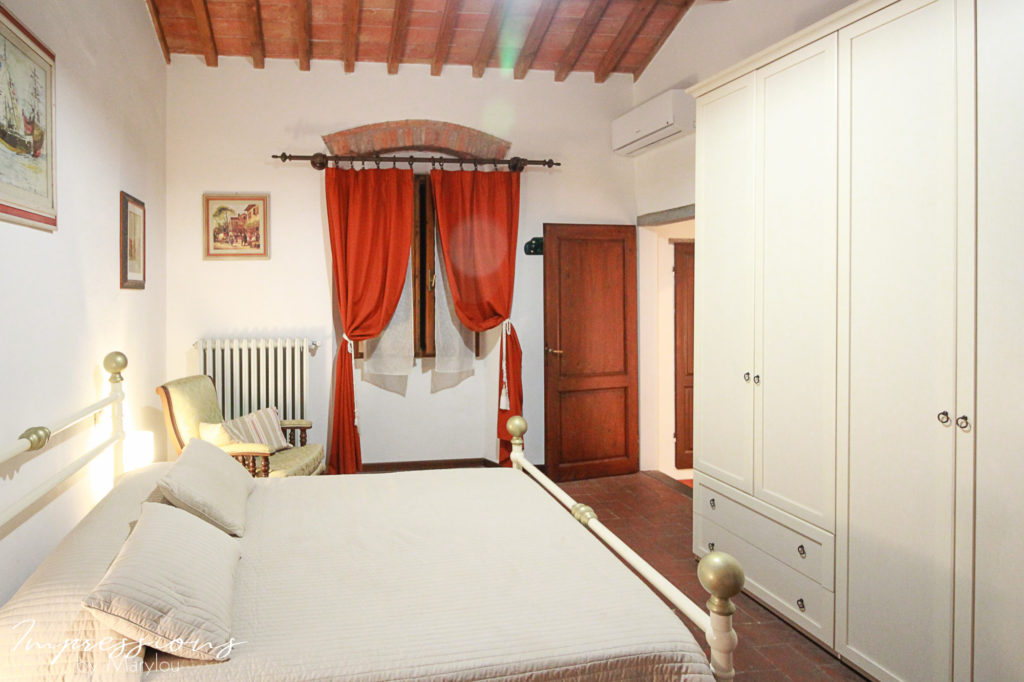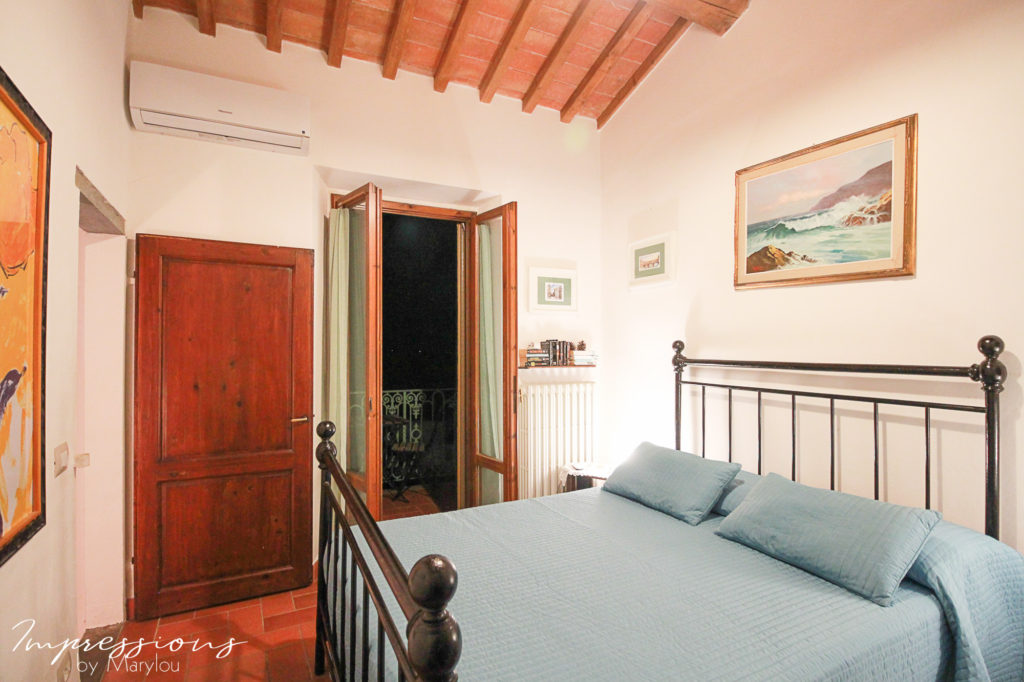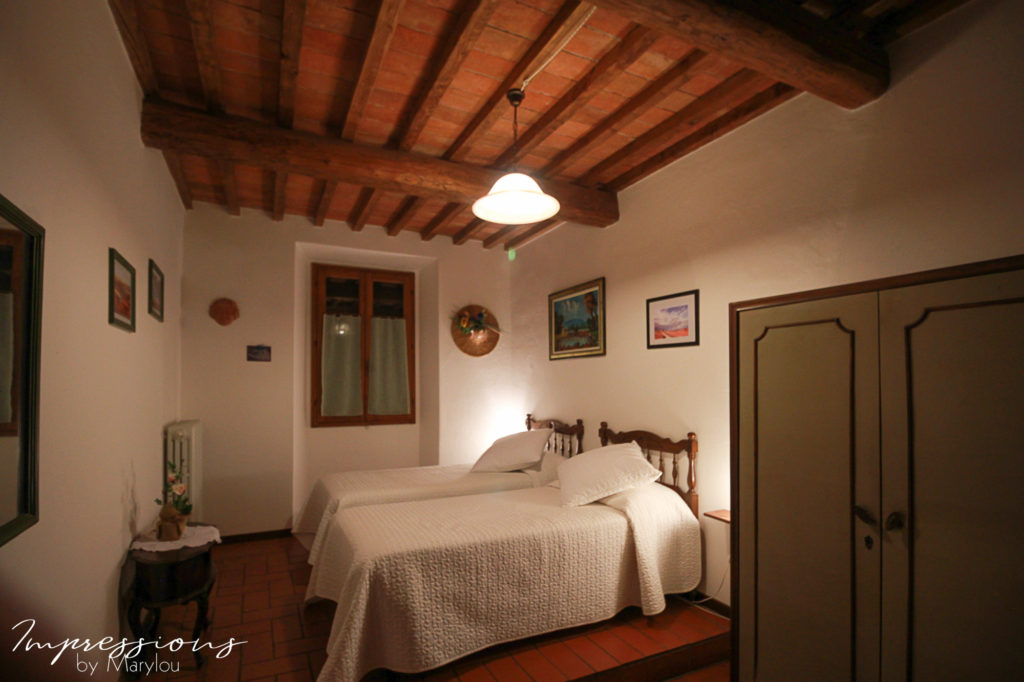 The bedroom I stayed in had a balcony and it offered a beautiful view.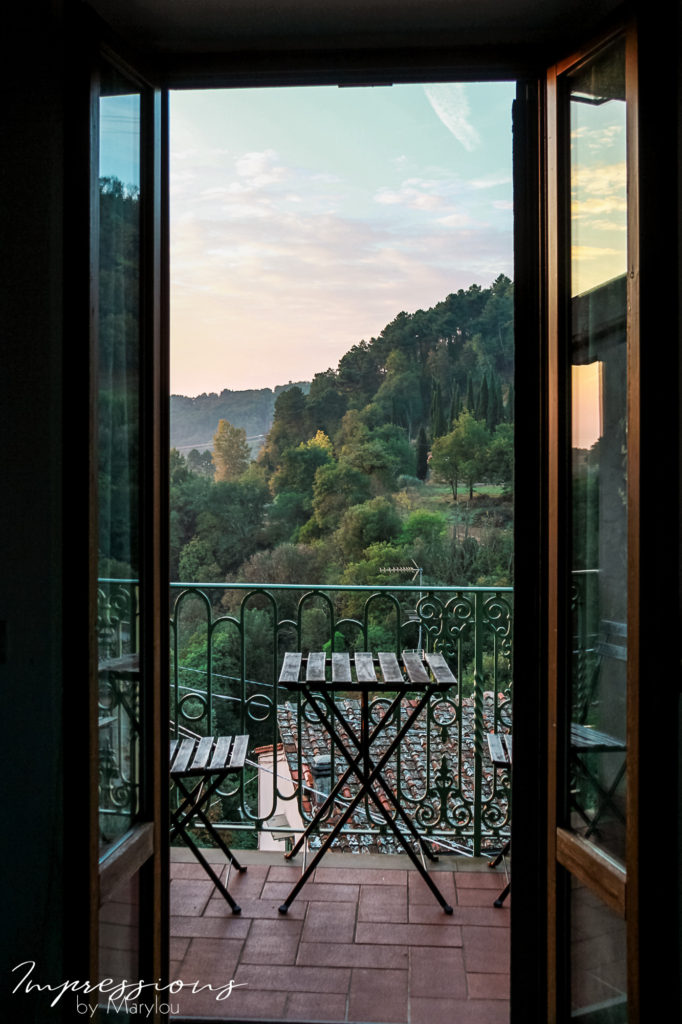 Day 1 involved eating pizza for breakfast. We had ordered some from the pizzeria the night before since we had no groceries and didn't take time to stop. Several others weren't feeling great and there was a threat of rain for the day so we just made this a no-agenda day. It was just what we needed. Lois and I drove around for a bit to get a feel for the countryside. We drove across the "mountain" through Greve in Chianti and ended up in Panzano.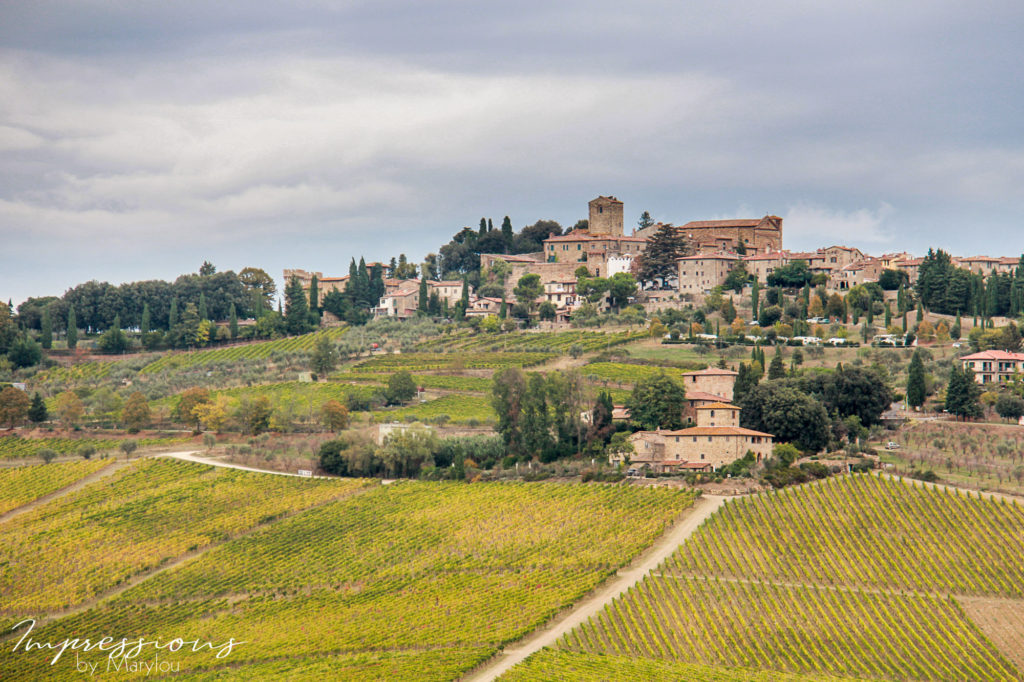 The views in Panzano are just amazing.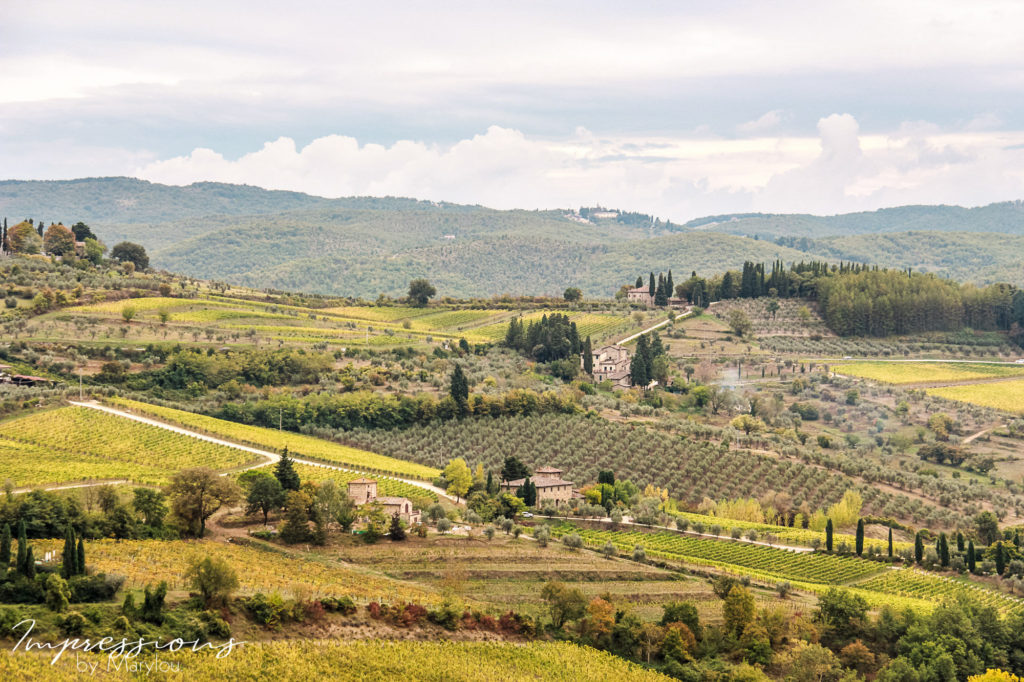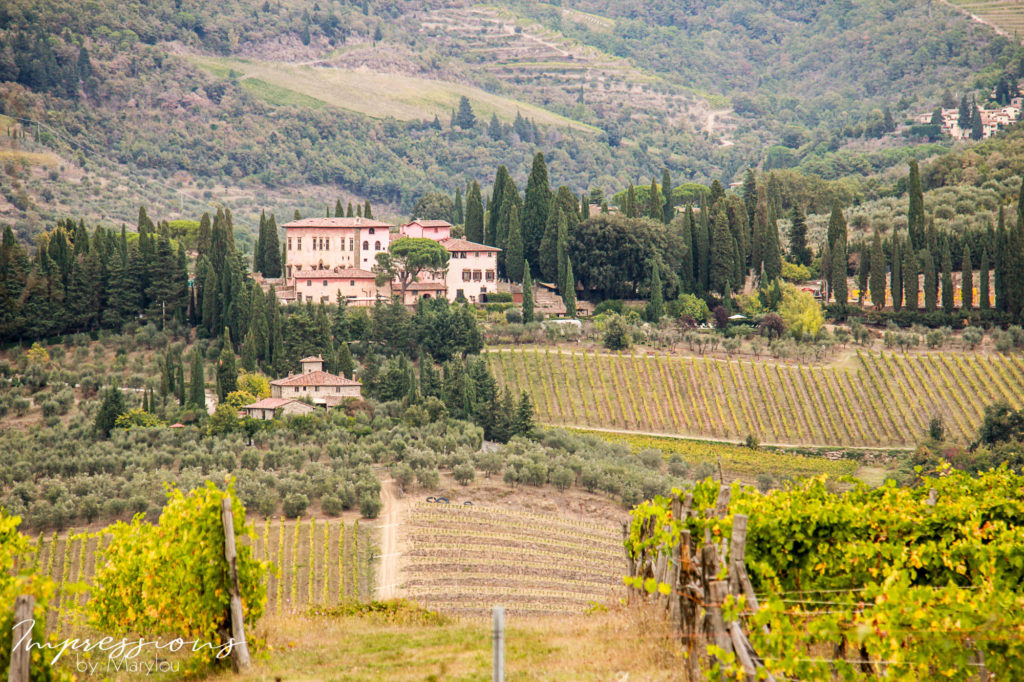 We saw many beautiful places but the curvy roads and little to no pullovers made capturing them somewhere between a game and a frustration.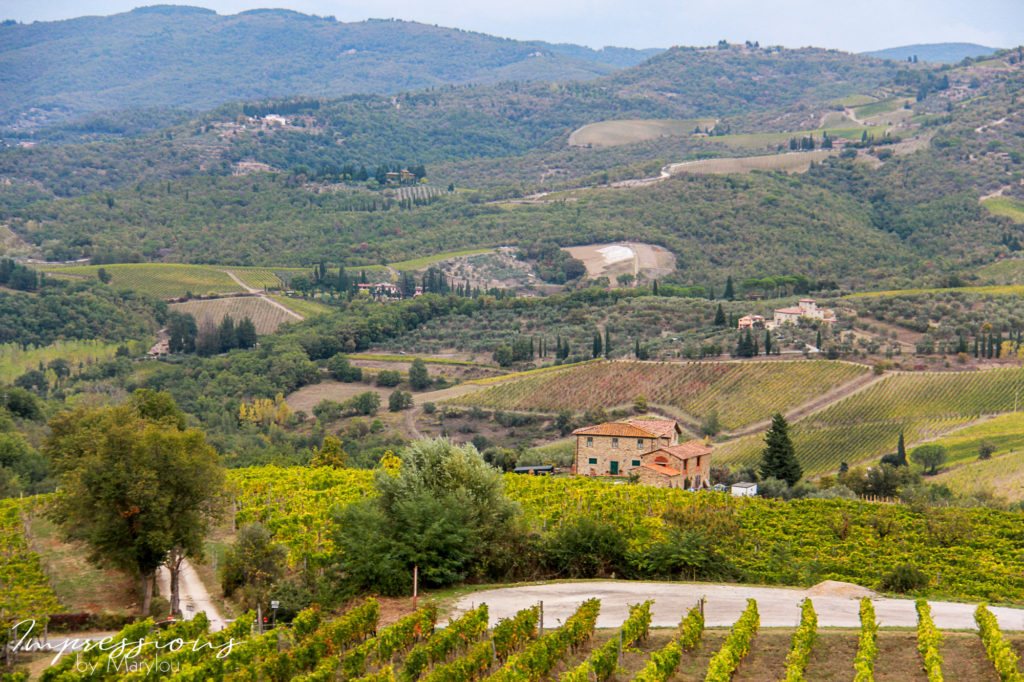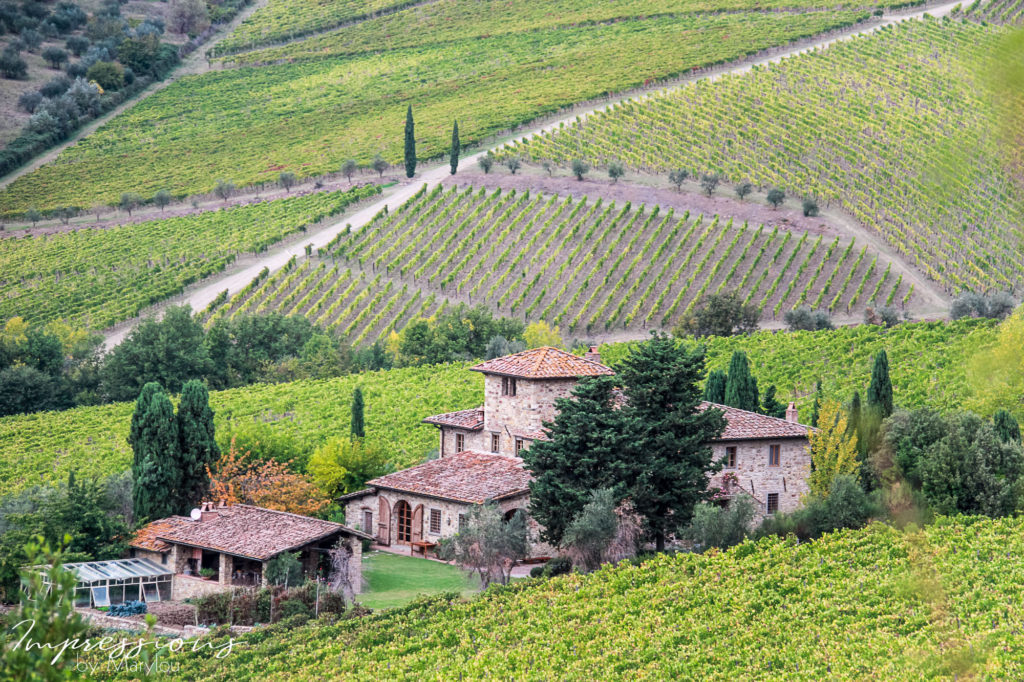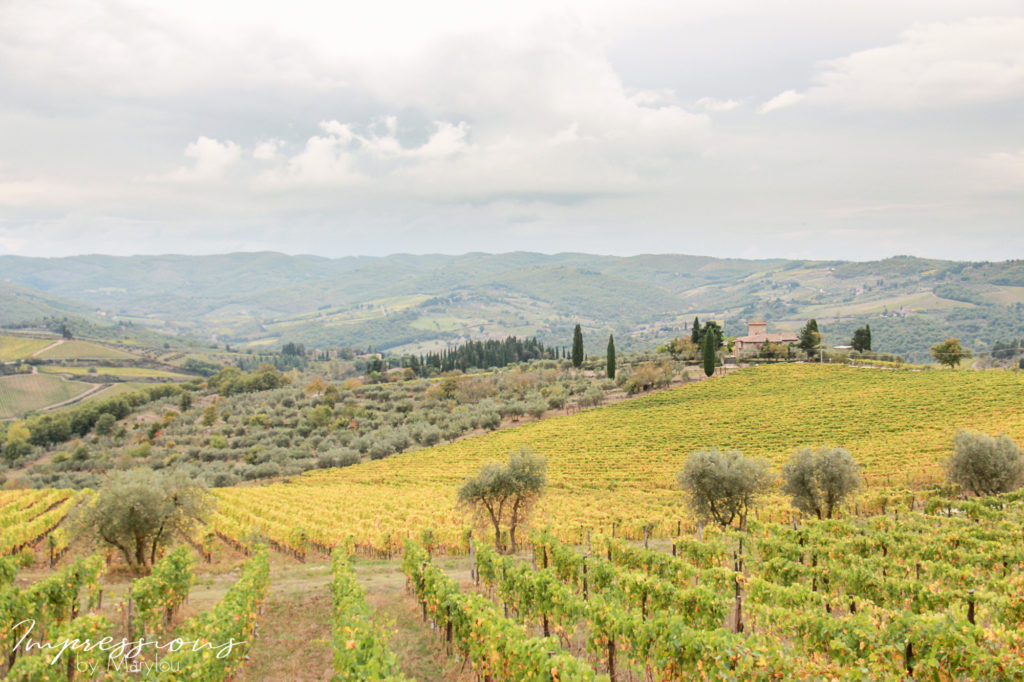 Later all of us but Ruth Anne ran into the nearest sizable town for groceries. We found and Aldi and had a high time getting groceries! Fresh veggies! Crusty bakery bread! A large selection of cheeses! We found a few small noodle/sauce packets for future quick meals.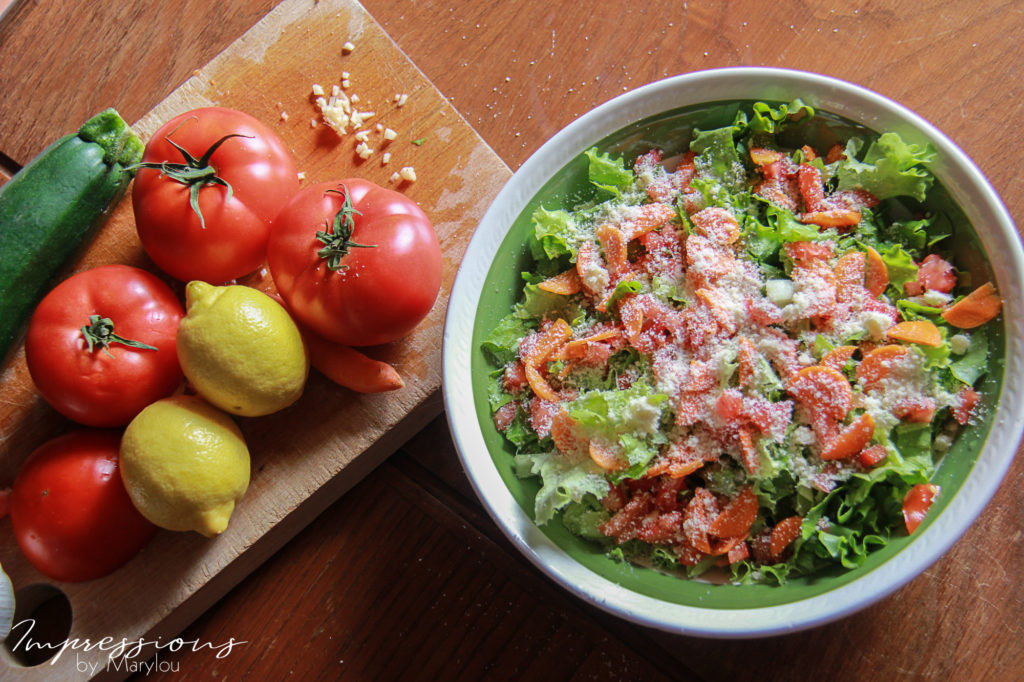 Vicki was quite sad that the lemons were not from Italy but from Spain! That didn't stop us from enjoying hand-squeezed lemonade several times.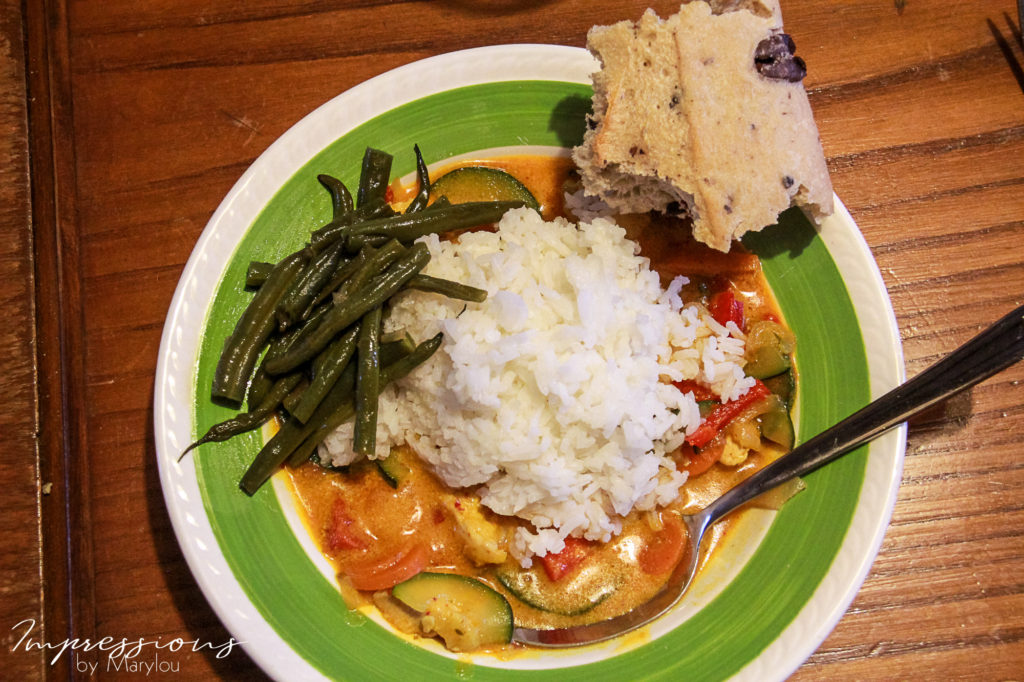 We had 2 days to see as much as we could see. There are quite a few medieval castle towns sprinkled over the countryside. The 3 we spent time in were Pienza, Radda in Chianti and San Gimignano.
Since Lois and I were the only ones to see Panzano, we swung back through there so the girls could see it as well.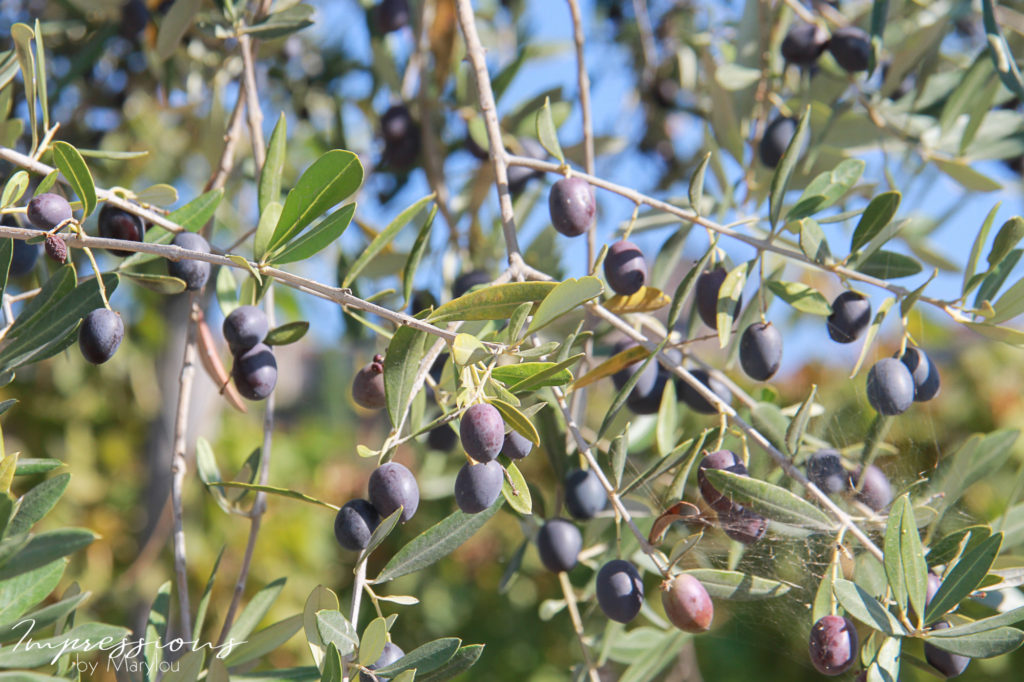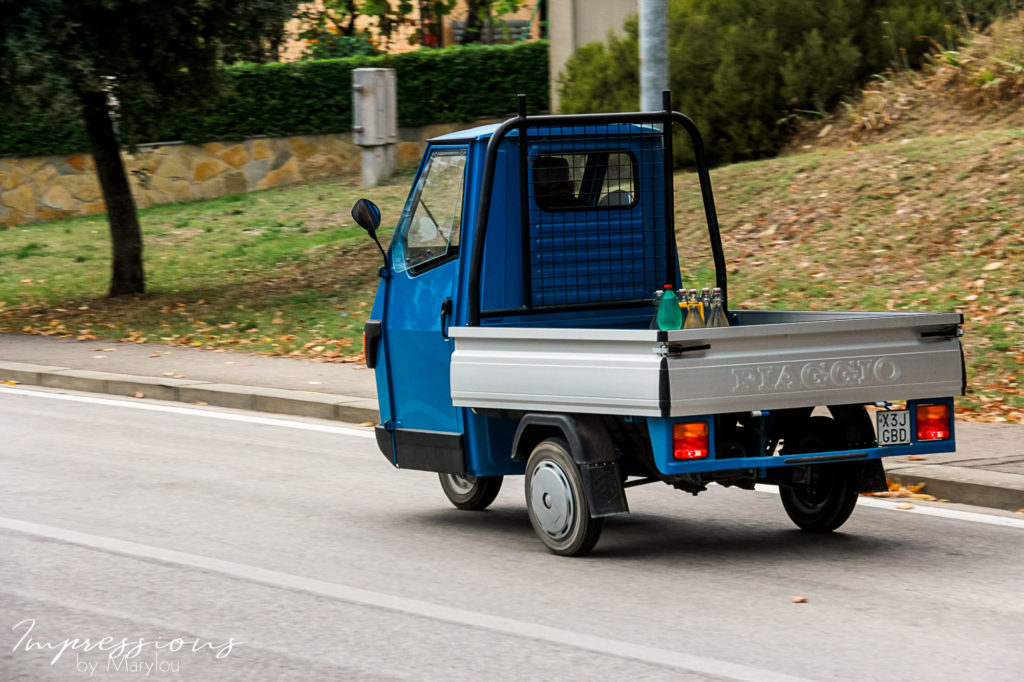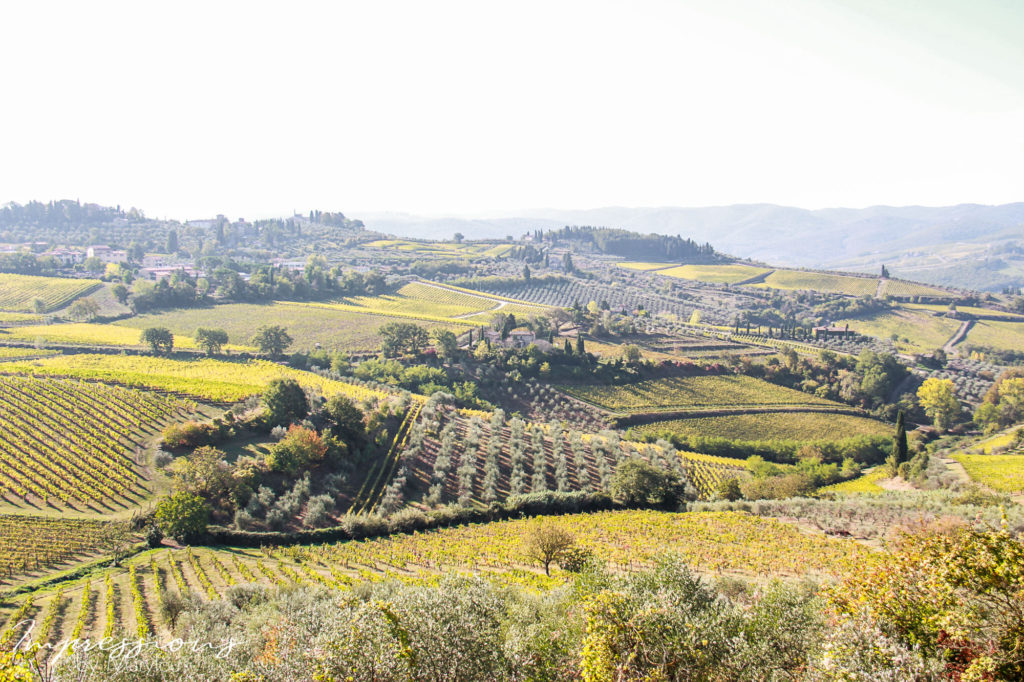 Pienza, I think….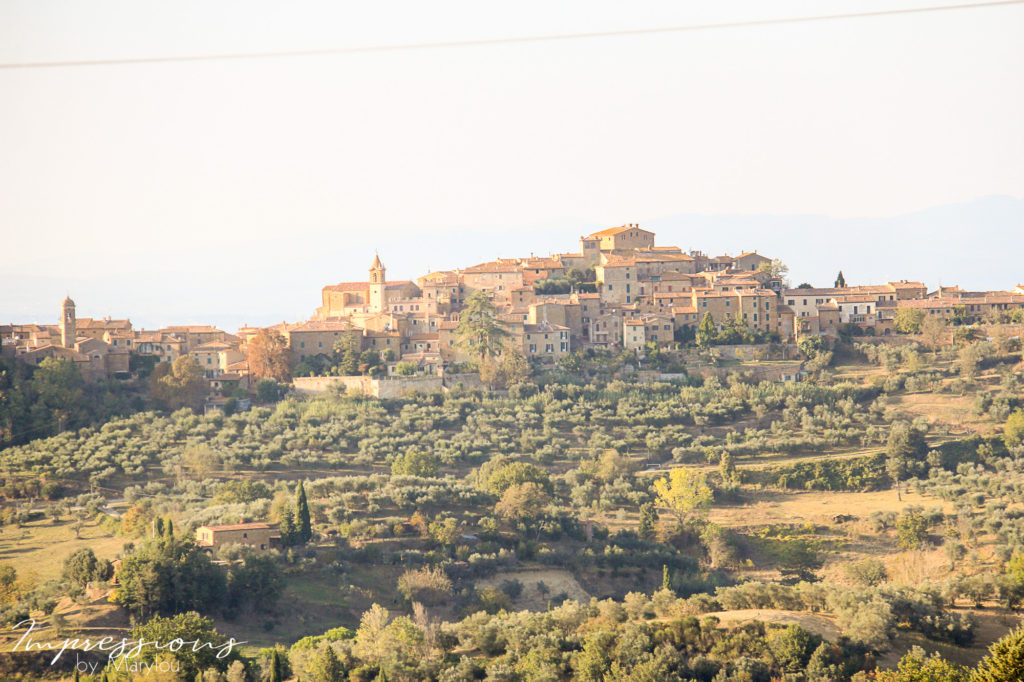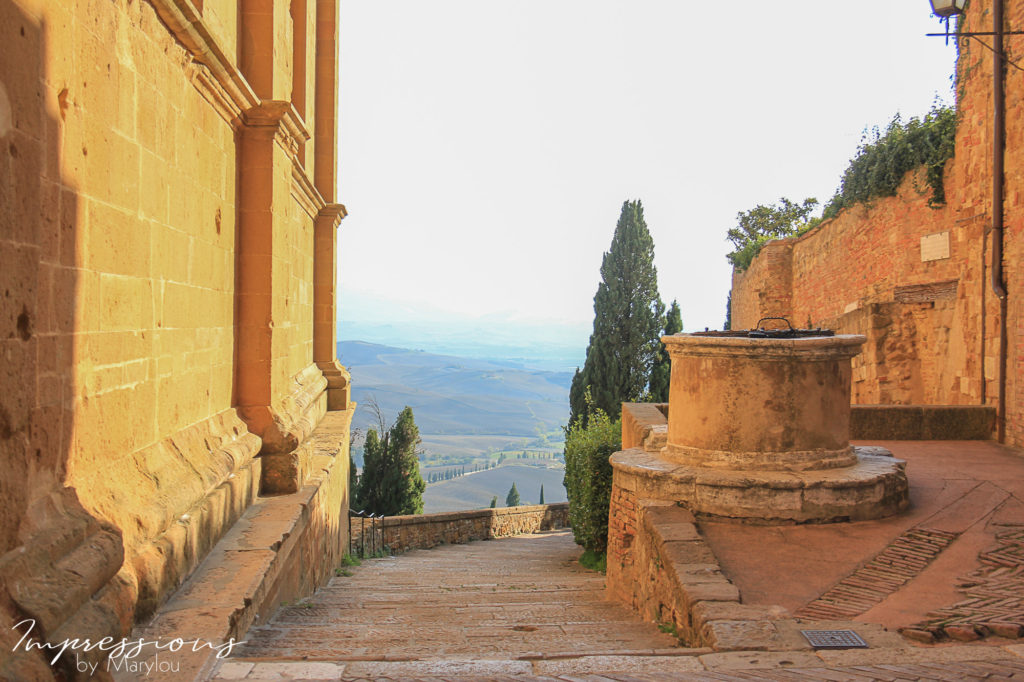 Radda in Chianti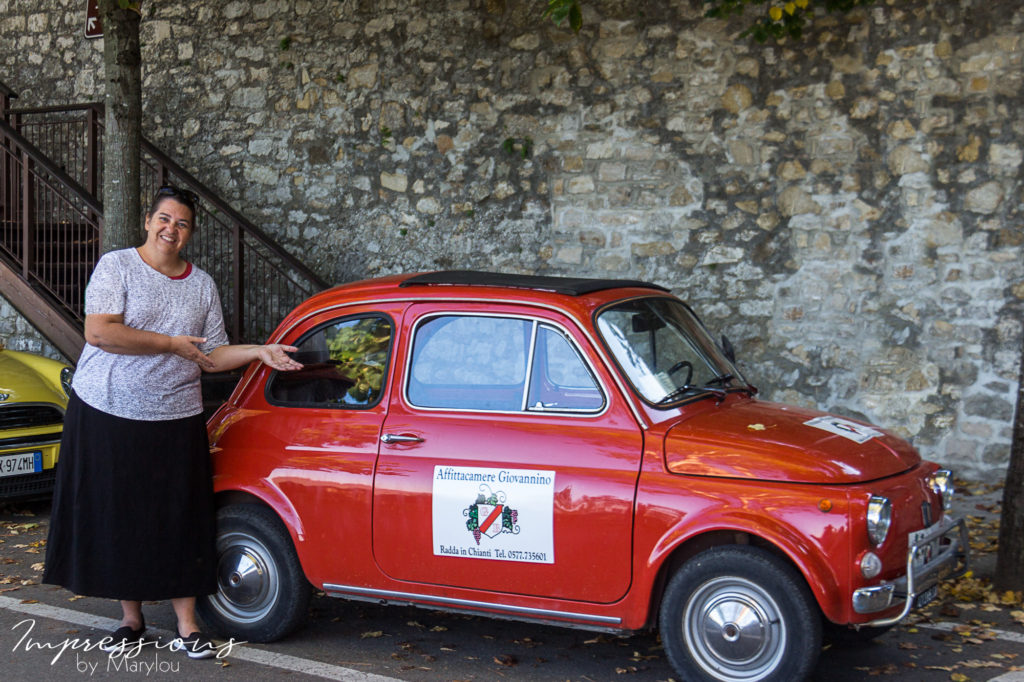 We sang inside the little church, since there was no one around to tell us to be silent. 🙂 There were neat little shops. I bought an olive wood cutting charcuterie that was on my list of "wants."
Other scenic shots….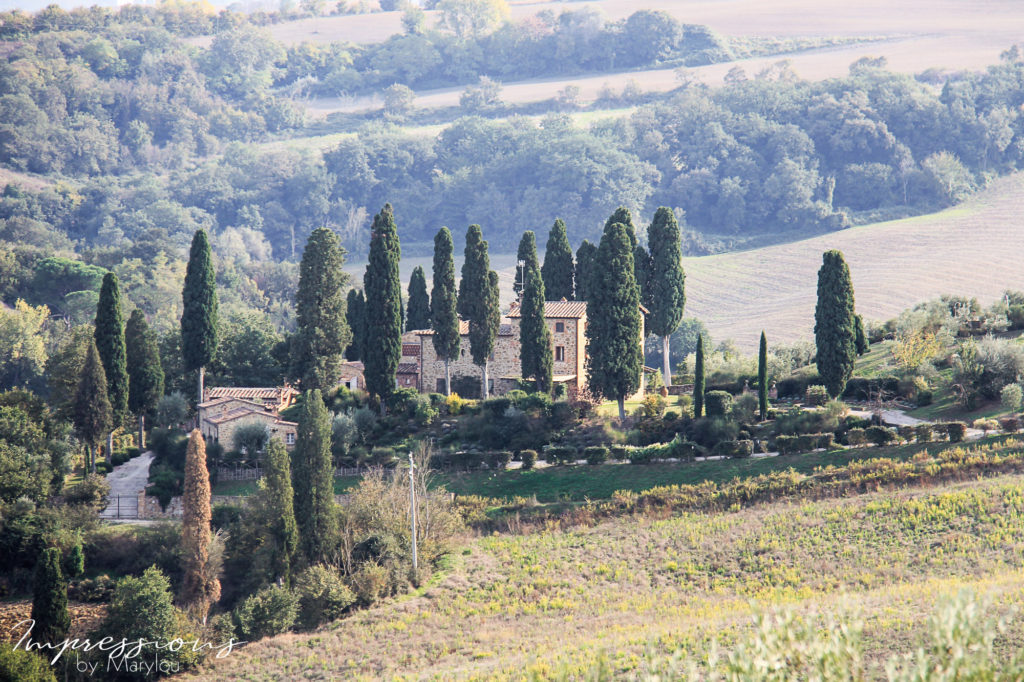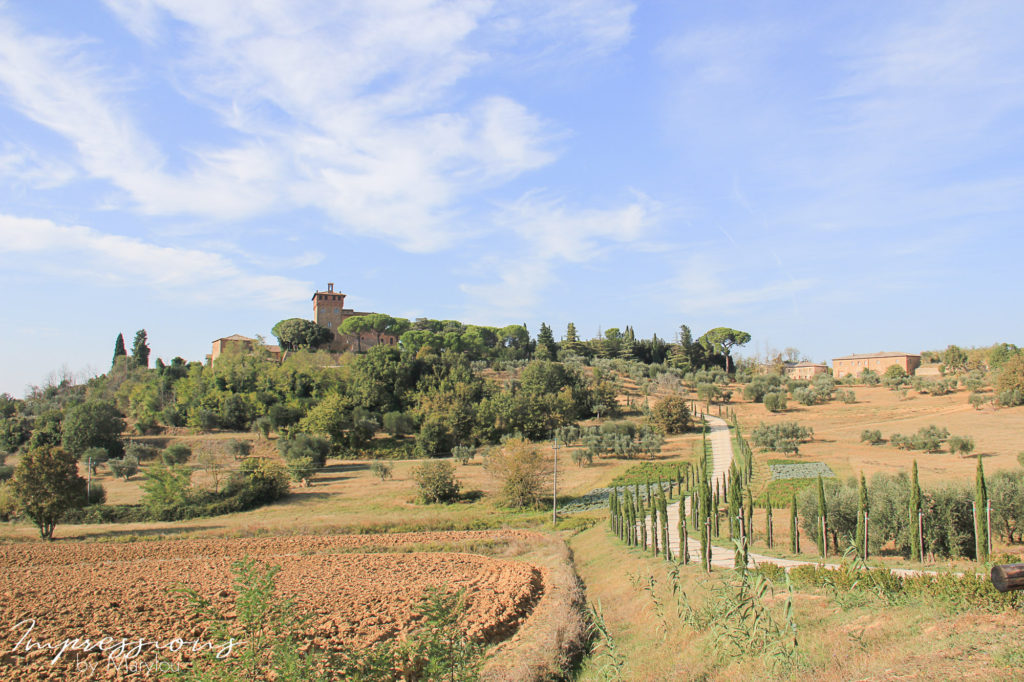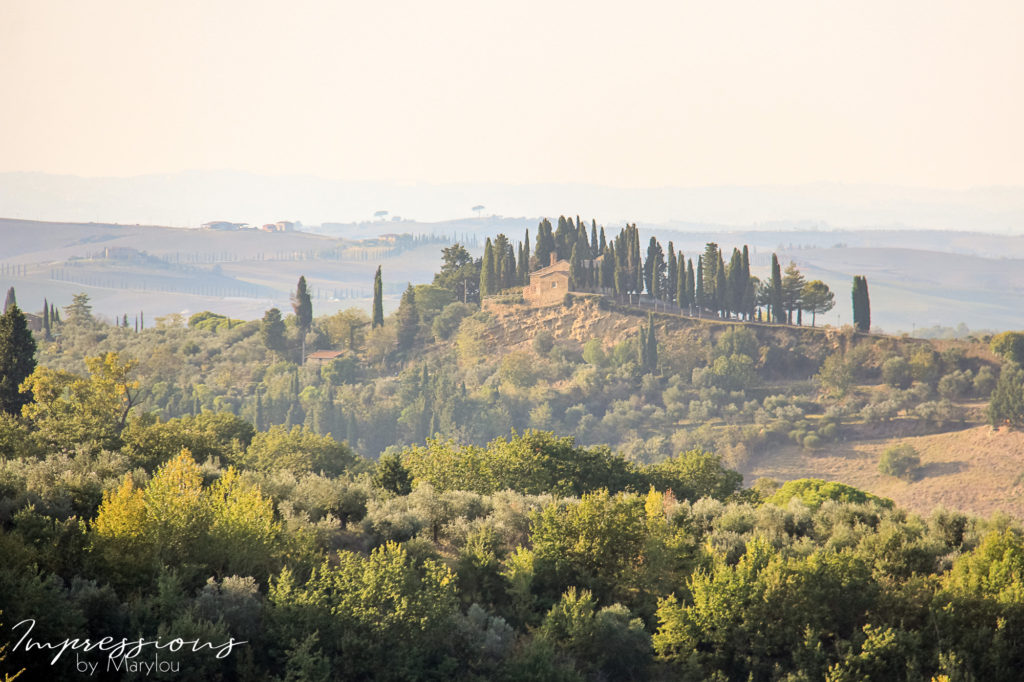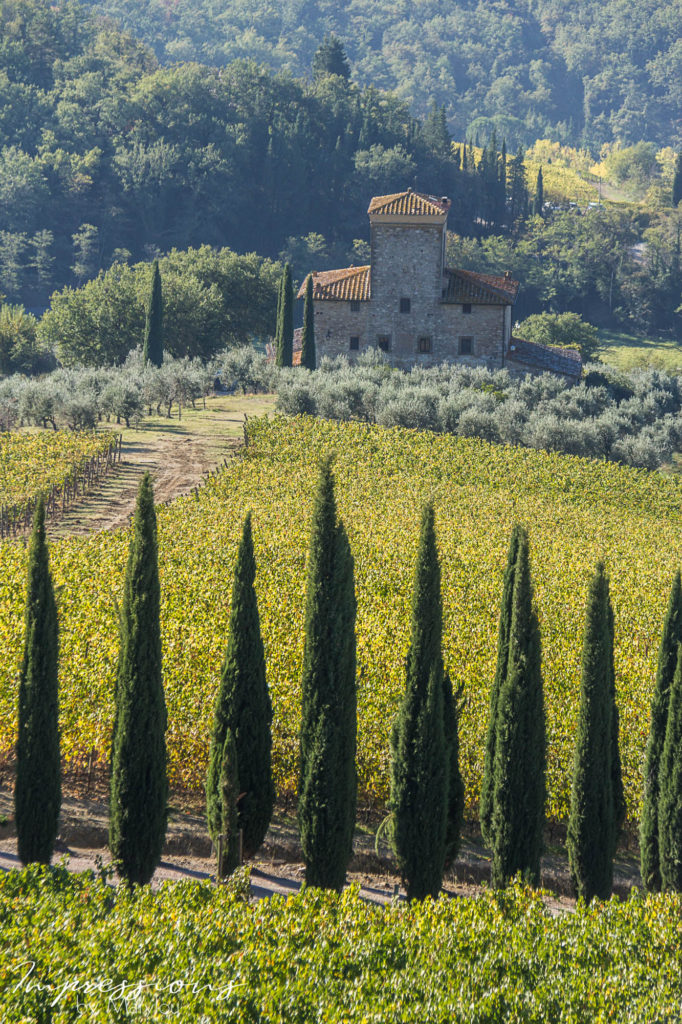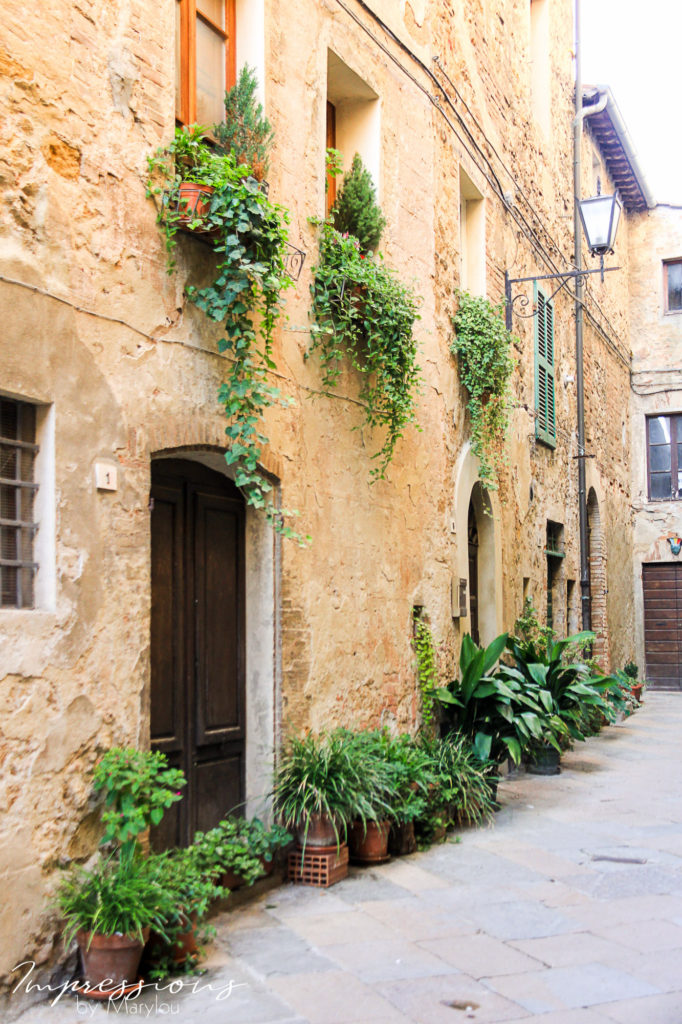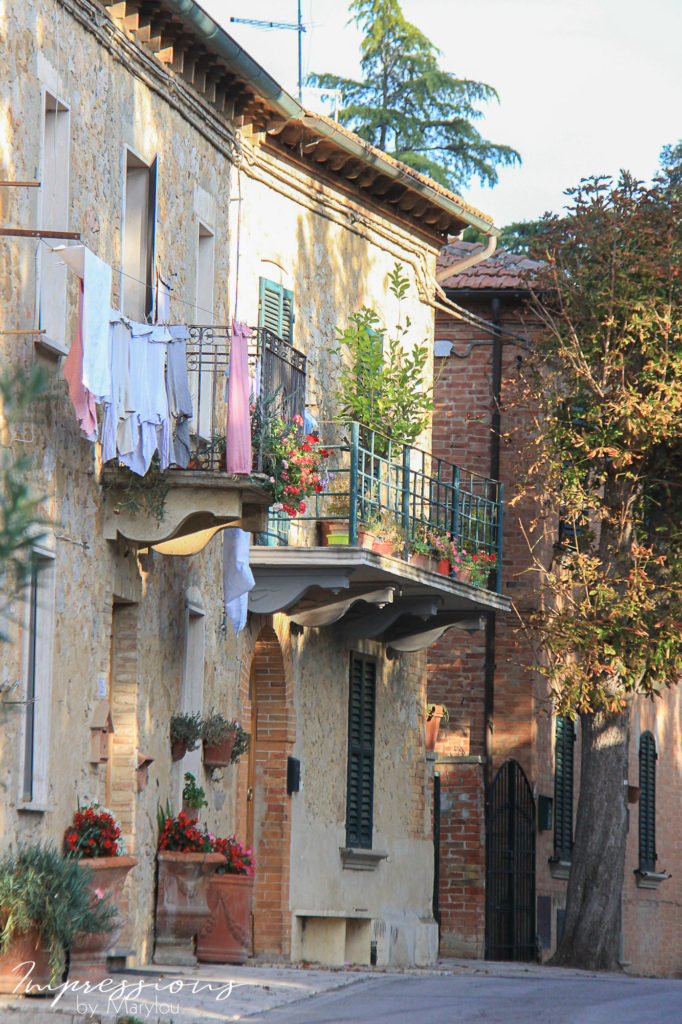 San Gimignano was the busiest of the towns we visited. If you read online sources, you're confused as to whether you should visit. Some say it's over-rated and touristy. Others, including our Italian host, say it's a great place to visit. Either way, it's a well-preserved walled town and we enjoyed an hour or 2 visit.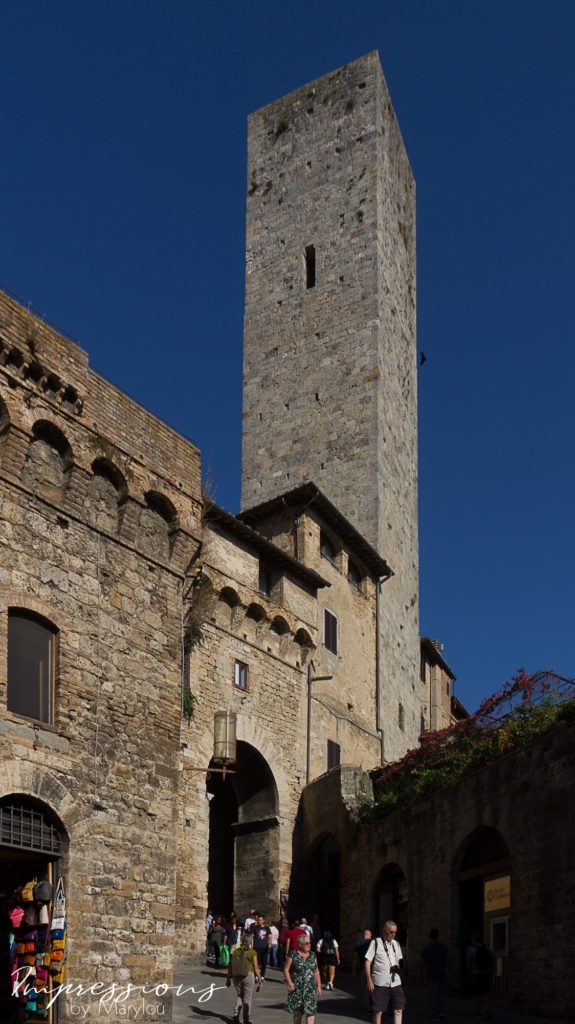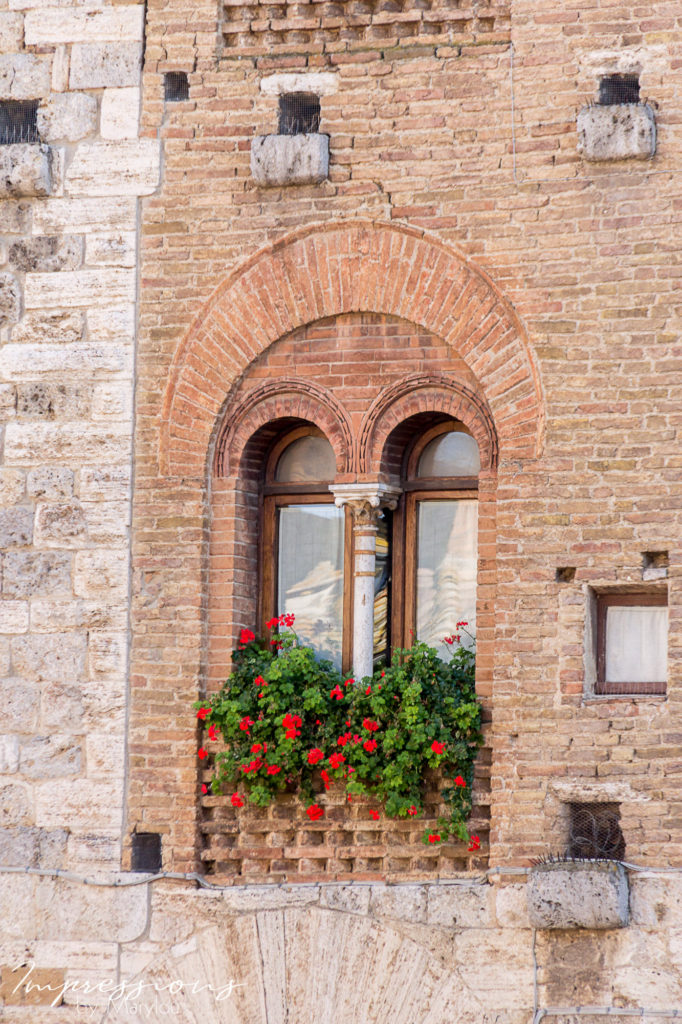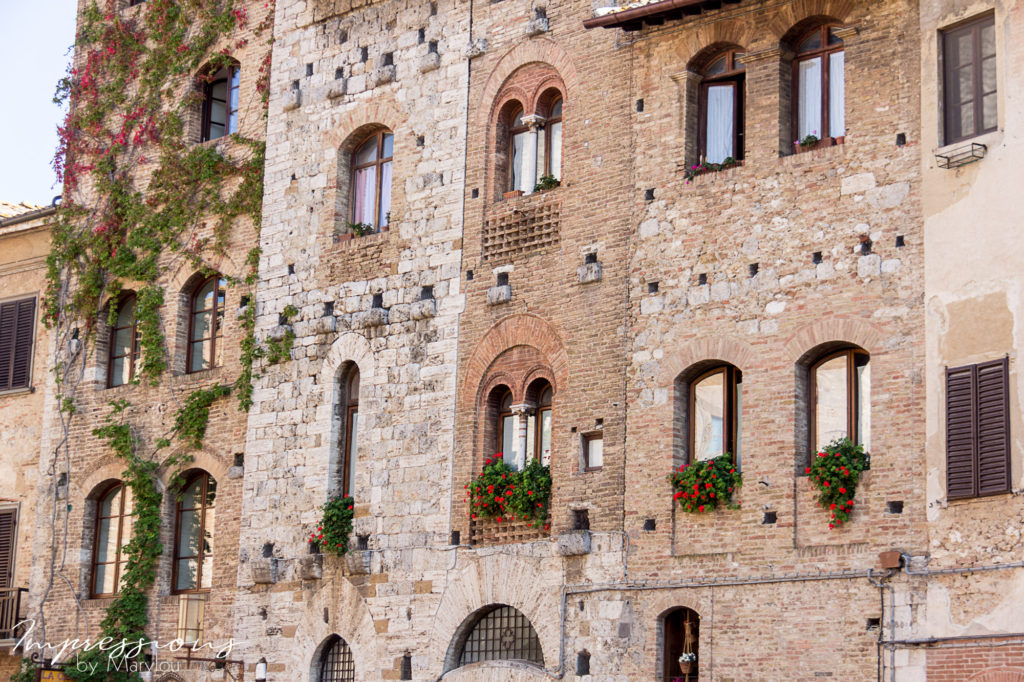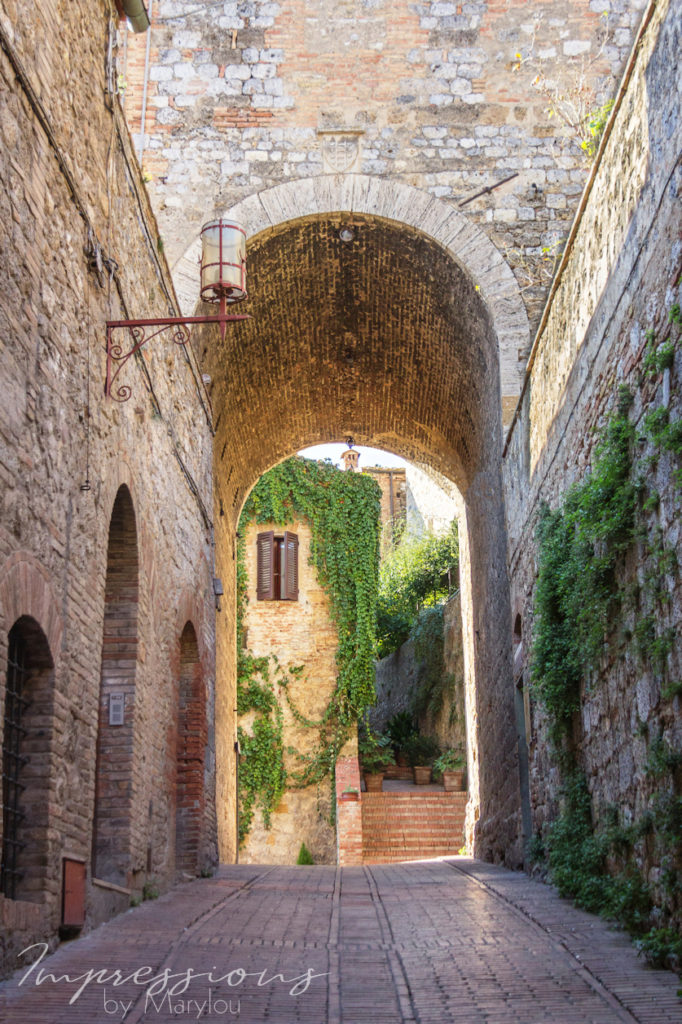 Isn't that the most beautiful alley way! There were people here the whole time I was hanging around hoping they'd all leave. A few strategic shots and a bit of editing and they all disappeared. *wink, wink*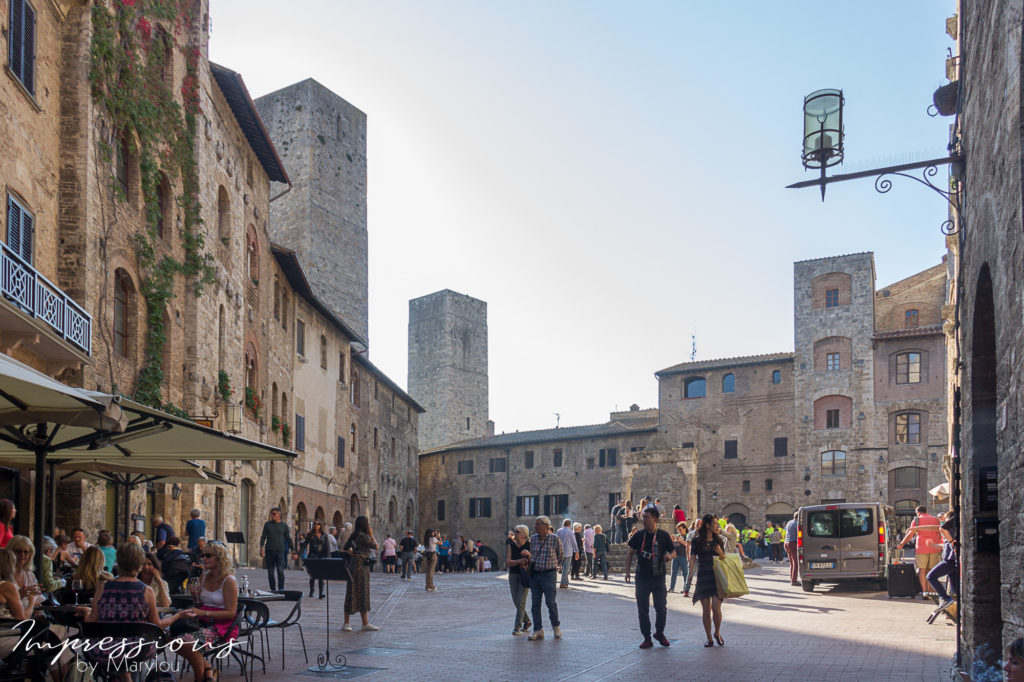 At it's most, San Gimignano had around 72 tower houses. Fourteen are still standing. It is still quite an impressive presence, even from a distance.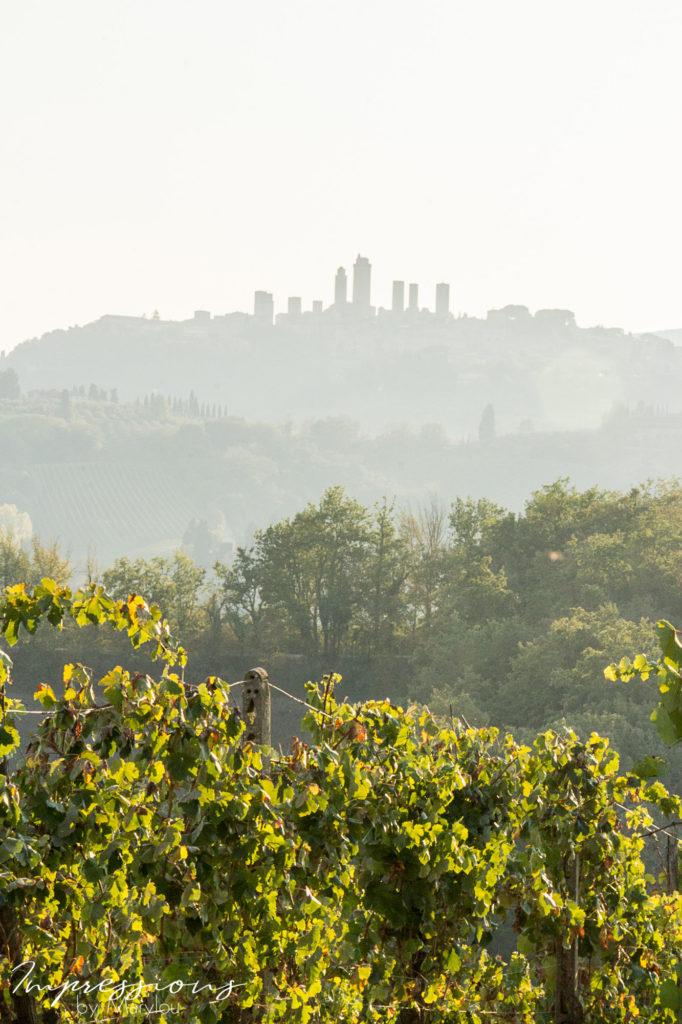 We needed wifi so ordered gelato. If you need wifi, you need to be an eat-in customer, not a "to-go". You pay a little more for the food if you sit to eat, but you have free access.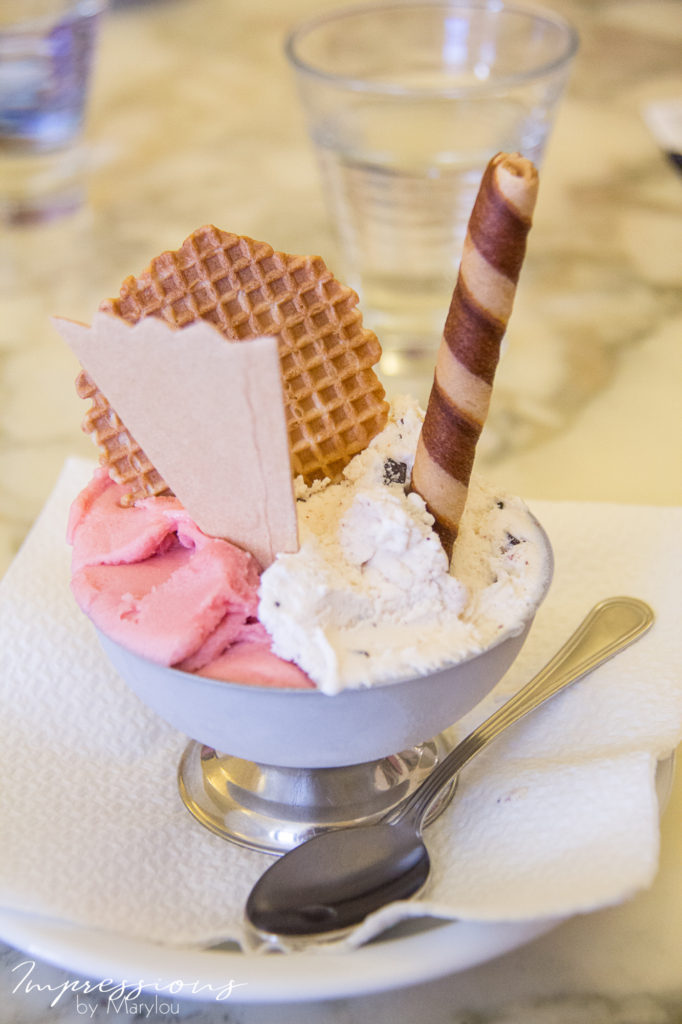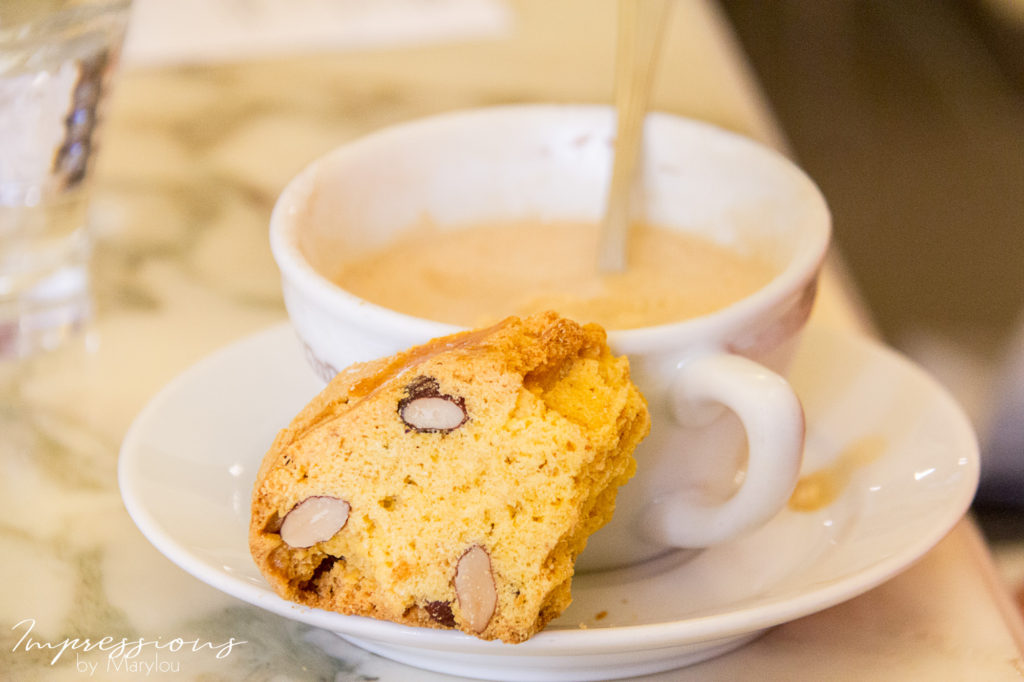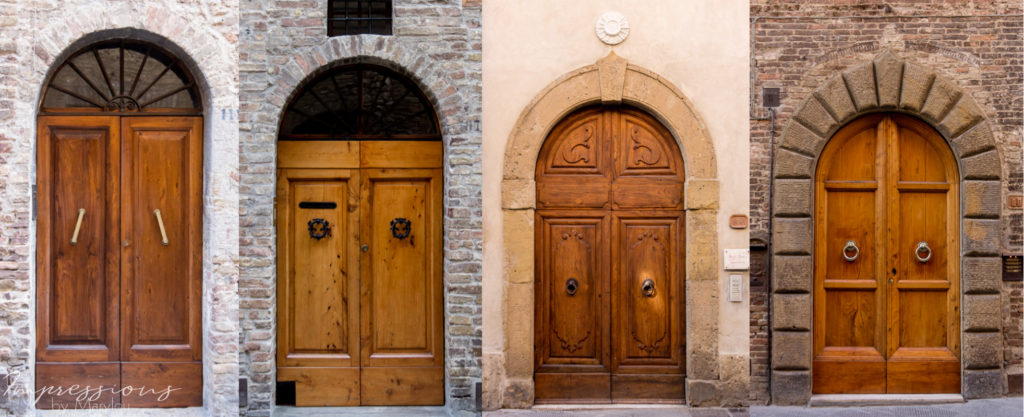 One evening we visited a monastery in time for evening vespers.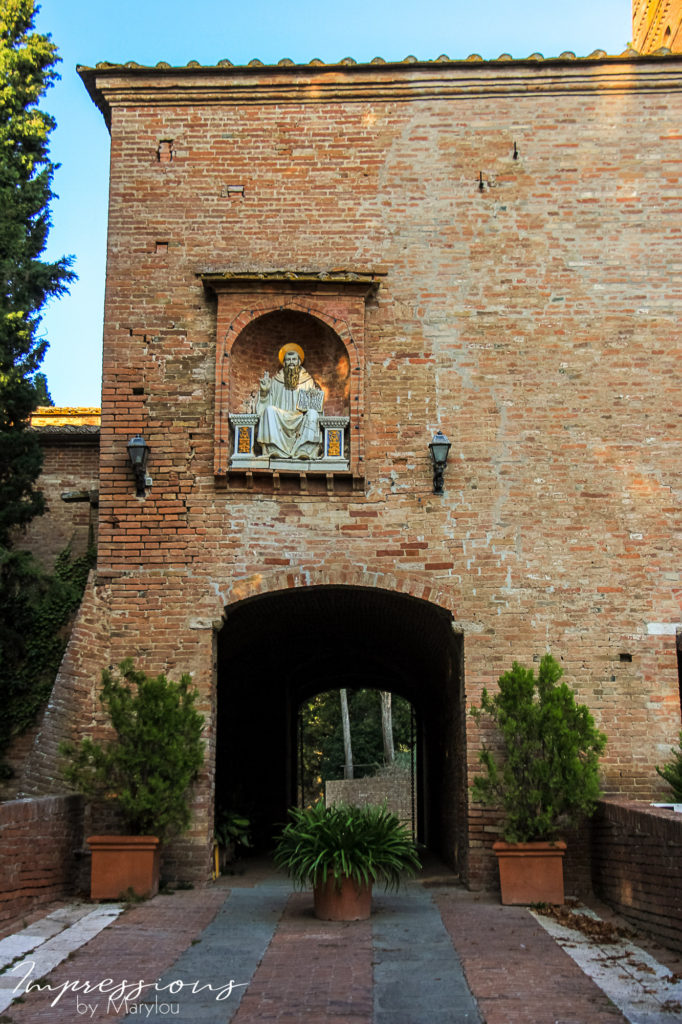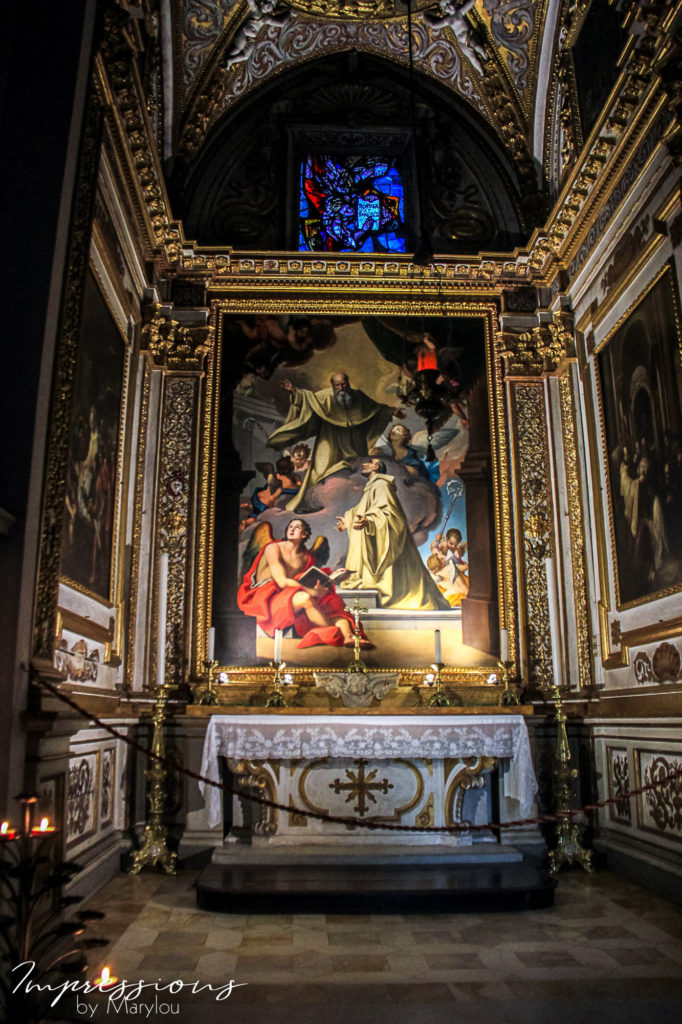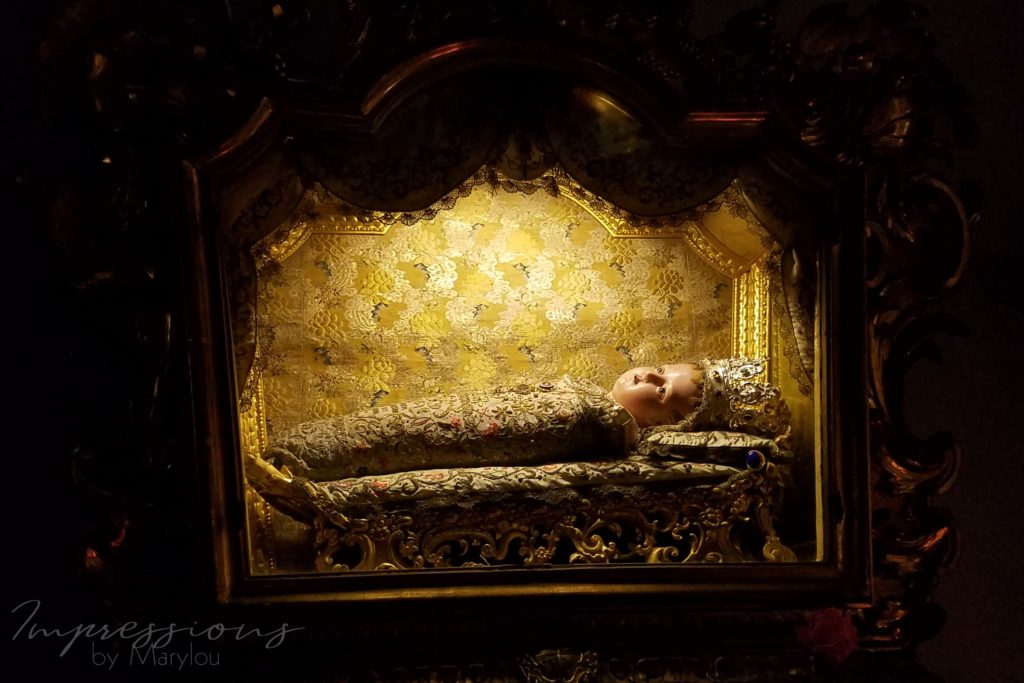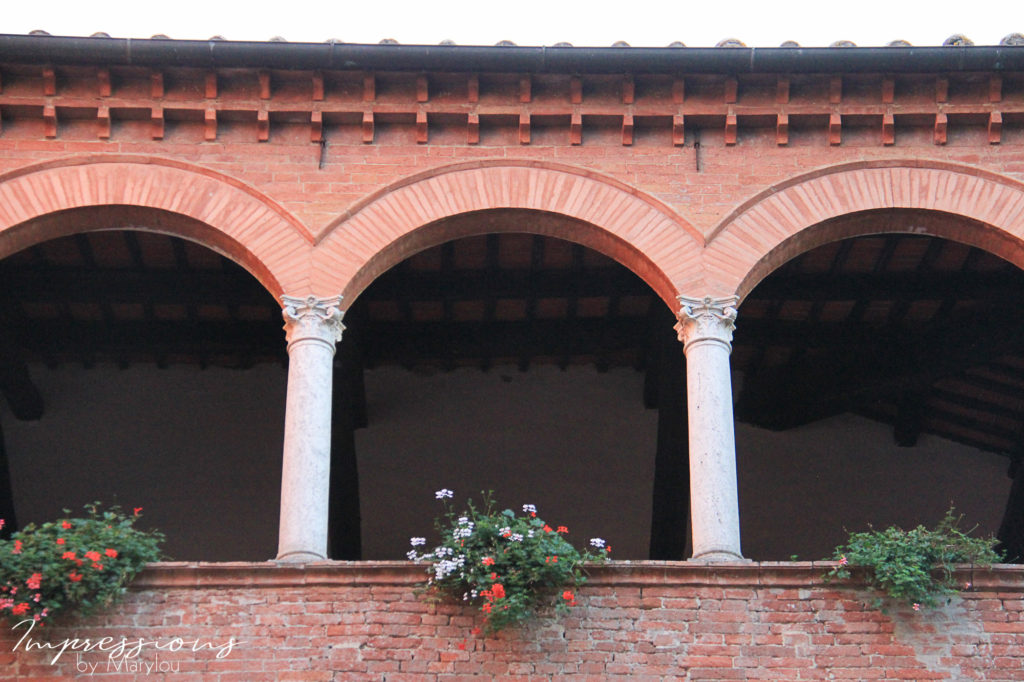 The setting was quiet and peaceful, as it should be. The singing/chanting lasted about 30 minutes. I have some audio and if I manage to put a youtube video together, I'll include that.
We also went to Siena for a couple of hours.

There were interesting things such as a church with St. Catherine's thumb, well preserved under a glass dome. This gives them the privilege of having her name. We later learned her skull was there as well but we missed the privilege of observing that.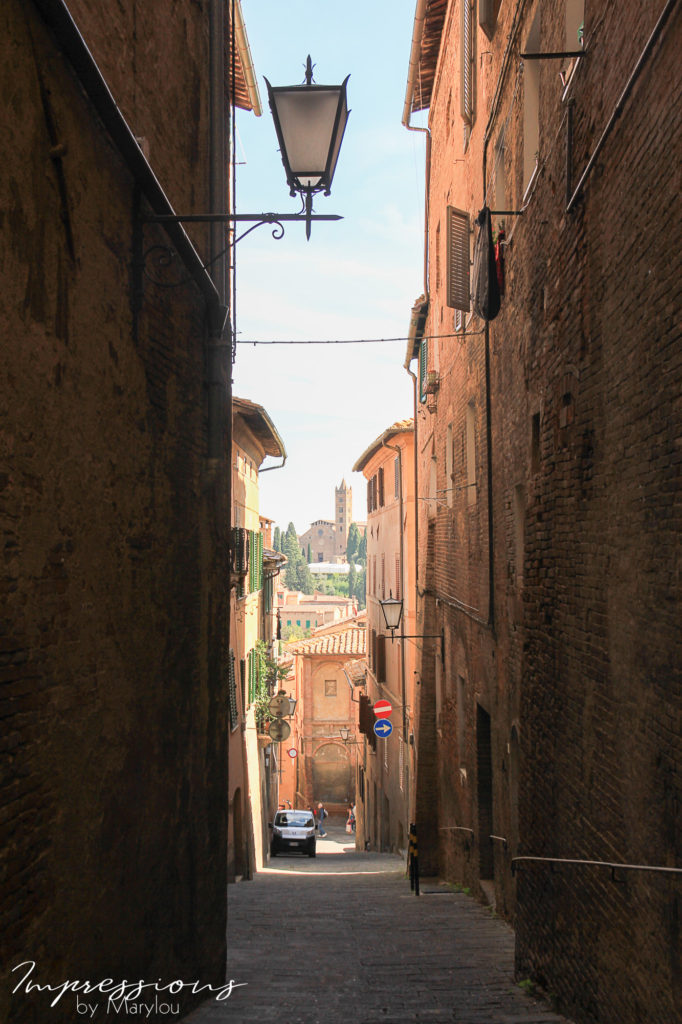 Nothing in Siena is flat or straight (for very long) and there were sights to see around each corner.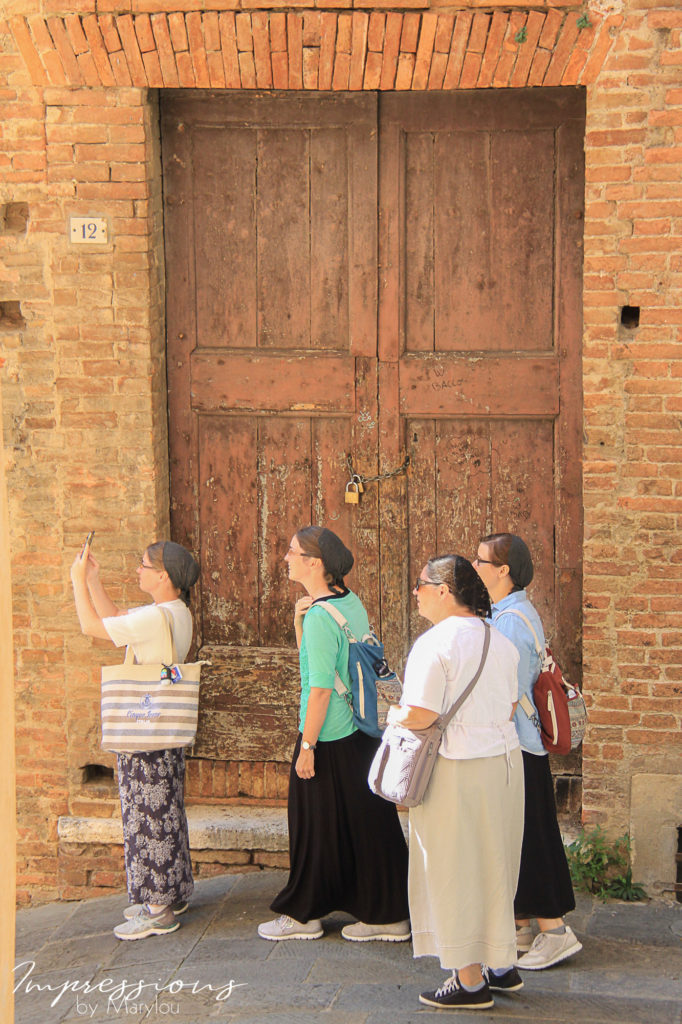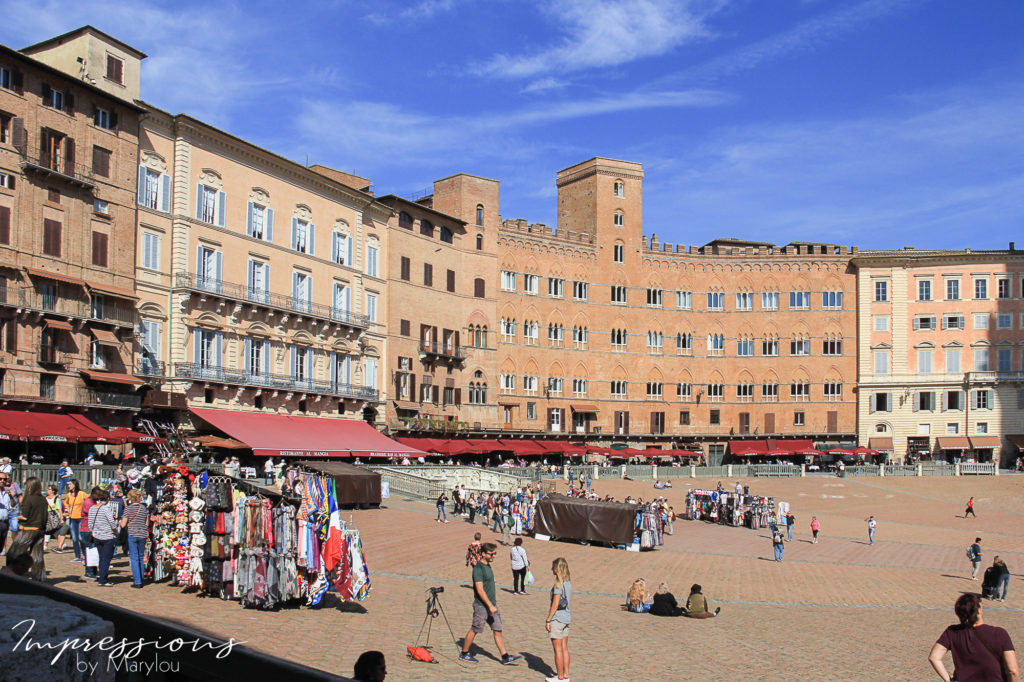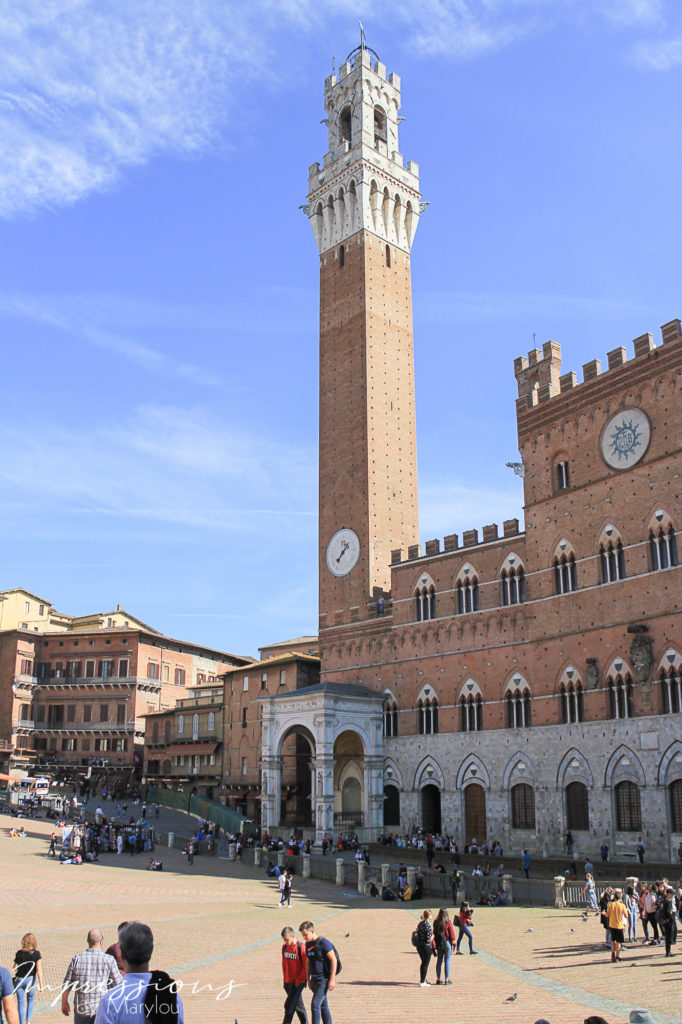 Once a year, the perimeter of this large piazza is turned into a race track and horse and riders representing neighborhoods vie for the championship.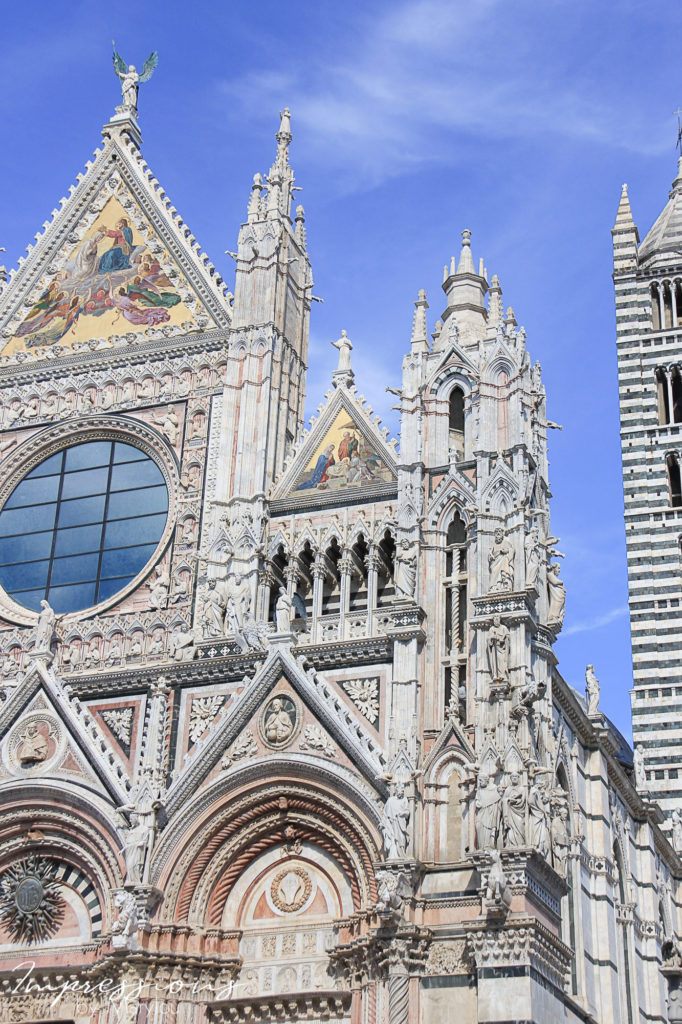 One last thing to tell you about was our only multi-course meal that we ate in Italy. We were saving up for splurge supper with some $ that was gifted and Tuscany is known for its steaks, particularly coming from the Chianina cattle.
We had to wait a bit to get in, as the only tables not reserved for the evening were occupied. We were seated around 8:30 or 9, which is not unusual time for dinner. In fact, after we were seated, a large family group came in. With much delight we ordered a steak and the owner, who was taking our order asked, "are you sure?" We said we were sure. He said, "we only cook it rare." We said we liked it rare. He finally acquiesed and we finished our order. 🙂 The waiter was a friendly fellow and after we were finished eating, Kelly asked him why everyone was surprised that we wanted steak. Do ladies not eat steak? He said his wife used to when they were dating but now she's all *insert fancy motions including a pinkie finger in the air and pursed lips* (aka too selective, vegetarian, he mentioned). They seemed to get a bang of out of us and more than one other employee seemed to find an excuse to come to our section of the building, which was in a separate room from the rest of the restaurant.
Antipasti (2 kinds of bruschetta)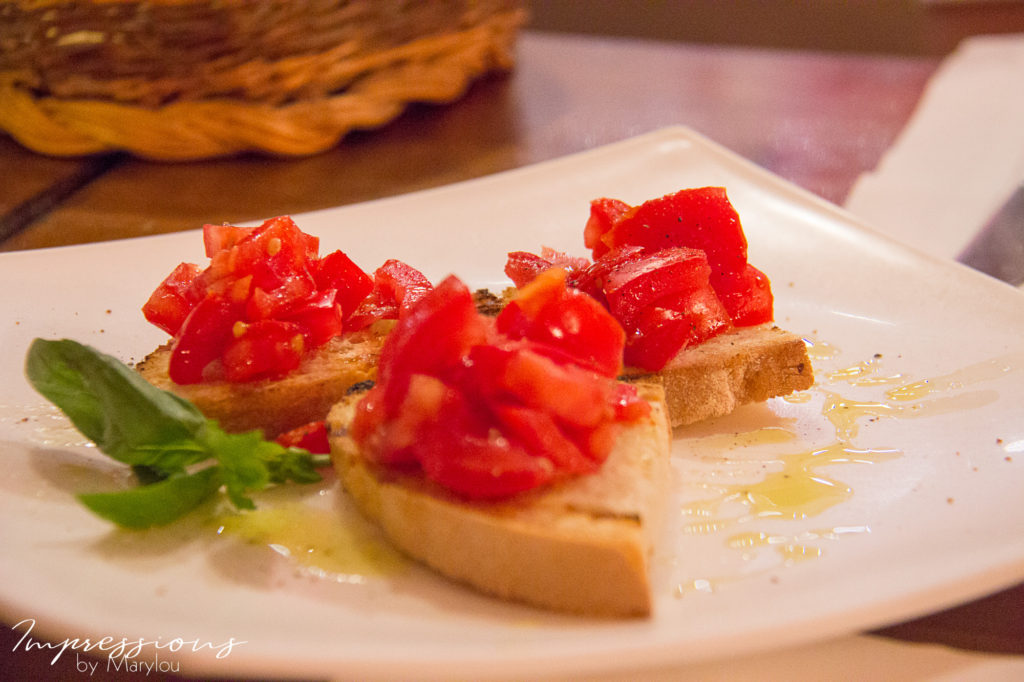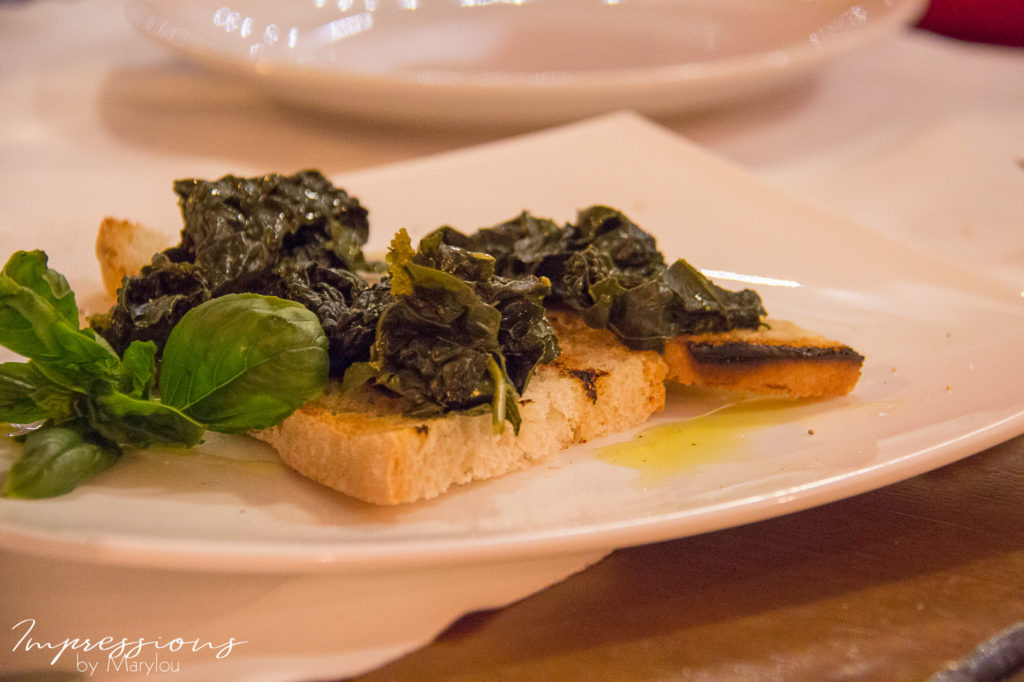 I forgot to take photos of the 2nd course, the pastas. We had a delicious ravioli for one of them.
Third course, chicken strips in a sauce, with black rice.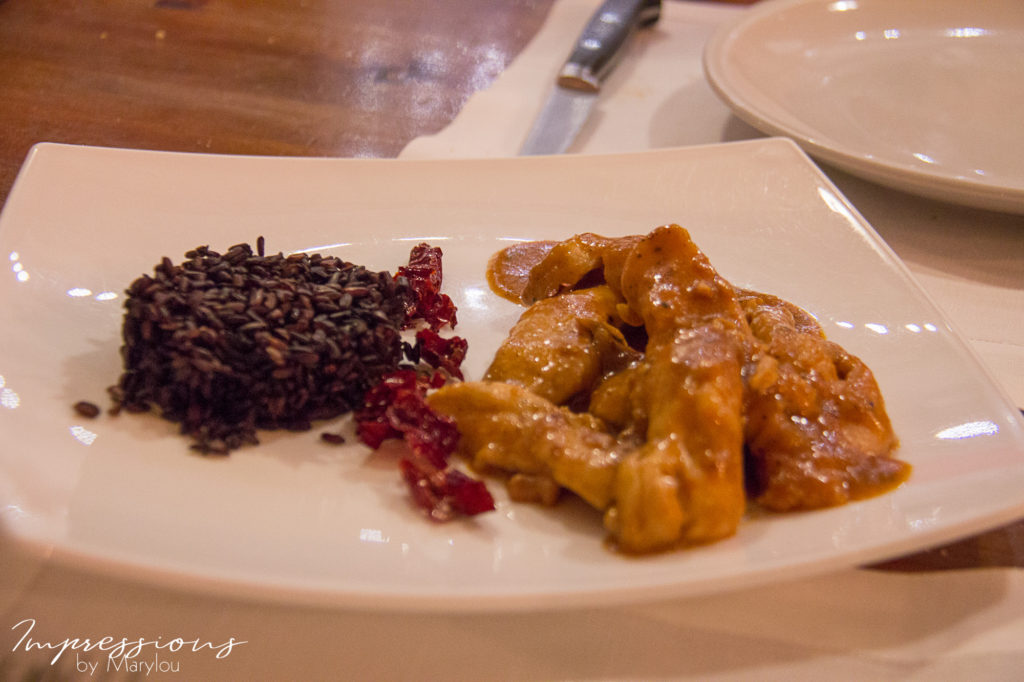 And our t-bone steak! It was fire-grilled but not seasoned other than salt and pepper. For being rare, there was no blood running anywhere. We did everything but gnaw the bone, though they teasingly suggested we could, if we wanted the last juicy bits. 🙂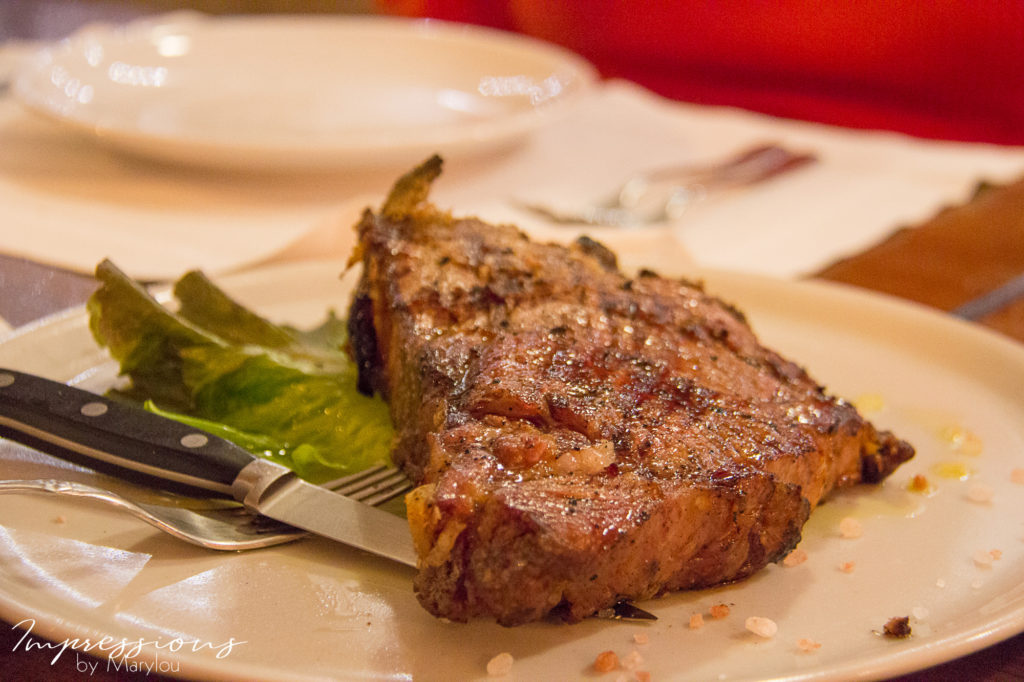 Fourth course, dessert! Why try one when you can try them all? Panna cotta, tiramisu, creme brulee and a molten chocolate cake. Delizioso!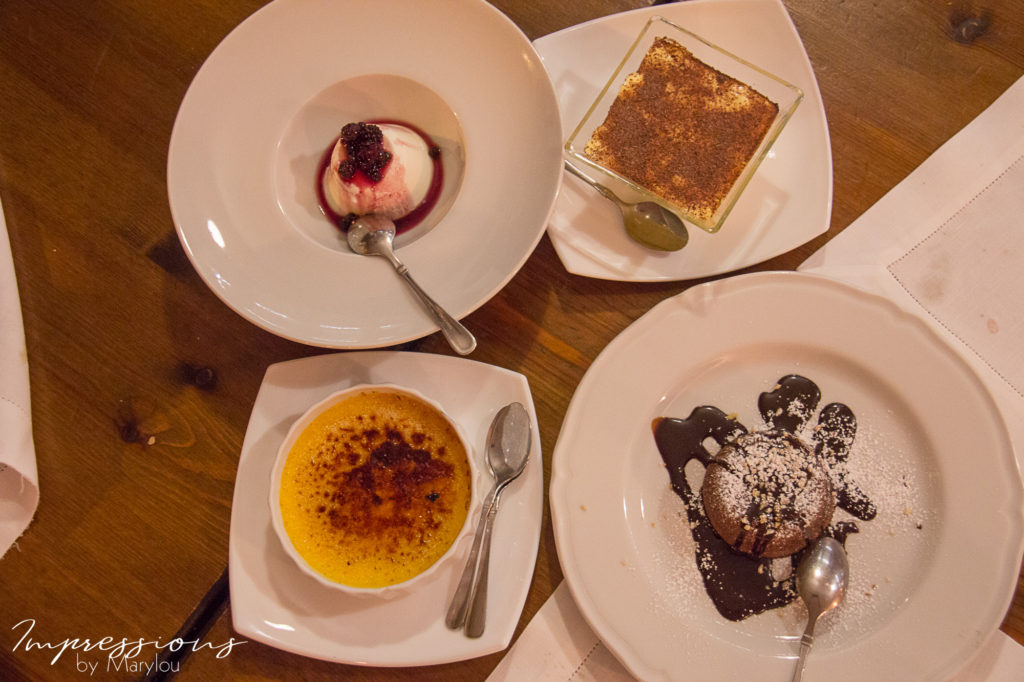 Bless you for sticking around to read this to the end. There would be so much more to tell but I can tell you're glad I decided to end it here. 🙂
Oh, and if you want to see some really cool Tuscan villas, go to youtube and search for Italian villas for sale. When you buy one and move in, let me know. I'll be happy to come visit!