The other day I ran into someone in town that I haven't seen in a while. He asked if I had any big trips planned and I told him I had just come from Italy. He mentioned going to France but "they don't like us over there." I told him that of all the places in Europe that I've been to, I've never encountered any animosity toward us as US citizens. Many times we've been asked where we're from and when we say the "United States" (they usually call it "America") then it takes a second to realize they already know that and what to know what state. Our time in Italy was no different. People are helpful and we often needed help! Our VRBO hosts were super friendly and helpful. My biggest advice is be considerate, open-minded (the way we do things doesn't have to be the only way) and friendly. Shouldn't we be that way on the average day anywhere we are? 🙂
We picked 5 distinctly different places to visit in Italy. The Cinque Terre was next on our tour and I must say that we were so happy to be leaving Rome and heading to a much quieter (we thought, and hoped) and relaxing few days. We had chosen to find lodgings in Levanto, just a 5-minute train ride north of the northernmost Cinque Terre town. Cinque Terre is the region on the Italian Riviera with 5 fishing villages perched on hilltops where the mountains drop down to the ocean. The water is blue you are sure the photos are photoshopped. The villages original purpose was to watch out for Turkish pirates.
Levanto, though not considered part of the Cinque Terre per se, is no slouch. Let me tell you something else about touring in Italy. You could miss all of the places we went to, and yet see some amazing, amazing places!
We had a spacious 3 bedroom, 2 bathroom apartment in Levanto that was about 1/2 the cost of staying in Cinque Terre. Most places in CT, from what I could tell, had rooms for rent and few had more than 2, or room for 5 adults without spending at least $60/person/night. I've told you before we are budget travelers and would rather find more economical lodgings and have a longer trip.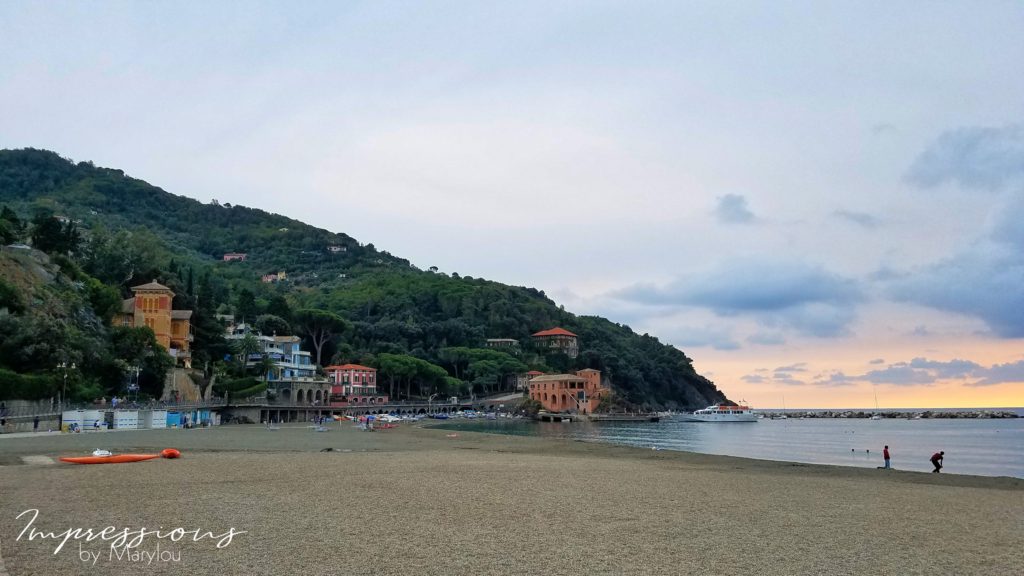 Our apartment was about a 10-minute walk from the beach. We went down to get our bearings, as well as pick up some groceries to get us started.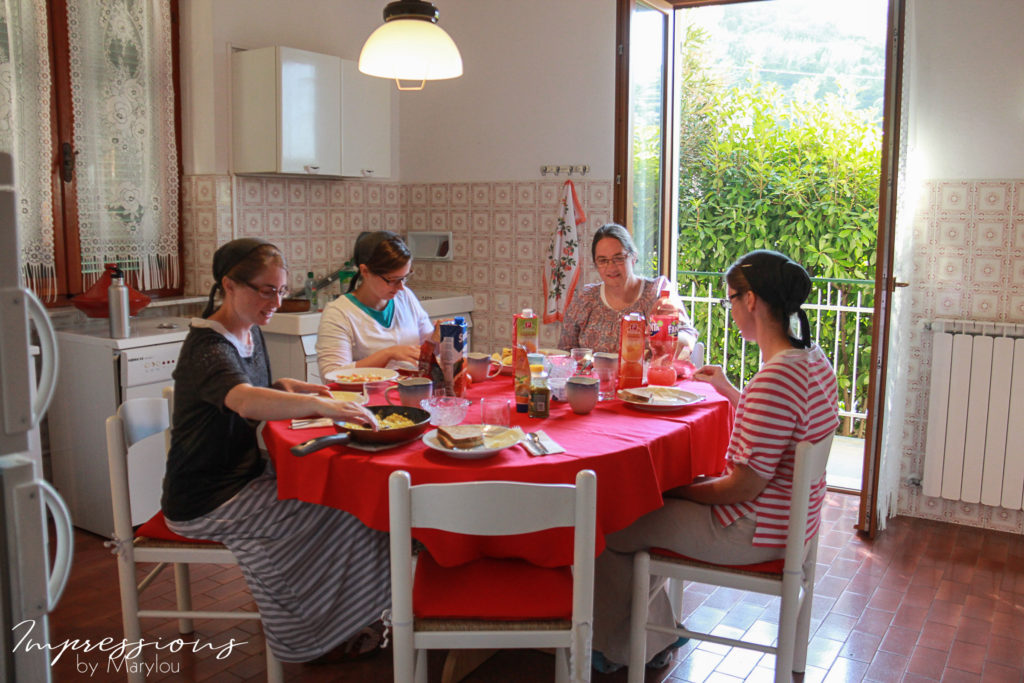 Some of our breakfasts were varied such as this one: Egg sandwiches, sliced apples, black raspberry yogurt, sauteed potatoes & carrots, and leftover gnocchi (in the glass bowl) soup.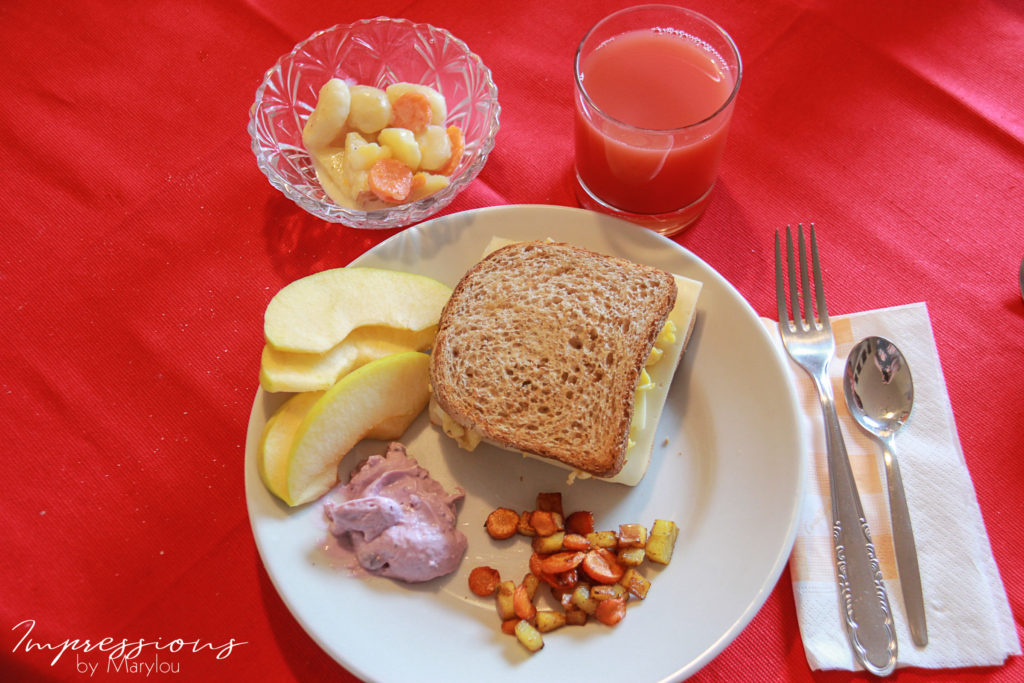 We bought the cards that allowed us unlimited on/off trains and hiking trails in the CT. It cost about $32 and was well used. Kelly & Ruth Anne hiked between Monterosso and Vernazza but the rest of us decided we had as much walking as we wanted to do. I kinda regret not walking up into some of the villages more because there were stunning views of the coastline at places.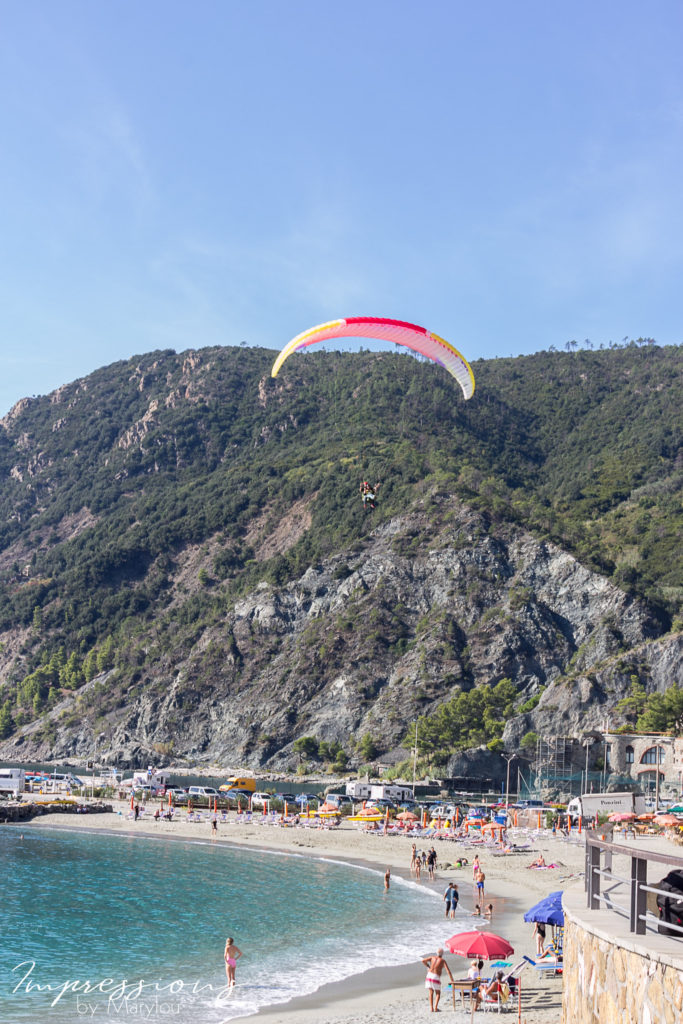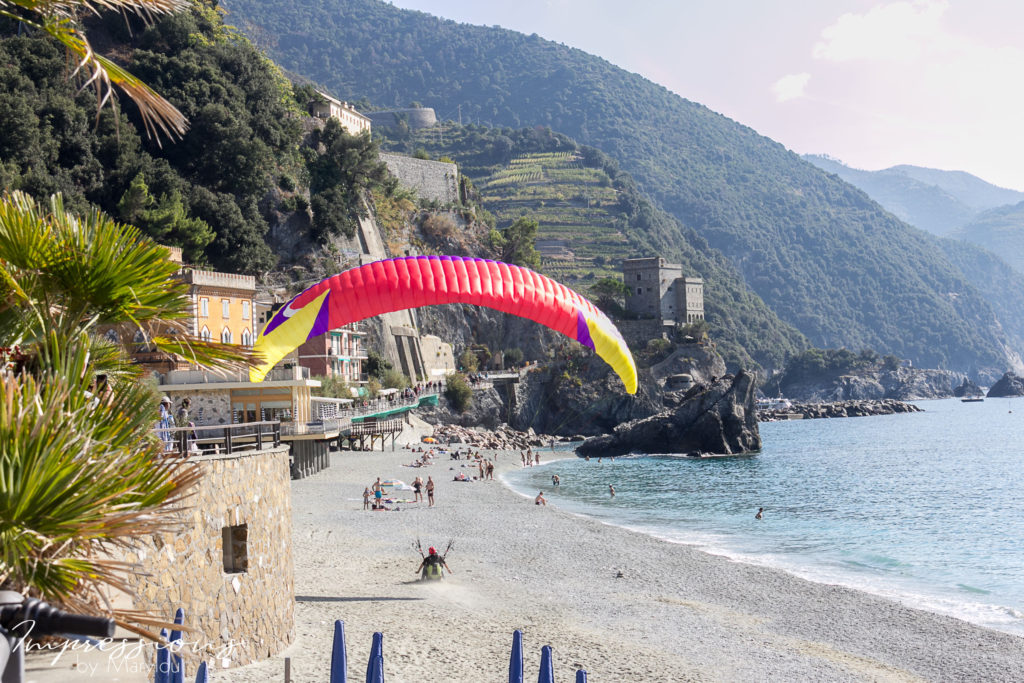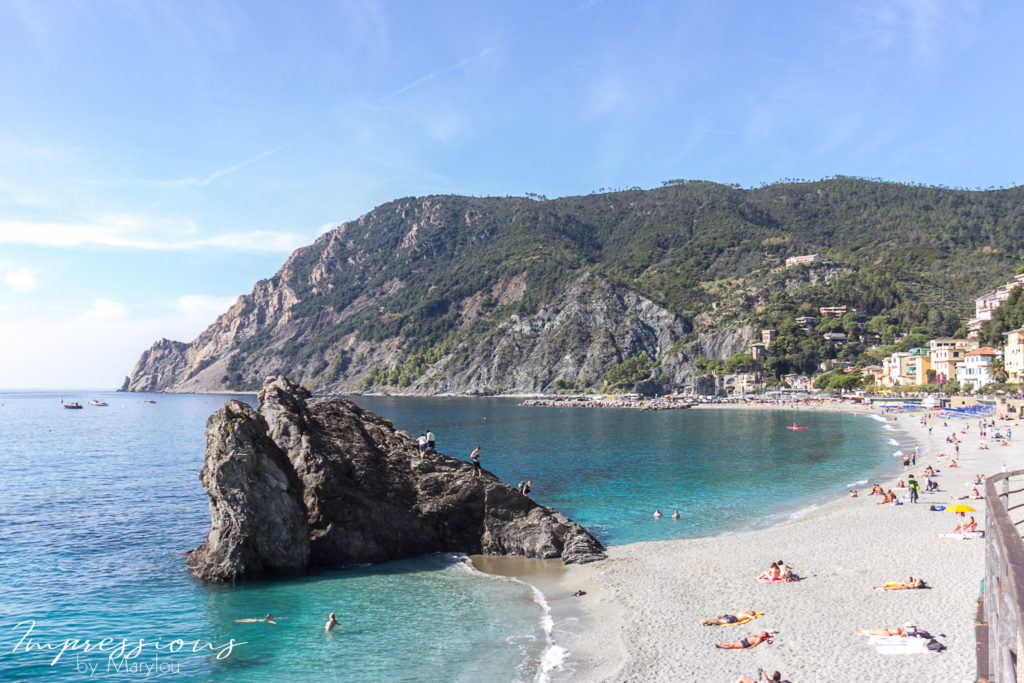 Monterosso al Mare is the most resorty and the largest and the only with a beach. In the summer, the sand is dotted with umbrellas. The weather was quite pleasant when were there. It was just cool enough to think the water would've been a bit chilly, especially to us southern folk.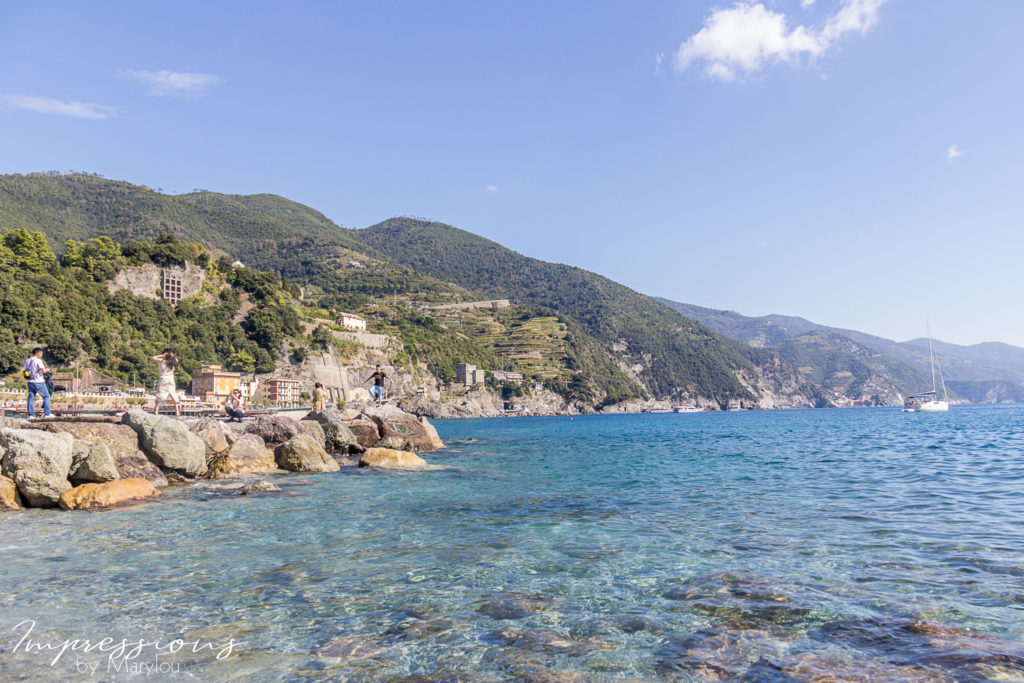 The one afternoon we found a comfortable place on the rocks beside the water and just enjoyed the day. I can't think of a way it could've been more perfect.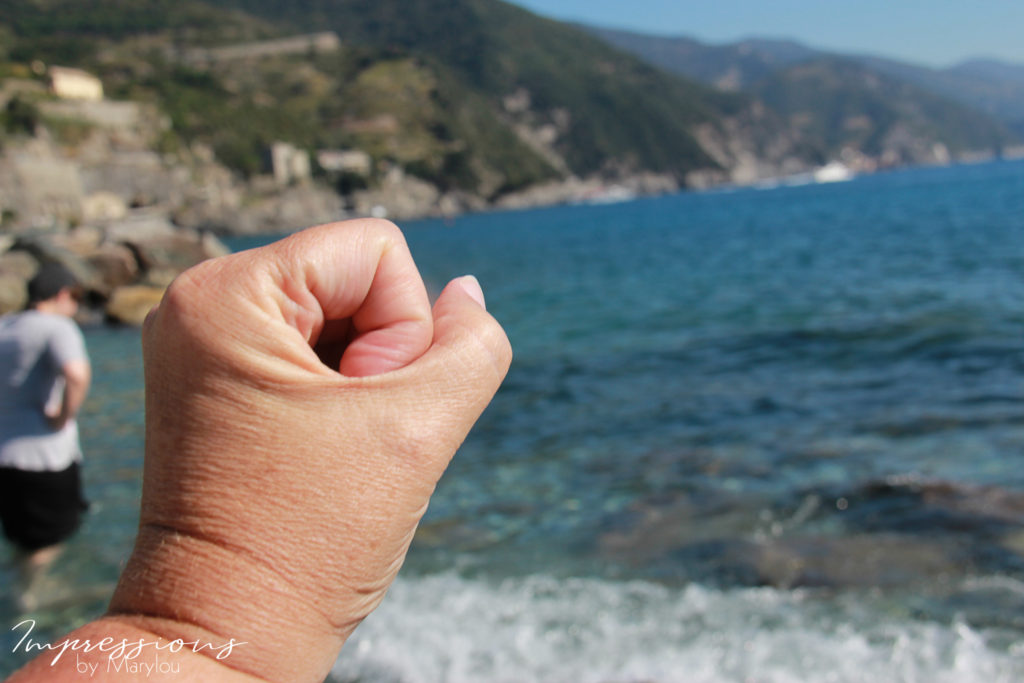 Unless there would've been a gelato cone in my hand!! 🙂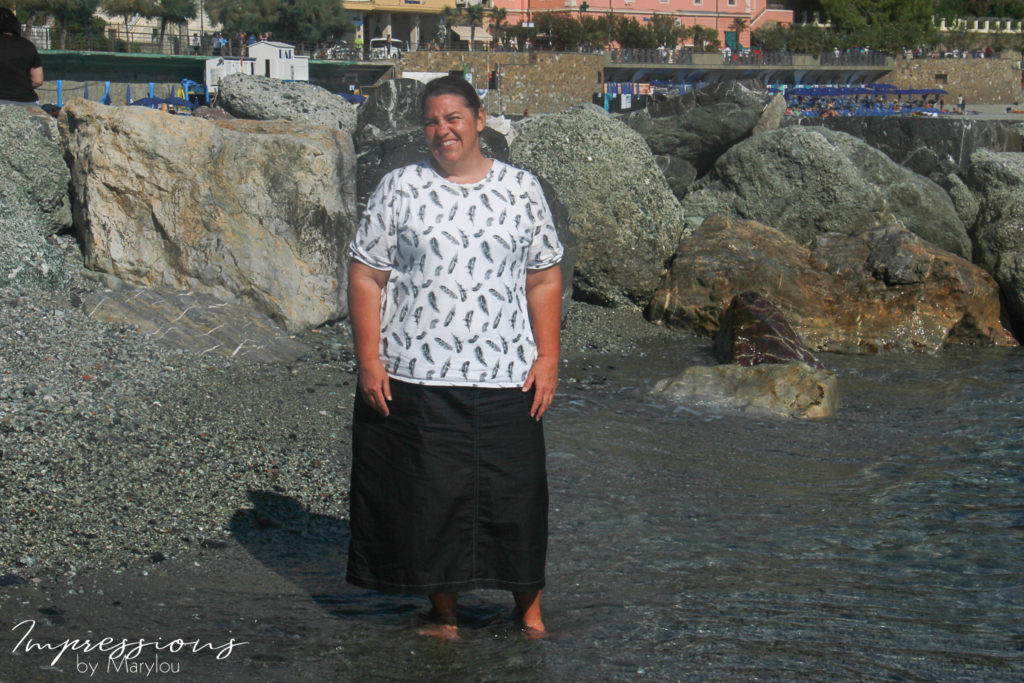 There were schools of little fish, probably anchovies. You can see the dark "cloud" in the water.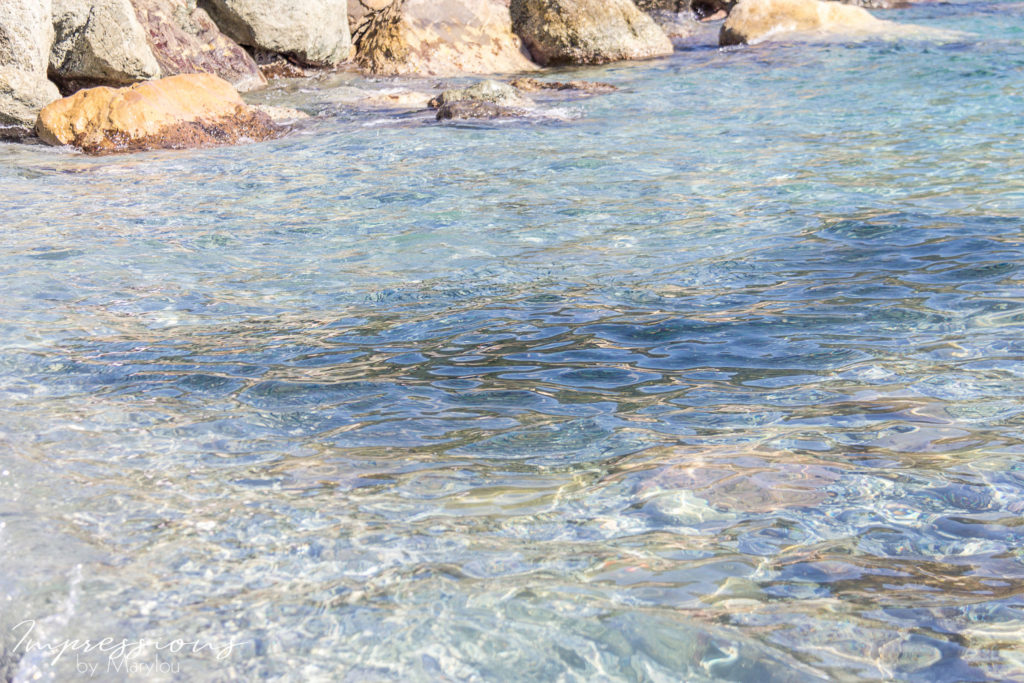 We tried anchovy fillets with a lemon butter drizzle but we decided it just wasn't our thing. 🙂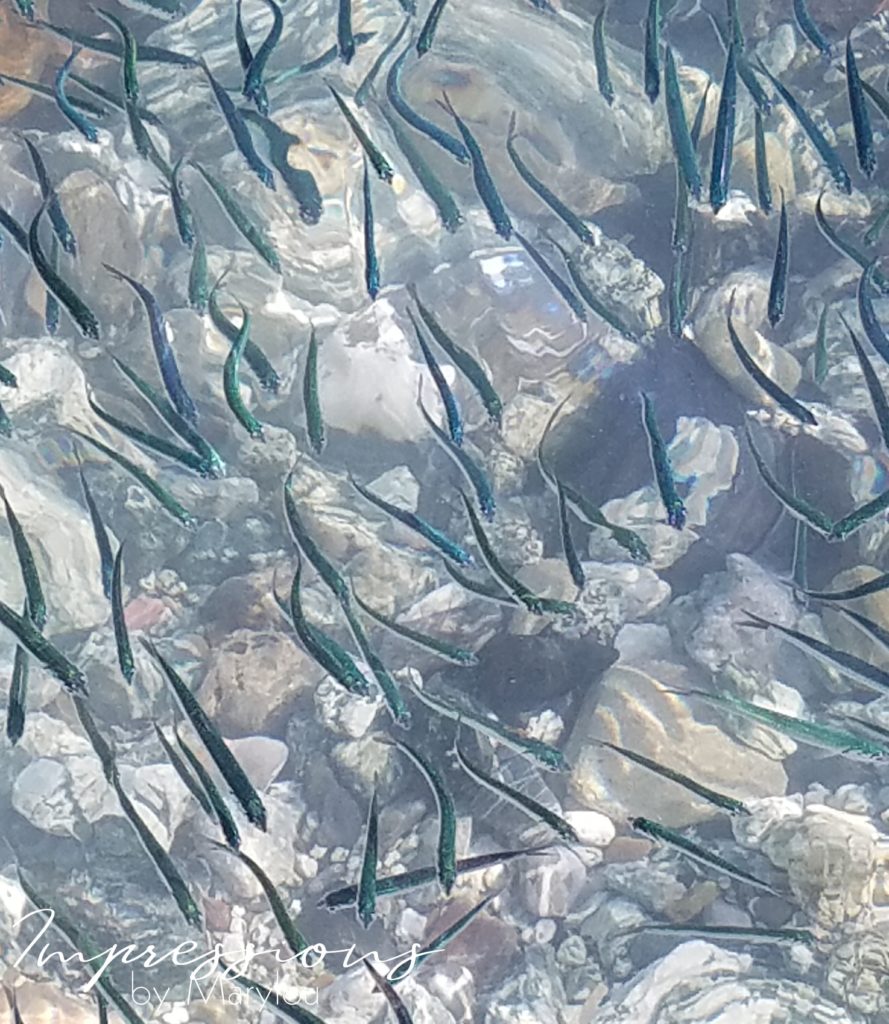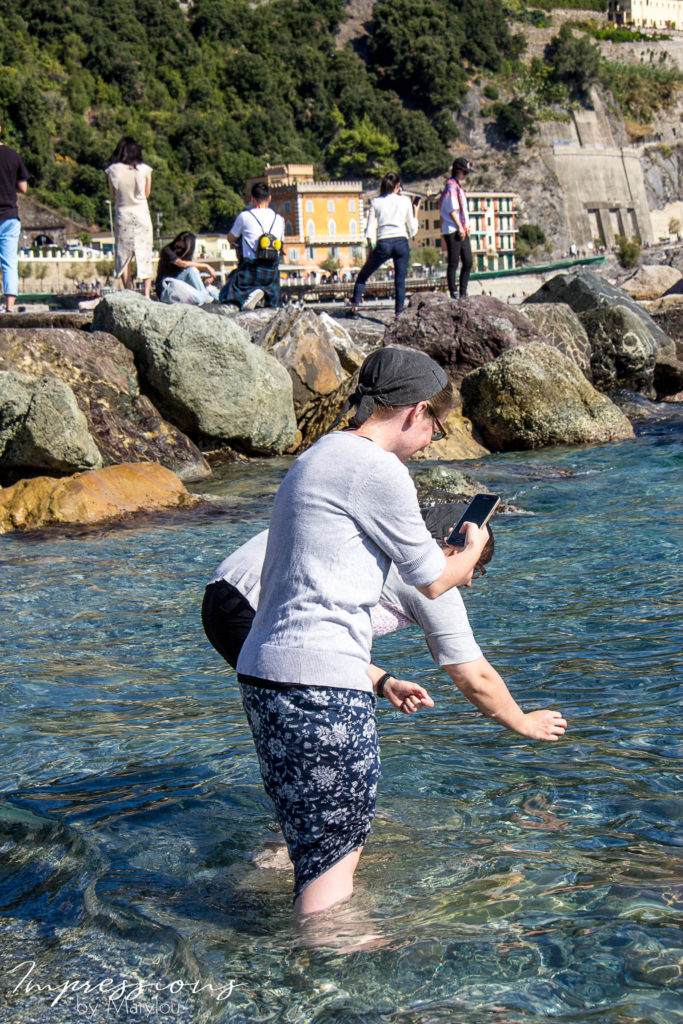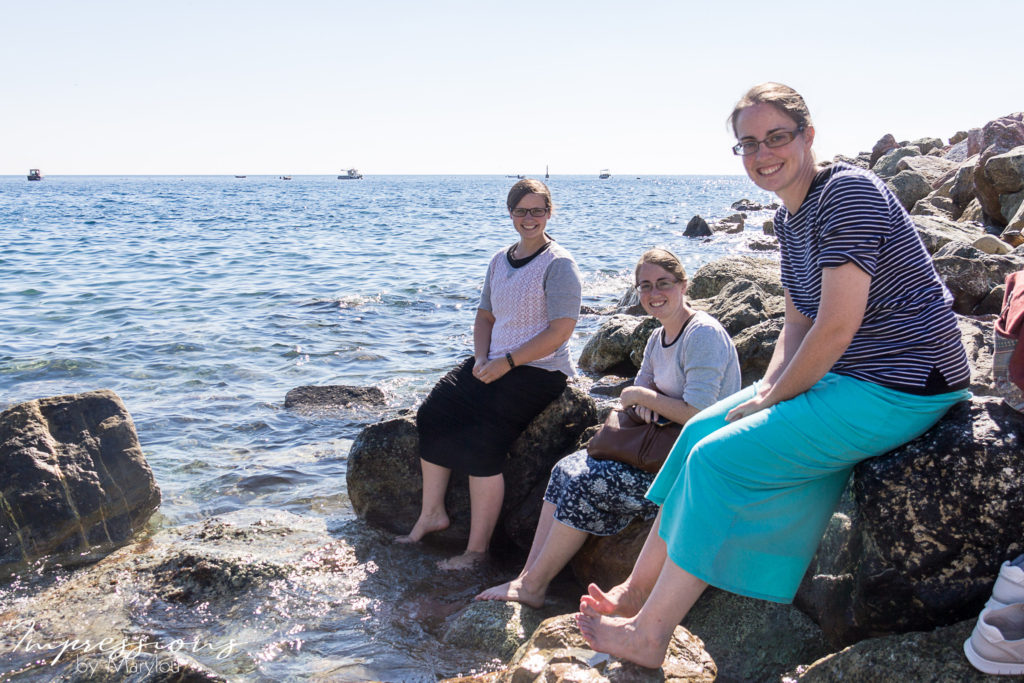 The locals grow something in every bit of soil that they can. Their vineyards are a big part of their economy.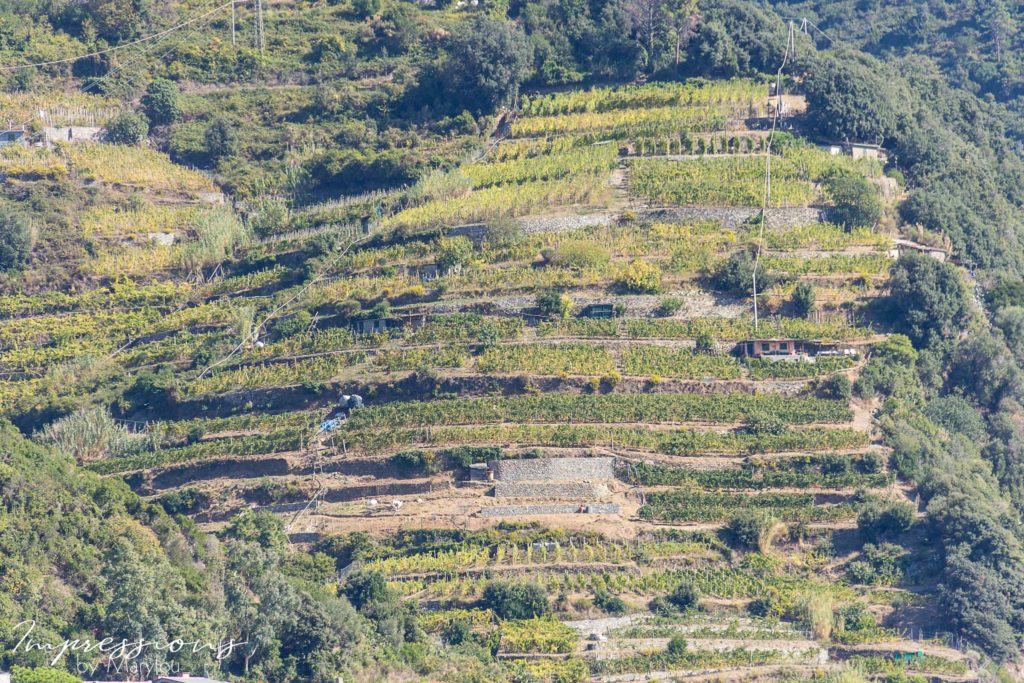 You can see the terraced gardens/vineyards up the mountain.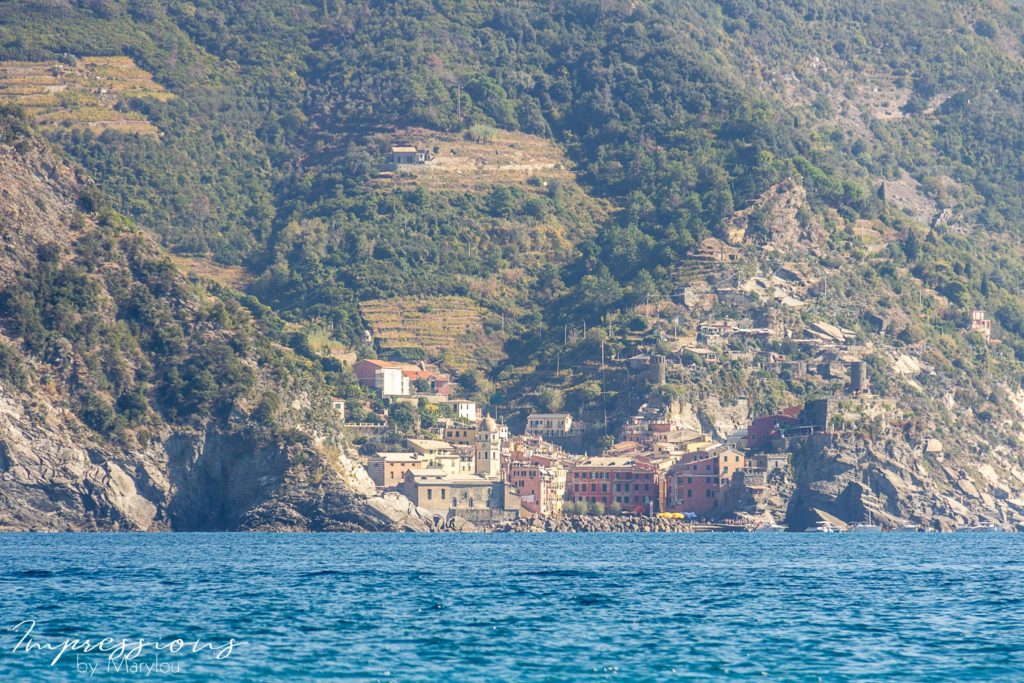 Vernazza seems to be a favorite of most people, and for good reason. It has a good waterfront area, and is simple to get in and out of from the train. The 1st day we were there, I arrived in Vernazza just in time to see these cars rumble past.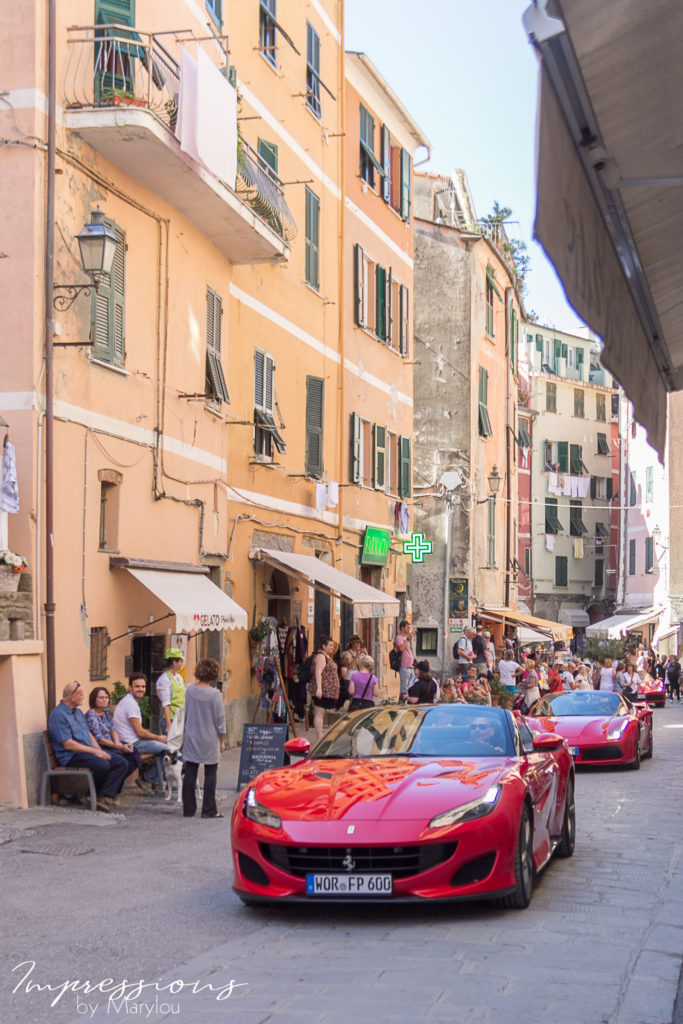 There had been a car show in the morning and they were just leaving, which was fine by me. 🙂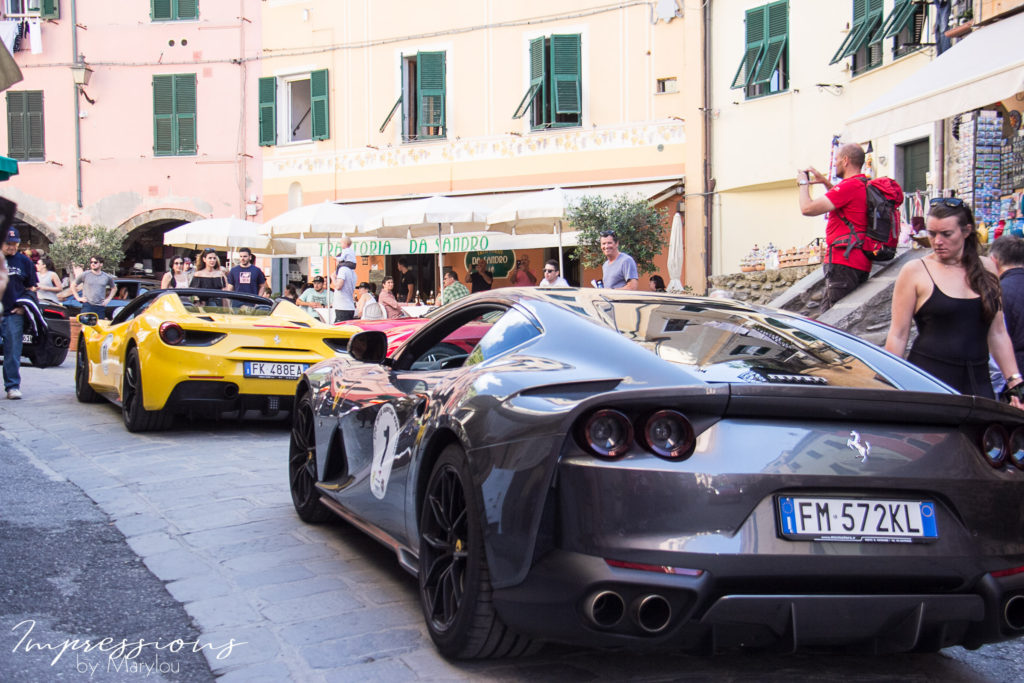 Everyone tells you that if you really want to enjoy the villages, find something to do from about 10-4 that is not down in the villages. The cruise ships dock down the coast and dump large numbers of tourists in over the middle of the day. This is very true! It was amazing how the crowds would swell and drop at any given time throughout the day. Check out the people waiting below to get on the train.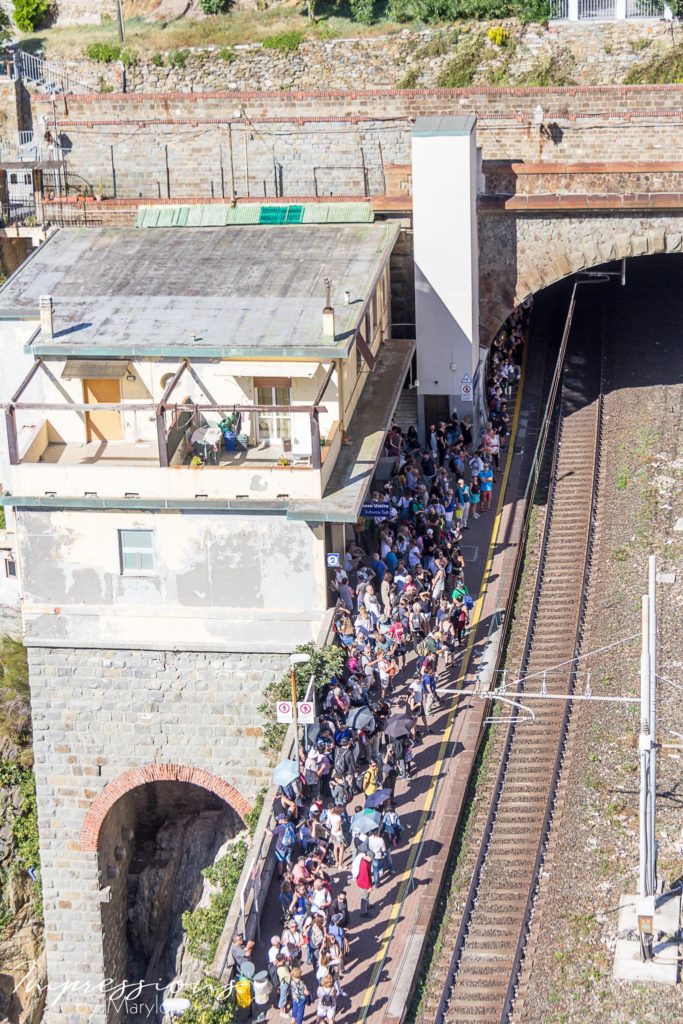 There were beautiful narrow alleys here and there.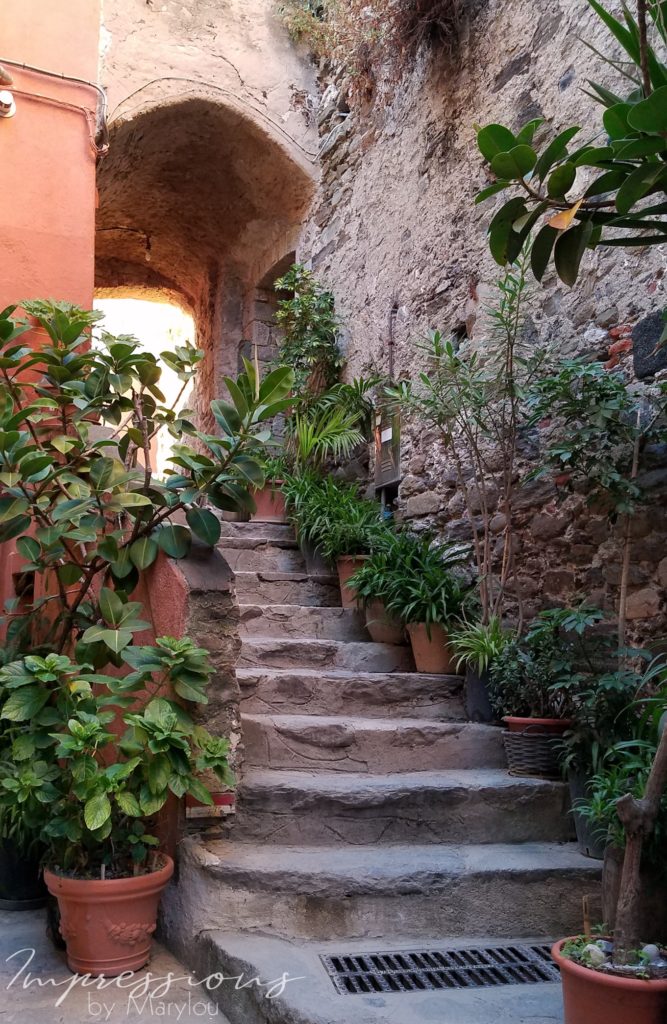 And other neat details, this one from the church in Vernazza.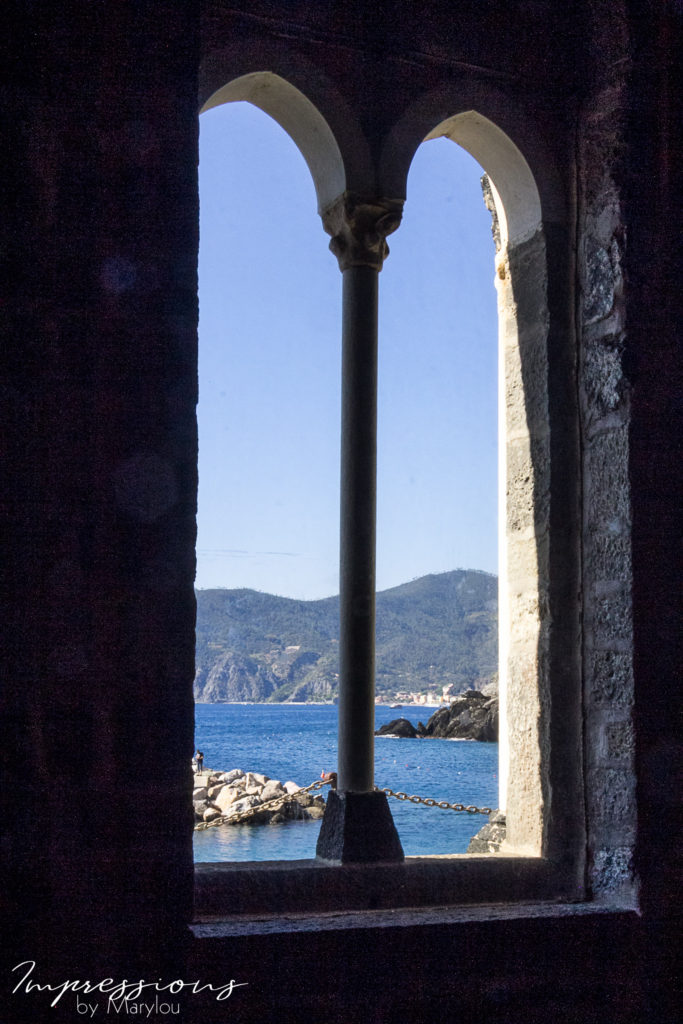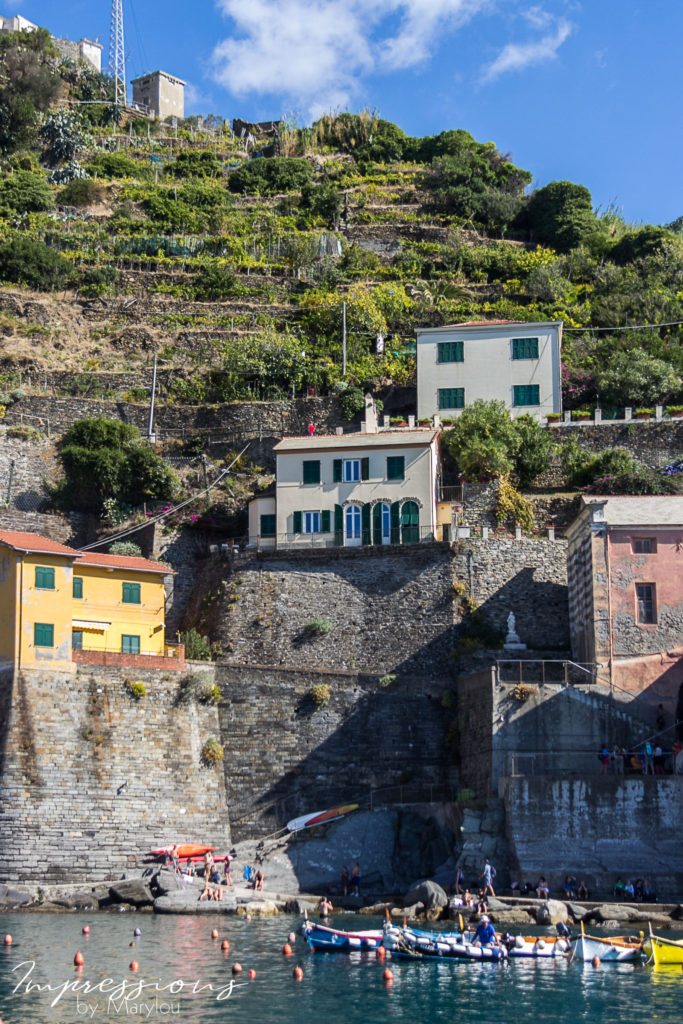 Vernazza suffered substantial damage in 2011 when a huge rainstorm caused mudslides that funneled down into the main street, leading to harbor. The lower level of shops/homes was buried in 13 feet of mud. There was a group who started a Save Vernazza page and helped raise awareness and funds and restoration to the village. Barely 2 weeks after we were there, we saw videos on the Save Vernazza facebook page of the flooding that happened with another big storm impacted most, if not all of Italy.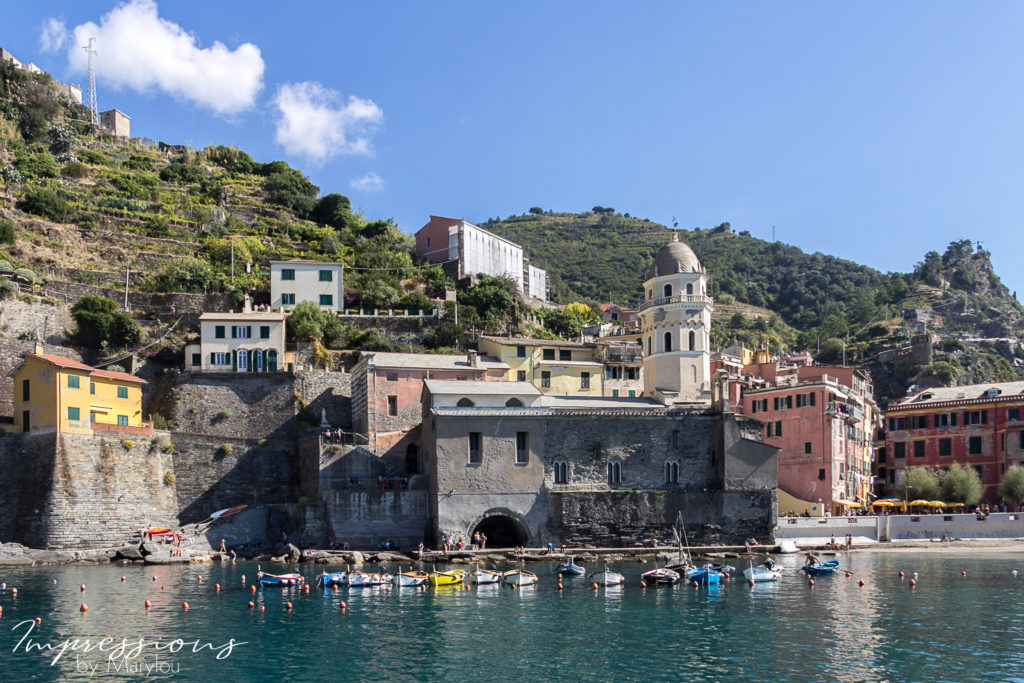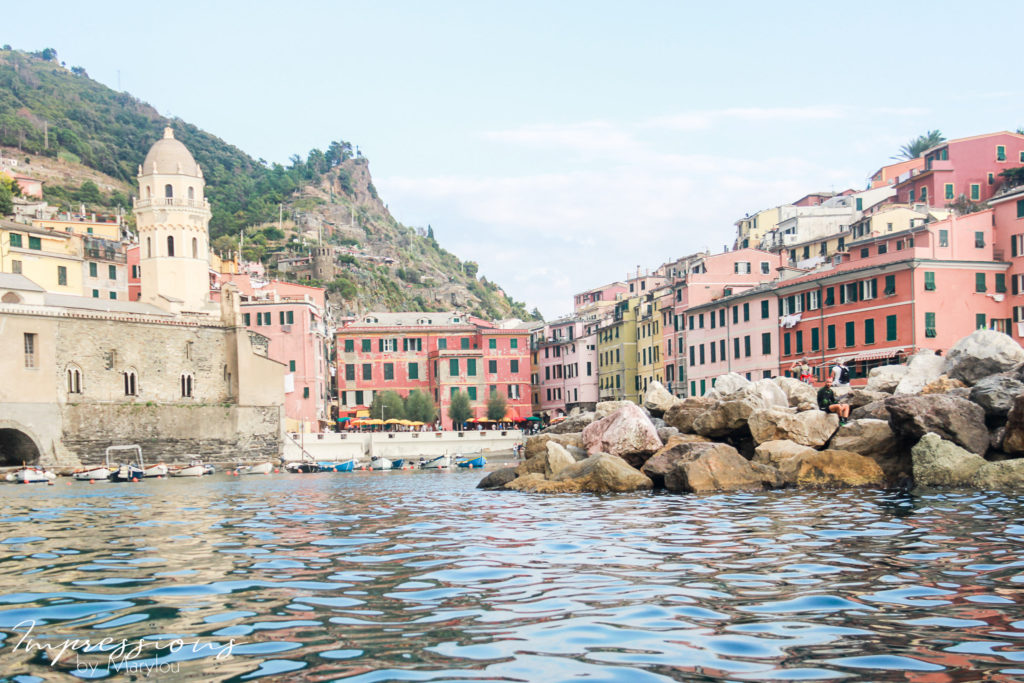 The 1st evening we were in CT, we ate dinner at Vernazza because I really wanted some evening photos when the lights came on. You can walk partway up the path that is the hiking trail between Vernazza and Monterosso. The path keeps winding up and up and the view is just amazing.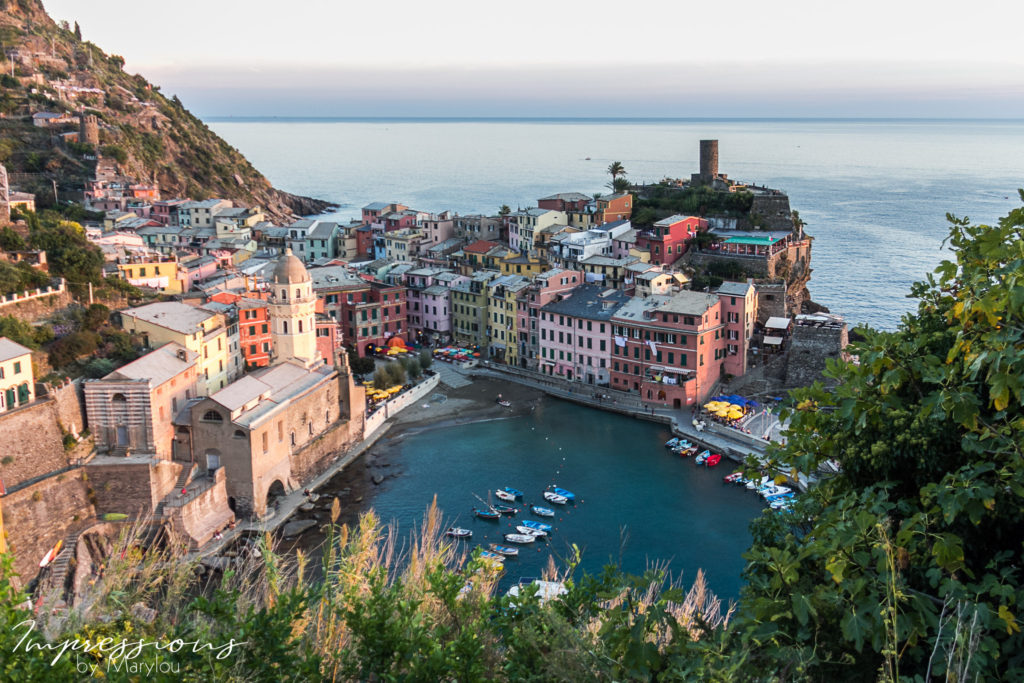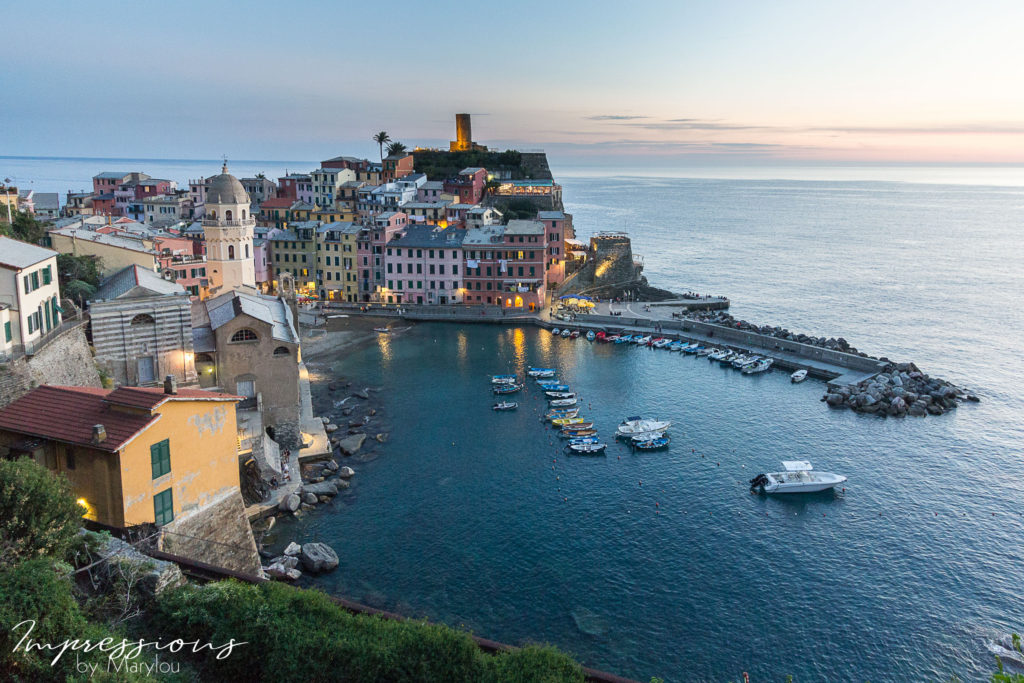 The 2nd evening we all wanted fish n chips so we found the shop that sells it in baskets, or paper cones. We tried the calamari and baby octopus and it was all delicious!! The calamari was crisp and I promise if you had your eyes closed, you would have no idea the other funny looking things were octopus.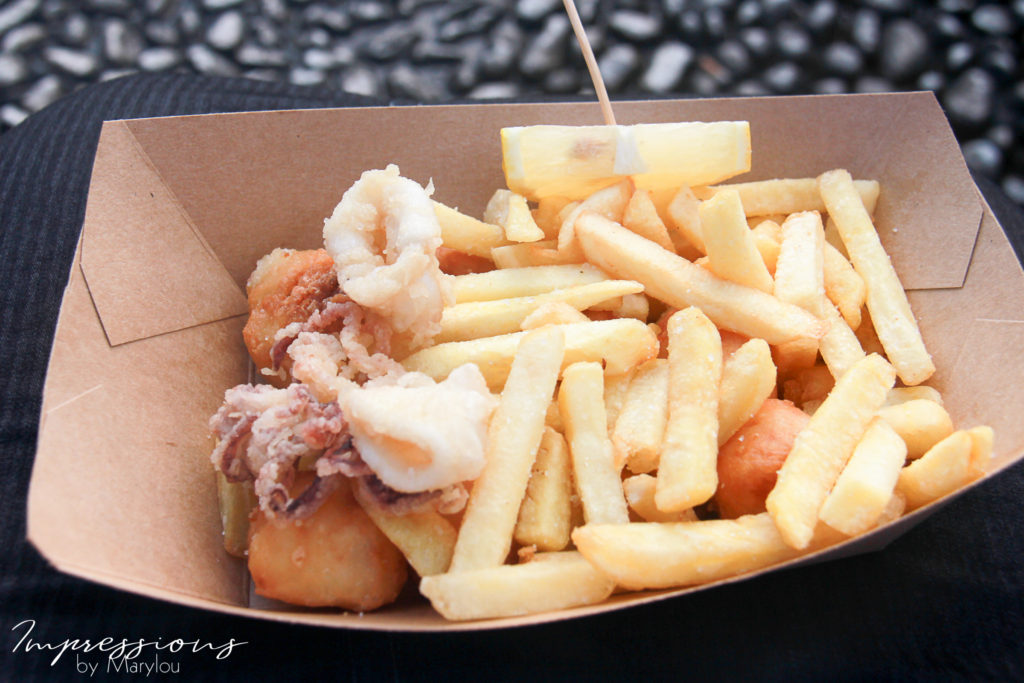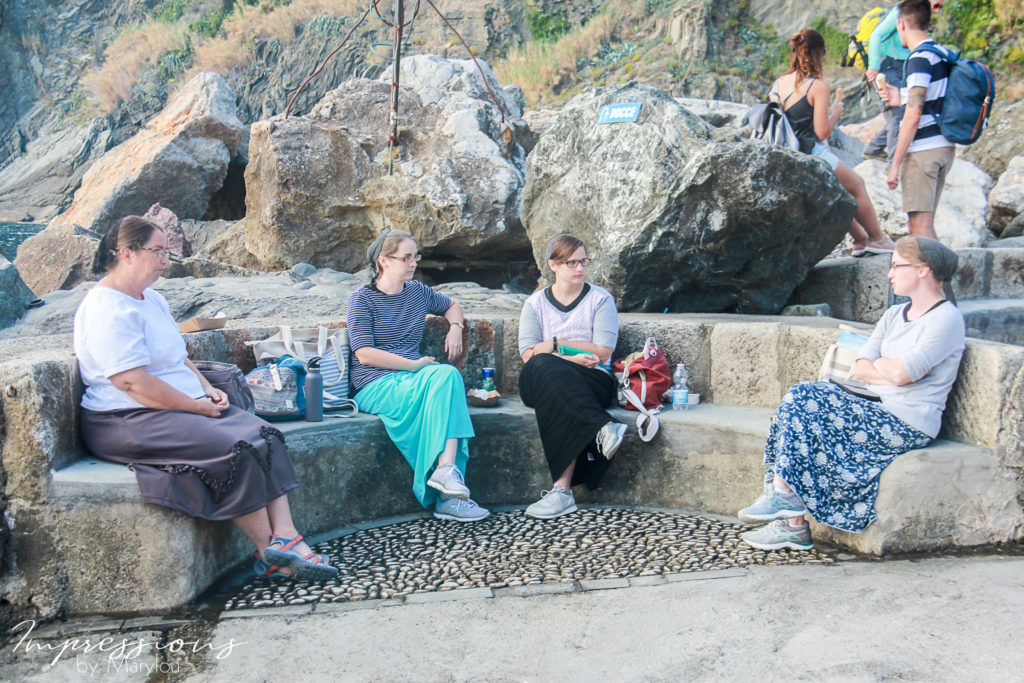 By this time of the evening the crowds had thinned and it was at its most charming!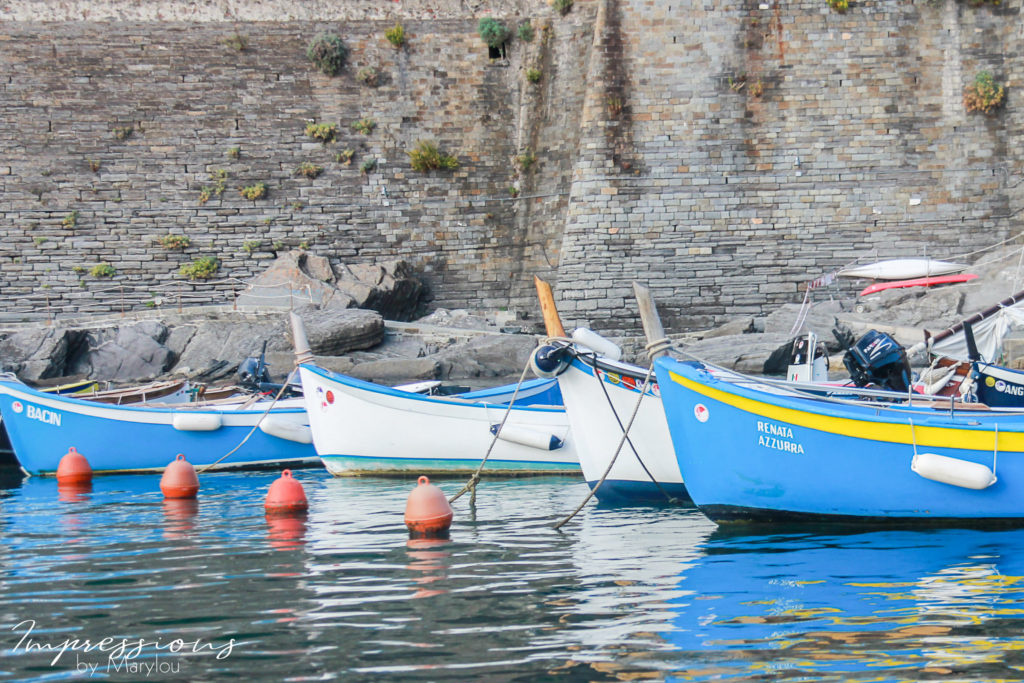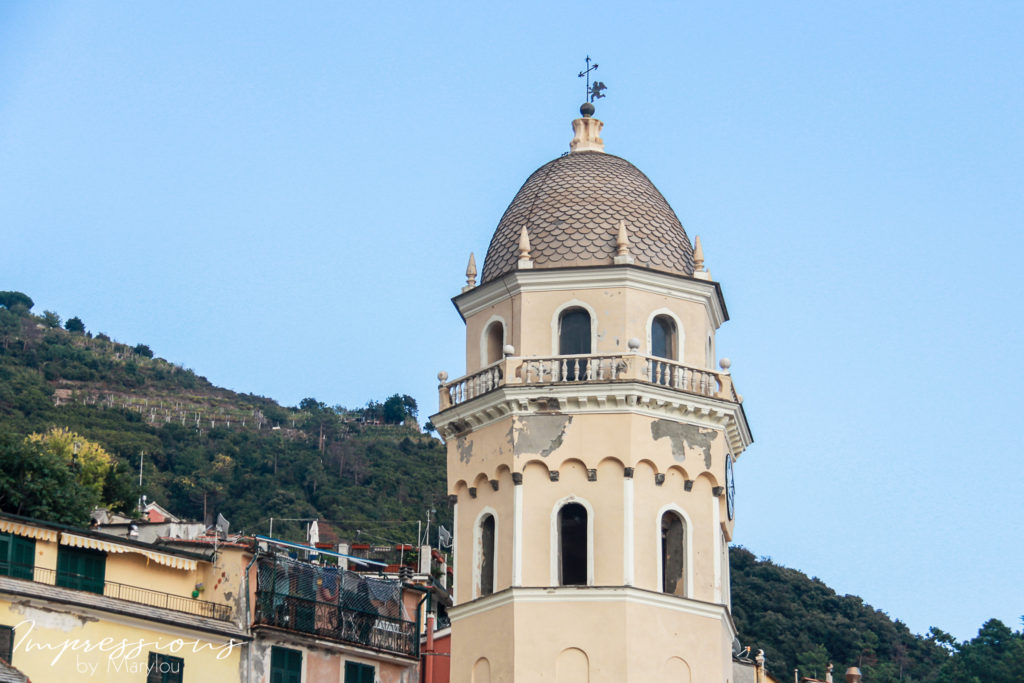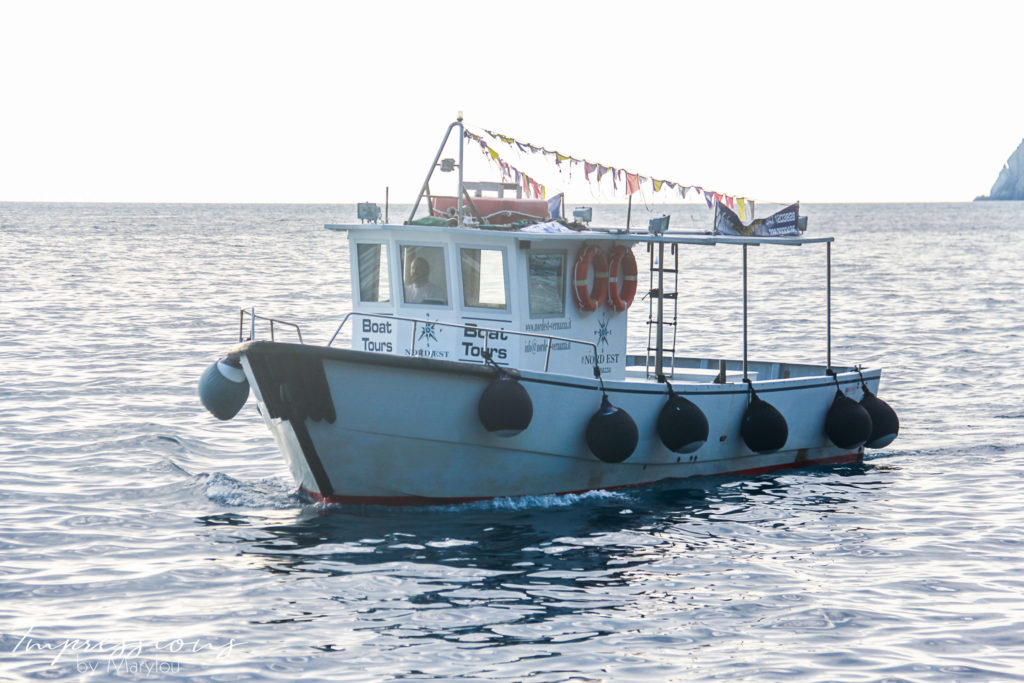 A few local children road their bikes in the piazza. We had decided to get a boat ride to see the area from the water. That is not our boat above. We were on a smaller, open one.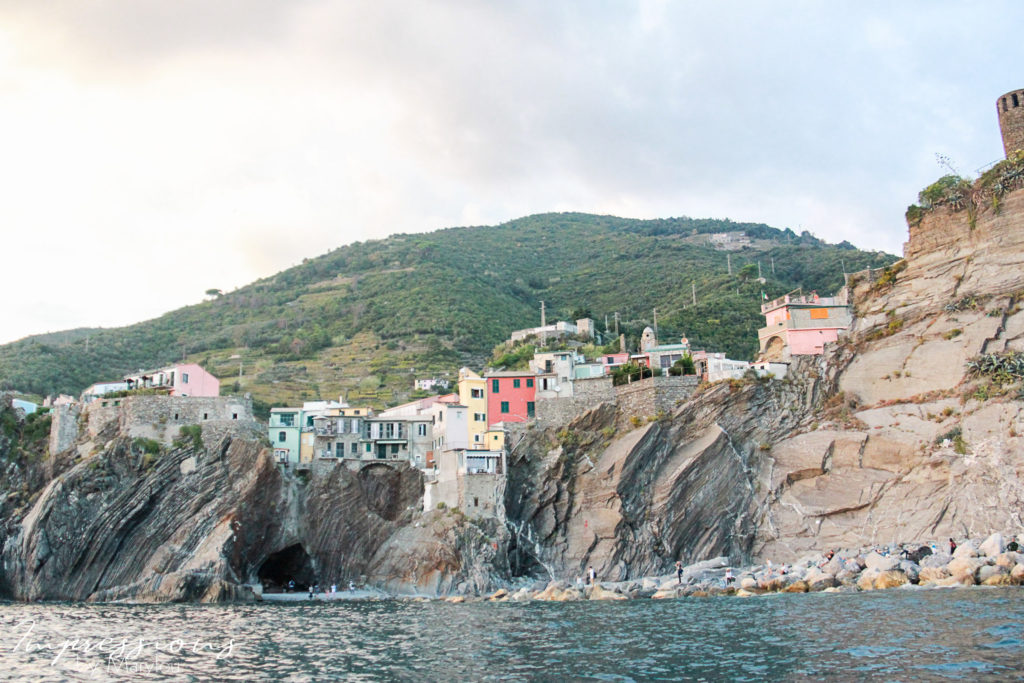 We had a friendly tour guide/captain from Spain gave us an hour-long ride.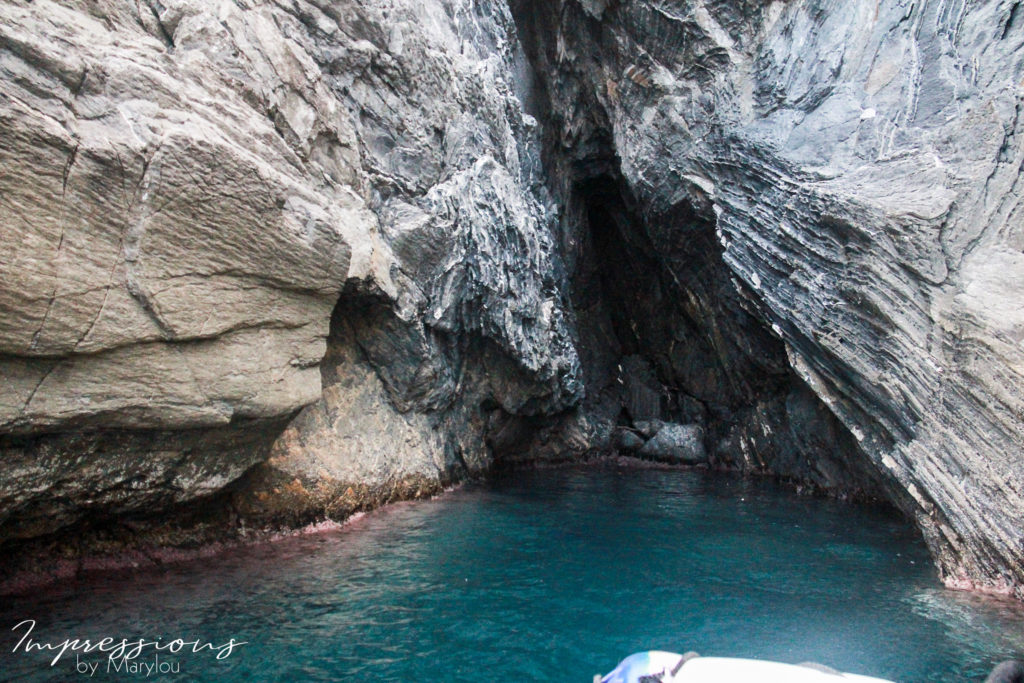 There were caves to see.
And curious, poisonous creatures like the sea tomato above.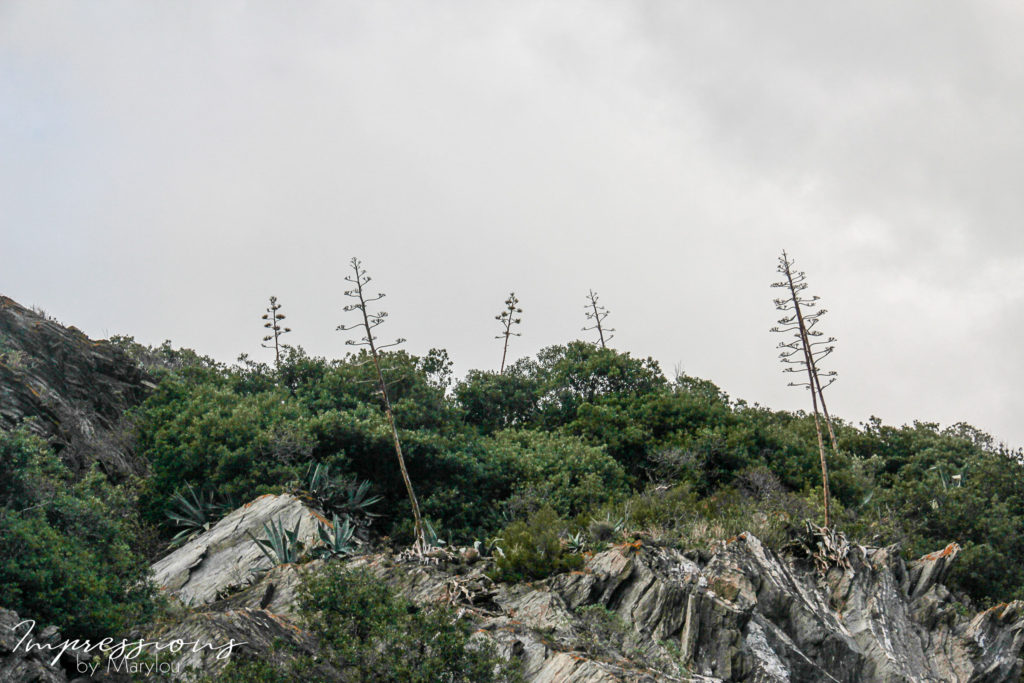 I asked him about the tree type plants growing everywhere. Here we call them Century Plants because they only send up a tree-like trunk when they're about 30 years old. And here they get featured in the paper if someone has one that finally blooms. The plant then dies. There they were as plentiful as blackberry vines here. Mr. Spain said that they are called agave and are used in tequila. There were also fig trees growing everywhere and still had figs on them in October.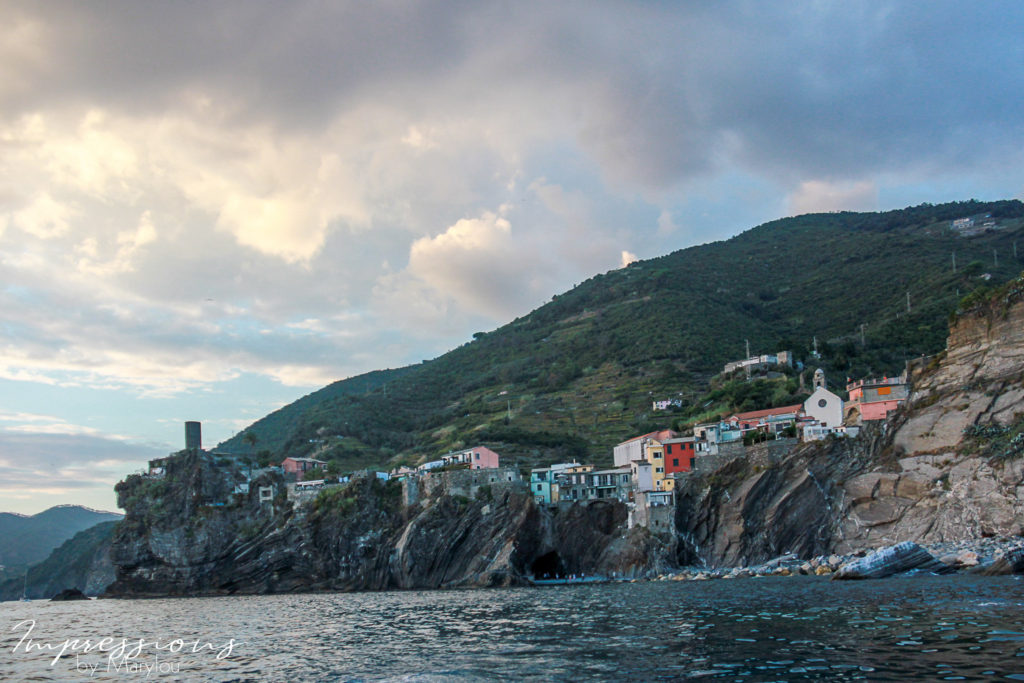 We were blessed with a beautiful sunset and had the best view of it.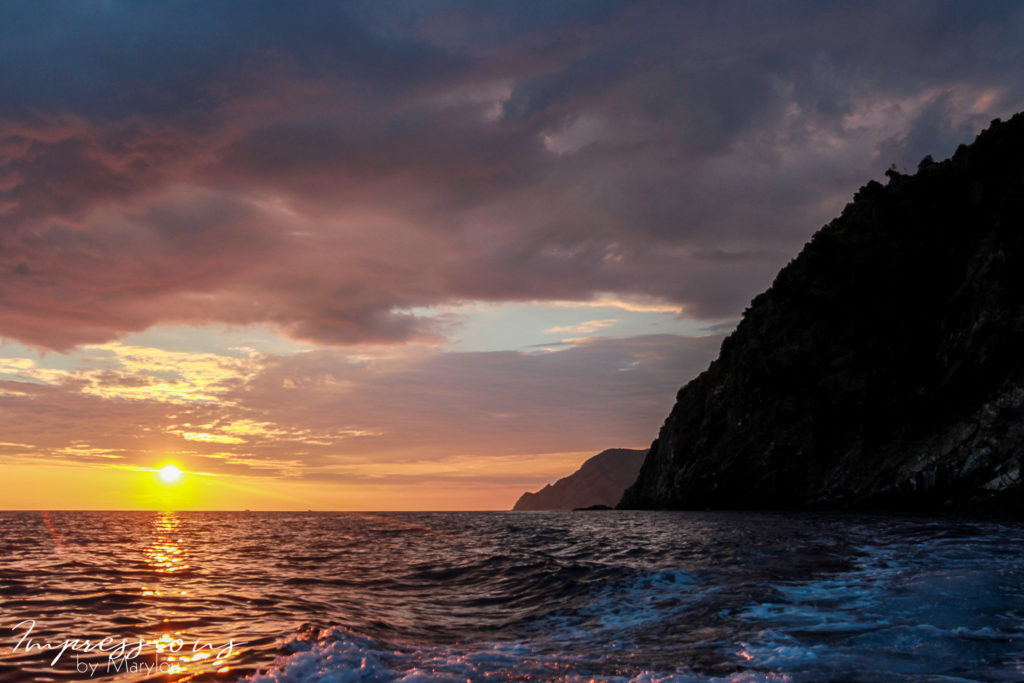 I really, really wanted evening photos of Manarola and had given up hope of getting them. We had to wait longer than we expected for the boat ride. We pulled up to Manarola just as the was setting.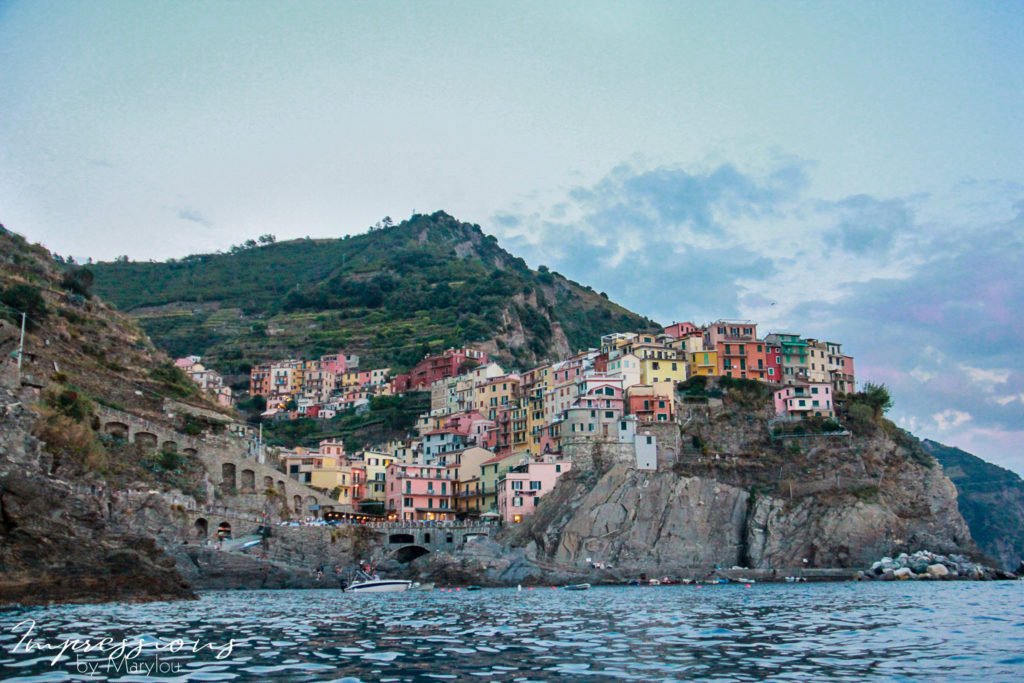 Several of us dashed up the pathway and with the help of slow shutter speeds, still had time to get a few postcard shots.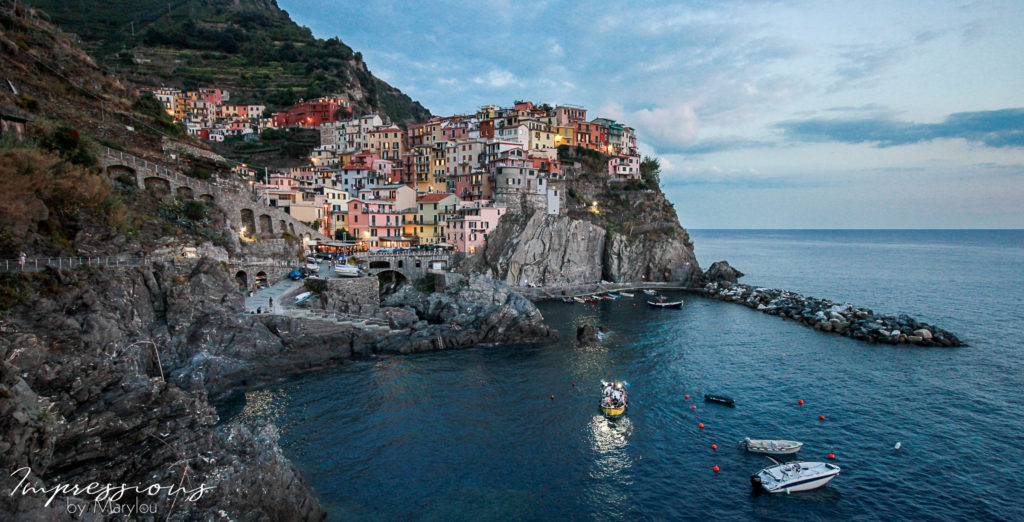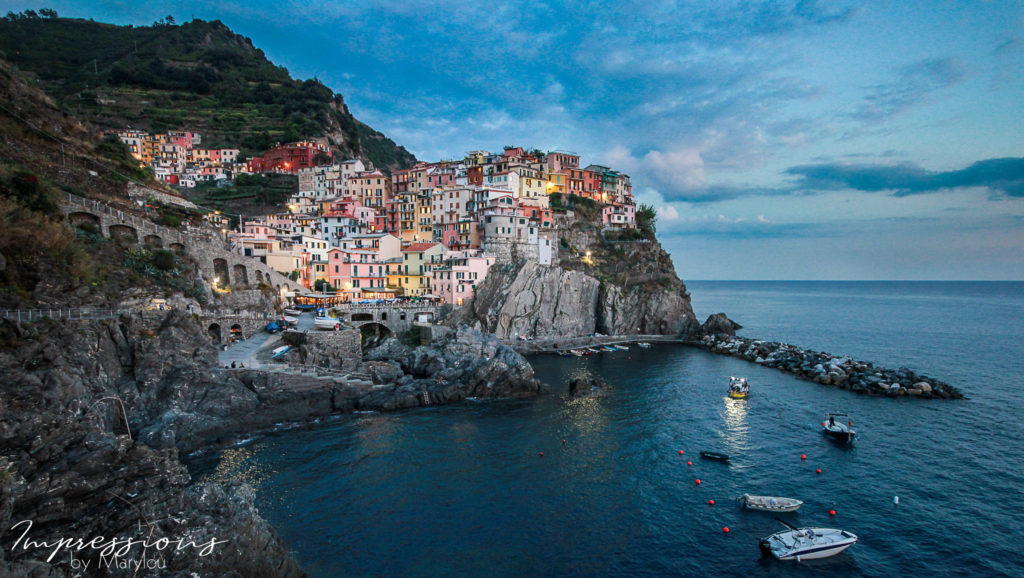 It's never too late to grab a gelato!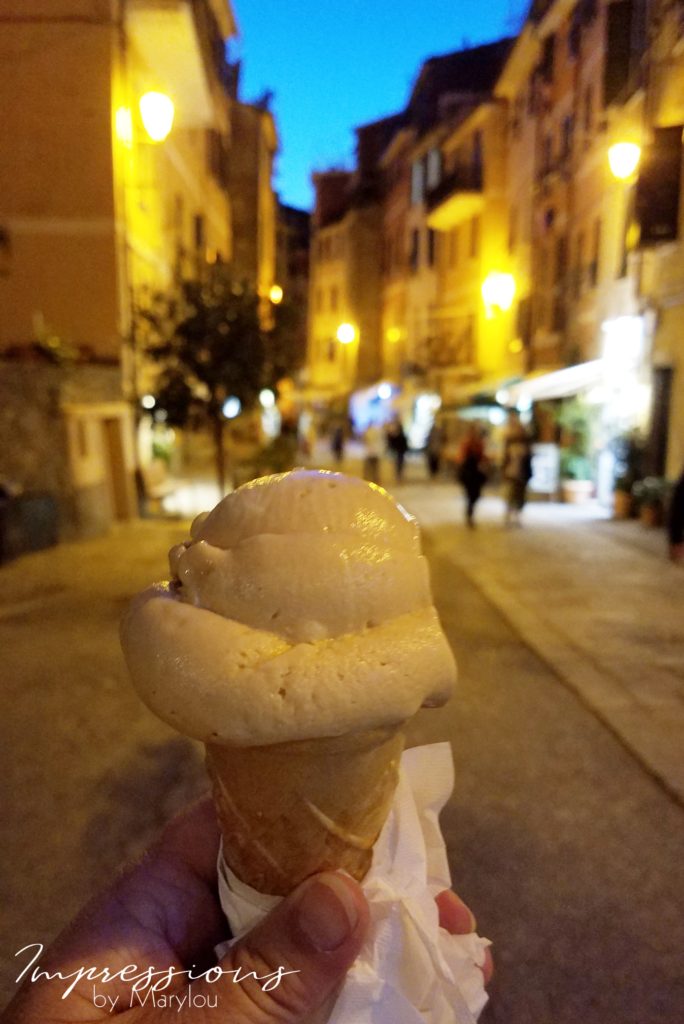 One morning we arrived in Manarola in time to see them lower a fishing boat down to the water.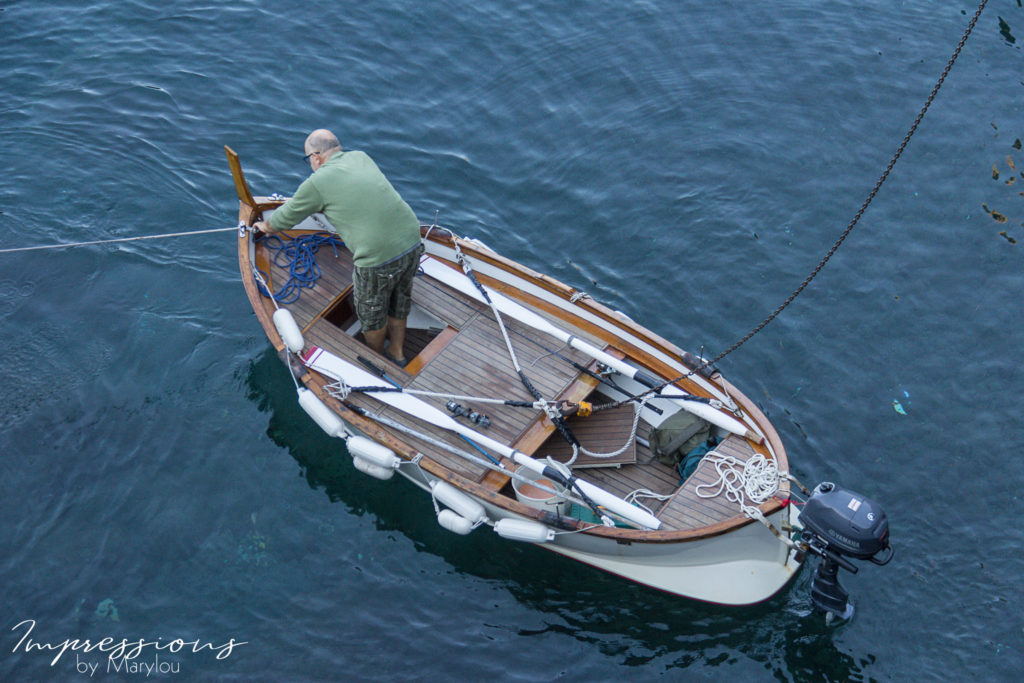 They had a winch that lowered it down. I have a video but haven't had time to upload it.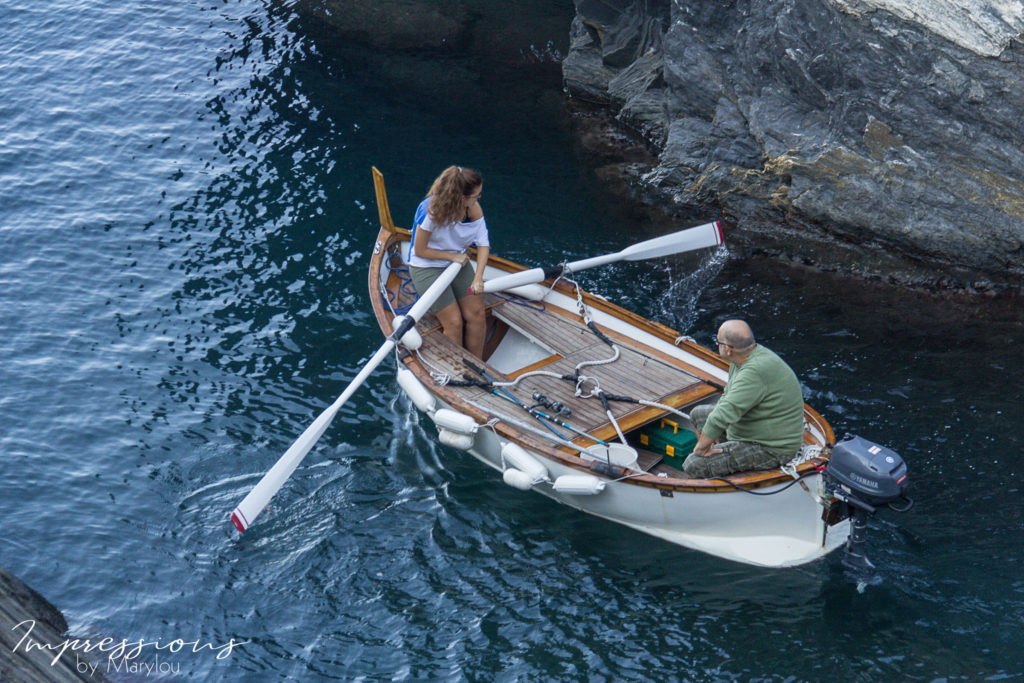 The water is here is deep and clear.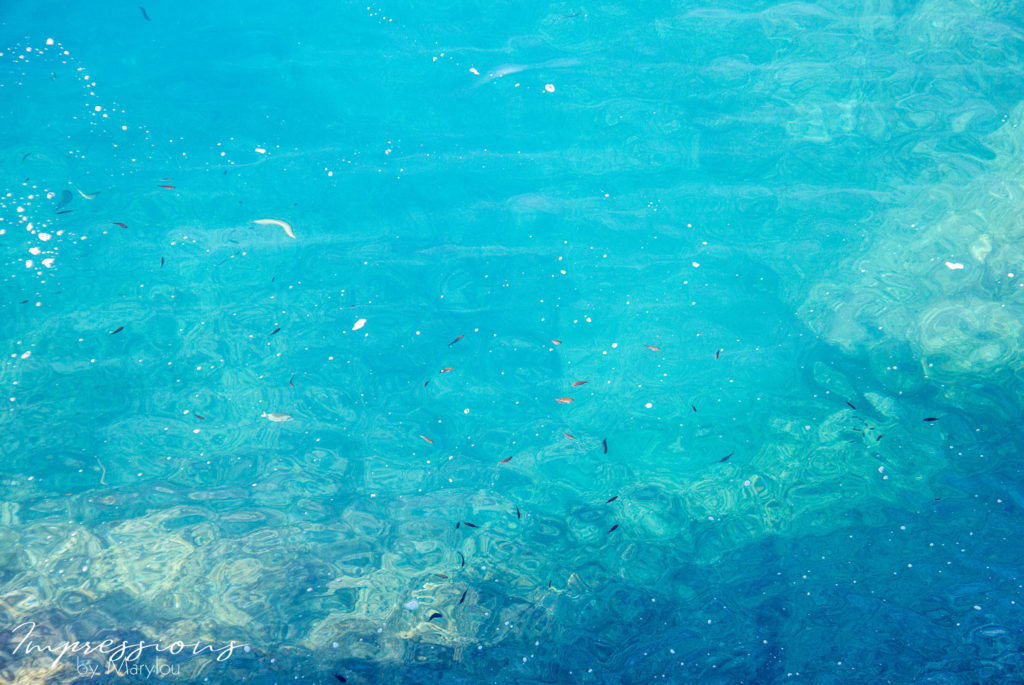 And unbelievably blue!
Here are a few shots from the villages.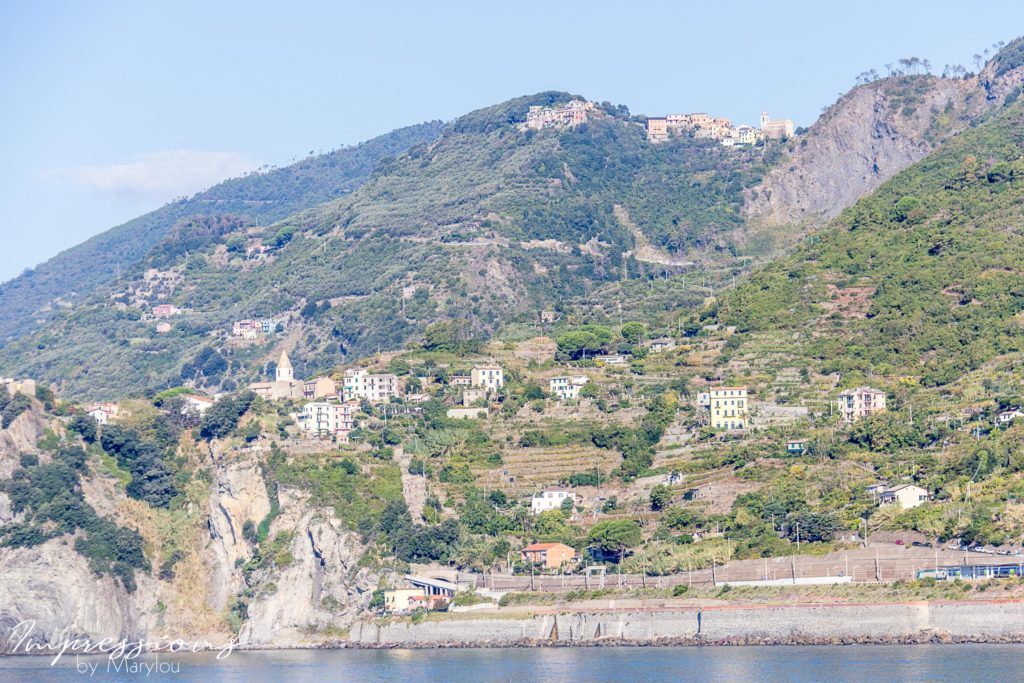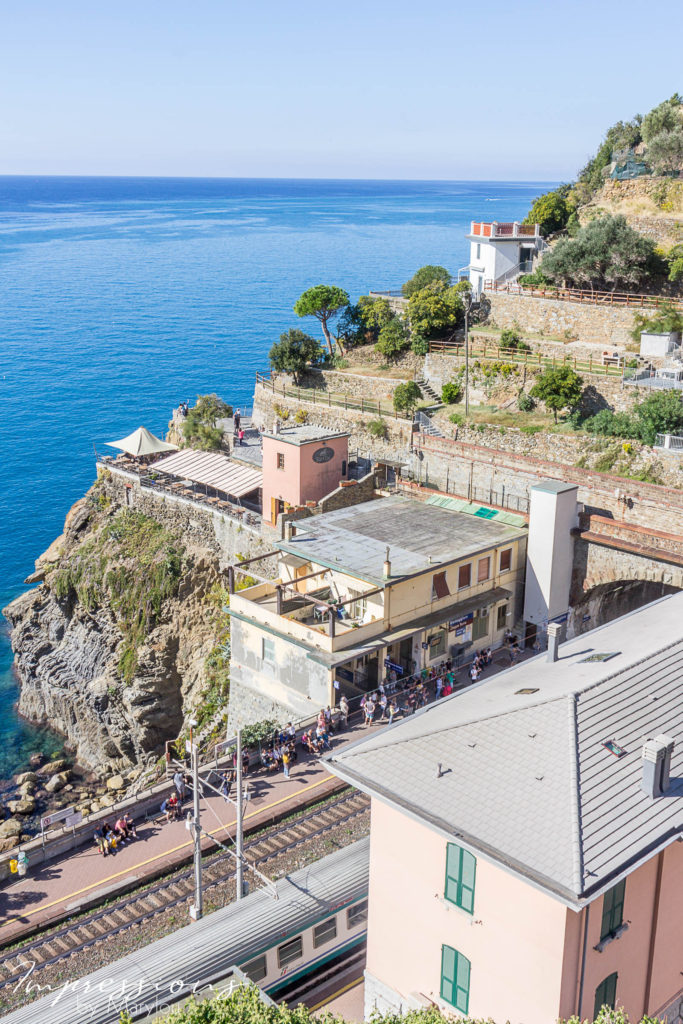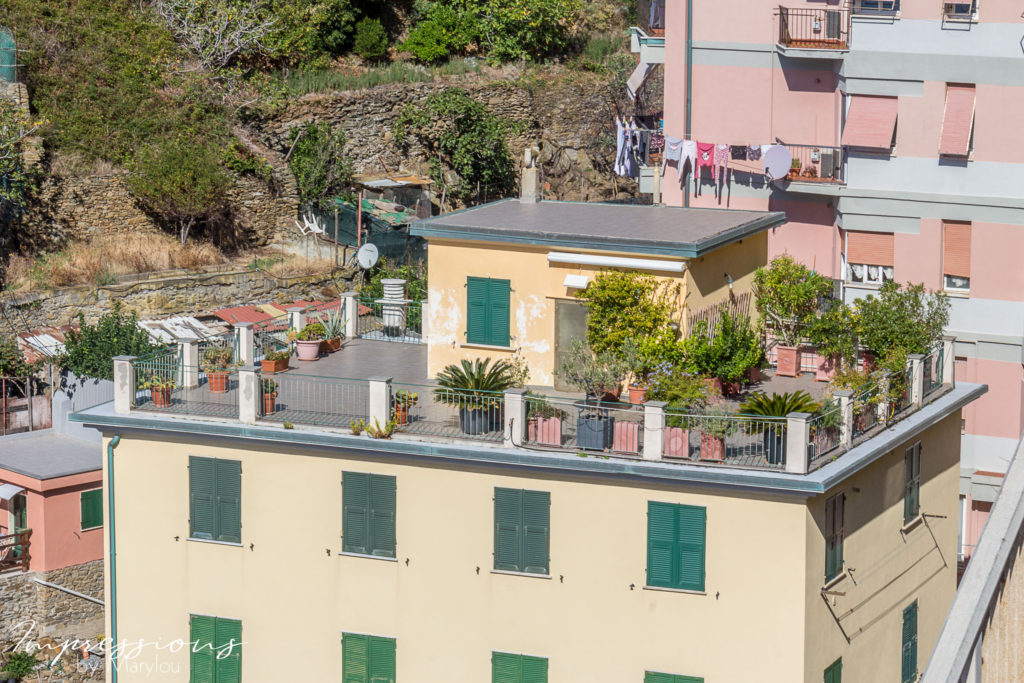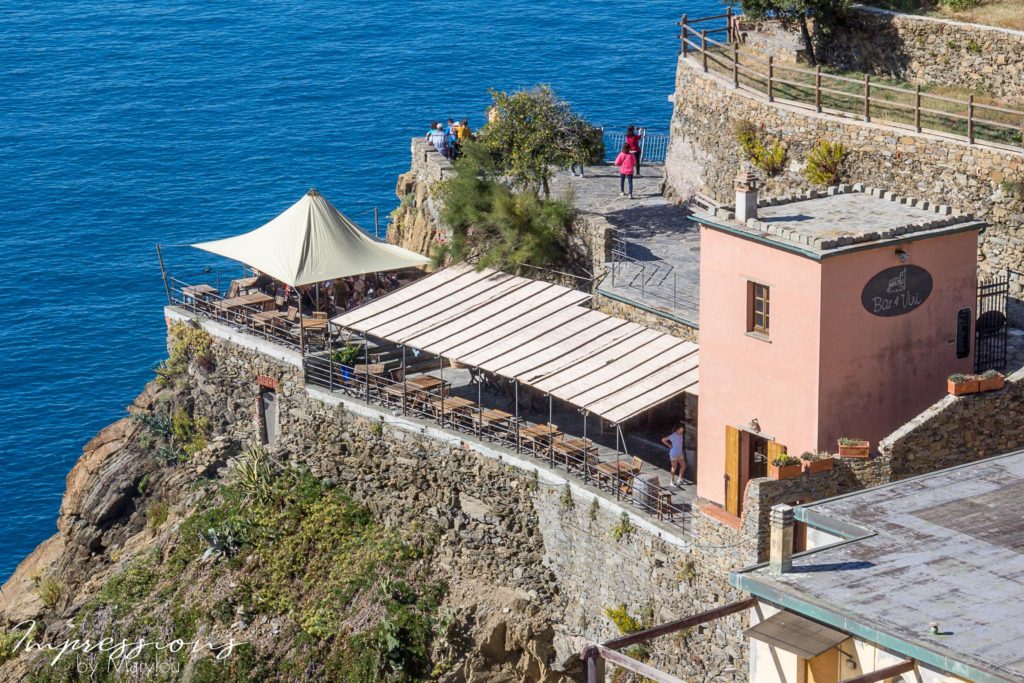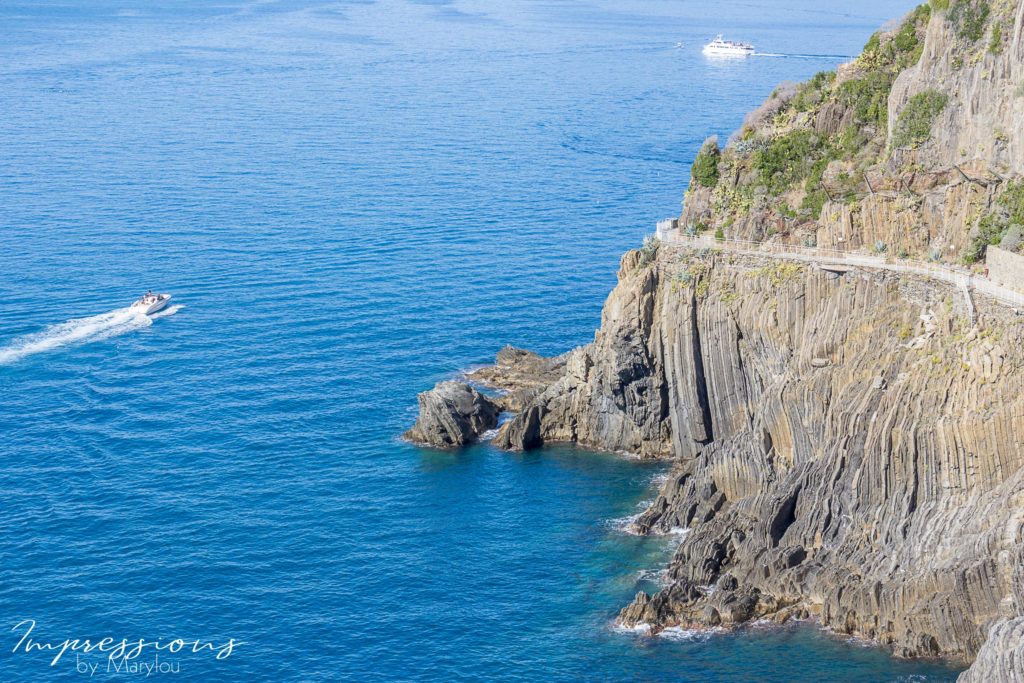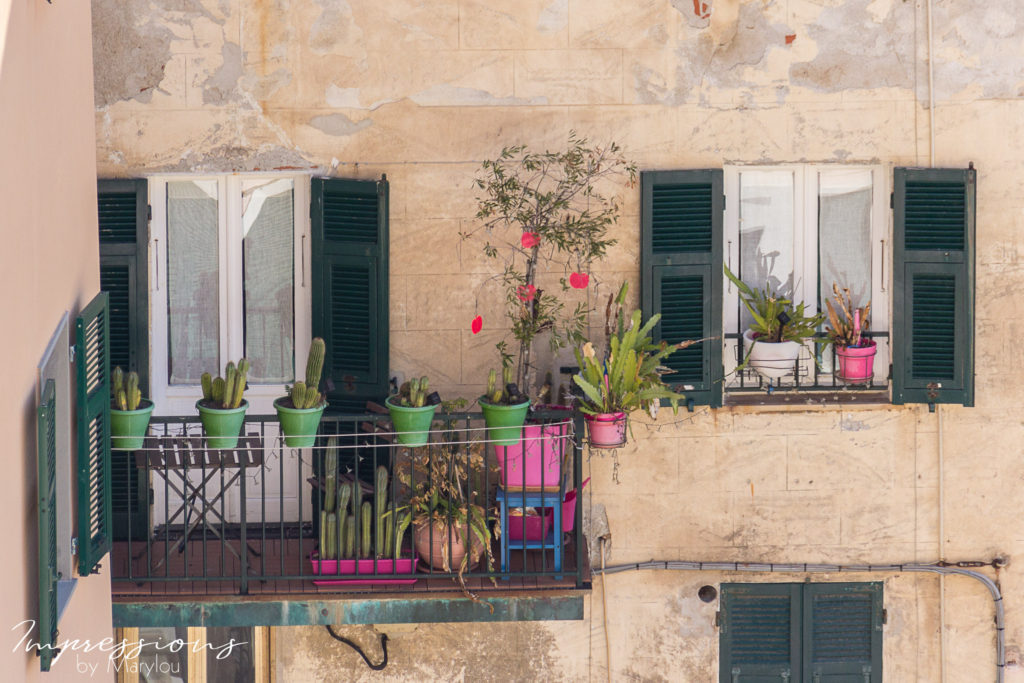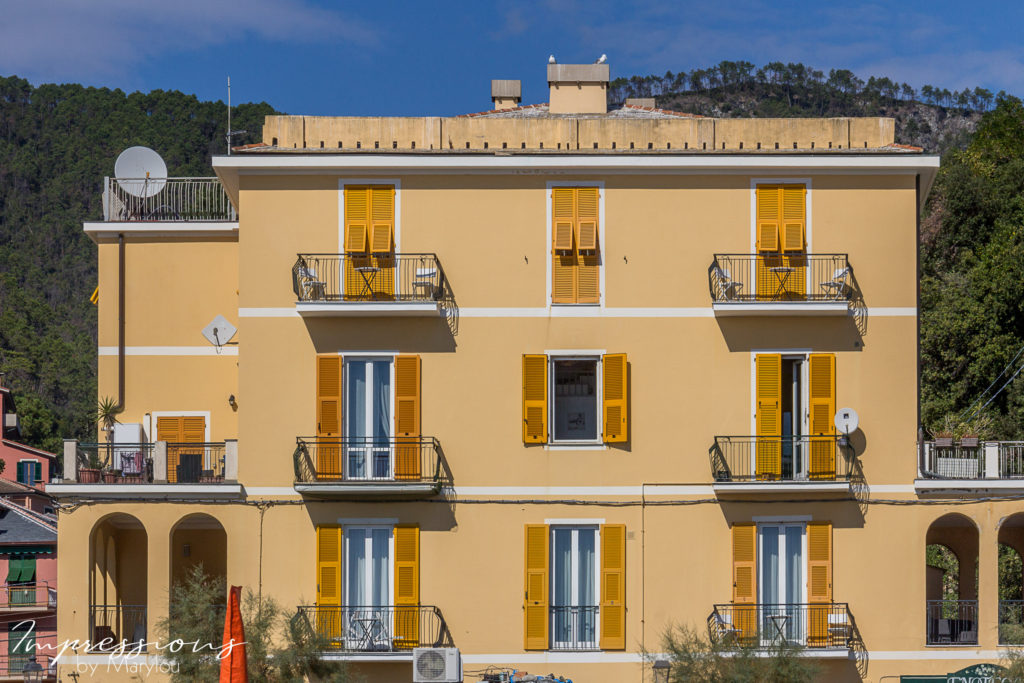 The only lunch I ate out here was a caprese (cheese, tomato & basil) panini that was delicious. In Italian it is called a panino. Panini is the plural form. A sandwich like this cost close to $6 (5 euro).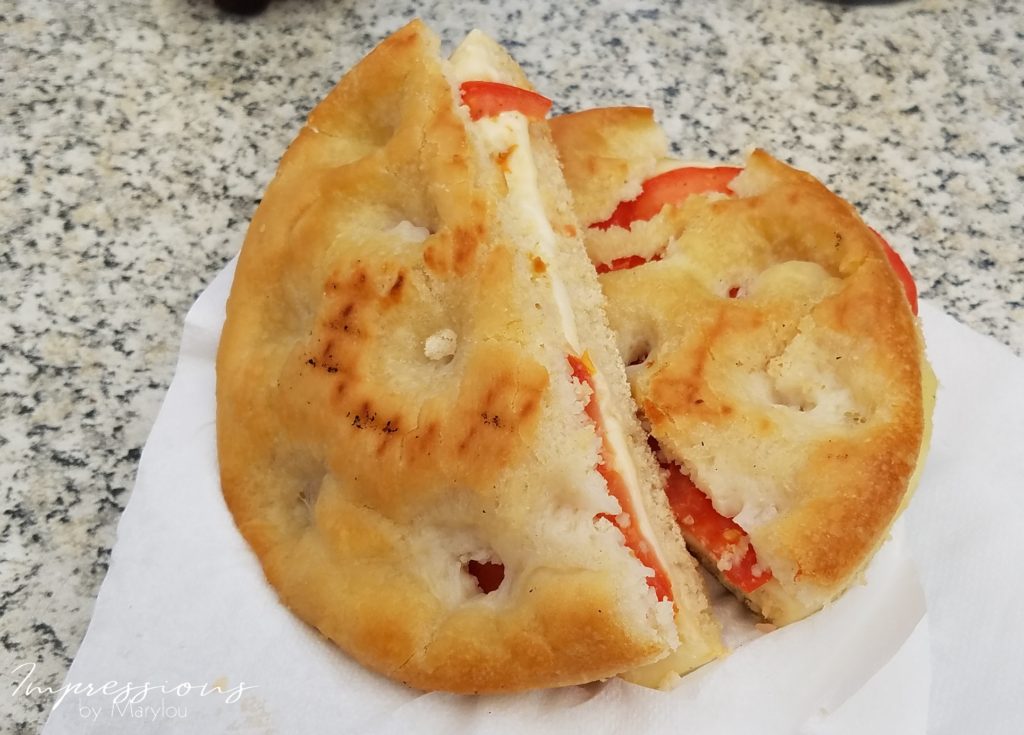 We thoroughly enjoyed our time in Cinque Terre, which ran from Sun eve – Wed morning. We think you really cannot do the area justice in less time. It was a perfect amount of time for us. You can hike between all 5 villages and if you wanted to do that, you may want more than 2 days, if you want to enjoy a bit of down time too.
I left feeling like the Cinque Terre was all I hoped it would be, although for the space of about an hour on Monday, I had wondered if we had overblown it in our expectations of it.
And please, do all of us (and mostly them) a favor by not seeing the villages via a cruise ship tour!