Venice, the "floating city", was our next stop on our tour of Italy. Technically, Venice isn't floating but I'll get to that in a minute.
Our arrival was on a Sunday and I have several travel tips for you right off the bat. 🙂  If you want to park on the island, make reservations ahead of time. Or park off the island and train in. Our VRBO apartment was a 10-minute walk from the train station and parking garages. There is a good amount of parking available but Sunday afternoon seemed to be a busy time for traffic. The garage was full and the attendants were letting cars in as cars were leaving. That's not the difficult part. There are only 2 lanes coming on and 2 lanes leaving the island. The traffic was so congested in the area where it turned and went back off the island that we pretty much couldn't change our mind and leave and look for plan B. Traffic was pretty much gridlocked in the right lane. We had allowed for plenty of time to meet our host but as the clocked ticked on and we were stuck in traffic, trying to figure out why some vehicles were let into the garage and our line was not moving.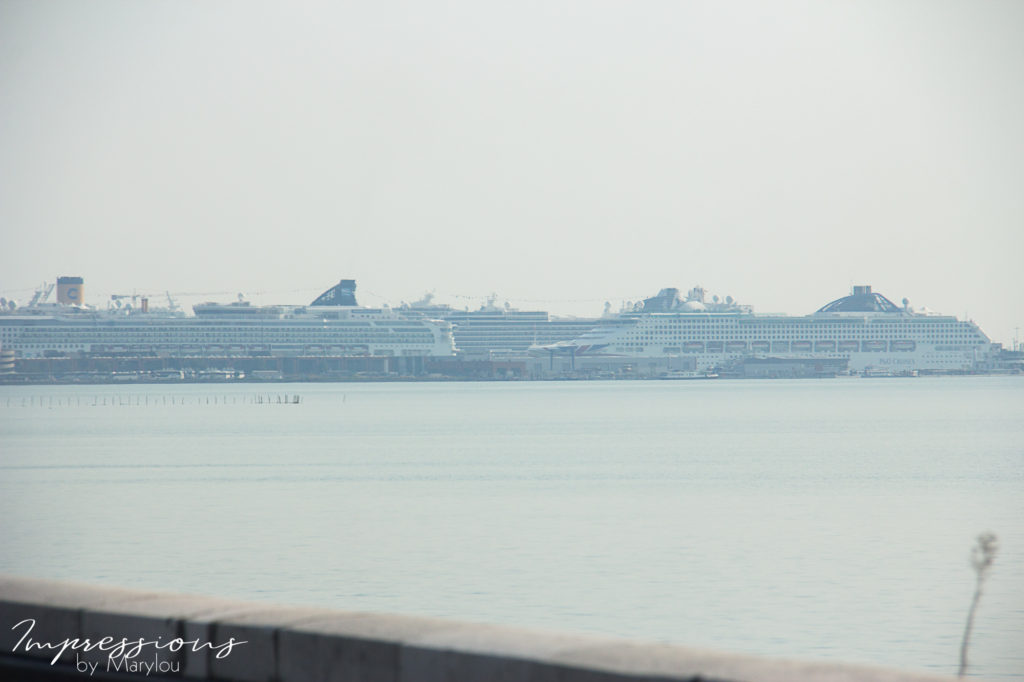 Vicki and I left the others in the vehicle and went running for the apartment. Venice is full of canals and bridges but our apartment was not hard to find, due to it's location and good instructions by our host.
After we checked into our lovely 3rd floor 3 bedroom, 2 bathroom authentically Venetian-decorated-apartment overlooking a smaller canal, we dashed back to meet the others and help drag our luggage back to the apartment, over 2 bridges and through lots of tourists. They had parked on the (top) 8th floor, eye level with the cruise ships nearby. There was the vaporetti (water bus) with a stop not far from our apartment but it seemed easier to walk it than trying to figure out 1 more thing in the chaos that was for the moment.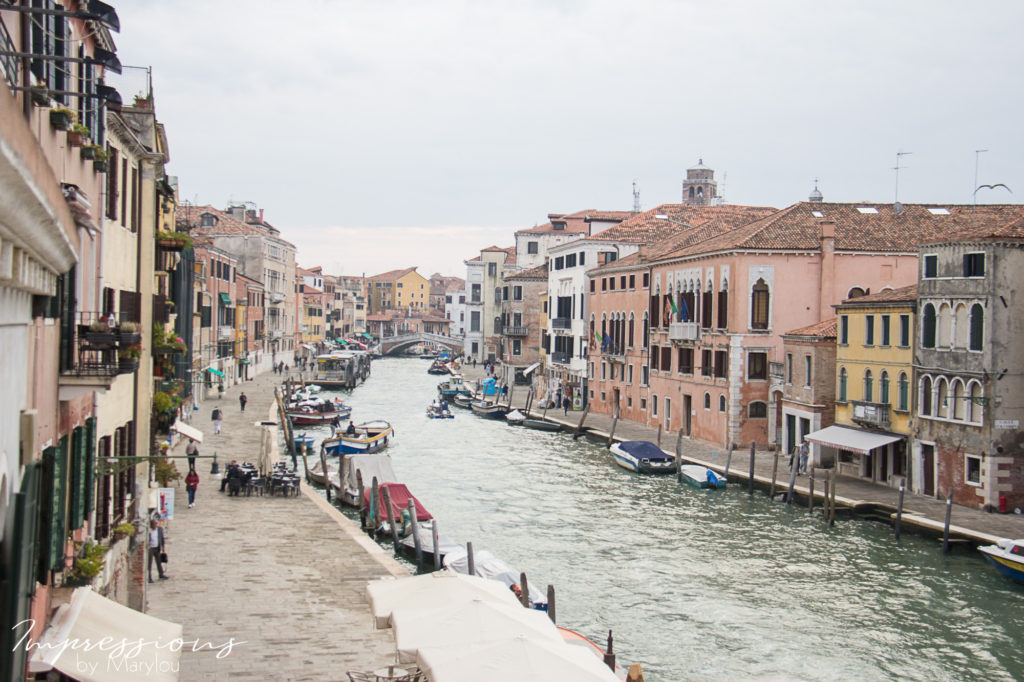 After we got settled in, our next order of business was to buy 2-day pass vaporetto tickets. This hop on/hop off is a great way to see Venice! If you have a week, explore Venice via walking. If you have a few days, you can see more buy using transportation. Water taxis and gondolas are pricey, up to $100 for an hour or so. The 2-day tickets for the vaporetti are €30, about ($33 USD) so it was a no-brainer for us. We also decided not to do a gondola ride at all, and no regrets here.
So Venice technically is not floating, but built on marshy land. Supporting it are huge logs brought down from the mountains, that were pounded into the marsh. Because of the logs being buried in mud and surrounded by minerals, they have petrified instead of decaying. Venice is a very old city, and the buildings show their age.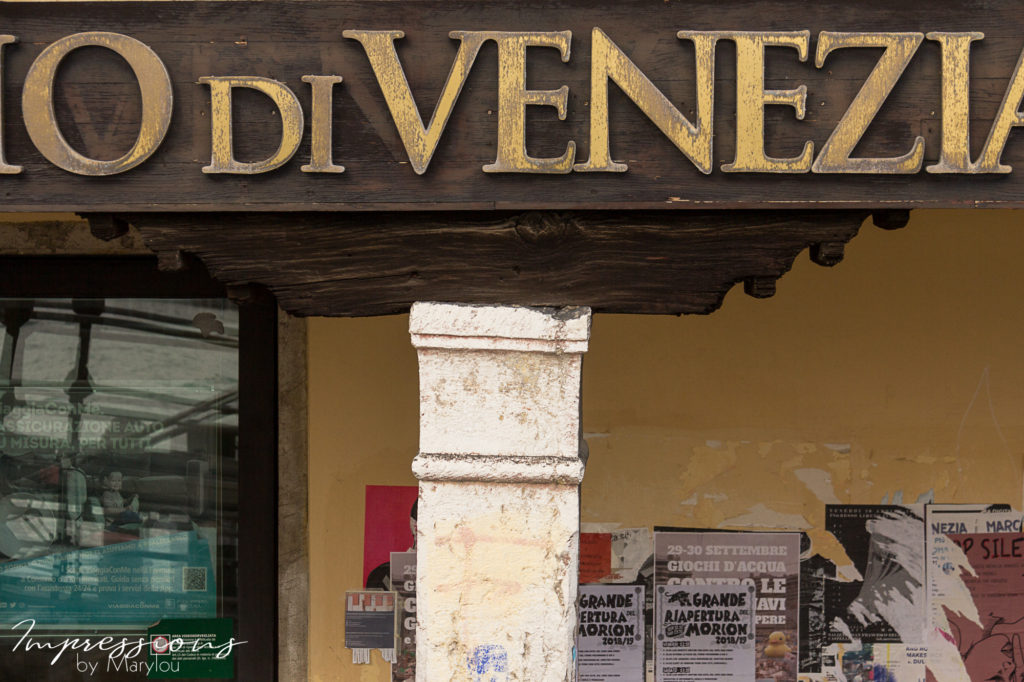 She still looks good for her age and has character in spades. There are not many straight streets and you have to zig-zag around to cross bridges, depending on where you are going.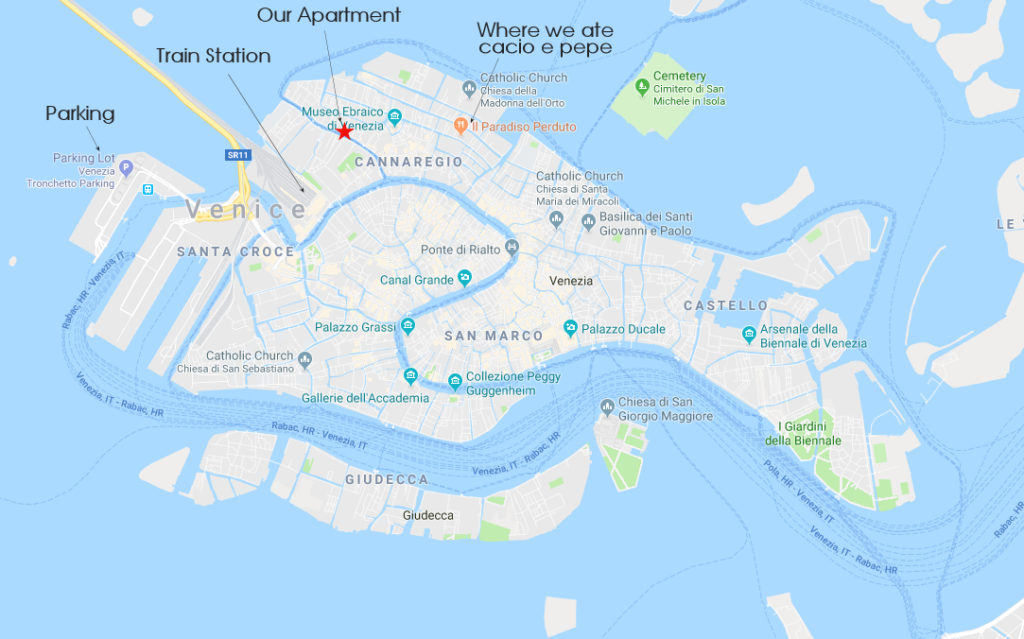 "Our" canal was one of the larger secondary canals and had lots of daily living traffic on it which was intriguing.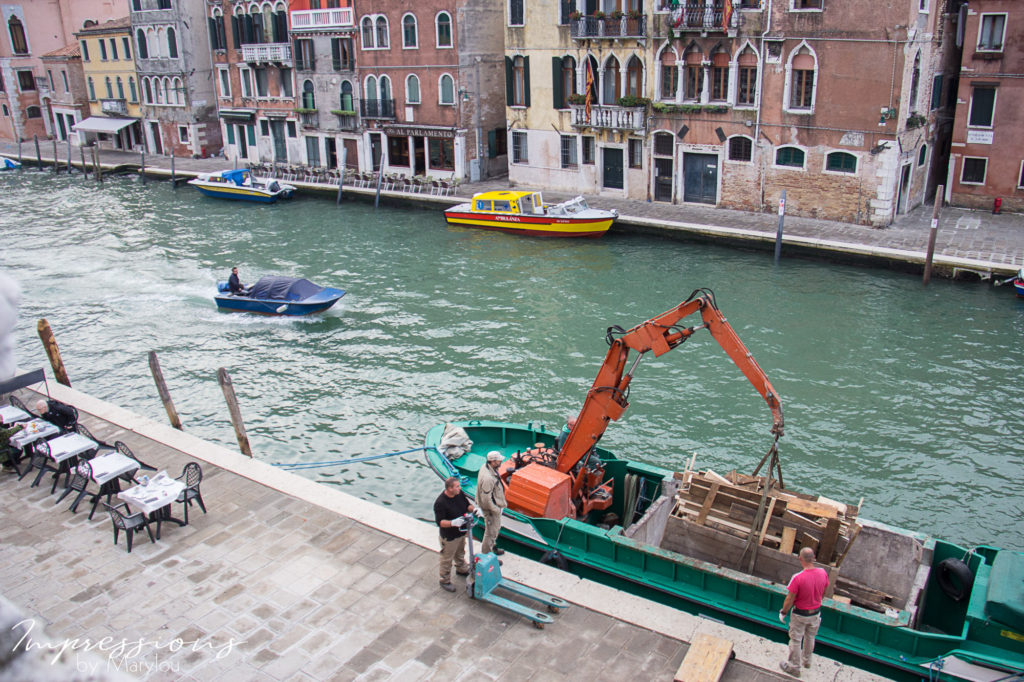 Boats bring in everything. There they are loading scrap lumber from a renovation going on near our apartment.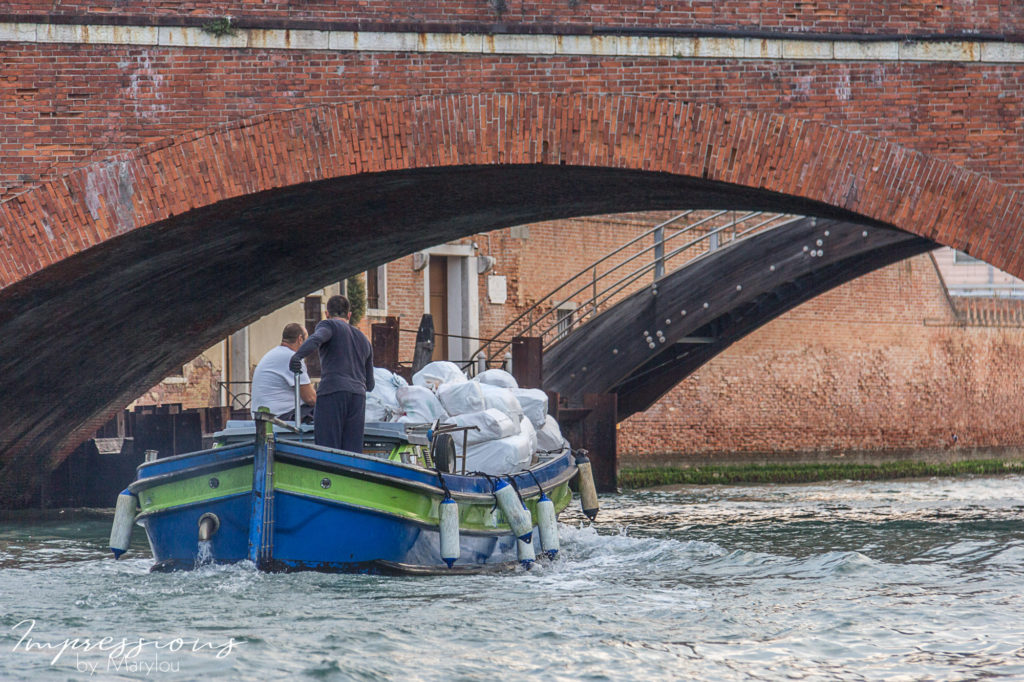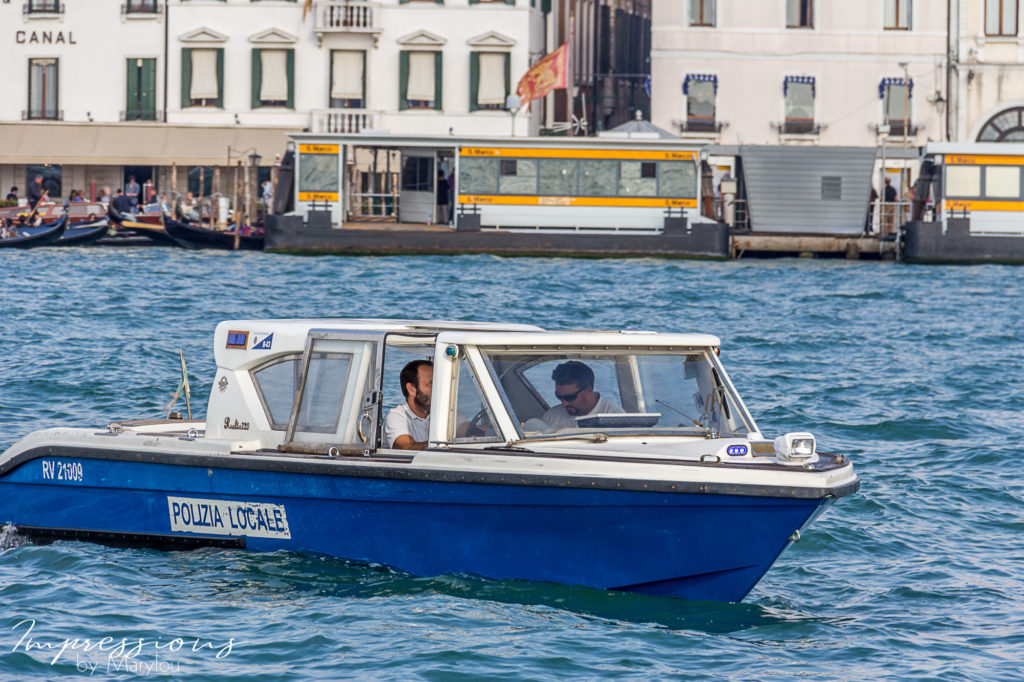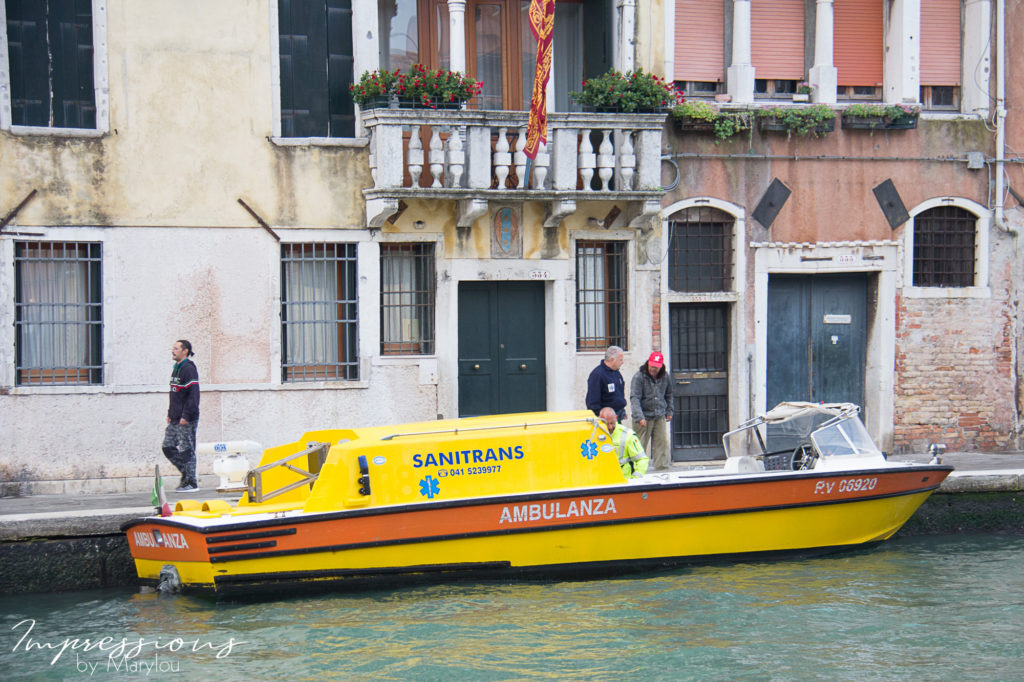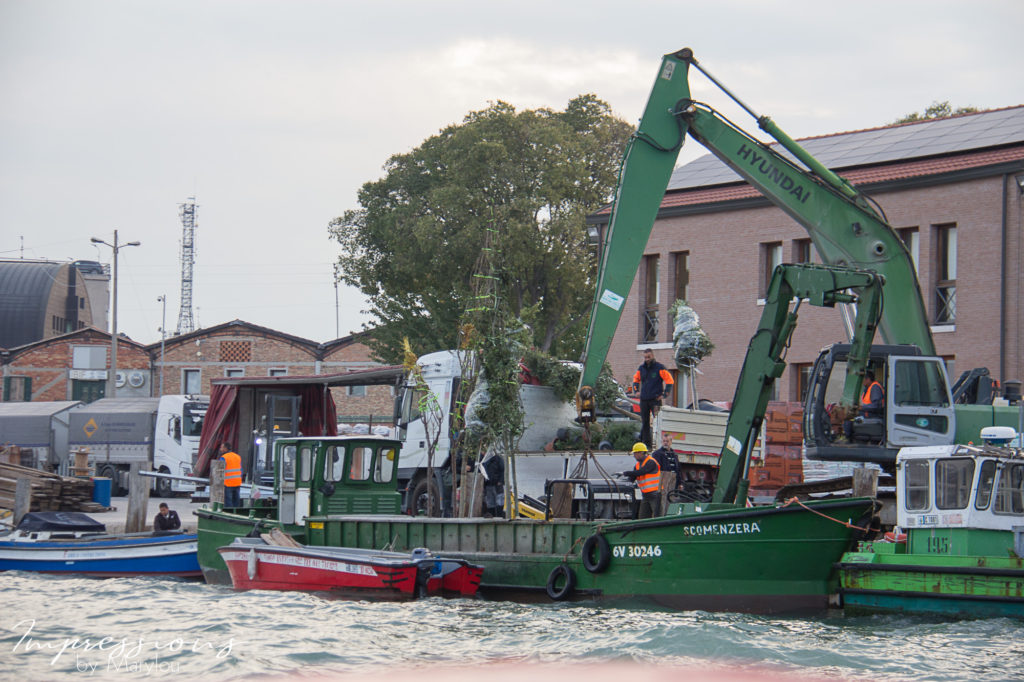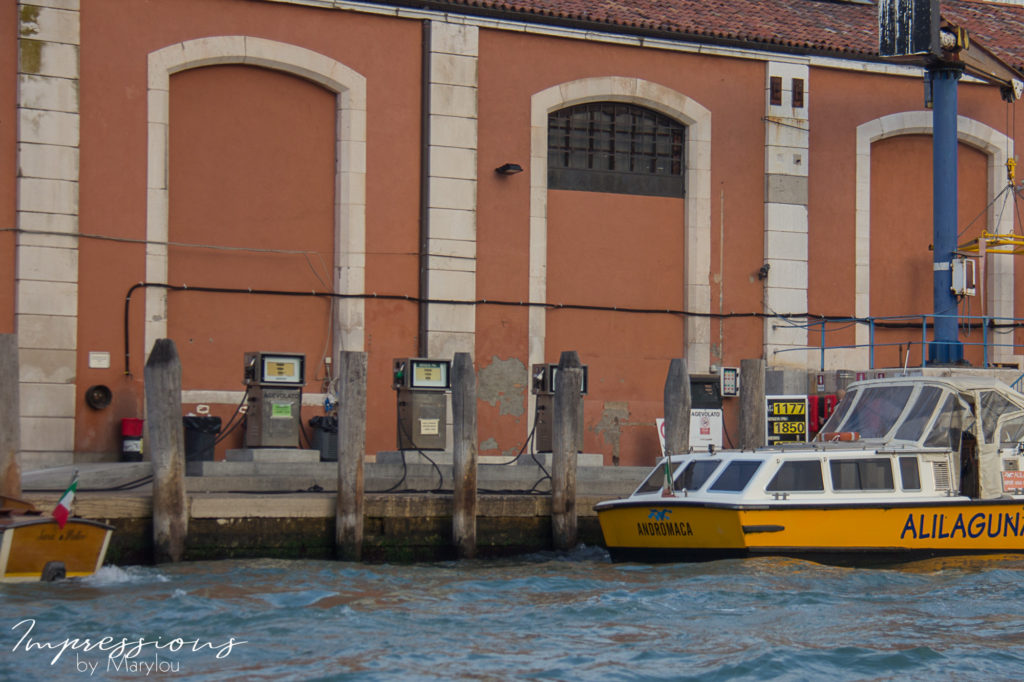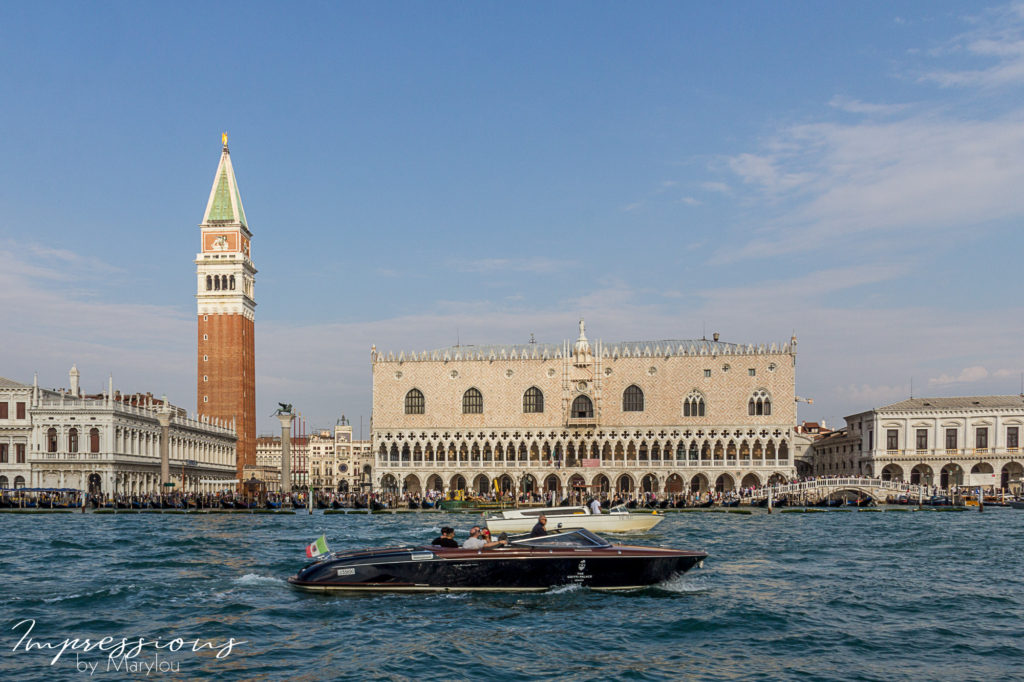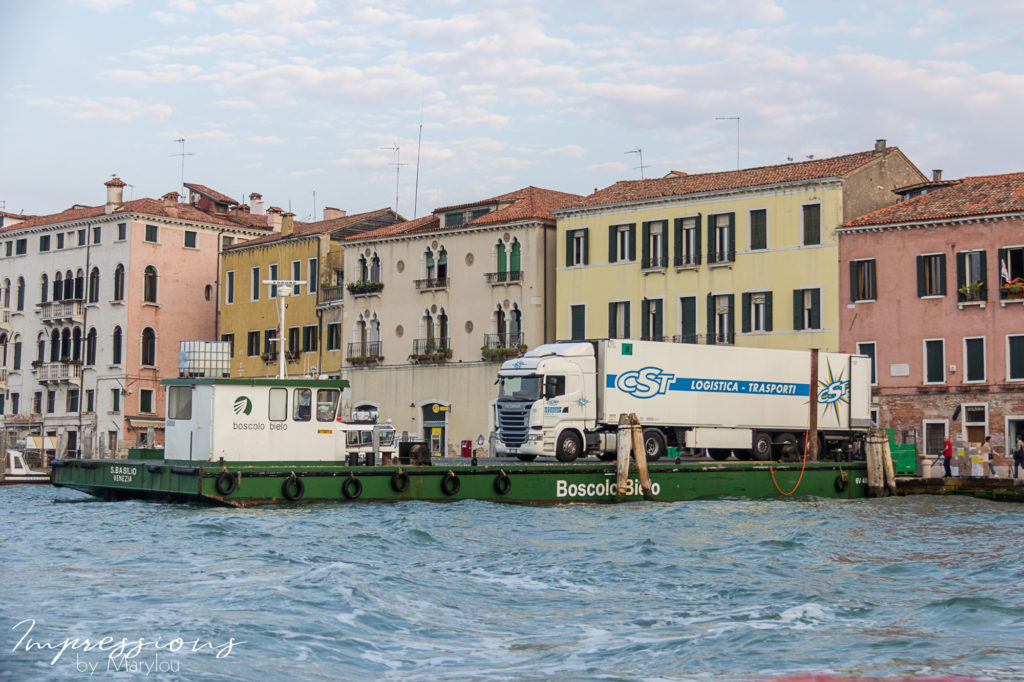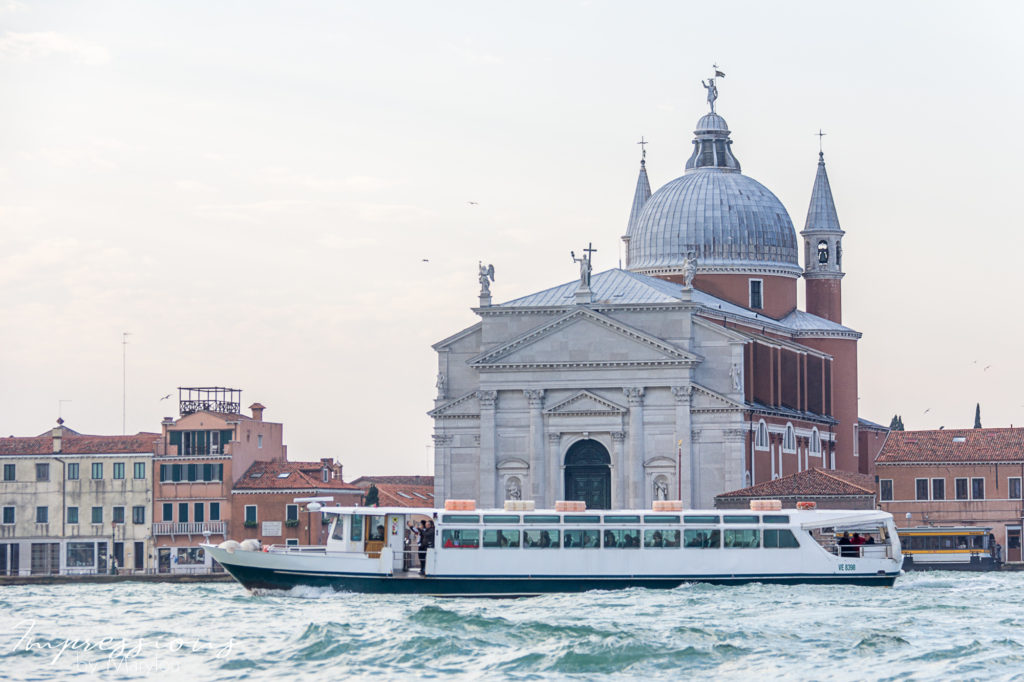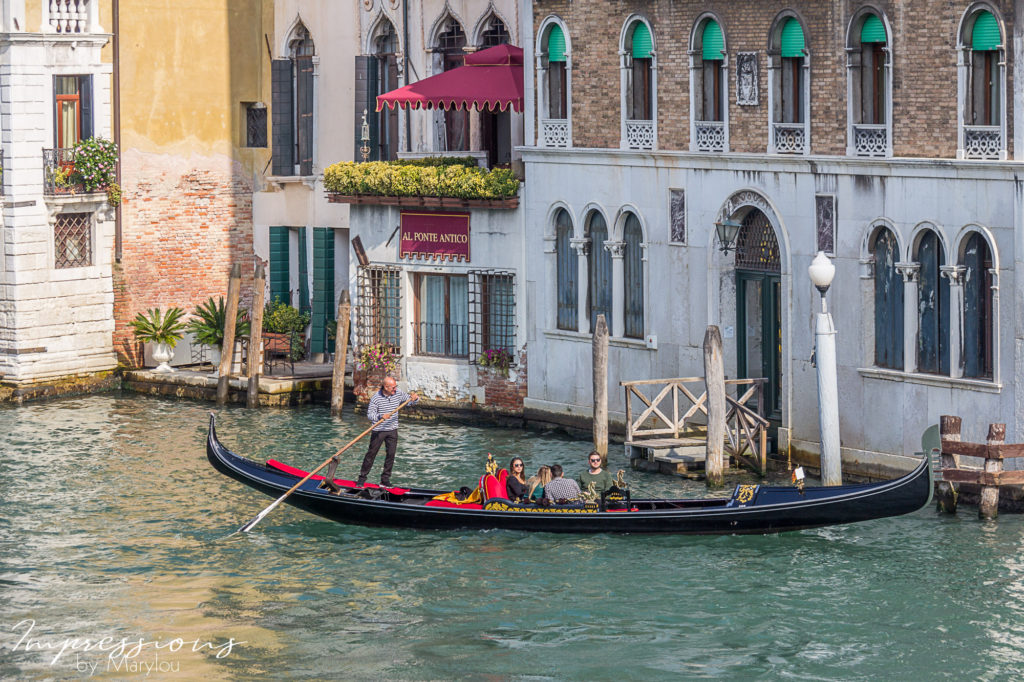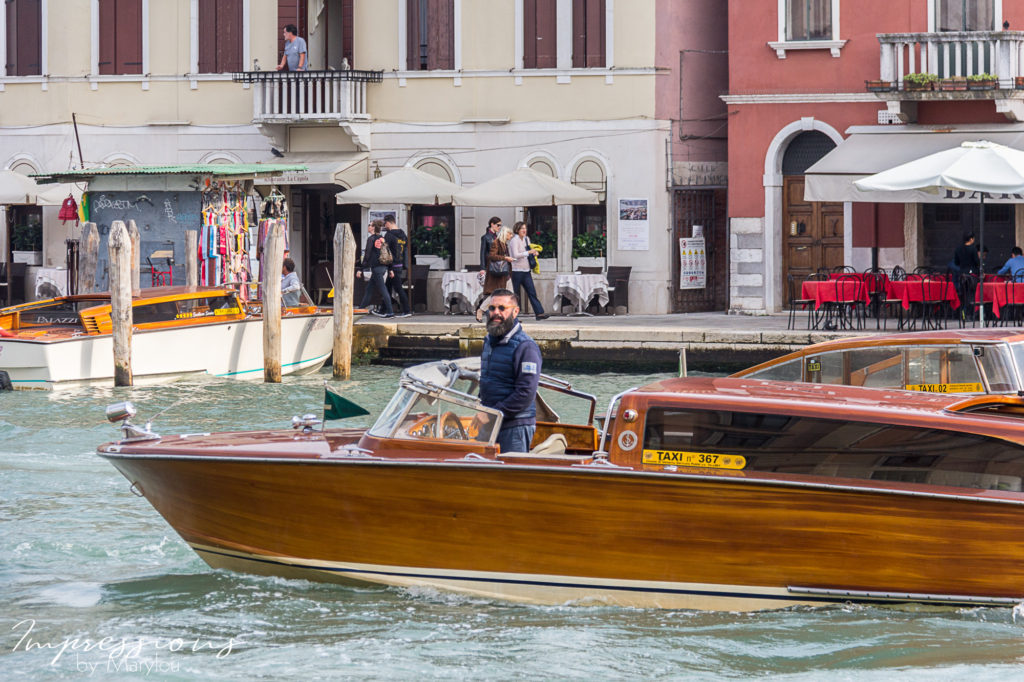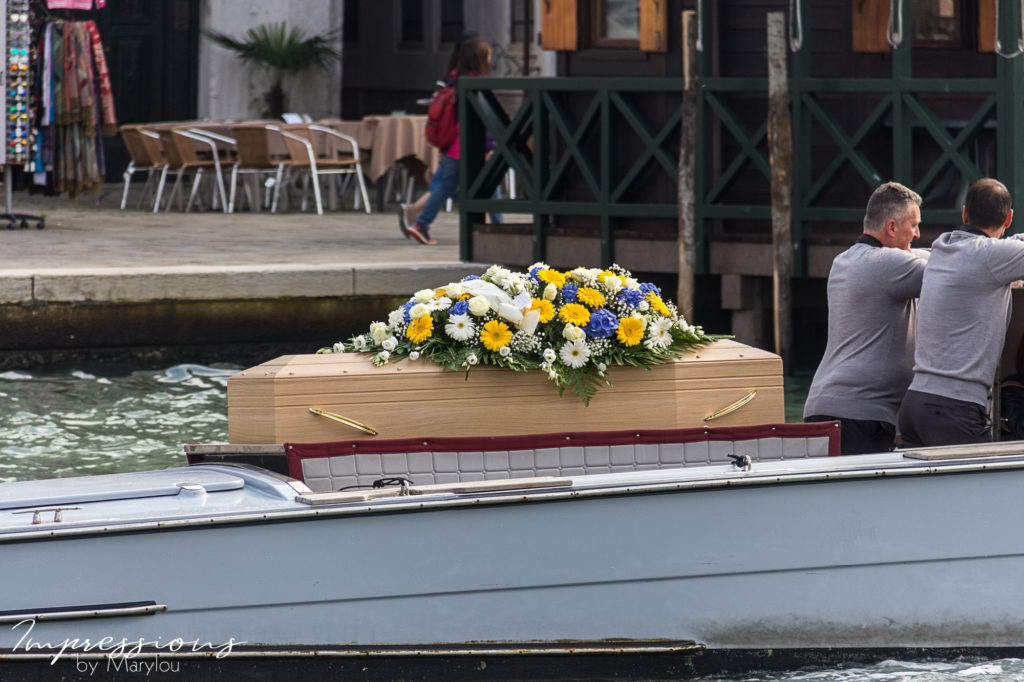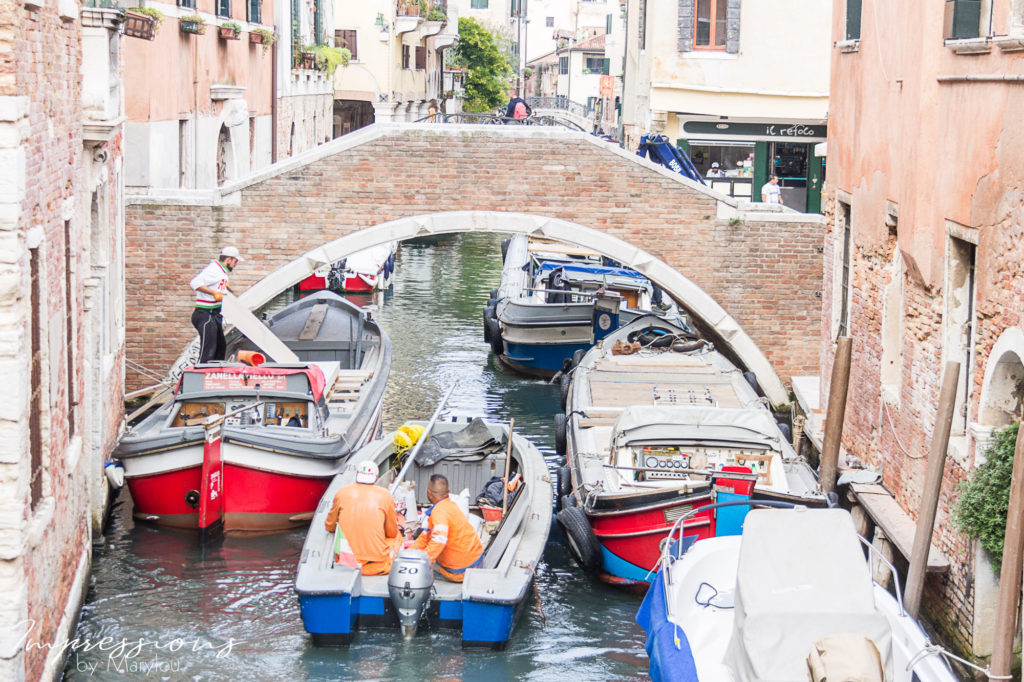 Before I sound like I'm writing a children's book, let me shift gears. 🙂
Sunday evening we spent riding the canals on the vaporetti. They have a small section on the back where you can sit outside. This was our version of an enjoyable water tour. 🙂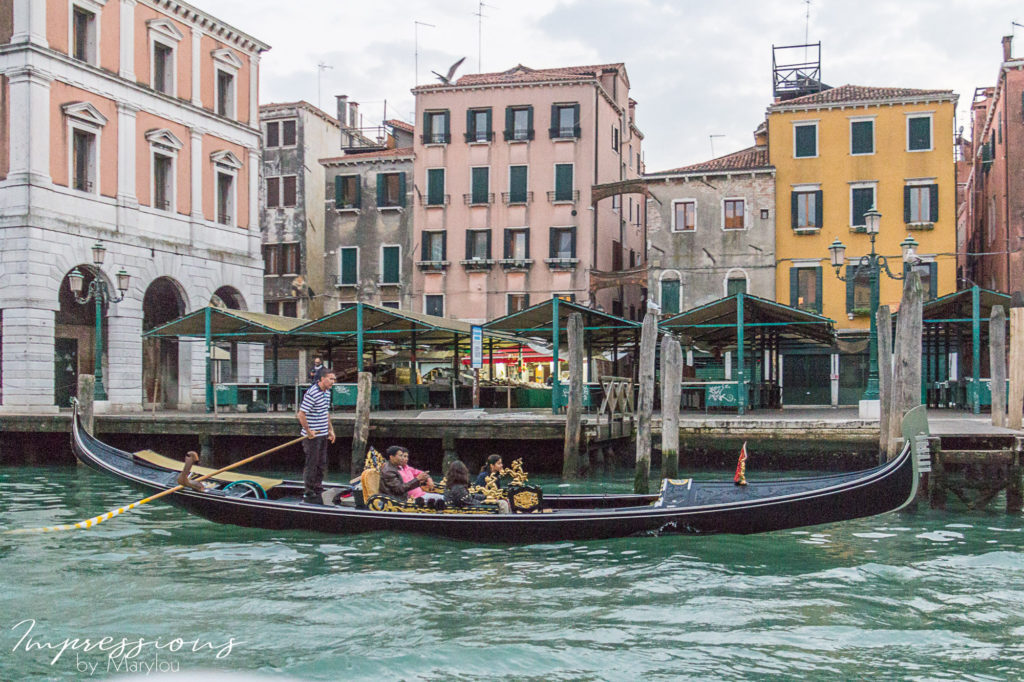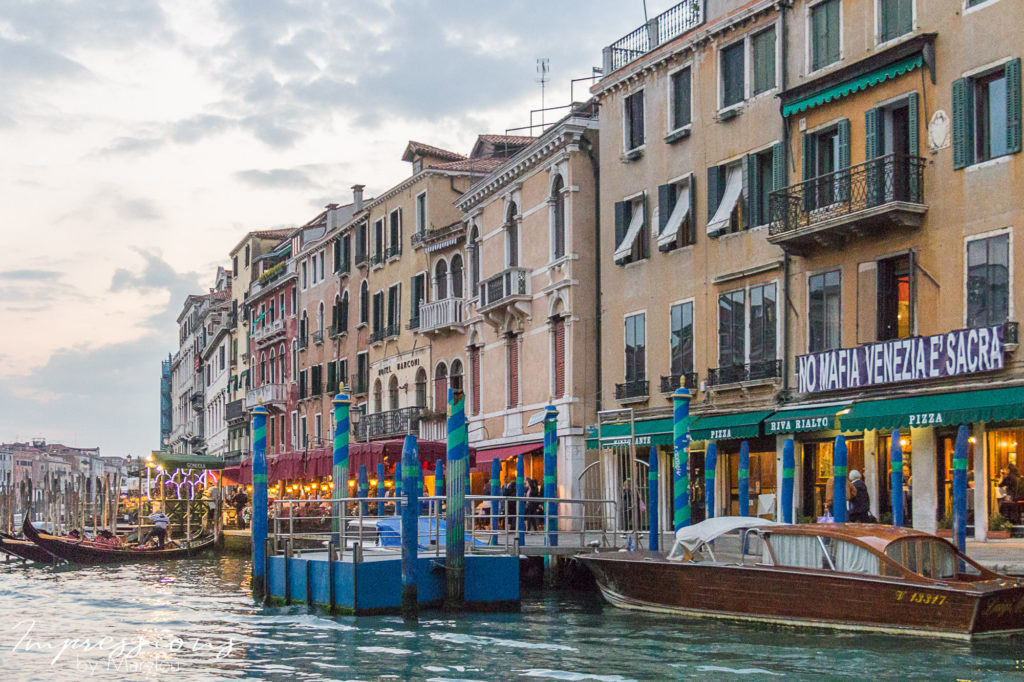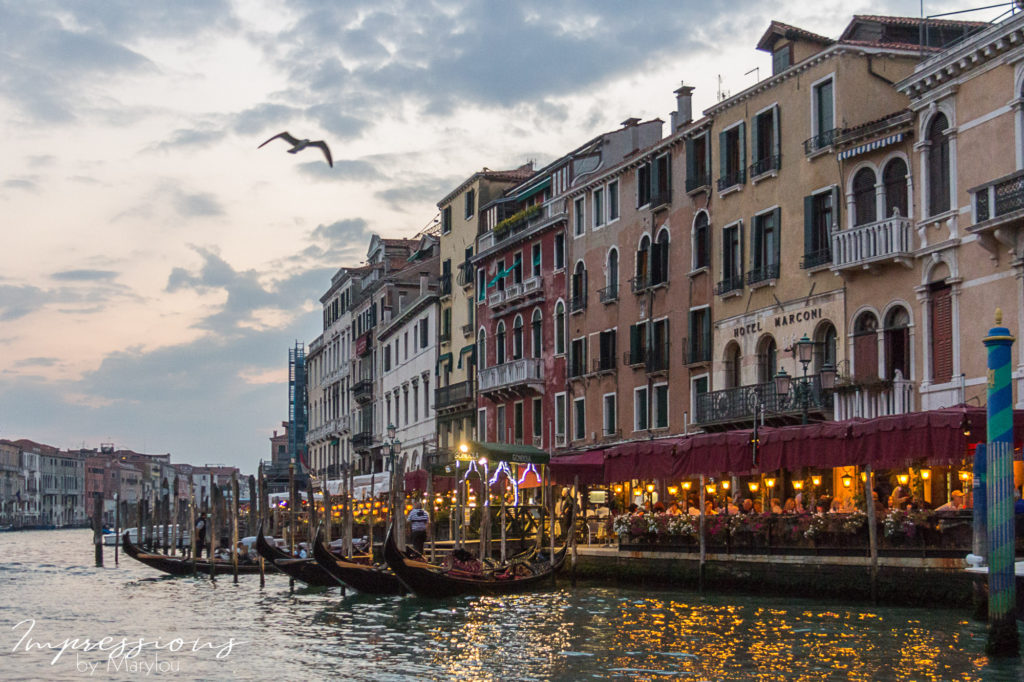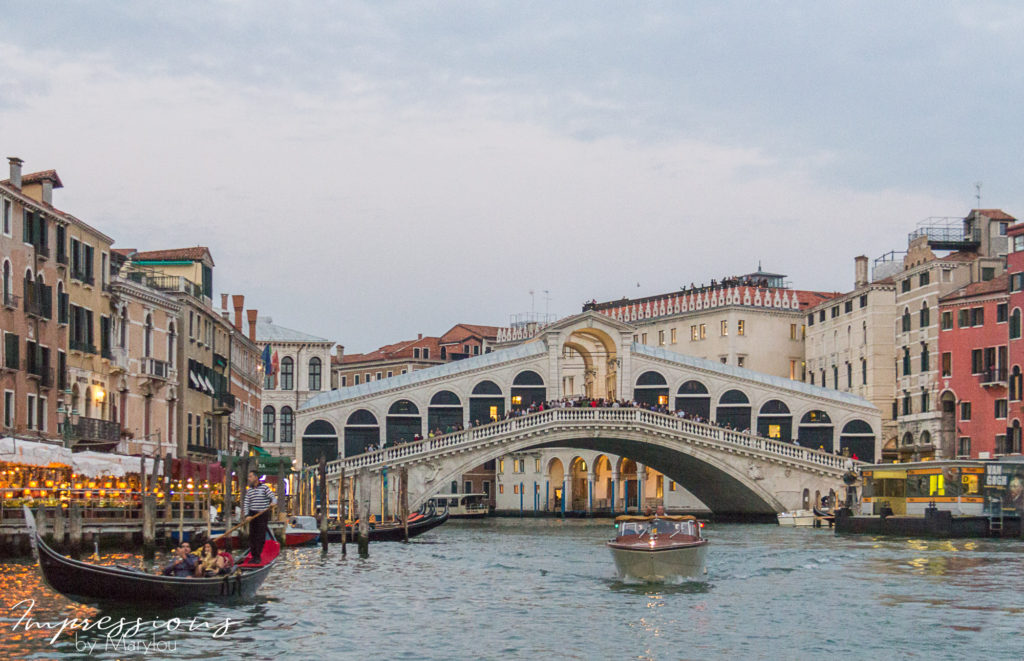 The sunlight was going and the evening lights were coming on, making a lovely picture.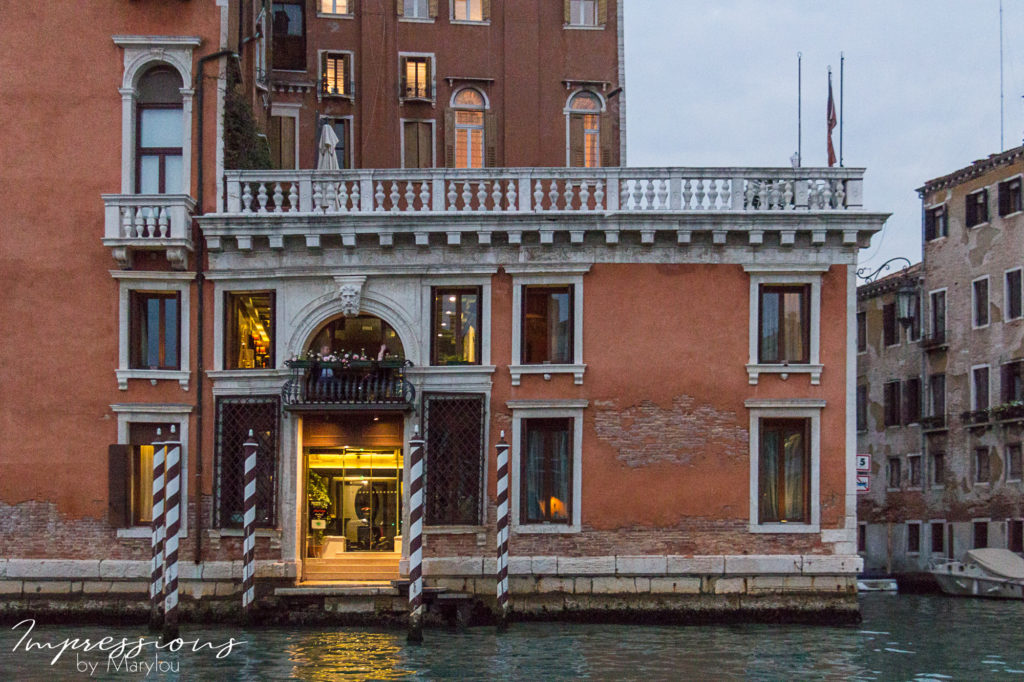 A cruise ship was leaving and we bid them a hearty good-bye! I think there were 5 ships when we arrived and when we left Tuesday, only 1 was in port. The crowds on the streets greatly diminished in that time. Some of the ships are only in port 1 day. This is not a great way to experience Venice. They are also attempting to limit the number of tourists in Venice, especially via cruise ships.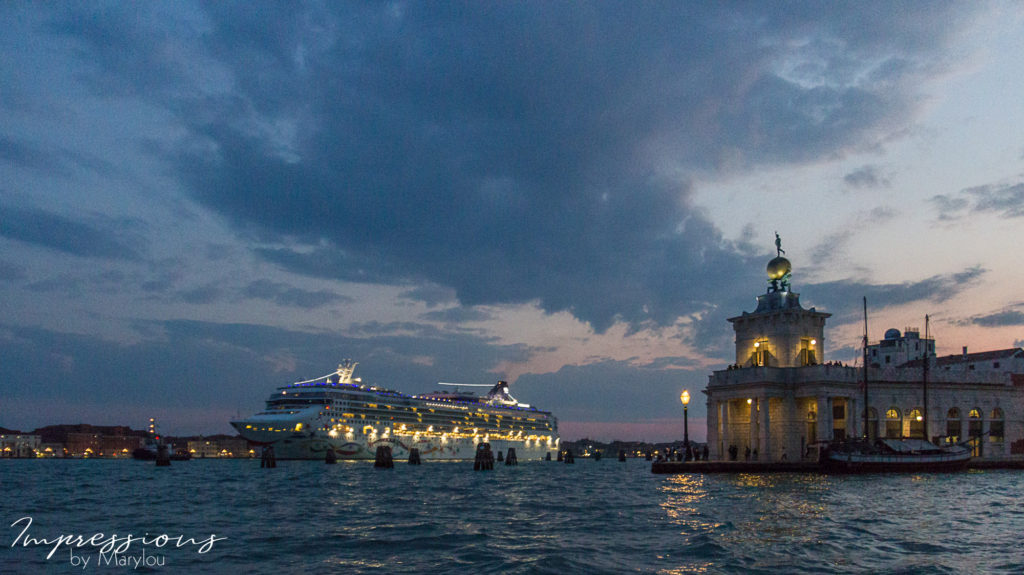 The next morning we headed our earlier enough to be at St. Mark's Basilica when it opened.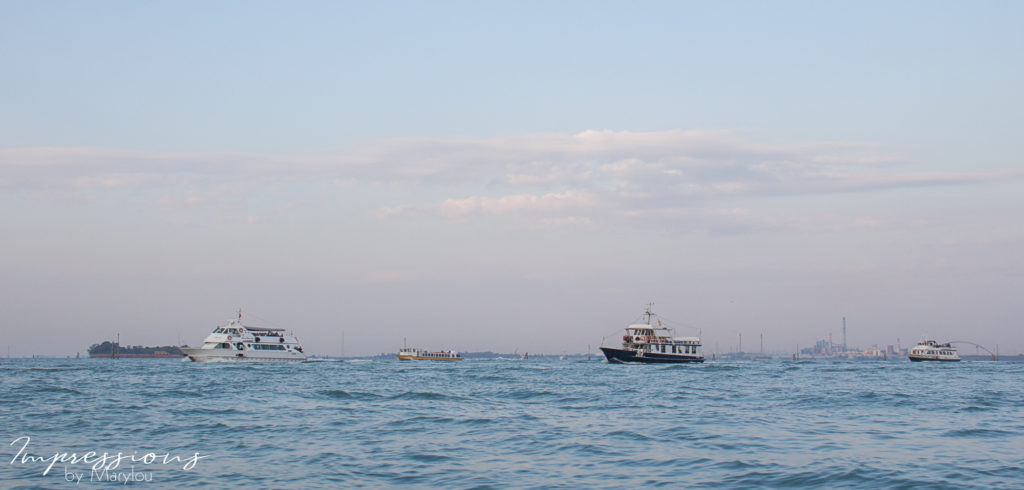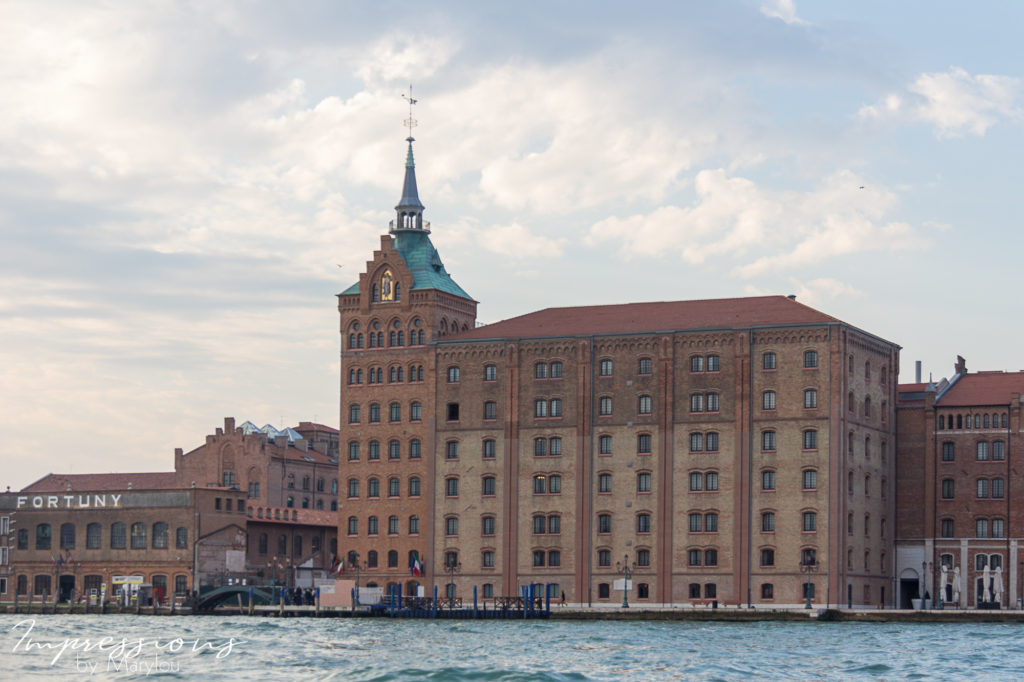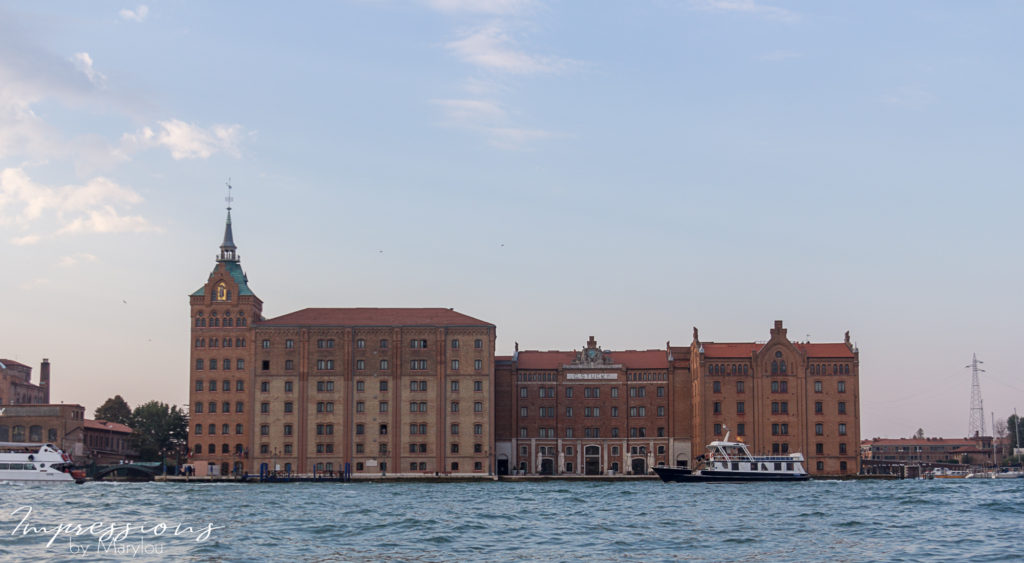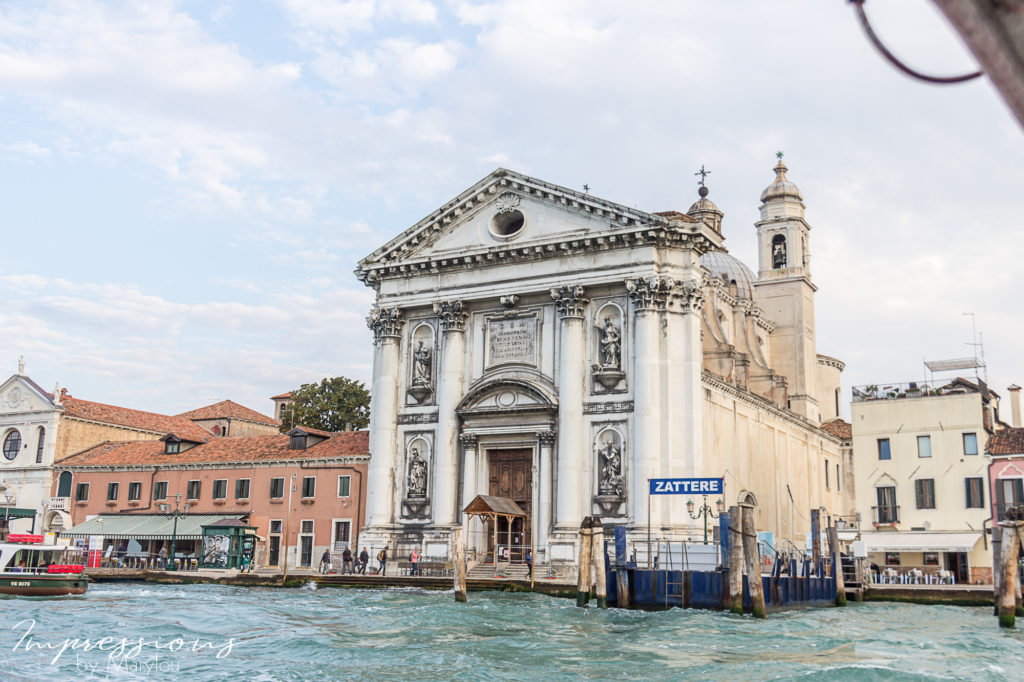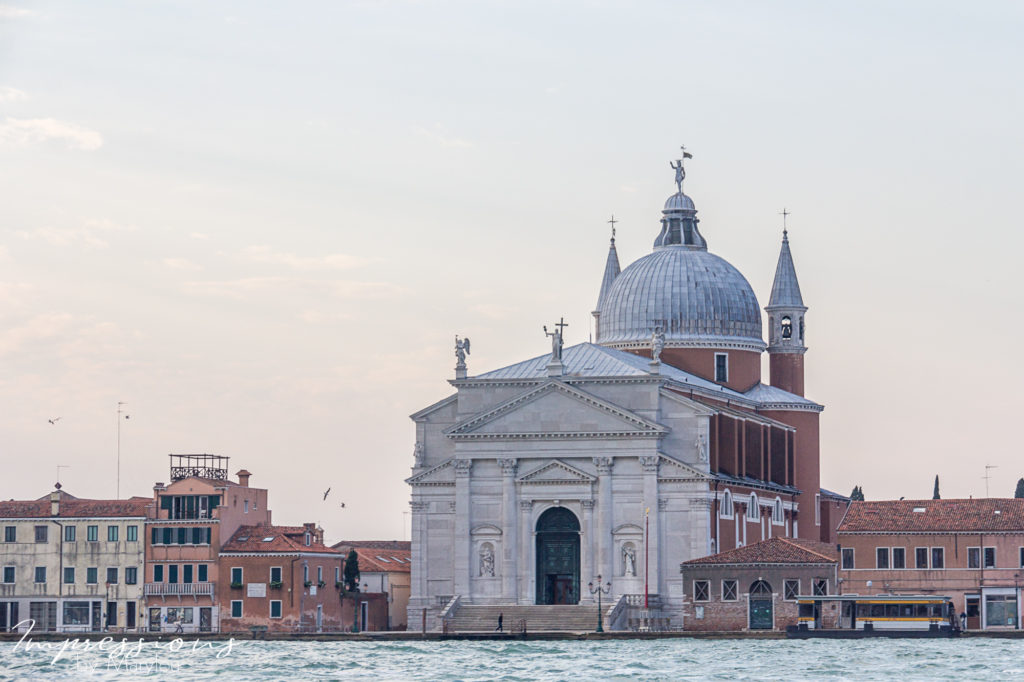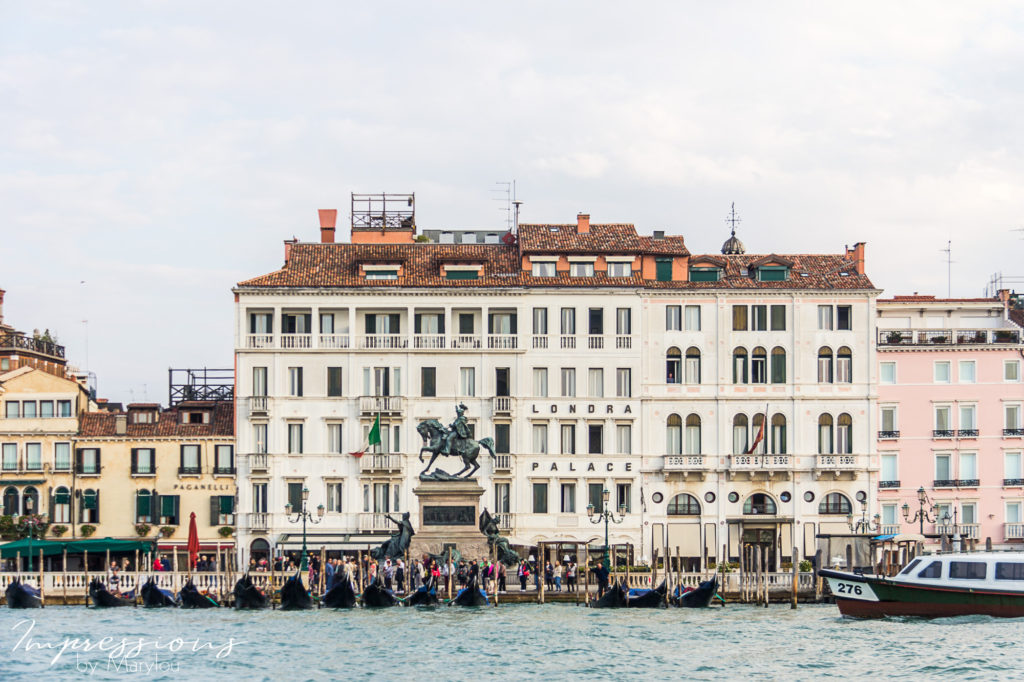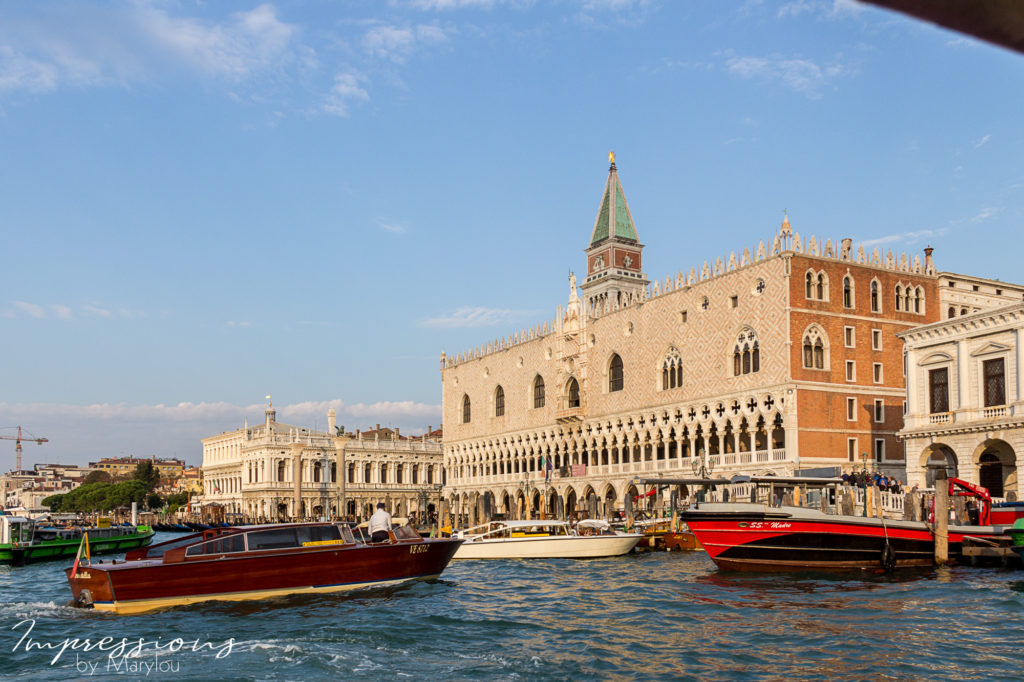 The crowds they were a'gathering.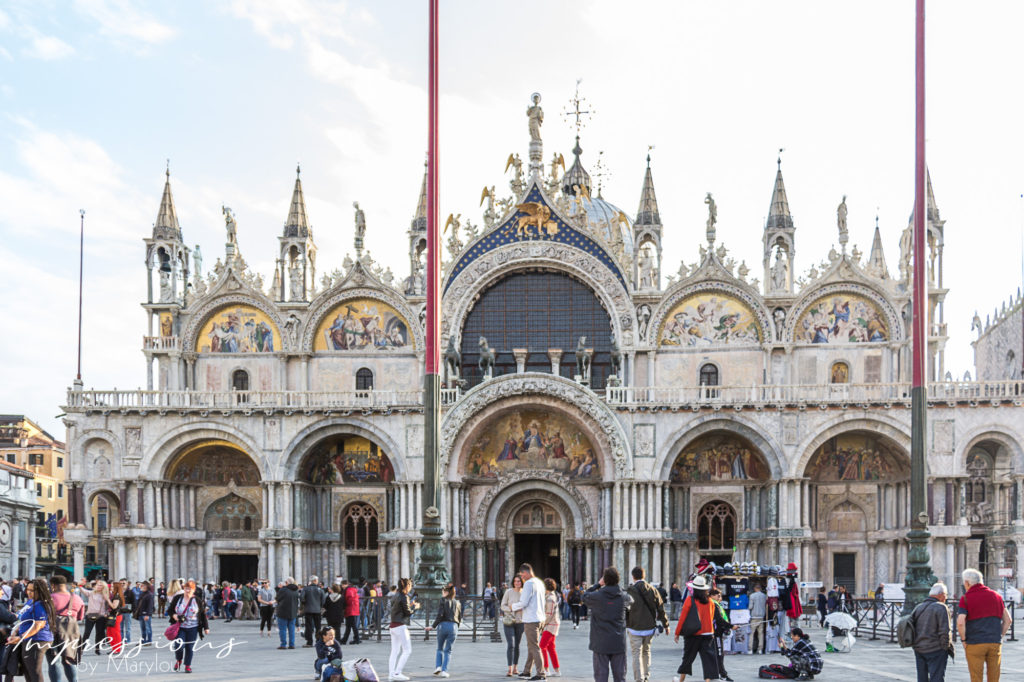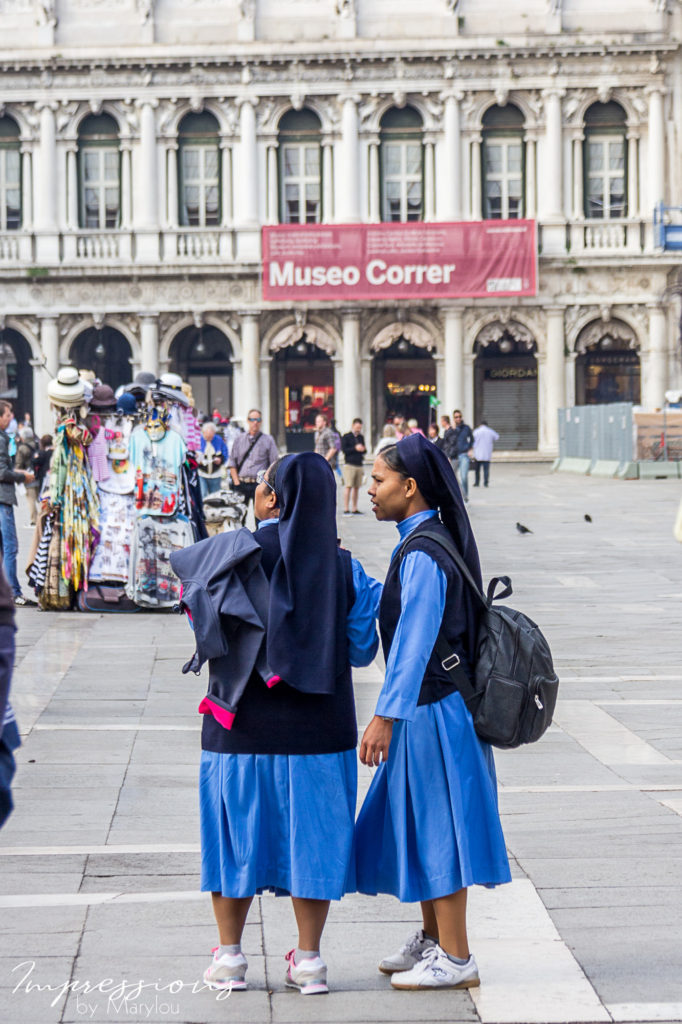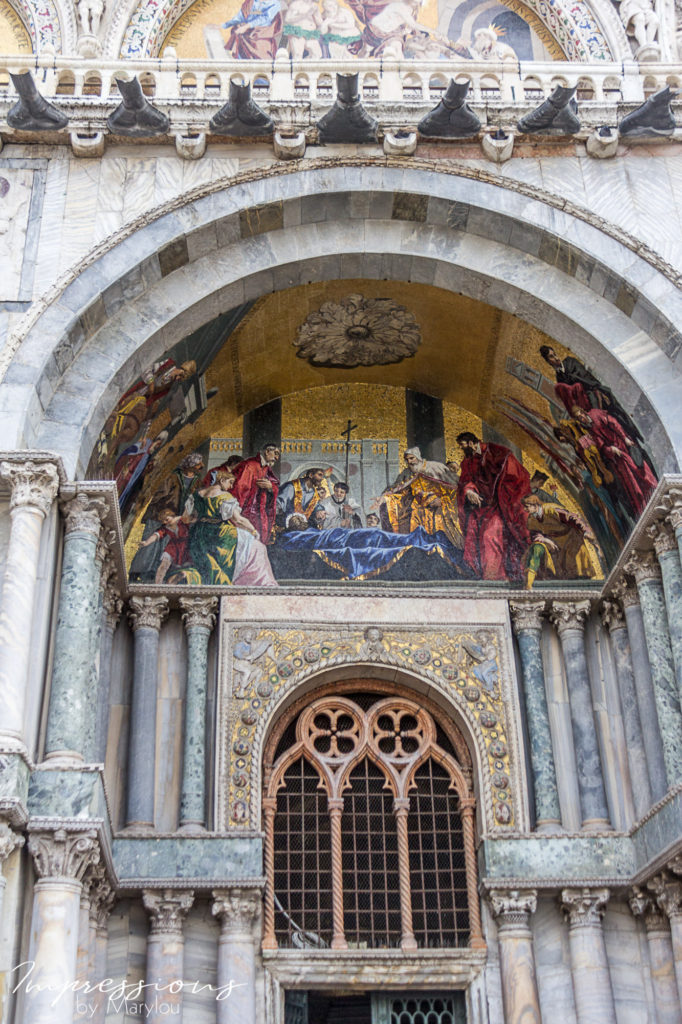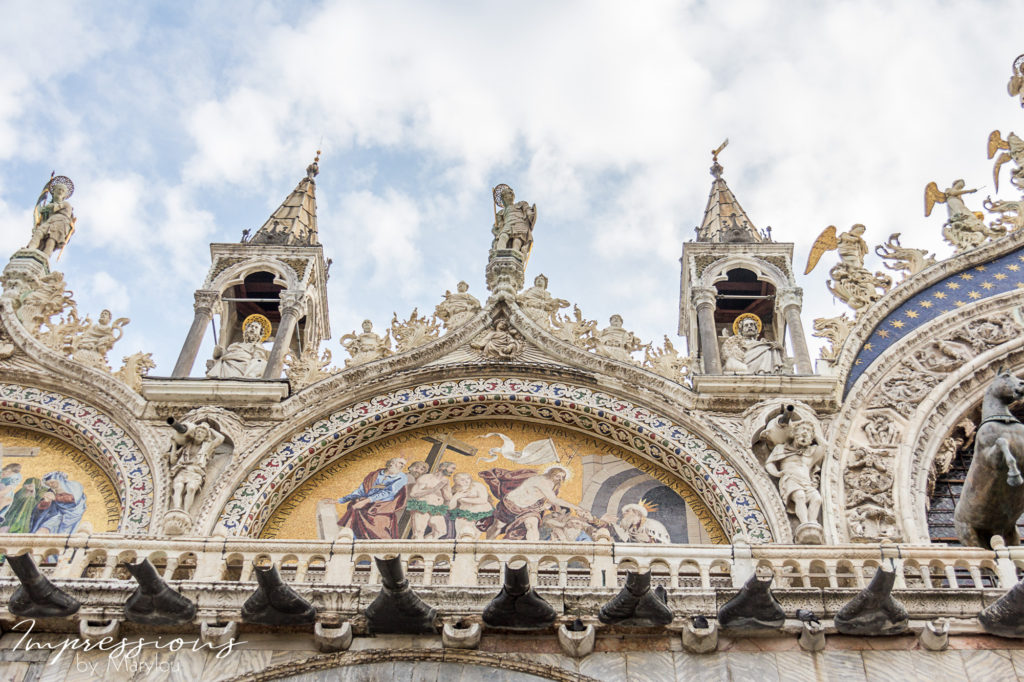 We were not allowed to take any photos inside. We paid the €5 each to get a headset with the audio tour, which I recommend. The majority of the art was in mosaics, millions of small, quarter-inch tiles making up designs in the floor, the walls, the ceilings.
The history of its name is that the Venetians found out that the bones of Mark, the apostle, were "available" in Alexandria and were brought to Venice around 828 AD. They were taking them from an Muslim country and so hid them in baskets of cabbages and pork. The Muslims did not want to touch pork so did not check the baskets out very well.
We did not tour the Doges Palace due to limited time.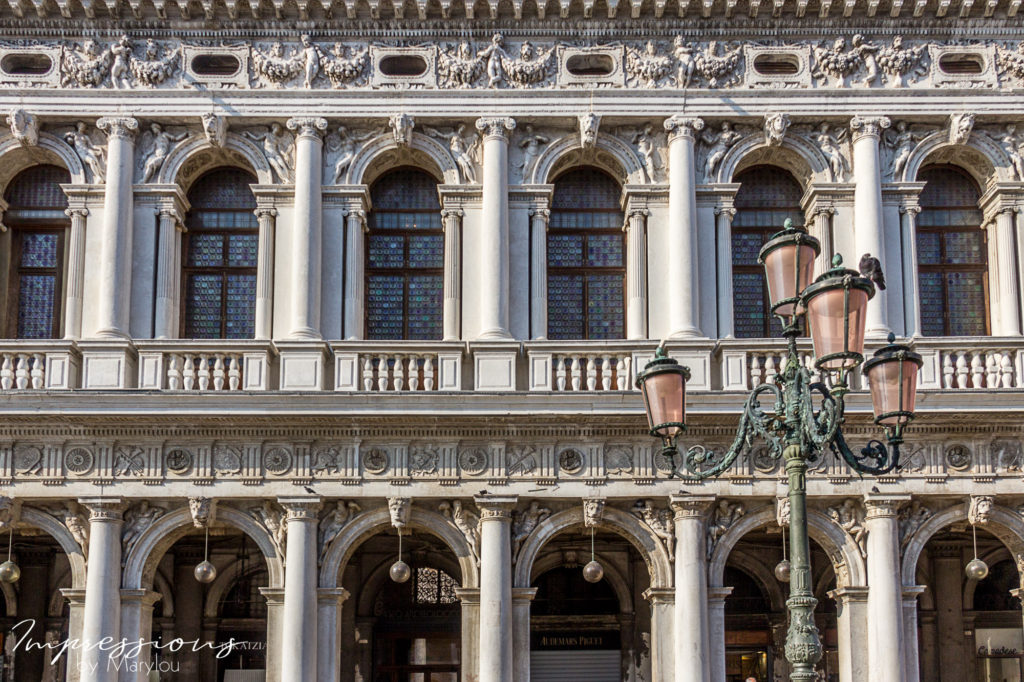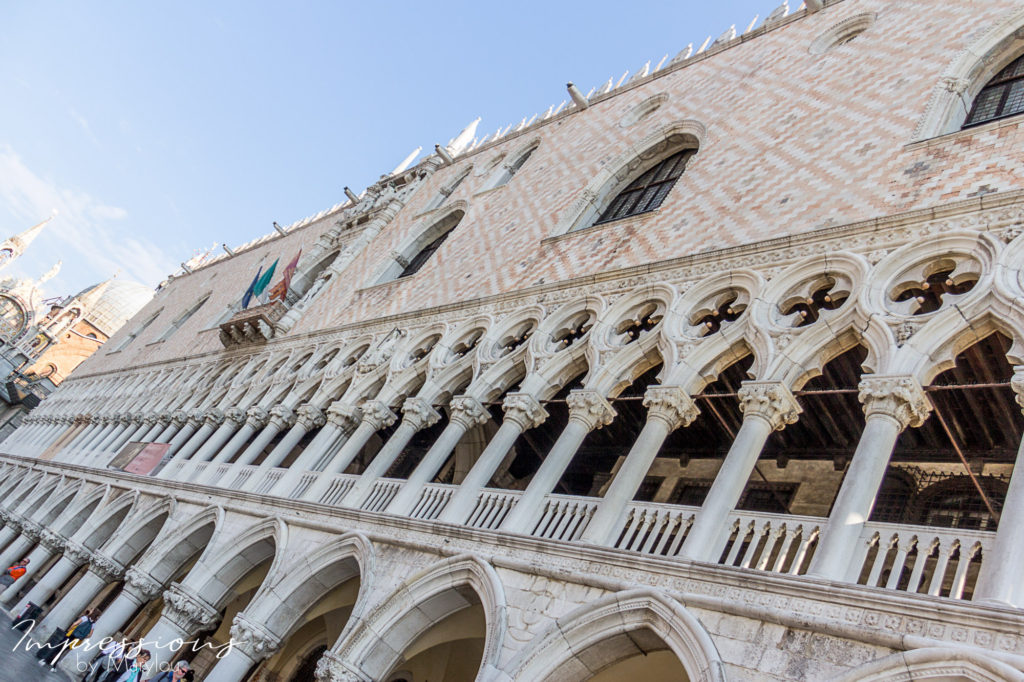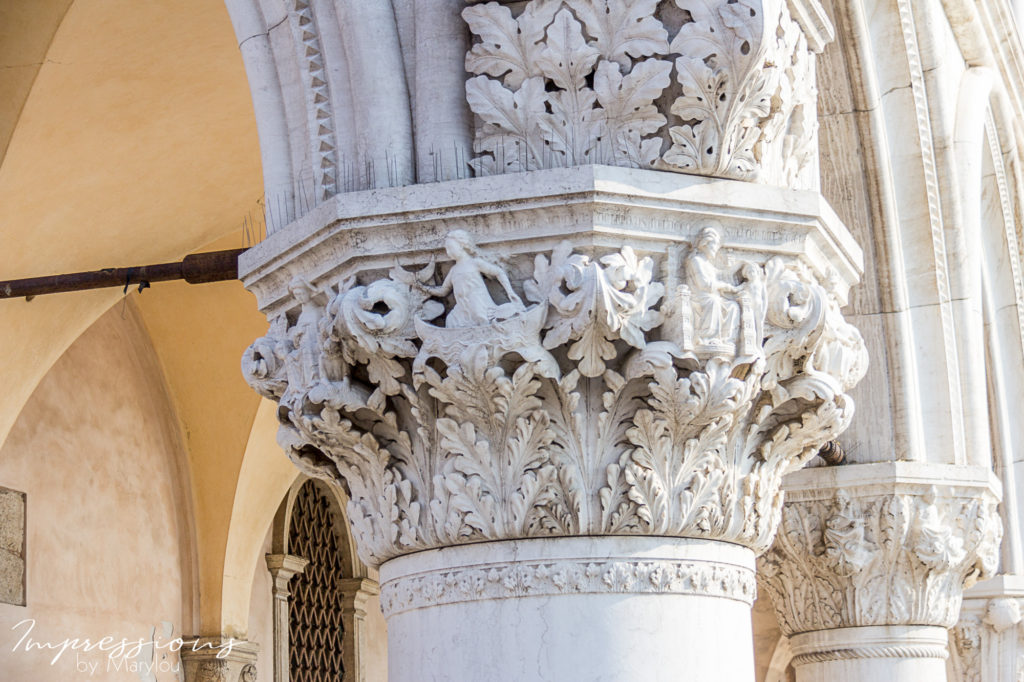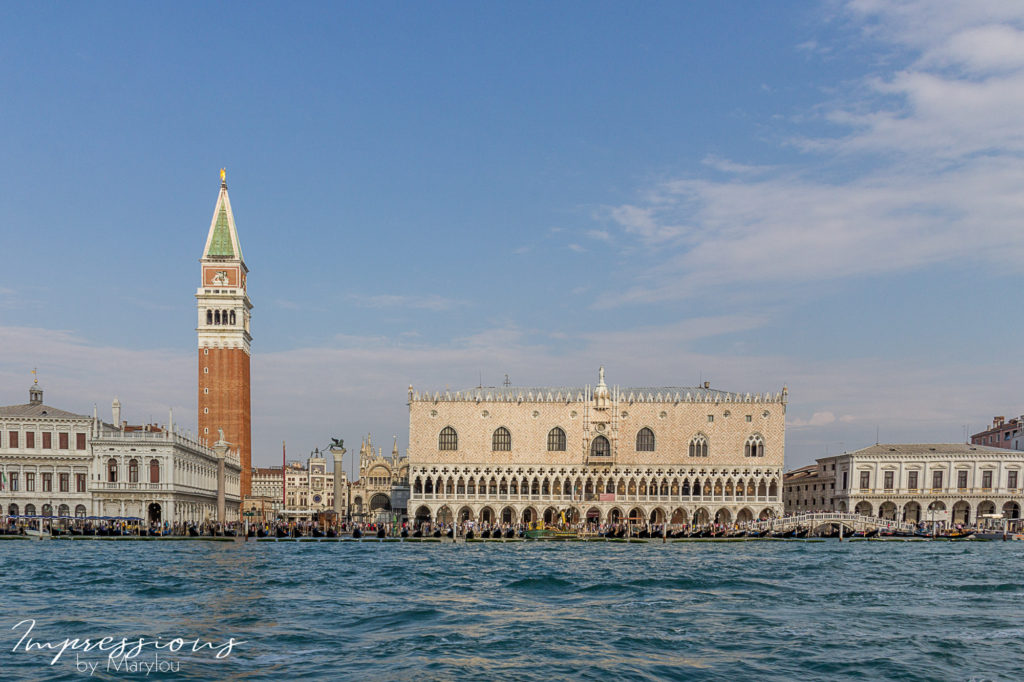 The Bridge of Sighs connects the Palace to the prison. It is said that the condemned prisoners heaved a sigh as the looked out from the bridge as they were led away to serve their sentence.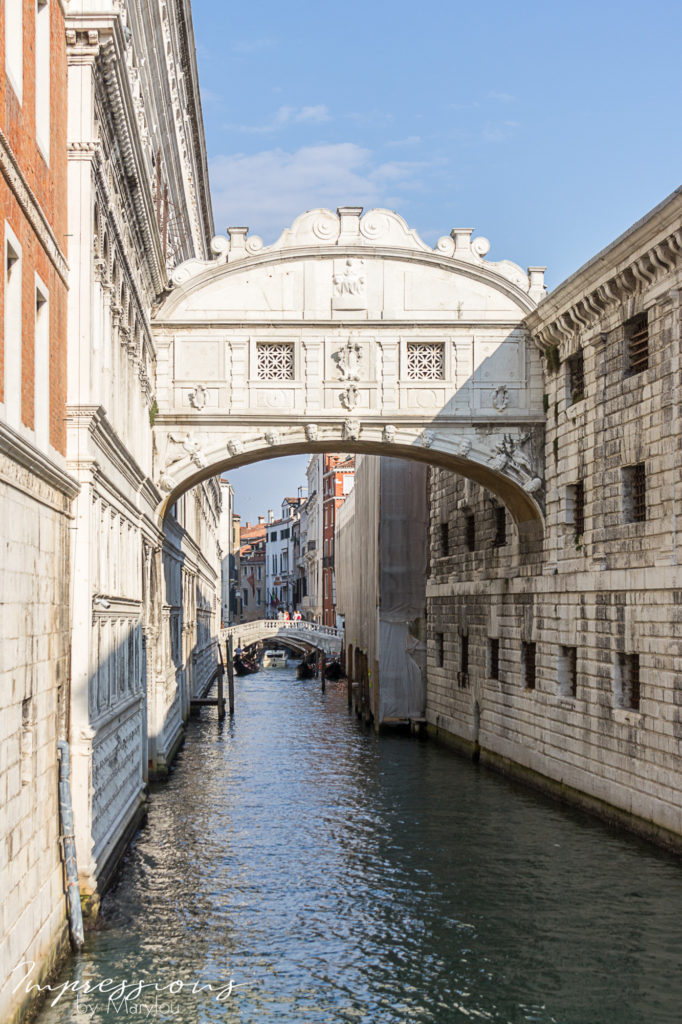 Here are some photos not related to anything in particular, just quintessential VENICE!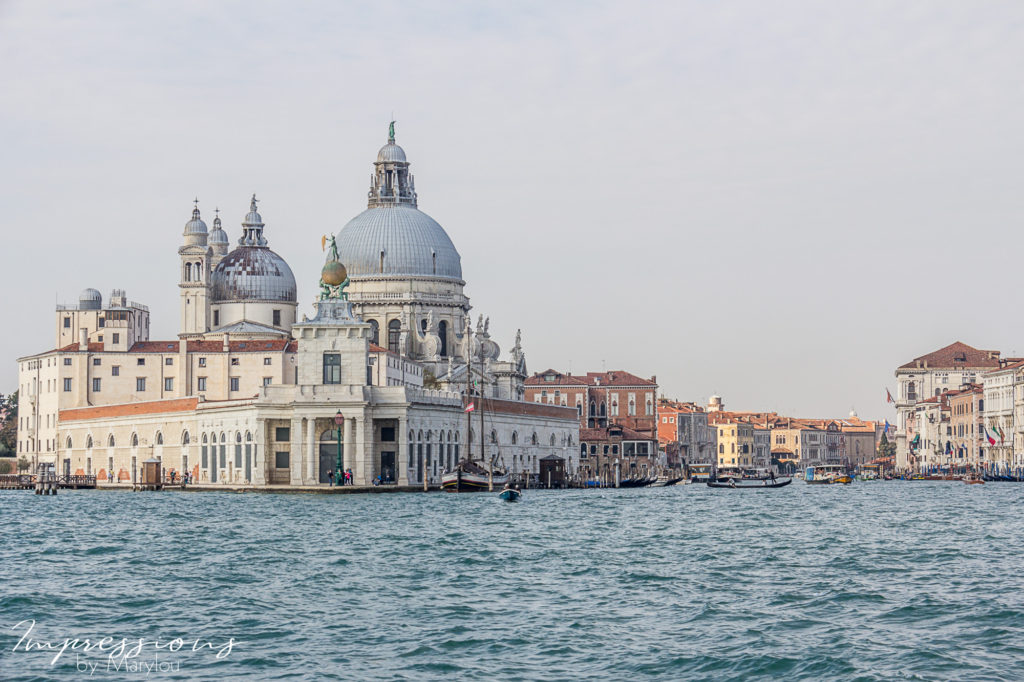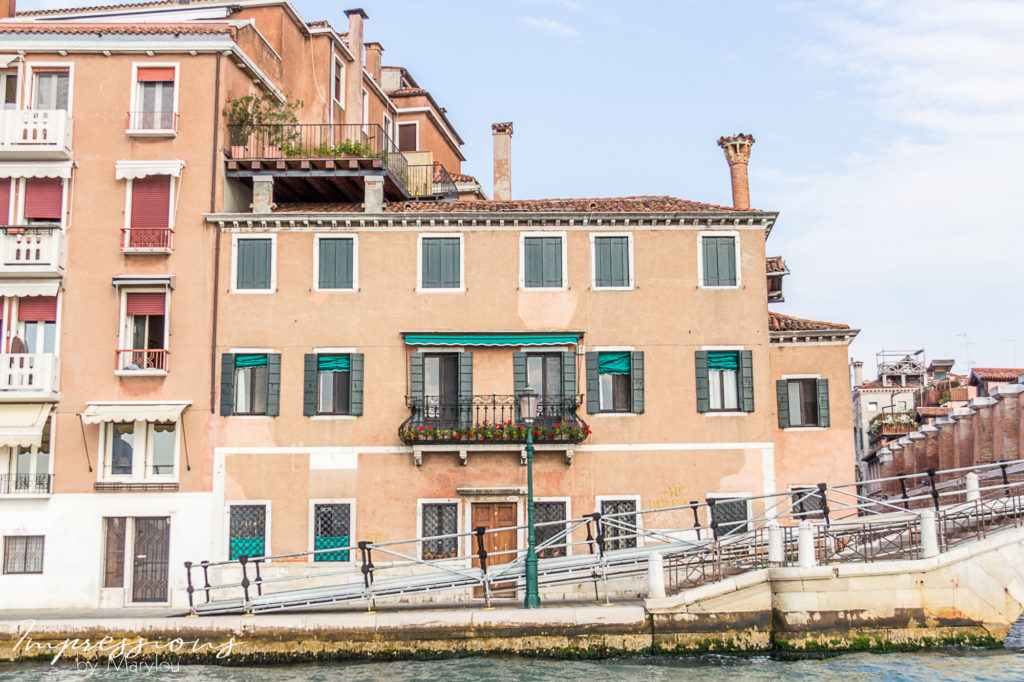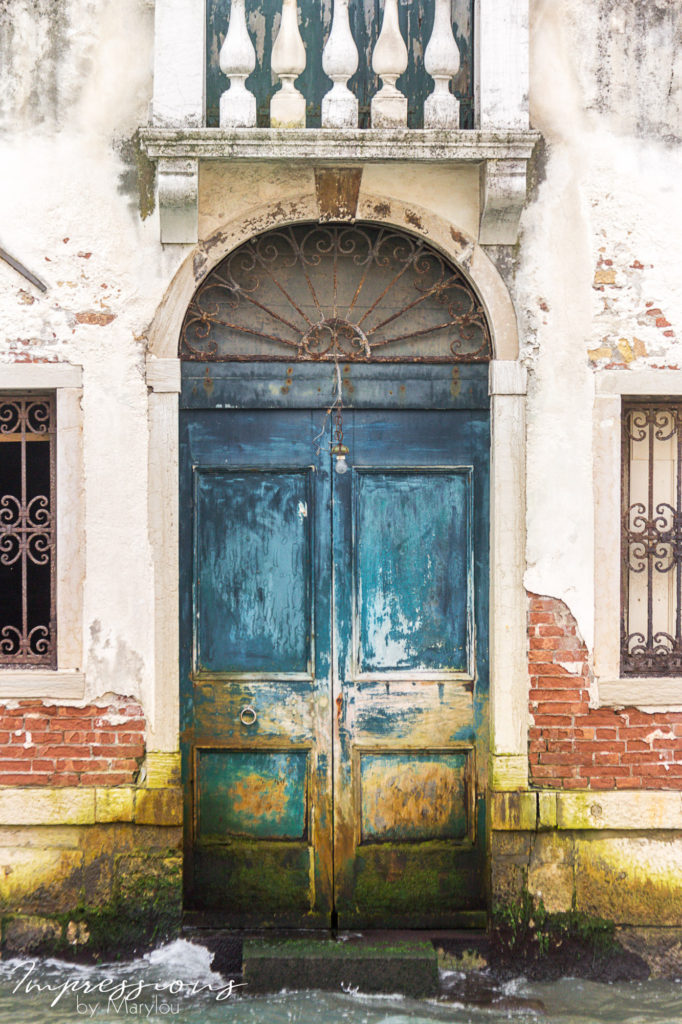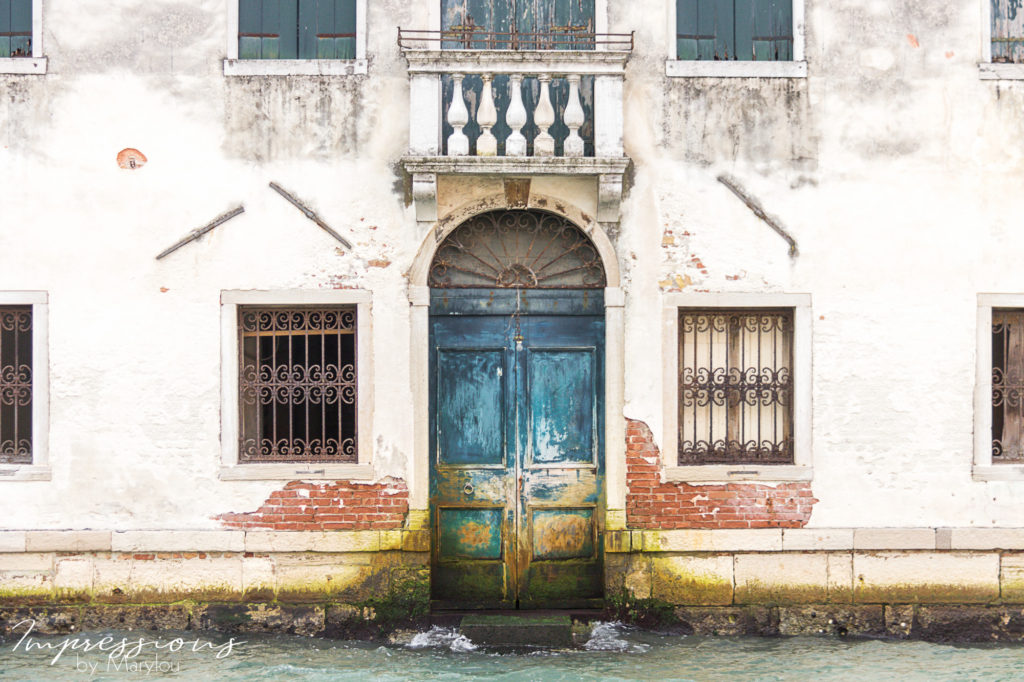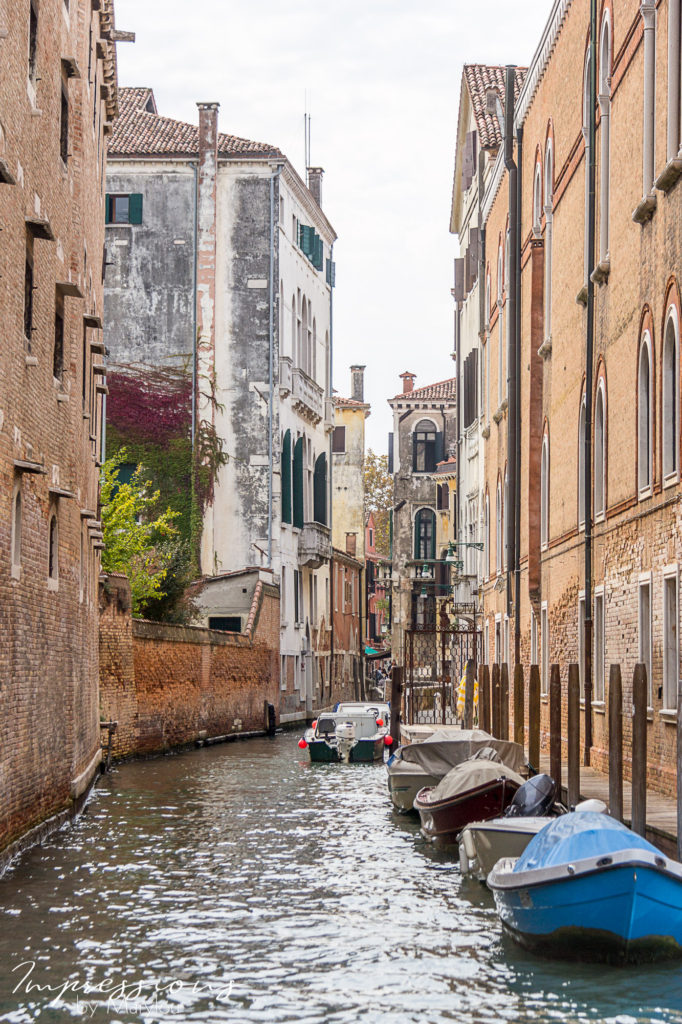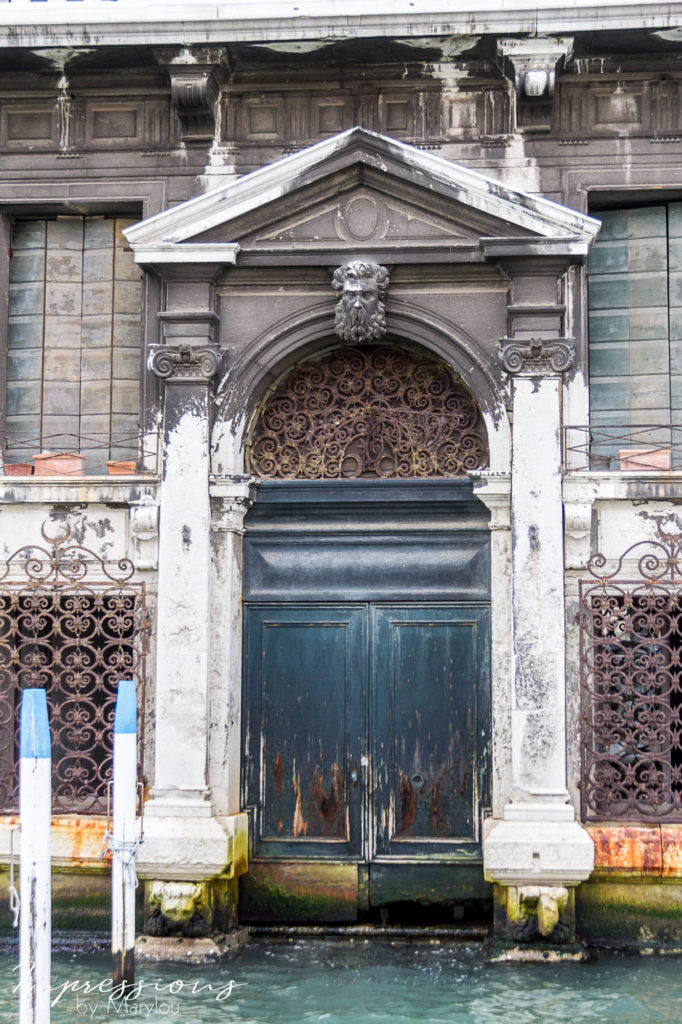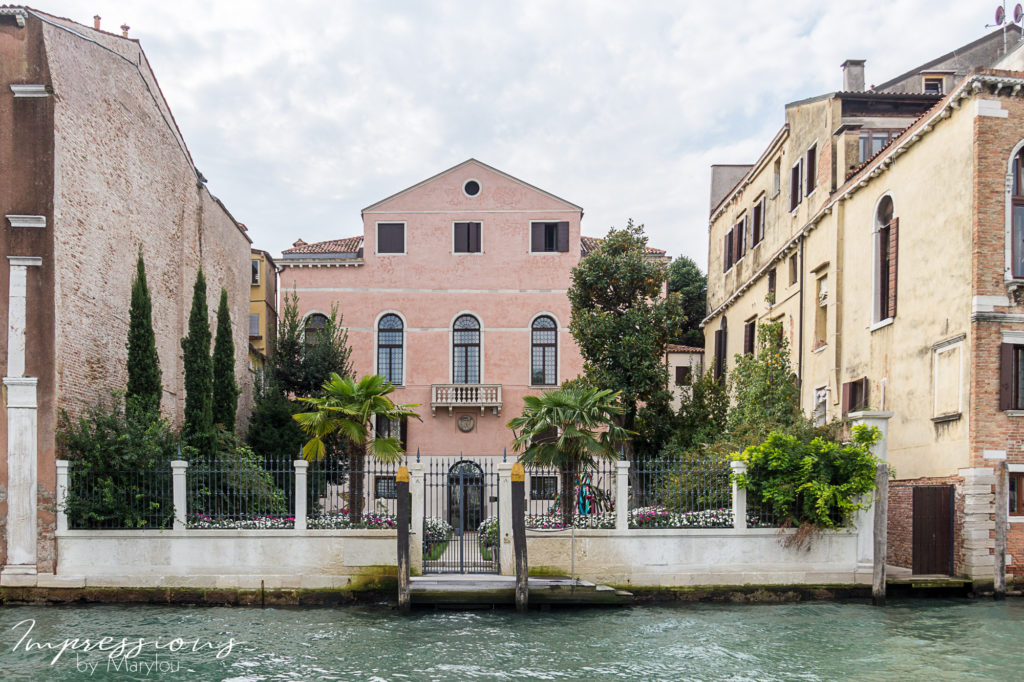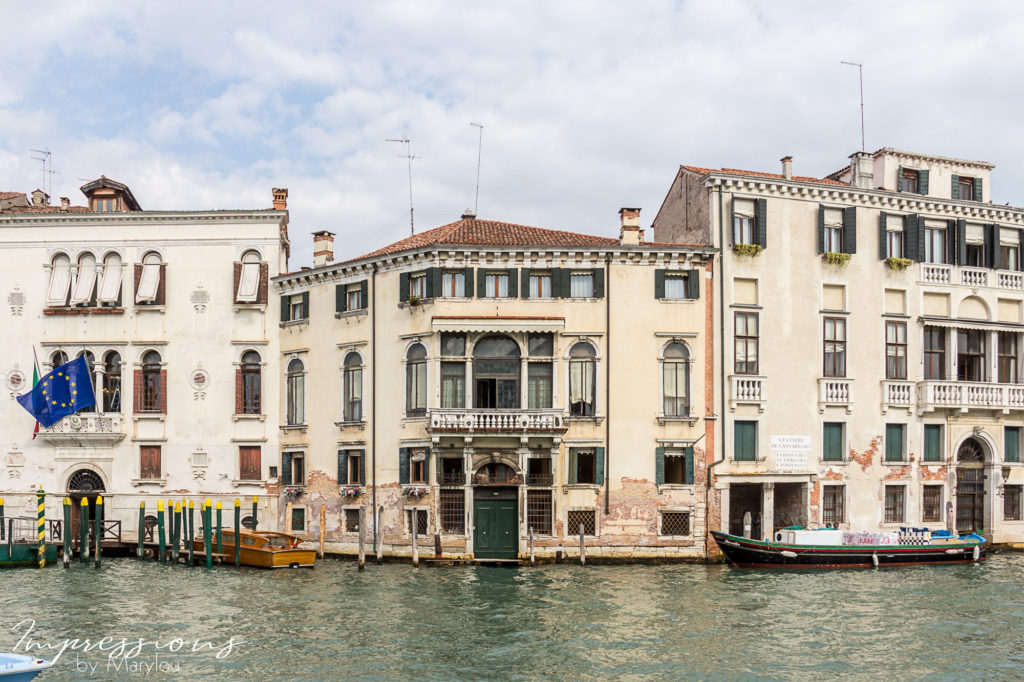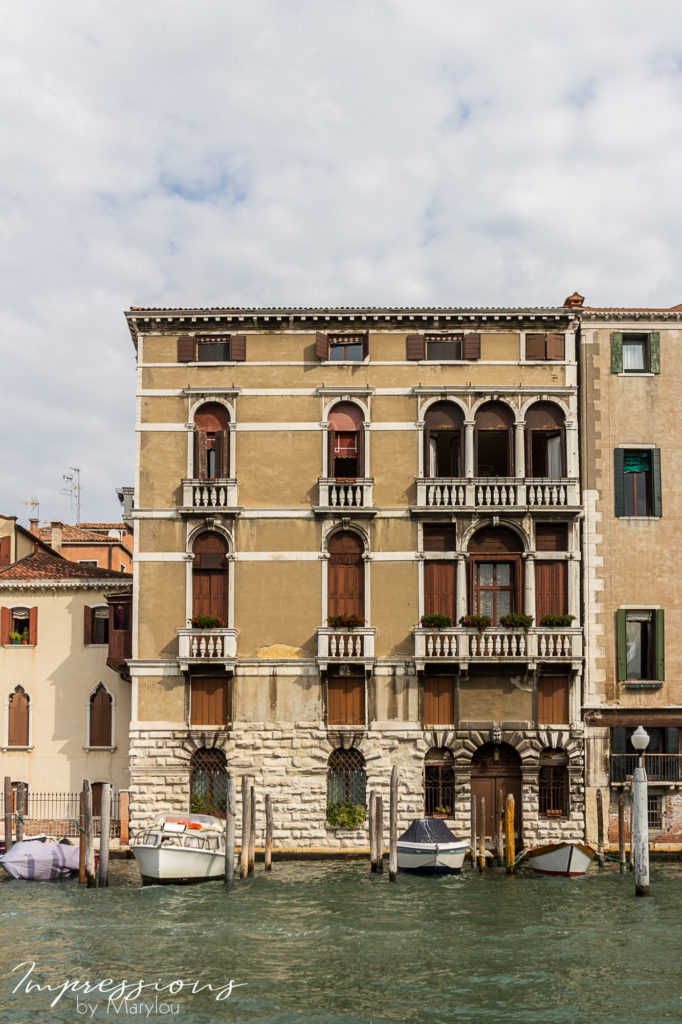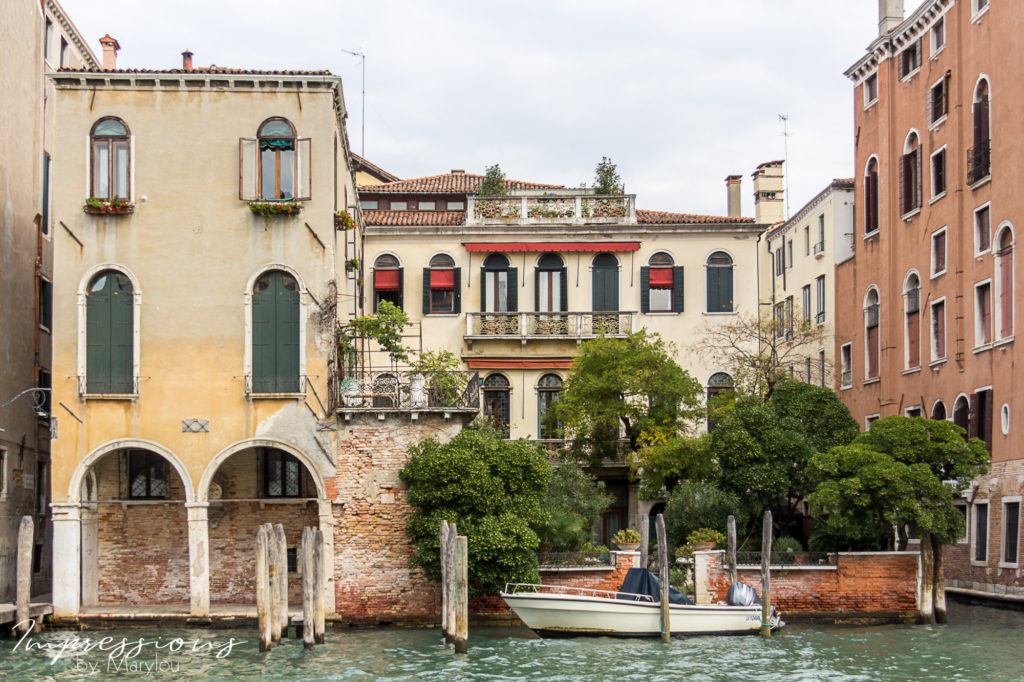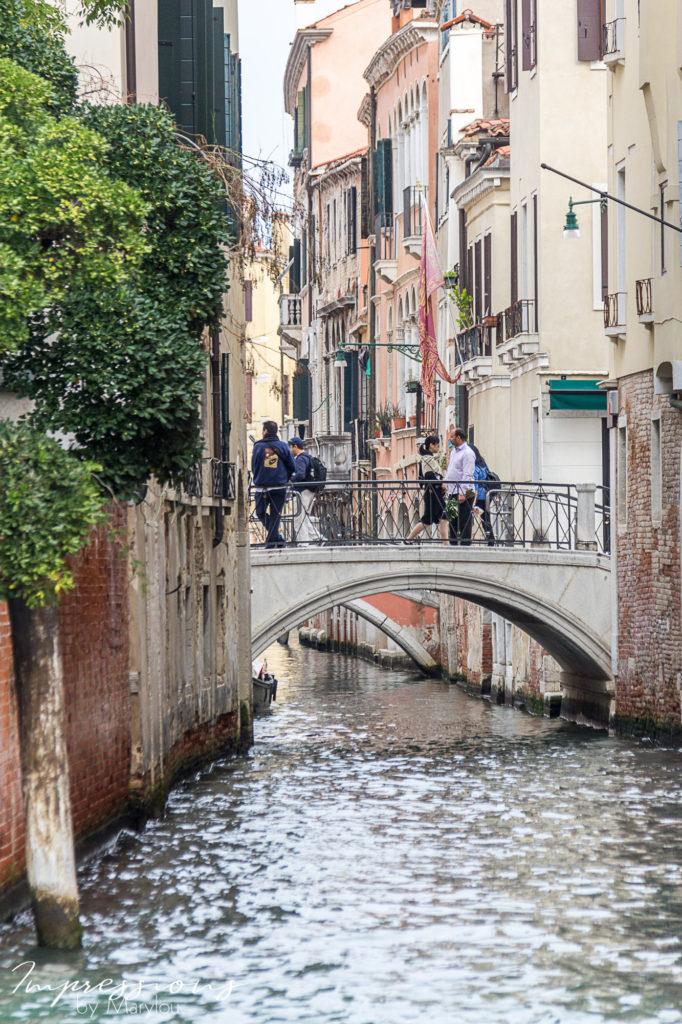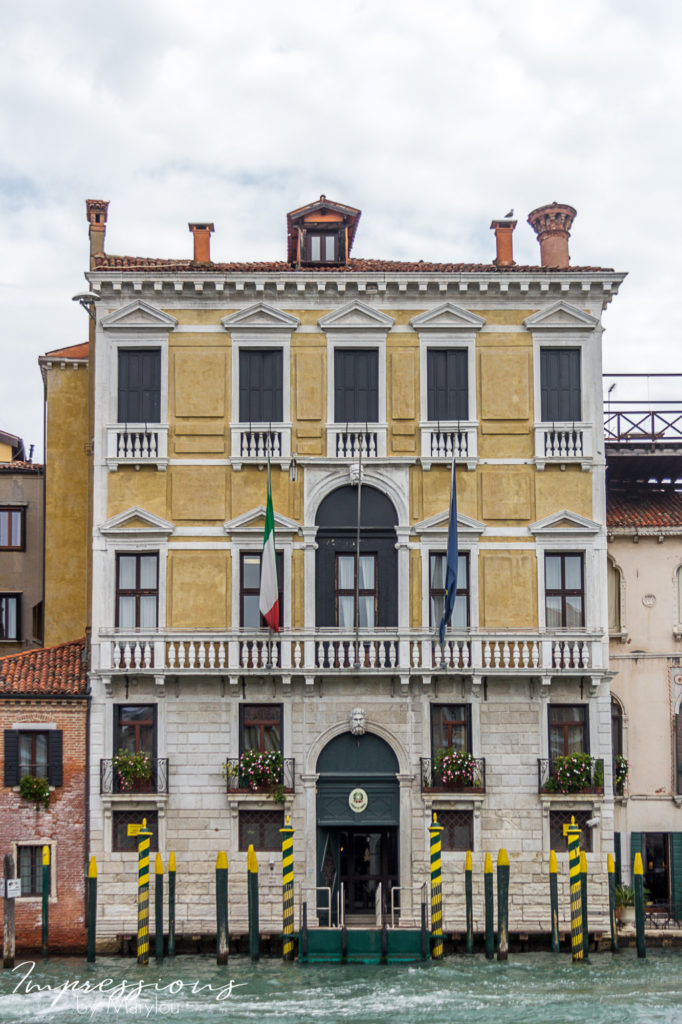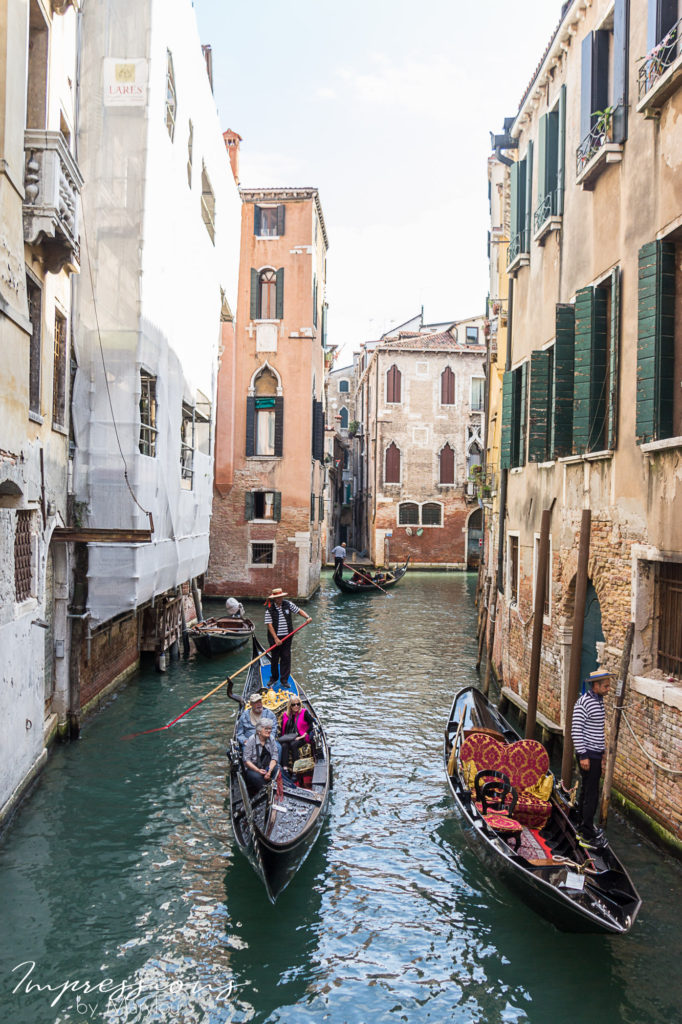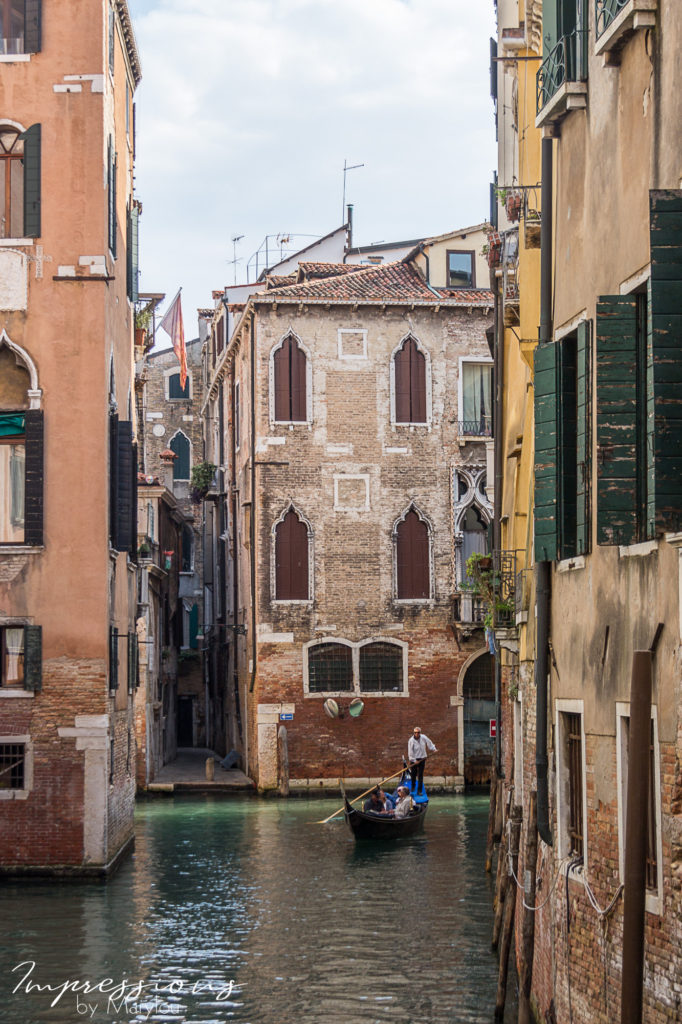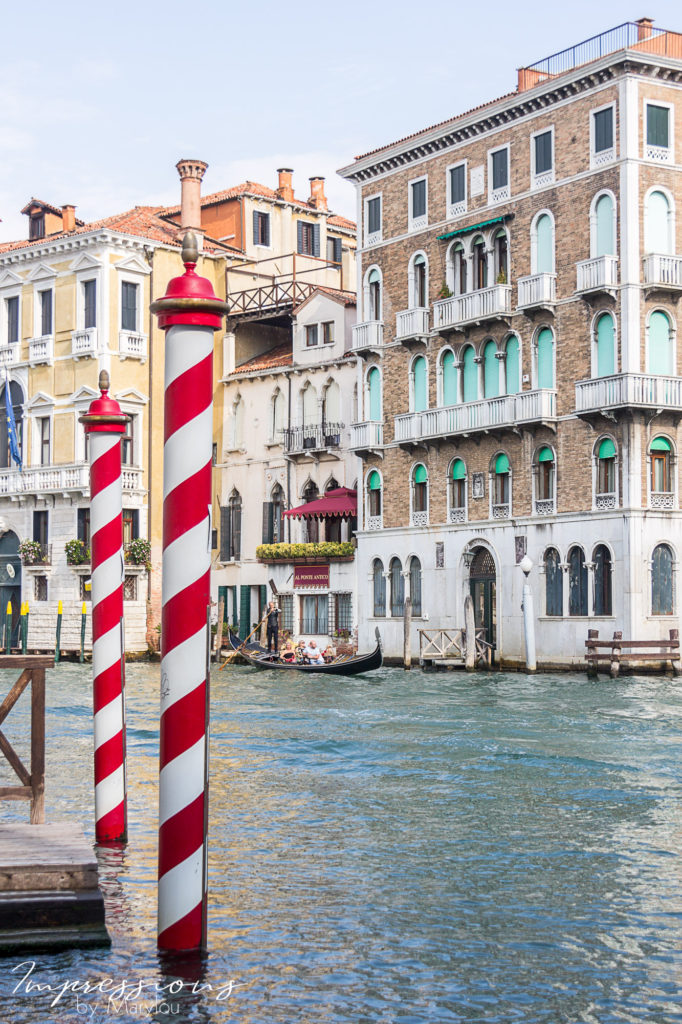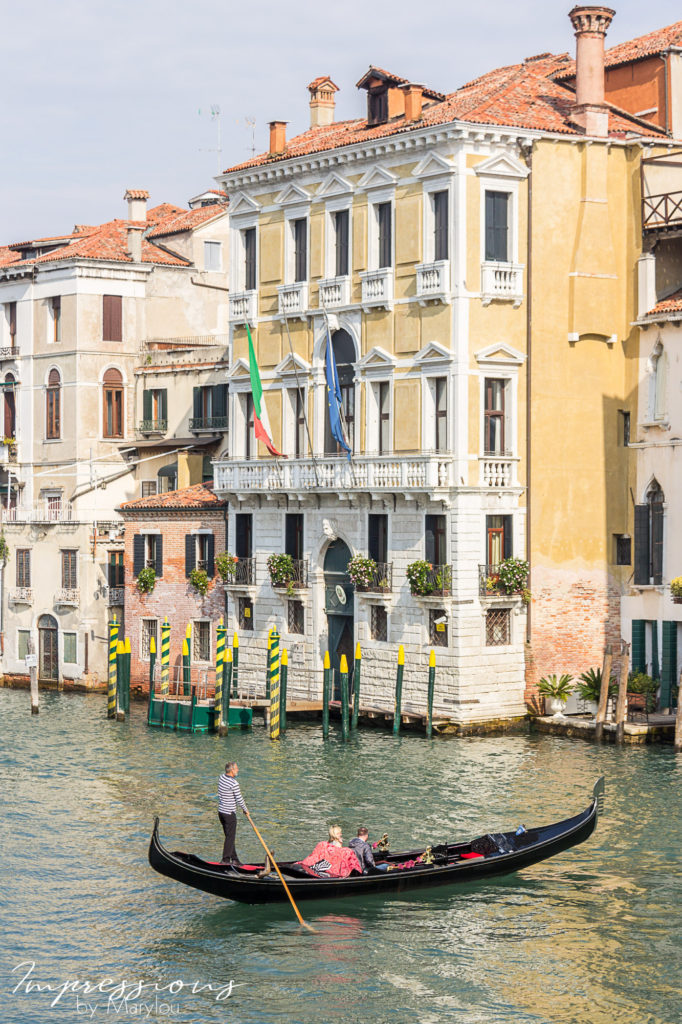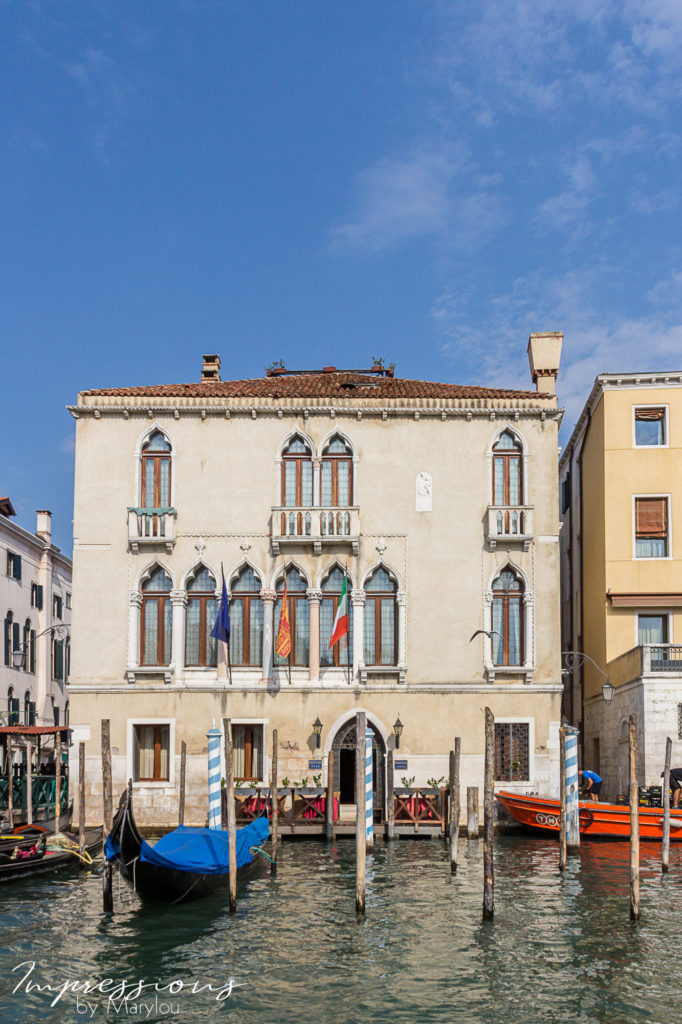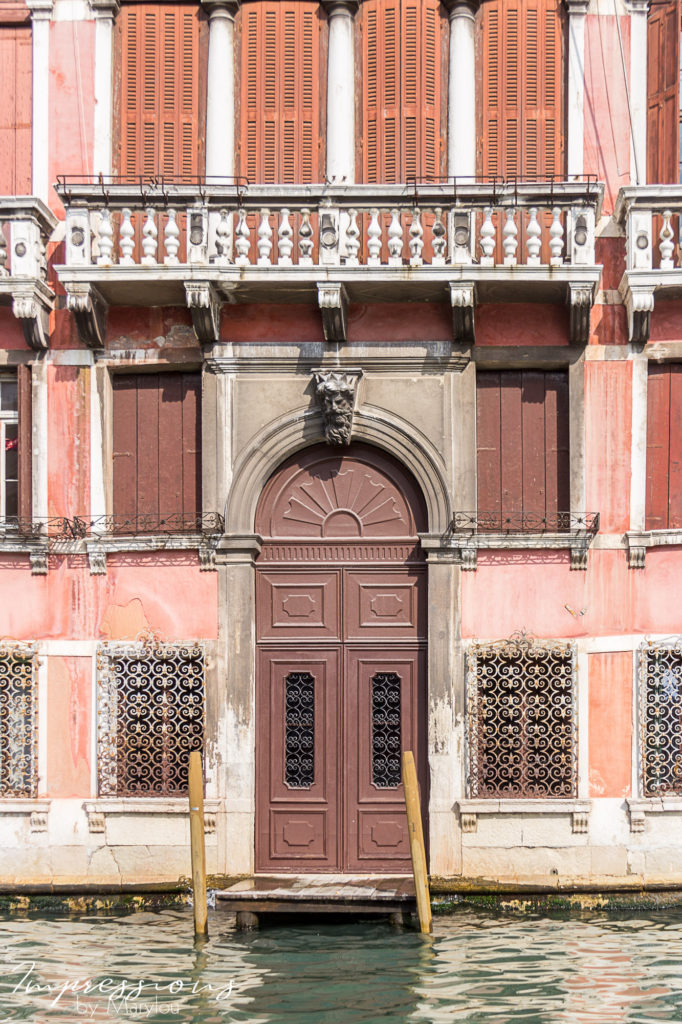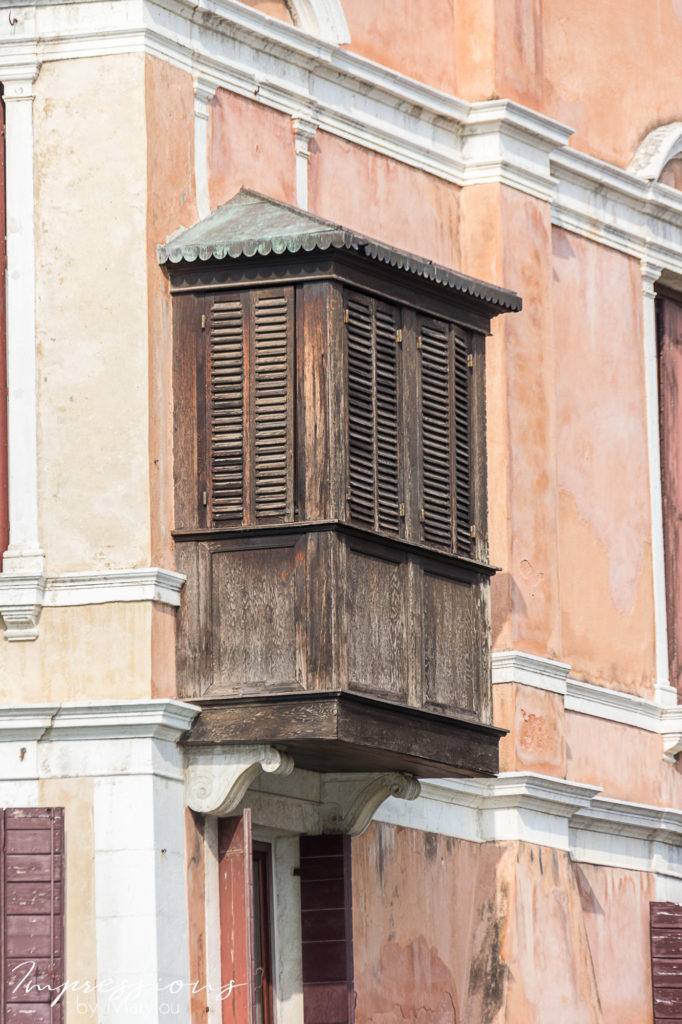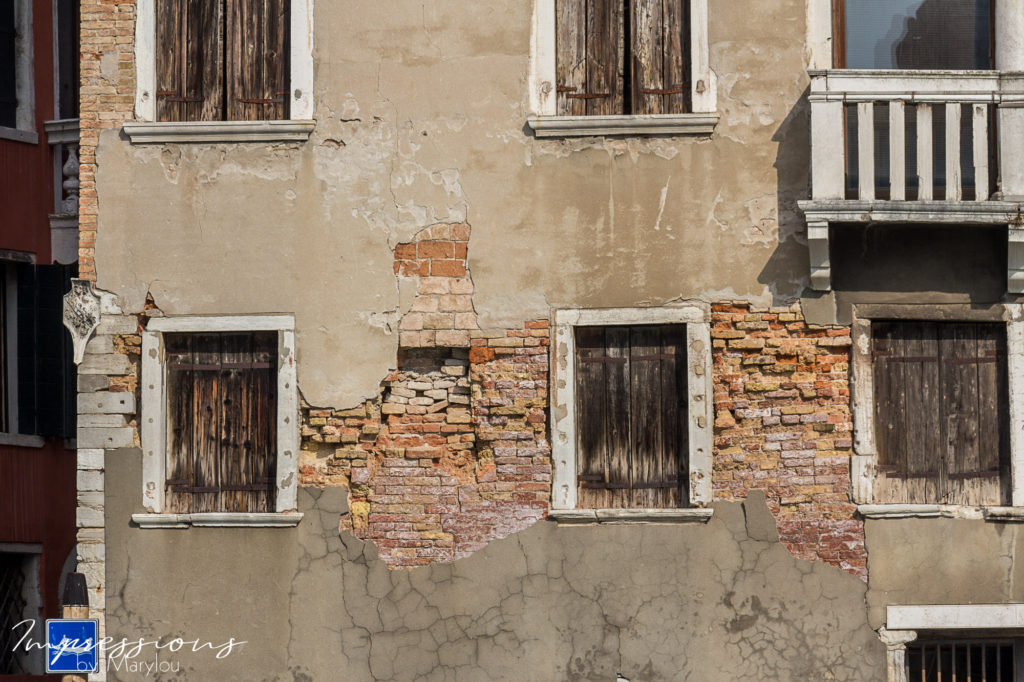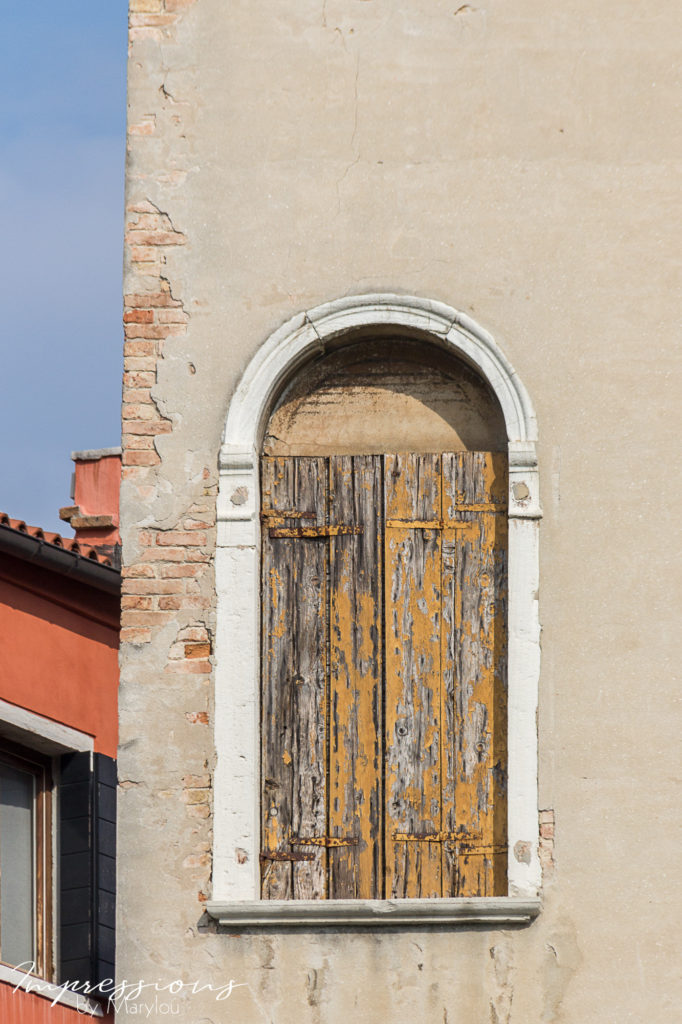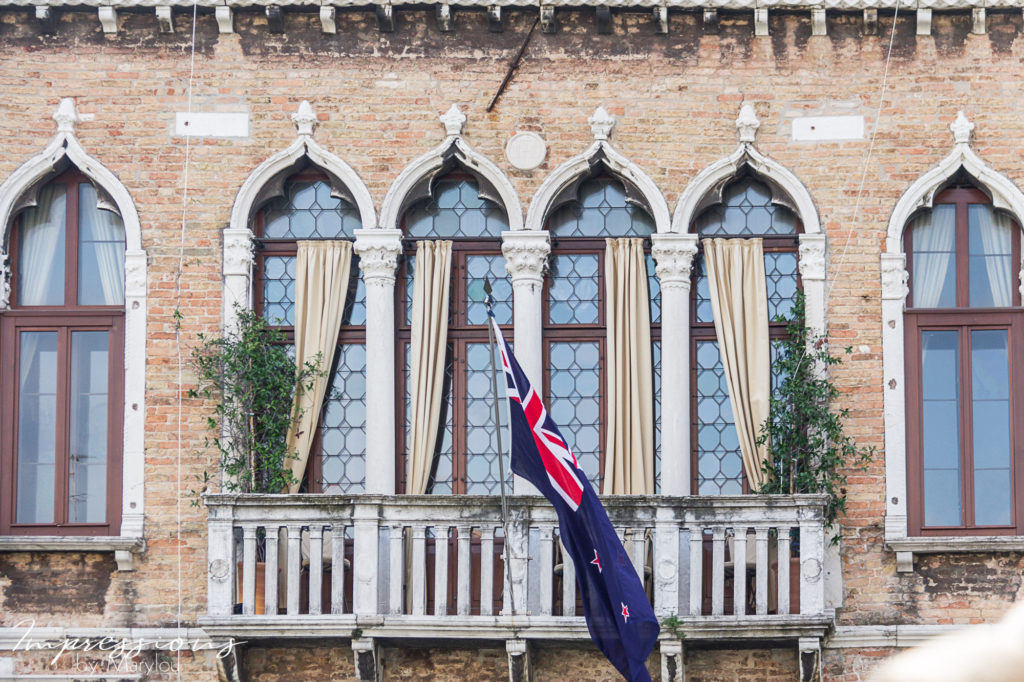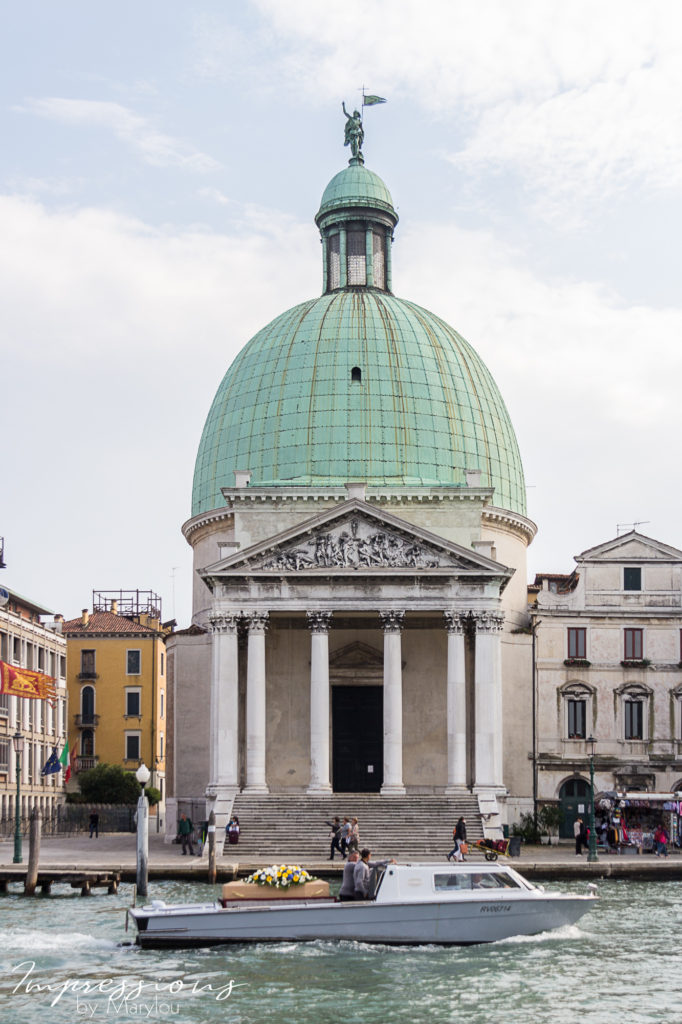 We wanted to eat crepes for lunch and found one near the Rialto Bridge called La Maison de la Crêpe. Oh my word! It was SO delicious!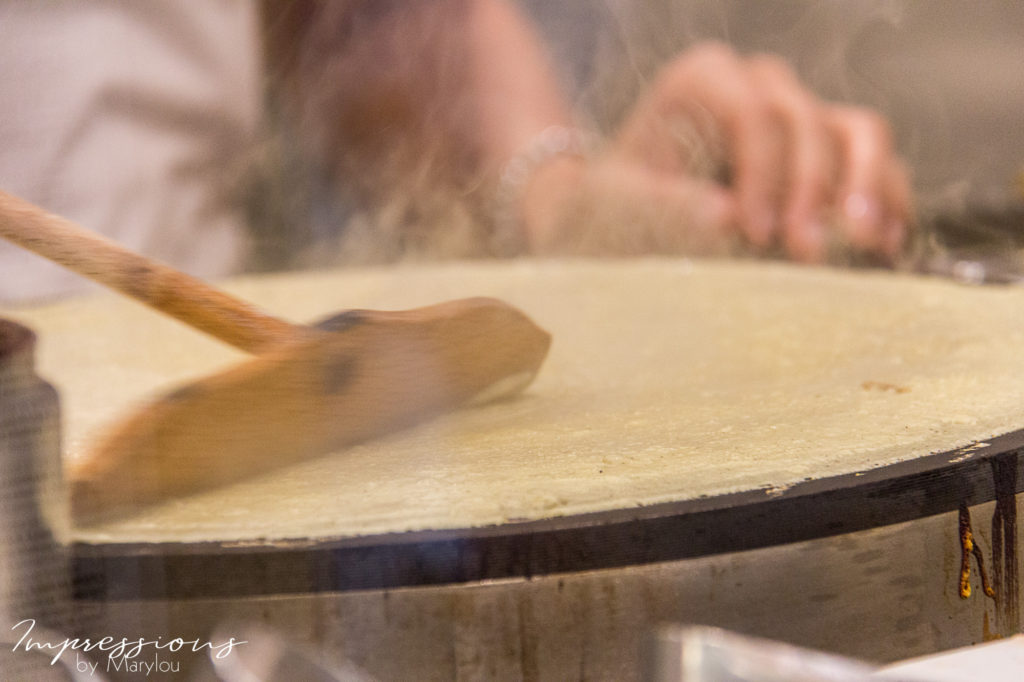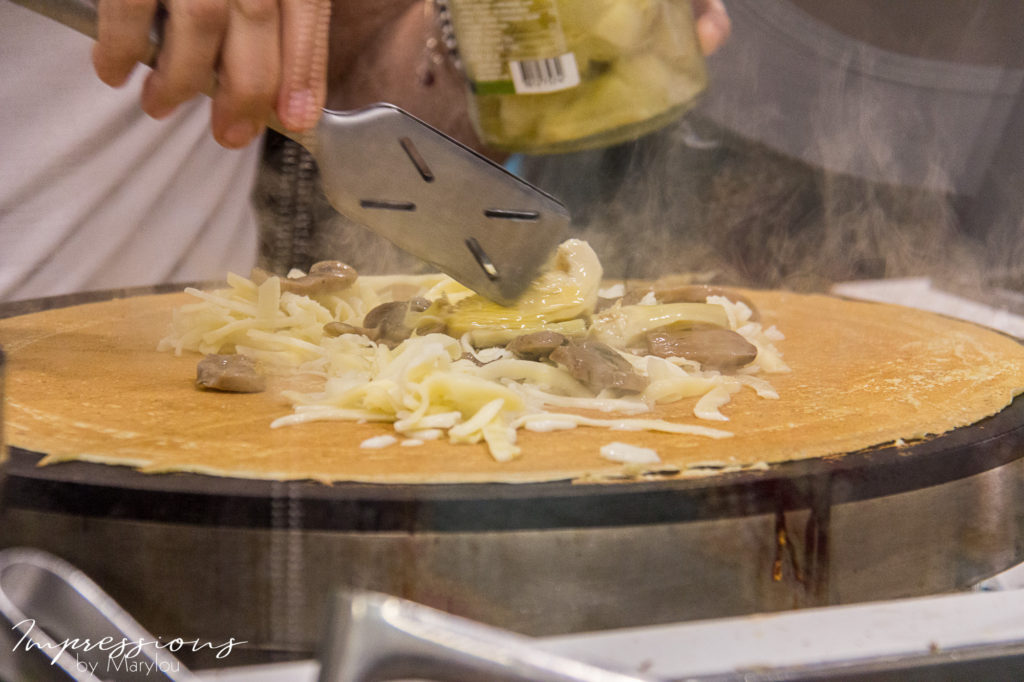 This was Lois' crepe and I see cheese, mushrooms and artichokes. We can't remember what all was in ours but we all raved about them. We split several dessert crepes, an apple & cinnamon, and one with nutella and cream. This creperie doesn't have a seating area but it is well worth taking it to go. And yes, they have gelato too!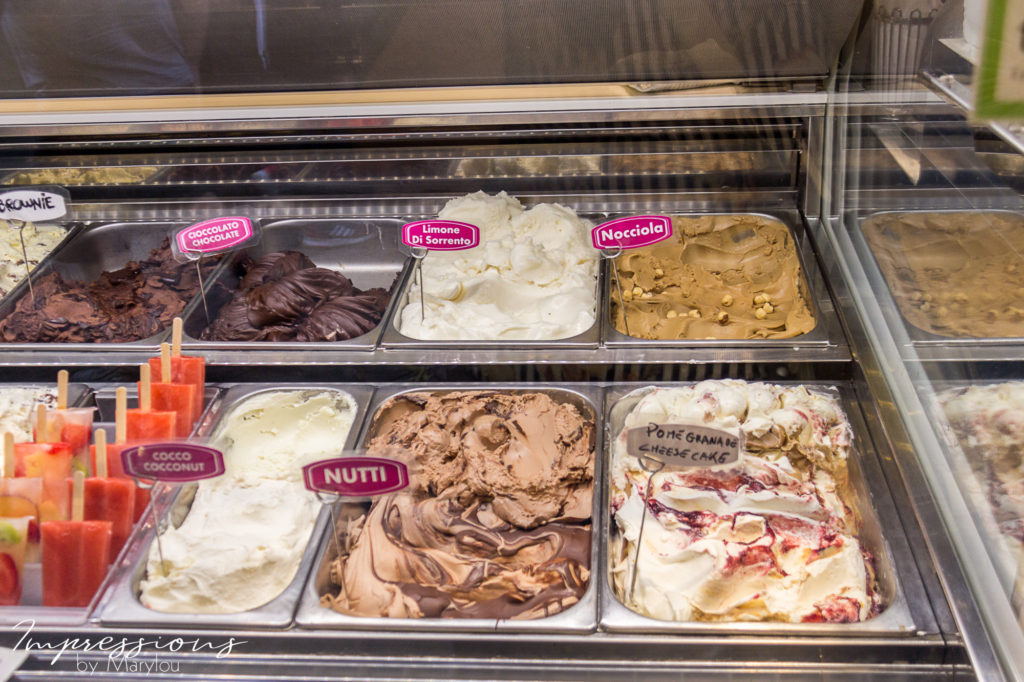 We spent a little time at Rialto Bridge, watching the water traffic, then stopped at the market.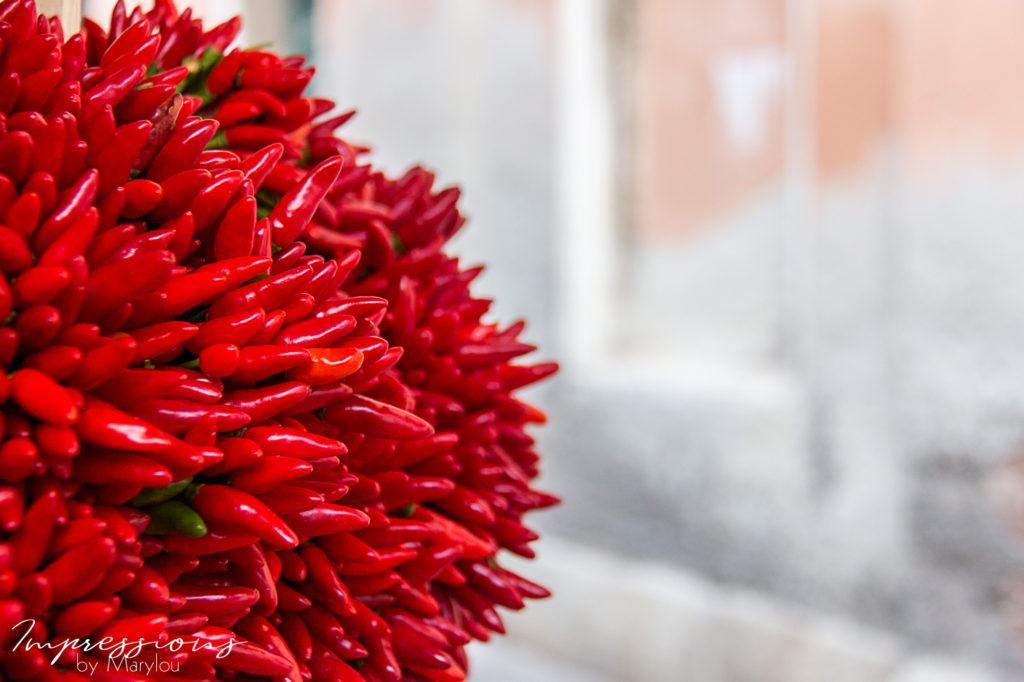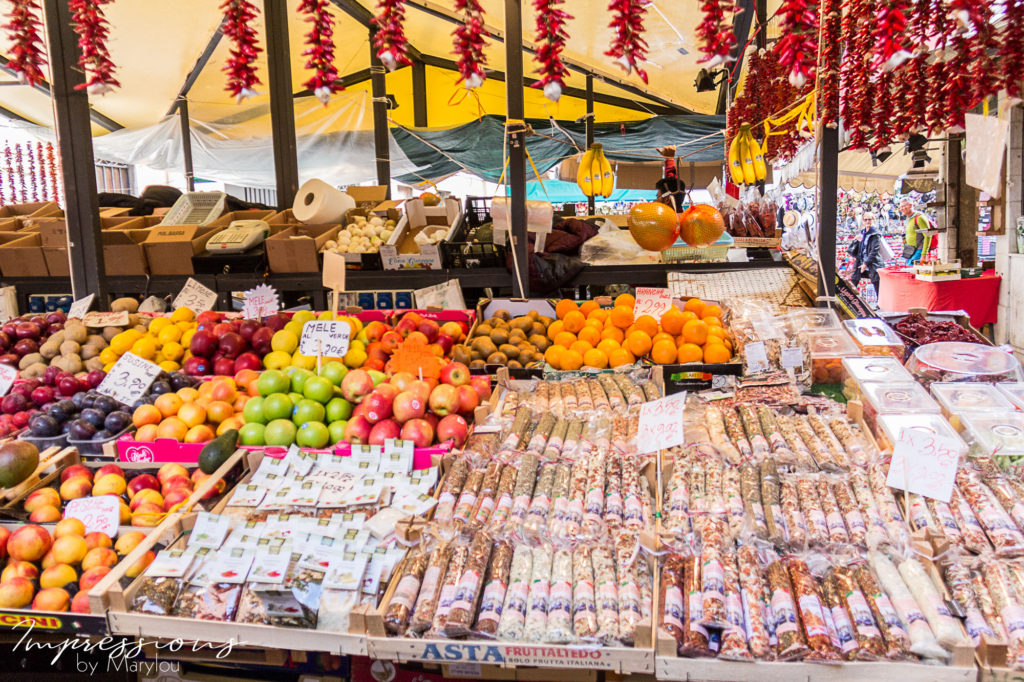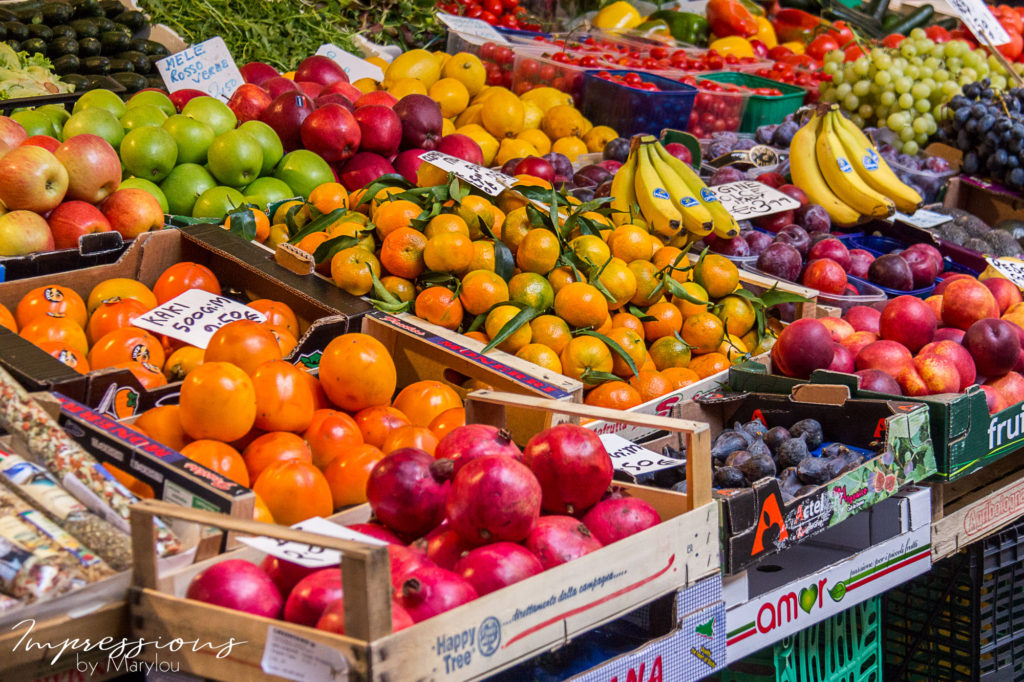 The rest all headed back to the apartment to get some rest. Some of them were borderline sick or just getting over it. I decided to walk through the heart of Venice, zig-zagging my way from Point A to Point B (see the red line). I had downloaded an offline Venice map and used that see where I was and where the bridges were. I would definitely recommend using something like that!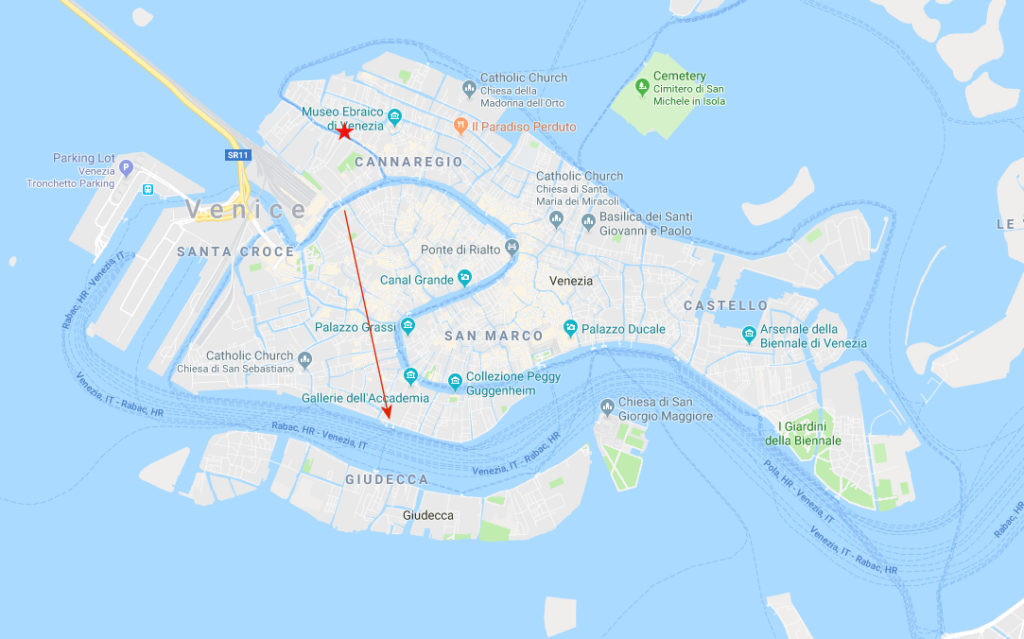 It was very quiet most of the way through here. By now it's Monday afternoon, it's not area the day tourists (cruise ships) are going to be, and it's maybe off season a little. I had THE most lovely time!
I found piazzas that were nearly empty, some with people enjoying a quiet meal.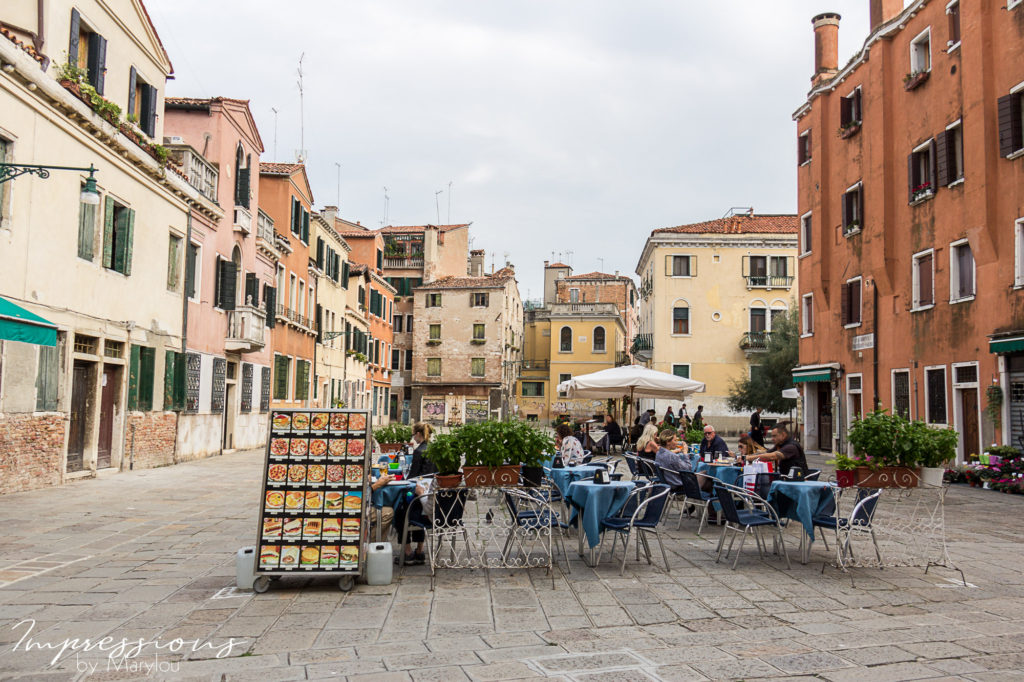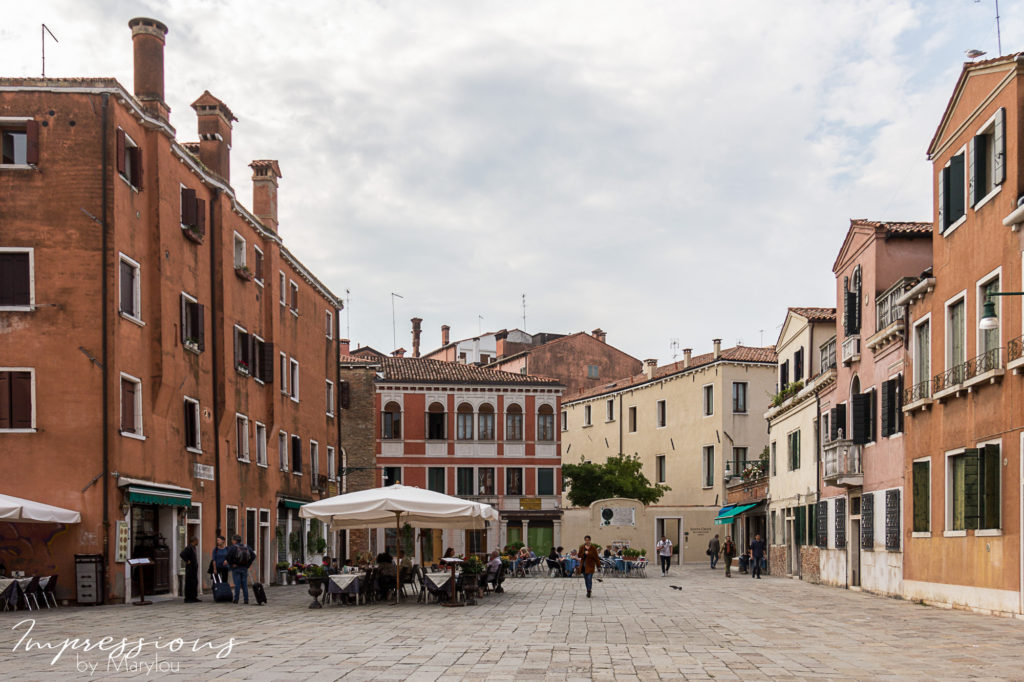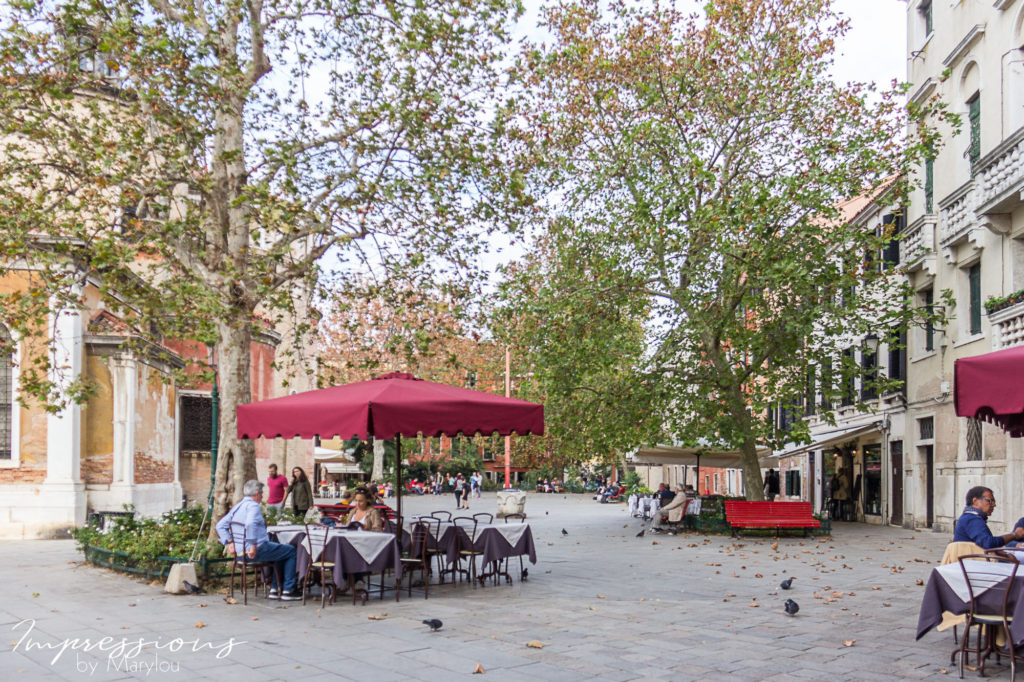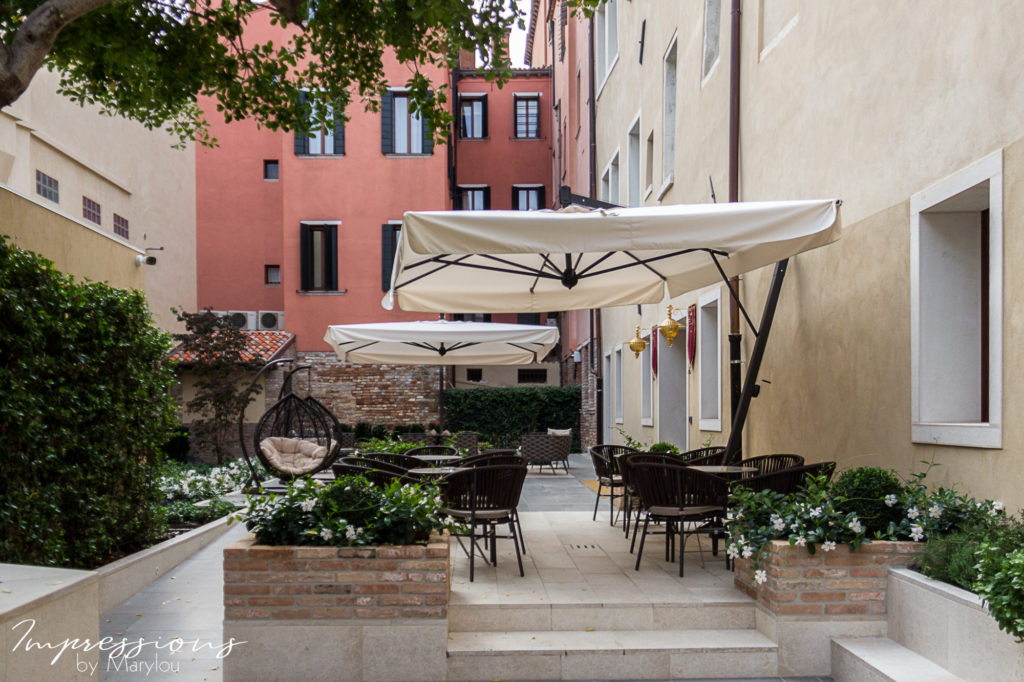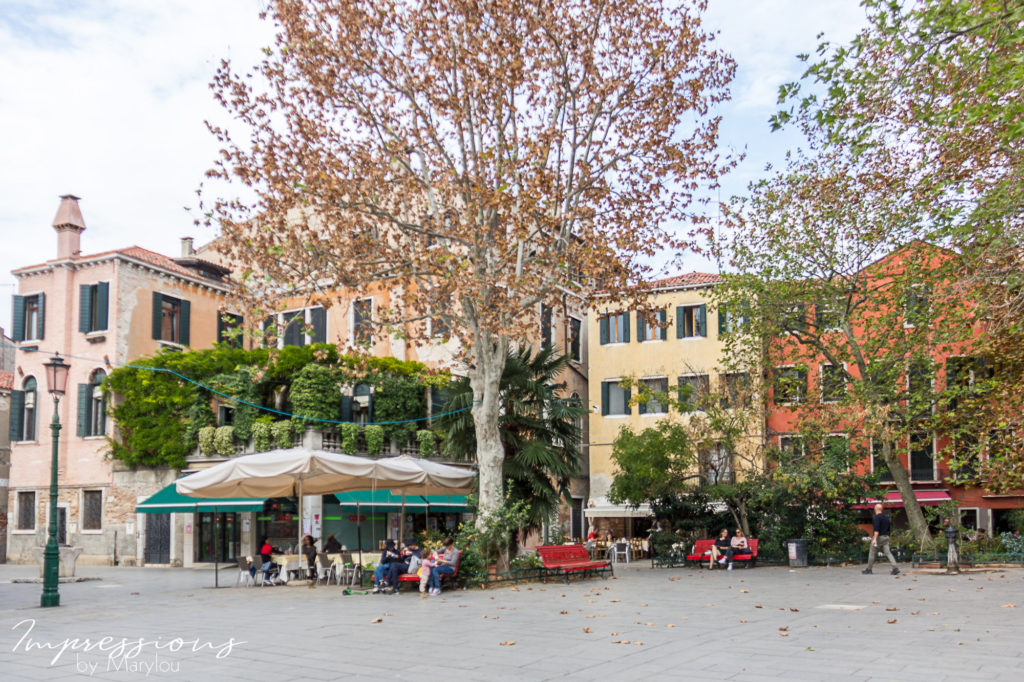 Near the center of the photo above, is a small child with his Nonna (I'm guessing). I sat on the red bench in the center and enjoyed their interaction, though I couldn't understand anything but "allora", which is used similar to how we would use "well then" or "okay."
After a bit, the walked around and sat beside me. The darling, curly head child chattered away to me and was earnestly telling me something and I smiled the best I could in Italian and nodded in Italian and he seemed satisfied. 🙂
An old church in the same piazza: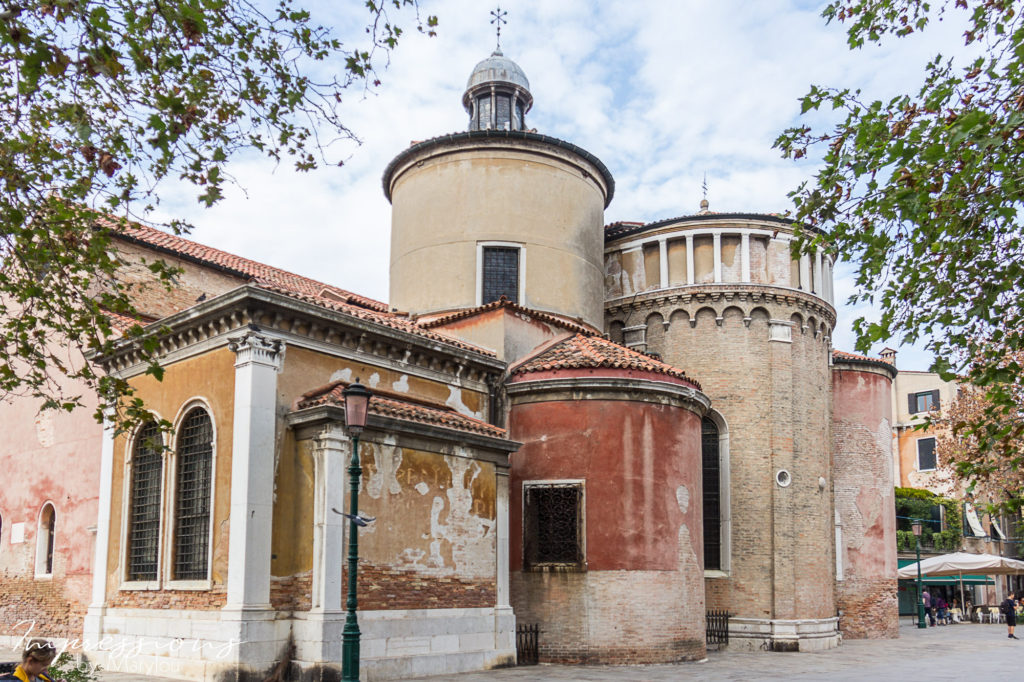 Other details along the way…..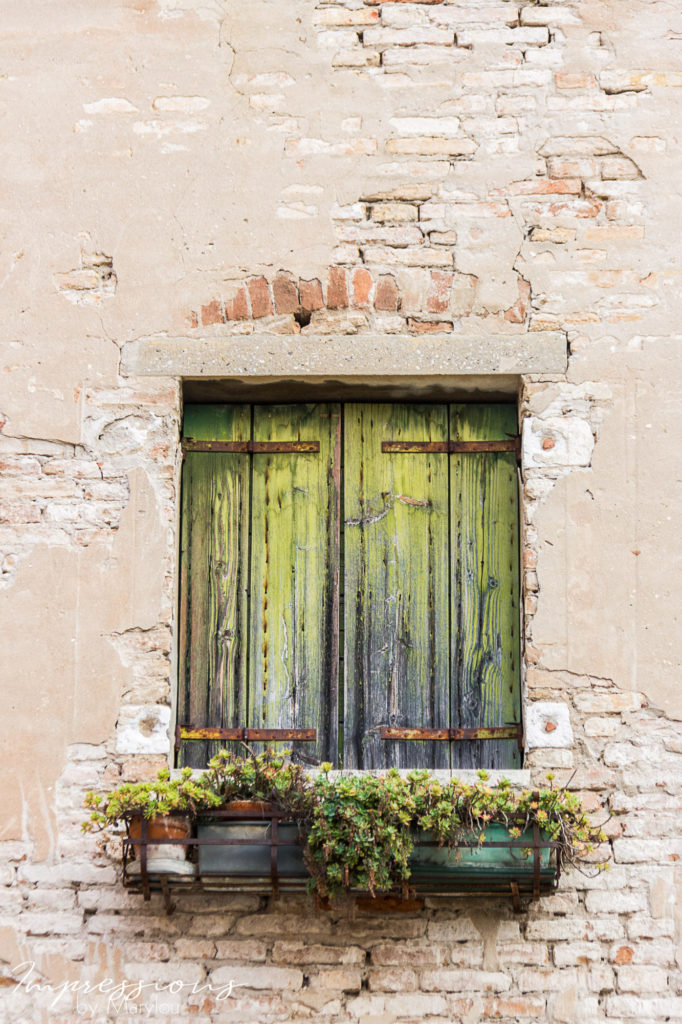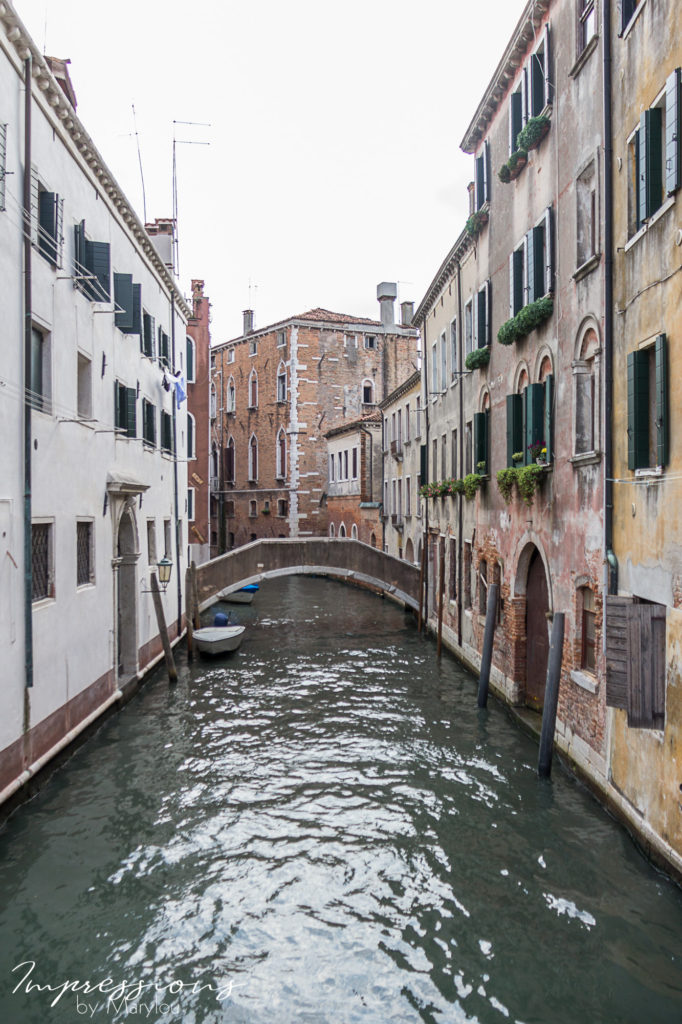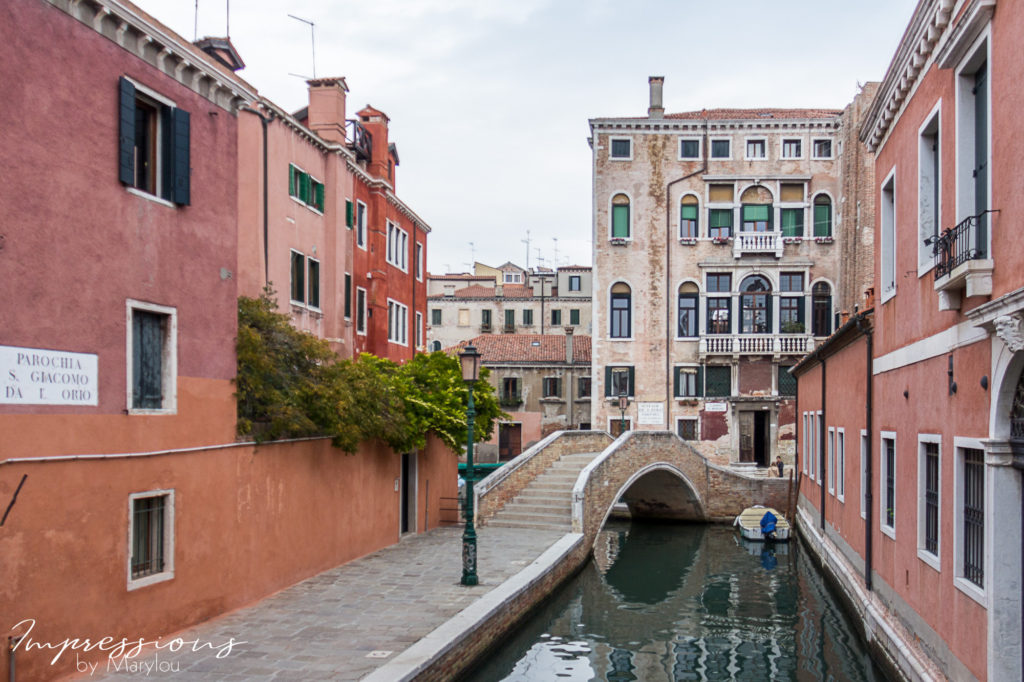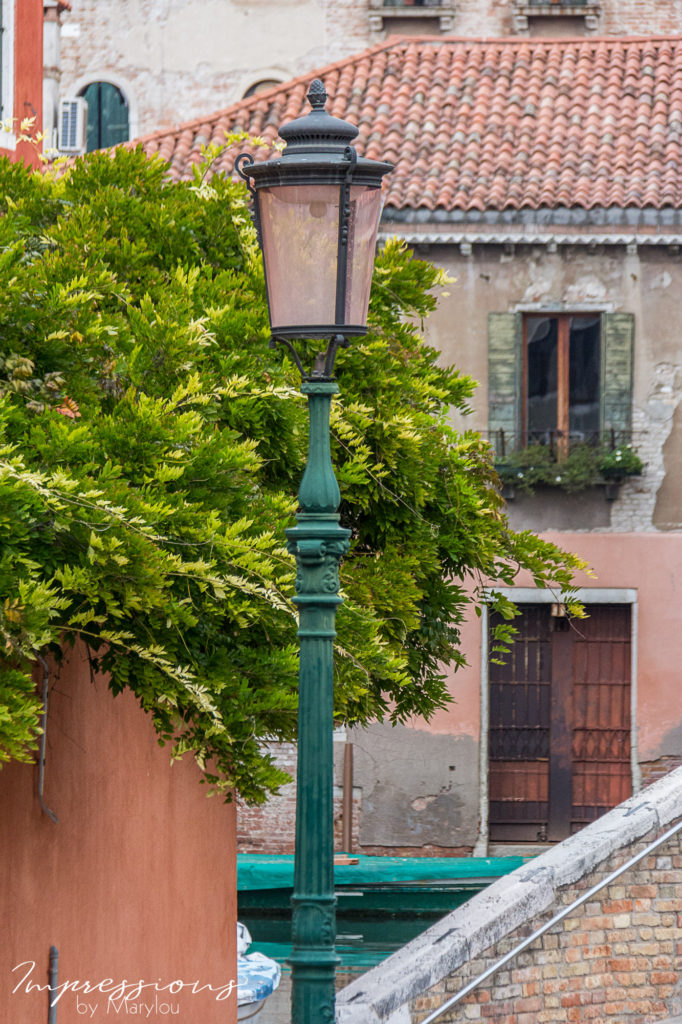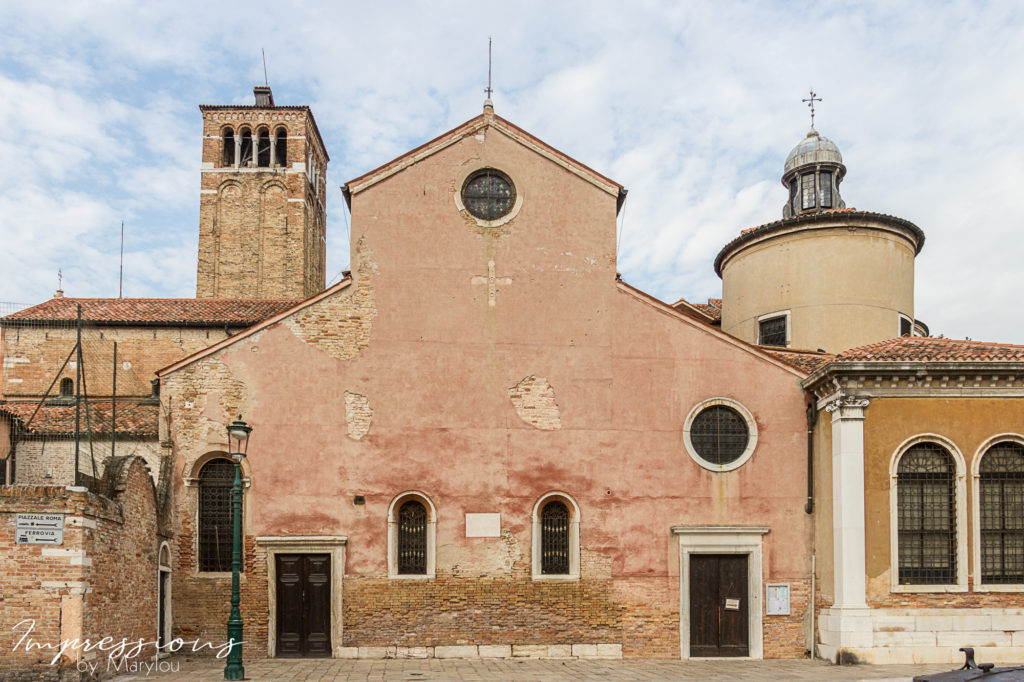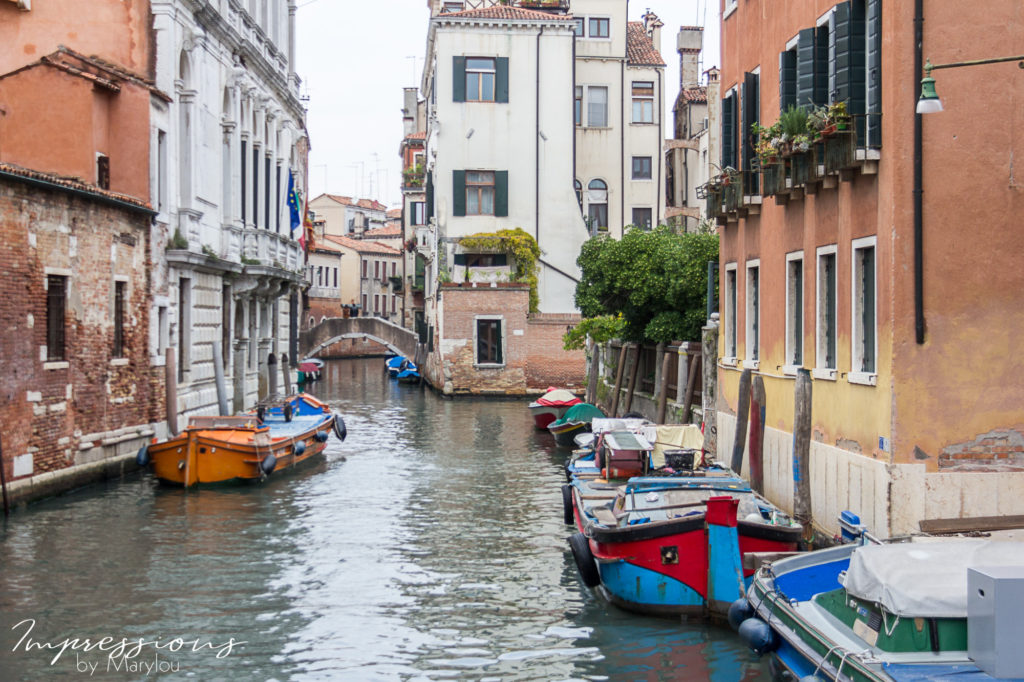 I stopped at another old church, this one being Basilica of Santa Maria Gloriosa dei Frari.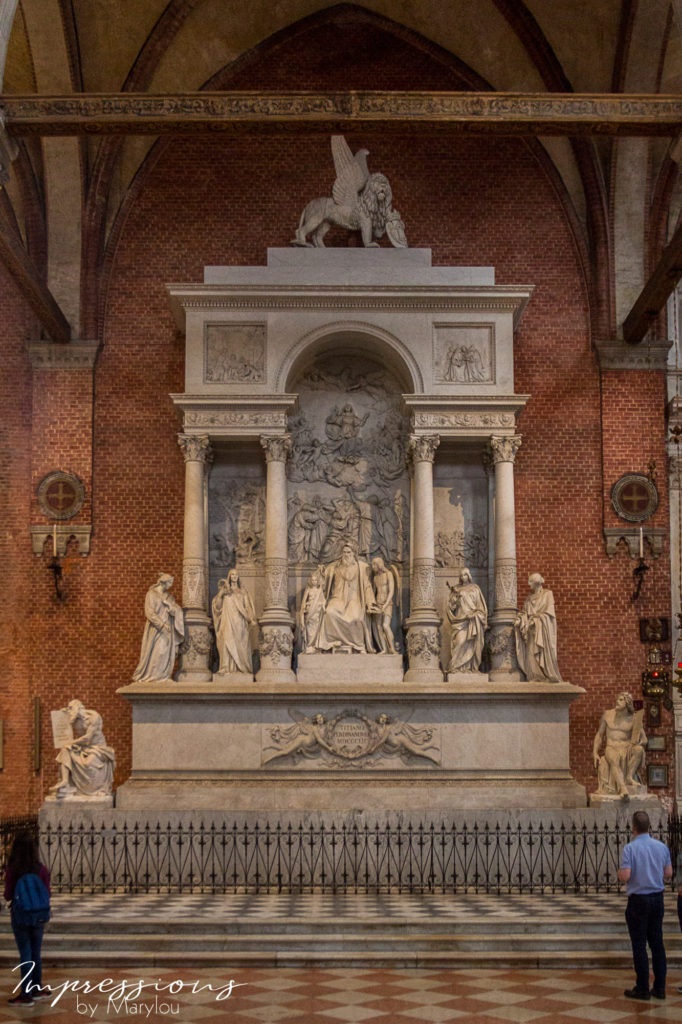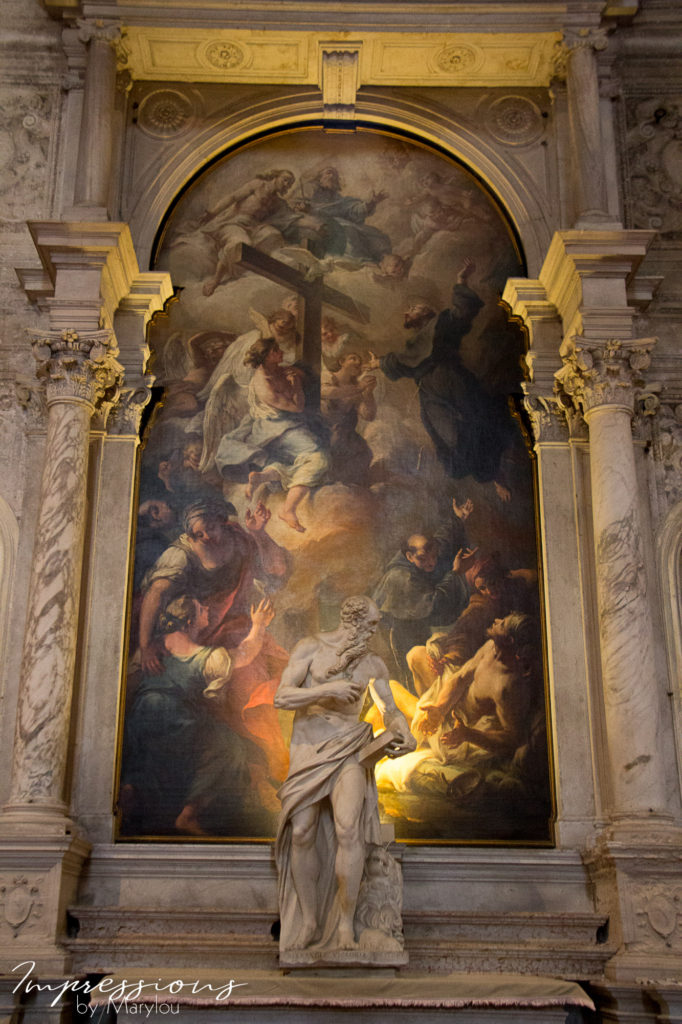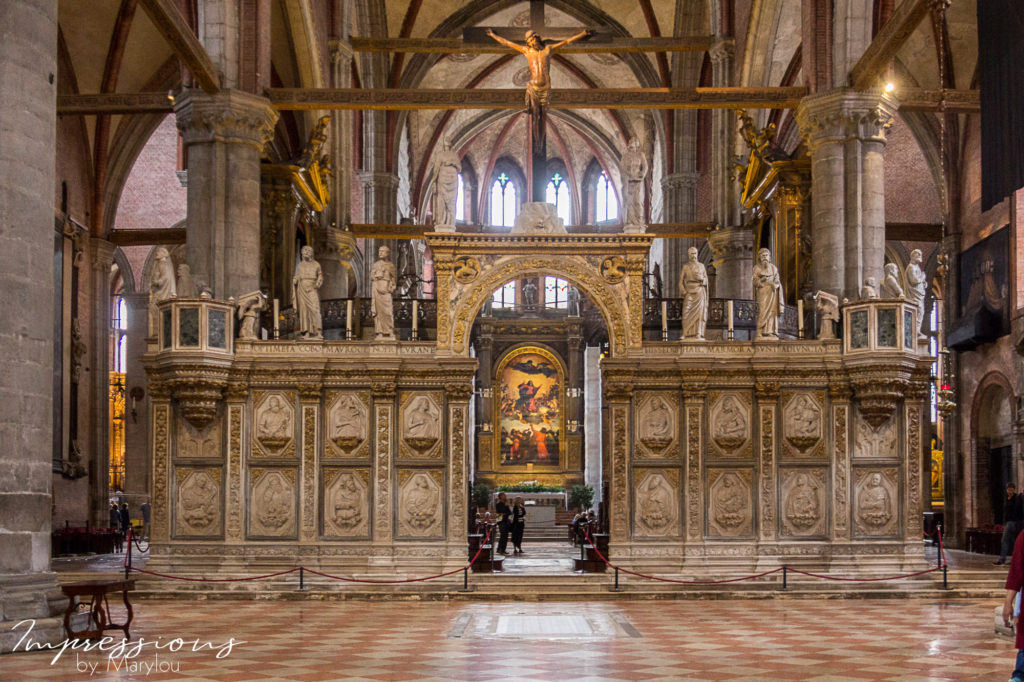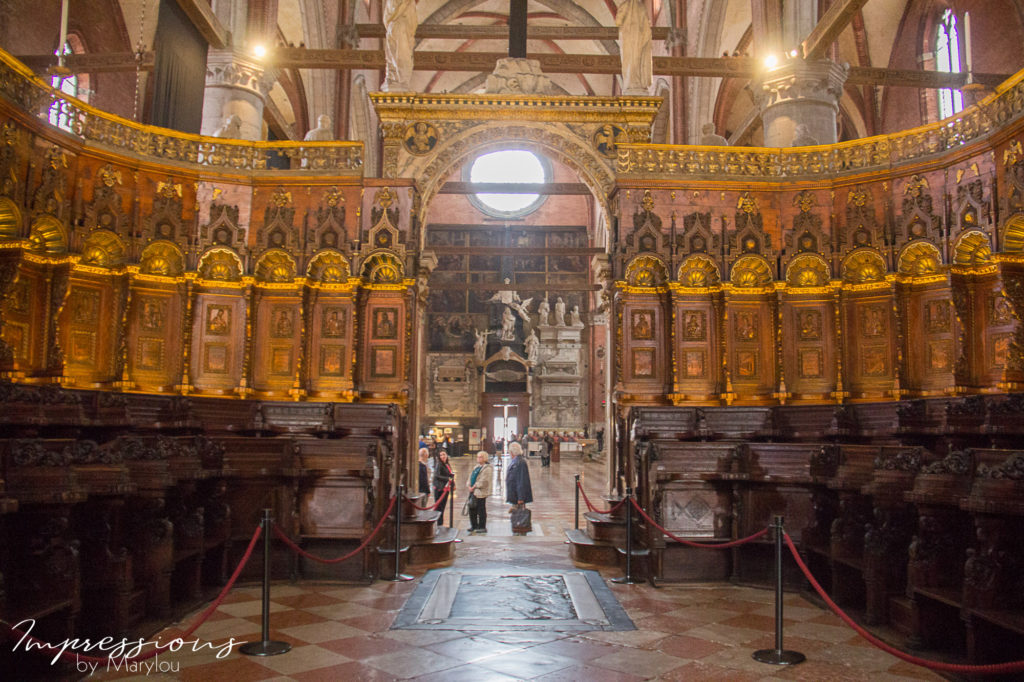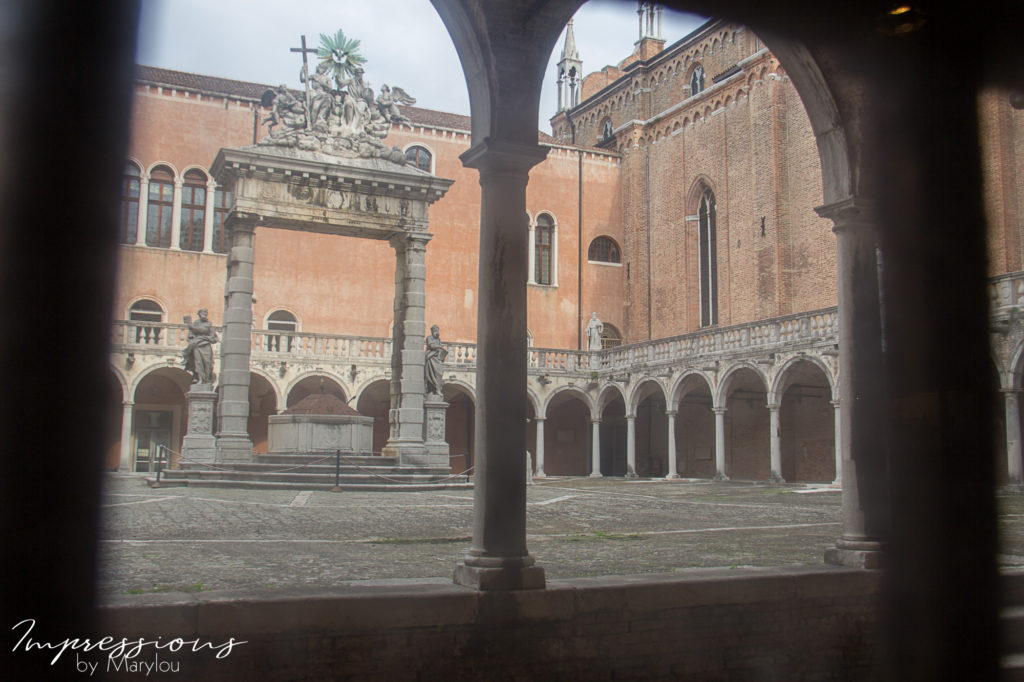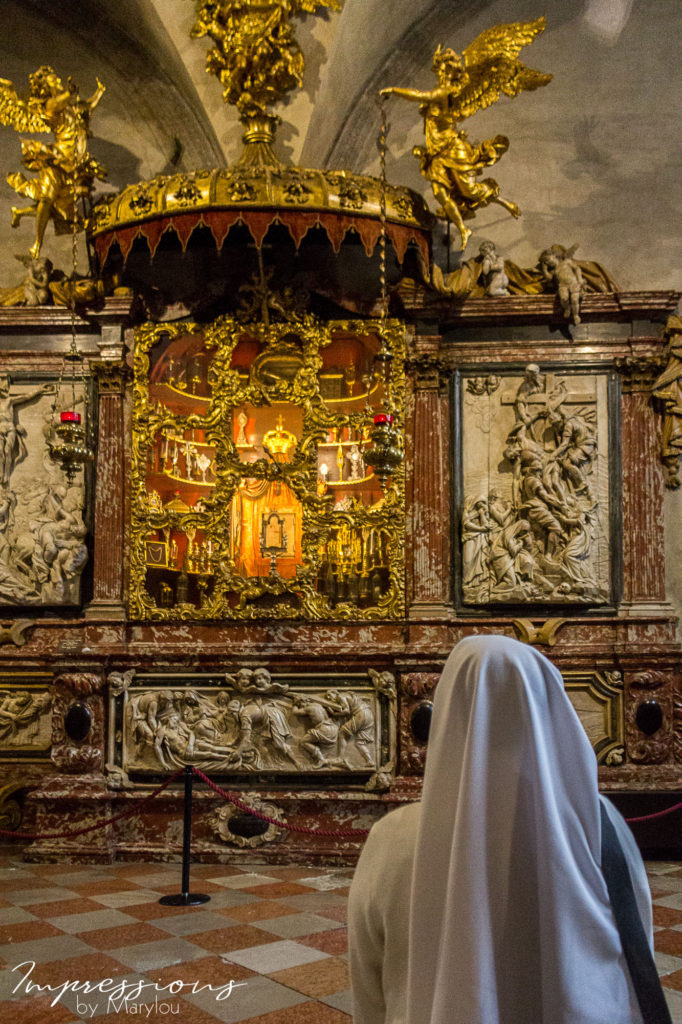 I walked past more pretty details.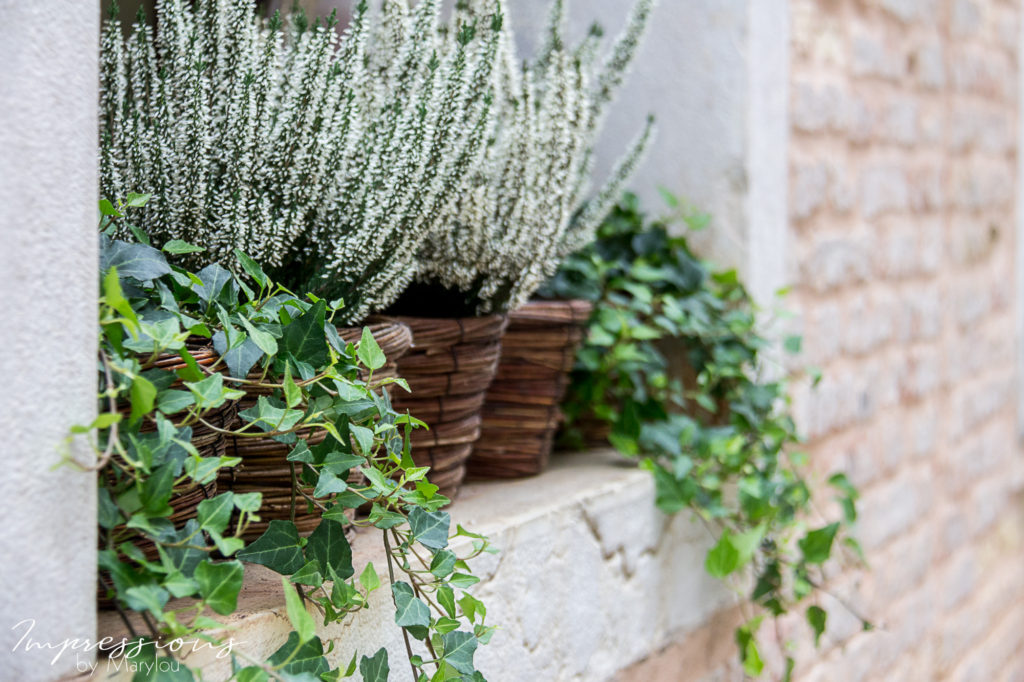 Past more small canals.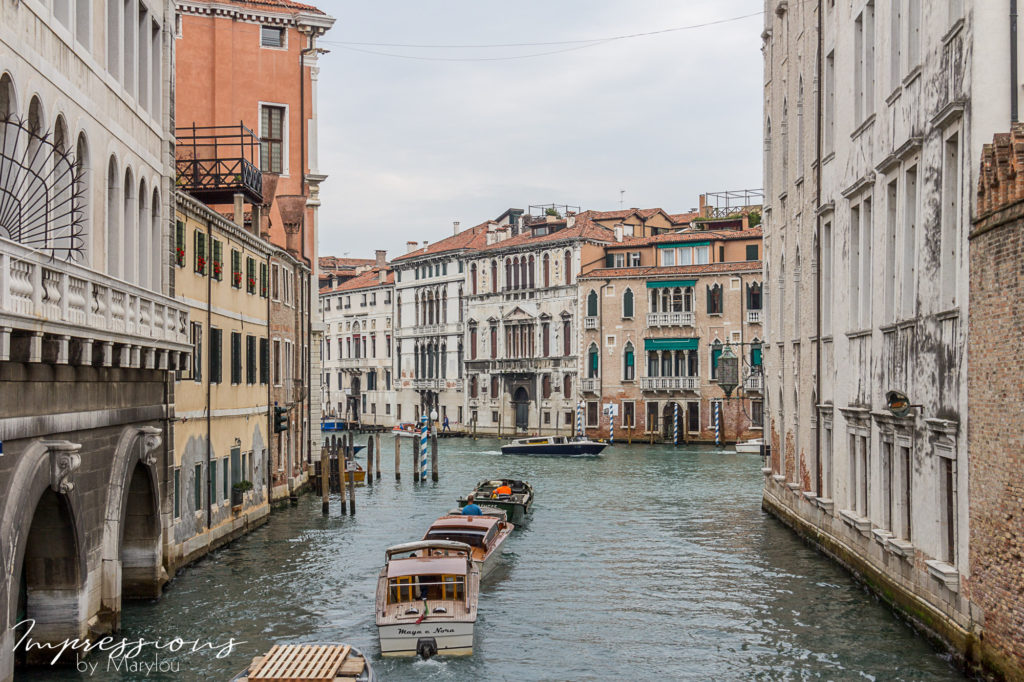 Past quaint shops.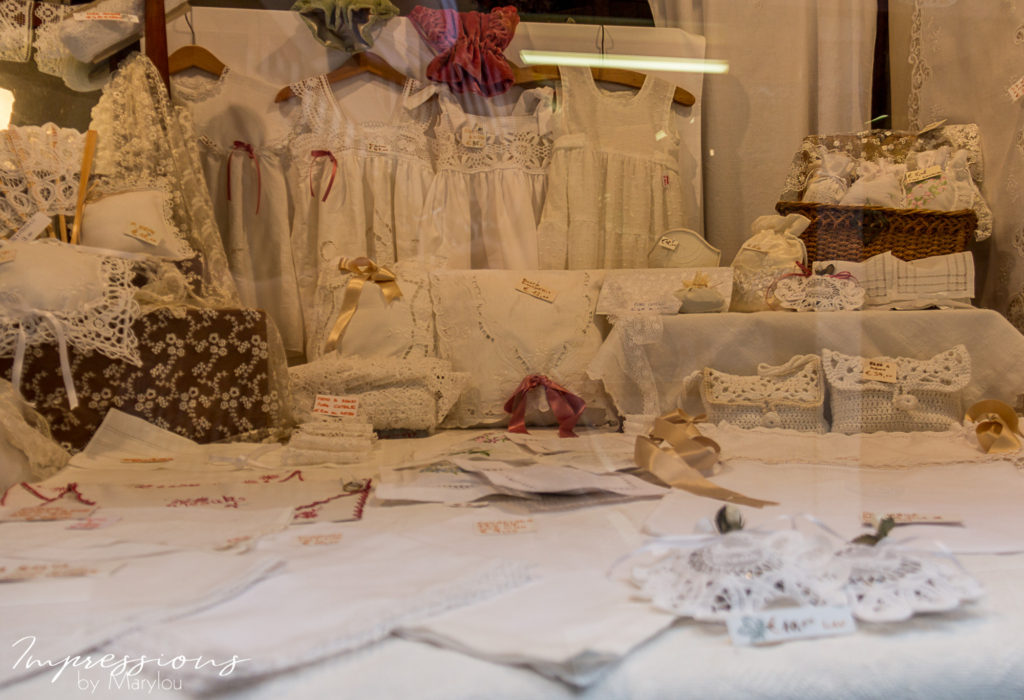 Past a university, past a piazza where I just missed a string instrument trio concert, who were being questioned by the polizia, I'm guessing regarding a license??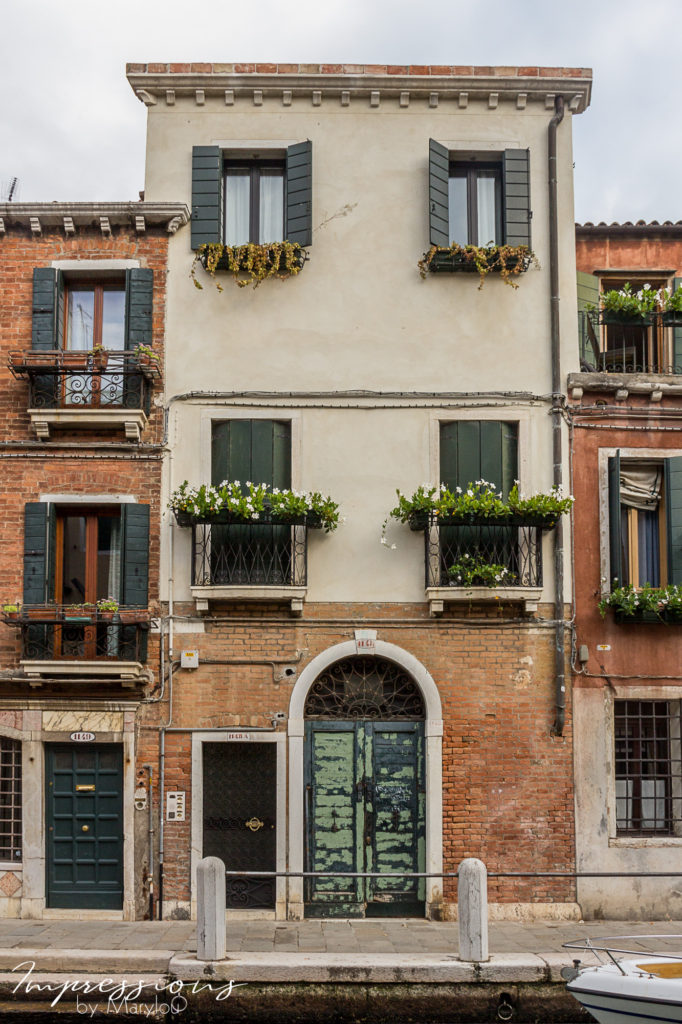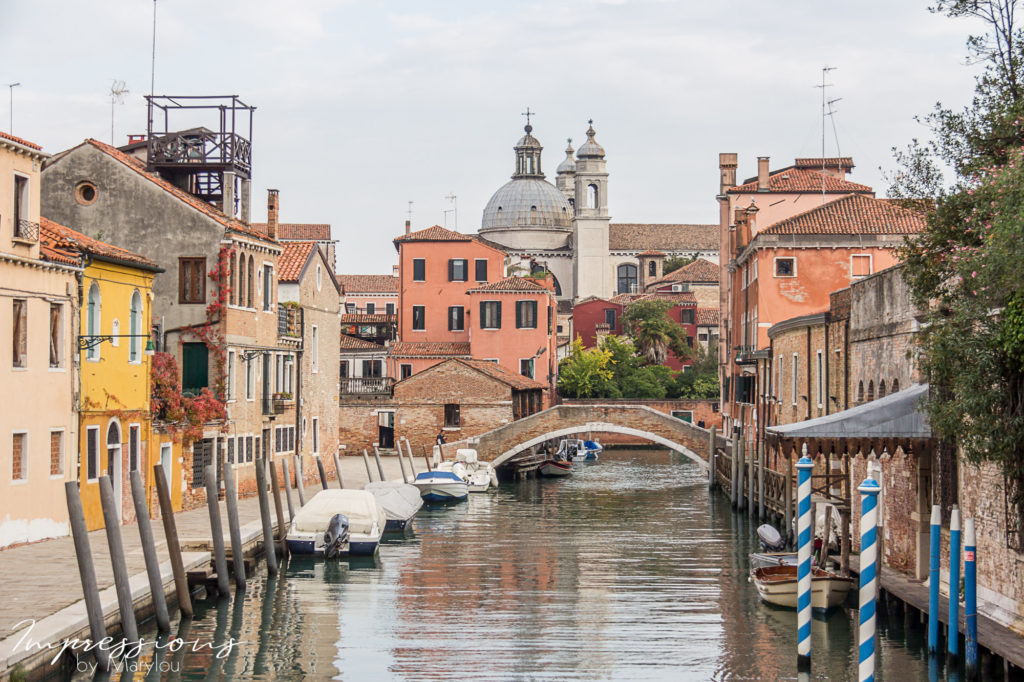 And eventually made it out onto the main canal.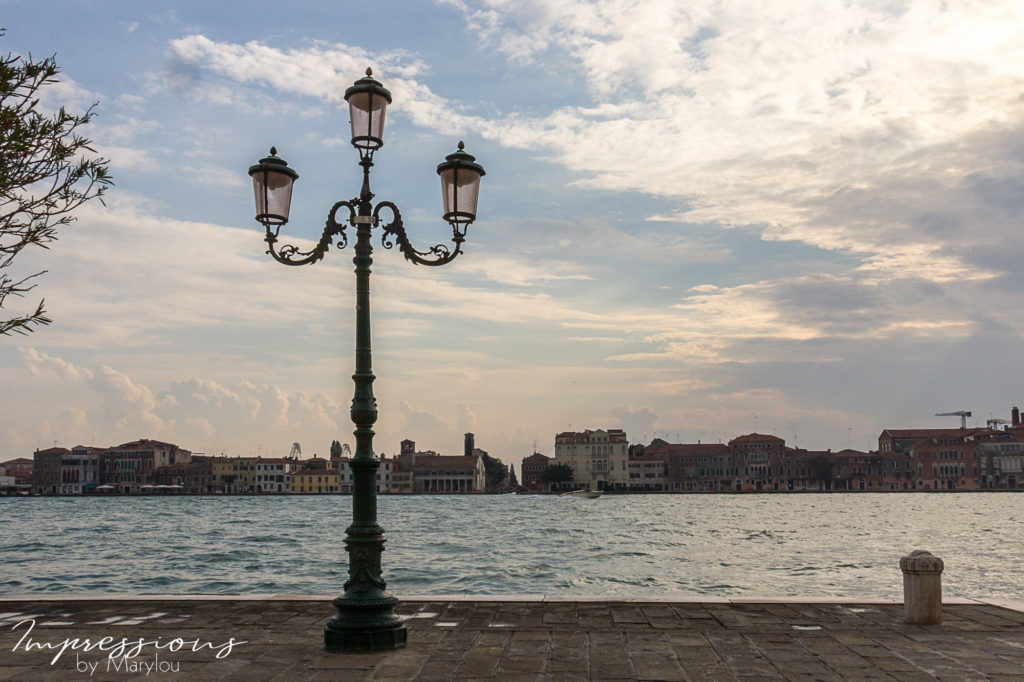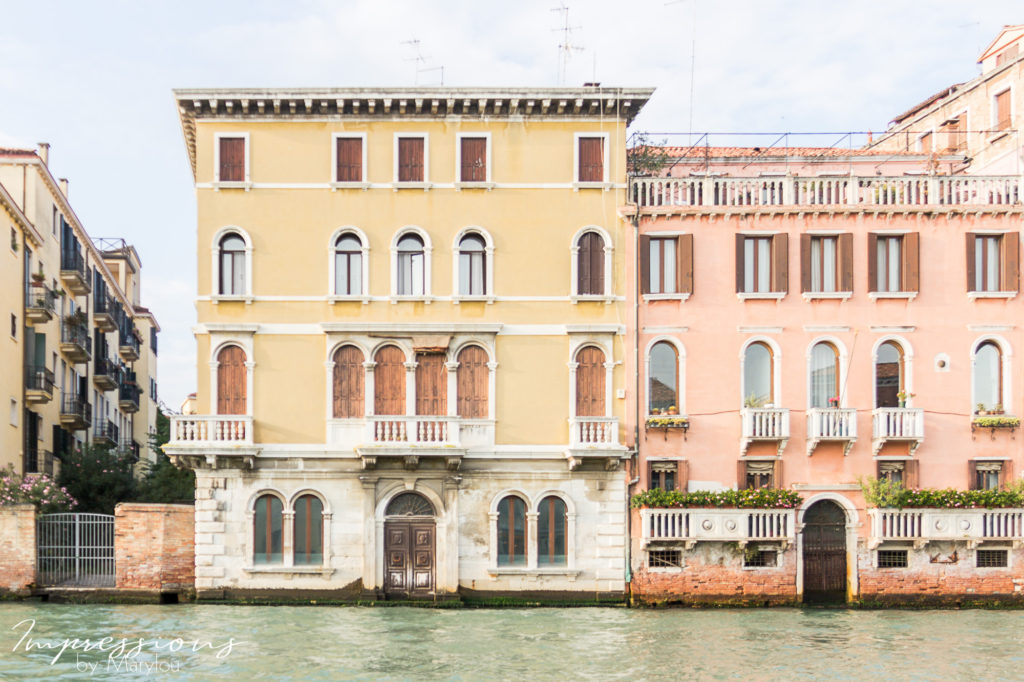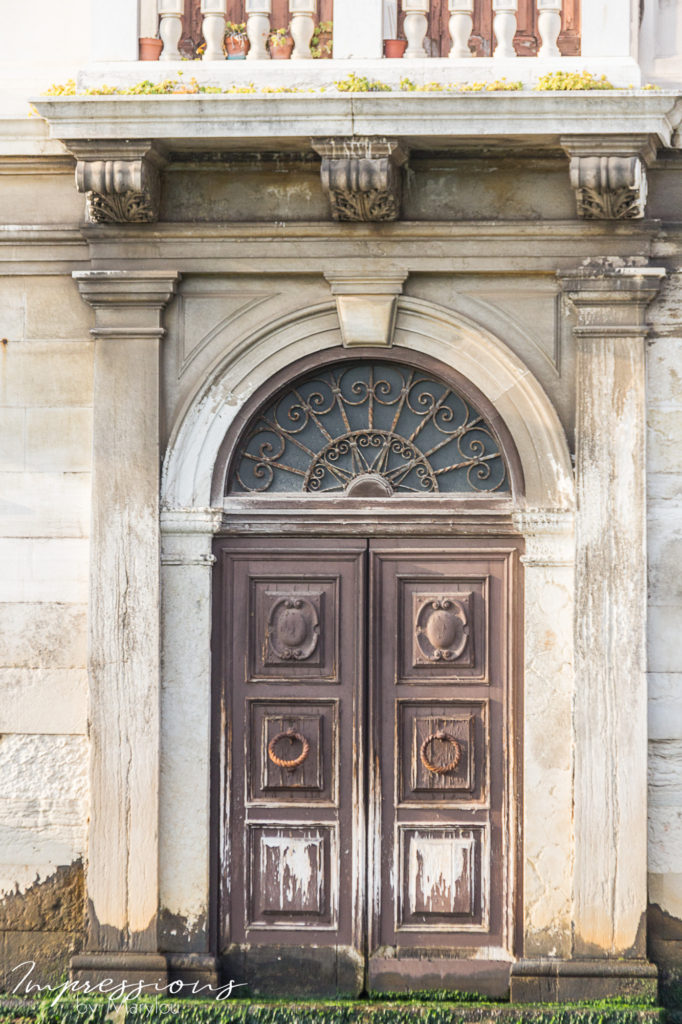 We had met some tourists in Tuscany who recommended Il Paradiso Perduto. Reservations are needed so we had made them earlier and had an early seating on the fondamenta (which is the walkway area along the canal), which we were grateful for. We had not yet adopted the later dinner that Italians love.
They are known to serve cacio e pepe made with a twist…. boiling pasta is brought out along with a wheel of pecorino cheese. Pasta and hot water is dropped in and as the cheese softens, it is tossed with the pasta, then placed on your plate. We all ordered it, the consternation of the waiter (not the guy below) who probably thought we didn't have much imagination. A wheel of cheese this size is used up in about 10 days at this restaurant.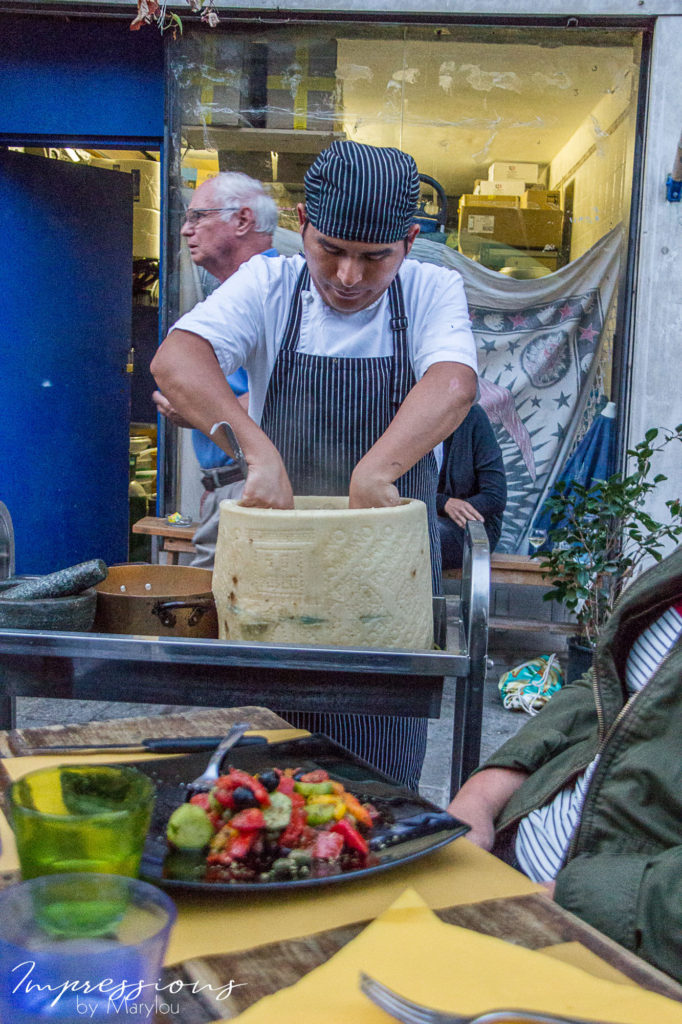 We had a LOT of pasta left and the offered "take away" boxes, which we gladly used. We had enough for another meal the next evening in the Alps.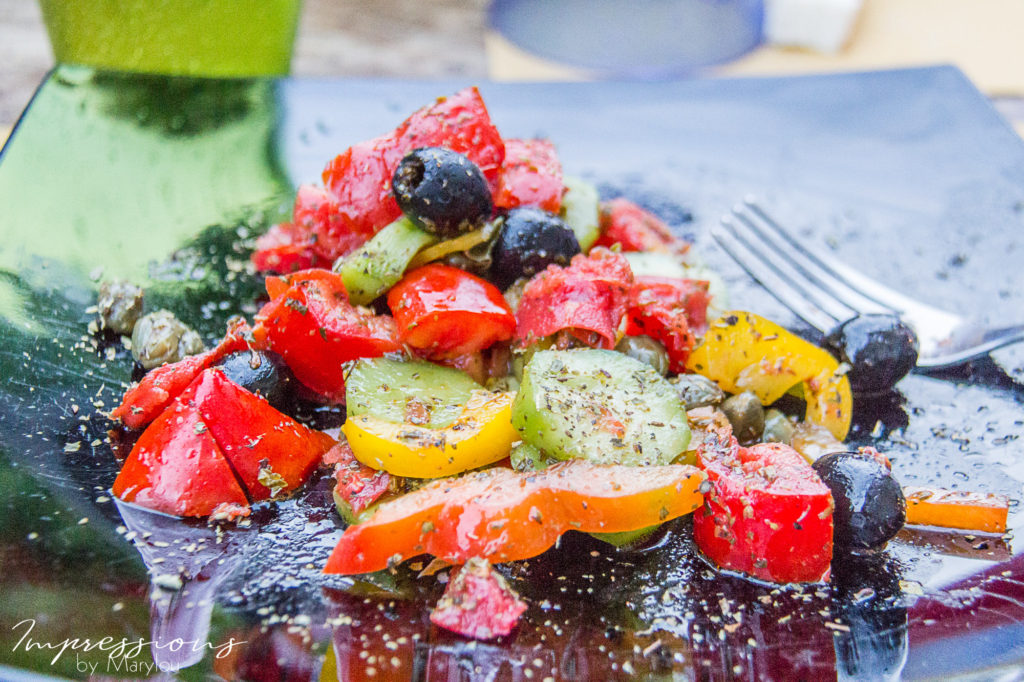 When we left early Tuesday morning, we were familiar enough with the vaporetti stops that we didn't have to walk very far to get to the parking garage. The amount of activity was about 10% of that when we arrived on Sunday and leaving was a cinch!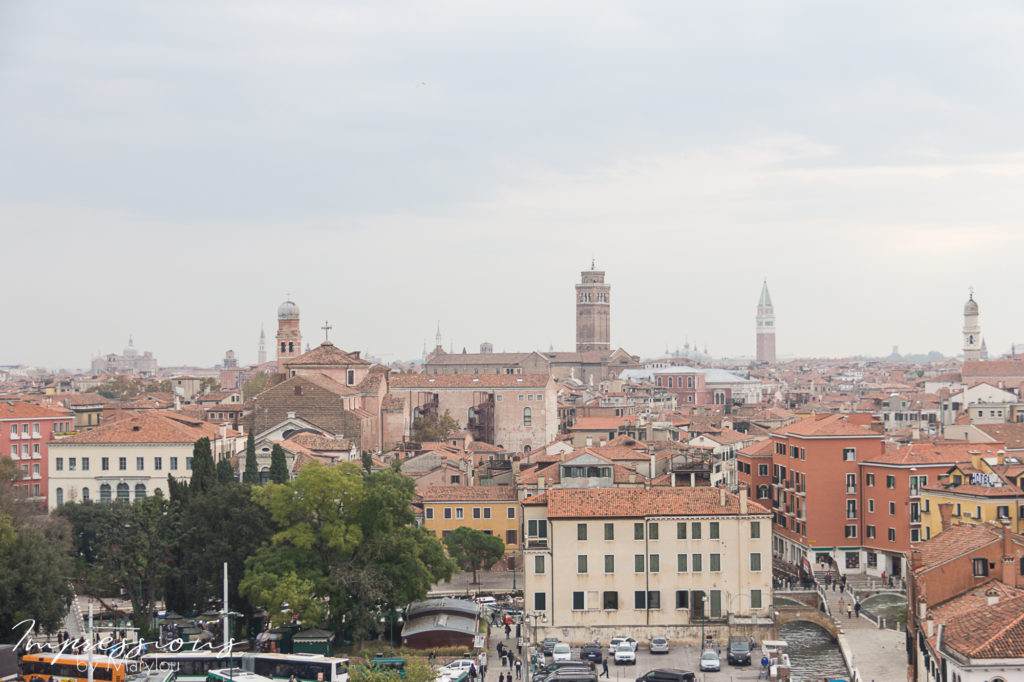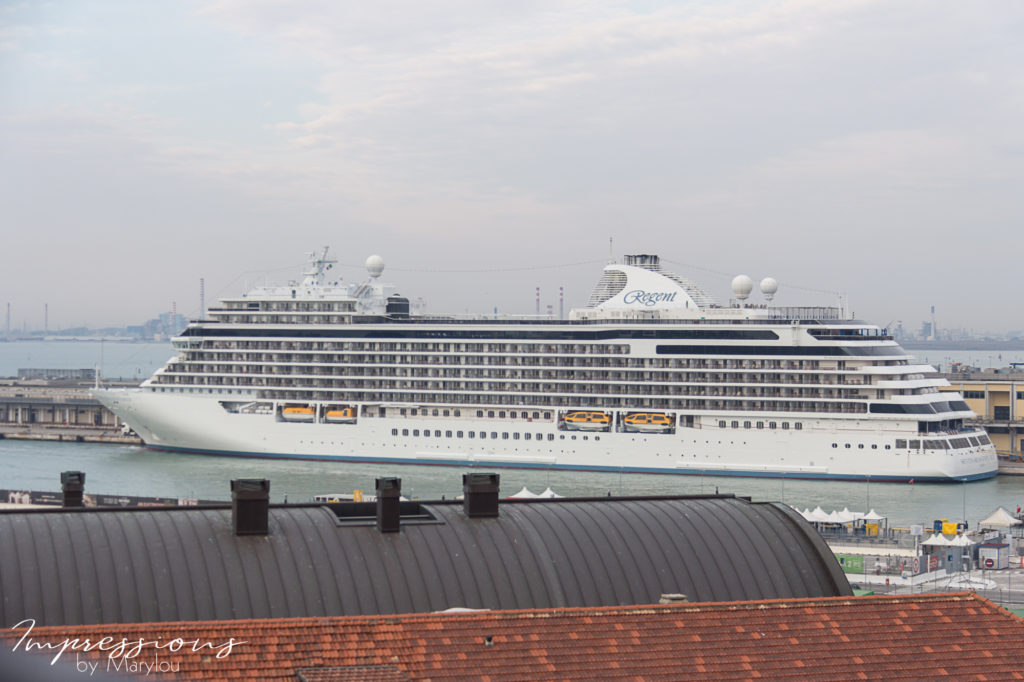 Next up …. Dolomites in Northern Italy.