I love reading about other people's Pinterest ideas or recipes. I'm afraid I don't use a cookbook as much anymore. Well, given that there are only 2 of us in the house and we don't eat many meals together, and that most of what I do make is "no recipe needed" stuff and that most cookbooks don't have pretty pictures, we just don't use recipes as often as others probably do. If I had many mouths waiting for meals, I'd be looking for inspiration at all corners. 🙂
The recipes I'm sharing I've made either exactly like the recipe or fairly similar. Not like … "I finally learned to enjoy chicken rice casserole… I substituted beef for chicken, oh, and I used noodles instead of rice, and cheese, I don't care for cheese [can you EVEN imagine me say THAT??] so I used pizza sauce. And it was delicious! I think I'll try this recipe again." That may be a bit of an exageration but once you do enough substitution, you are no longer really using the recipe. You're using inspiration from the recipe.
I've already told you about the Gold Dust seasoning blend. Here's another use for it. Recently I bought rotisserie chicken, deboned it, sauteed it with fresh, diced tomatoes, slivered Vidalia onions, green peppers from my garden (yay) and sprinkled it generously with salt and Gold Dust seasoning. I made a quesadilla out of it and ooh, la la! Quick and easy! Chicken Fajita Quesadilla.
Skinny Tomato Basil Soup
One of my recent finds was Skinny Tomato Basil Soup from The 36th Avenue. This is quite tasty!! The second time around I added tortellini to it (cooked separately) and topped with homemade croutons and Parmesan cheese. It's probably no longer considered "skinny" after that. 🙂 Fresh herbs totally make this soup. Tonight I used fresh basil, thyme and oregano from little herb-garden-in-a-pot.
10-Minute Refrigerator Dill Pickles
I love dill pickles, especially the garlicy, vinegary homemade dill ones. I found a recipe for 10 Minute Refrigerator Dill Pickles from Flower Patch Farm Girl that nearly make me swoon. I know, it's embarrassing! I made 2 quarts in time for our church Memorial Day Cookout. I kept some out for myself because I was afraid there wouldn't be any left! And there weren't many left. My note on Pinterest is the brine is so good I want to drink it. Tip: You can use the brine a second time but I found I had to add more salt and vinegar or the 2nd batch wasn't as good.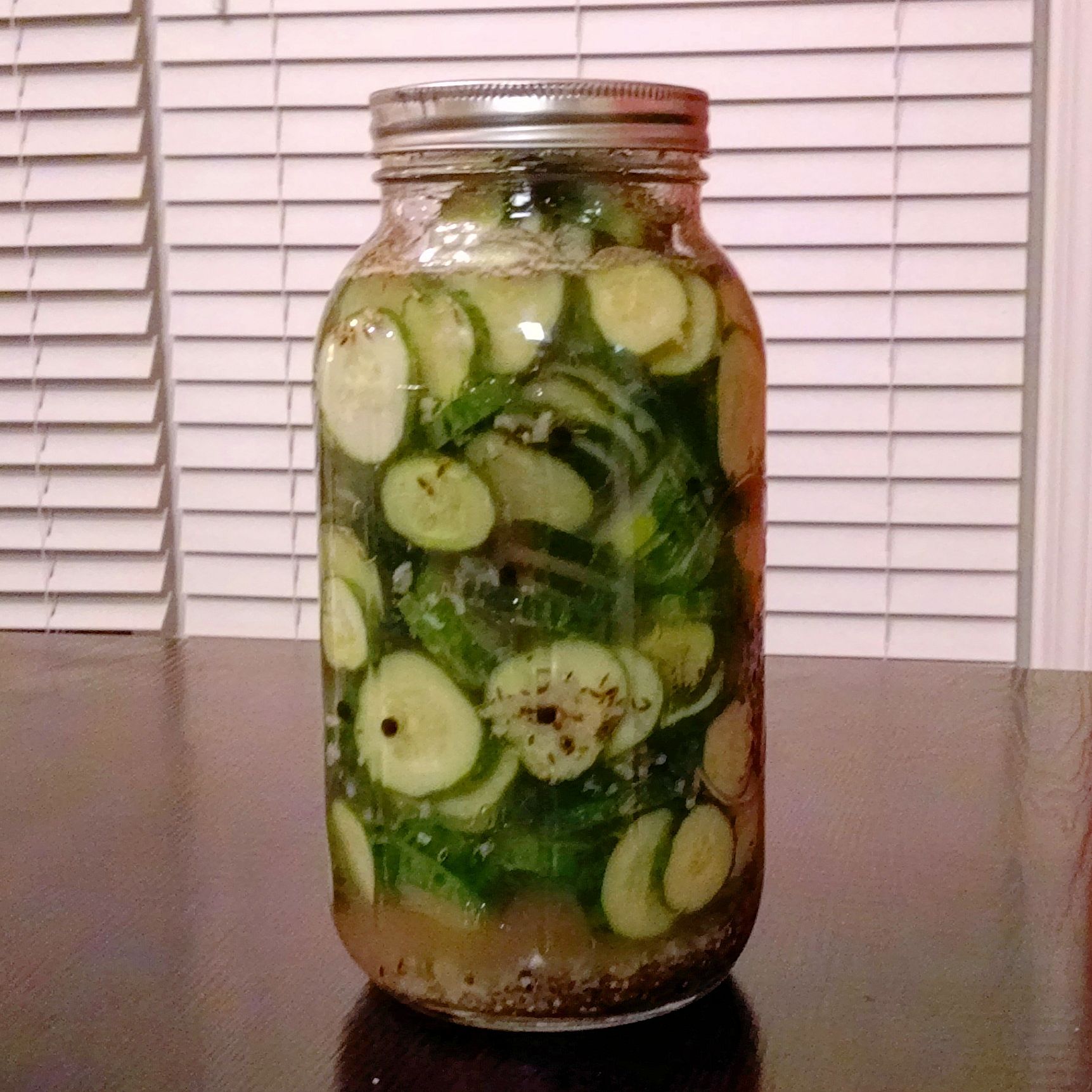 Quinoa Burger
Okay, this next recipe I did a major substitution, quinoa for rice. The Quinoa Burger from Eating Well Living Thin I make with rice and then eat as a side dish. We didn't have quinoa, had actually never bought any until recently so I used cooked rice. It is delicious so i have no reason to think that it wouldn't be delicious with the quinoa, and healthier too. I'm sorry I don't have a pictures. Feel free to go to her site and see! 🙂
Authentic British Fish and Chips
I eat Fish and Chips any chance I get. It is definitely not southern fare and southern fish are not as good as cold water fish like cod and whiting. We buy cod fillets at Sam's Club and love them. I made a substitution for this one too since I didn't have any beer on hand (yeah, shocking, I know!) I used ginger ale instead. And I didn't make the chips. I roasted potatoes in the oven instead. So this is about the fish only. Authentic British Fish and Chips is delicious but mine didn't look as pretty as hers. Maybe the beer makes the difference? It's also a phone picture it doesn't look as good here as it did in person.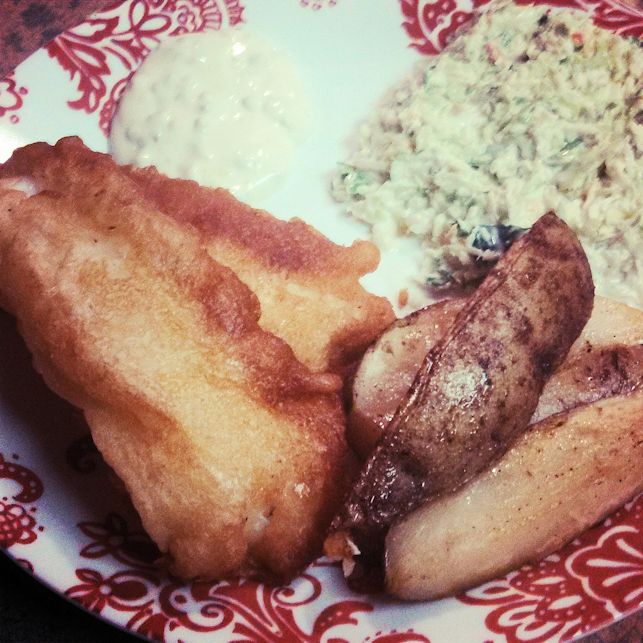 Bacon Wrapped Chicken Roll-Ups
I've found a number of recipes from Jamie Cooks It Up that are amazing!  Bacon Wrapped Chicken Roll-Ups are delicious as well and fairly simple for as pretty and flavorful. I didn't use quite as much bacon and added some salt and sriracha sauce to the cream cheese mixture. Tip: You want to make sure the chicken is pounded very thin. This breaks up the fibers and keeps it soft. It may look raggedy before it bakes but after it's finished, the pulverized chicken looks fine. Definitely a keeper. Sorry, no picture. Make sure to visit Jamie's site. She has a lot of amazing but simple ingredient recipes as well as weekly and monthly menus for inspiration.
Bourbon Chicken
Bourbon Chicken (without the bourbon) comes from Jamie Cooks It Up too. I used it as a contribution to a cooking show with our church ladies. I should have a picture of it over rice like Jamie does but I almost forgot to take any food pictures, much less pictures after we started eating. Tip: Doubling the sauce recipe will stretch your meat. The sauce is worth it!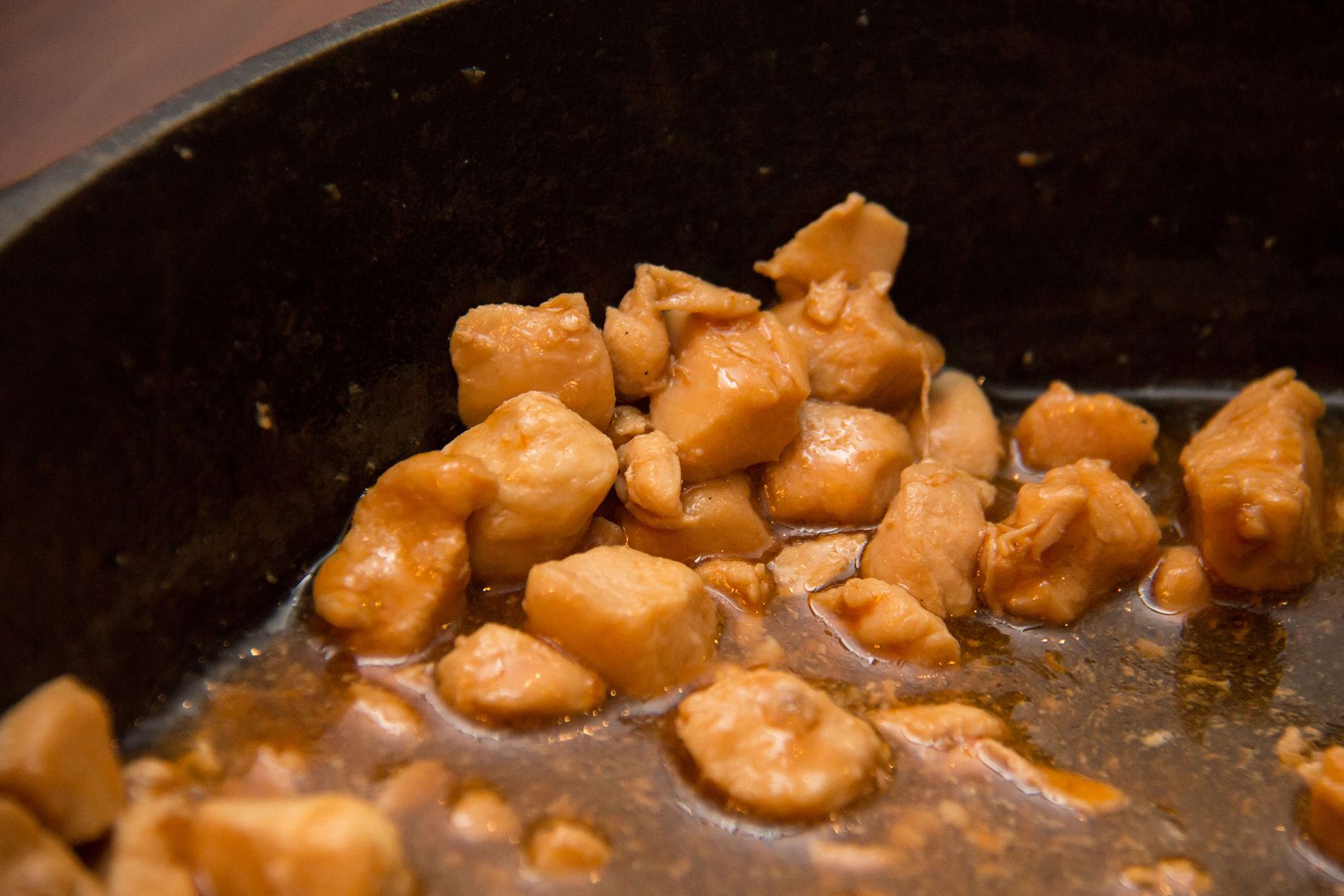 Maryland Crab Cakes with Horseradish-Sriracha Remoulade
When we were in Hilton Head last year, my friend ordered the crab cake entree at Skull Creek Boat House. Their crab cakes are rolled in salt and vinegar chips before they're fried. Some crab cakes have lots of bread or cracker filler. Theirs did not. It was filled with crabby goodness. Since then I have I've been dreaming making the perfect crab cake. Restaurants charge enough that you don't want to pay a lot for 2 crab cakes and then not like them. Lump crab meat can cost up to $14/lb. here so it's not the cheapest meat to make. But I went in pursuit of a recipe online. Maryland Crab Cakes with Horseradish-Sriracha Remoulade totally fit the bill! I didn't take a pictures but mine looked a little gray instead of a white and golden color like hers but it was delicious! I did roll some of them in salt and vinegar chips. My sister said she couldn't tell a difference. I thought the addition of the chips added the perfect bit of flavor. The sauce packs a punch! I'm guessing it should with horseradish AND sriracha!
Pork Neck Bone Stew
Okay, I'm not so much posting Pork Neck Bone Stew because it is my favorite recipe but because a) I only tried it because I accidentally got unsmoked neck bones [I wanted the smoked for stuff like black-eyed-peas, etc. The unsmoked does not add great flavor to beans!] and b) It's been re-pinned more than any other recipe I've pinned. I don't know if that's because a) people accidentally got the wrong meat like me or b) because there aren't many recipes out there for pork neck bones. I don't remember what I paid for the meat, but the flavor was quite good (from the bones) and it's a way of stretching a little meat. It's been pinned from my board 38 times! It's by far not the most delicious sounding recipe out there. Tip: I found it to be very spicy (hot) so added a little sugar and cream to tone down the flavor. If I was making it to include kids, I'd back off the cayenne pepper and jalapenos. Tip 2: My bones had very little meat so any picture I'd have taken would've not looked as meaty as hers. Mine was literally little tid-bits of meat in a rich gravy.
Crack Bread
Crack Bread was a big hit at our weekly office meetings! I usually tried to find artisan bread that was marked down at Walmart. An electric knife is quite important to get clean cuts, unless you're better at cutting bread with a serrated knife than I am. Serve with pizza sauce and/or ranch dressing. This pictures was taken before I baked it into a delicious, gooey goodness!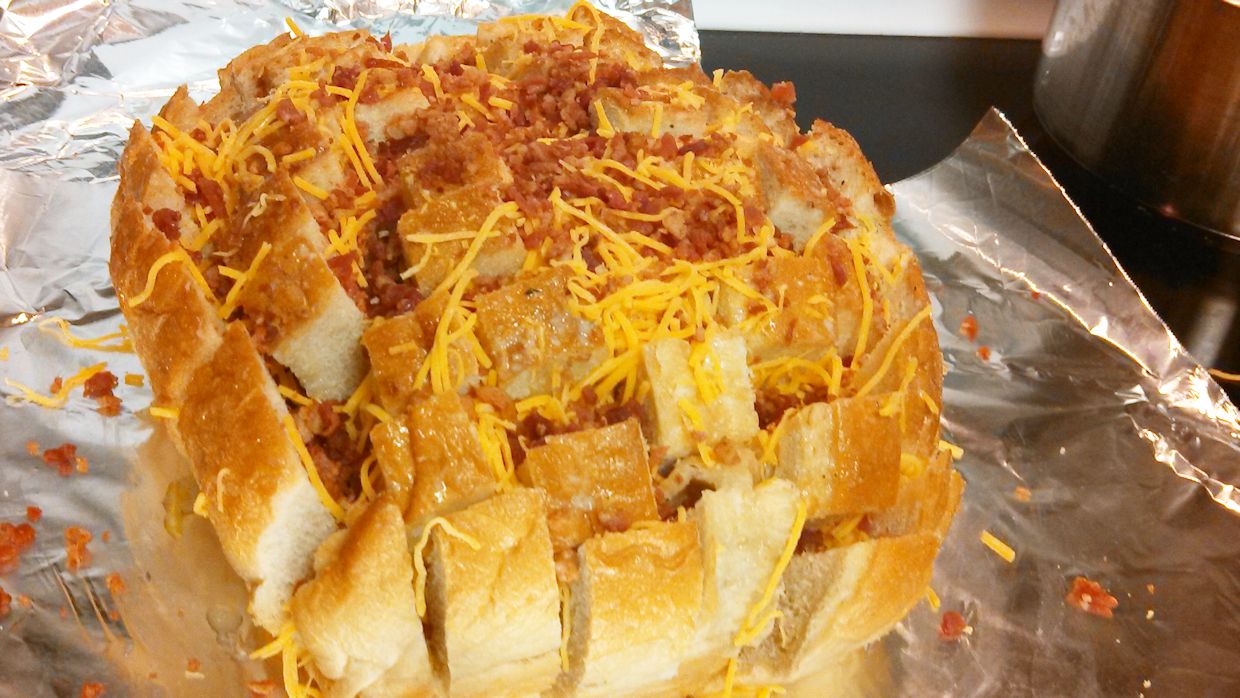 A few more quick ones:
Edamame Hummus Delicious and healthy dip (I added soy sauce and ginger since I thought it needed a little more Asian flavor)
Cilantro-Pecan Pesto Mediterranean Layered Dip Delicious, pretty and healthy
Sweet & Salty Party Mix Far from healthy but delicious combo of sweet and salty. I made some to give away at Christmas.
Have you tried any of these recipes?
Click HERE to see my boards and see what else I have pinned.