Last December I was desperately looking for a gift for my co-workers, mostly men. It's hard shopping for men who aren't your husband/boyfriend/dad/brother. I found a recipe on Pinterest for a steak rub and decided to pair that with some grilling tools and just hope they didn't already have everything they needed for grilling.
Magic Dust Seasoning Mix found on the Simply Shellie blog was just the ticket. I don't know if the men have enjoyed it but I know I have! I had enough left over for me to keep some. I was hoping it was good because I gave it without having used it myself first. 🙂
I discovered I like it very much as a blackening seasoning. We've upped our fish consumption, salmon or cod being our favorites. To blacken, I simply rub the fish with olive oil, then rub in a generous amount of Magic Dust. It doesn't have a high salt content so you may want to sprinkle on a little more salt when frying.
Heat the pan and add a little olive oil. The thinner the fish, the higher heat I use. The salmon tends to be thick so I don't fry it as hot. I don't want the outside to burn before the center is done. Raw salmon is gross. Because I said so.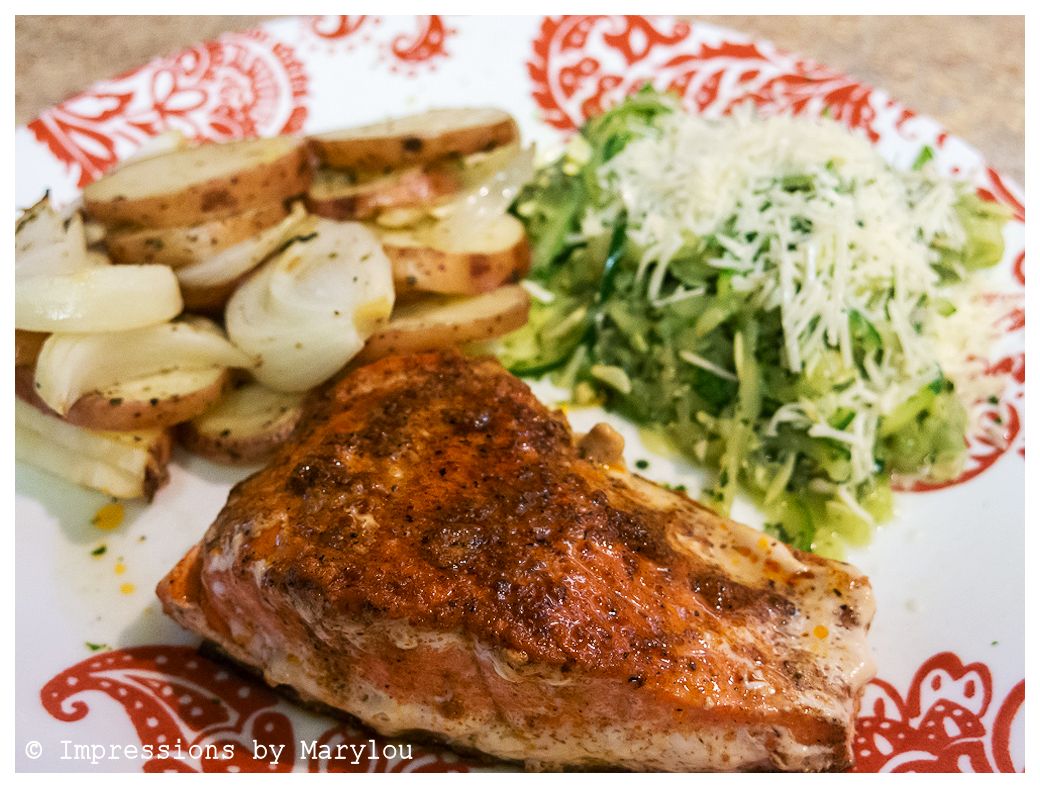 I fry the skin side first, if it still has skin, and then flip to finish. Serve with tartar, if desired, or Sriracha Mayo. I haven't told you about Sriracha Mayo??? I will sometime soon.
Magic Rub Seasoning Mix (from Simply Shellie)
Makes about 2 cups
Ingredients:
½ cup Paprika
¼ cup Kosher Salt
¼ cup Sugar
¼ cup Cumin
¼ cup Granulated Garlic
¼ cup Chili Powder
2 tablespoons Mustard Powder
2 tablespoons Ground Black Pepper
2 tablespoons Cayenne Pepper
She has a printable tag that is quite nice.