Well, I didn't expect it to take this long to post. I hope your sourdough starter wasn't waiting on me. 🙂 As I mentioned in my 1st post on sourdough, my starter wasn't as active as it should've been so I found King Arthur's Basic Sourdough Bread recipe. This worked great until my starter got more active, which I attribute to using only unbleached flour.
I use this basic bread recipe to make my favorites: cinnamon swirl and Italian herb and cheese. I occasionally make plain white.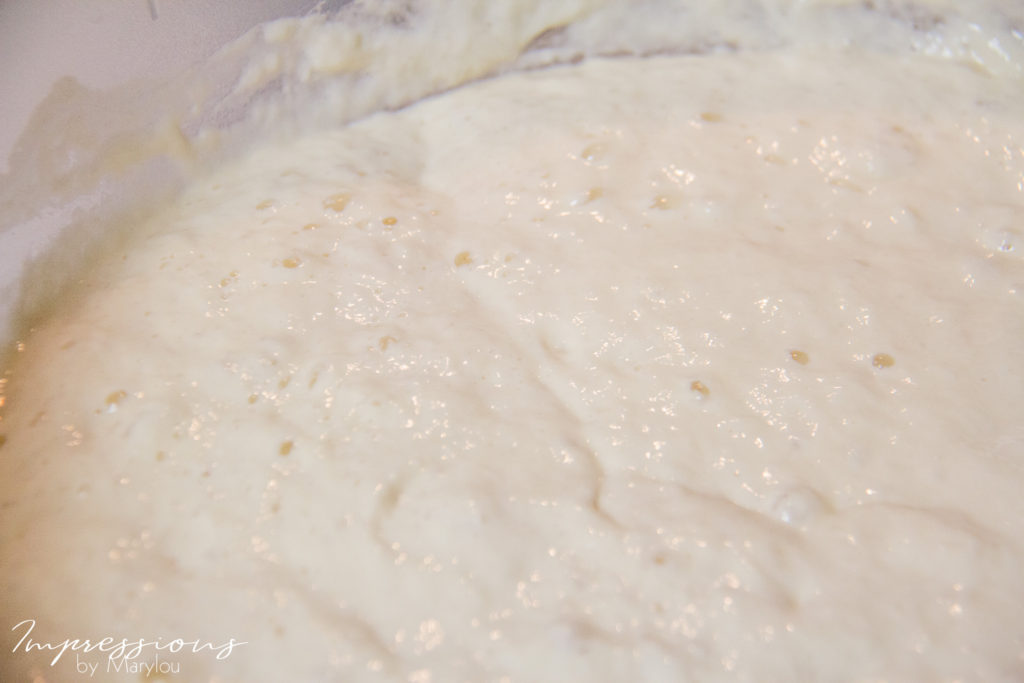 Another tip Linda passed along to me was that the bread rises best if you make the dough within a few hours of feeding the starter, when the starter is at it's most bubbly stage.
We have access to fresh Jersey milk and the butter my sister makes is so bright yellow you'd think food coloring was added!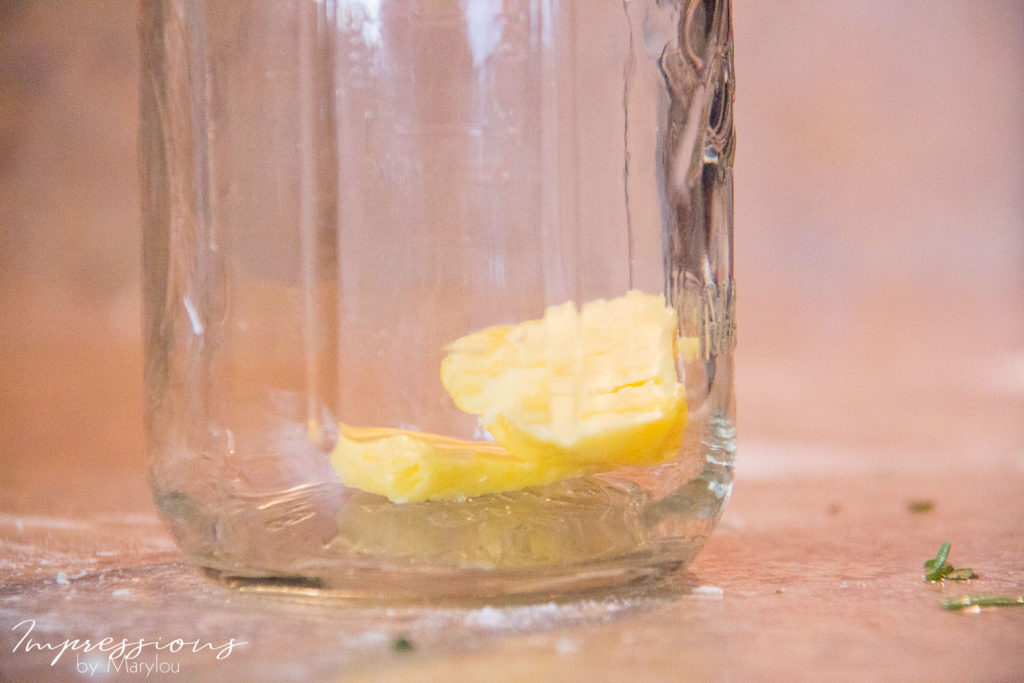 Melt the butter in the microwave and add the milk. Heat until just warm. [These pictures show amounts of everything for a double batch.]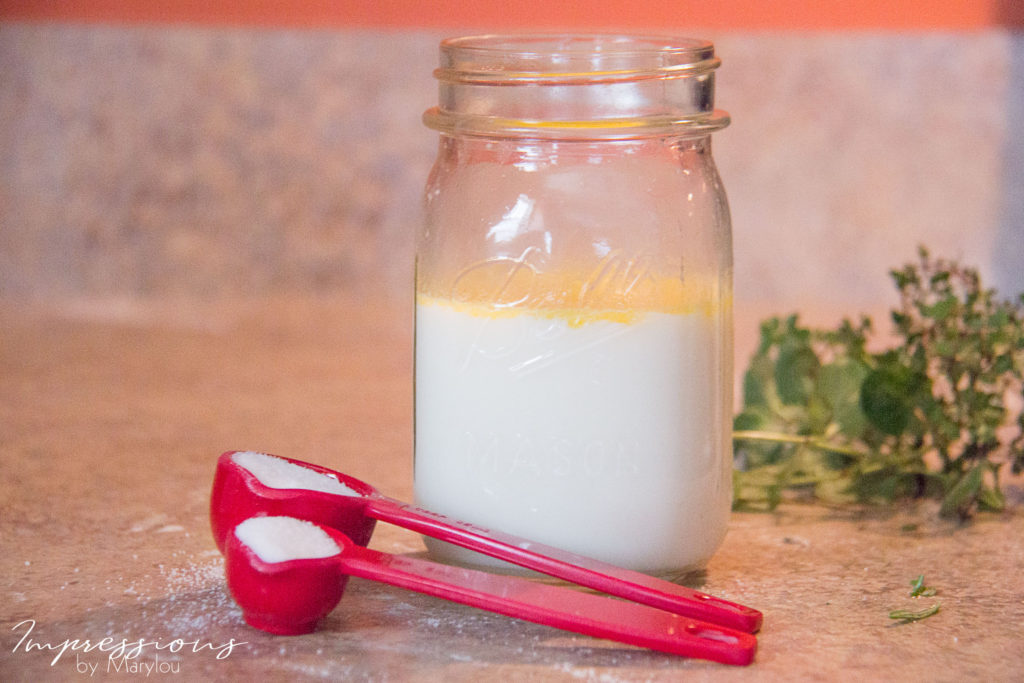 Add the salt and sugar and stir until dissolved.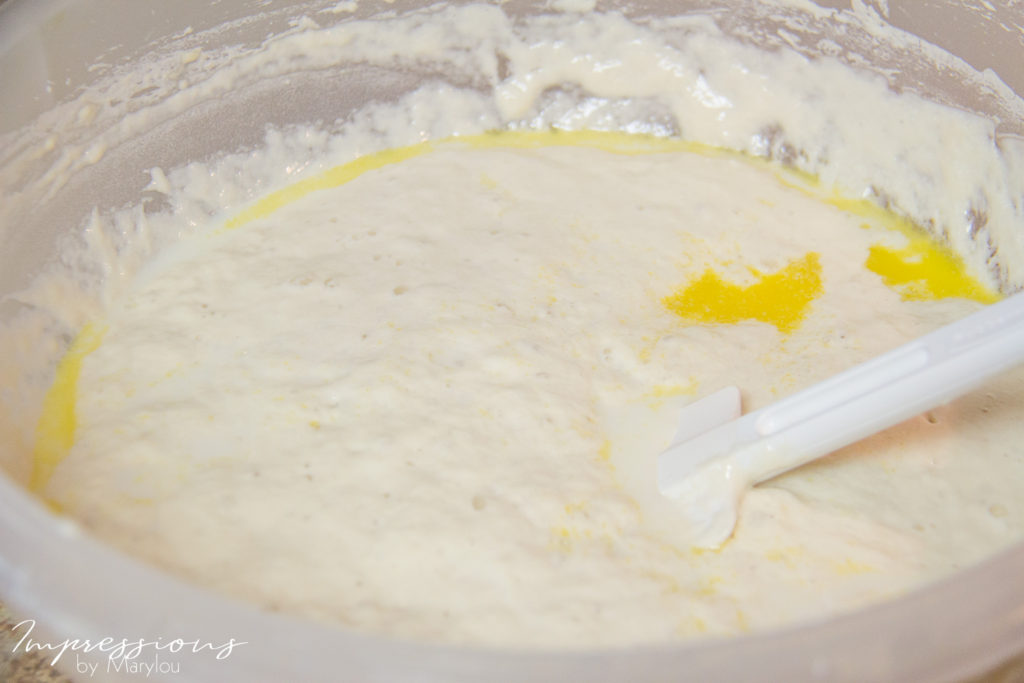 Add it into the measured out sourdough starter and mix together well.
If you're making it with herbs and cheese, add it now.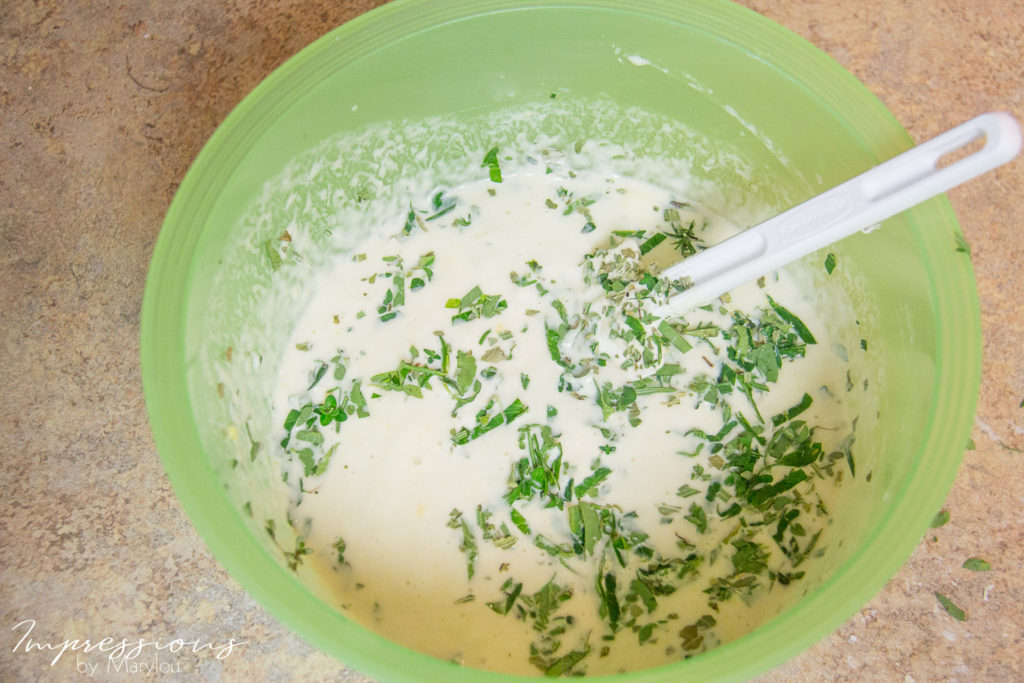 You could do all of this in the mixer but I admittedly LOVE doing this by hand. We have a Kitchen Aid and the dough tends to go over the dough hook and into the machine and I got tired of dealing with it.
Plus I just love the feel of working with dough. Win win!
Add at least half of the flour now. I stir with a large spoon until it's too thick to stir and then dump it out on a floured surface.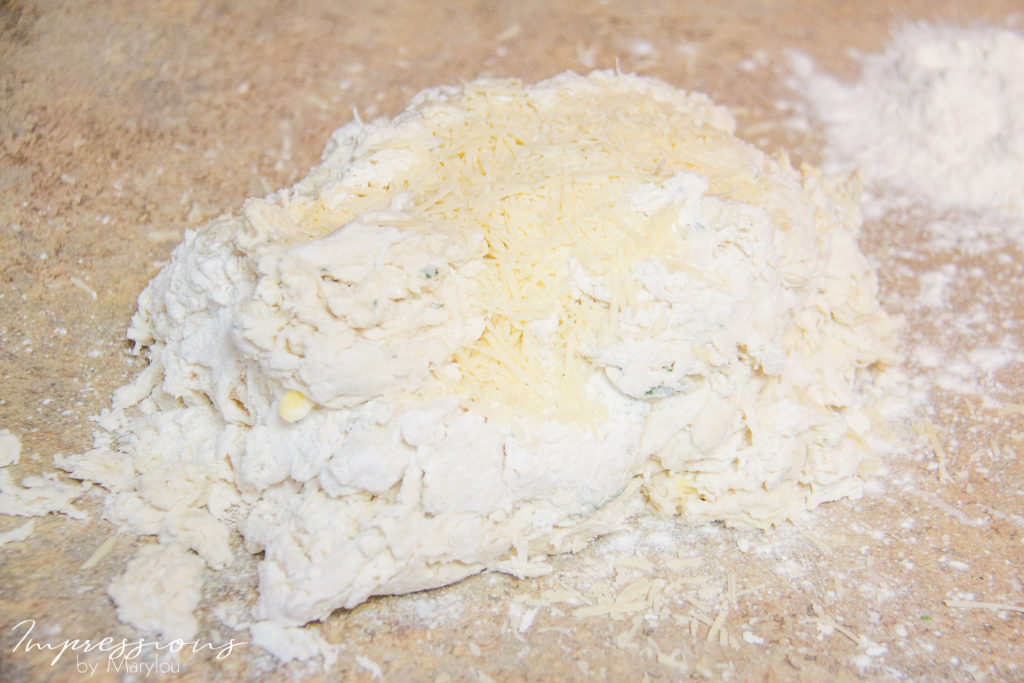 Some people weigh their ingredients but I don't. No. 1, I don't have a food scales, and No. 2, I'm just not that precise. Work in the rest of the dough as needed. Enough flour should be added so that the dough is not quite sticky any more. Add too much flour and it can make the finished product tough.
I probably knead it for about 10 minutes, working in the amount of flour it needs. It's usually pretty close to the recipe. I find it amazing how humidity (we have it in spades during the summer) and other elements affect the amount of flour needed.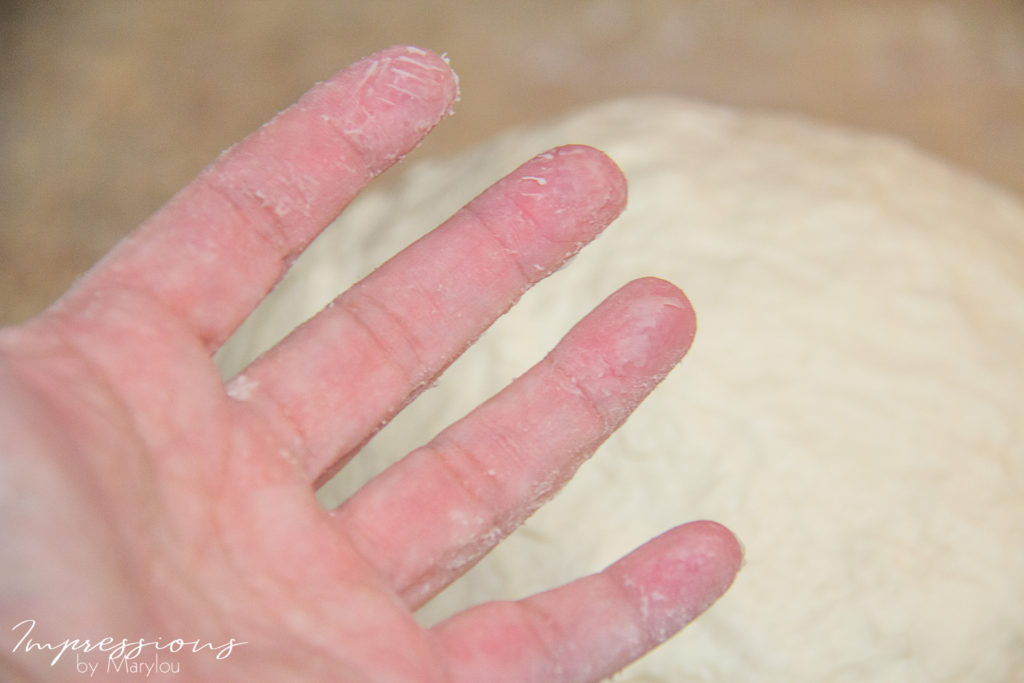 Your hands (if using them, of course) should no longer have dough sticking to them.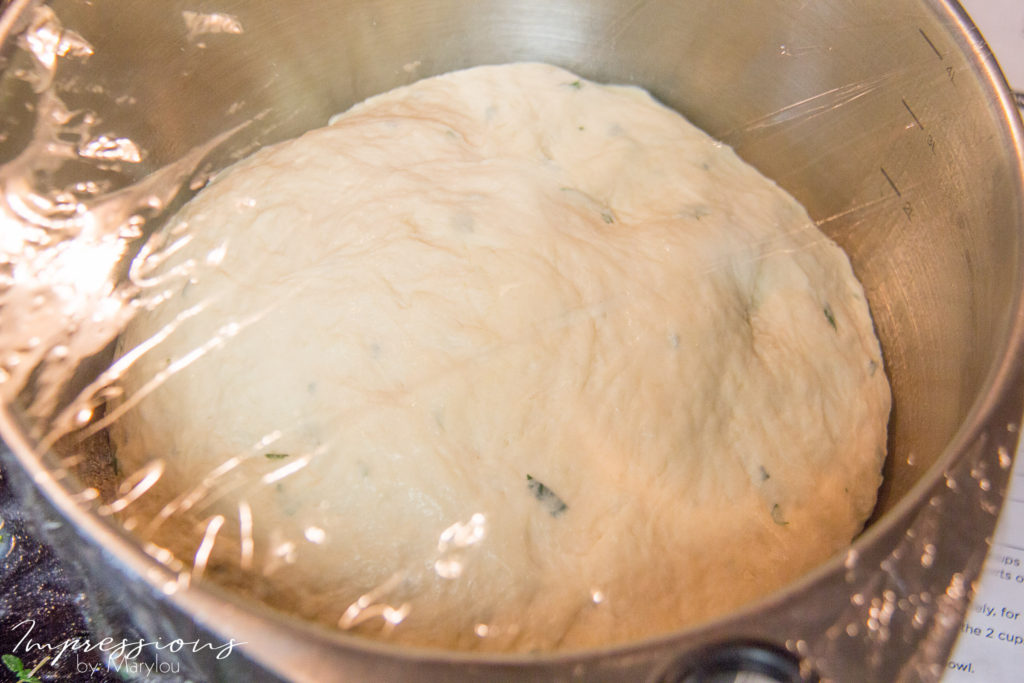 Cover and let set in warm-ish place until it has doubled in size. I usually throw a towel over it yet. If I need to speed the rising time up, I put it out in my car and park it in the sun with the windows partially down.
See those fresh herbs?! I have rosemary, thyme and oregano growing in my herb pots year round. We use them so often, I would feel handicapped cooking without them. I just planted some basil too.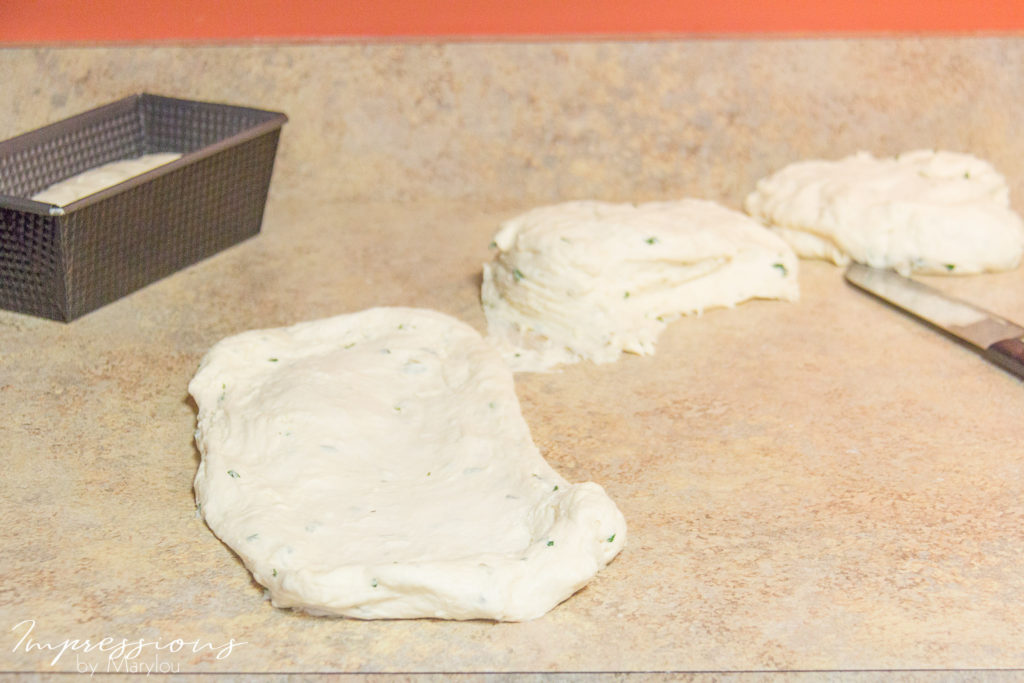 Divide the dough into loaves. I think I made a double batch and made 3 medium loaves. If you make one batch, it will make a quite large loaf. I usually do not try to deflate it and get all the air out, as my Mama used to do when she would "spank" the loaves when were little. 🙂 Hers was a quick yeast dough.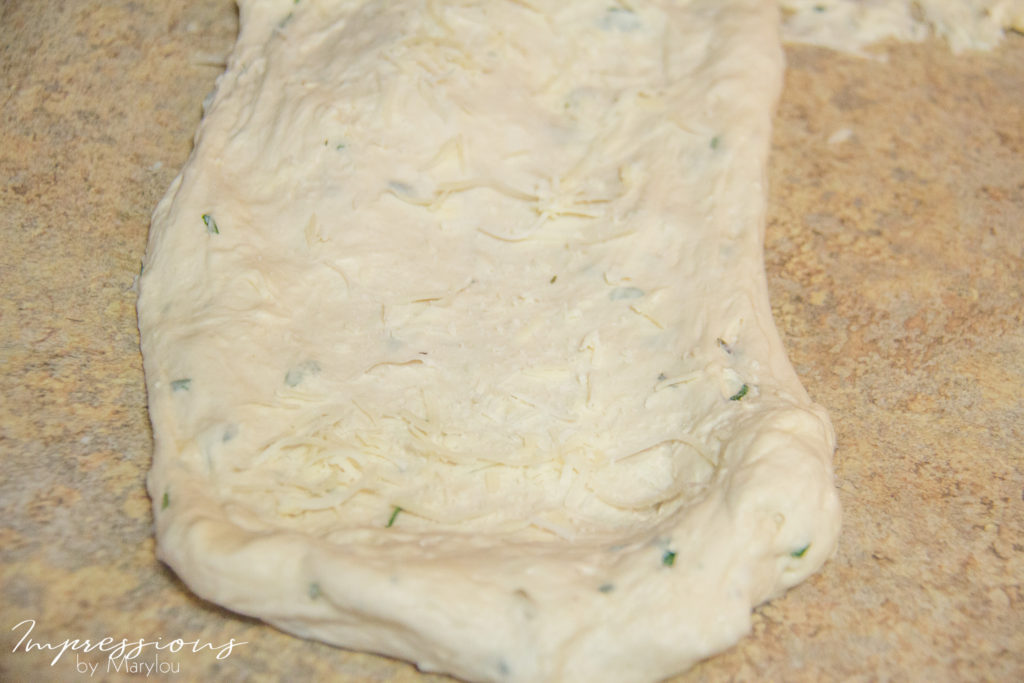 Kind of stretch it into a large rectangle. Add more Parmesan cheese, if desired, and roll it up.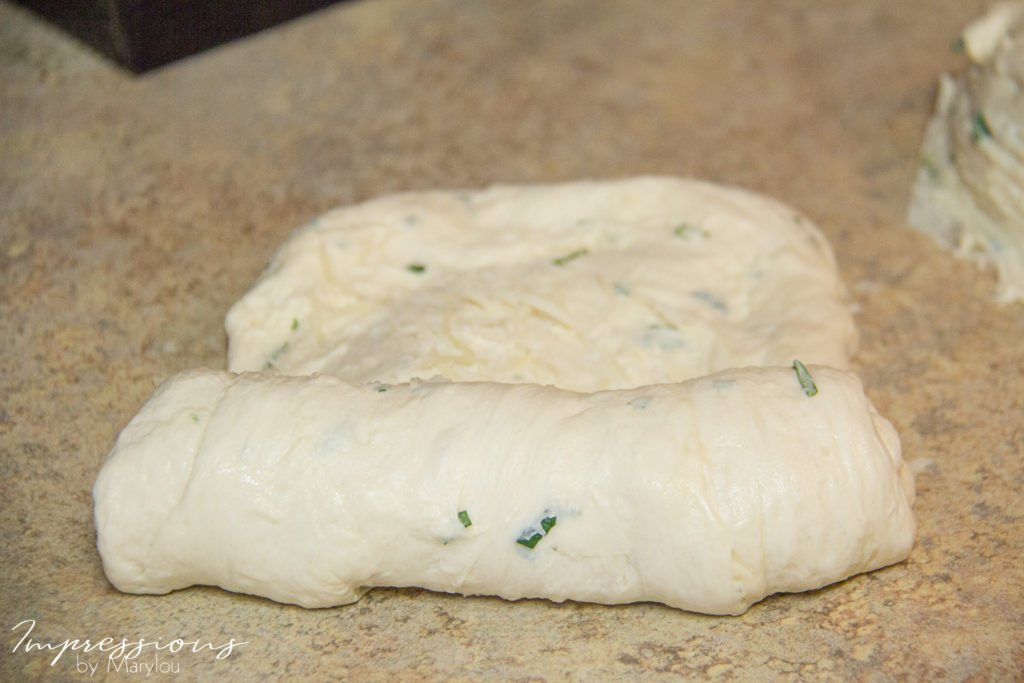 Pinch the seams shut and place it seam side down into greased bread pans.
To make cinnamon swirl, stretch the plain white dough into rectangles, then sprinkle with cinnamon.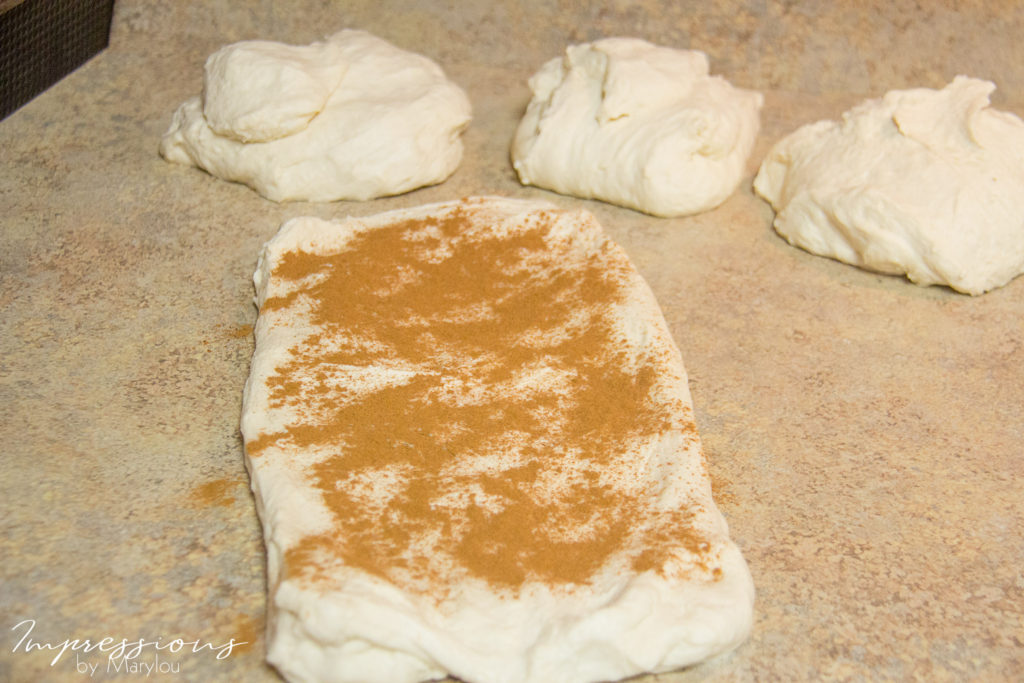 Roll them up and pinch the seams. Place seam side down into greased pans.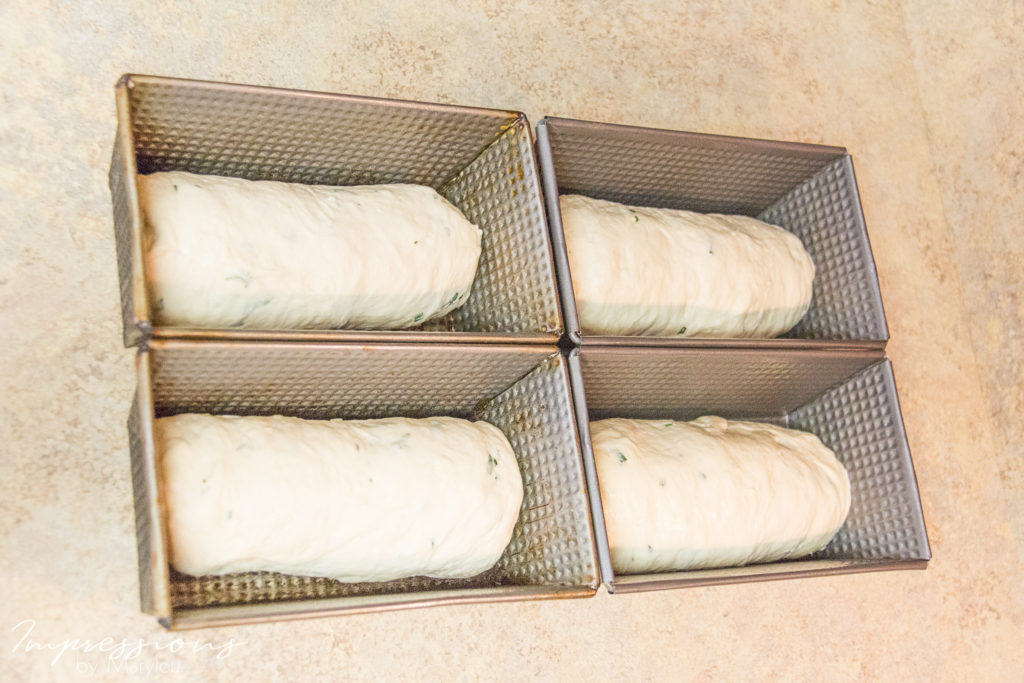 I again cover them loosely with plastic wrap and with a towel. The 2nd rise usually goes much more quickly. I keep an eye on the plastic wrap to make sure it isn't getting too tight.
I think sourdough is more forgiving than yeast dough. If I have to pull the wrap loose, I pretty much don't worry about the dough "falling". Last Thanksgiving I took my sourdough along to my sister's place. We got so involved in our evening at my nieces' house that I forgot to bake the loaves. It had risen and was spilling over the edges. I baked it anyway and it was fine. It was a bit more holey than usually but still quite edible. Adding jam was on the toast was inconvenient because the holes were big enough the jam seeped on through!
Bake as directed. I started baking it for about 10 minutes less than what was on the original recipe. I think it's just as good and the crust is not as dried out. As long as as it is golden brown, and the loaf sound hollow when you tap it, it's good to come out of the oven.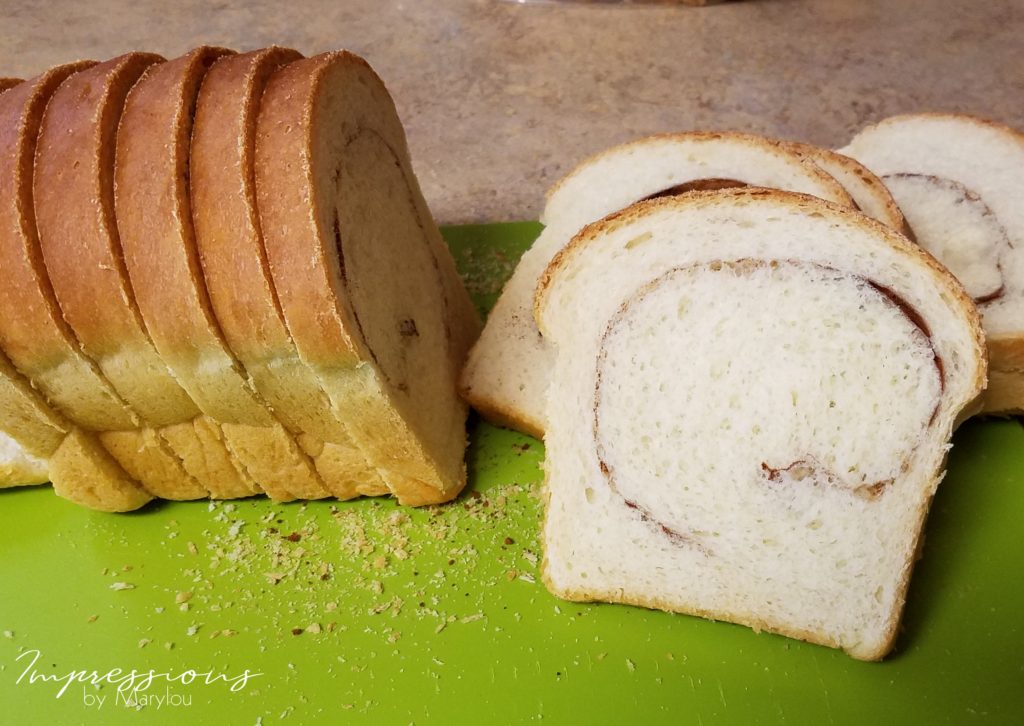 The cinnamon swirl makes amazing French toast!! We used to use up old bread for French toast so that's why it feels a little funny using good, fresh bread for it but who cares?? 🙂 Not me.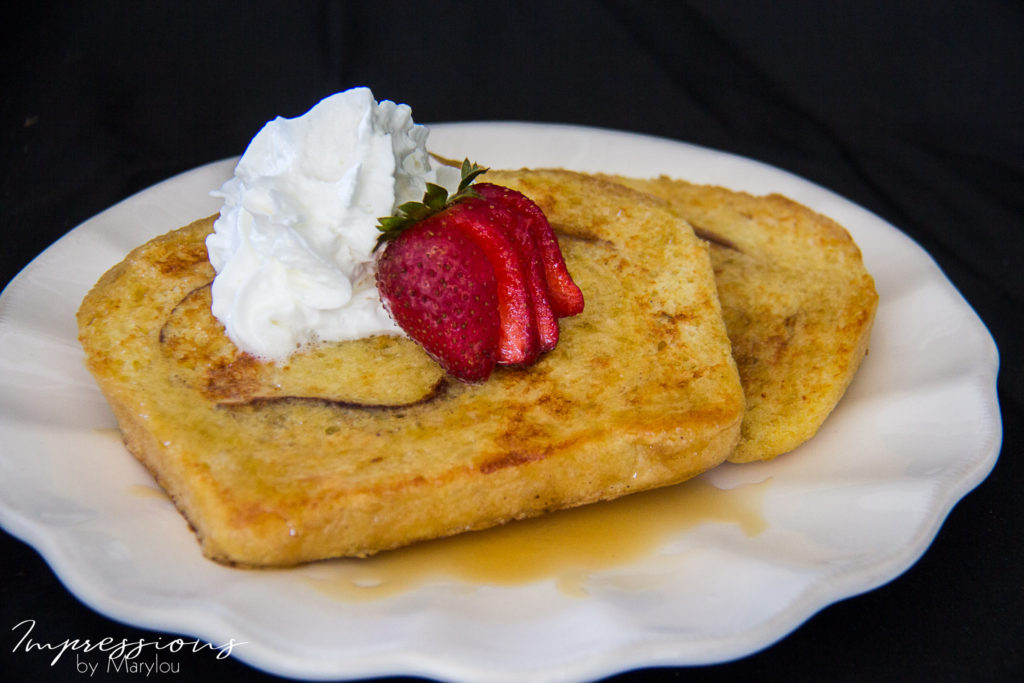 The Italian herb and cheese makes delicious paninis! I use a baby George Foreman grill to make paninis. They can be found at any thrift store near you, I'm sure.
Basic Sourdough Loaf Bread:
2

cups proofed sourdough starter

3

cups bread flour or unbleached flour 
directions:
Measure out 2 cups of starter that has been fed within the last 2-4 hours into a mixing bowl.
Melt butter (I use the microwave).
Add milk to butter and warm slightly.
Stir in the salt and sugar until dissolved.
Add this to the starter and mix well.
Add at least half the flour, and stir until it is too thick to stir.
Turn onto floured surface and knead in the remaining flour until the dough is smooth and satiny. You may not need all of the flour.
Place in a greased bowl and cover with plastic wrap and a towel.
After dough has doubled in size, approx. 2 hours depending on the warmth of the area it is resting in, remove and placed on lightly greased surface.
Pat dough into a 1-inch thick oval and form loaf by rolling oval up from the long side, pinching the seam together as you roll the dough, tucking ends to form the loaf.
Place in lightly greased loaf pan, cover loosely with plastic wrap and a towel and let rise.
When the dough has at least doubled in size, it is ready to bake. It usually takes less time than the 1st rise.
Preheat oven to 375 degrees F.
Bake for 10 minutes, then reduce heat to 350 degrees F and bake an additional 20 to 30 minutes (baking time varies according to your oven and your personal taste) (for a darker loaf, bake 30+ minutes). If the bread sounds hollow when you tap the top, it's finished.
Remove loaf from oven and brush the top lightly with melted butter; turn loaf out of the pan and cool on wire rack.
Variation 1: Italian Herb & Cheese; add fresh herbs such as oregano, rosemary, thyme, basil that have been chopped fine. Add 1/4 grated cup Parmesan cheese to the dough, and another 1/4 cup when you form the loaves by rolling up.
Variation 2: Cinnamon Swirl; simply sprinkle the desired amount of cinnamon over the rectangled dough before you roll it up to place in bread pans.
Yield: 1 large loaf
[I usually make at least a double batch and then get 3 medium-sized loaves from it. This recipe is a large loaf.]