It's kind of hard to wrap this all up. But it is high time to do so! My nieces were here a few weekends ago and we discussed doing a collab post to list the things we wish we would've done different or the things we are glad we did. February seems to not be any slower for any of us so it's just me on this. My sister might do a guest post down the road.
Food Tour – I mentioned this to the others and they weren't sure it was worth the money but I keep thinking there is more food that we would've enjoyed eating if we had known about it. Or, that the bread that comes (not free) automatically can be used to clean up your plate. Or, maybe it would be okay to ask for olive oil to dip the bread in. We eventually made sure to let them know if we didn't want bread because it added to the cost of the meal and it was ridiculous to throw away a Euro or 2 if we didn't want bread. I think I had mentioned that we didn't just love the food. So chalk a Food Tour down on the list of Things I Wish I Had Done.
Time – It's impossible to see everything you want to see in each place. If a blitz of 5 areas (like we did) is not your thing, pick 2 or 3 and spend more time at each place. If you don't want to drive, you can easily get public transportation to pretty much any town. The fast trains are fast!
You can also re-visit via Youtube. 🙂 There are many videos available to see the things you missed. This may be good or it may be frustrating. When you're tired and can't think of walking 1 more step, but then you look at videos of Venice and see what all you didn't get to see… well, just remember there's a limit to how much you can take in and don't pack it too full. Here is a walk through Venice (1 of 6) on YT. Pause it at 52:34. See the 2nd floor balcony to the upper right? That was our apartment. These walks videos have good tidbits of information. This was filmed in December 2018 and the streets are relatively empty.
If you don't want to make your own travel plans and don't want to budget travel, join a tour. If you don't want to spend a lot of $, but don't want to make your own reservations, etc., check out travelzoo.com. They often have 5 to 7-day package deals to Italy including airfare for under $1000. Some do include car rental rather than train fare.
Driving/navigation is not that difficult in Italy, outside of the bigger cities. If you do, know the basic signs, including the ZTL zones where you can get big fines for driving on them. If you have a small car, so much the better! There are many tight streets and corners to maneuver through. Lois was a trooper and did all of our driving. One time we got stopped in a small town in Northern Italy. A random flagged down by the police. We weren't speeding nor had broken any laws. They checked our paperwork and we moved on.
Don't get the cheapest lodging out there for your main stay. On our last night, we were in Rome. We got a motel within a few blocks of Termini Station, the main train/subway station in Rome. It was nice to be able to walk to our accommodations coming in and leaving but the nice motels are pricey. We paid over $100/night/room for a motel that was pretty dumpy. It was safe and our rooms were clean, for the most part but it badly needed a renovation, thought I'm guessing that would drive up the prices. Even a fresh coat of paint to cover up the dirt on the bedroom walls would've helped. The one bed was against the wall and I'm guessing people rested their dirty feet on the white walls. You pay for location and convenience.
The touristy feel around Termini would be enough to make we want to stay somewhere else. We went walking around looking for supper and walked past a restaurant where they shoved a menu into my hand after we couldn't be talked in. A block or 2 down the street we walked past a nicer restaurant and the guy out on the street saw the menu I was looking at and said, "that's not real food!" 🙂 For some reason I stuck it in my luggage and brought it home. To show you, I guess. 🙂 You can eat pretty cheap, if that's your goal. Check out that student deal: 6 pieces of chicken, 4 hot wings, fries, Pepsi and free rice for 10 Euro!
Make sure to allow enough time to get to the airport. We thought 2 hours was PLENTY of time. We actually caught an earlier train to the airport than we had planned on, because we got the train station in plenty of time. It took us all of the allotted time to leave the train, walk to the terminal and check in. We had just enough time to grab some gelato and crepes and pizza to use up our leftover Euros before boarding the plane.
————————————————
One of my favorite souvenirs is a mug. If I don't find one I like, or do not have a chance to shop, I make my own when I get home. I got these printed at Zazzle.com. They may not be the most trendy thing but when I'm at my office working and sip my hot caramel latte from these mugs, I get all the warm, fuzzy feels remembering our lovely trip.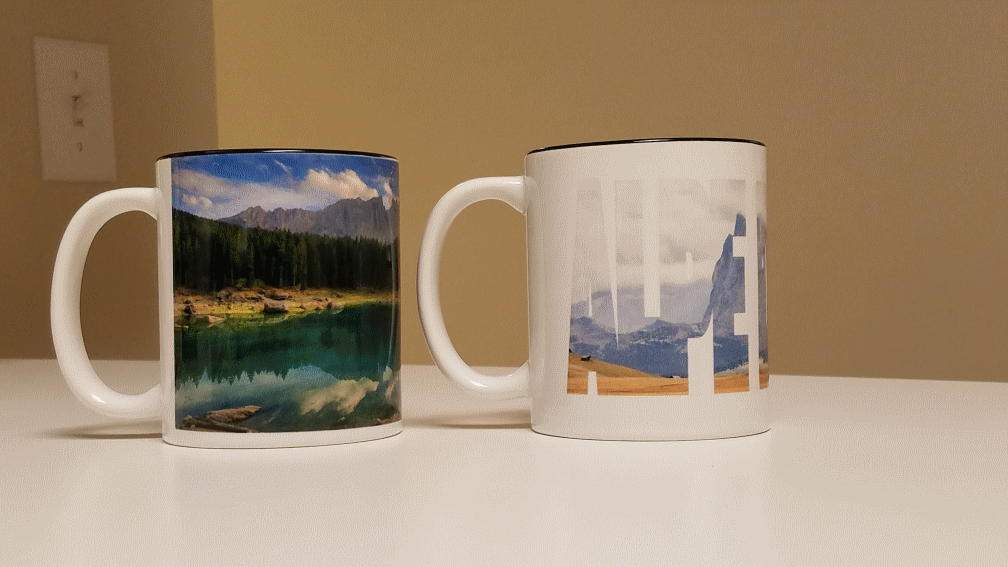 ————————————————
One more thing and I'll let you go. We flew back through London. I had a window seat and Vicki and Ruth Anne were seated next to me. As we came in, we had a decent view of the Tower & Tower Bridge, Buckingham Palace, etc. I turned my phone camera on, zoomed and let them see it on my screen. I said, "Go around again! We want a better view." The bizarrest thing happened. We were not but a few thousand feet off the ground and suddenly we accelerated and ascended again. Everyone looked around rather puzzled. After a bit, the pilot said they had gotten clearence for landing just a little too late and had to pull back up and circle around. I think Heathrow is one the busiest airports in the world?? And we got our 2nd view of the London Tower, Buckingham, etc.  🙂 Wasn't that grand?