Somewhere in our research I had seen some information on a train ride from Tirano, Italy to St. Moritz, Switzerland over the Bernina Pass. Train + mountains, why not? I contacted my cousin Twila and her husband John, who had been to Switzerland a few years ago, to see if they were familiar with this trip. They had been on this leg and gave us good advice on taking the local trains vs. Bernina Express. The Bernina Express is a train that runs between Chur, Switzerland and Tirano, Italy, several times a day,and with few stops. It features panoramic windows for a good view. In the summer, they include several open cars. The panoramic windows don't open, and the windows of the local train do, which was a big deal for getting good photos.  The cost of the local train was also about half of the Bernina Express, although I believe they are less comfortable/cushy. We rode in the 2nd class car, which was fine with us. The local train is the Swiss train line that begins in Tirano and runs up into Switzerland to … well, I have no idea where this train line ends. 🙂 It does make stops at every train station along the way. We chose to go only as far as St. Moritz, instead of going all the way to Chur, since we wanted to return the same day. It was maybe half the cost (?) and easily doable in 1 day.
Tirano is a border town and is distinctly Italian in culture. In fact, the next number of towns inside Switzerland had Italian names.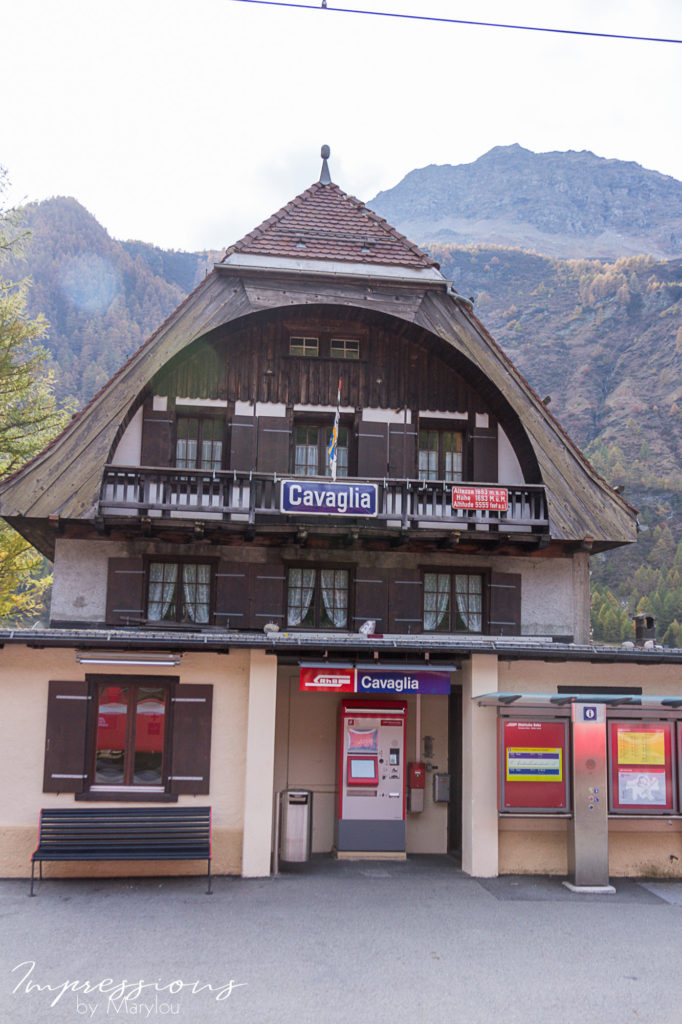 The train slowly made its way through small towns scattered along the valley.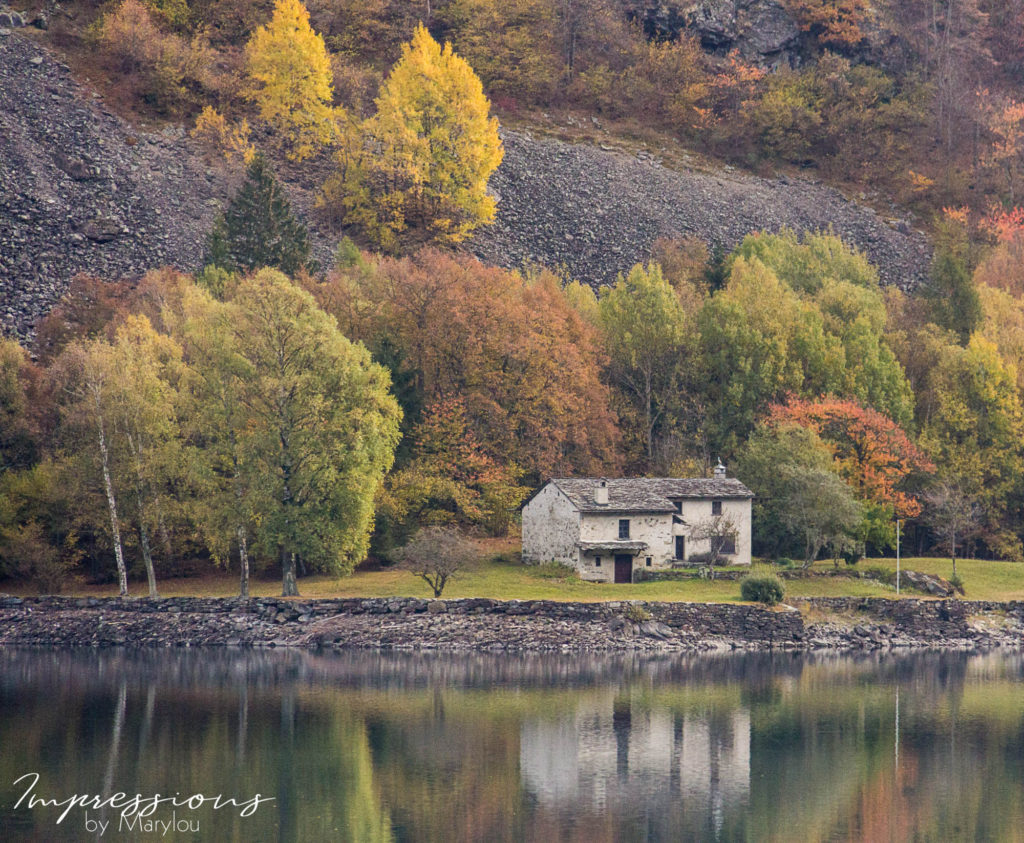 And old houses.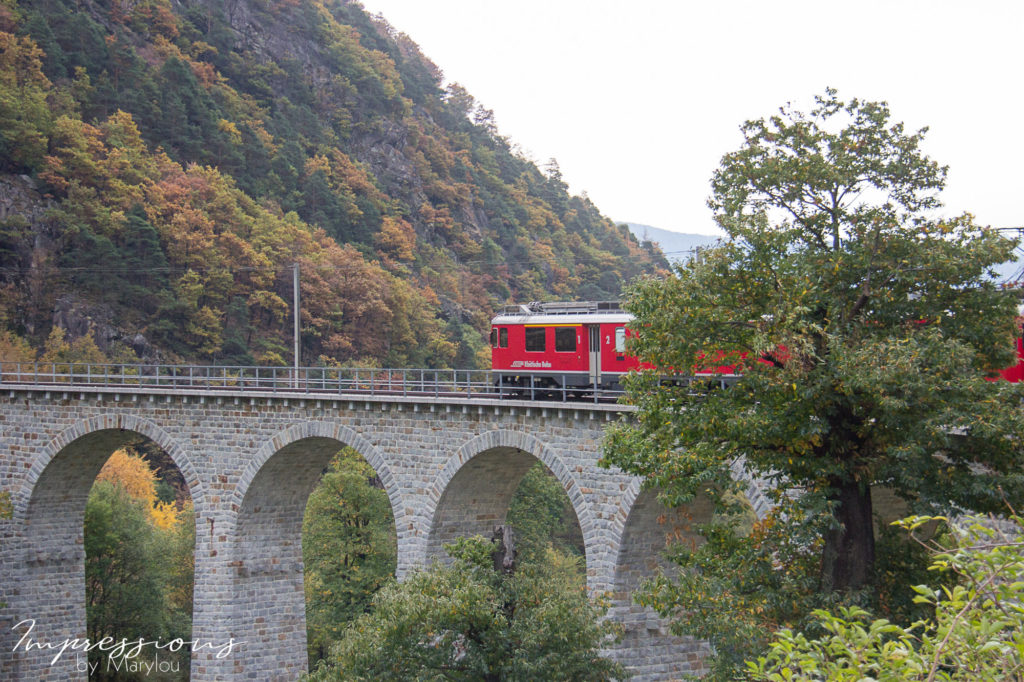 Around a loop-de-loop viaduct, which was hard to capture in 1 shot from the train.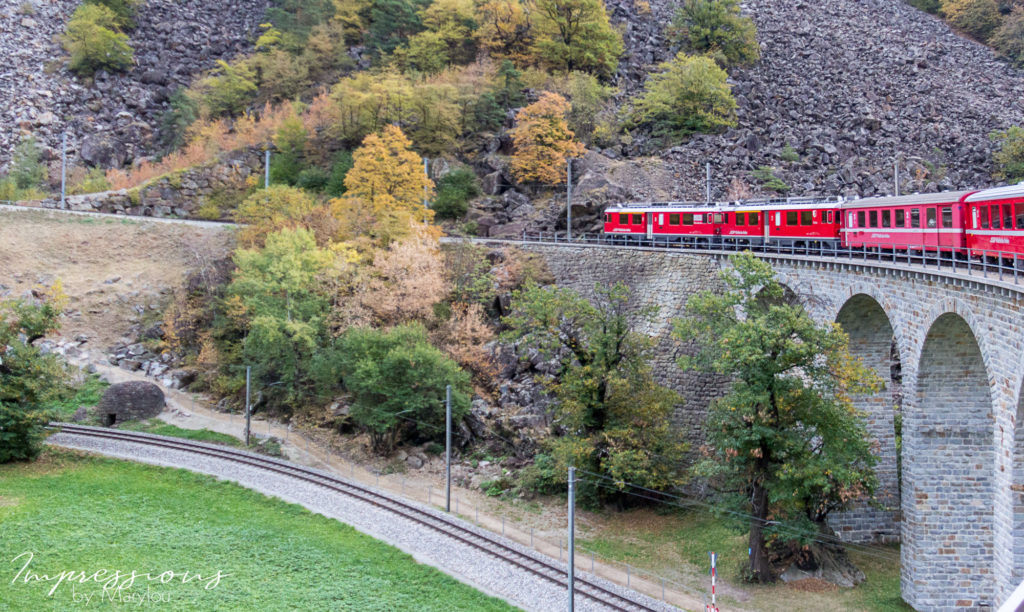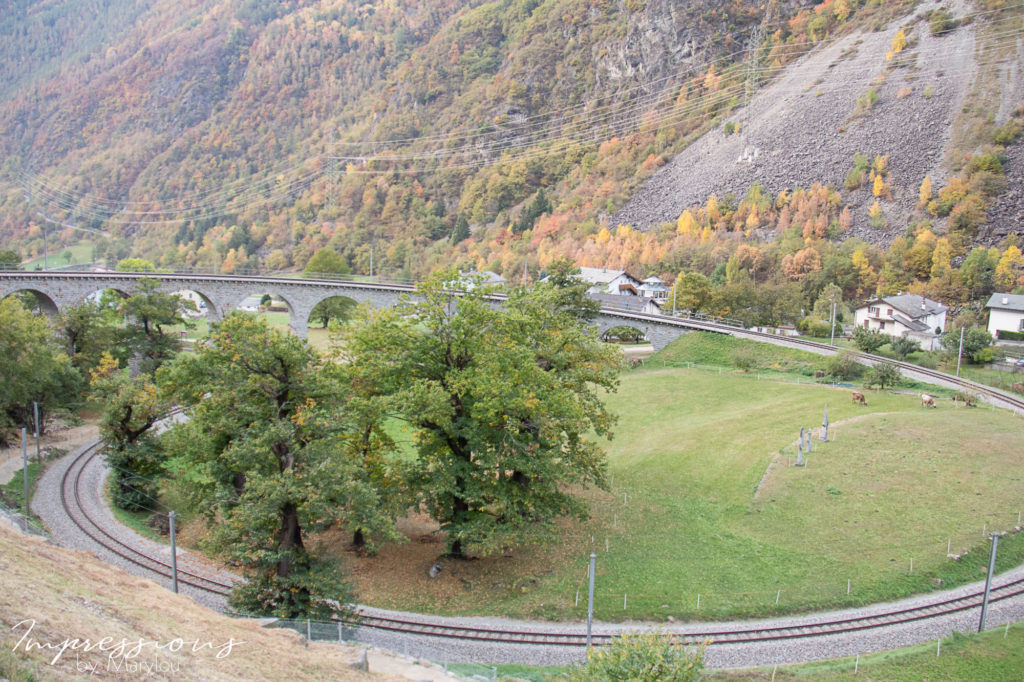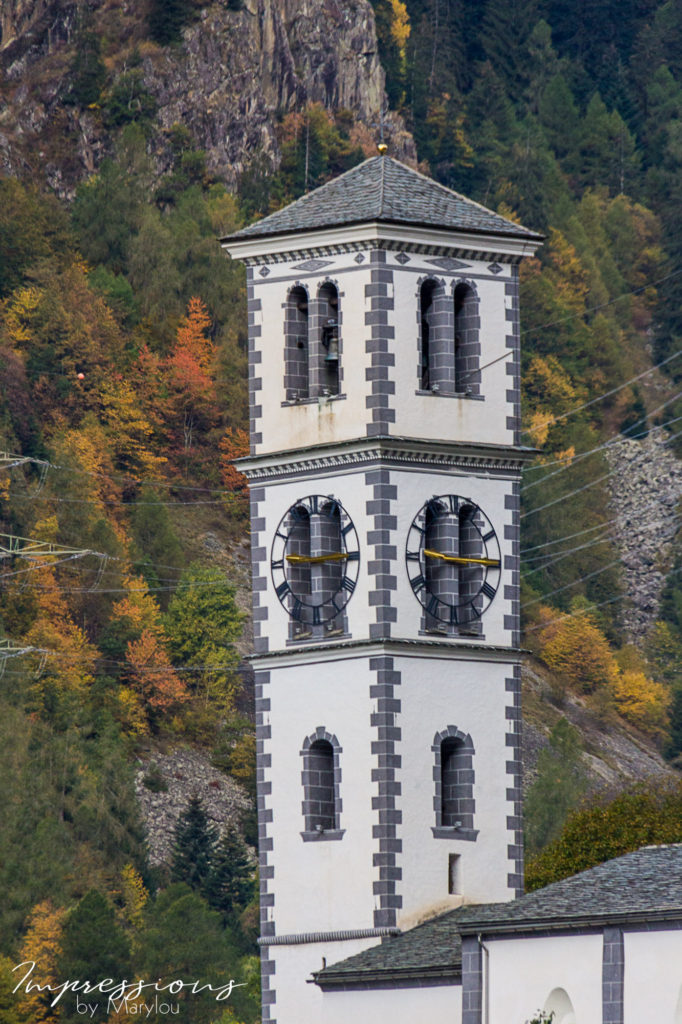 Around Swiss cows who didn't even look up as we quietly rode past. The electric trains are pretty quiet.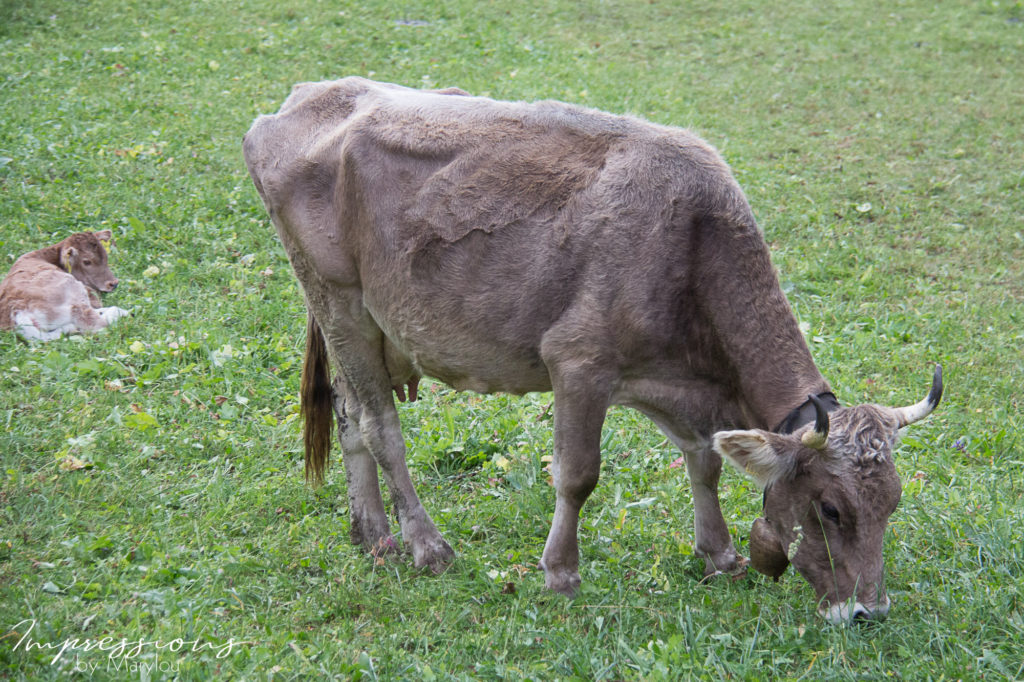 Past a lake, Lago di Poschiavo.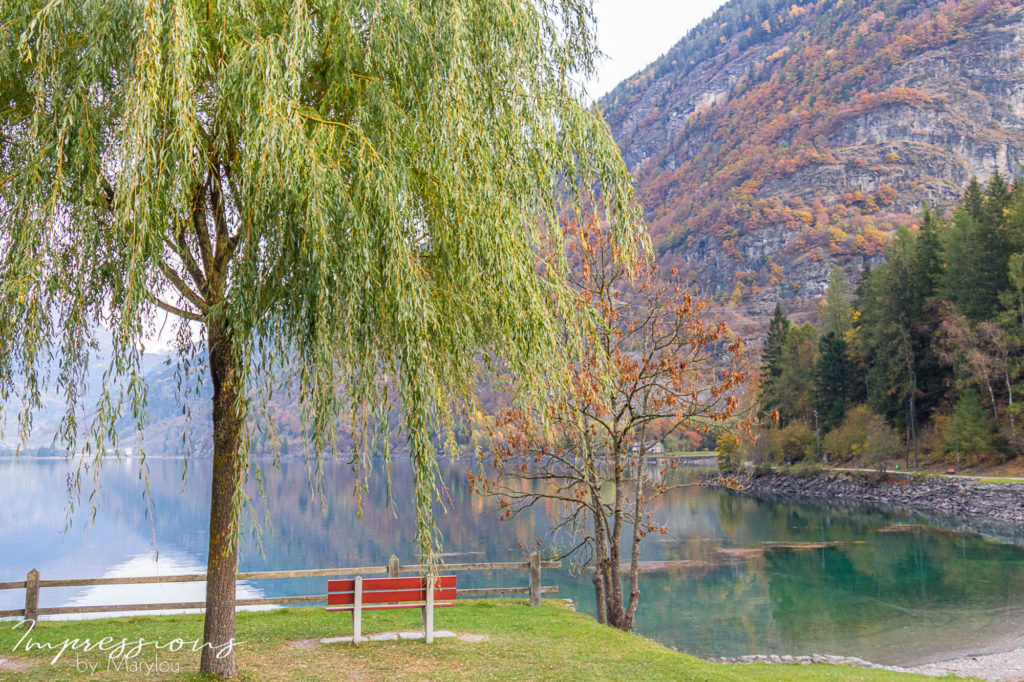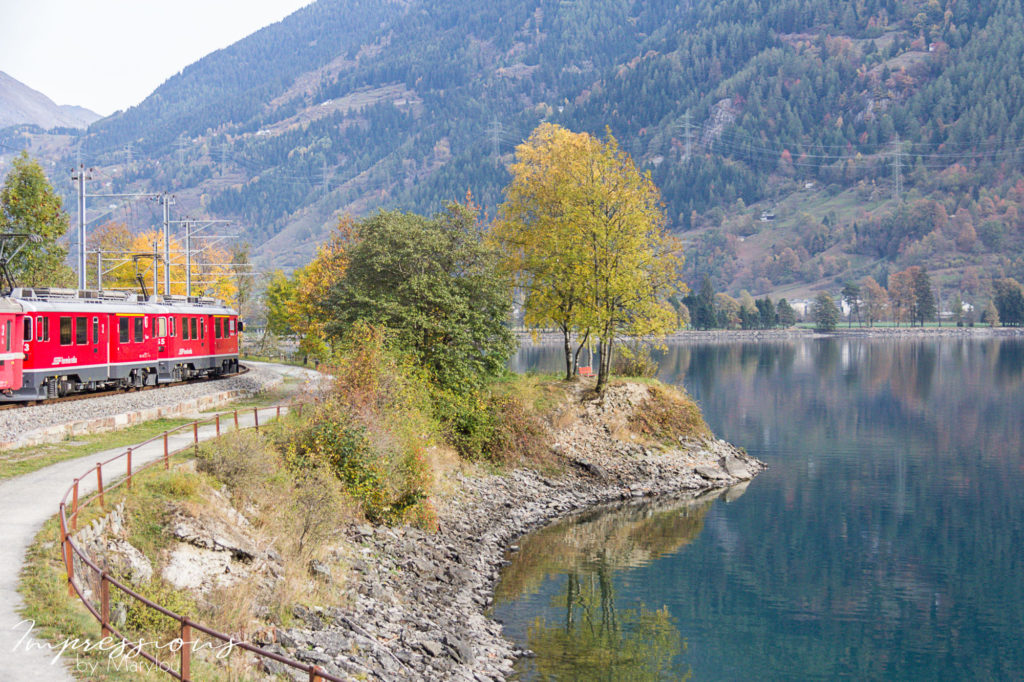 As we climbed, we had several good views of the same valley from several different altitudes.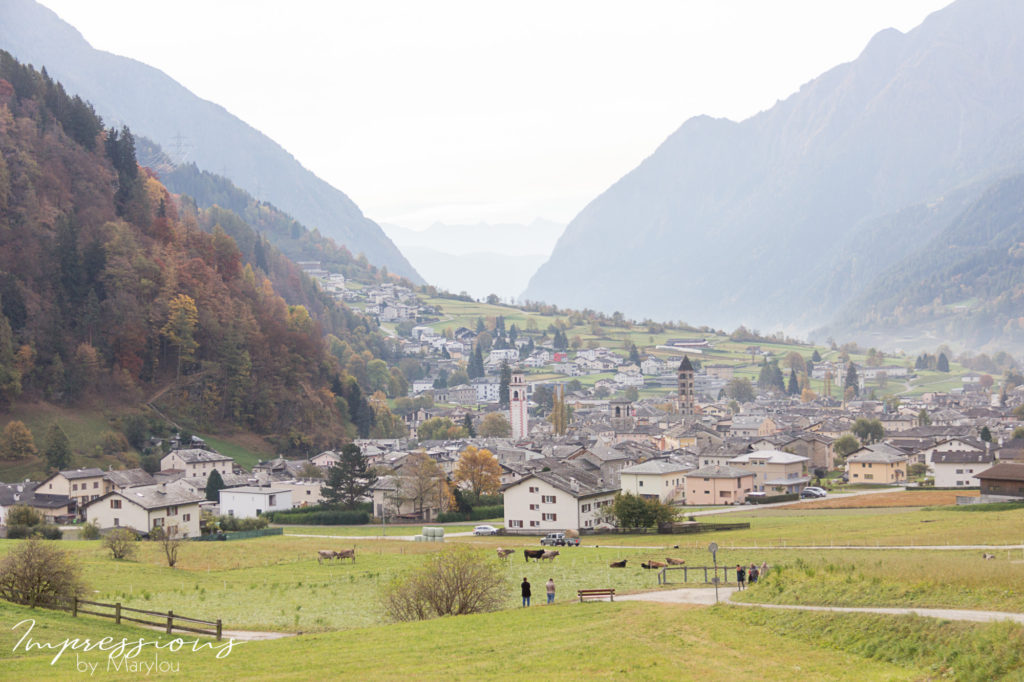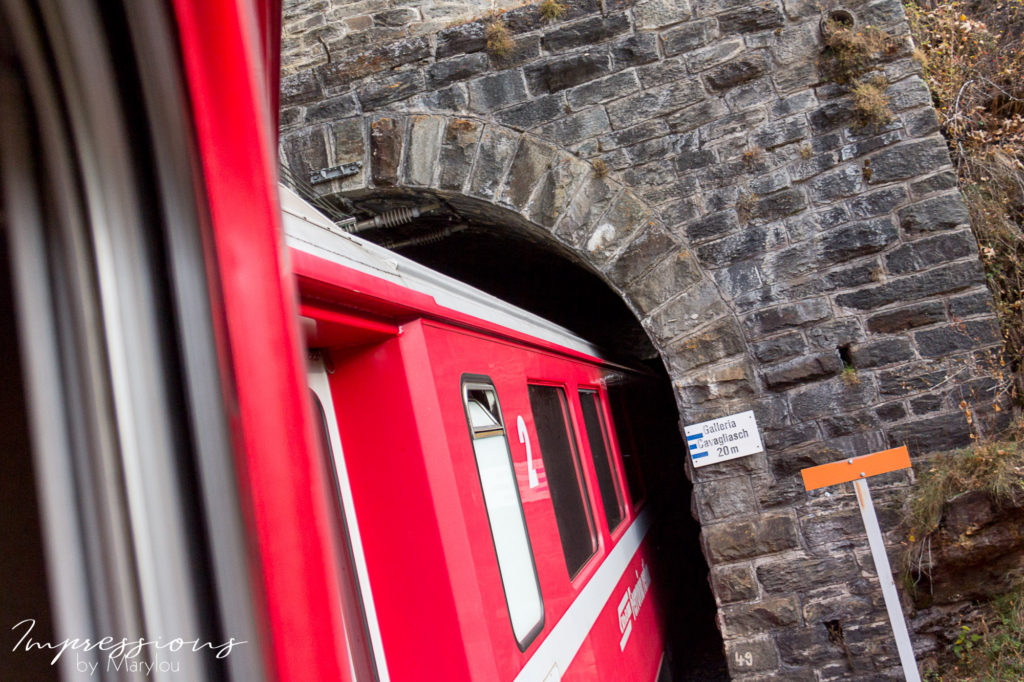 Keep all arms, legs and cameras inside the car. There was surprising lack of warning announcements across the country in general and I wonder if it's because 1. They expect people to use common sense or 2. They don't have sue-happy people.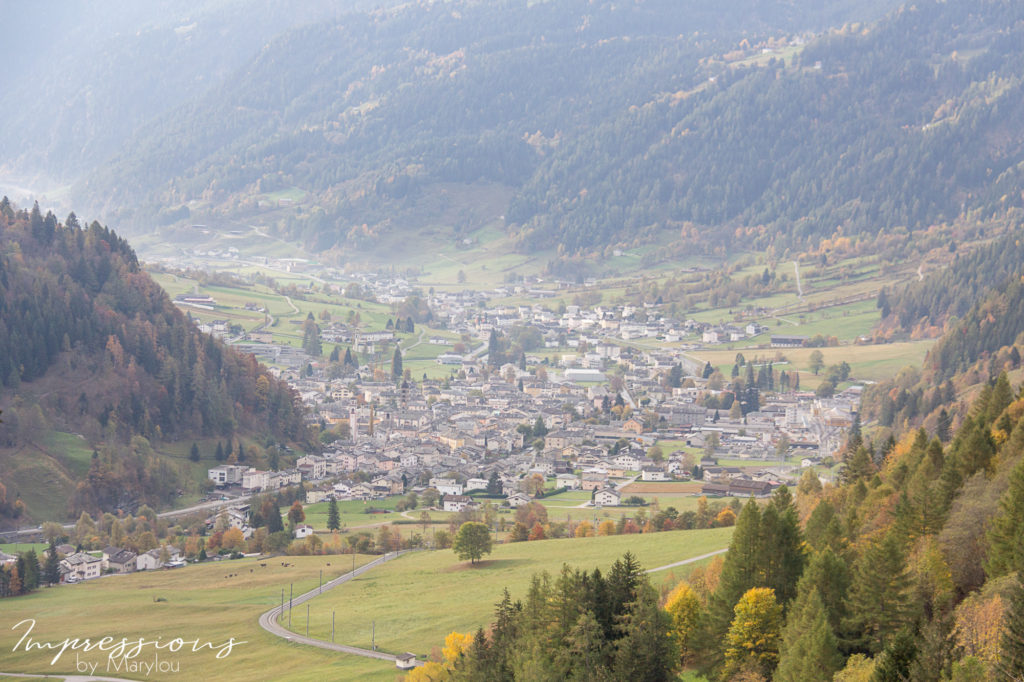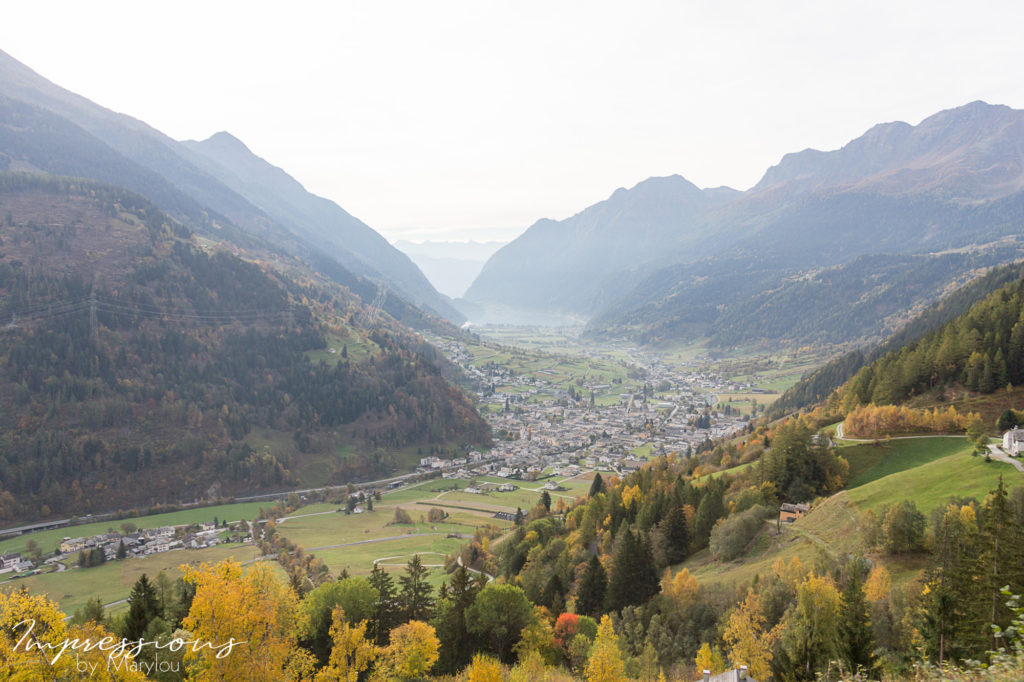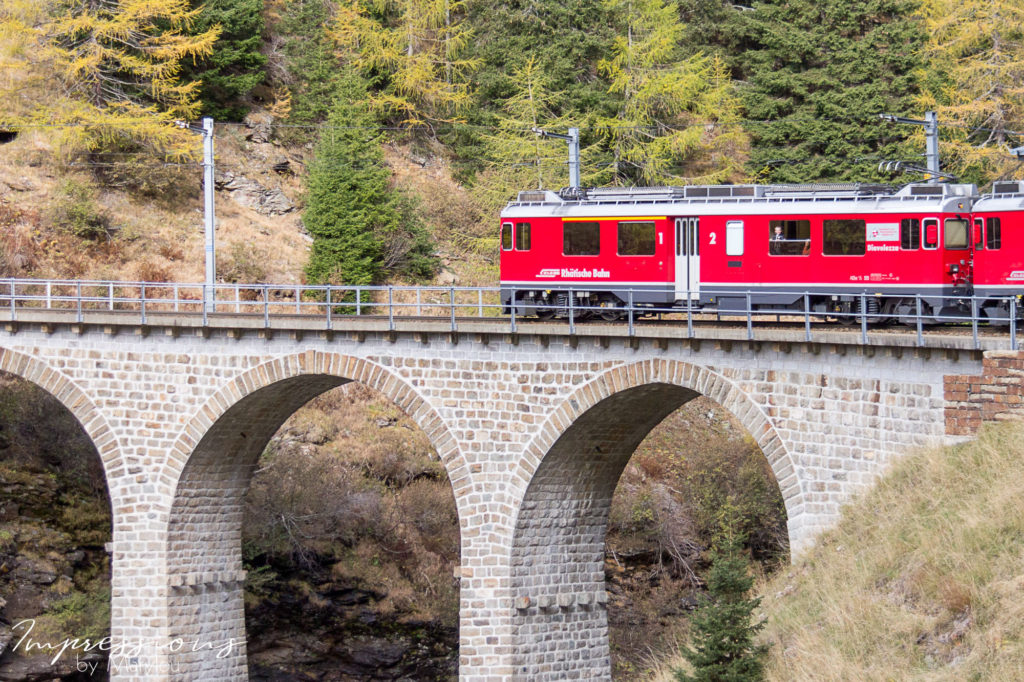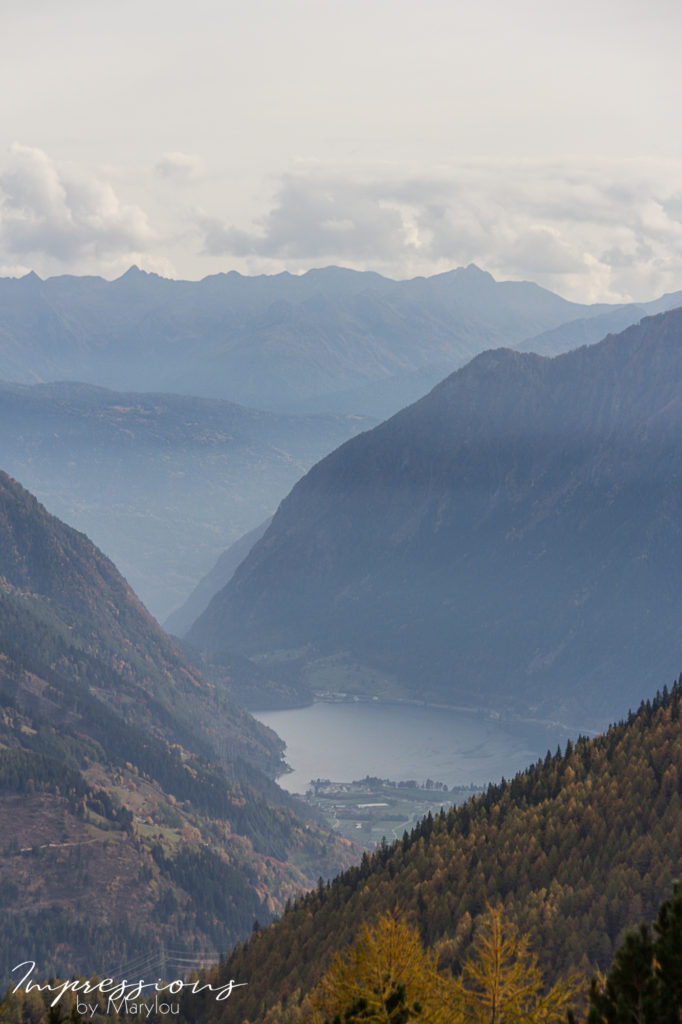 If you go during the busy summer months, you may want to make reservations. In October the cars were only about 1/3 full so it was no issue having plenty of space to move around, and hang out the windows, and get good photos.
We saw small glacier-fed lakes.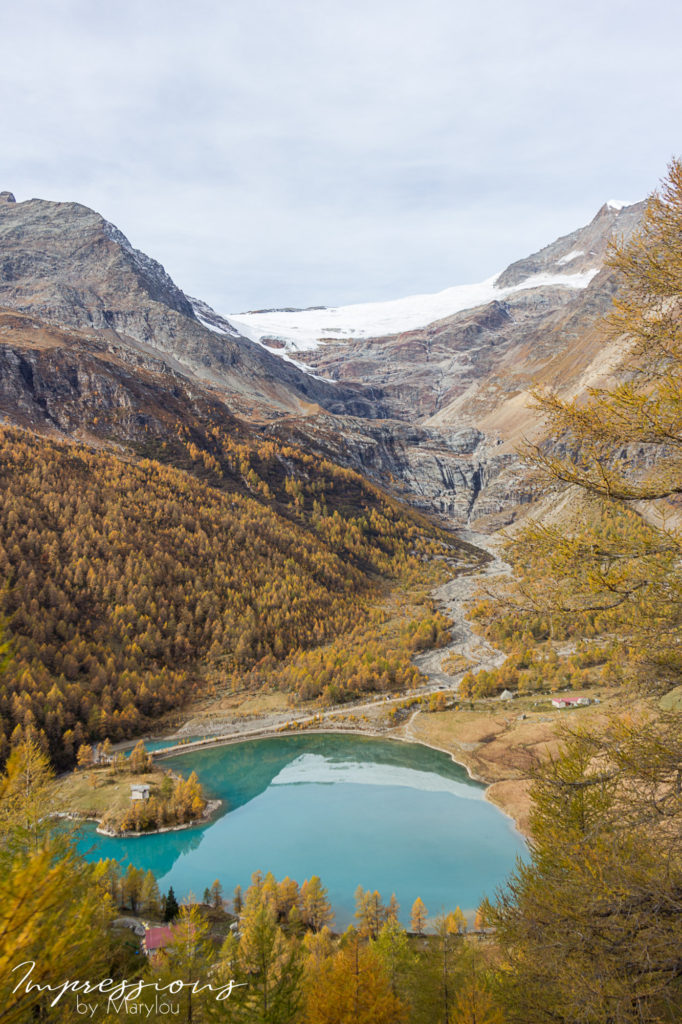 And a large lake called Lago Bianco (White Lake) at 7,329 feet.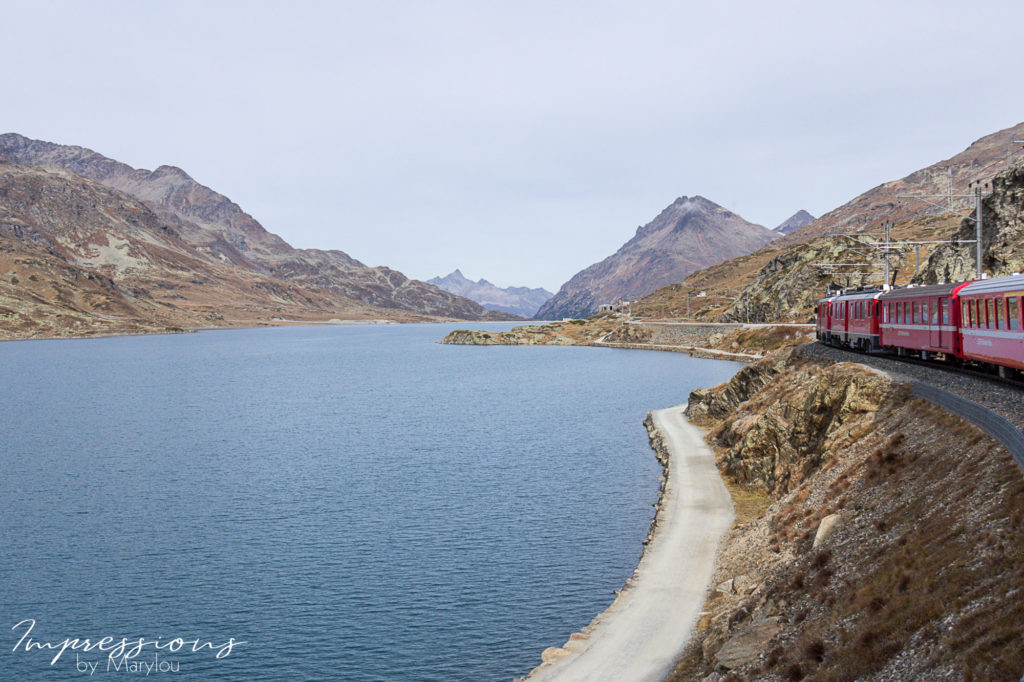 We wound along the lake for a while.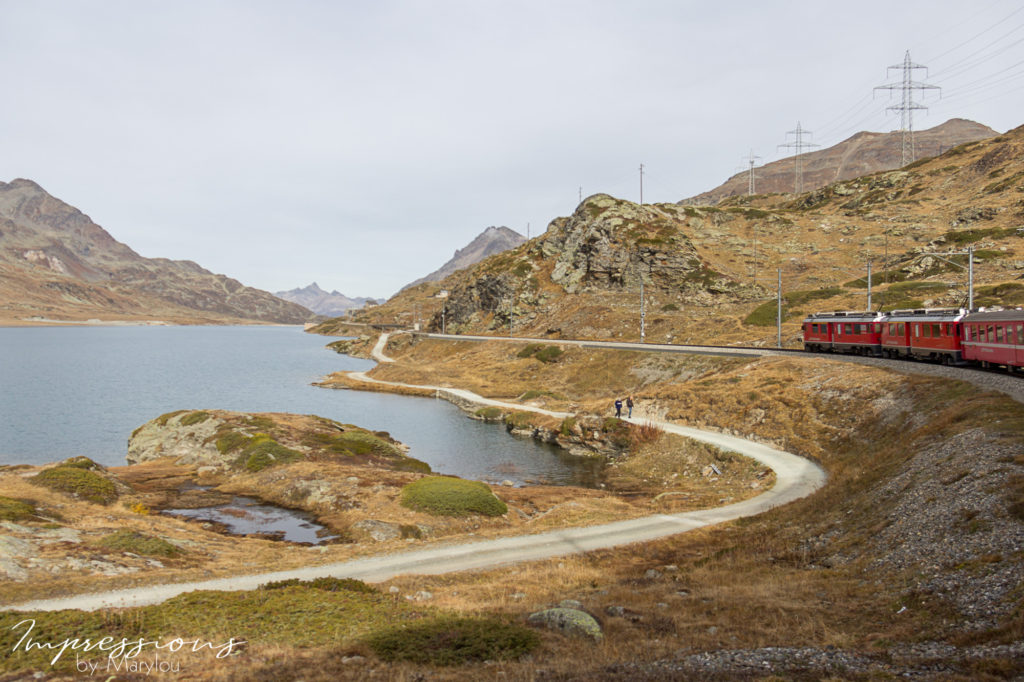 Looking back to the south, gave a different view of the height of the lake. Here it looks like the lake is on top of the world.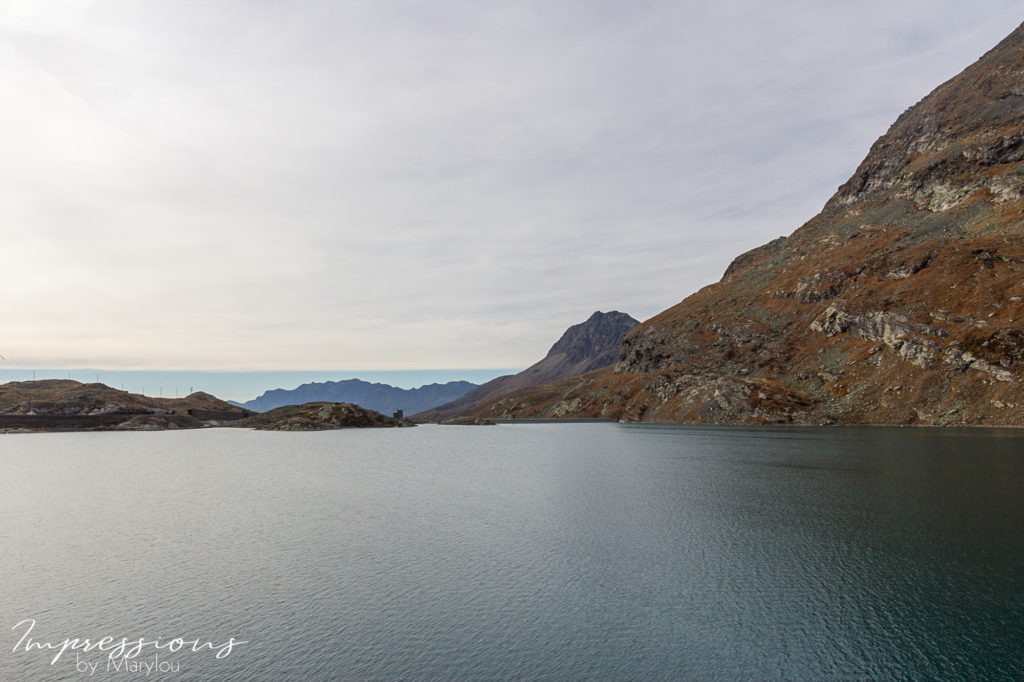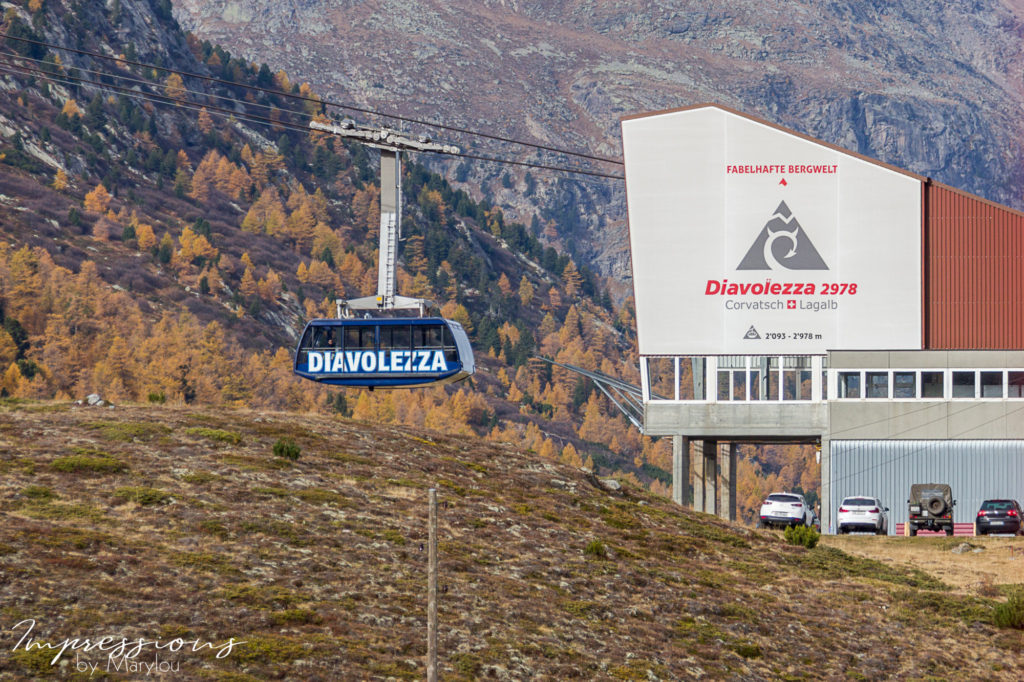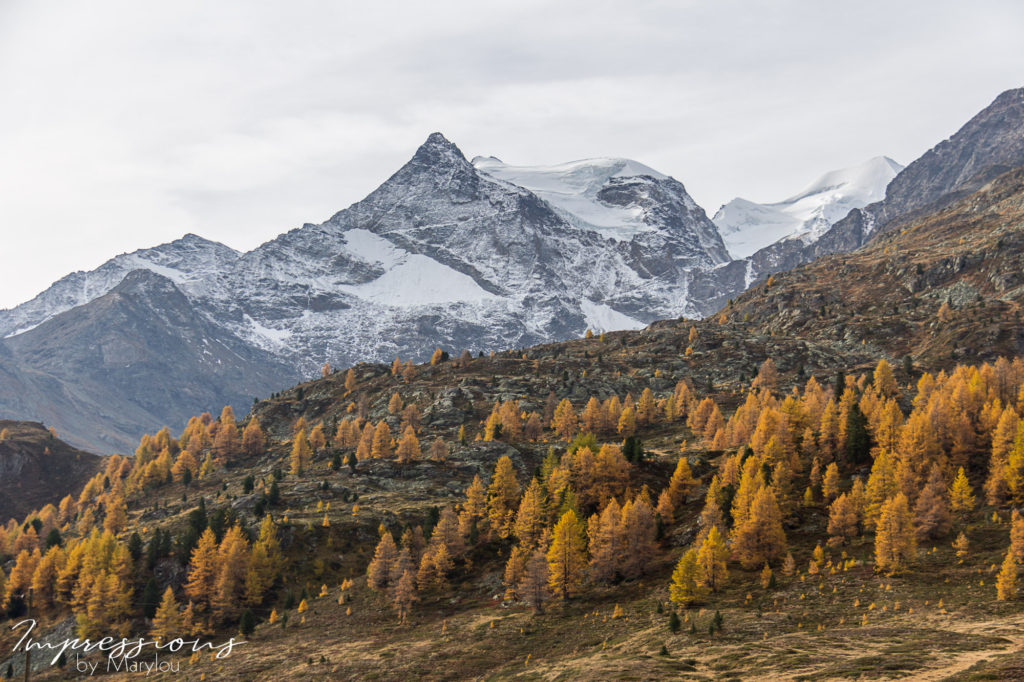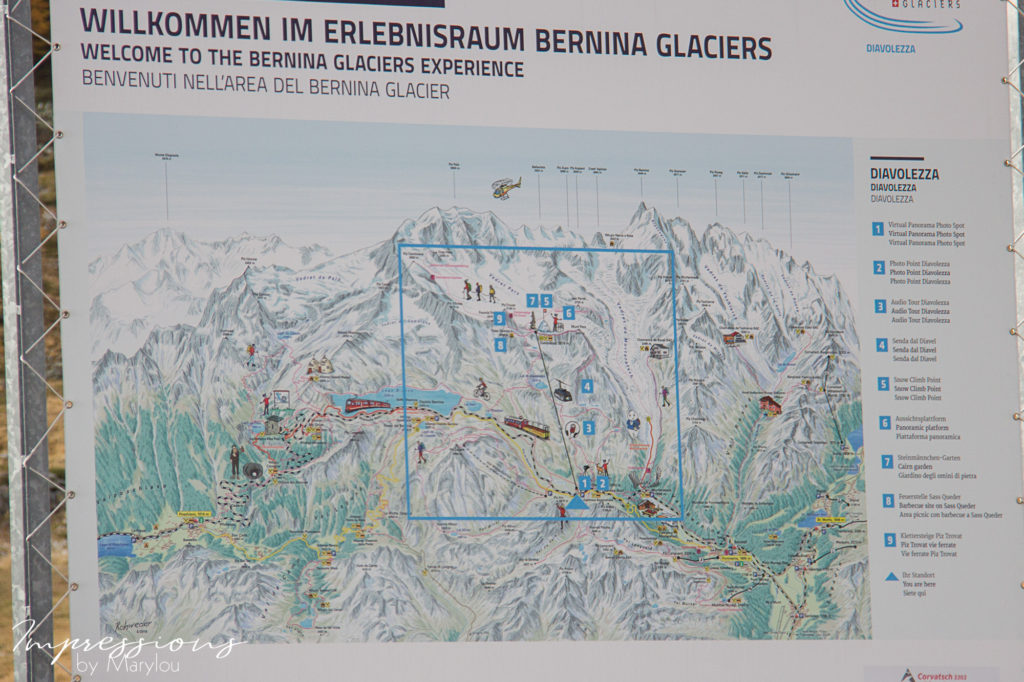 Click on the map to see the details better.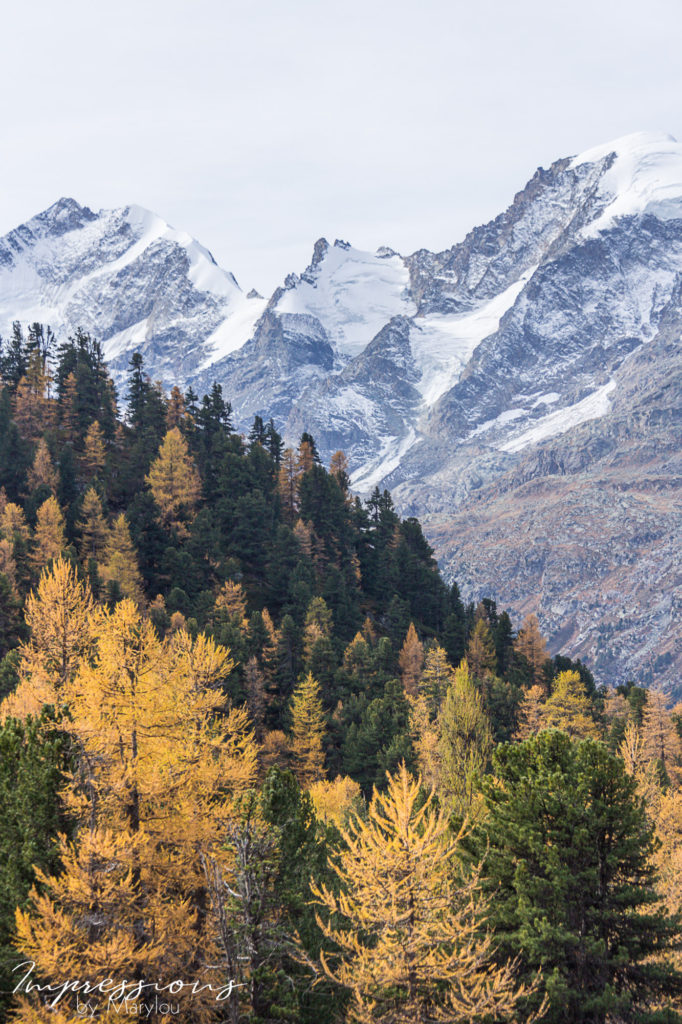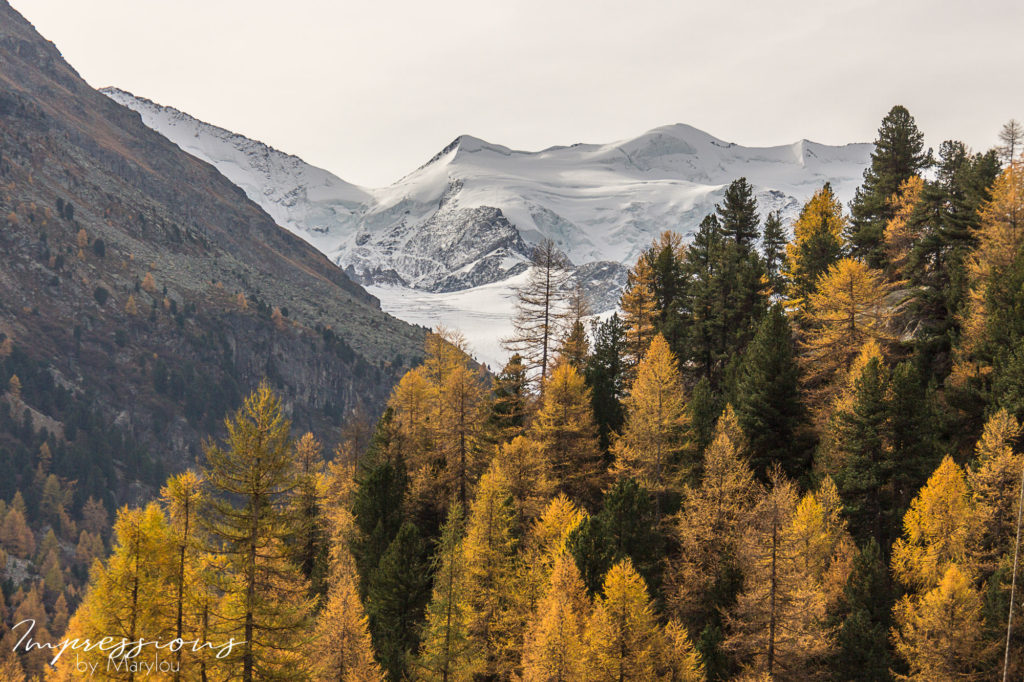 The local train shares the rails with the Bernina Express.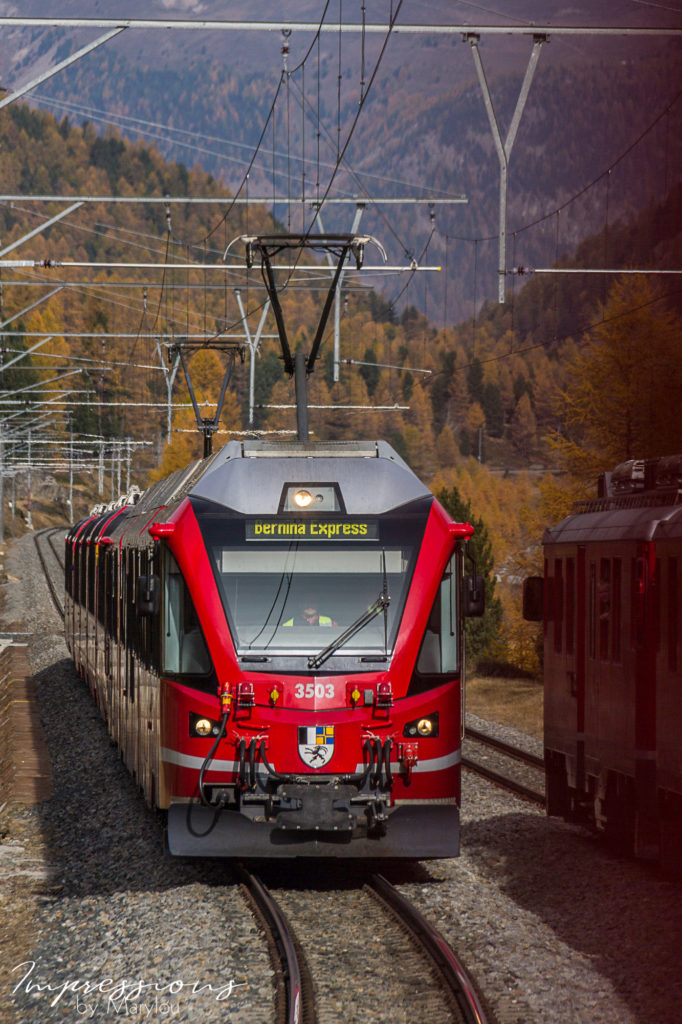 The train ride to St. Moritz takes about 2 hours. Driving time is less than 1.5 hours. It's really not that far between them.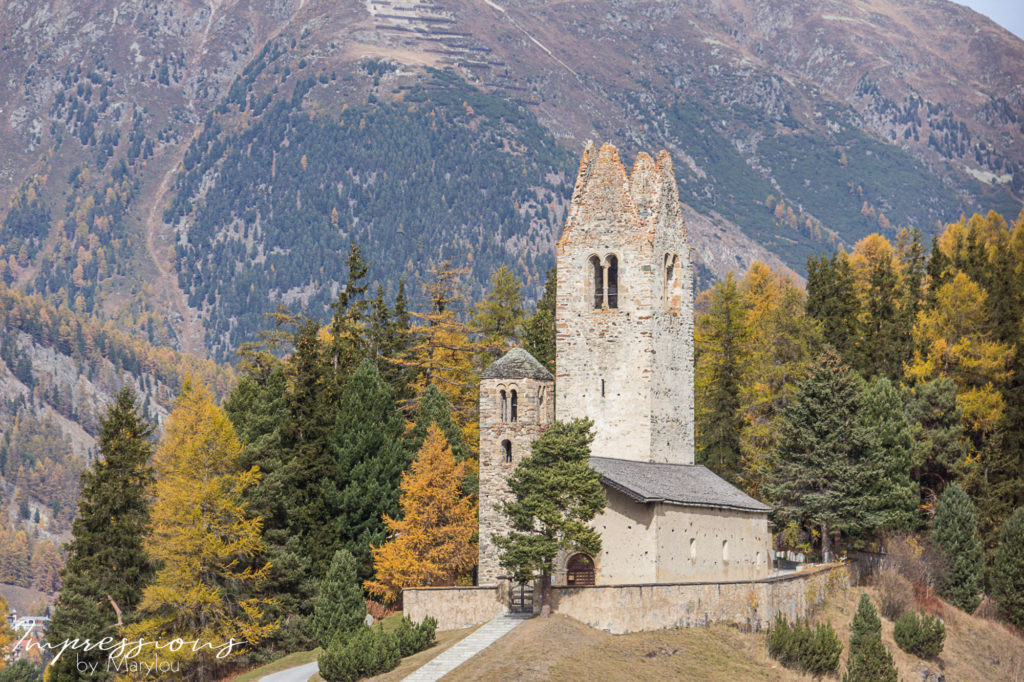 We got off the train in St. Moritz, intent on finding lunch. While we were still at the train station, a lady stopped to talk with us. "Are you Anabaptists?" She surprised us with her question, especially in Switzerland. She said she had studied about Anabaptist in her religious studies in college. She said she is a believer was well. We had a delightful chat with her.
St. Moritz known for golfing, as well as a host of winter sports. It hosted the Olympics in 1928 and 1948.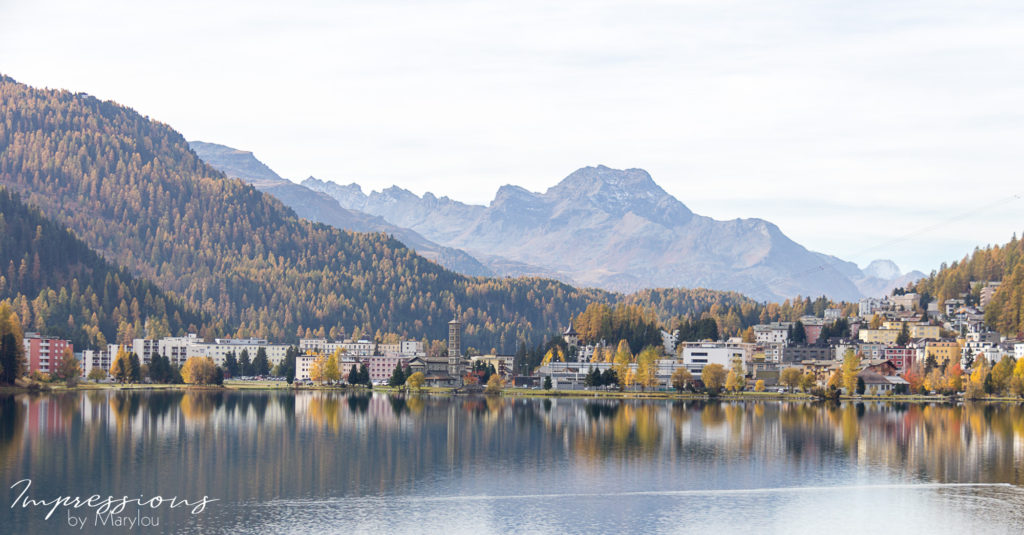 It is a beautiful town surrounding a lake.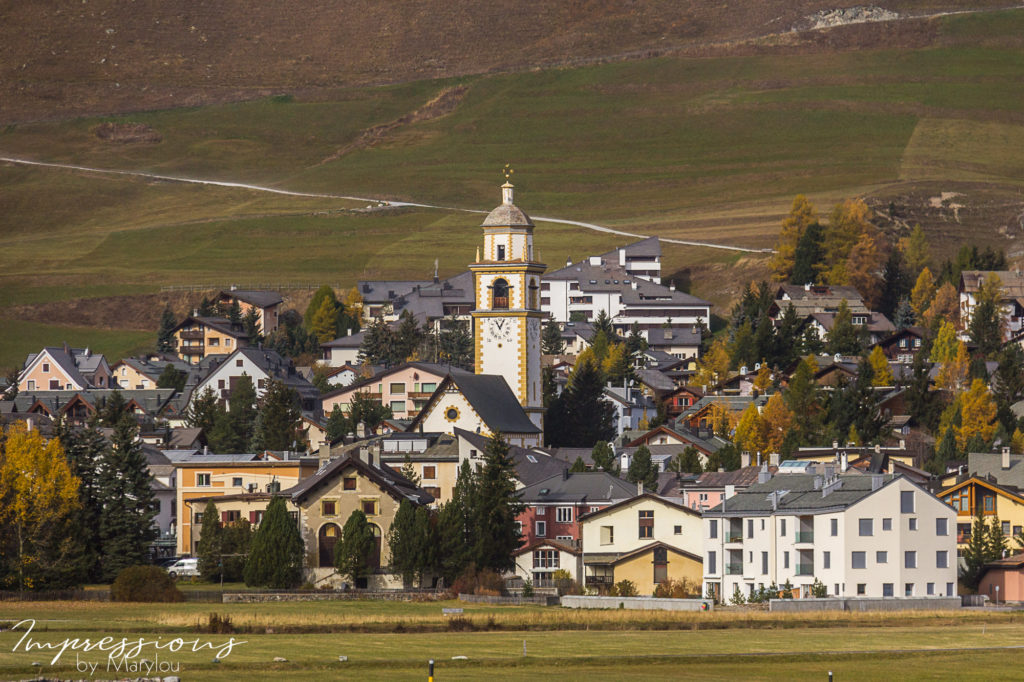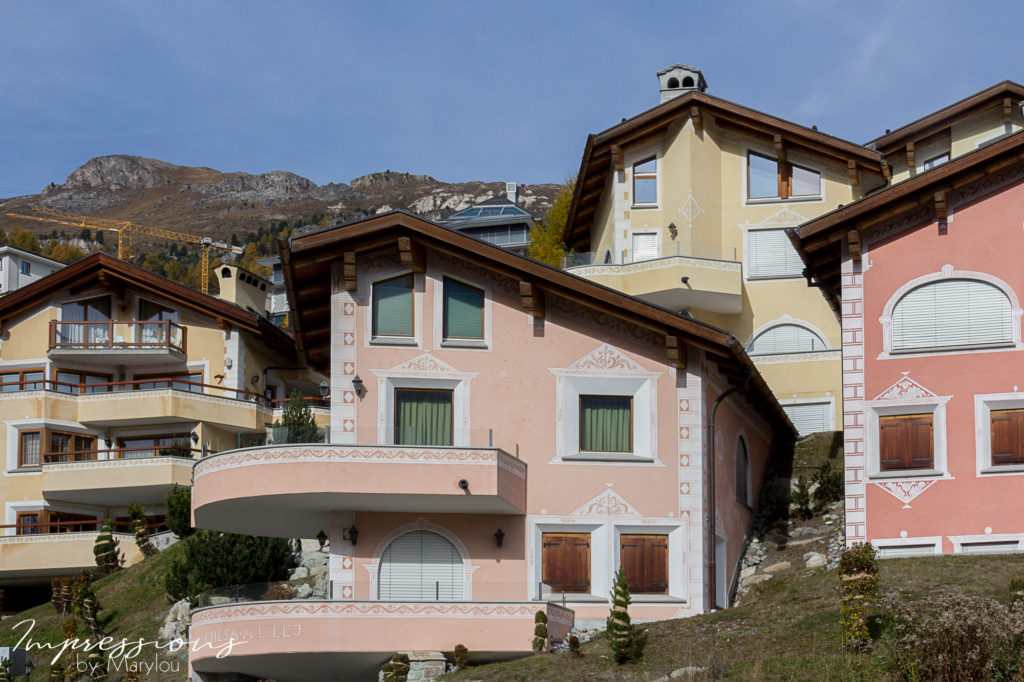 The style of houses and businesses was different from what I know of Switzerland, and yet not like Italy.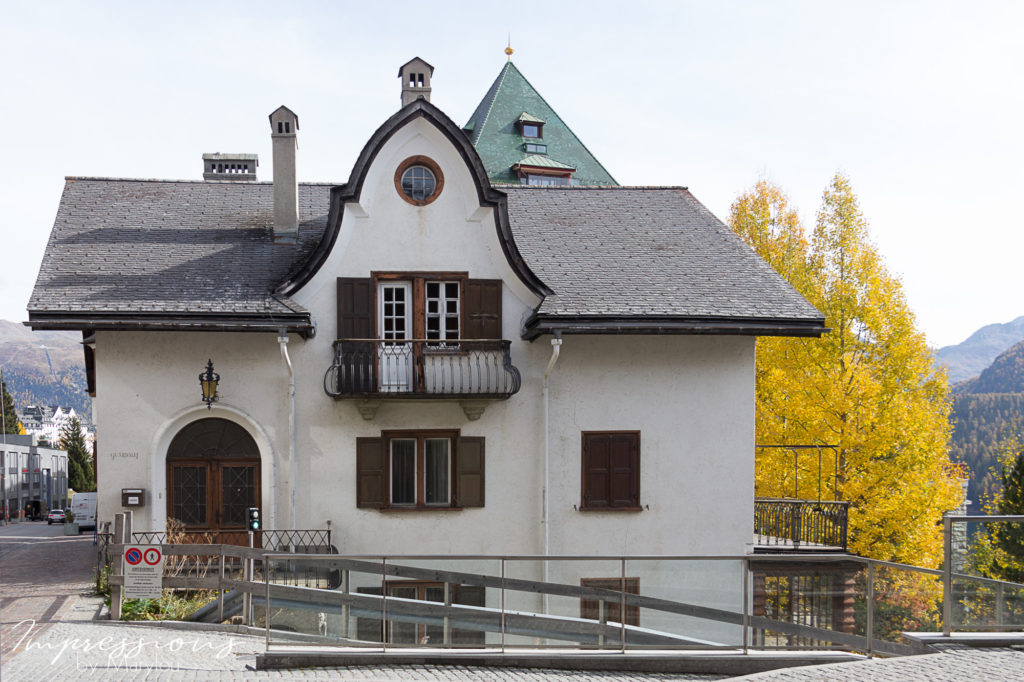 I had forgotten how much more expensive Switzerland is than other countries around it. We wondered around up several levels from the lake. Someone at the information booth at the train station said would be restaurants.
Well, we found shops (Gucci, Armani, etc) and restaurants. It was surprisingly quiet and I'm guessing it is off-season there too, between summer and winter activities.
We walked past stores and had to shake our heads at this one. Gucci, gucci (goo), what are you thinking??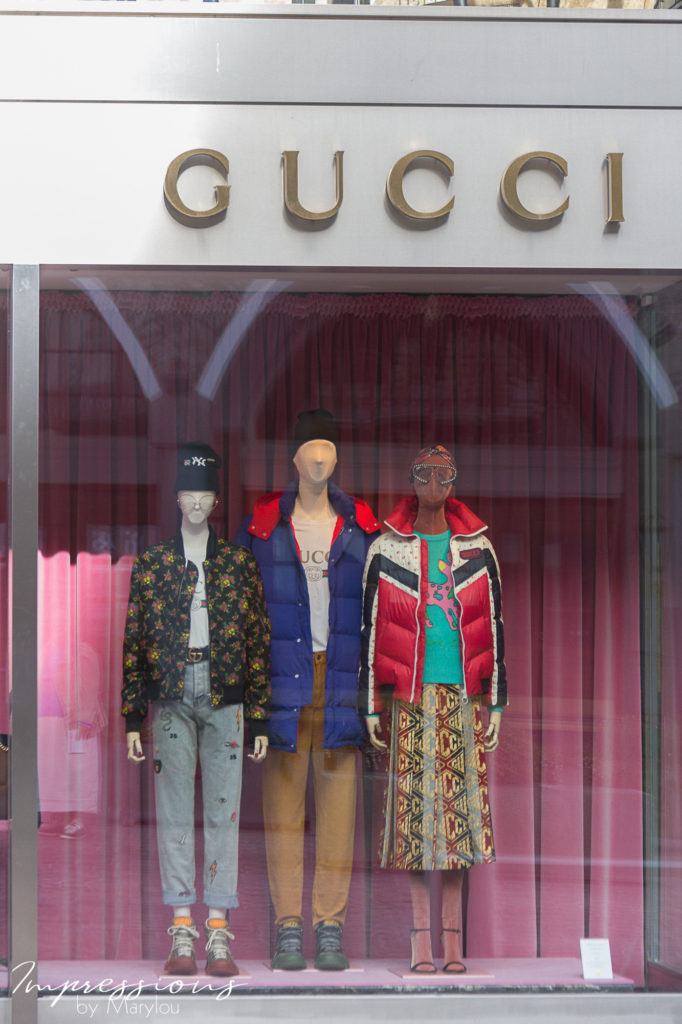 The average restaurant meal cost 25 – 30 CHF (Swiss francs). We weren't sure how this translated into US dollars, and we had forgotten to do our homework. We found a kebab-type shop and had a delicious lunch. Cost? 12 CHF, and with drink 14 or 15. We used our credit cards and then is when we knew for sure that 1 CHF = 1 US dollar (pretty much). This was a tasty meal, don't get me wrong, but a similar one in Rome cost us about 8 dollars.
After we came home, I was doing some researching and someone who did the same Tirano – St. Moritz trip recommended spending time in St. Moritz but on the way back, stopping in Pontresina, just a short distance from St. Moritz, for lunch. Part of me wishes we would've just splurged for lunch and found a place with fondue but by this time we didn't feel like splurging. 🙂 Isn't it funny how that works? 🙂 (Maybe this one?? The fondues are 29 – 36 CHF/person.)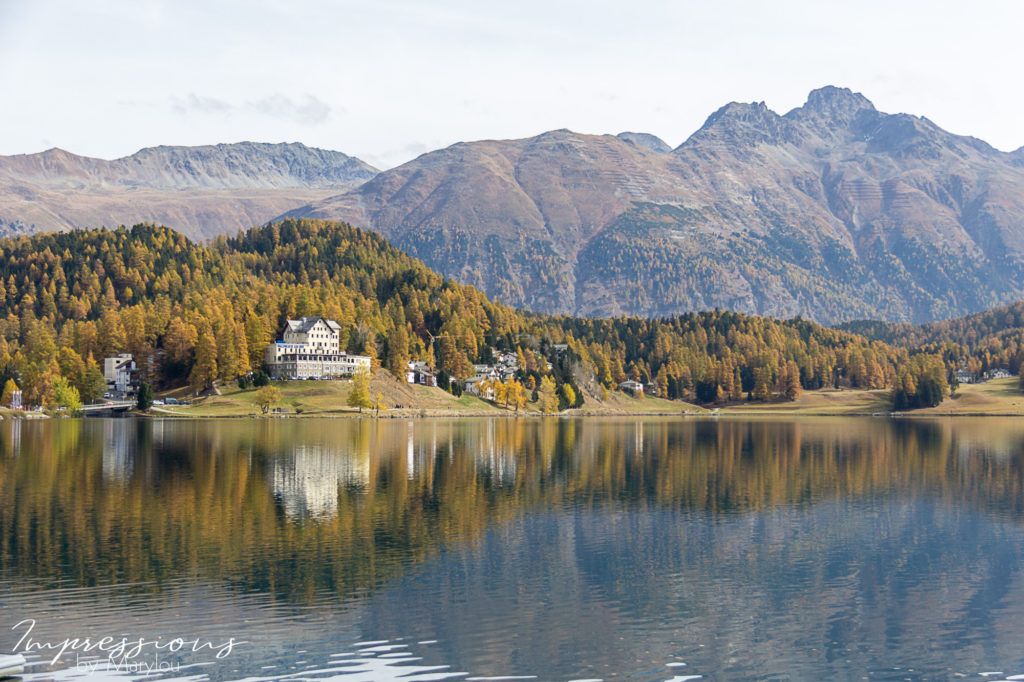 St. Moritz is a beautiful town! I think I said that already. 🙂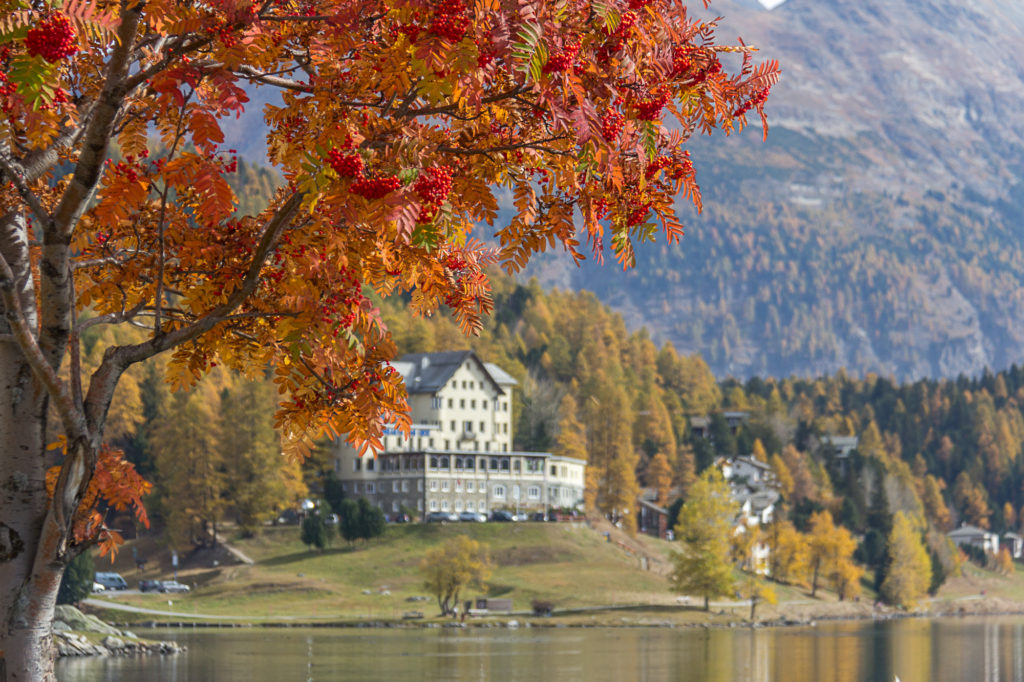 Can you imagine how it would look with snow??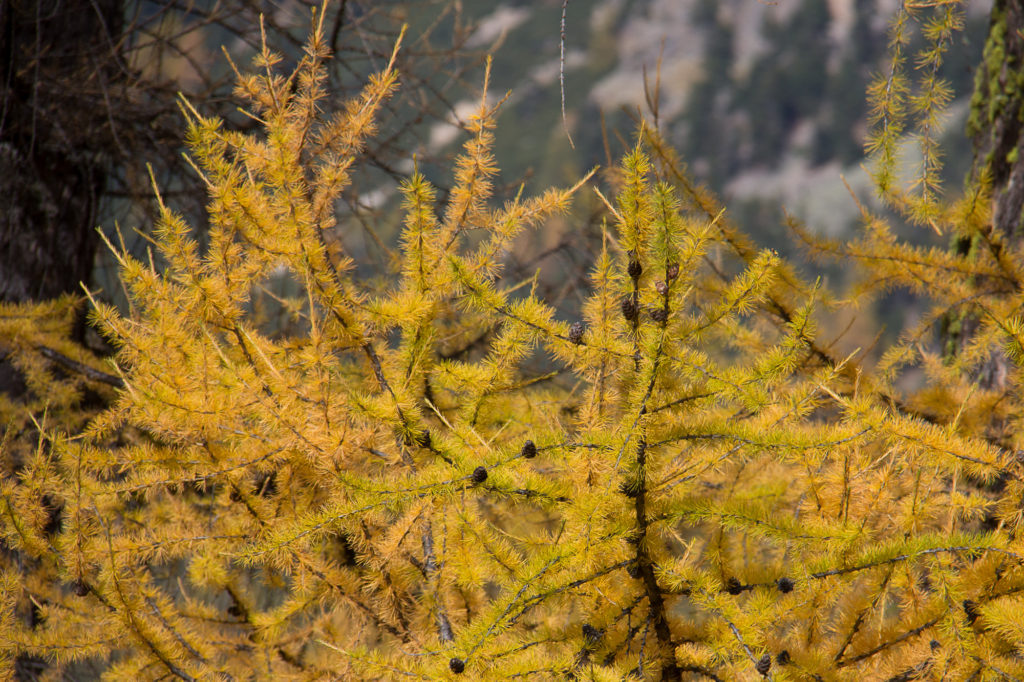 Since I'm back, I discovered what all the trees are that were changing color. My friend Edith, from Ontario, shared a photo of a Tamarack tree on FB. Another name for it is Larch. Pretty much all the yellow-ish trees on the mountains in my photos are this kind.
The return trip was everything in reverse. As we neared Tirano, I saw a few folks working outside nearby. I thought they could both be subjects for a Norman Rockwell painting!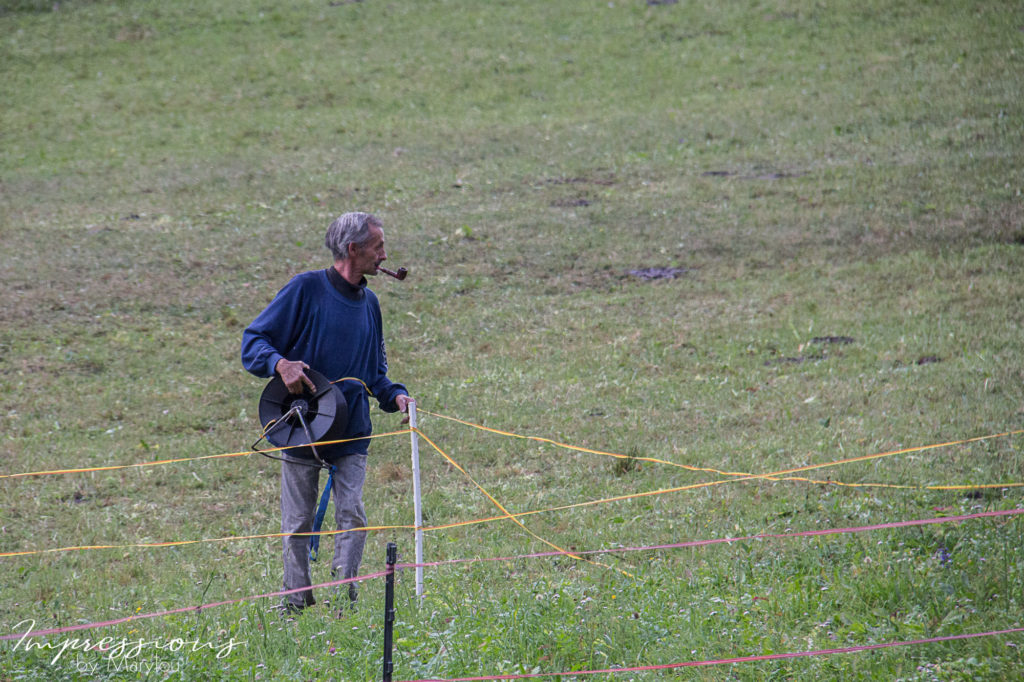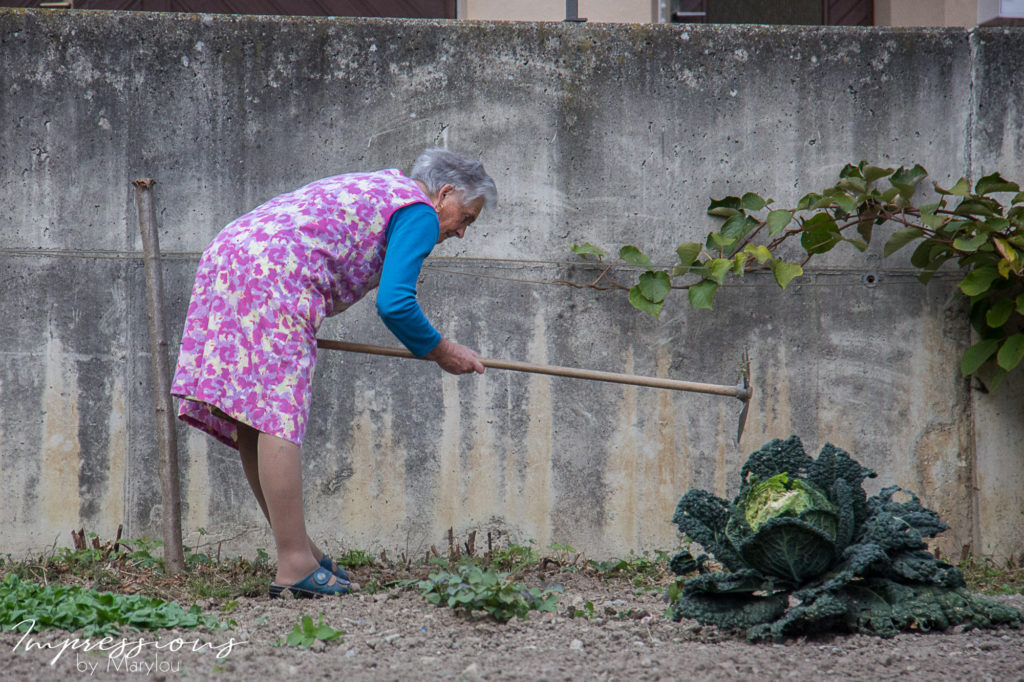 Our Airbnb host was (again) great to work with. We didn't even meet him in person until we were checking out, after a 2-night stay. His sister lives in the same apartment building and had let us in the 1st night. He was at work (restaurant) by the time we made it to Tirano, following our over-the-mountaintop experience drive. I think pretty much every time we traveled, it took longer than we anticipated.
We asked him about seeing Lake Como on our way back to Florence. It was reasonably (about 50 minutes longer) on our way back, which was great! The main road we were traveling on snakes along the lake and he recommended taking it all the way to Lecco, at the (one) end of the lake (the lake forks so it has 3 ends). As we approached the lake we hit tunnel after tunnel, high above the lake. It didn't take us long to figure out that we weren't going to see much of it this way.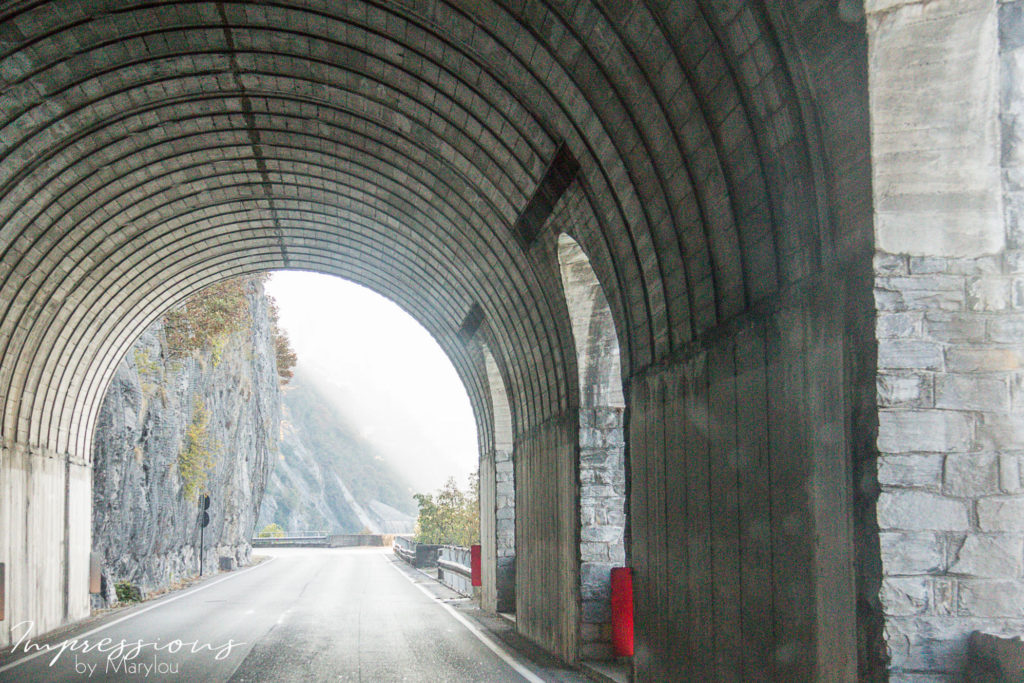 We took the 1st exit we could and wound down to the road running along the lake.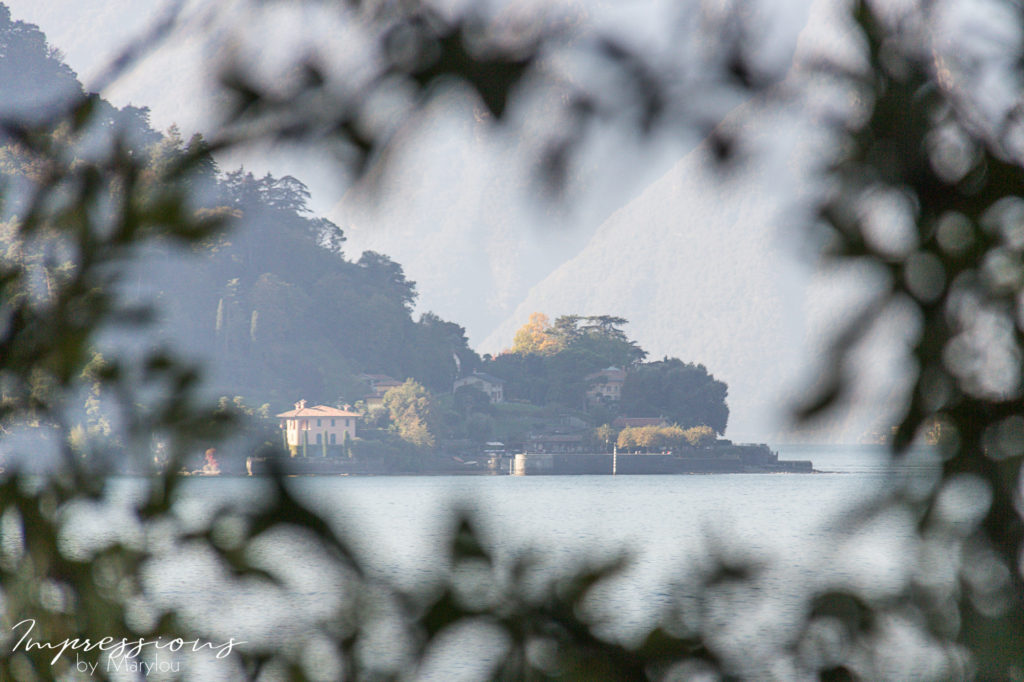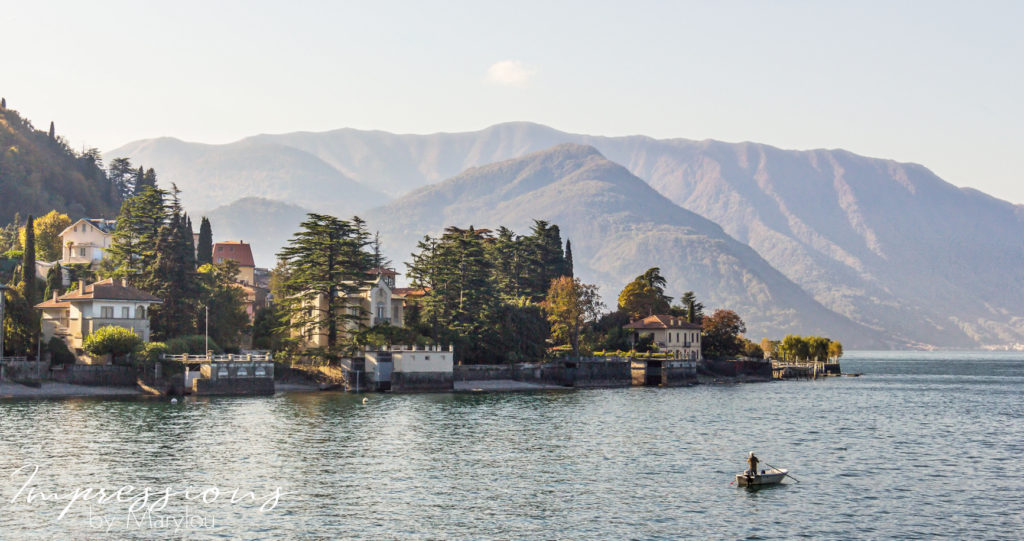 There was not much traffic, which was good because we wound through little villages the whole way.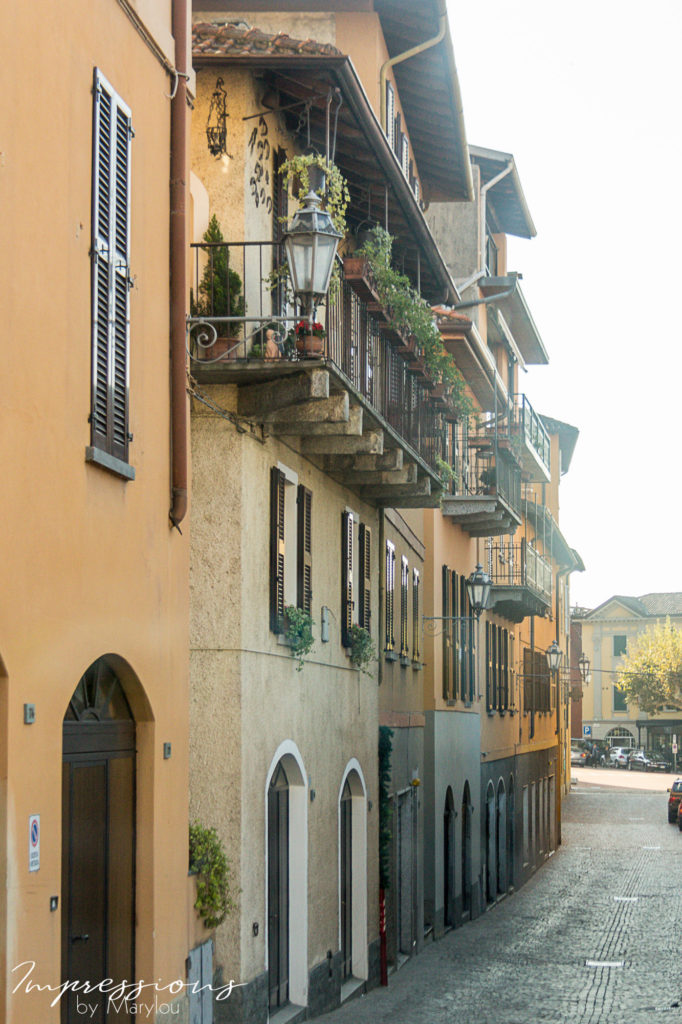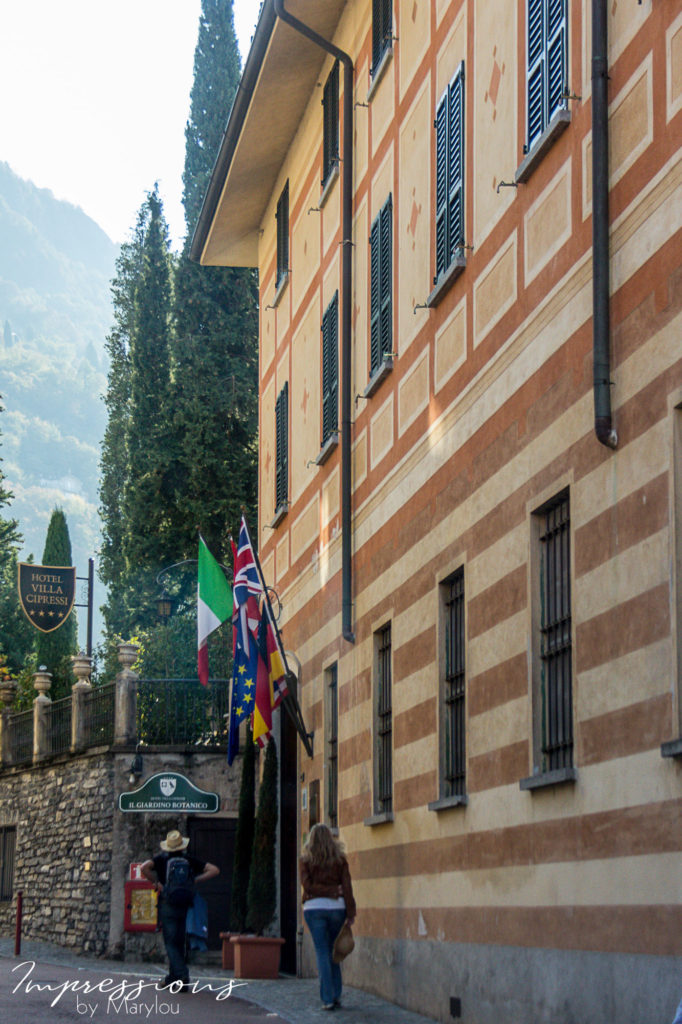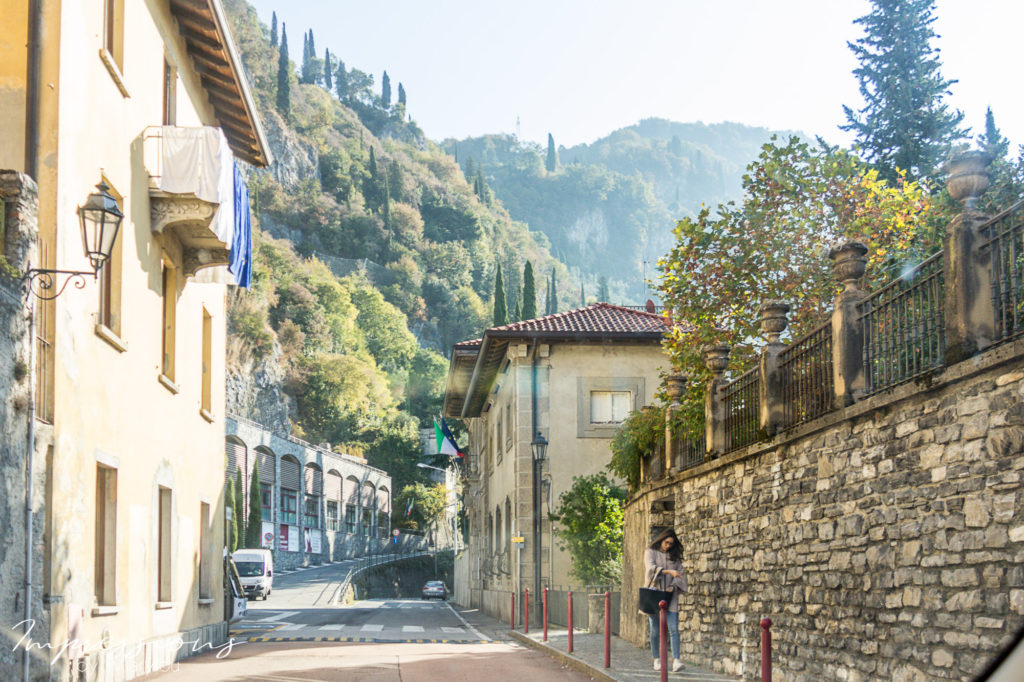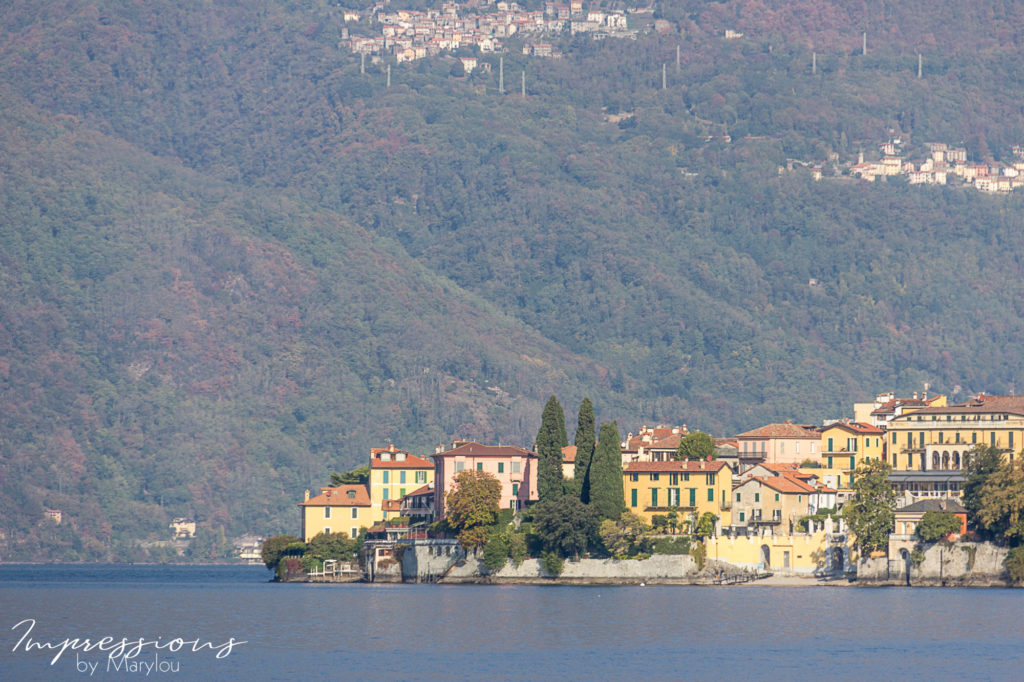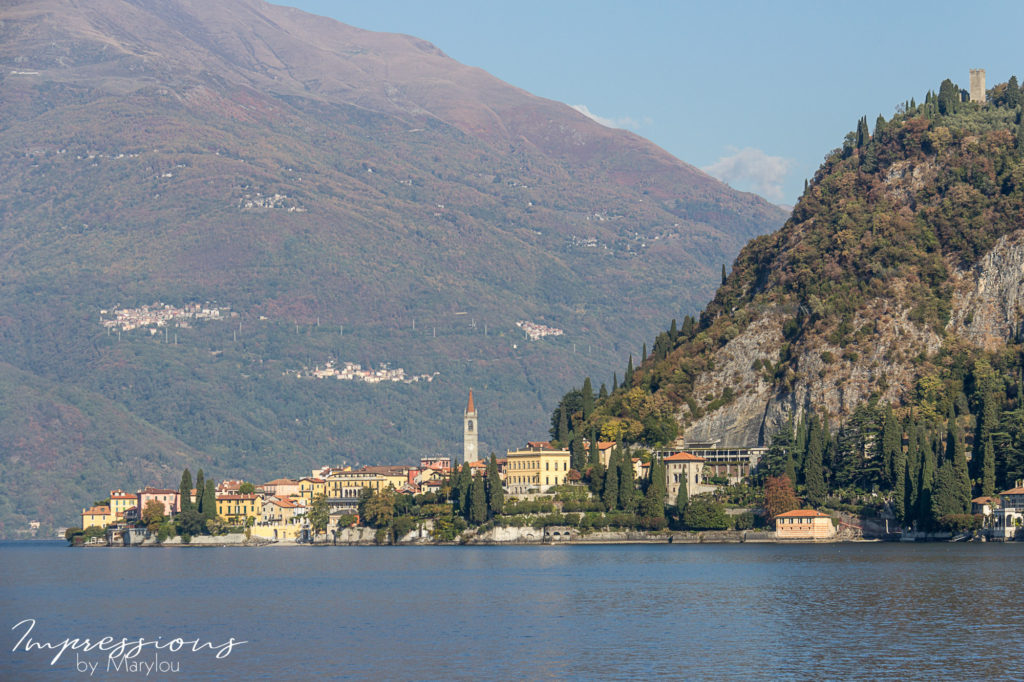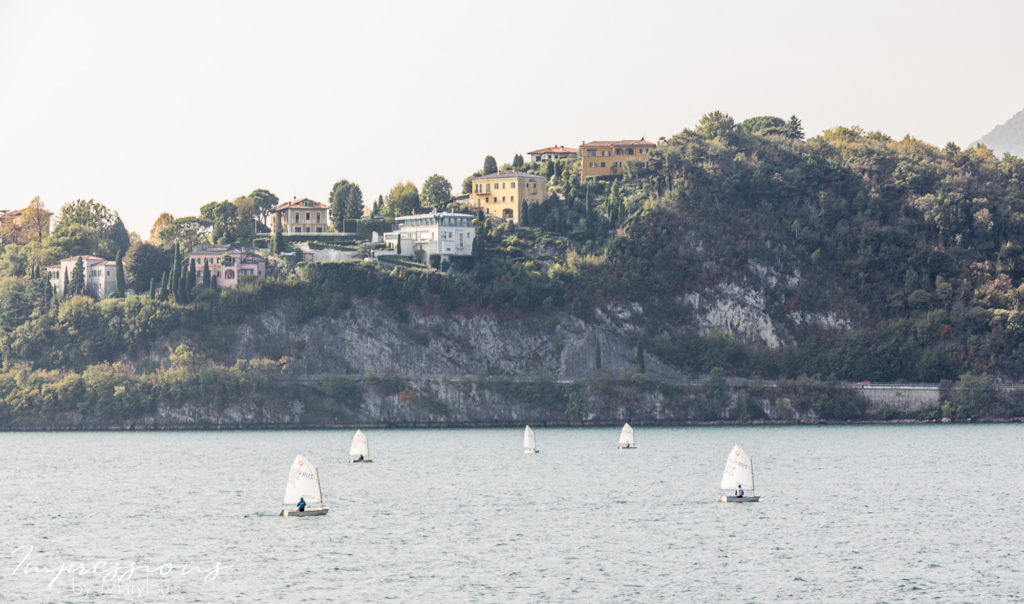 This, though, gave us great views of the lake and led us to our most interesting interaction with locals on the whole trip!
We had been on the road for an hour or two and were needing to use some "facilities," as we like to say. 🙂 Finding a public restroom, like much of Italy, was difficult. Typically you stop somewhere where you are going to eat or buy something. Parking was tight or non-existent and the one place we saw (with great joy!) a WC sign but when we parked and went looking for it, it was either closed for the season or permanently closed. There really did not seem to be activity anywhere.
By now some were walking sideways and getting quite desperate. We stopped at a building that had a bar in 1 side and a vehicle service center on the other. I popped into the bar to ask if they had a public toilet we could use and she quite rudely said, "NO!" and so I popped in next door. The man there either didn't understand my question or something because he rattled off something and pointed to the eaves of the building (?). The lady next door stepped out and spoke to him in Italian and as she want back into her store, she quickly closed the blinds. What were we going to do? Step in and demand a restroom?? Break something if we didn't get it?? I'm not sure why the rudeness but there wasn't any other word for it.
I remembered that we had past a little pizza place just a block or 2 before that didn't quite look open for business yet (it was 11-ish) but their door was open. We backtracked and I went in, asking if they were open yet and explained our plight, and that we'd be happy to buy lunch for the use of their toilets. They said they were not open yet, they being a young man (who spoke English), an older gentlemen and 2 older ladies, but to please come in and use the facilities. The scent of baking bread filled the restaurant. Seriously, fresh-baked bread has to be one of the most welcoming scents.
As we waited to use the restrooms, we asked what the older gentleman was baking, exclaiming over the delicious aroma. He was just pulling a loaf out of his brick oven. He seemed delighted in our compliments and asked, through his grandson (we're assuming), if we wanted some. He didn't have to ask twice. It was lavender-colored bread inside and he explained that he used grape juice as part of the fermentation.
We were still so grateful for their hospitality and Lois asked if we would be interested in singing for them. We all love to sing so we were all on board. I suggested Amazing Grace, since that is well-known around the world.
The acoustics were amazing, in the stone-walled resturant with concrete floors. One of the ladies rubbed her arms, and the Signore who had baked the bread, sat at the table with his iPad but part way through his hand was up and waving around as if to direct the music. 🙂
We bought a couple of Fantas and headed on our way, most grateful for those who didn't mind a slight inconvenience for some relieved visitors, unlike the no-room-in-the-inn business we had stopped in moments before this.
[We told this story to some of our cousins recently and Sarah said, "You must tell this story! You had communion! You broke bread together! There was wine (in the bread)! There was fellowship!"]
Side note: the young man explained that May – Sept was their main season and many places are closed the rest of the year. This explained our difficulty in finding public restrooms.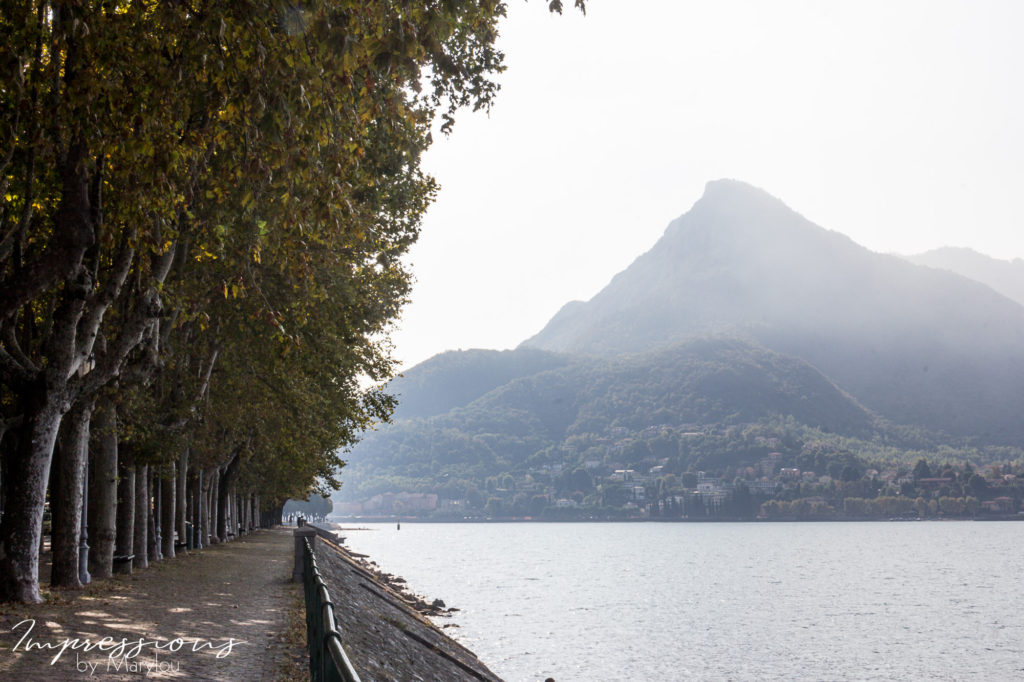 We found a spot with great views of the lake to eat our lunch. We probably are the only tourists to sing for a WC along Lake Como. And we're probably the only tourists that ate leftover stir-fry and rice out of a plastic cup along Lake Como!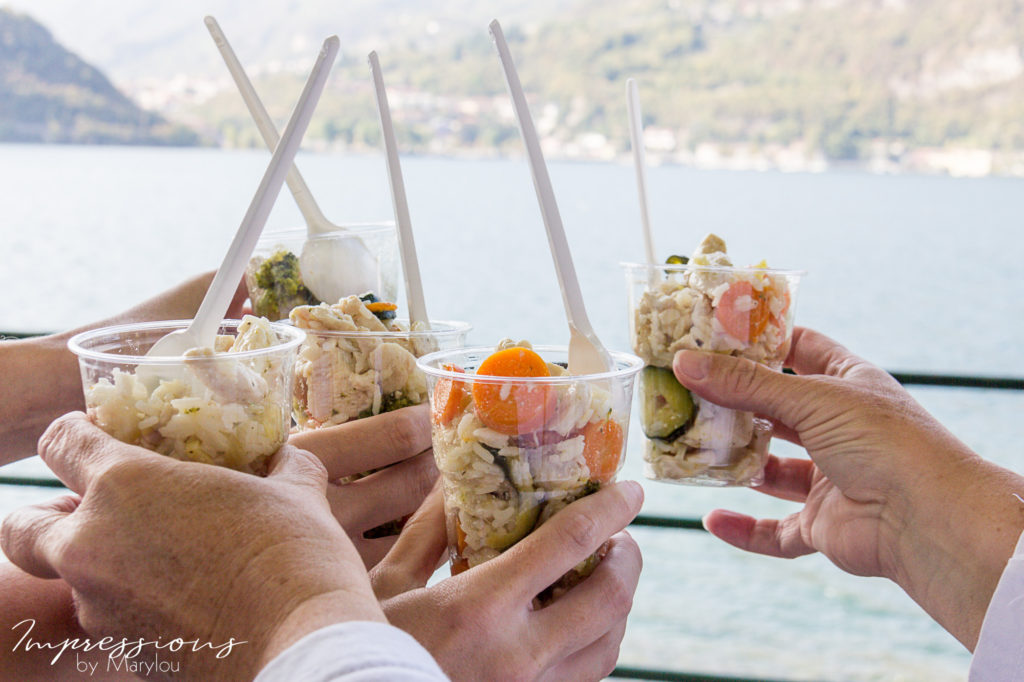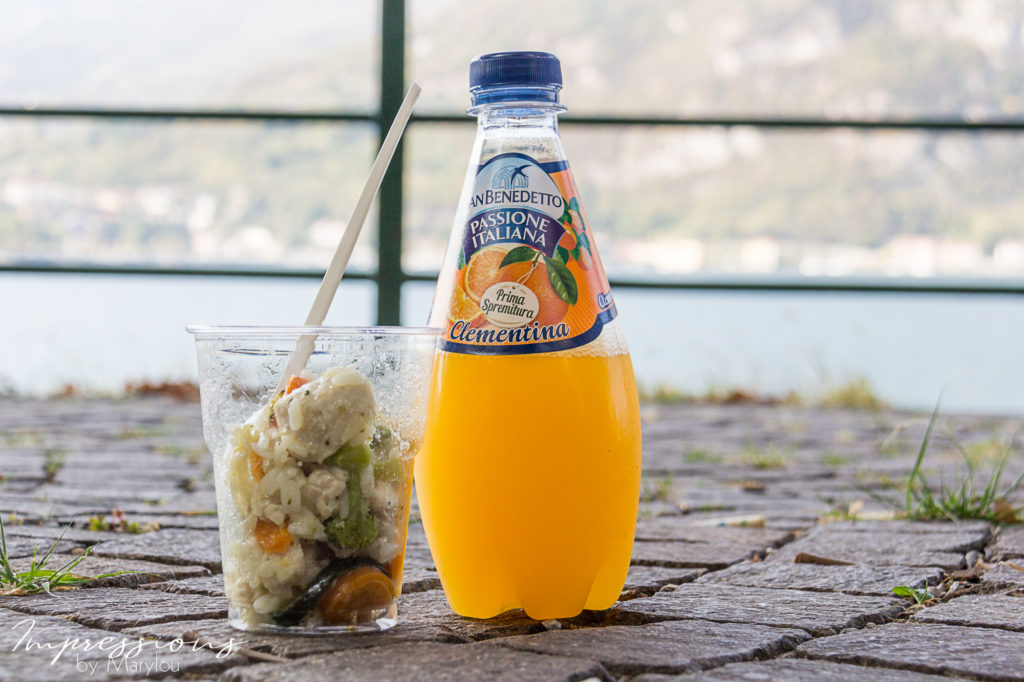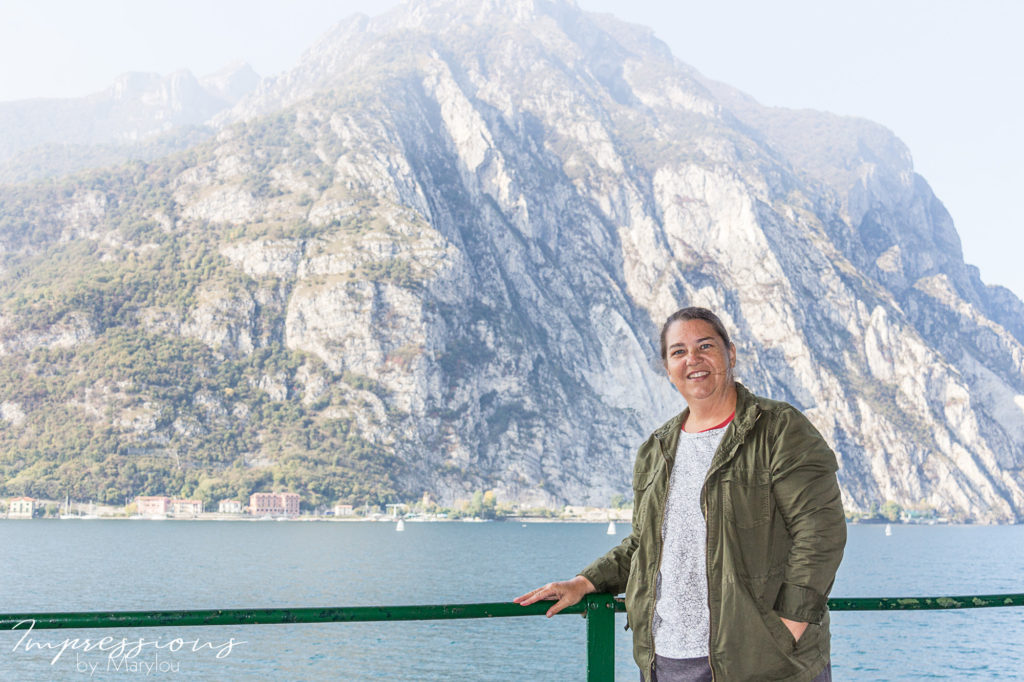 The full view of the lake from where we ate:

Make sure to click the photo to enlarge it. When you see how small the building look in comparison to the surrounding mountains, it's quite amazing!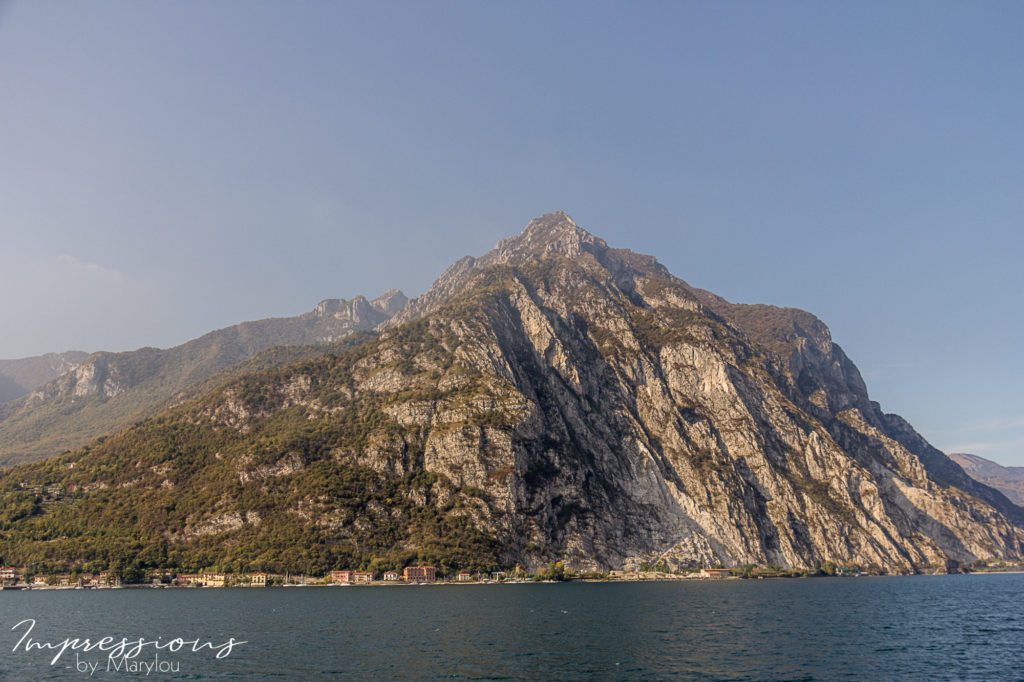 A boat ride would've been just tops but, alas, our time in Italy was winding down very quickly. We had to turn in our van at Florence, and catch a train back to Rome the same day.
This ends our most memorable trip of 2018. I will probably add one more trip-related post as a wrap-up + what I would do differently. 🙂