It's been a tradition for years to have our meal of choice sometime over our birthday. Some years I have no idea what I want. This year wasn't one of them. 🙂 I remembered this pinned recipe called Spaetzle, one of the many that I want to try someday. I decided I wanted a Austrian/German/Swiss (?) meal.
And for the first time I can remember, my mom asked if we shouldn't just find a restaurant that makes that food and eat out. 🙂 I gave her something that was her speed … fresh peach cheesecake.
Spaetzle is a type of homemade egg noodle. Add cheese to the mix and it becomes kaese spaetzle. You could also describe it as German mac and cheese. I won't tell you much more because I am far from an expert and there are many more informative sites out there in the dubya dubya dubya that can tell you more.
I offered to make the kaese spaeztle since it seemed like it could be pretty time consuming. My brother was here for the weekend with the goal of making jams and pepper jellies (he raises some very hot peppers!). We divied out the food since we were otherwise occupied.
Well, the spaetzle-making proved to be a hilariously frustrating experience!! The recipe I used included using a dough hook on the mixer on the ingredients (flour, eggs, milk and salt) in a mixer for 15-20 minutes. The end result was thick, sticky and thick and sticky! In hindsight, I realized I should've added more milk. The blogger assured the readers that it would be hard work pressing it through a spaetzle maker, or colander, for those who weren't well equipped. It took a few dishes to figure out which was going to work best, plus serious elbow grease to push it through the colander (actually it was the thing with holes that goes into a pressure canner, can't think of the name) that we used. The kitchen was a sticky, gooey mess til my sister (who came to my rescue, I had almost developed a blister on my wrist) and I finished up. I should've taken a photo but we were in a hurry to get out the door for supper at my sisters and I forgot later.
I kept thinking that it better be worth all of the effort to make it. I refrigerated it overnight. After church I pulled it out and heated it up in a skillet with a little bacon grease and olive oil. I layered it in a baking dish with with smoked Gruyere and baby Swiss cheeses, topped with caramelized onions, and baked until hot. The good news is that it was delicious! However, I wouldn't make it again if it was as hard to make as it was this time. At least one other person had the same experience and left a comment that pretty much mirrored our experience. I looked on YouTube for visual reference on the thickness of the batter and quite a few of them had a runnier mixture. The blogger whose recipe I was following kept saying that the batter has to be stiff or the texture won't be right. I think I'll try it again sometime with a difference recipe and see how the end result compares.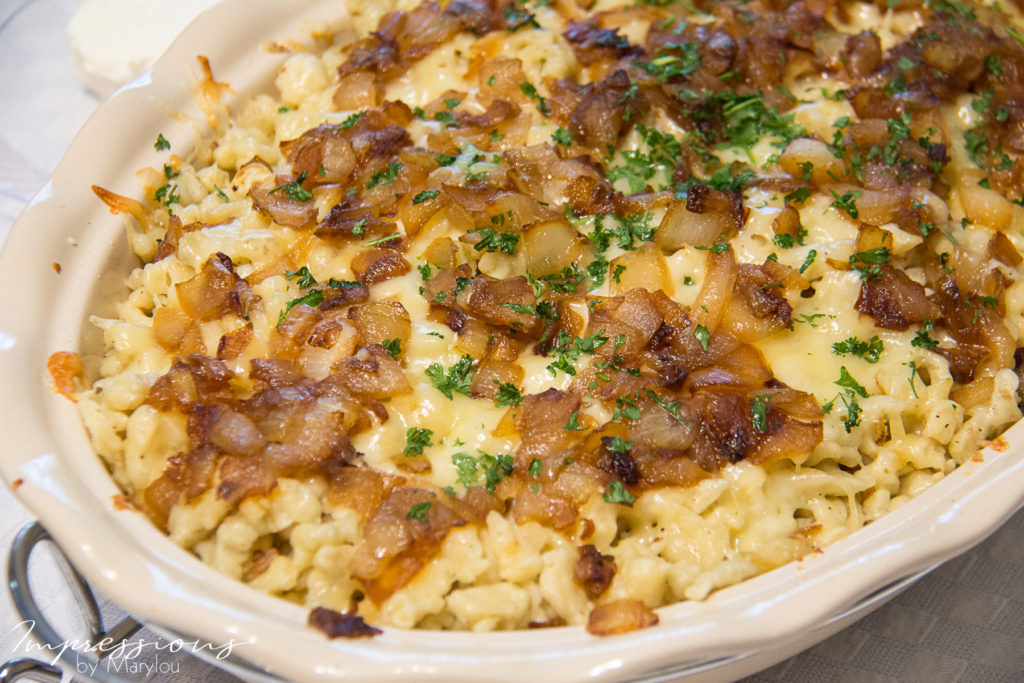 Lois made schweine schnitzel, a pork cutlet pounded flat, breaded and pan fried.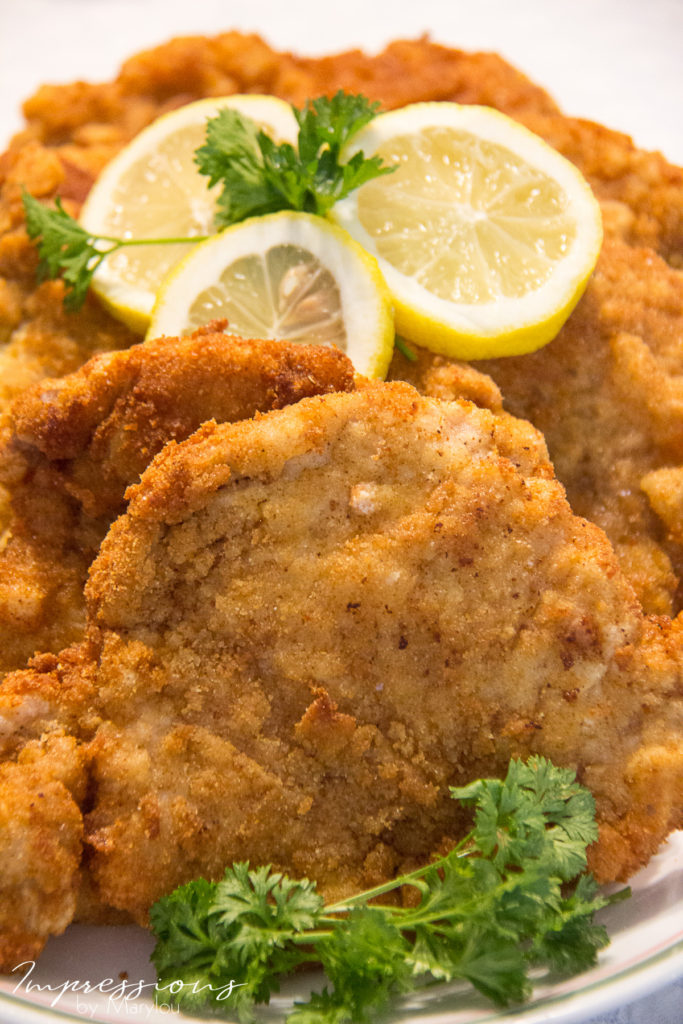 Hana made German cole slaw (without the bacon bits). We decided this recipe was a keeper. 🙂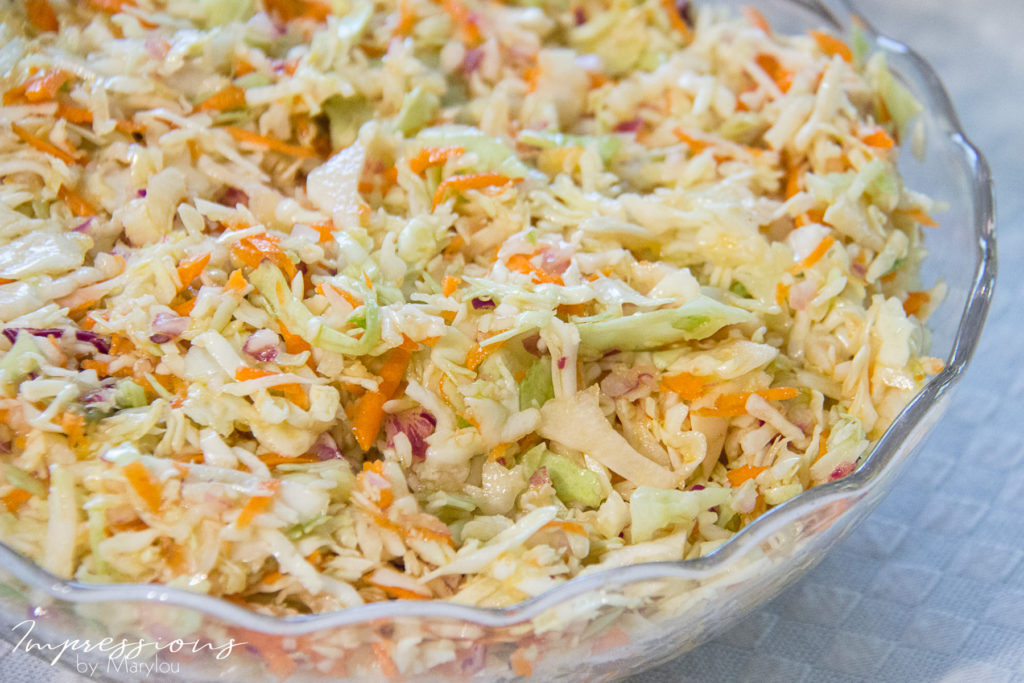 Then there was good old American sweet corn. Not that we necessarily needed another starch but Mama had tried something new and didn't blanch it before cutting it off and freezing it. Our opinion is that this made it so dry that it scorched too easily when cooking it later. Flavor wise it wasn't really and different.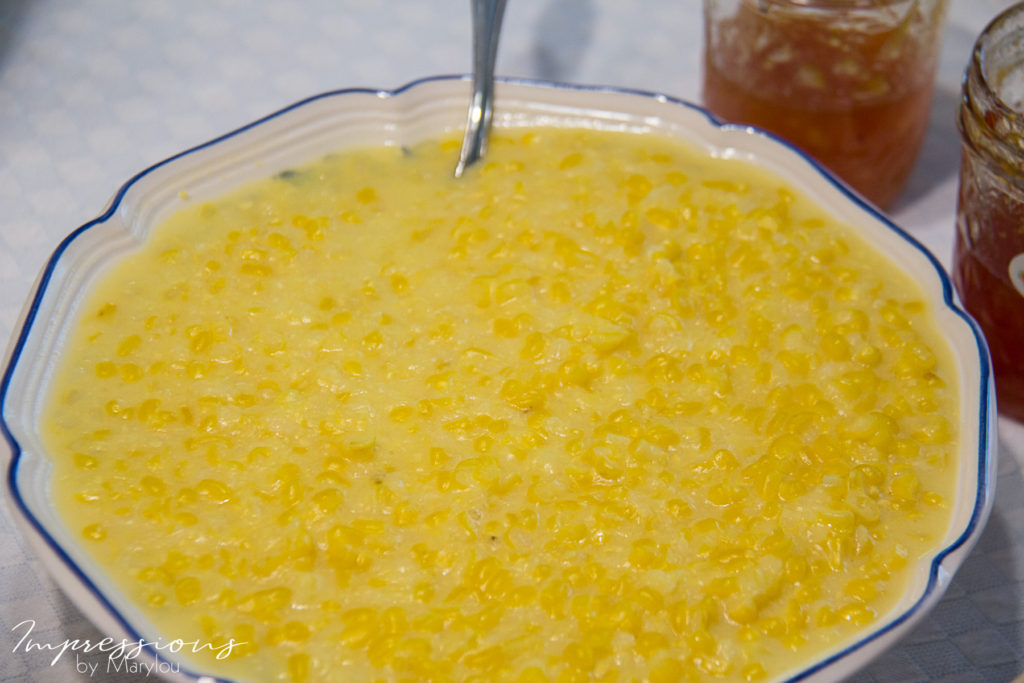 My friend Sonya makes delicious artisan breads and gave me 2 loaves for my birthday. The one on the left is loaded with herbs and the other has sundried tomatoes and some herbs. I don't remember what kind because the label had come off. She sells this bread along with other baked goods at the local Farmers' Market.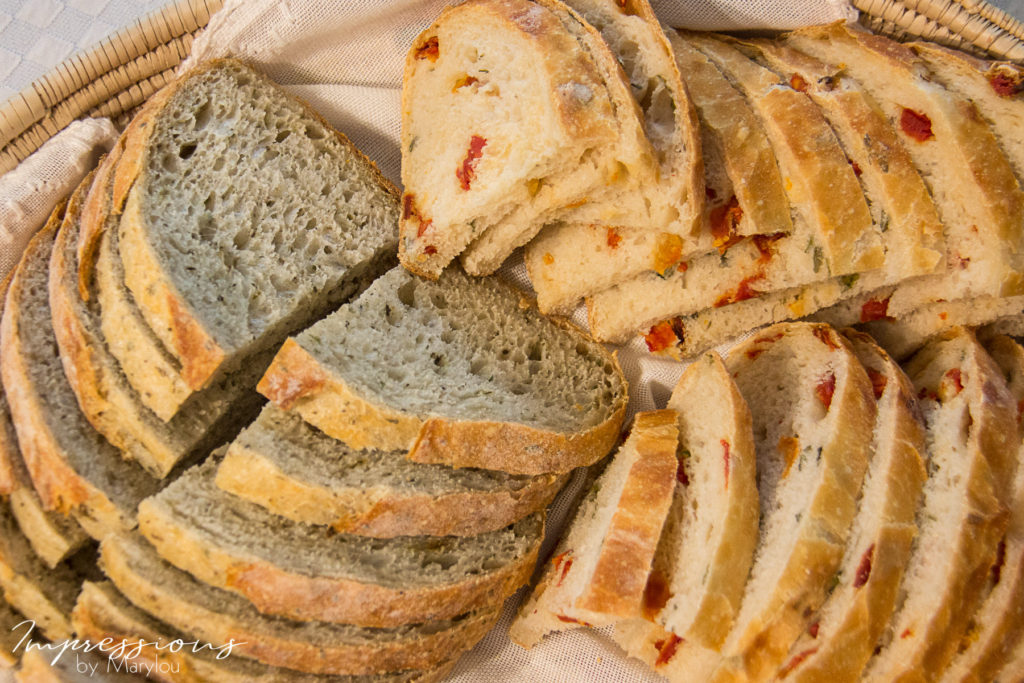 And of course, yours truly with the delicious Fresh Peach Cheesecake! In case you're wondering, that's not the right number of candles but my mom didn't want to burn down her house. 🙂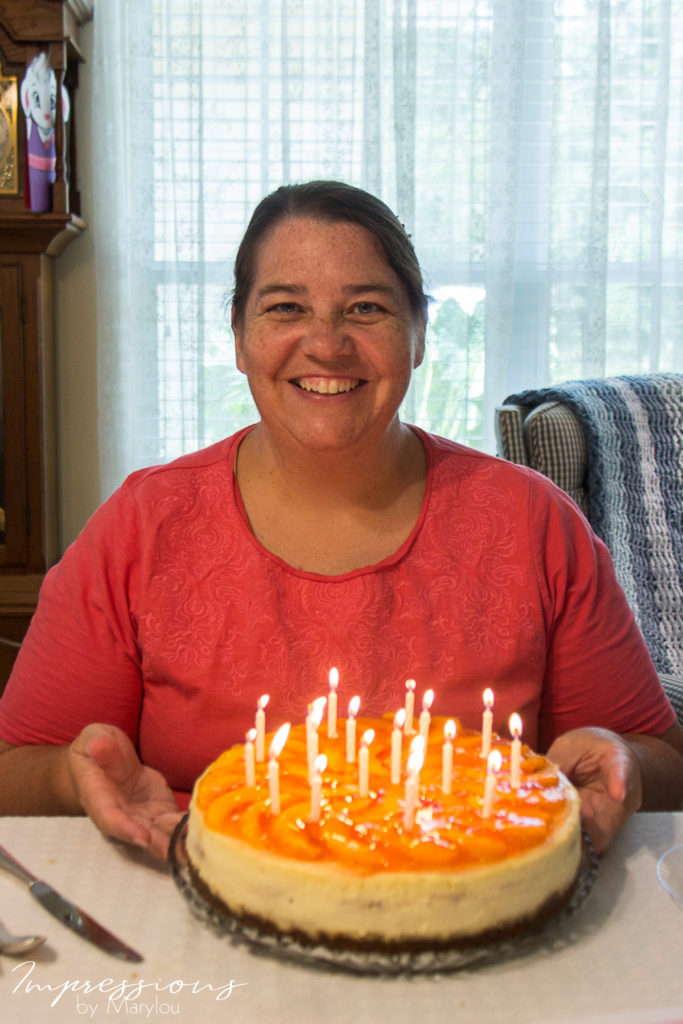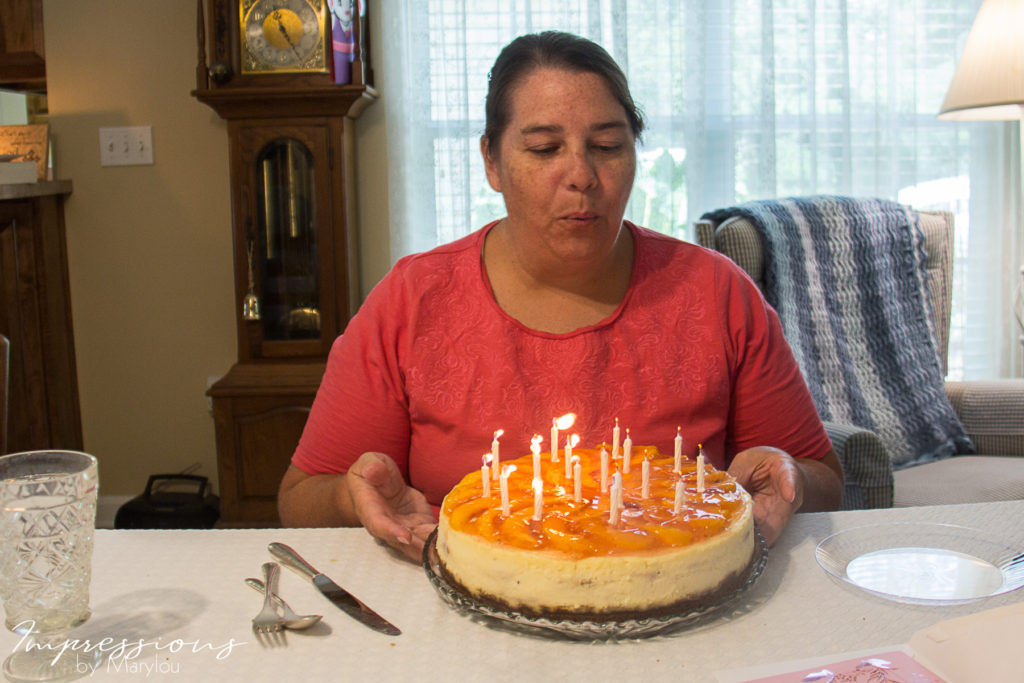 About the freebies…. In case you've forgotten this like I had, many businesses give out freebies over your birthday. When I was a young girl, my parents had signed us up for the Cap'n D's Captain's Club and every year on our birthdays we would get a postcard with a coupon for a free meal. Anyone else ever a part of that "birthday club?" Well, companies still want you to come in and spend money so they give you birthday incentives to enjoy.
Last year on my birthday I went to Savannah for a Dr. appointment. I went through my emails and found anything birthday related in terms of coupons and freebies. I was surprised at how many I nearly missed out on. Free breakfast pastry from Panera Bread. I ate half of it and saved the rest for the next day. Cinnamon Crunch Scone, my favorite!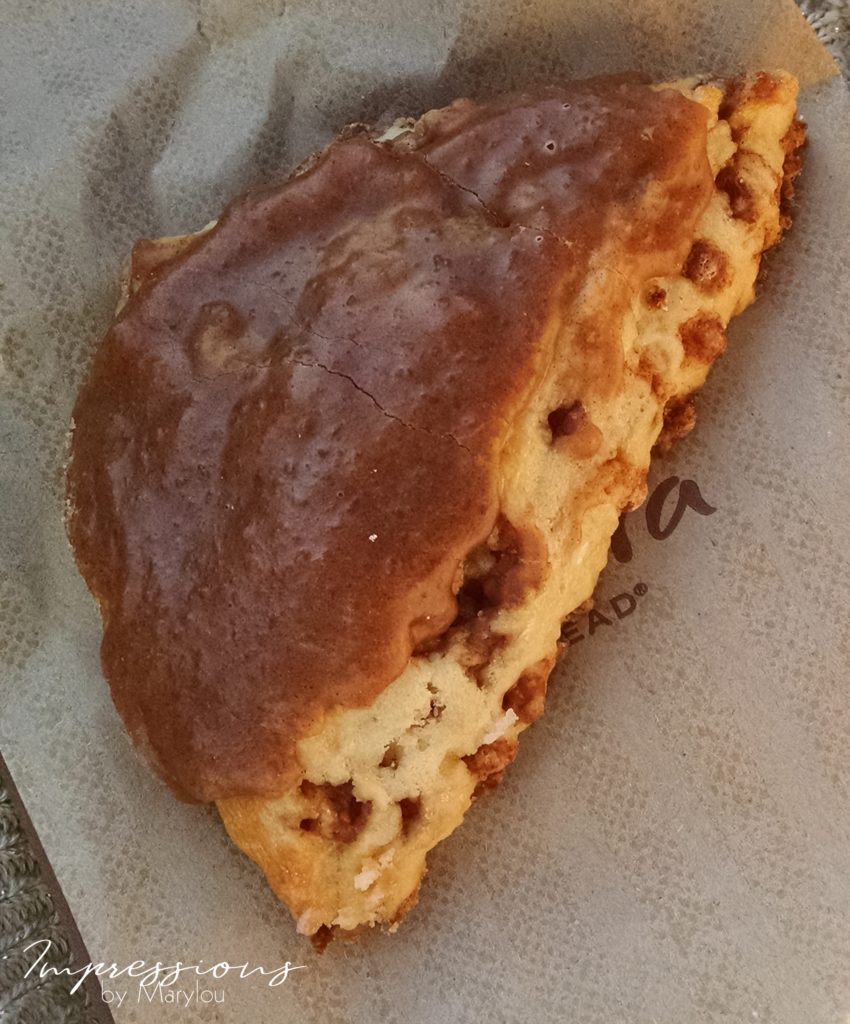 I had a gift card from someone for Macaroni Grill so lunch was free, and Macaroni Grill offered a free dessert coupon for birthdays. Ate half and brought the rest home. 🙂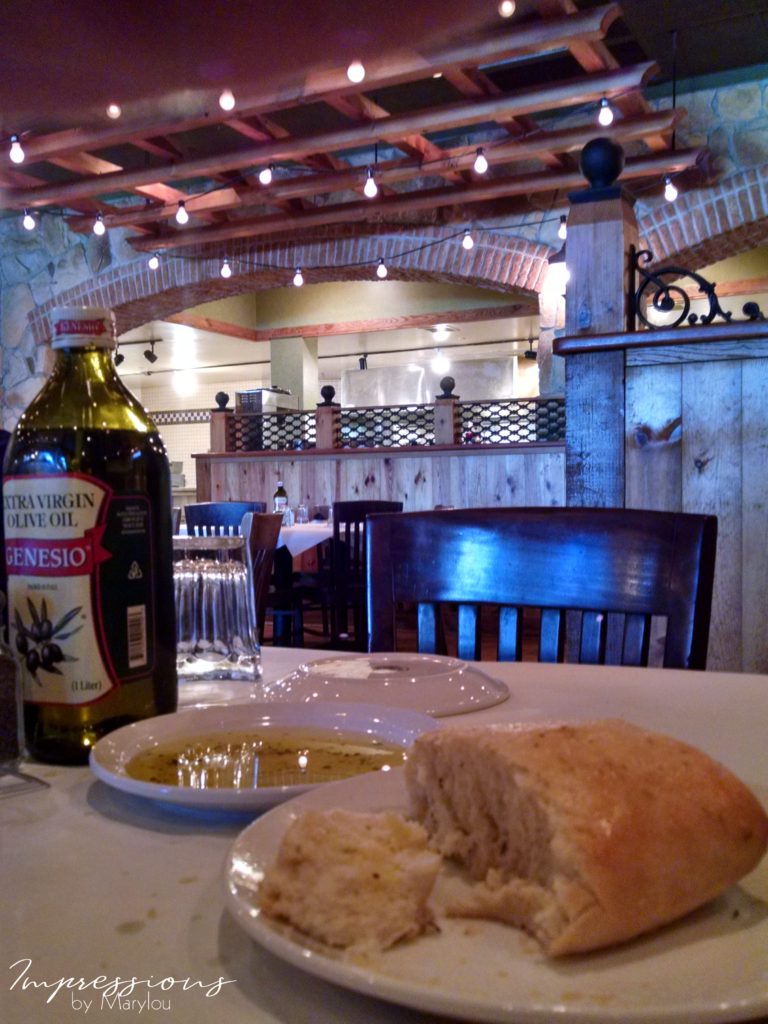 Ruby Tuesday offers free burgers (up to $10 value) free on your bd so I ordered one to go on the way home and saved it for the next day, too. Since I was still full from lunch.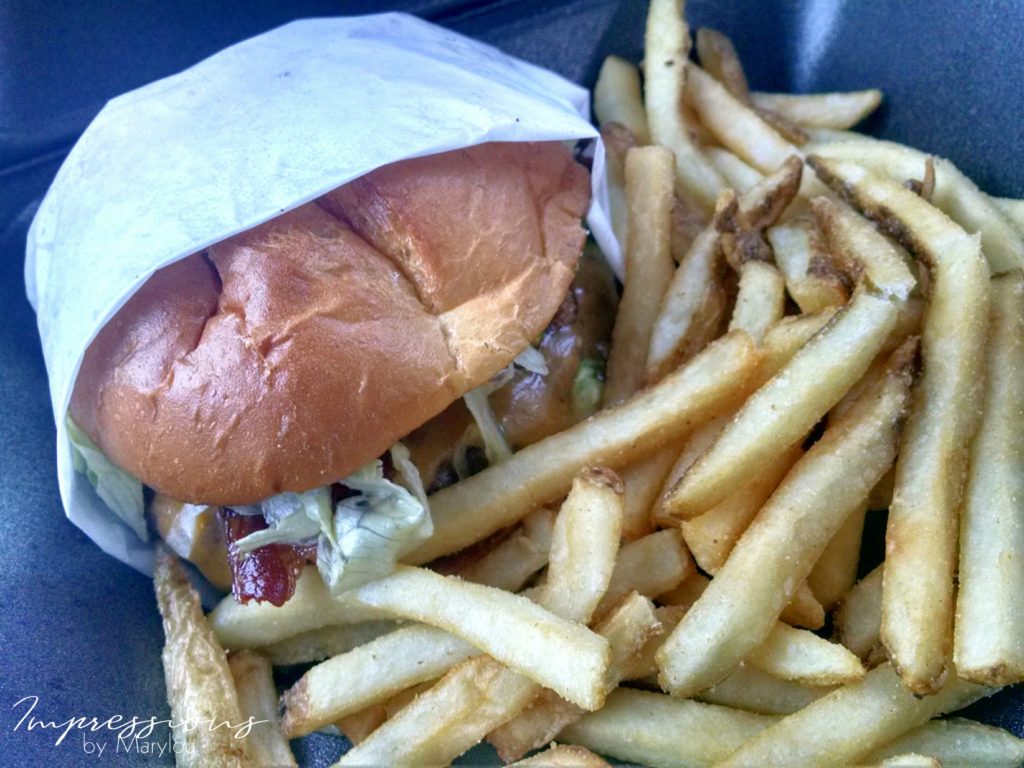 Kohls had $10 birthday coupons, World Market had the same (although this year the only offerend a discount). This year I didn't get to take advantage of as many freebies. But hey, if they offer them, I/you may as well take advantage of it.