Our entrance into Wales was uneventful. Our first steps into Wales weren't.
We were blissfully relaxing on the train from London headed to the northern part of Wales. Our debarking point was LLandudno Junction. We thought we knew how to pronounce it but we were not prepared for the Welsh language!!! So when I say we were relaxing, I mean it. The car we were in had plenty of room so I was in a seat by myself, shoes kicked off, stretched out. We pulled into yet another station. I happened to glance out the window and saw the name: LLANDUDNO JUNCTION. I (possibly) yelped,"This is our station!" We made a mad dash to exit (helter-skelter, pell-mell if you understand The Pokey Little Puppy speech). Lois was the first one out and she quickly stopped the conductor and he somewhat annoyedly urged us to hurry. Once she explained why we nearly missed it, he was amiable. We stretched their 30-second stop to at least a 1.5 minutes and found ourselves on the platform, giggling in relief that we didn't have to back-track from the next stop. And if you're thinking we were just dumb American tourists that think everyone should make time for them, well, this is the only stop we almost missed! 🙂
We thought it was pronounced Lahn-DAHD-noe. Instead, it sounded closer to London-NOW, only the double L sound is a different sound. Put your tongue in position to say an "L" and then hiss. That's the starting sound. But…. amid some drama of exiting, we now had a decision to make. Our destination was the nearby town of Conwy (CON-wee, easy to pronounce, PTL!) so we could either walk the mile there, or wait a few minutes to catch another train right into Conwy. We chose the latter.

Choosing Conwy was good for several reasons. First, Lois found it in the travel books by Rick Steves. Second, it was a lovely little town. Thirdly, since our next country to visit was Ireland, this was only about an hour from Holyhead where we were going to catch a ferry to Dublin.
We had booked a B&B in Conwy, also recommended in RS' book. It was a great choice, both for the town and the B&B named Glan Heulog. We contacted our hosts, Stan & Viv,  for directions and they offered to come pick us up. It wasn't far to their house but with our luggage a ride was most welcome.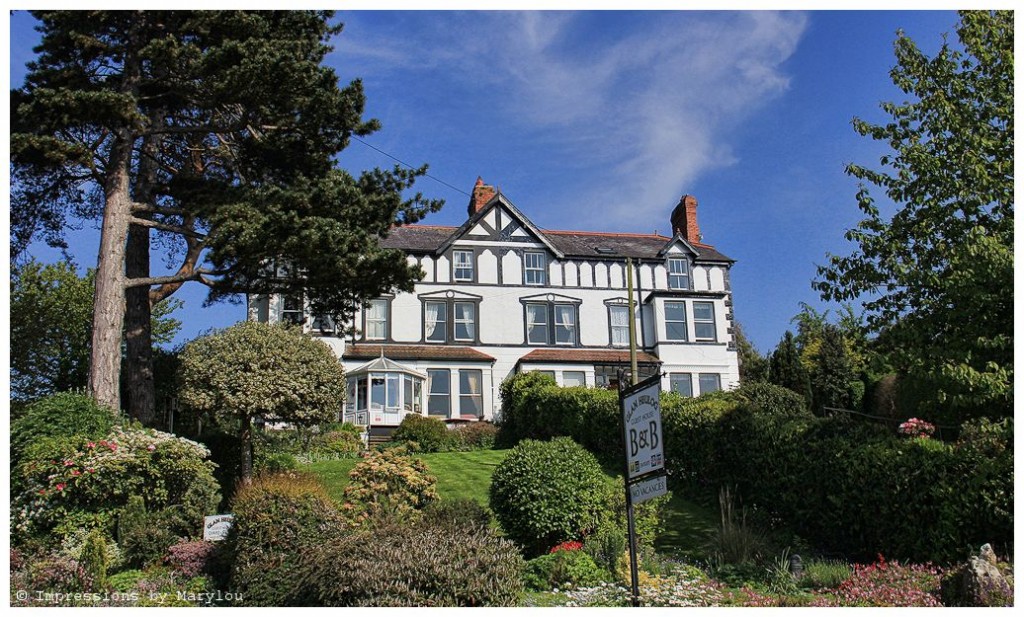 Glan Heulog is the on the left half of this house.
Since we got in early evening, we got situated in our rooms and then headed back into Conwy for supper. It was so nice to be able to walk into town, since we didn't have our own transportation. Also, this was a good time to split up for a day's activities and everyone could have some solo time.
The next morning, Sunday morning we were chatting with Viv, the owner, as we were eating breakfast. We asked about churches and she mentioned a Methodist church, which with the little research we had done, was the one we were planning to attend. She said there is an American lady who is a member of that church and we should be sure to look her up. When we walked in the church, one of the first people we saw was this lady, Sylvia. She came over and introduced herself and seemed delighted to meet us. I think there were a few tears in her eyes. She had to leave to tend some other errands but told us she wanted to talk to us after church. It was an interesting service, a bit more formal than the American Methodist churches. During this service, there was a confirmation ceremony for a young, early-teen girl, as well as a farewell for the pastor and his wife. Also because of the farewell, the church had a carry-in lunch (not sure what they call it). Sylvia insisted we stay for lunch and so we did. We had a delightful time chatting with our table full of ladies. Mrs. Mary was also seated at our table and she told us of growing up in London during WWII. In fact, she wrote a book and sent a signed copy home with us.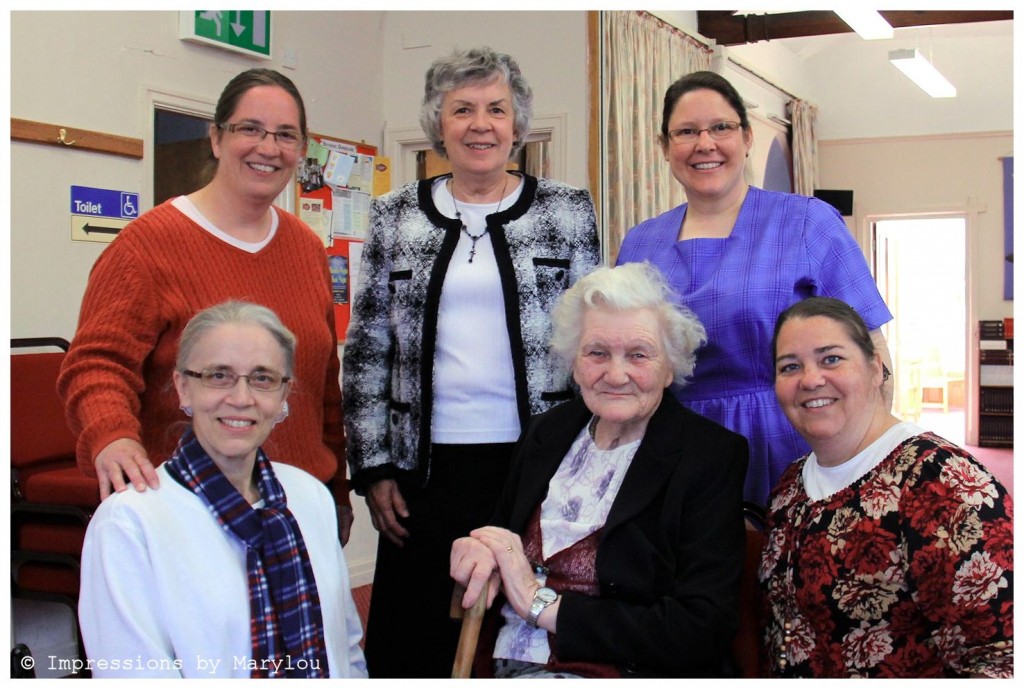 B row: Lois, Sylvia, Carolyn
F row: Ruby, Mary, me
Silvia's father had grown up "black bumper" Mennonite, although he never joined the church. Sylvia had come to the UK for a bit and ended up in Conwy, Wales. In joining a photographer's group, she met Peter, whom she married. The last evening we were in Conwy, they invited us over for dinner. I didn't take my camera along so do don't have photos from that evening. All the more reason to keep a point-and-shoot handy. Lugging a big camera around does get to be a chore at times. They had a lovely place surrounded by beautiful flowers and it is really too bad I can't show that to you!
Going in circles: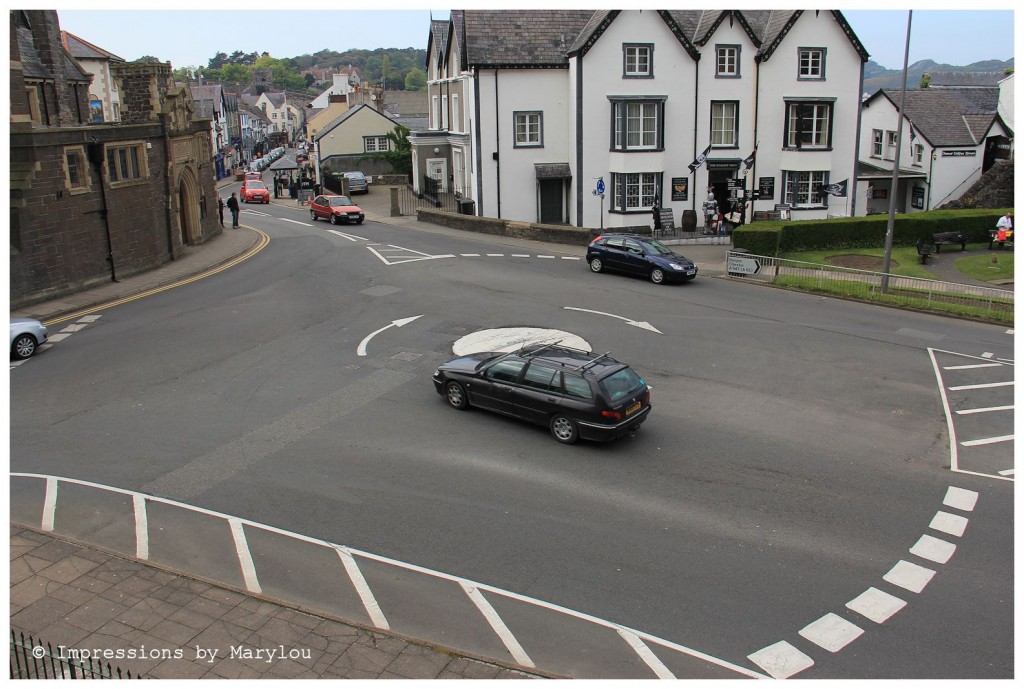 Sunday afternoon and evening we 4 split up and headed out whichever direction we pleased. It is hard to describe how beautifully this stop in our trip was for all of us. We had reached the halfway mark in our 4-week trip. We were all in need of some breathing room. We singles aren't used to being with people 24/7 like this! 🙂 There was no rain the entire time were in London, and then again in Wales, it was sunny and warm. They said it had rained nearly everyday for the  previous week or two. Being able to enjoy many hours outside without dodging rain was a blessing.
I took a tour of the main part of the castle.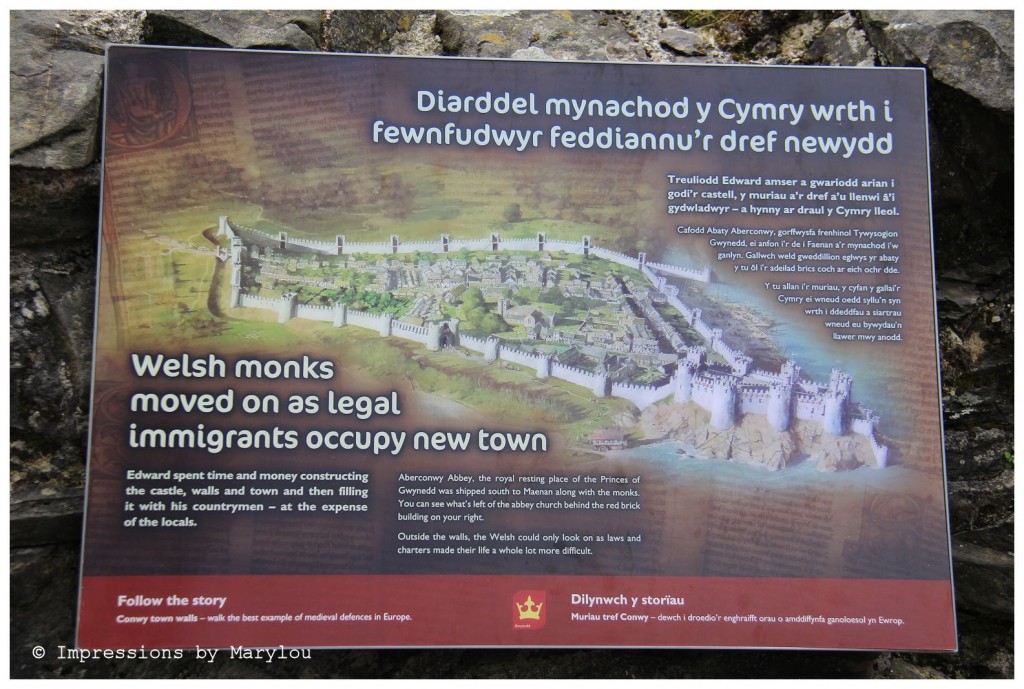 The castle walls encompass much of the town of Conwy. The main castle (above on right), is still quite an interesting sight. It was built from 1283 – 1287, another move by the British to control all of  what is today called United Kingdom.  You can read more of the history HERE.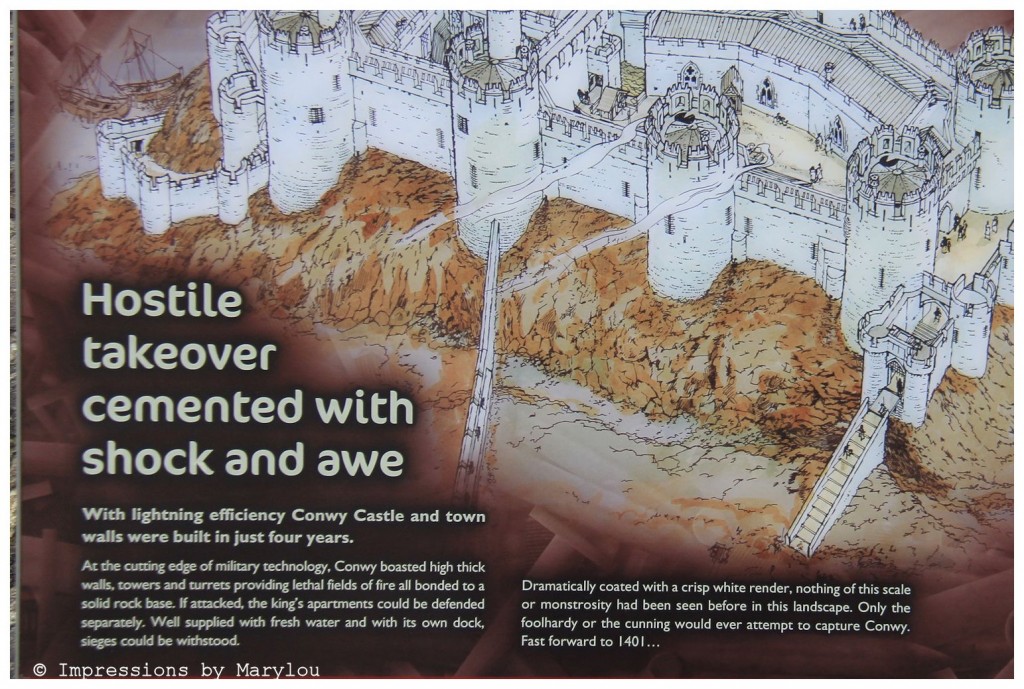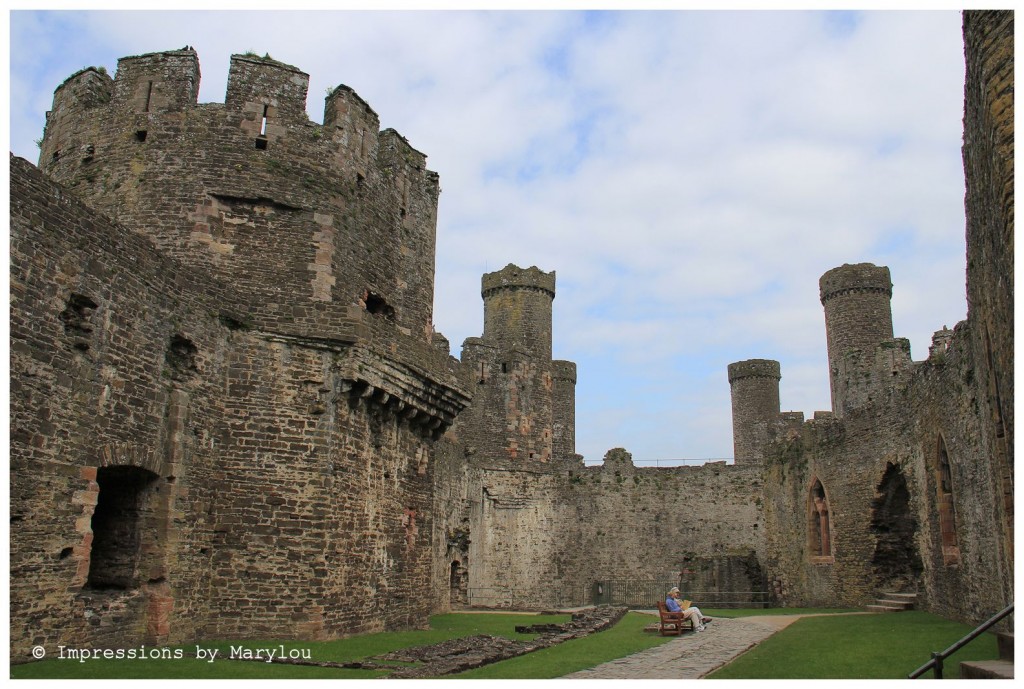 The walls are higher than they look!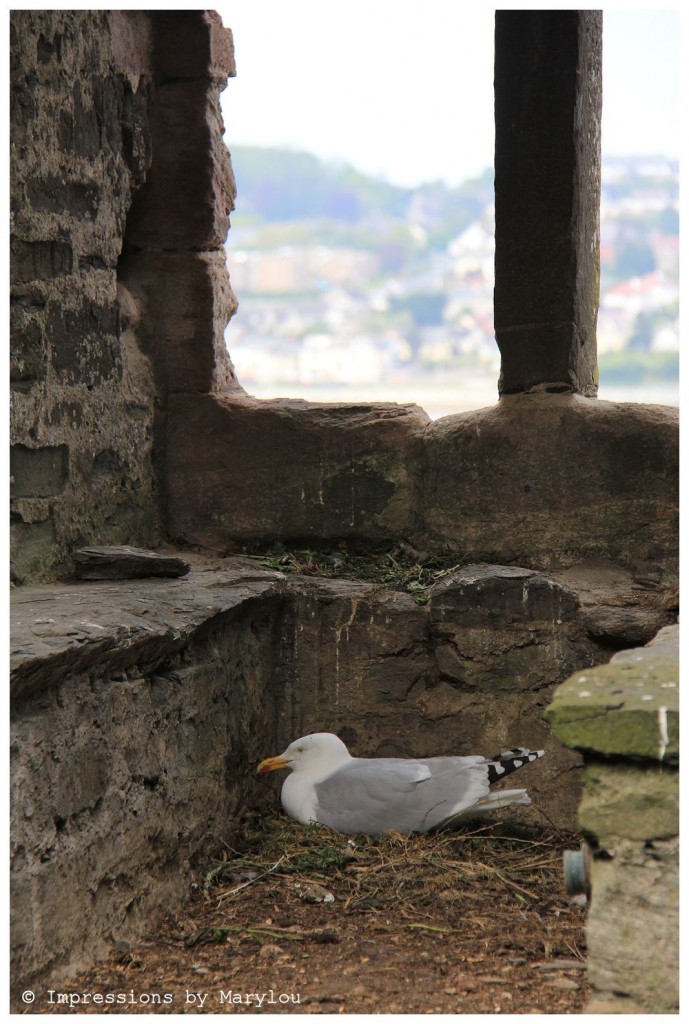 Looking down in the town. You can see the walls in the distance.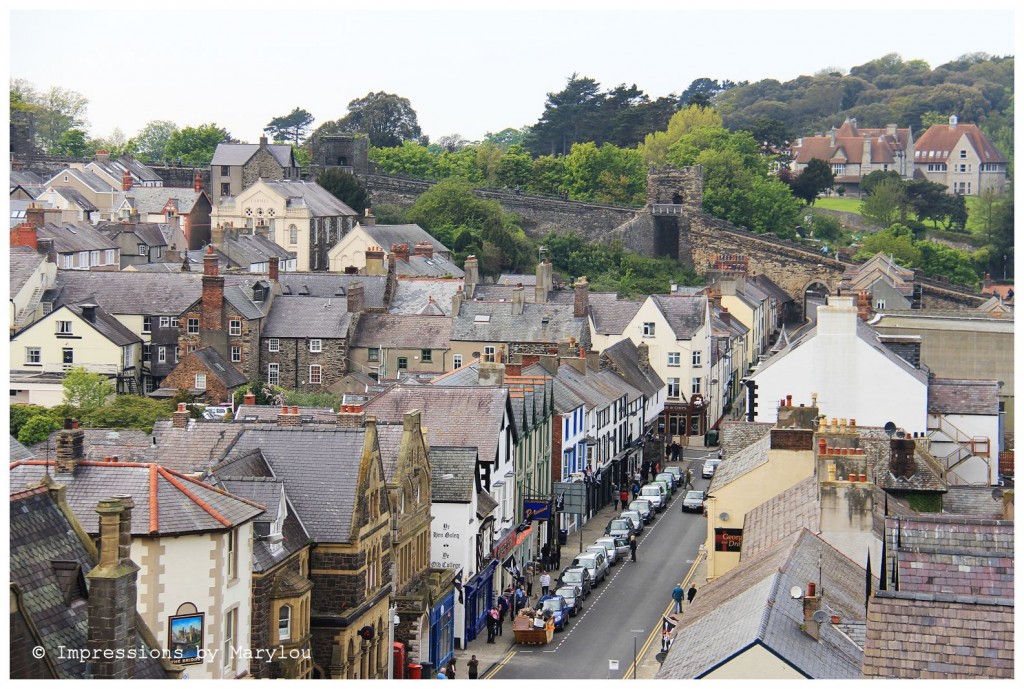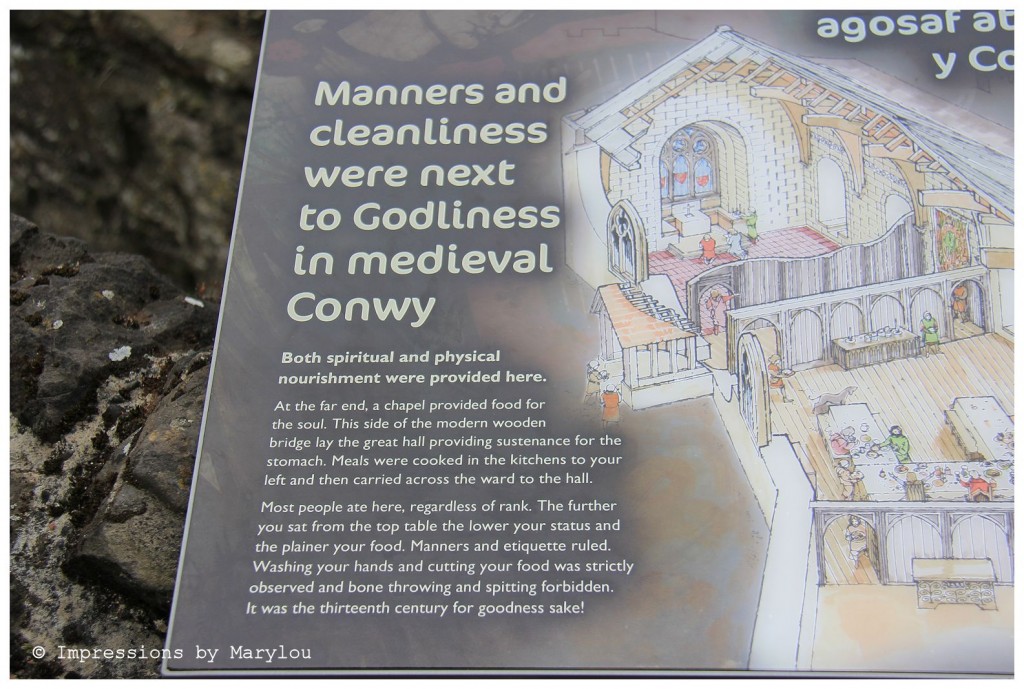 The area where the Great Hall had been.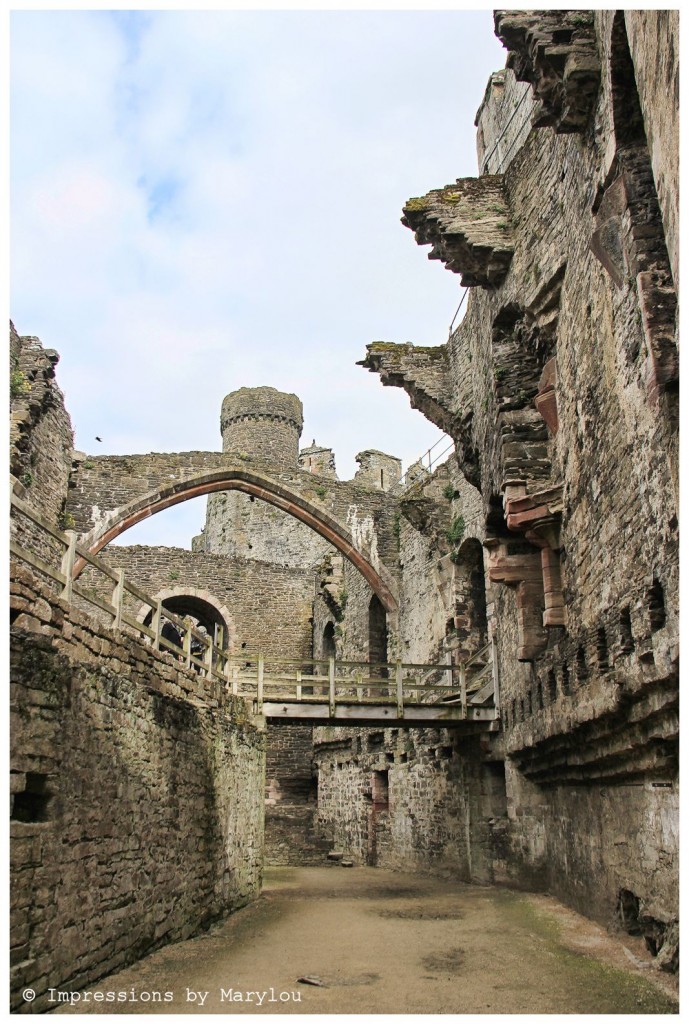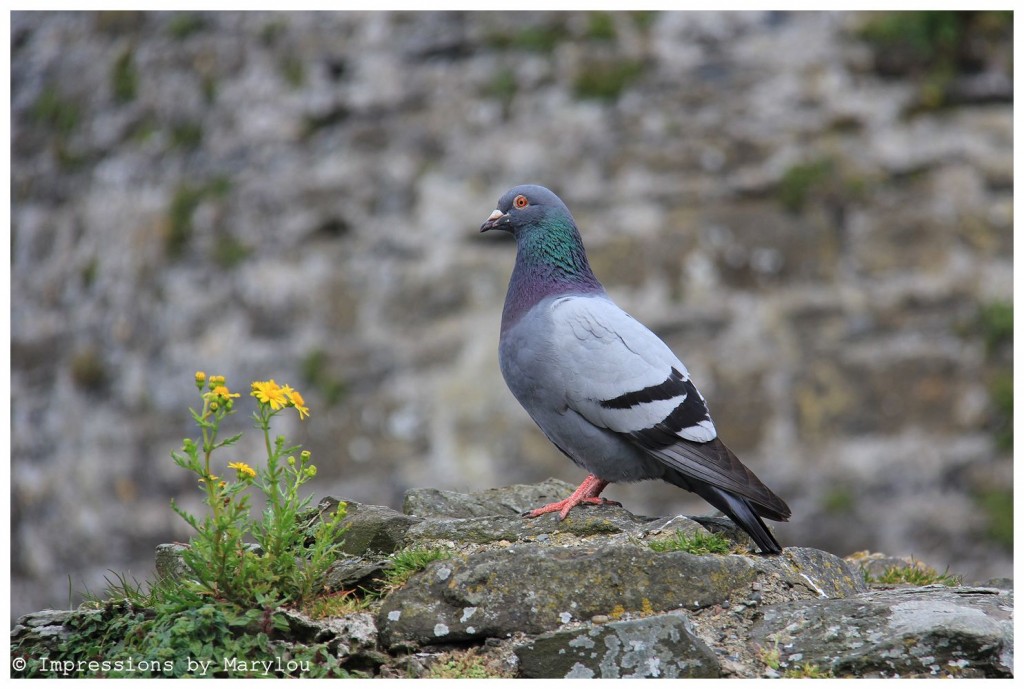 There were lots of pigeons and gulls, flying and cooing and squawking.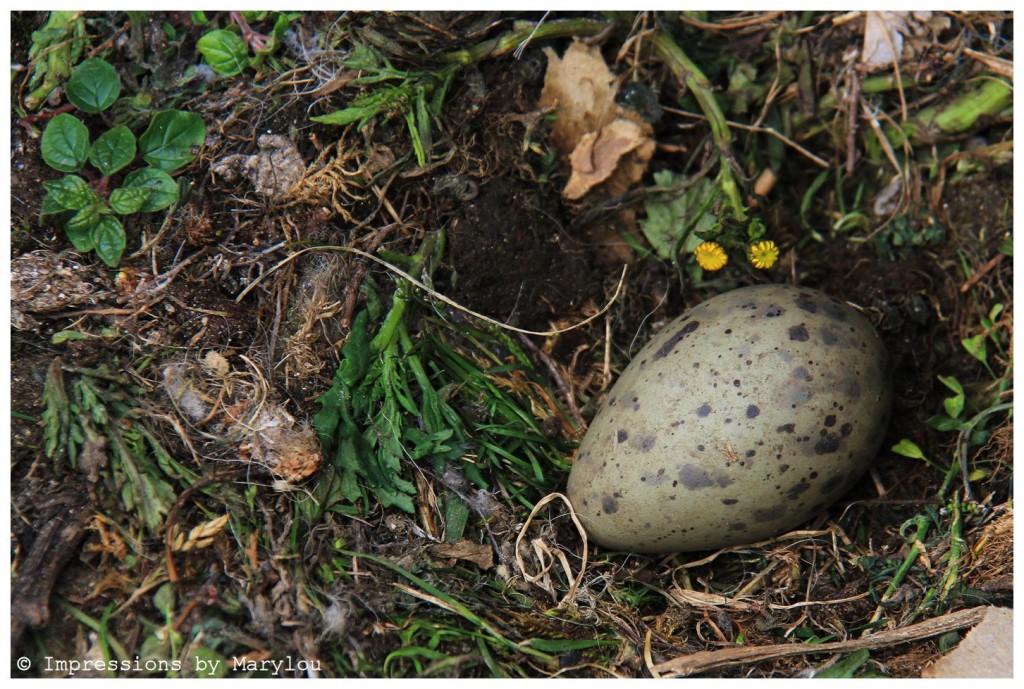 And nesting.
The river below the castle is a tidal river, and the difference from low to high tide was significant!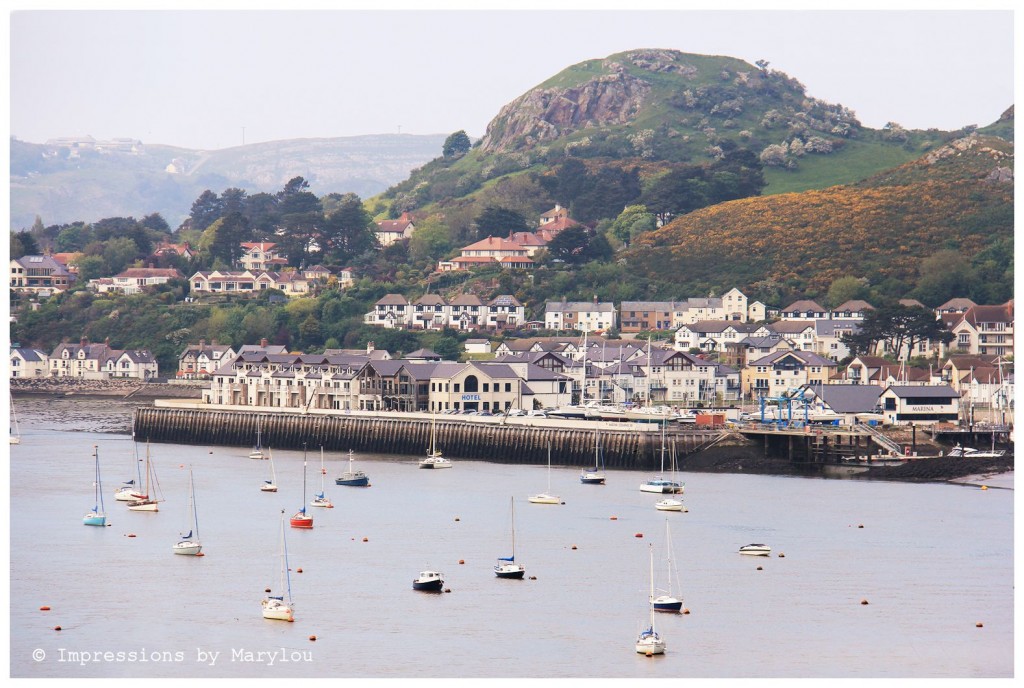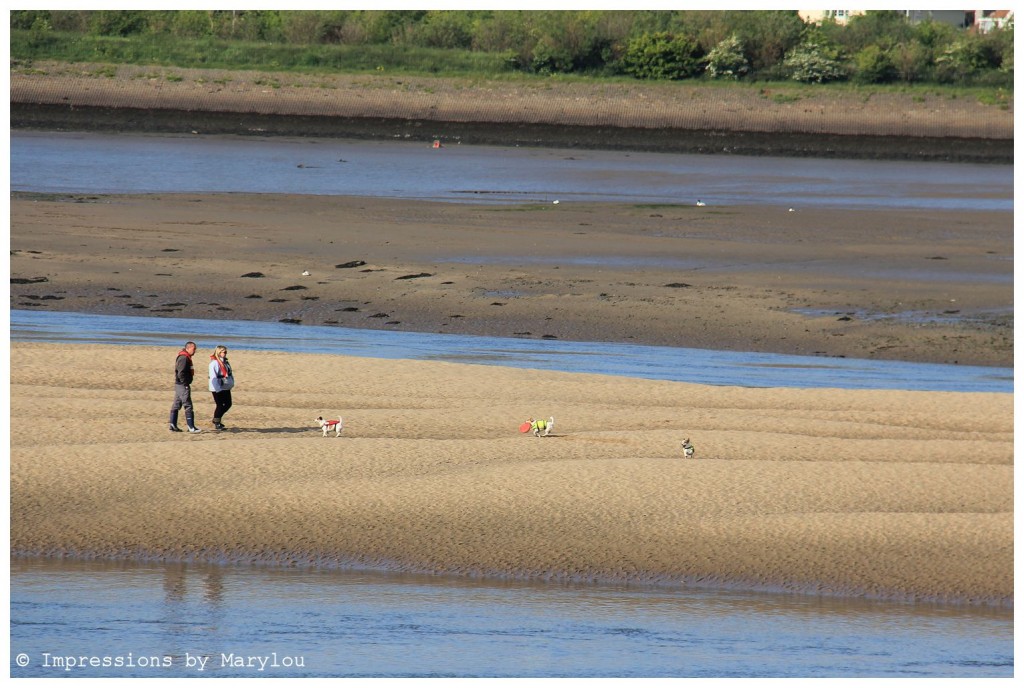 Conwy has the smallest house in Great Britian. I didn't take time to tour it but Lois said it was quite small. I mean, it's only 72″ wide and 122″ tall, and that's including a sleeping loft. Oh, and the last person to live there was 6′ 3″. I wonder how many times he hit his head?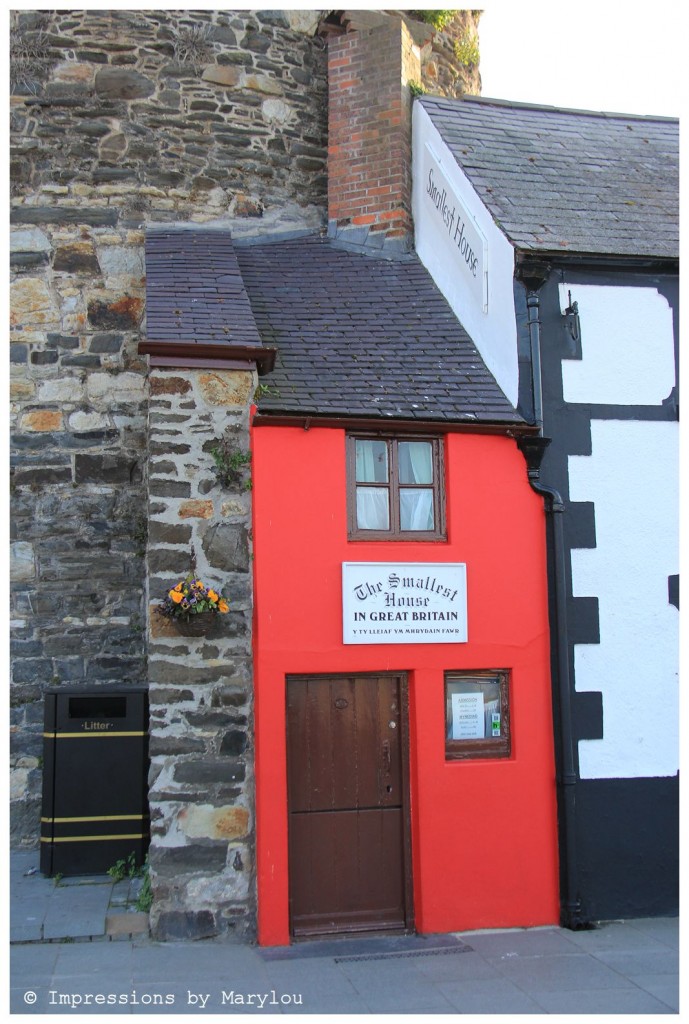 For some reason it was very hazy on this day!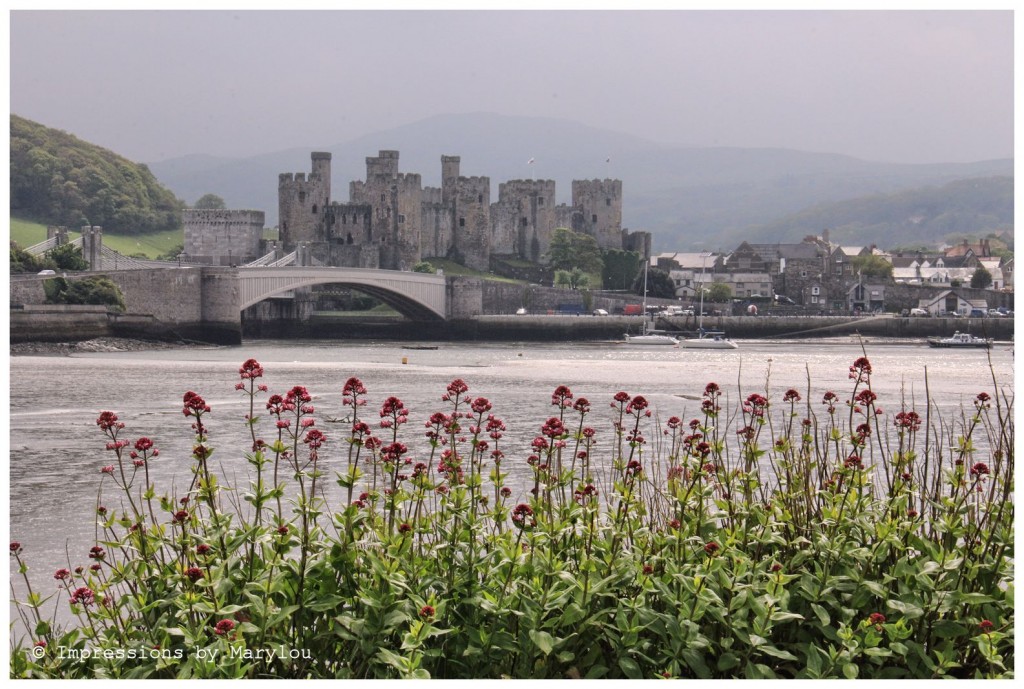 Sunday evening dusk.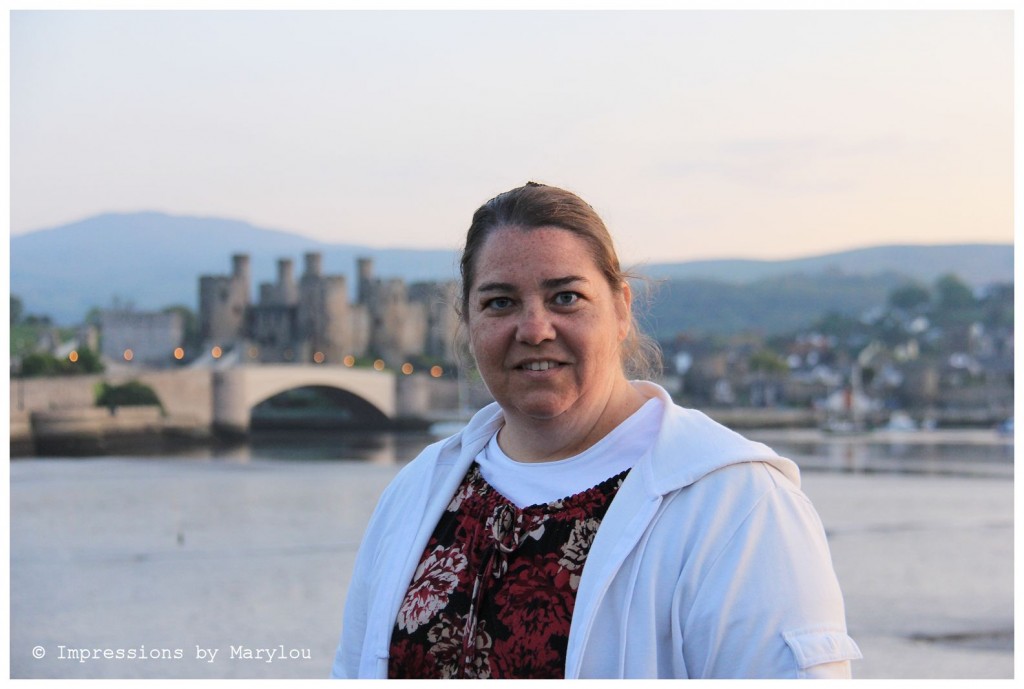 Proof we really were there!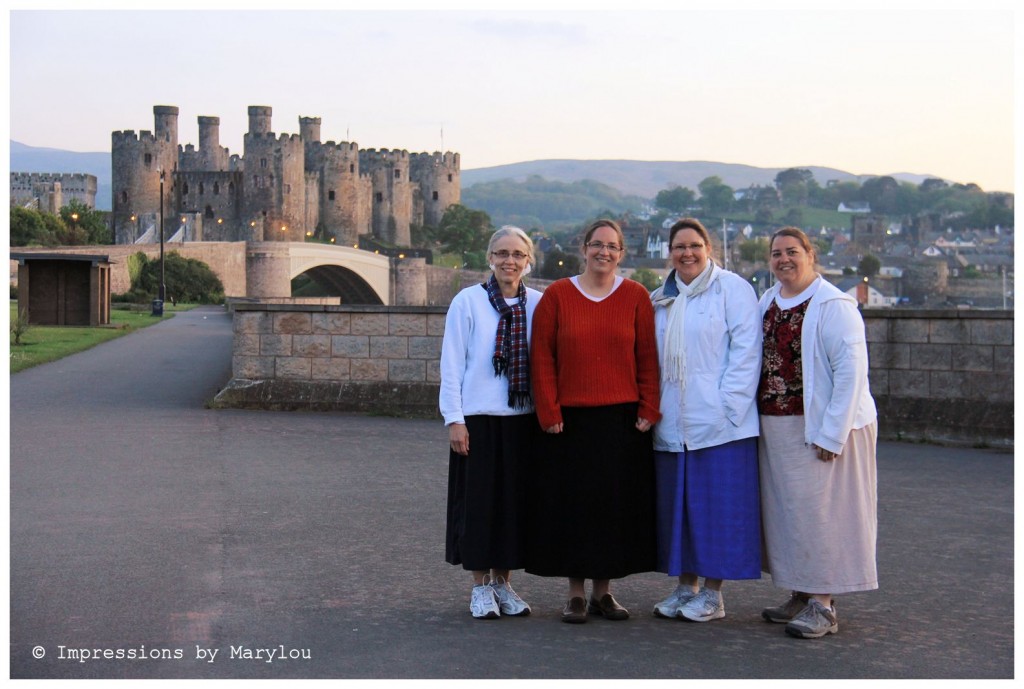 We enjoyed some new foods. Lois tried mushy peas on the one restaurant and after sharing a taste, we all wish we would've tried it. Mushy peas is made from Marrowfat peas, which are also the peas in Wasabi peas.  You can watch a video on how to make them HERE. So, what are marrowfat peas? Wikipedia says, "Marrowfat peas are green mature peas that have been allowed to dry out naturally in the field, rather than be harvested in their prime of youth like the normal garden pea." So, if your peas get away from you in your garden, you can still use them and make mushy peas. Here in the South, dried peas are cooked to a soupy consistency so it's no wonder we liked them.
A drink I loved: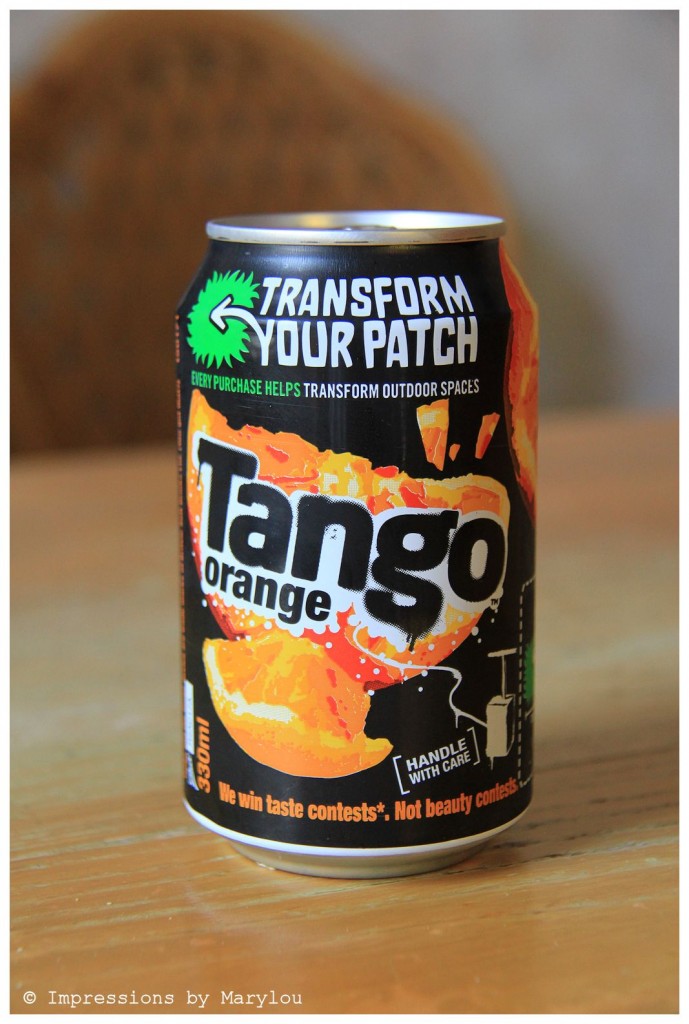 And a kebab meal with fresh chips that was not quite like other kebab meals (shaved meat) but chicken strips grilled.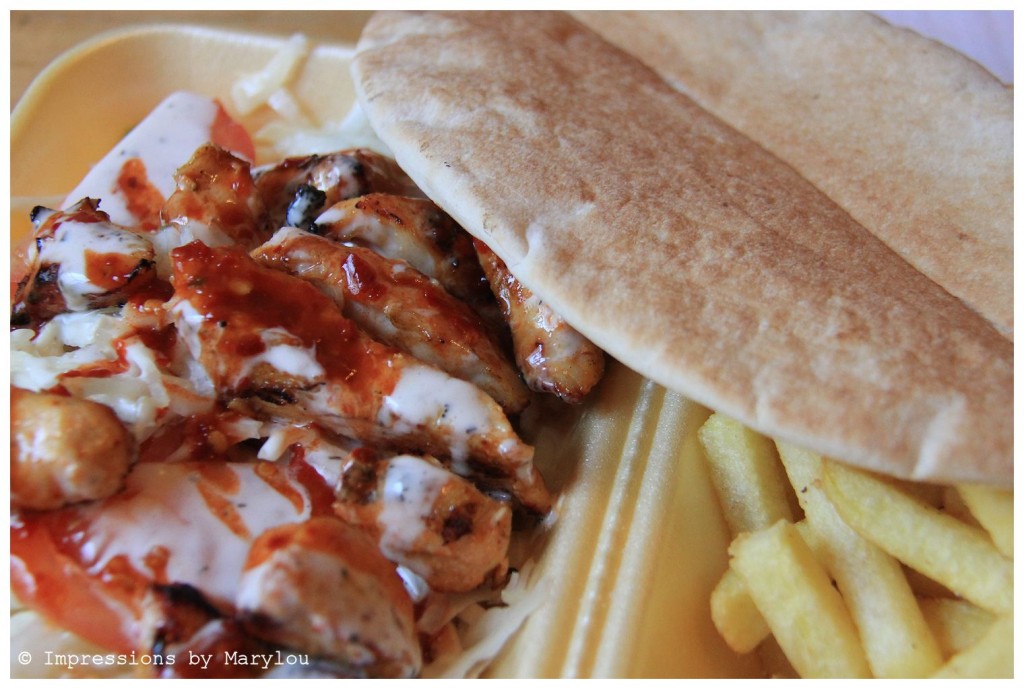 On Monday we headed out early, way early to catch a train to explore more of Wales. This was unfortunate, because we missed the breakfast served by Stan and Viv at the B&B. And the following morning we were going to leave even earlier, to catch a train to Holyhead, en route to Ireland. So, I reminded them, this is usually why we don't do B&Bs. Because we don't slow down enough to get the full B&B benefit! They did leave out bread, jam and water for us to make tea. It wasn't their fault we missed breakfast but they looked out for us just the same. On the other hand, we only had a few days to see a little bit of Wales so we had to make the most of it.
We took the train south into Snowdonia National Park and saw a lot of wild, mountainous scenery. It was beautiful and rugged and sparsely populated.
We stopped in the town of Betws-y-Coed. Yeah, try pronouncing that one! I'll give you a hint: It sounds like Betsy Koyd. At the train station there were quite a few shops to browse. Away from the station was a beautiful little town. We found a bakery and bought some pastries and ambled across the small river and ate our breakfast. We meandered back into town and stopped a the church, which was open with no one around. We took the opportunity to sing! 🙂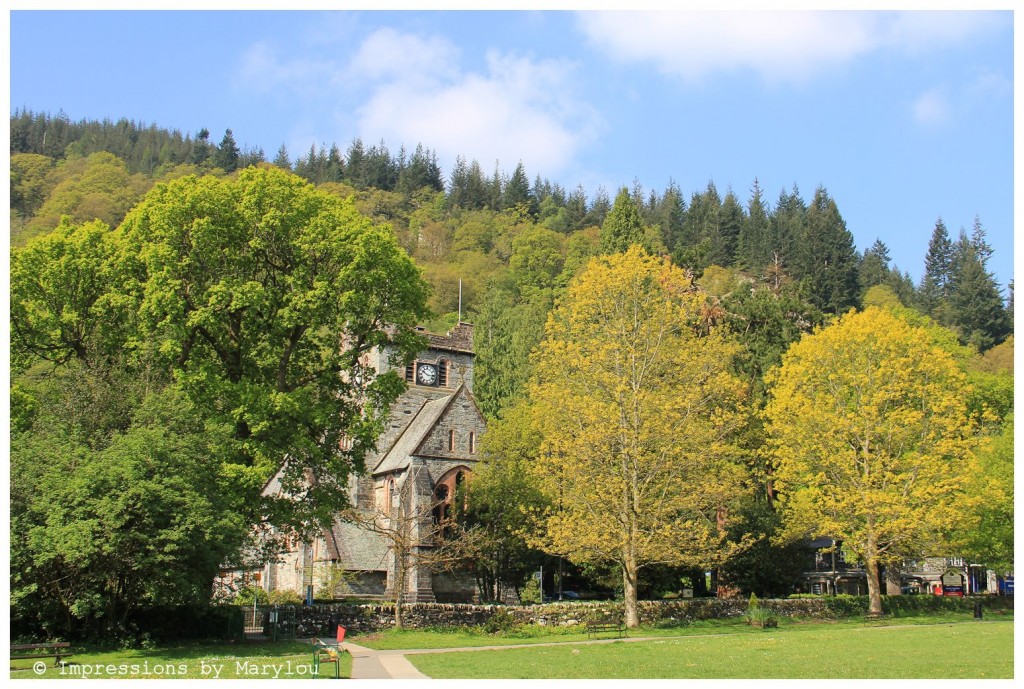 We got back on the train and headed further south, our next stop being Blaenau Ffestiniog (I know, aren't these Welsh names just amazing!) This is the area where slate mining is done.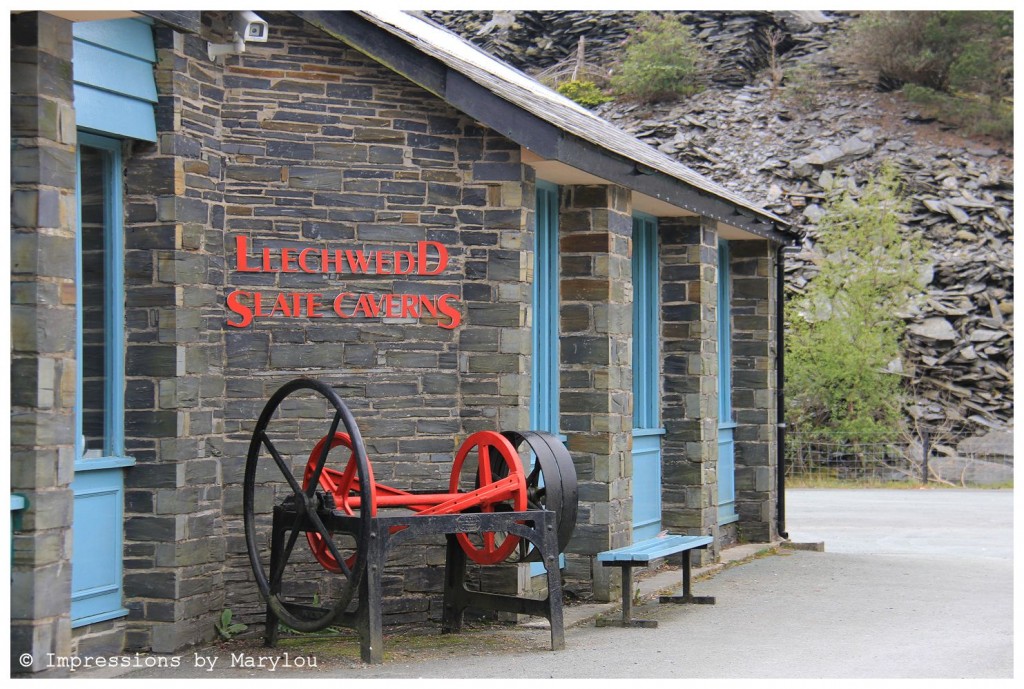 Many if not most houses are roofed with slate. They are cut  similar in style to shingles but are very hard and very durable! Around the town and the mine site are large hills covered with slate refuse.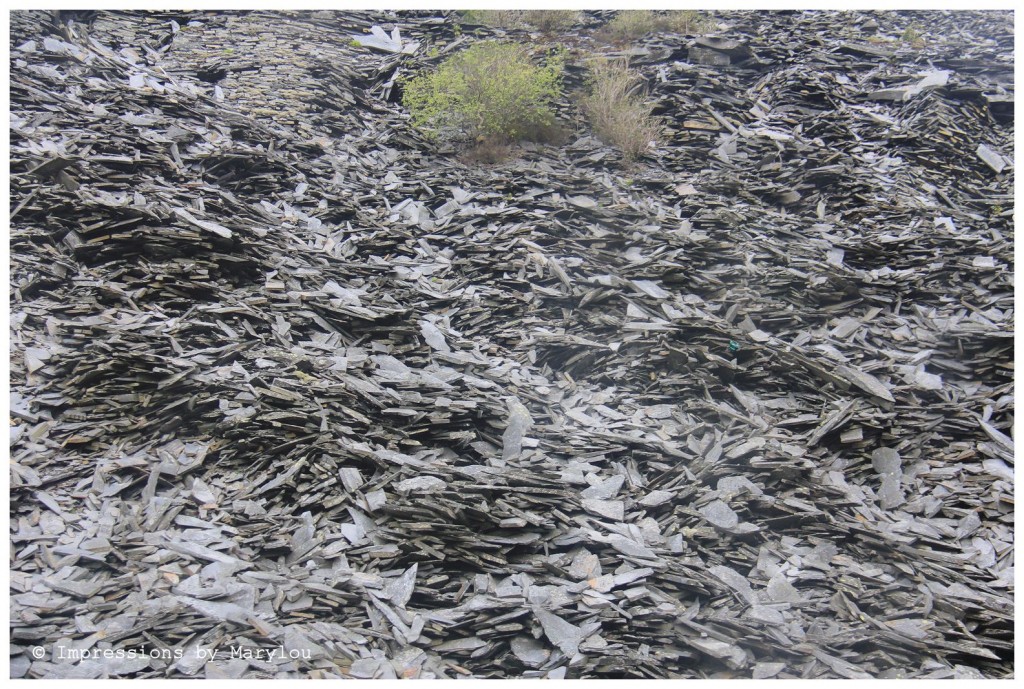 We four crammed into a little car and disappeared down into the slate cavern.
 This was the first time I've ever been underground. And going down in such a tight car is not great for anyone with serious claustrophobia. Thankfully I only have  slight case of it. 🙂 And we were having so much fun that I didn't think of it very much. Down in the caverns it was cool and damp and dark.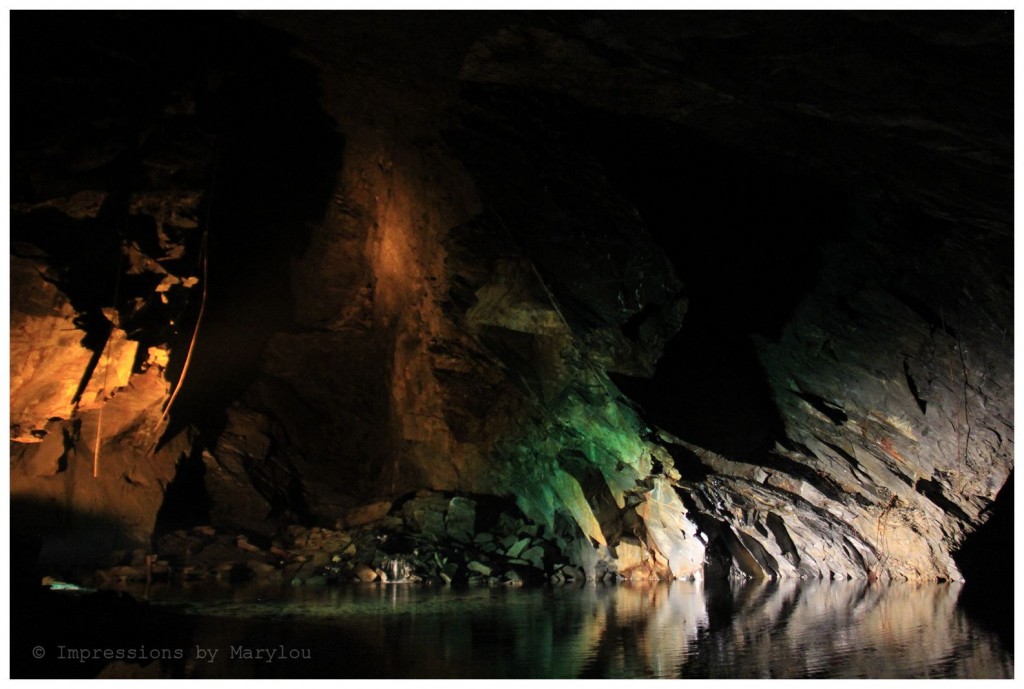 Yeah, it was a little hard to get any good pictures way down. In this room they played some Welsh male choir music. It was beautiful!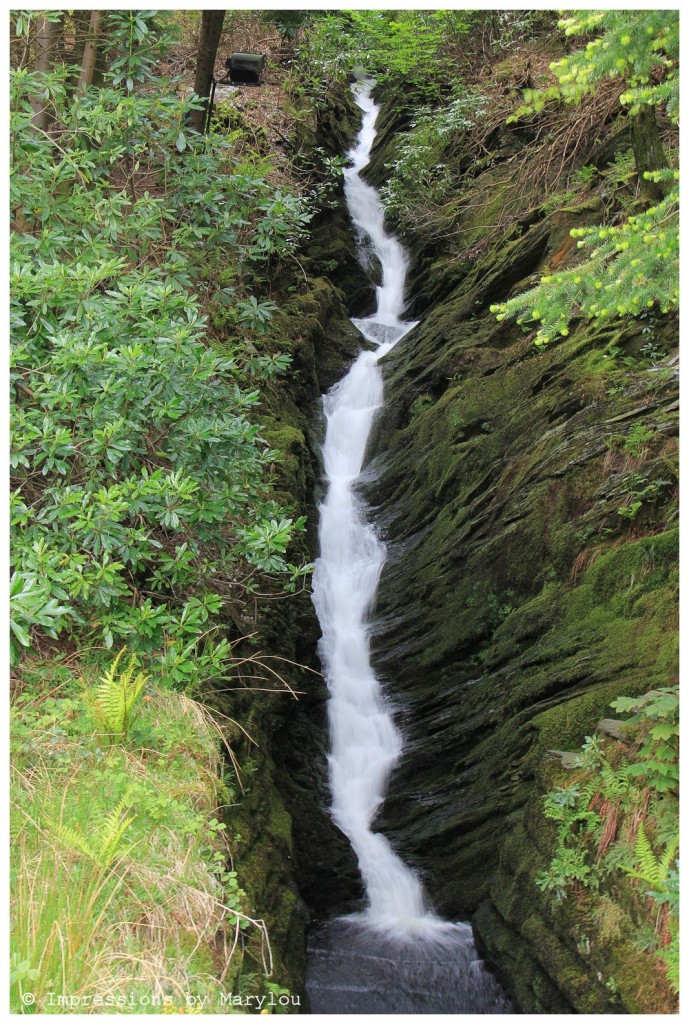 Click on this link for a mini trip via Rick Steves to this mining town: Blaenau Ffestiniog.
We had a little extra time before the train returned north so we walked around the town a bit.
View beyond the town: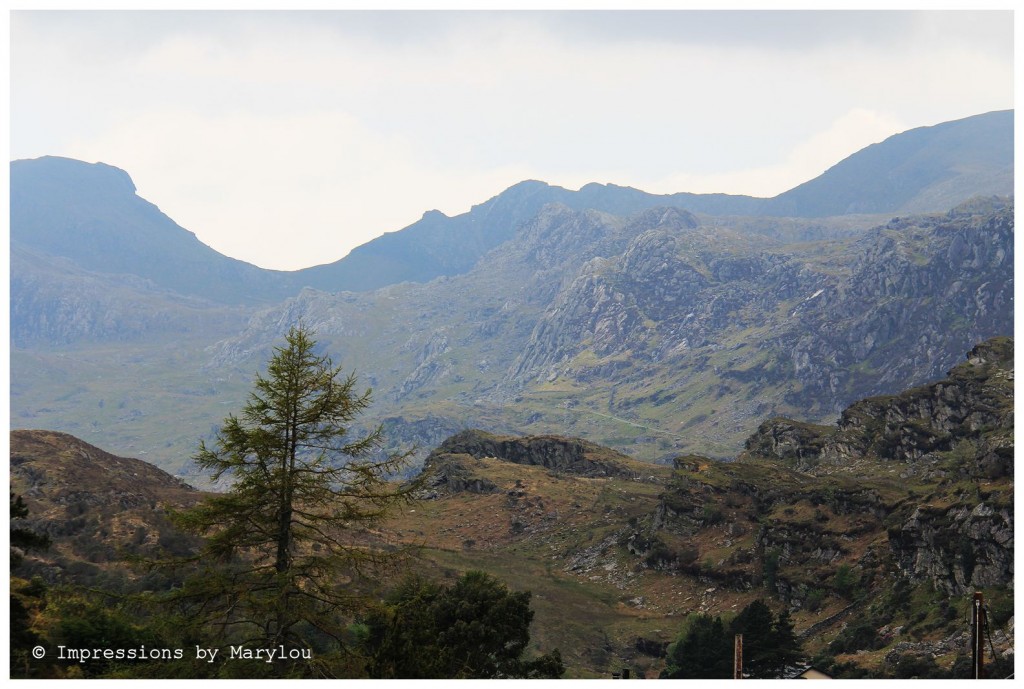 Another view out the other direction: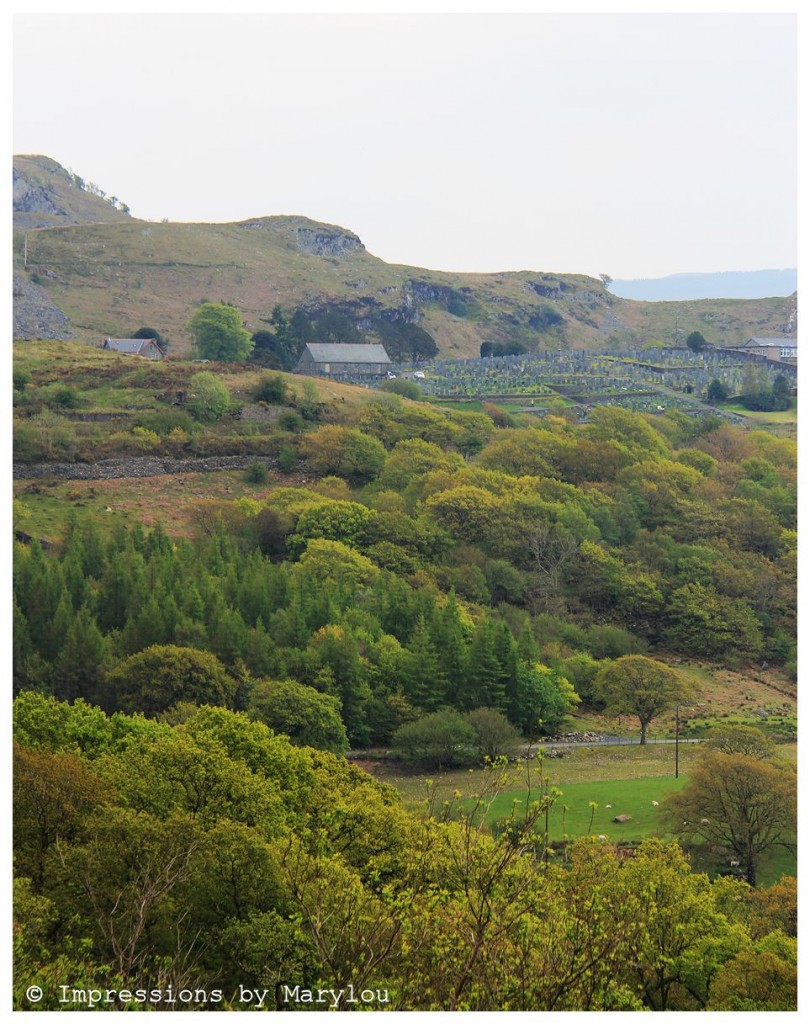 And here is where I captured a masterpiece. I call it Slo Mo Sheep Trot. Although I'm considering other titles as well. Like Up Thy Shutter Speed, Sister!  Or, I Don't Know, Officer, It All Happened So Fast!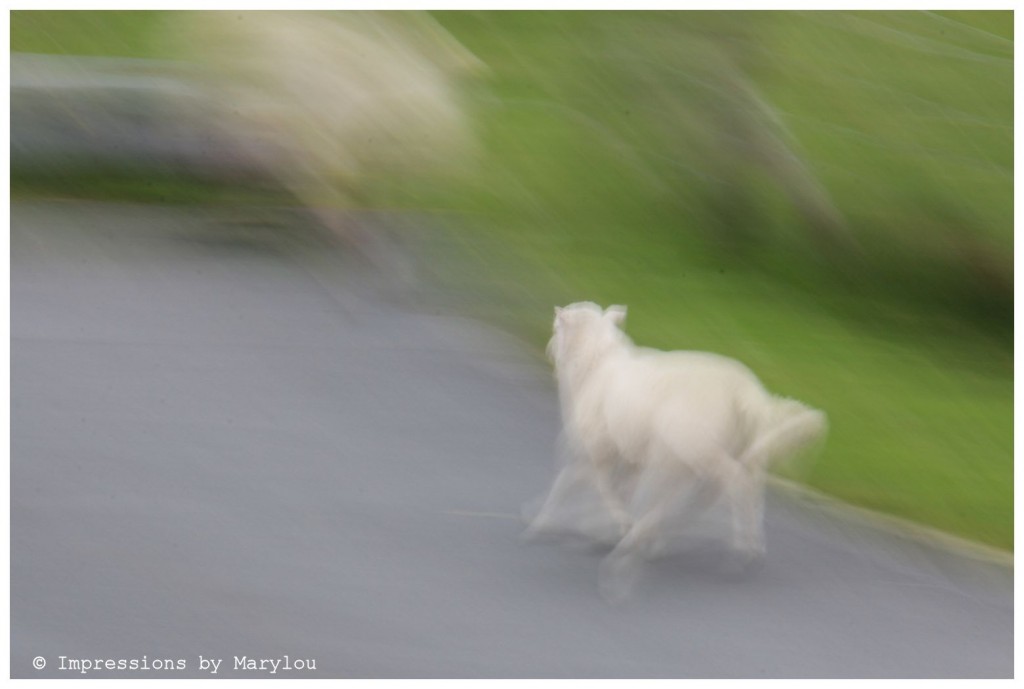 Can't you just feel the emotion!? 🙂
We certainly didn't see all of Wales, in fact, we really didn't even scratch the surface. But it was a lovely time and we were nearly overwhelmed by the beauty, relaxation and the friendly interactions with both our B&B hosts, and Sylvia and Peter. Touring is great, but interacting with people is even better.
Click the link to see a mini tour of Conwy Castle.
Next up: Ireland