This fruit thing has really taken off. I polished up this pitcher that Lois bought at my grandparents estate sale. No one seems to know where it came from. It has no significance as far as sentimental value but it really makes a statement of it's own.
I stayed up pretty late last night doing some editing and finally decided to call it quits. Well, wouldn't you know, I woke up extra early this morning and decided to get and do something useful. I immediately thought of apple muffins and then remembered that we had only 1 egg in the house. There goes Murphy's Law again. The rare occasion that I have plenty of time to do some baking and we have 1 solitary egg in the house.
So I pulled out this recipe I got from my friend Sonya (who I believe might occasionally drop in here). It is a delicious Apple Streusel Muffin recipe. I had to cut the recipe in half, due to the lone egg. I got a total of 6 muffins out of it.
Since I had the inspiration last week to buy sausage (take that, Murphy!) so I made some sausage gravy served over hominy. Anyone else eat hominy? Love that stuff. Sometimes we toss it with crumbled fried sausage and the pour tomato gravy over it.
Anyway, does anyone want to come eat some fruit with me? We have plenty and the grapes are getting kind of ripe. I invited 2 of the high school girls over this evening in case they want to practise some still life shots for student convention next spring. Never too early to start. I believe one young lady got hers printed the day they left for convention.
And yeah, as to where these were taken, we have this 400 year old castle around here (best kept secret ever) and the walls are all cracked and stuff, and it's got beautiful old furniture in it. And it was such beautiful spot that I had to go back and revisit it with fruit in tow. Kidding, kidding! In all actuality, these were taken somewhere in my house. See if you can figure out what piece of *furniture* the fruit is setting on!!
I have this flash, that is 20-25 years old, for my camera and this is the third camera I've used it on and it's still working fine. I bounced it off the ceiling for nice indirect lighting. Love to bounce the flash. Great fun! (Okay, the geek is leaving now.)
The muffins:
Apple Streusel Muffins
2 c. flour
1 c. sugar
1 tsp. baking powder
1/2 tsp. soda
1/2 tsp. salt
2 eggs
1/2 c. butter, melted
1 1/4 tsp. vanilla
1 1/2 c. chopped apples
Mix dry ingredients together. Whisk eggs, butter and vanilla. Add to dry ingredients and fold in apples. Fil muffin tins 3/4 full.
Mix:
1/3 c. brown sugar
1 T. flour
1/8 tsp. cinnamon
1 T. cold butter
together for the streusel topping. Sprinkle it on top of the muffin batter. Bake at 375* for 15-20 minutes. Let cool and the drizzle with icing:
3/4 c. powdered sugar
1 T. milk
1/2 tsp. butter
1/8 tsp. vanilla
dash of salt
I love Pampered Chef's chopper. It took me about 2 minutes to peel, core and chop 1 medium apple, which makes almost exactly 1 cup.
The batter is quite thick. Only stir it until it's mixed together. This is before the streusel topping.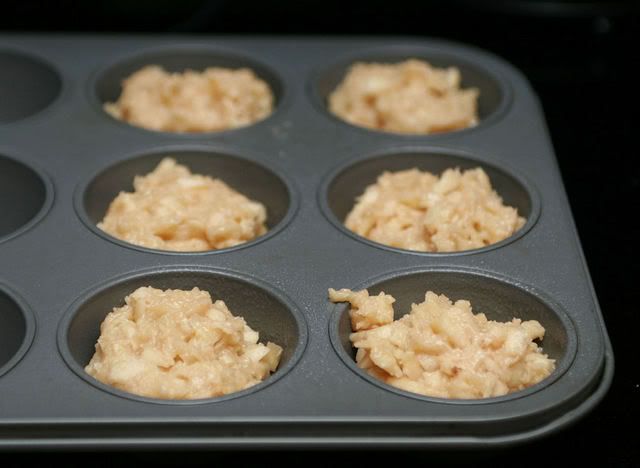 Fresh out of the oven: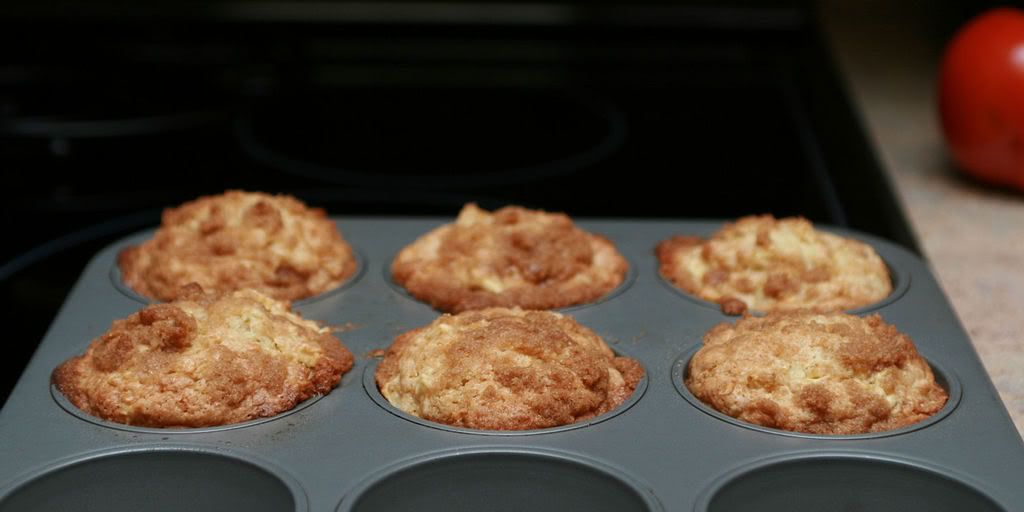 Mix the icing ingredients together in a ziploc bag. Snip of a tiny bit of the corner and use it as a tip to drizzle it over the muffins.
Yup. They're really good. Eat them warm and you don't need anything else on them. But butter and homemade jam is really good too.
Oh yeah. And you might want to see my new fruit pictures. I must say I really, really like them. They're edited out the wazoo but this is art.
11×14 crop:
16×20 crop:
20×40 crop (different shot):
Chocolate version (somehow I think the color versions are much better):
Okay, I goofed something up with the sizing so I'll have to re-upload them later. Sorry about that!